10 DIY Desk Shelf Ideas To Maximize Desk space
Having a messy workspace and dealing with clutter issues is one of the biggest distractions at work. Try out these easy-to-make DIY desk shelves to help organize your office space. The shelf's design will allow you to maximize the space on your desk and organize everything around there, so no more worries about getting distracted. We've rounded up our favorite desk shelves that are super easy to make! Check out these 10 DIY desk shelf ideas To Maximize Desk space for inspiration to transform your workspace into something more inspiring and beautiful.
If you need a place to stash your craft supplies and other desk essentials, here are 10 DIY Desk Shelf Ideas To Maximize Desk Space that meet these criteria.
See Also: 16 DIY Plans for Ladder Shelf
Tips for DIY Desk Shelf Ideas
Here are some tips for DIY Desk shelf
Use vertical space:

 A desk shelf can help you utilize the vertical space above your desk, freeing up valuable floor space.

Customize to fit your needs:

 Choose your desk shelf's size, shape, and style based on your specific needs and the items you want to store.

Get creative with materials:

 Desk shelves can make from various materials, such as wood, metal, acrylic, or even cardboard. Choose a material that fits your style and budget.

Go for an industrial look:

 A metal pipe and wood plank shelf can create a chic look for your workspace.

Utilize an under-desk shelf:

 A small shelf mounted under the desk can provide additional storage space for items like books or files.

Floating shelves:

 Suspend a few floating shelves above your desk to create a sleek and modern look while adding extra storage.

DIY a ladder shelf:

 A ladder-style shelf can be a fun DIY project and add a rustic touch to your workspace.

Add a built-in shelf:

 If you have the space, consider adding a built-in shelf to the wall above your desk for a clean and integrated look.

Get inspired by nature:

Use branches or logs to support a natural and unique desk shelf that adds a touch of nature to your workspace.
See also: 34 Rustic DIY Farmhouse Table Ideas
1. DIY Small desk with open-shelf storage
If you love reading but hate stacking books on your desk, here's a great solution: make a DIY tabletop bookshelf. This open-shelf desk supplies ample storage and is ideal for small spaces. It takes up minimal surface area while significantly impacting storage and organization.
2. Desk, Chalkboard, and Shelf Combo DIY

This DIY desk shelf combo is a free-standing desk made from a combination of materials and can be personalized to fit nearly any space. We make it easy for you to build your DIY desk stand with an easy step-by-step tutorial. This combo has the bonus of being a chalkboard so that you can write down all your ideas!
3. DIY Large Desk with Extra Features

Do you need help finding the right desk for your needs? Do you want more space on your desk for electronic devices and papers? Need extra storage space for pens, pencils, or craft supplies? Here is a tutorial to help you with this helpful DIY project for creating a large workstation or building a desk with all the extra features you want. This simple project can be done in just a few hours at a reasonable price.
4. DIY Maple Desk Shelf
5. DIY Desk Shelf

Have you ever wanted a desk shelf to put all your stuff on, but they are expensive or break quickly? In this DIY Desk Shelf project, you will make a perfect bookshelf unit for your messy desktop. Grab some wood, an exacto knife, and a few basic supplies to follow this step-by-step tutorial on how to make a DIY desk shelf.
6. DIY Plywood Desk with a Curved Shelf
Making a DIY Plywood desk with a curved shelf is simple and inexpensive. A great way to display your favorite things on this unique table, It's perfect for the entryway or kitchen. With a modern design and a wonderfully versatile desk-shelf combo, this DIY project is easy to achieve with minimal tools and materials. Adding wood glue, finish nails, and wood filler guarantees this piece will last years.
7. Two-Person Live Edge Shelf Desk

Two-person Live edge shelf desk and workspace. This project is perfect for couples who love to work together or as a desk for one side of the bed. The shelves can be arranged at different heights and widths to fit in with most bedrooms. The project is complex, but this DIY desk shelf is quite easy if you know how to use tools and follow step-by-step instructions. This DIY Etagère is a great budget-friendly home decor piece. It's a great addition to your living room and works well in a hallway or as a study desk.
8. Simple DIY Wall Desk, Shelf & Brackets (For under $23!)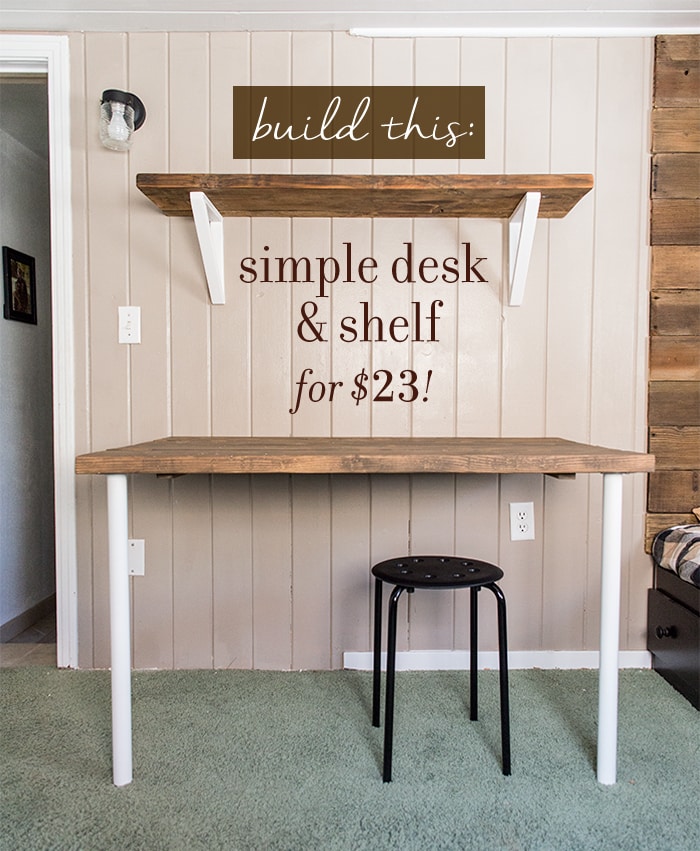 Add storage to your desk and organize your desktop with this DIY wall shelf. This tutorial demonstrates how to transform any desk into a wall shelf with a few screws and brackets, giving you more space for books and crafting supplies. These wall shelves can be made from reclaimed pallets, solid wood, or scrap material! They are inexpensive to make and extremely versatile. It will take over two hours (maybe three) and cost about $25 or less. These DIY wall shelf brackets are perfect for any home office or bedroom!
9. DIY Desk Topper Shelf
Are you looking for an easy way to brighten up your work area? Create something new with your office supplies. Either way, this DIY desk topper shelf project is just what you want. It's inexpensive, quick, and easy to make, adding instant charm to your desk. You'll need simple supplies, including wood or plywood left over from your home improvement projects. Follow the easy steps, and before you know it, you'll have added extra storage space to your work area – and decorated it simultaneously!
10. How To Make A

Desk Shelf
A monitor is an important piece of equipment for a computer, but it can be easily damaged if not carefully handled. If you have one monitor and want to keep it from damaging it when moving your desk, then here is an idea: Make a desk shelf for your monitor so that it can remain protected yet easily accessed whenever you want to use it. It's cost-effective, easy to make, and looks beautiful. This shelf can use to store your monitor and other kinds of stuff which you frequently need at your desk.