10 DIY Desk with Hutch Projects to Maximize Your Workspace
A functional and stylish workspace is essential for productivity and creativity. If you want to elevate your home office or study area, a DIY desk with a hutch may be just what you need. These 10 DIY Desk with Hutch Projects to Maximize Your Workspace offer a variety of styles and features to fit your needs and budget and can be customized to your taste.
Whether you need extra storage space for books and office supplies or want to showcase your favorite decor items, these DIY desk with hutch projects have you covered. From rustic farmhouses to modern industrial designs, there's a project for every style. By making your desk with a hutch, you can save money and have the satisfaction of creating something unique and functional. The customization options allow you to create a workspace that reflects your personality and work style.
In this compilation of 10 DIY desks with Hutch Projects, you'll learn how to build a stylish and functional workstation perfect for your home office.
Benefits Of DIY Desk with Hutch Projects
There are several benefits of DIY desk with hutch projects for maximizing your workspace, including:
Increased storage and organization: A desk with a hutch provides additional storage and organization space, allowing you to keep your workspace clutter-free and more productive.
Customization: DIY desk with hutch projects allow you to customize the design to fit your needs and space, ensuring you have the perfect workspace.
Cost-effective: Making your desk with a hutch is often more cost-effective than purchasing a pre-made one, as you can choose materials that fit your budget and style.
Personalization: DIY desk with hutch projects allow you to add your personal touch to your workspace, making it more inviting and inspiring.
Sustainability: Using recycled or repurposed materials in your DIY desk with a hutch project can reduce waste and be more environmentally conscious.
Learning new skills: Making your desk with a hutch can be a fun and rewarding learning experience, allowing you to develop new skills and gain confidence in your DIY abilities.
Creating your DIY desk with a hutch can increase your productivity, organization, and creativity while saving money and customizing your workspace to fit your needs and style.
Supplies Needed For DIY Desk with Hutch Projects
The supplies needed for DIY desk with hutch projects can vary depending on the specific design and materials you choose, but here are some common supplies you may need:
Wood boards or plywood for the desk and hutch
Saw or circular saw
Drill and drill bits
Screws, nuts, and bolts
Wood glue
Sandpaper
Paint or stain
Paint brushes or foam rollers
Drawer pulls or knobs (if applicable)
Measuring tape and ruler
Level
Clamps
Brad nailer or finishing nailer (optional)
Decorative trim or molding (optional)
Reading the instructions carefully before beginning your DIY desk with a hutch project is important to ensure you have all the necessary supplies and tools. Some projects may require additional tools or materials not listed here, so consult the instructions or project plans before starting.
See Also: 21 Easy DIY File Cabinets Projects to Revamp Your Workspace
1. Wall-Mounted Kitchen Hutch Tutorial
This DIY Wall-Mounted Kitchen Hutch is perfect for maximizing your workspace and kitchen space. This flexible hutch serves as a prep surface, storage shelf, and serving station, all in one beautiful piece of furniture. And because it's wall-mounted, you can use every last inch of countertop space available in your kitchen without sacrificing storage or working surfaces.
2. DIY Desk With Hutch
Are you looking for ways to maximize your workspace? You don't have to spend a fortune on an entirely new office set; this DIY desk and hutch project can save you money. Whether you need more space for work or want a more organized home office, this project will provide benefits for years.
3. DIY Childs Desk With Hutch
Creating a desk for your child allows them to begin learning to write, do homework and create crafts. A child's desk can provide a safe place with all necessary supplies in one location. You can build the desk to fit almost any room. And no matter your skill level is, you can follow this simple guide to make it happen.
4. DIY Desk Hutch Modification
This DIY desk is a great way to maximize your workspace. The details on this project are what make it so wonderful and can serve as inspiration for your DIY project. With this simple modification, you can maximize your workspace, store books or supplies, and make the most of every inch of your home office.
5. DIY Desk Hutch Plans
This guide is a great DIY project you can do on the weekend to maximize your workspace. The plans include detailed instructions on how to build your desk with hutch storage and drawers in just six steps. This is a great project for those looking for an easy way to add more storage or surfaces for the home office, kids' room, guest room, or kitchen.
6. Desk Hutch DIY
Need some extra workspace? This DIY desk and hutch combo is a great option for anyone working from home or needing more room to spread out. The combination of materials and finishes creates a modern piece of furniture you will be proud to show off.
7. Simple Desk Hutch Plans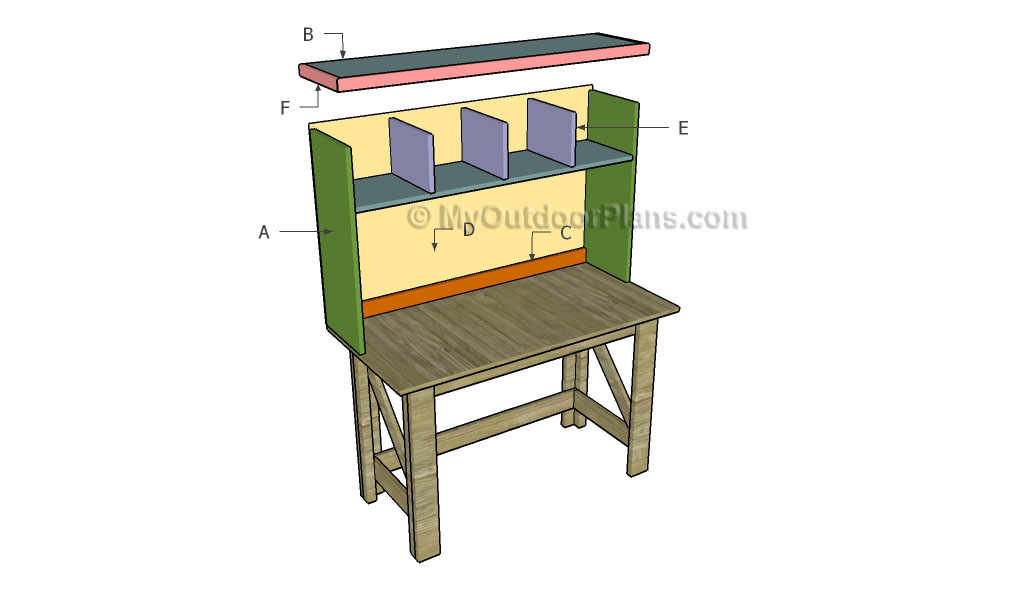 Are you looking to maximize your workspace without spending a lot of money? Try building this DIY desk hutch! Your workspace can be more productive and comfortable with home office furniture. This project will show you to build your DIY desk hutch table.
8. DIY Garage Workbench with Storage
A workbench with storage can help you to be more productive and organized. It will keep your tools, materials, and other supplies in one place for easy access. You'll have room on top of the hutch for a laptop or other electronics and plenty of drawers for storing important papers and inventory records.
9. DIY Simple Desk With Hutch
Don't be afraid to give your room a little personality with a DIY desk project. With the right materials and tools, you can build ultra-functional and unique. This simple DIY desk with hutch project will help you maximize your workspace by creating a built-in storage space for everything you need close at hand.
10. Desk Hutch Plan
The DIY Desk with Hutch is a perfect home office project for those looking to maximize their workspace. A hutch can store books, paperwork, and other items that need to be out of the way but are still easily accessible. The plan features a simple design that will make building this desk as straightforward as possible for a beginner.