15 Amazing DIY Greenhouse Projects for Garden Enthusiasts
A DIY greenhouse can be perfect if you're a gardener who wants to extend the growing season. Greenhouses protect plants from extreme weather, allowing gardeners to plant earlier in the spring and harvest later in the fall. They also help control pests and keep your garden healthy.
Honoring this new movement towards sustainability isn't just about changing your light bulbs—it's about taking control of your consumption and finding ways to meet your needs without depleting the Earth's natural resources. That's why we've gathered some great ideas for DIY greenhouses that will keep you warm through winter, cool through summer, and give you plenty of fresh produce all year.
Here are 15 amazing DIY greenhouse projects that will make your backyard more beautiful and productive with very little money spent.
Why DIY Greenhouses are the Perfect Addition to Your Garden
A flourishing garden is a source of pride and joy for any gardening enthusiast. However, unpredictable weather, pests, and limited growing seasons can sometimes limit your garden's potential. This is where a do-it-yourself (DIY) greenhouse comes into play. Greenhouses offer a controlled environment for your plants and a rewarding project for those who love working with their hands.
Extended Growing Season
Protection from Weather and Pests
Customization
Controlled Environment
Eco-Friendly and Sustainable
Educational and Therapeutic Value
Increase Property Value
Factors to Consider When Choosing a DIY Greenhouse Project
Size and Space
Budget
Climate and Weather Conditions
Purpose and Functionality
Materials
Ventilation and Temperature Control
Lighting and Heating
Watering and Irrigation
Accessibility and Maintenance
Future Expansion
Materials and Tools Needed for DIY Greenhouses
here are some of the materials and tools that may be needed for DIY greenhouse projects:
Materials:
Wood or PVC pipes for framing
Clear plastic sheeting or glass panels for covering
Screws and nails for assembly
Hinges and latches for doors and windows
Brackets and connectors for framing support
Gravel or other flooring materials
Insulation (optional)
Tools:
Measuring tape
Saw for cutting framing materials
Drill and bits for making holes and driving screws
Hammer for nailing
Level for ensuring even framing
Utility knife for cutting plastic sheeting or trimming excess material
Caulking gun and sealant for weatherproofing
Gloves and safety glasses for protection during construction

See Also: 15 Simple DIY Self-Water Planters for a Flourishing Garden
1. How to build a plastic bottle Greenhouse
directive21
Building a plastic bottle greenhouse is a fun and easy way to start gardening. The greenhouse kits listed here include everything you need for your project, but if you have some old bottles and whatnot, consider taking on one of these do-it-yourself greenhouse projects that will make you feel like a pro!
2. How to make a decorative Mini Greenhouse
fleamarketgardening
Want to add a little variety to your garden? Looking for a fun and easy way to decorate your lawn? Look no further than this DIY Mini Greenhouse project that is simple and affordable yet incredibly useful. This decorative mini greenhouse is a beautiful and functional addition to your garden. It's the perfect place to grow herbs, flowers, or small seedlings.
3. DIY Countertop Greenhouse
instructables
This DIY countertop greenhouse is perfect if you love tomatoes, herbs, and other plants requiring lots of sunlight. The project costs less than $20 and can be picked up at various big box stores. The DIY countertop greenhouse is a great gift idea for the gardener in your life. It can be used to start seedlings for transplanting in a larger bed or to grow herbs and flowers on the windowsill.
4. Inexpensive Mini-Greenhouse
motherearthnews
Whether you want to spend the day in your greenhouse growing vegetables or use it to start plants for the rest of your yard, this is an inexpensive project that anyone can do on the weekend. It's just a musty-green lean-to built against a wall that gets sunlight in winter and spring. This easy-to-assemble mini-greenhouse is an affordable DIY greenhouse project providing space for starting seeds and growing seedlings before transplanting.
5. CD CASE GREENHOUSE DIY
taunieverett
Raspberries, cucumbers, and other delicate vegetables need extra protection from the elements. Making your own greenhouse is an inexpensive way to provide just that. This project isn't for everyone, but it could be fun to try if you can access some old CD cases around the house and have a few hours to spare. You can do this fun and easy greenhouse project in two days. It will provide a large greenhouse to protect your plants from frost, wind, and pests.
6. Covered Greenhouse Garden
swingncocoa
DIY Covered Greenhouse Garden will help you grow your favorite fruits and veggies healthier than store-bought ones. Building your own DIY greenhouse garden is the easiest way to add life to your backyard, balcony, or patio. This greenhouse can be used as a small garden or garden office. Using the right ingredients, you can easily build your greenhouse at home in a few hours!
7. Greenhouses Made With Salvaged Windows
maisondecor8
For gardeners who want a place to grow and cultivate plants year-round or want to get their hands dirty, the DIY greenhouse is an excellent solution. These greenhouses can be built with salvaged windows, recycled wood, and old materials, so they are both eco-friendly and inexpensive. A custom greenhouse lets you control the light, temperature, and humidity for gardening success.
8. How to DIY a greenhouse from a pallet
instructables
Pallets are a great way to build your own DIY projects. But they have a bad reputation because they have been used to transport goods that may have been subject to pest or disease infestation. While there are some cases where you may want to buy new pallets, many people turn to recycle old pallets. And that's where we come in! Try making your own greenhouse with a few simple steps!
9. DIY Mini-Greenhouse from Picture Frames
This may be your solution if you love gardening but need more greenhouse space. This DIY mini-greenhouse is made from an old picture frame and some salvaged hardware. Bring a little piece of the outdoors inside with this tutorial for making a DIY Mini-Greenhouse from a picture frame. This easy project doubles as a unique mini hothouse and is great for starting plants in preparation for spring!
10. DIY Barn Greenhouse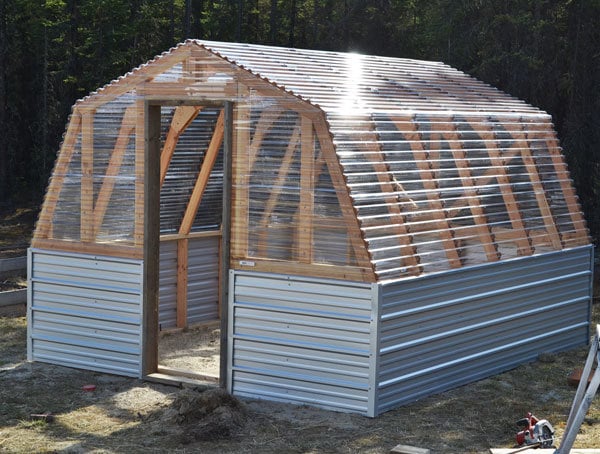 ana-white
Barn greenhouses are nice because they give you much planting space without taking up a lot of ground. This diy project is perfect for any homestead gardener to make things easier on themselves and give their plants the care they need. This DIY greenhouse is a solid building that will be the envy of all your friends and neighbors. Built from cedar and treated for protection, this greenhouse will last many years.
11. Retractable PVC Hoop Green House
grit.
Sometimes you need to leave your plants unprotected in the sun, but other times you want to block out the elements and give them some ideal growing conditions. This greenhouse design provides both. When you want to let your plants grow freely, it's easy to retract the PVC hoops so they can bask in the sunlight. And when conditions are bad—and sometimes even good—you can keep those temperatures down and your plants protected from harsh winds and extreme weather.