15 Trending Bedroom Design and Decor Ideas for a Modern Look
Tips for designing and decorating your bedroom
Start with a plan:

 Before shopping for furniture and decor, take some time to think about your style and what you want to achieve with your new bedroom. Make a list of your must-haves and wish list, and consider factors like storage, lighting, and the room's overall layout.

Consider the colour palette:

 Your chosen palette can greatly impact your room's feel. Opt for calm, relaxing colours, like blue or green, or create a cosy and warm atmosphere with shades of brown or red.

Invest in comfortable bedding:

 Your bed should be the focal point of your room, so it's important to invest in comfortable and stylish bedding. Choose a high-quality mattress, pillows, and duvet cover to create a comfortable and inviting bed.

Add storage:

 Make the most of your space by adding storage solutions to your bedroom. Consider a bed with built-in drawers or shelves, or use baskets and boxes to organize your clothes and accessories.

Decorate with plants:

 Bring some life into your bedroom with potted plants. Not only do plants improve the air quality in your room, but they also add a touch of nature and help to create a calm and peaceful atmosphere.

Hang artwork: 

Add some personality to your room by hanging a few pieces of artwork on the walls. Choose pieces that reflect your style, and display them in a way that makes the room's focal point.

Add personal touches:

 Make your bedroom feel like your own by adding personal touches, like photographs, sentimental items, and keepsakes. These items will not only make your space feel cosier, but they will also bring back happy memories every time you see them.
See Also:
1. Nautical-Themed Bedroom Decor
decor2urdoor.com
Enjoy a picturesque view from your bed. This luxury nautical-themed bedroom decor features a relaxing nautical design, perfect for those who love to take life at a slower, more relaxed pace. The soothing colour scheme and decor make it easy to make your dream a reality!
2. Western Bohemian Styled Bedroom
wikiwiseman.com
Western Bohemian Styled Bedroom Decor. A lovely combination of contemporary rustic style and vintage country elegance, this bedroom boasts a carved poster bed and modern, white-painted wood furniture with wooden accents throughout the space. Dreamy pastels add softness to an otherwise masculine room.
3. French Style Bedroom Decor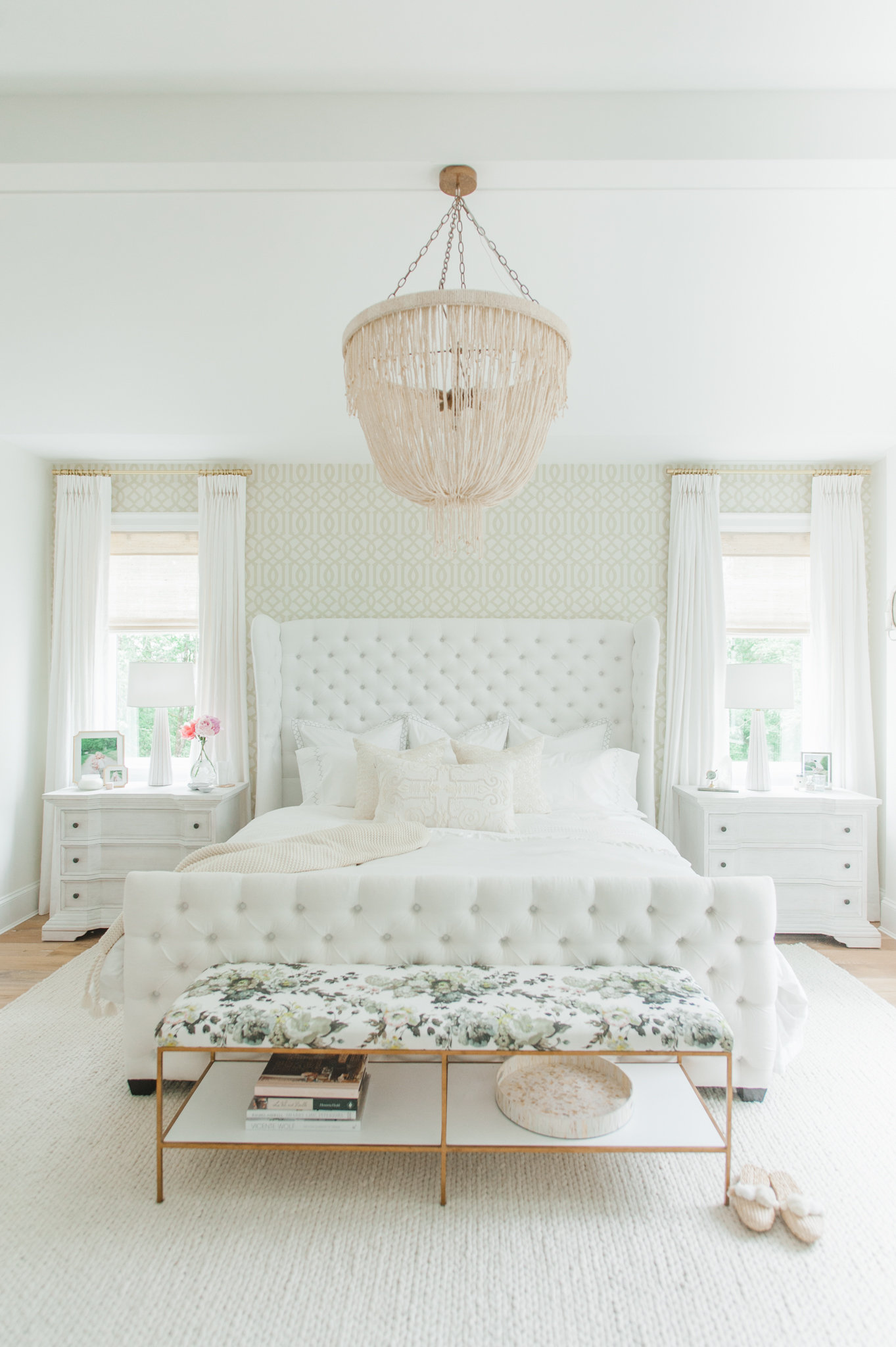 monikahibbs.com
French style has been a popular bedroom decorating trend for several years, with its distinctive Parisian style and subtle pastel colour schemes. The French look is elegant, feminine, and sophisticated. With pastel colours matching your sheets, table lamps, and drapes, you can add French style to your bedroom decor all year.
4. Modern Luxury Bedroom Decor
bangonstyleblog.com
The modern luxury bedroom interior style keeps things simple and adds flair. This type of decor style often uses a muted colour palette to emphasize the sleek and sophisticated look when adding decor items. This can include furniture that can be sleek, high quality, and expensive looking or simple pieces like leather chairs accented with bright-coloured pillows. Adding velvet to a room will dress it up and make it feel like a new space.
5. Pastel Chic Bedroom Decor
mckennableu.com
6. Industrial Themed Bedroom Decor
shopstyle.com
This is an industrial-themed modern bedroom decor. It represents the minimalistic approach to interior design while maintaining elegance. If you want a bedroom design idea, this one will not disappoint. Blending colours and texturing around the room gives it that final touch that makes the whole thing work.
7. Modern Coastal Bedroom Decor
The House of Hood Blog
Your bedroom is your sanctuary, so why not make it stunning? This room features neutral colours, calming accents, and soft bedding that all blend to create a soothing environment for sleeping. Please take advantage of beautiful natural light by ensuring your shades and blinds are up to their task. Add some bold colour or a bright accent wall to draw attention or give an otherwise pale room much-needed vibrancy.
8. Bright, Colorful Bedroom Decor
clairebrodydesigns.com
Have you ever seen a bedroom so colourful and bright? This decorating style is one that you can easily copy for your own home. The bedding, pillows, and accents are strong neutrals that stay visible in the room's busy decor. The vibrant colours are also a great way to ensure that this room appears more manageable and organized than it could have been had all of those colours been competing against one another.
9. Geometric-Themed Bedroom Decor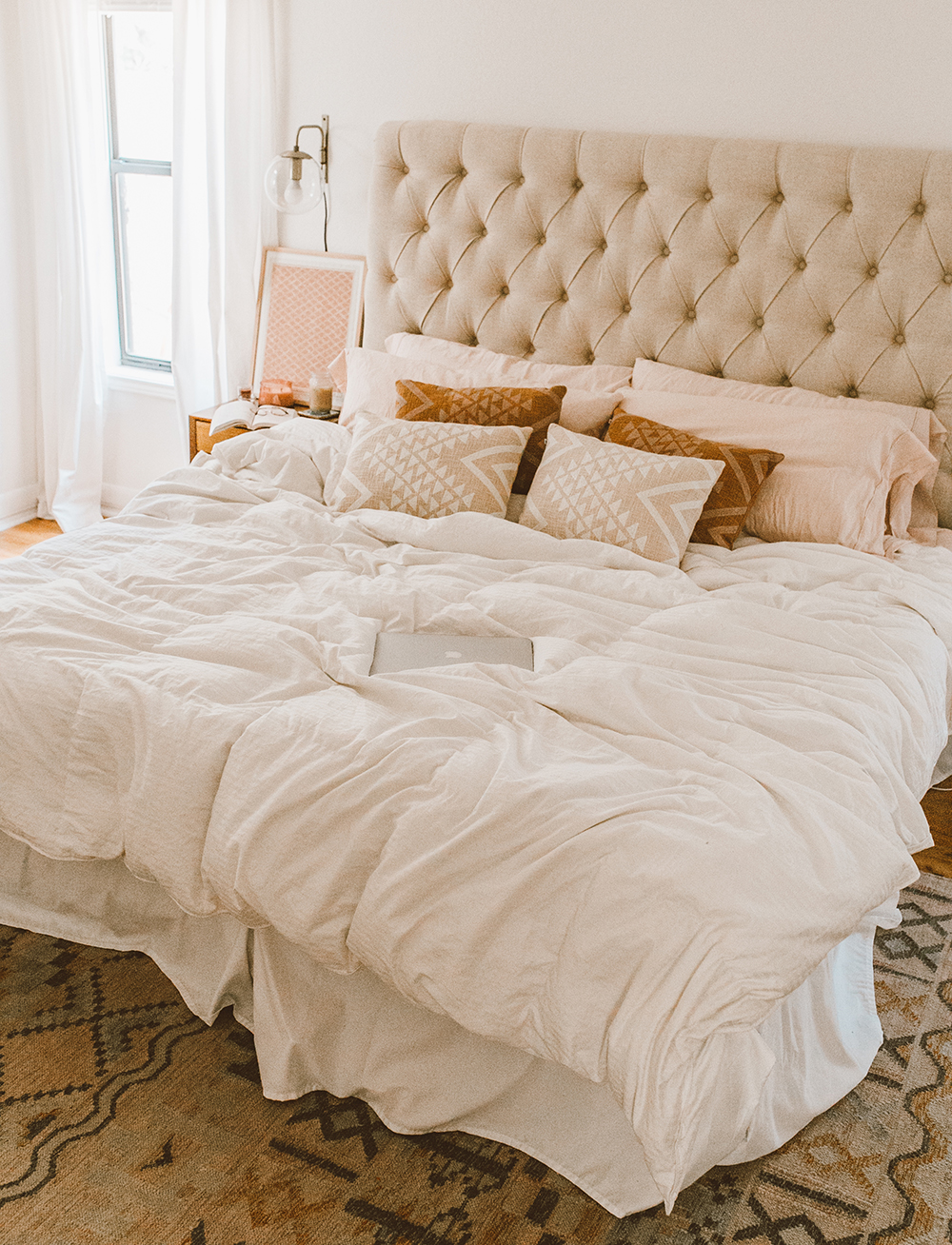 livvyland.com
Creating a cohesive theme with the many different room pieces takes work. Here, accents, the rug, and pillows used a single geometric shape to give this room its overall look. The colours are pastel tones that work together well and are nicely coordinated. See how this room gives off a more relaxed vibe knowing that its shades are inviting?
10. Luxury Bedroom Decor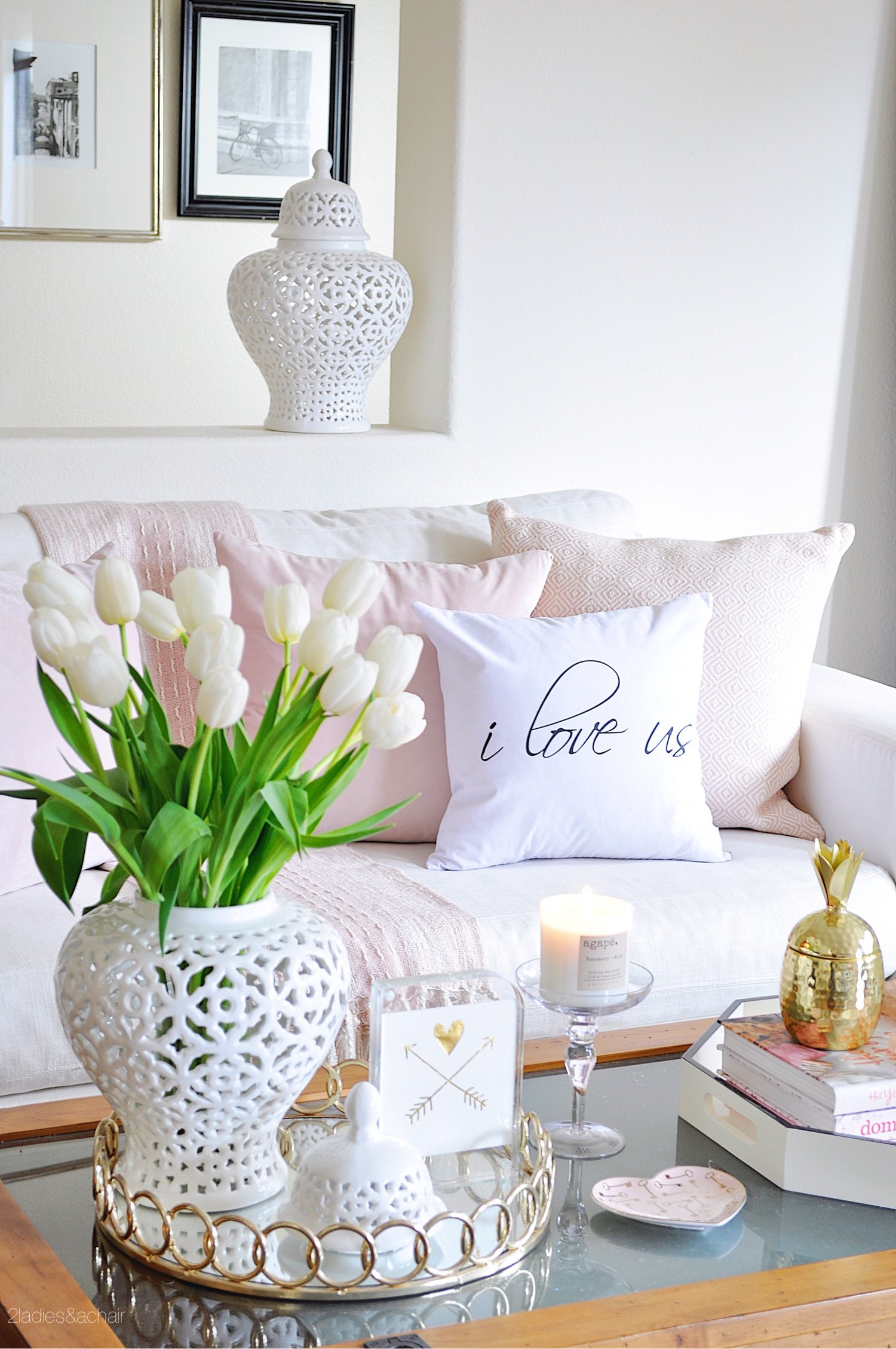 2ladiesandachair.com
The main bedroom is where a woman's inner princess comes to life. You can create the perfect space to relax and celebrate her femininity with a curated bedding ensemble and other customizations that reflect your style. Here's a glamorous main bedroom with a romantic, vintage feel. It features beautiful pink florals and accents that create a soft palette, while pops of green are used sparingly to highlight special features around the room.
11. Sunshine Themed Bedroom Decor
thepinkdream.com
This Eternal Sunshine-themed bedroom decor gives your bedroom a refreshing and eternal makeover. This theme is ideal for those who want to bring the bright colours of sunshine into their space. The sun-shaped light fixture on the ceiling brings brightness to this cosy bedroom. It creates a light and appealing look while adding a little artistic touch to your room.
12. White Blossom Dorm Room 
prepinyourstep.com
Look at this latest Dorm Room Decor article for inspiring ideas to help you create your dorm room, which you and your friends will love. From bedding to accessories and beyond, it has everything you need.
13. Lovin' Nautical Bedroom Decor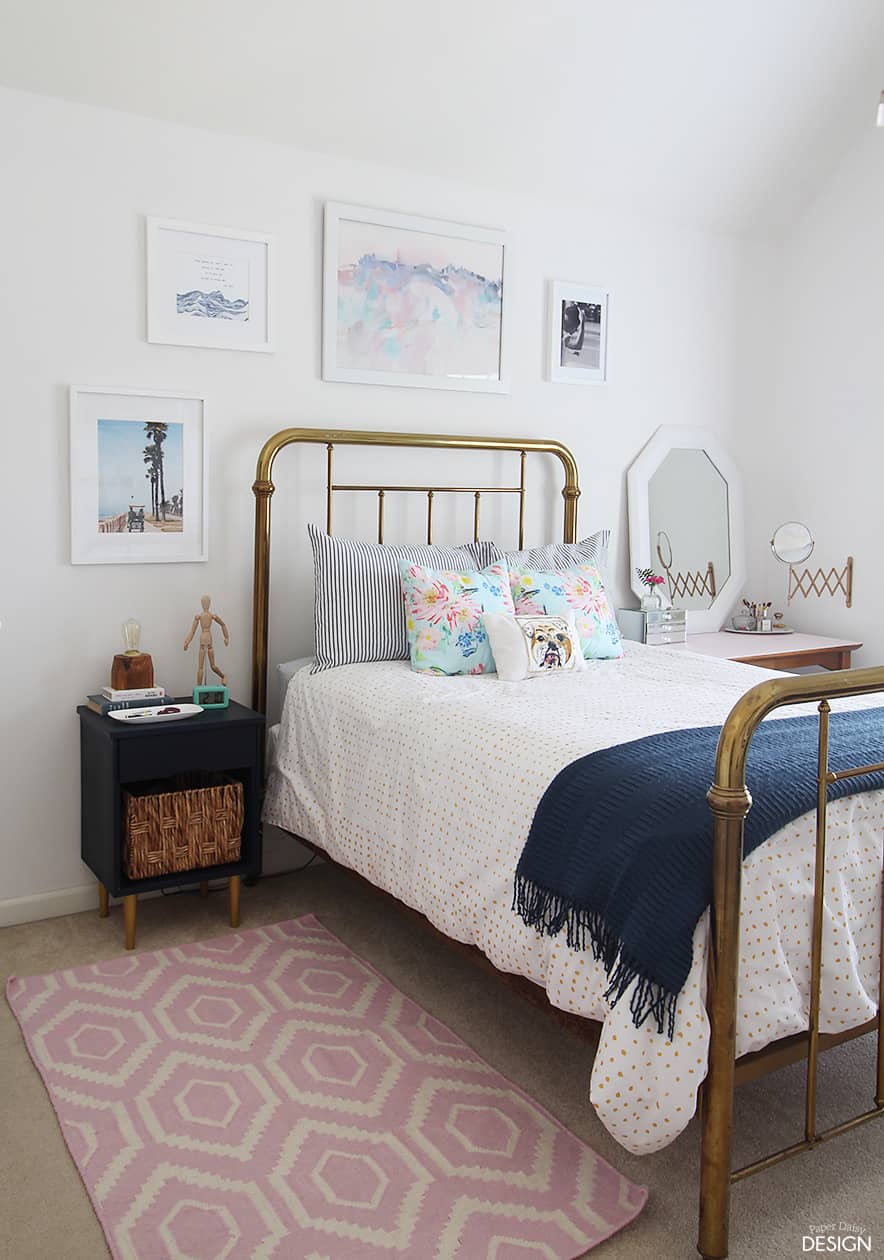 deeplysouthernhome.com
This bedroom has everything you need to create a room that is summer ready! It's versatile, sophisticated, and chic. Get inspired by the white and blue colour scheme, gold accents, nautical design elements, and painting patterns that are so easy to work with. The nautical-themed accent pieces bring life and a sense of relaxation, while the blue and white bed linens bring the room together easily.
14. Colorful Bedroom Decor
uniper Home:
If you're looking for a new bedroom décor idea, your search can stop here. This trendy bedroom design will inspire you to revamp your room with a new relaxed, and elegant style. A modern rug, earth-toned artwork on the wall, and rustic furniture pieces accompany the beautiful black and white cane bed. This room is sure to catch everyone's attention!
15. Girls Pastel Bedroom Ideas
Spring is finally here, so it's time to update your bedroom. It doesn't matter if you have a big house or a small apartment; there are some easy ways to make it look warmer and more inviting at the same time. Liven up your bedroom with this Girls Pastel Bedroom. The main shades of purple, white, green, off-white, and mint create an airy and peaceful ambience. For the ultimate romantic retreat, it will give you that fresh and girly feeling you've been yearning for. Sink into a princess-worthy bed, surrounded by plush pillows and cashmere throws in shades of blush.