15 Best Wall Organizers to Streamline Your Laundry Room
Do you want to avoid constantly searching for misplaced laundry supplies or feeling overwhelmed by clutter in your laundry room? Look no further than these 15 best wall organizers to streamline your laundry room and transform it into a functional and organized space. From wall-mounted drying racks to shelf units and storage bags, these organizers will make doing laundry a breeze and give you the peace of mind that comes with a tidy and efficient space.
Give your laundry room a facelift with these 15 wall organizers, perfect for storing clean and dirty clothes, towels, linens, and more.
Benefits Of Wall Organizers to Streamline Your Laundry Room
Wall organizers can be a great addition to your laundry room, as they can help you streamline your space and make the most of the available area. Here are some benefits of using wall organizers in your laundry room:
Maximizes space: Wall organizers can help you maximize the vertical space in your laundry room. By installing shelves, cabinets, or hanging racks on the walls, you can make the most of the space available and keep everything organized and within easy reach.
Keeps things organized: A well-organized laundry room can make laundry much easier and less stressful. You can keep everything in its place and avoid clutter by having a designated spot for your detergent, fabric softener, ironing board, and other laundry essentials.
Saves time: You can save time by not searching for the items you need when you have a well-organized laundry room. Everything will be within easy reach, making the laundry process quicker and more efficient.
Reduces stress: A cluttered laundry room can add to your stress levels, especially if you're trying to get through a large load of laundry. A well-organized space can reduce stress levels and make laundry more enjoyable.
Increases safety: Wall organizers can help keep your laundry room safe. You can reduce the risk of accidents by storing your laundry detergent and other chemicals up high and out of reach of children and pets.
1. Easy DIY Floating Shelves
Are you looking for a new storage solution in your laundry room? Or a way to display your favorite photos and accessories? This do-it-yourself shelf project gives your laundry room a clean, organized look. This floating shelf is the perfect way to give your laundry area some style. It also serves as a great spot to store towels or detergent bottles.
2. PRETTY ORGANIZATION IN THE LAUNDRY ROOM
Streamline your laundry room with our wall organizer. The utility shelves, hooks, and baskets help you get organized, so you'll be able to spend less time on household chores and more time enjoying life. Add some pretty organization to your laundry room with this Wall Organizer. There's room for easy access to all your dryer sheets, sponges, and other supplies with a built-in shelf.
3. Small Laundry Room Makeover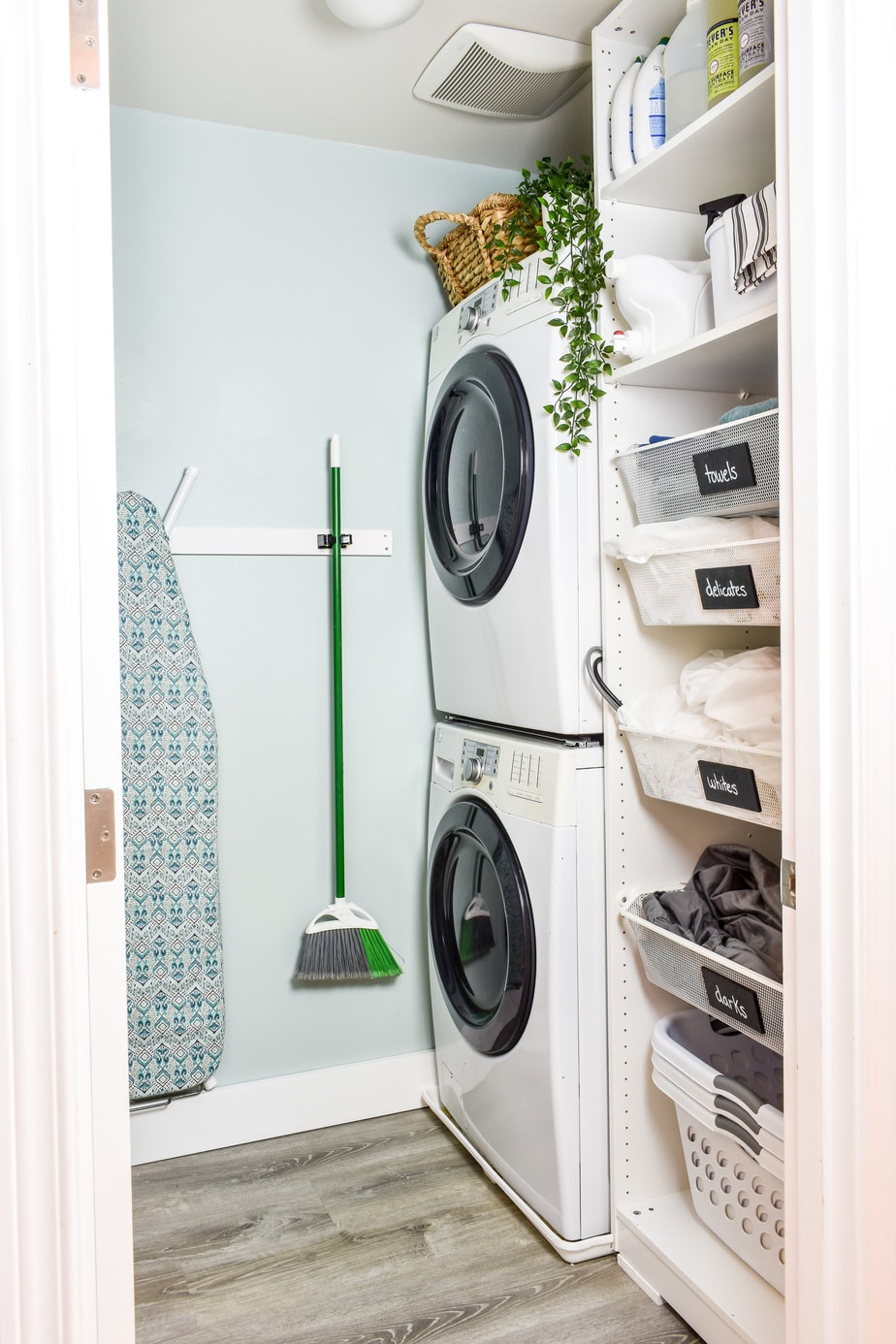 4. Compact ironing boards
5. Canvas Bag Laundry Sorting System
This laundry bag organizer is a great way to streamline your laundry room and ensure that no one is doing someone else's dirty laundry. The canvas material ensures the bags will stand up to frequent use, and the collapsible design means they can be taken anywhere within your home. Whether used as a family system or a private one, organizing your clothes by category is a simple way to create order within your household.
6. Customizable Laundry Bag Sewing Project
Perfect for keeping your laundry room tidy, this wall organizer lets you customize the number of compartments and sewing styles to suit your needs, making it a great way to add some personality to your space. Need something new on the fly? No problem. With this project, you can sew a new upholstery fabric liner and reposition it repeatedly in different sections of the same bag.
7. Labeling Laundry Room Organizers
8. Small Space Laundry System DIY
9. Apartment Laundry Room Organizer Ideas
The Wall Organizer to Streamline Your Laundry Room allows you to maximize efficiency in your laundry room. Designed to fit any space, this wall organizer includes a hanging rail, shelf, and four hooks that ensure clothes stay wrinkle-free. This wall organizer keeps dirty laundry sorted, so you can take care of one item at a time without missing anything. After all—remember, you only have 24 hours in every day!
10. DIY bathroom board and batten
Perfect for the bathroom, this wall organizer is a smart solution to streamline your laundry room and keep it all neat. Get organized with this stylish, functional, and easy-to-install laundry room board. This space-saving wall organizer makes the most of your space, holding your frequently used household care items within easy reach. It can be installed in minutes, giving you more time for what matters. Both beautiful and practical, it makes a great addition to any home.
11. Creating Your Own Ironing Board Holder
If you need to create a space for the home ironing board, it's a good idea to create a wall organizer that matches the style of your house. This type of DIY project does not need to be difficult as long as you have enough time and patience. Creating your own ironing board holder helps to create a creative, stylish, and beautiful look for your laundry room. You can hang it from the wall or keep it on top of an existing cabinet, which will help streamline your laundry room.
12.

Organized Laundry Room Reveal
13. Wall-Mounted Dryer Lint Container
Get the most out of your laundry room by installing this DIY wall-mounted dryer lint container. A simple design and easy installation allow you to add storage for each load of laundry easily. This can help with sorting and cutting down on clothing clutter while also preventing fires and helping keep the air in your home clean.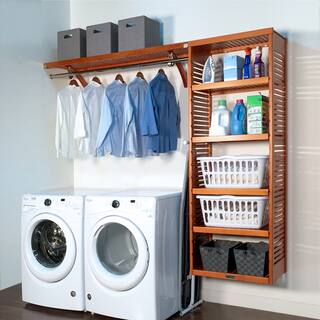 Look no further for the perfect accessories to streamline your laundry room. This wooden organizer features a place for every item needed to do the laundry and keep it clean, neat, and organized. This All-In-One Wooden Laundry Room Organizer is the perfect way to help get the kids or husband cleaned up and ready for school.
15. Laundry Room Remodel Reveal