15 Easy DIY baby sling Carrier ideas
If you want to do the fun things in life with your baby, having a comfortable baby sling carrier is a must. A sling allows you to carry your baby close and be hands-free at the same time. Sling carriers come in many styles, including wraps and front-facing carriers. Most can be used from birth until your child can walk. They are perfect for running errands, going to the park, or visiting friends. They are also great for nursing moms! We have selected 15 Easy DIY baby sling Carrier ideas that keep your baby close to your body and make them feel warm, safe, and loved.
If you love your baby but not the backaches, then you'll love these 15 Easy DIY baby sling Carrier ideas! With so many different patterns and styles, there's one for everyone. All the baby sling carriers you need are already in your home, and you can make them in only a few minutes.
Benefits of DIY Comfortable baby sling Carrier ideas.
Convenience: DIY baby sling carriers provide a comfortable and hands-free way to carry your baby, allowing you to do other tasks while keeping your baby close.

Bonding: The close physical contact of a baby sling carrier can increase adhesion between parent and baby.

Comfort: A well-made DIY baby sling carrier will provide both parent and baby with a comfortable fit, reducing fatigue and discomfort during extended periods of use.

Cost-Effective: DIY baby sling carriers are often more affordable than store-bought options.

Customization: With a DIY baby sling carrier, you can customize the size, material, and design to suit your needs and preferences best.

Versatility: Baby sling carriers can be used from infancy to toddlerhood, making them a versatile and long-lasting investment.
See also: 20 Easy DIY Mushroom Hat Ideas
DIY Baby Ring Sling Carrier is excellent if you have limited funds and still want to get what you need. With this simple tutorial, we show you how to make your sling. You only need a sewing machine with straight stitches, fabric, and plastic rings! It's so easy to make you won't believe it! So get your hands on some fibers and watch this video now!
2. Ring DIY Baby Sling Carrier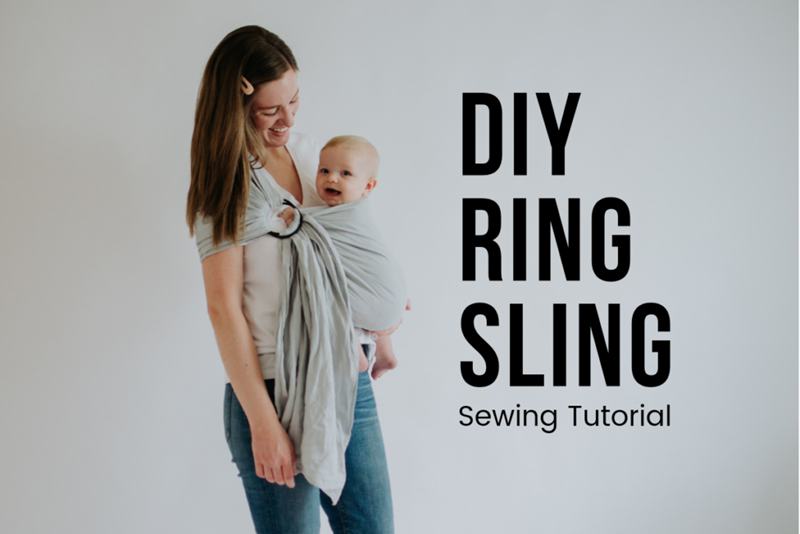 So you want to be able to take your baby with you everywhere, but you are having difficulty holding your baby while in a carrier and looking after your needs. We have the perfect DIY baby sling for you. This ring sling is a basic but comfy design, made to grow with your baby, offering a soft wide shoulder area that conforms well to the body but keeps its shape.
3. T-Shirt DIY Baby Sling Carrier
Create your baby sling carrier with a t-shirt and scissors! This DIY tutorial shows you how to make a simple sling that looks great. It's perfect for moms who want quality time with their babies but only sometimes have their hands free.
4. Sheet DIY Baby Sling Carrier
The sheet DIY baby sling carrier is a fashionable way to carry your baby. It's easy to make, comfortable, and safe for babies and moms! Sheets are always on hand and a great material to make a DIY baby sling carrier. This project is super easy to do and one of my favorite carriers. The fabric will be so much softer than a store-brought carrier, too!
Baby slings are incredibly useful for parents, helping to give little ones a secure and comfortable place to sleep. But if you don't have a sling handy, there's no need to spend money on one you can easily make yourself. This DIY baby sling is a lifesaver for busy moms who are short on time.
6. The Fox Hole DIY Baby Sling Carrier
Want to carry your baby safely and comfortably? There's nothing better than the Fox Hole DIY Baby Sling Carrier. This tutorial will show you to make your own. The Fox Hole DIY Baby Sling Carrier for babies and small children. This baby sling is stylish, practical, and comfortable. It allows you to hold, entertain, or give your baby all your attention.
7. Muslin Blanket DIY Baby Sling Carrier
Are you new to babywearing? Are you expecting but haven't had the chance to try a sling yet? Do you need an economical alternative to your overpriced baby carrier? Make a custom-sized and comfortable baby sling carrier out of muslin blankets! It's quick and easy to make; be patient while sewing the pieces together. This project is perfect for someone who wants control over their baby-wearing budget.
8. Hug Position DIY Baby Sling Carrier
Want to carry your baby and still be hands-free? This DIY baby sling carrier is so comfortable that you can wear it all day. In this tutorial, we will create a comfortable baby sling carrier that allows you to hug your baby close to you while keeping your hands free. This is an excellent carrier for when your little one gets fussy or needs a cuddle.
9. Easy To Make DIY Baby Wrap Carrier 
Are you looking for a way to carry your baby? Do you want to save money, have fun and make a wrap carrier? If so, this video is for you! It shows you how to sew your baby sling in less than one hour. With this DIY baby sling carrier, it is a matter of having two hands, some fabric, and carefully following these instructions. It's simple, but it makes life much easier when chasing a toddler while wrangling a newborn. And they're comfortable too.
10. No-Sew DIY Baby Sling Carrier
This is a no-sew, simple DIY baby sling carrier that comfortably fits most women.  You'll have made your own baby carrier with a couple of lengths of fabric and a few minutes. This quick and easy project will make it even easier to take your baby with you on adventures big and small so that you can get out of the house more often with your child.
Do you have a baby who is ALWAYS on the move? This DIY Comfortable Baby Carrier Sling is the perfect solution! With this carrier, you can attach it to your stroller and go on all your adventures with your little one strapped to you! This tutorial discusses how to make the perfect DIY baby sling carrier.
12. Un-Padded Tube-Style DIY Baby Sling Carrier
Practical, easy to use, and comfortable homemade sling for baby carriers. This is the original un-padded tube-style DIY baby sling carrier you can make yourself. This style is perfect for parents who love the freedom of movement that comes with using a sling but want more shoulder support than a stretchy wrap allows.
13. Stretchy And Woven DIY Baby Sling
This baby sling is the perfect DIY project for all those new parents who want something stylish and comfortable to carry their babies around. This DIY baby sling is excellent for babies who tend to sleep when taken in a sling. The stretchy and woven material allows your little one to move around and feel comfortable, regardless of age. Not only is it easy to make, but it's also cheap, so that you can create one in every rainbow color!
14. DIY Baby Wrap Sling Carrier Front Facing.
It is always a difficult decision buying a carrier for your baby but using a DIY sling/wrap carrier will make it more convenient as you don't have to spend too much money or depend on sellers. This video covers how to carry your baby safely without worrying about them strangling themselves or leaving the carrier.
15. DIY Newborn Baby Ring Sling Carrier.
A new baby is an exciting time for everyone. It is fantastic for the parents to see their newborn wrapped in fabric as a sling carrier. A sling carrier can make you feel like you have more freedom while carrying your baby. It is much easier to safely hold, take and play with your little one while you are at home or out and about. This is a short video tutorial on how to make one!