15 DIY Cat Trees That Will Keep Your Cat Happy
If you're a cat owner, you know how important it is to keep your feline friend entertained and happy. That's why we've gathered 15 of the best DIY cat tree plans to help you create a customized playground that your cat will love. These cat trees are not only practical and functional, but they also provide a stylish addition to your home decor. From simple designs to more complex ones, these projects are perfect for any level of DIY skill. With a little creativity and effort, you can create a cat tree that will keep your furry friend physically and mentally stimulated, reducing destructive behavior and providing a cozy space for relaxation.
Here are 15 DIY cat tree ideas you can easily build in the garden (or any room of the house) to keep your kitty occupied and happy.
Benefits Of DIY Cat Trees
There are numerous benefits to building a DIY cat tree for your furry friend. Here are some of the top benefits:
Provides stimulation: A cat tree offers an outlet for your cat's instinct to climb, scratch, and play, providing mental and physical stimulation.
Reduces destructive behavior: A cat tree provides an appropriate outlet for your cat's scratching and climbing needs, reducing destructive behavior on your furniture and other household items.
Promotes exercise: Cats are natural climbers, and a cat tree encourages them to be physically active, promoting exercise and maintaining a healthy weight.
Creates a cozy space: Cat trees can provide a cozy space for your cat to relax, rest, and observe their surroundings, offering a sense of security and comfort.
Customizable: DIY cat trees allow for customization, enabling you to create a unique and personalized space for your cat that complements your home decor.
 See Also:
1. Cat condo from stacked IKEA tables
2. DIY cat tree with a water shelf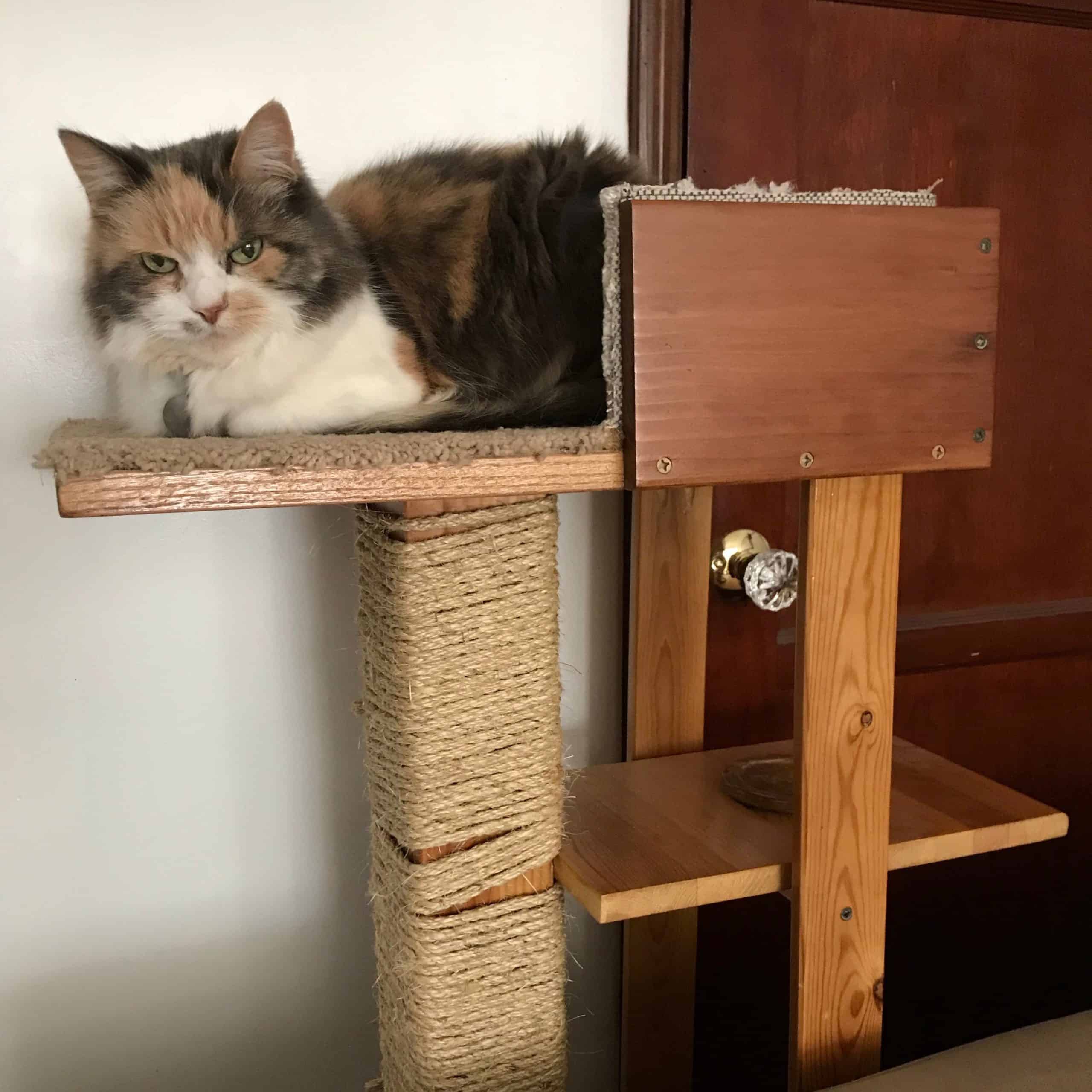 This DIY Cat Tree With A Water Shelf will help your kitty relax and recharge. This project is much more than a simple cat tree; it's a way to create a comfortable, cozy space for your feline friend to nap, climb and play. It's easy and cheap and has a water shelf for the cats to drink from! This is a great idea for those who live in small apartments or homes with limited space.
3. DIY Star Trek-themed cat tree
7. Tall cat tree with a cat house
10. Zen garden cat tree
12. DIY cat play tower made from actual trees
Why buy a cat tree when you can make one yourself? This DIY cat play tower is easy to build, portable, and made from actual trees—the perfect way to turn a full-grown tree stump into a working play center for your cat. Keep your cat entertained and active with this fun DIY play tower. All you need is some free wood, paint, and sisal rope to make a custom cat tree at home.
13. The ultimate DY Cat Tree
The ultimate cat tree to cater to your cats, this piece is made of high-quality materials and features sturdy, durable construction for years of use. With multiple levels and platforms for ample lounging, scratching, hiding, and perching options, it offers endless opportunities for your feline friend to enjoy. This cat tree includes carpeted areas for scratching and an overhead perch for comfortably climbing, resting, and relaxing.
14. Small, low cat tree