Are you looking for a fun and creative way to keep your kids entertained and active? A DIY swing set might be the perfect solution! Whether you want a classic wooden swing set or a more elaborate structure with slides and climbing walls, plenty of options exist. This post has compiled 15 Unique and Creative DIY Swing Set Ideas for Your Backyard; from simple and budget-friendly designs to more complex and challenging builds, there's something here for every skill level. Swing sets are great for kids, but building your own can be incredibly fun. Here are 15 Creative and Affordable DIY swing set ideas for a safe play area your kids will love.
Why Make DIY Custom-Made DIY Swing Set Ideas
Making a DIY swing set for kids' entertainment can be fun for parents or caregivers who want to provide their children with a safe and enjoyable outdoor play space. Not only does it allow you to customize the design and features to fit your specific needs and budget, but it can also save you money compared to purchasing a pre-made set.
Additionally, building the swing set yourself can be a great way to spend quality time with your kids while teaching them valuable skills like measuring, cutting, and assembling. DIY swing sets can also be a great way to promote physical activity and outdoor play, which is essential for children's health and well-being. Creating a fun and engaging play space in your backyard can encourage your kids to spend more time outdoors and stay active while having fun.
See Also: 8 Unique And Easy DIY Bubble Tent Ideas
1. Playset Manor House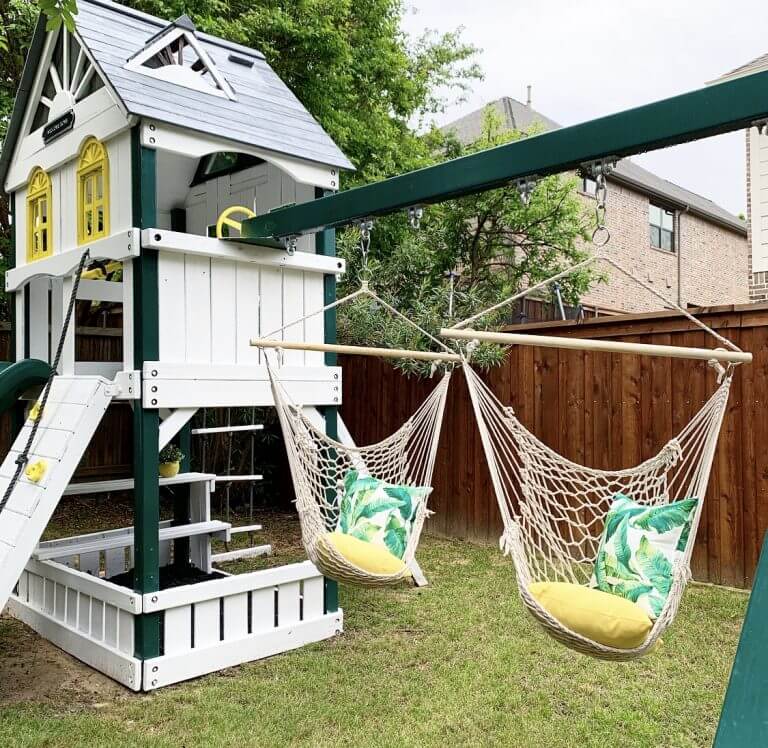 Are you planning a birthday party? Looking for a fun new way to entertain the little ones? The Playset Manor House is the perfect addition to your yard and provides a unique space for kids (and adults) to explore and play. Whether you're looking for a creative outdoor project or a fun place to host birthday parties, The Playset Manor House will provide hours of entertainment and bring smiles all around!
2. Hang A Tree Swing Without A Branch
There are multiple ways to hang a swing without branches, but using an inexpensive hammock is the easiest way. Whether installing a new tree swing or fixing your existing one, this video teaches you how to hang a tree swing without using a branch. It's easy, cheap, and the best part is you don't even have to go outside!
3. Mom's Swing Hideaway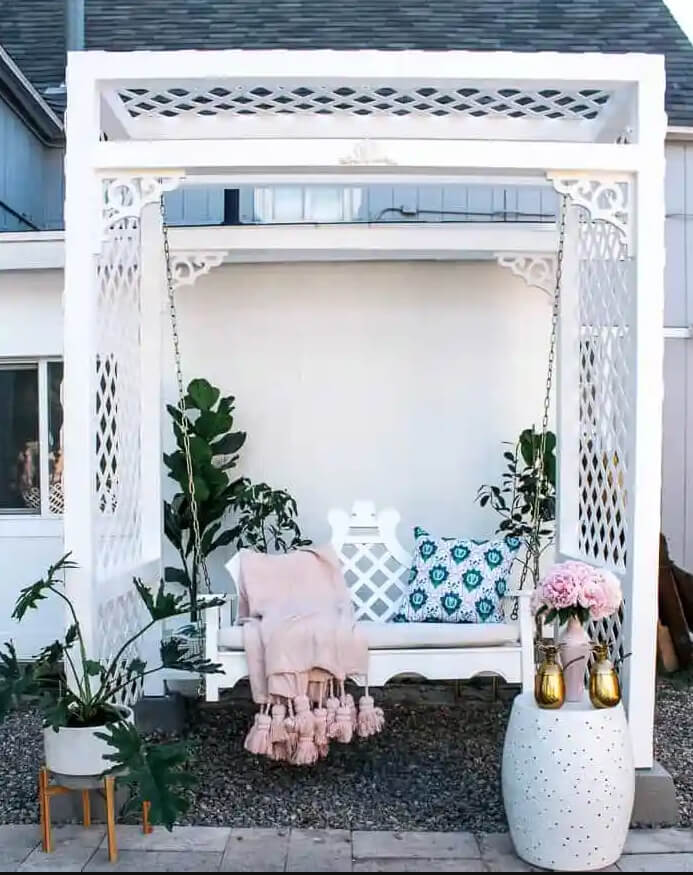 When the kids are out of school, there's much more time to spend at home! Let your little one show off their jungle gym skills with a fun, easy-to-build DIY swing set. Built to be sturdy and durable, the DIY swing set is designed with younger kids in mind. The convenient location of the swings makes it easy for a mom to watch her little ones as they play in this charming hideaway.
4. Simply Sofa Porch Swing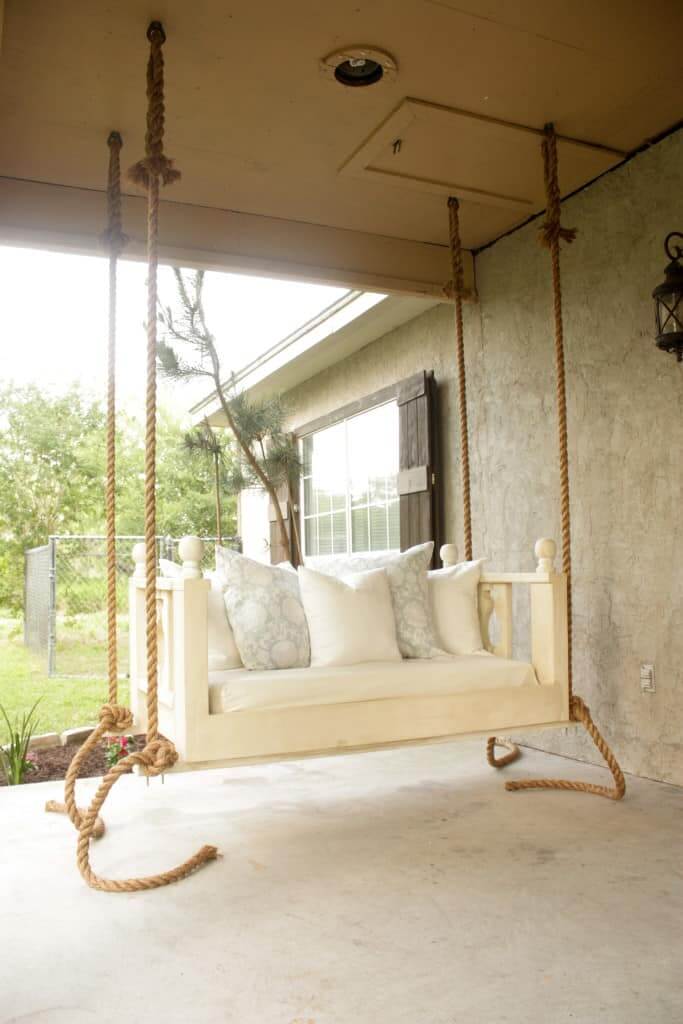 The Simply Sofa Porch Swing offers the comfort of a hammock with the simple construction of a swing, making it perfect for relaxing in the sun. Its durable polyester fabric is weather-resistant and fade-resistant, making it an ideal addition to your patio or backyard. The porch swing features a soft and comfortable cushion that offers ultimate comfort while you swing back and forth.
5. The Ivory Tower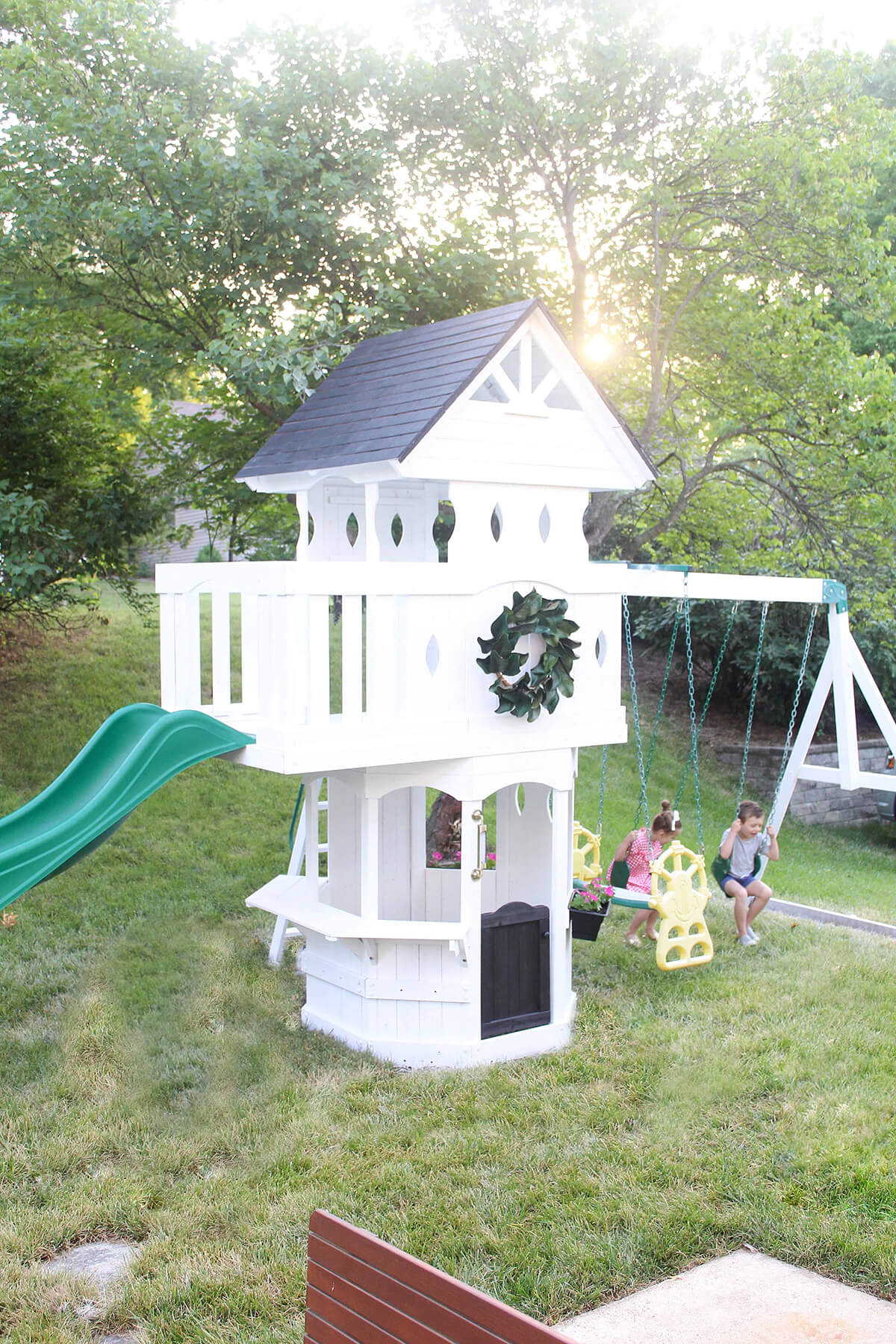 You can build this swing set on your own with a little of your elbow grease. Designed by a professional carpenter that knows how to please kids and parents alike, this swing set is perfect for children of all ages. Your child will love the tower and slide with multiple ways to climb. The basic design is easy to follow with step-by-step instructions, using common materials like pressure-treated lumber, cedar slats, and decking boards.
6. Cozy Country Cottage Playset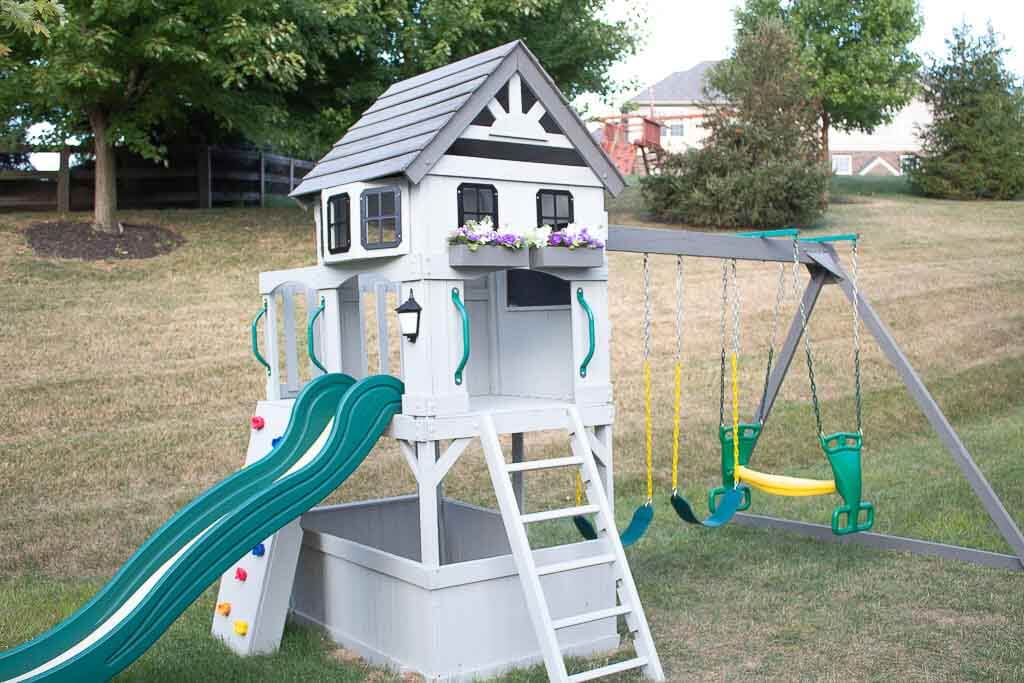 Enjoy summer days with the DIY Cozy Country Cottage Playset. The playset includes everything you need to make your children's dreams come true: swings, climbing rope, slide, and sandbox. The best part is that you are in charge of assembling it yourself! This DIY project is easy to build, with step-by-step instructions for every aspect of the design; we've also included a list of all the materials you'll need to complete the project so you can be sure you have everything you need.
7. Junior Swing and Sandbox Station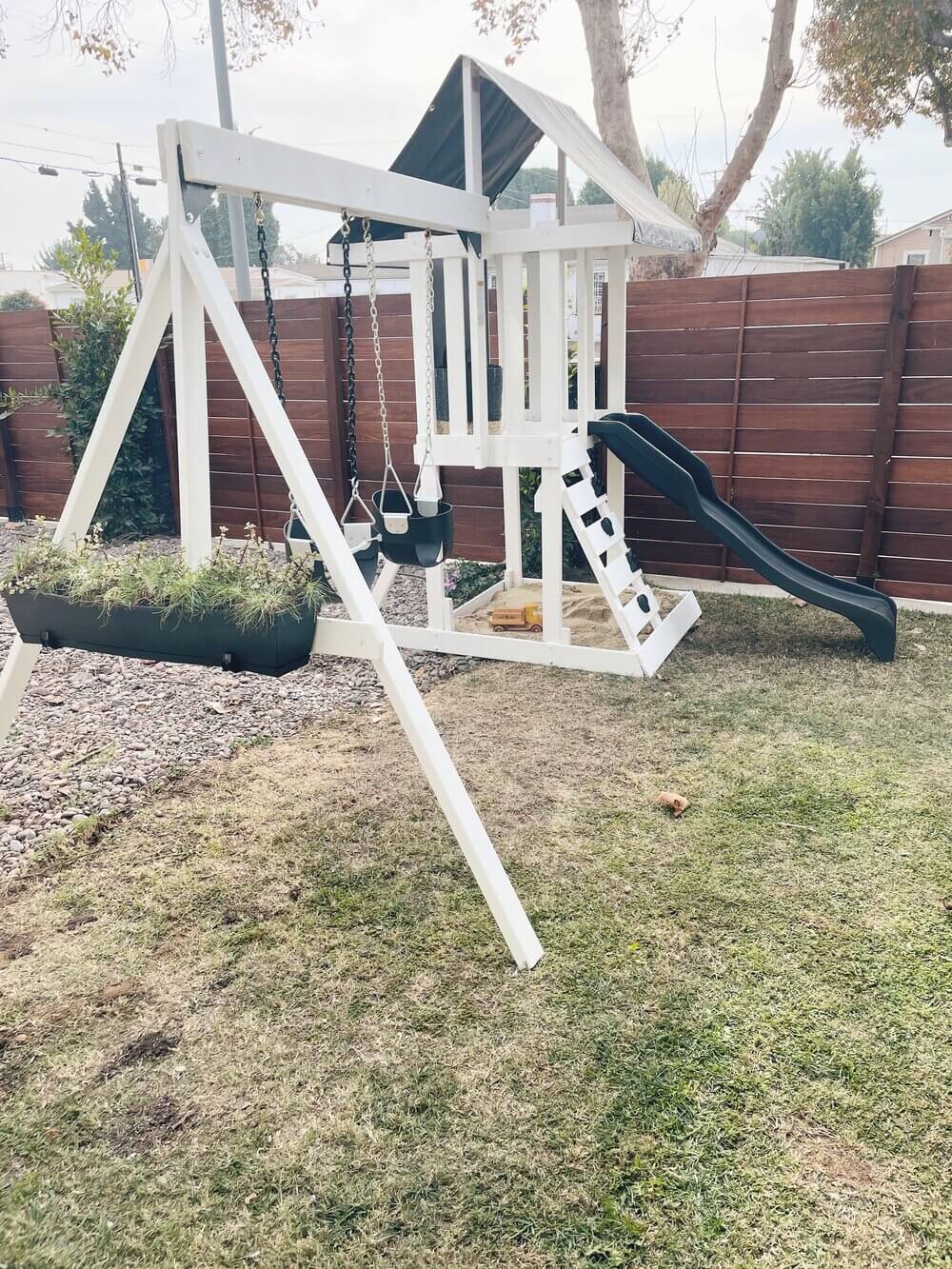 Build your own swing set and sandbox station with this easy-to-follow DIY plan. This swing set, which includes a junior swing and sandbox station, can be built on a weekend. Create the perfect outdoor haven for your family with swings and sandboxes that encourage outdoor play all year.
8. Classic Anywhere A-Frame Swing Set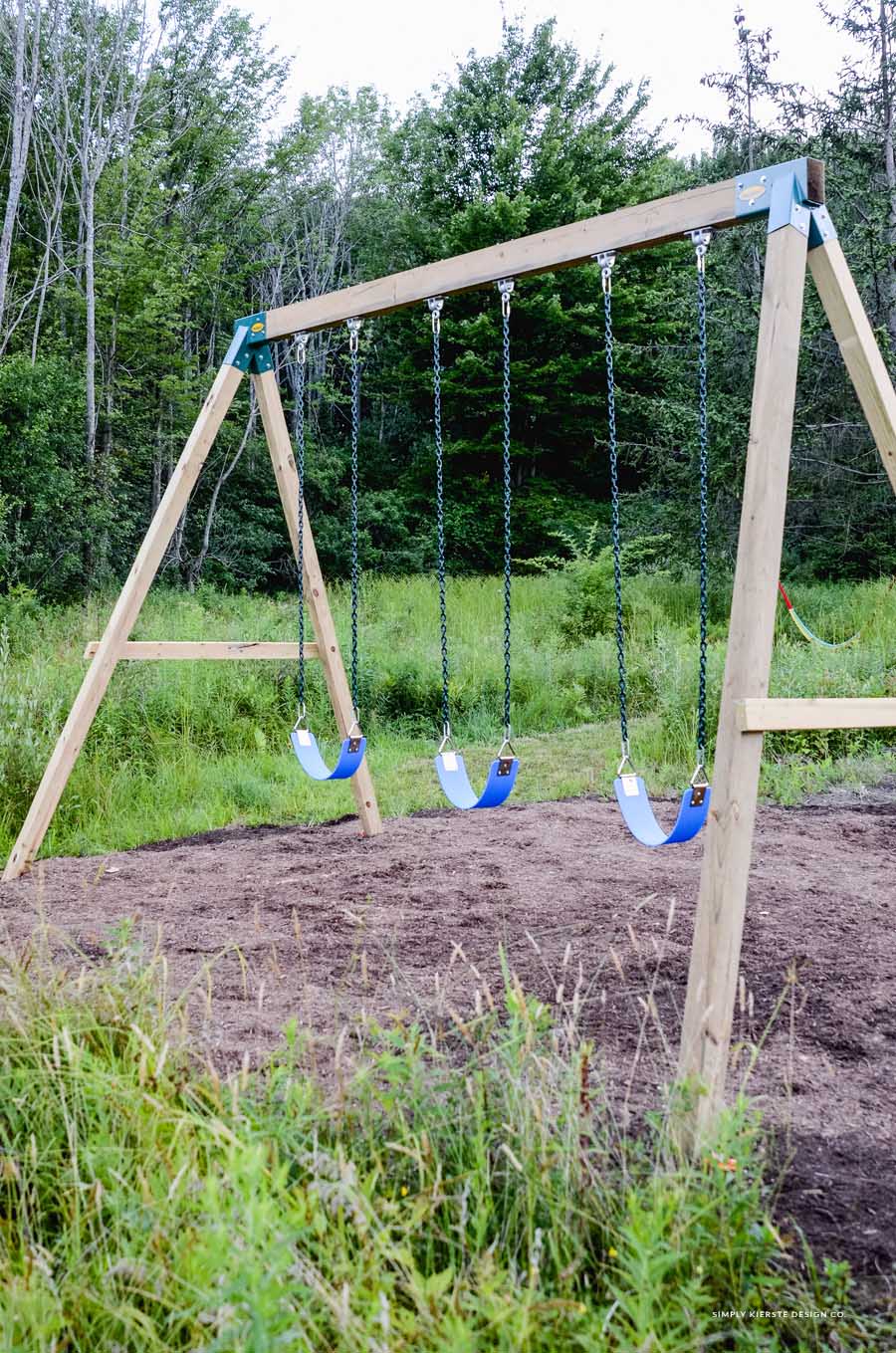 This swing set is easy to build, and you can finish the job in a single day. It's portable, so you can move it around your yard or take it to the park. You can even take it camping with you! Add a splash of color by staining or painting it. This swing set is easy to install and made for the whole family. It can use indoors or outdoors, so it's great for rainy days when you only need some fun!
9. Easy Backyard Swing Set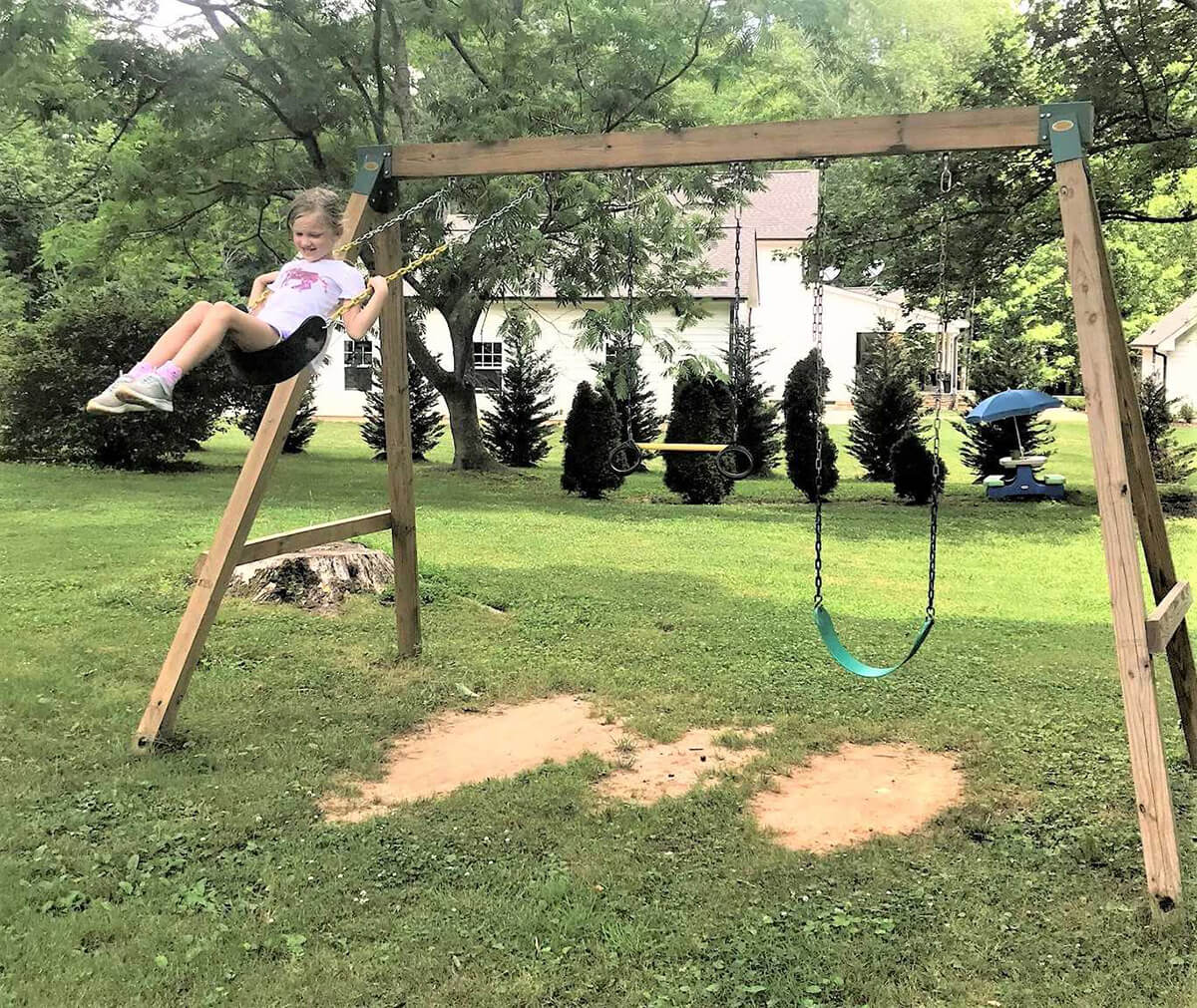 Do it yourself and save money! The Swing Set is so easy to build that your children can help. This swingset is perfect for children of all ages, including adults. It holds up to three children at one time. Designed with easy installation in mind, you can use this swing set in any part of your yard. Using various basic tools and materials, you'll have a fun environment for your kids to enjoy for years!
10. The Kid-Friendly Fun Set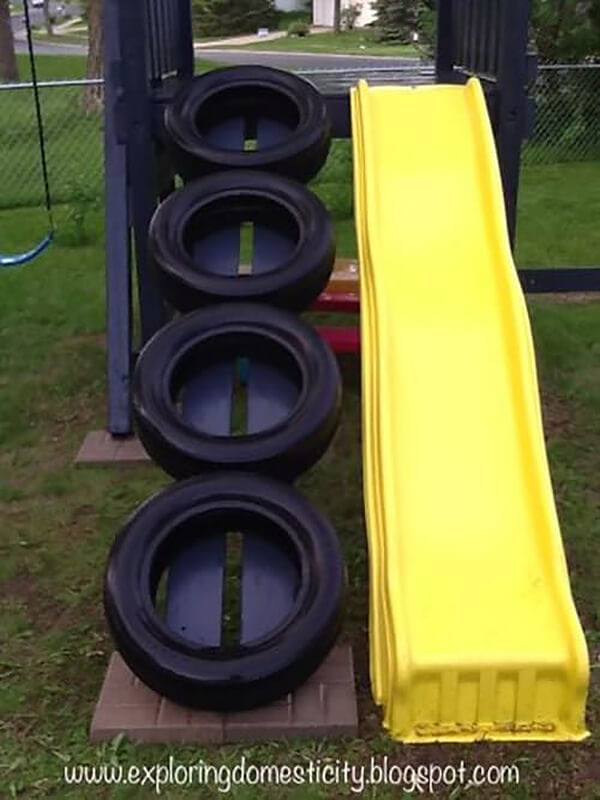 Your child will spend hours swinging away on this DIY swing set. Build it yourself, decorate it with bright colors, and add fun accessories for entertainment. Constructed from durable materials like cedar or cypress and sealed to last a long time, you can be assured that this swing set will provide years of fun for your children.
11. A Seaside Swing Set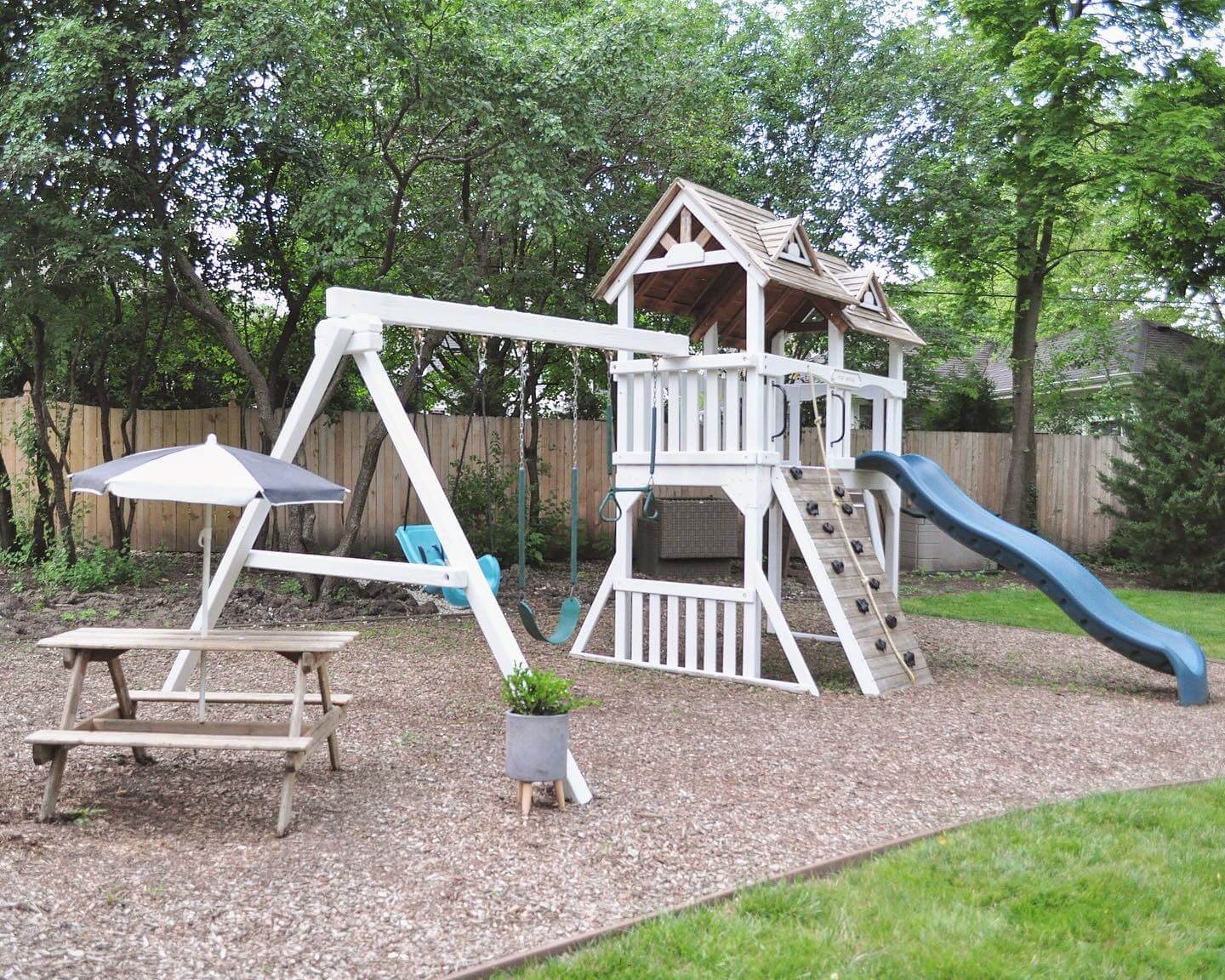 12. Simple Swing for Baby and Friends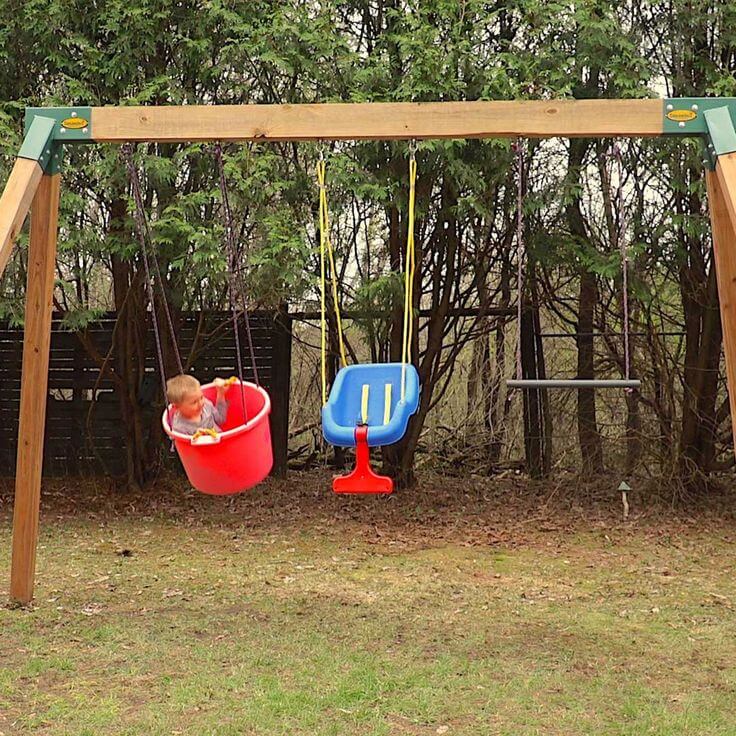 Love to swing and enjoy the outdoors, but need help with the cost of purchasing a commercially-made swing? You can build your own with this DIY Simple Swing for Baby and Friends! This easy DIY project can be completed with minimal tools and experience. Use it as a swing for your baby or a place for their friends to play.
13. Stylish and Simple Toddler Playset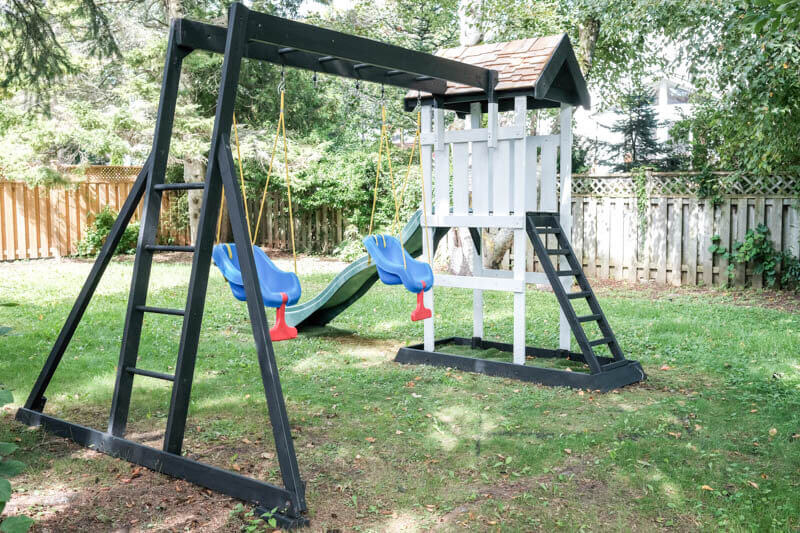 Your toddlers will love a swing set that is simple and easy to assemble, yet stylish and fun. Whether you're going for a minimalist look or want a more personalized place for your child to play, this DIY swing set will surely be an instant favorite. This swing set is the perfect play space for your little one! It's a great outdoor project for weekends and will provide hours of fun for mom and dad.
14. New England Style Playhouse Swing set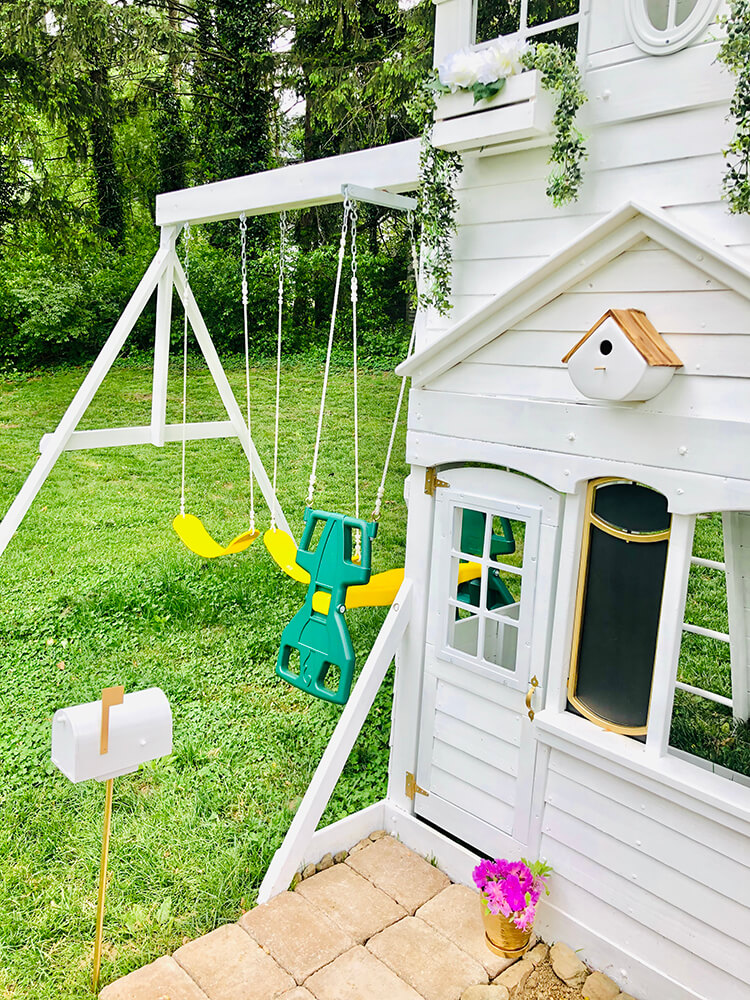 Build your swing set with this easy-to-follow DIY swing set plan. Build this New England Style Playhouse Swing Set for your kids or pets to enjoy. This unique design will take your family back to simpler times in the big city or out on the farm. A place to play and relax together, where imagination can flourish! Enjoy the satisfaction of building your dream playground for kids and yourself!
15. Easy Cypress Swing Seat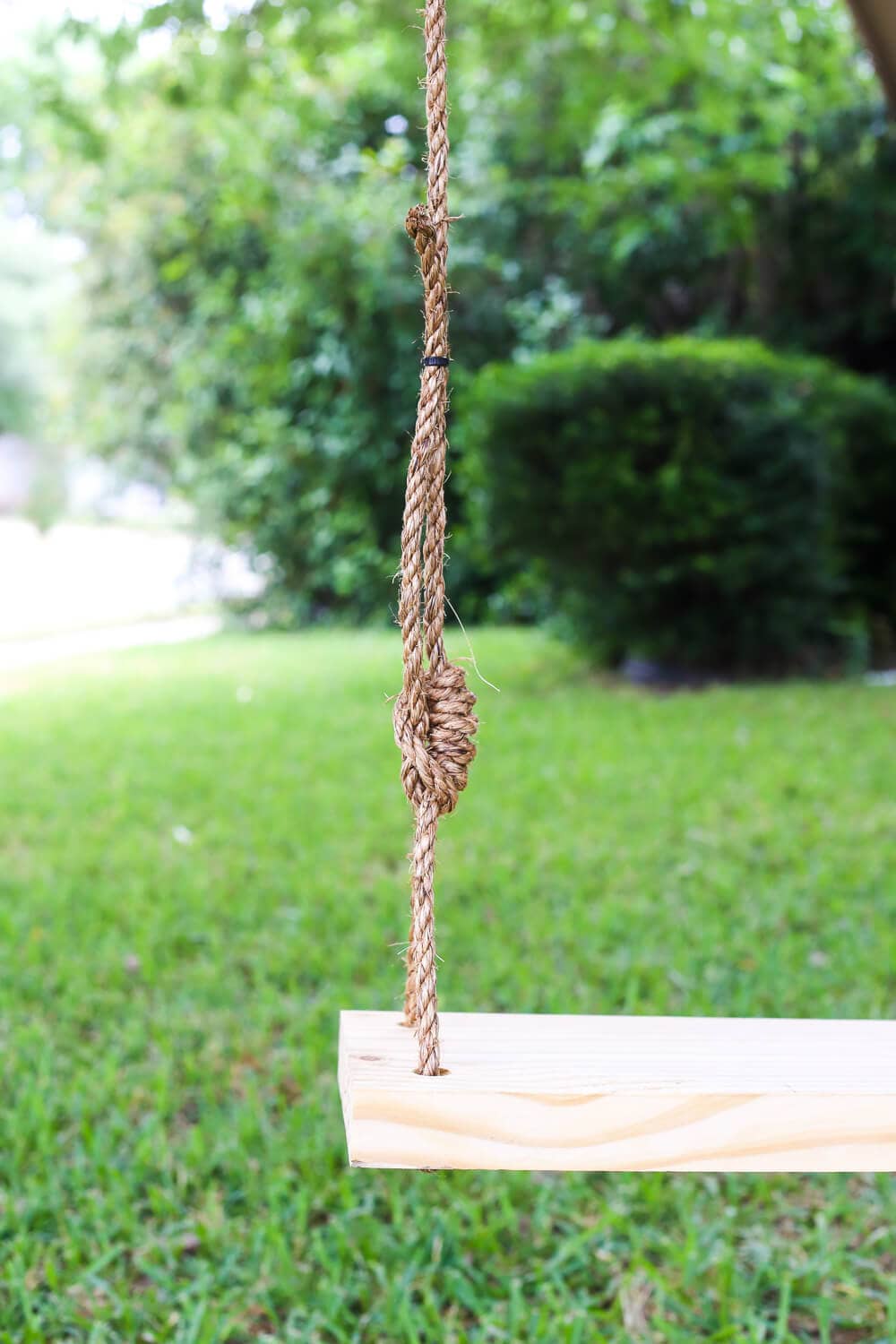 Turn your backyard into a playground with this DIY Cypress Swing Set. Constructed with durable cedar and cypress, it will stand the test of time. This simple, classic design will bring out the kid in everyone! The swing with a solid structure has all the essential features like sitting, swinging and eating space. It is made of cedar, making it sturdy, durable, weatherproof, and long-lasting for your kids to enjoy.