15 Easy Ideas for Reusing Plastic Bottles in Everyday Life
Why is it important to reuse plastic bottles?
Reduces the amount of plastic waste that ends up in landfills and oceans
Saves resources and energy needed to create new plastic products
Reduces greenhouse gas emissions associated with the production of new plastic products
Helps conserve natural resources, such as oil and gas, that are used to create plastic products
Can save money by reducing the need to purchase new products
Encourages sustainable living and responsible consumption habits
Can be a fun and creative way to repurpose items that would otherwise be thrown away
Can inspire others to adopt more sustainable practices and reduce their plastic waste as well
How can you personalize these plastic bottle projects to fit your home decor or style?
Sure, here are some ways to personalize plastic bottle projects to fit your home decor or personal style:
Use paint or spray paint to add color and patterns to your bottles
Add embellishments like beads, ribbons, or buttons
Use different types of bottles, such as tinted or frosted ones, to add variety and texture
Experiment with different sizes and shapes of bottles to create a cohesive collection
Try incorporating other materials, such as fabric or paper, to add interest
Safety considerations to keep in mind when working with plastic bottles
There are a few safety considerations to remember when working with plastic bottles. Here are some key ones:
Wear gloves and protective eyewear to prevent cuts or injuries while cutting or manipulating the bottles
Use sharp scissors or a craft knife to avoid jagged edges and reduce the risk of injury
Keep the work area clean and free of clutter to prevent accidents
Avoid using heat sources, such as candles or lighters, near plastic bottles as they can melt or release harmful chemicals
Always use caution when using power tools, such as drills or saws, to avoid accidents or injury
Do not use plastic bottles that previously held toxic or hazardous materials, as they may contain residues that can be harmful
When using plastic bottles for food or drink containers, make sure they are clean and free of any residue or chemicals
Dispose of plastic scraps or excess materials properly and recycle when possible to reduce waste and environmental impact.
See Also: 20 DIY Wedding Ideas To Add a Unique Touch to Your Big Day
1. DIY Water Bottle Sprinkler
This DIY Water Bottle Sprinkler keeps your garden hydrated while providing hours of fun for the kids. It is easy to make and fun for everyone. Cut the top off a water bottle, fill it with water, and place the lid back on to create your fountain. It's cheap, fun, and easy! This quick, easy, and inexpensive project will bring you joy!
2. DIY Holder For Charging Cell Phone
It's hard to imagine everything we can make with plastic bottles around our homes. This DIY cell phone holder is one of them. You can make this amazing DIY project with just a few steps and items. For a perfect place to store and charge your phone in the kitchen, bathroom, or bedroom, try this DIY holder for charging your cell phone. It's very easy to make by yourself.
3. DIY Drip Irrigation System
Water is crucial to any plant's growth, but it can be difficult to keep up with the watering they need. Luckily, a drip irrigation system allows you to spread water over an extended period, so you're sure your plants won't run dry. This DIY project uses two-liter bottles to carry water in one end and dispense it at the other end.
4. SODA BOTTLE BIRD FEEDER
Make a cheap and easy bird feeder using an empty plastic soda bottle. It's fun to make and will keep plastic bottles out of landfills. With just a few supplies and patience, you can make a soda bottle bird feeder to brighten up your yard and help the birds simultaneously.
5. DIY Flower Hair Planters
This is a great and easy way to reuse plastic bottles. These Flower Hair Planters will add fun to your room and help you get creative. It will take less than an hour to create, even if this is your first time doing something like this. You can make it with your favorite color or many shades of the same color for a nice effect.
6. DIY

Recycled Bottle Hummingbird Feeder
Do you love hummingbirds? Then you are sure to fall in love with this simple DIY project. This project is quick and easy, so it would be ideal for a Scout or classroom project. The materials needed are simple and readily available, so your students can make their hummingbird feeders to take home. This hummingbird feeder is quick and easy to make, and it doesn't require much skill. Anyone can do it!
7. Make a Fairy Garden For Your Kids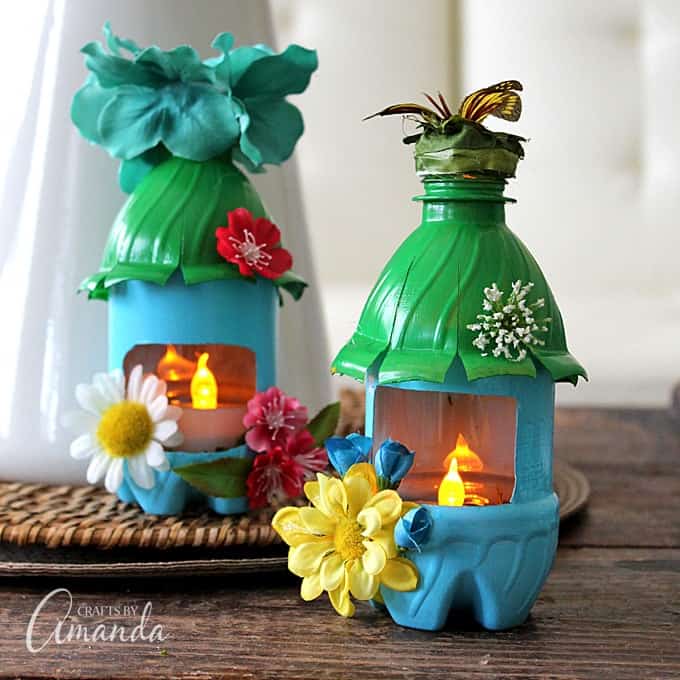 Learn how to make a fairy garden for your kids. When you turn them into a fairy garden, plastic bottles make great night lights! These bottles are great because they come in various colors, shapes, and sizes. Plus, they're free from the recycling bin or trash bin. So why not collect some for your kids to enjoy? These plastic bottles will become the pillars and walls of a little house where fairies can stay overnight with some imagination!
8. DIY

Flower Curtains
Plastic bottles can be reused in a variety of ways. You can cut them up to make cool lamps or string them together to create a dramatic curtain. These cool flower curtains are easy to make with the help of a sharp knife and some strong string. To make these plastic bottles look like flowers, cut off both ends, then use string to attach beads over the top of each bottle.
9. DIY Plastic Bag Holder & Dispenser
Take advantage of this upcycled, multi-use plastic bottle! Fill it with liner bags, then hang it by your kitchen trash can to keep them together and organized. This clever use of repurposed materials will help keep those bags organized and easy to grab while saving space in your cabinet. The best thing about this project is that you can customize it using a vinyl cutter!
10. DIY Juice Bottle Watering Can
The simplest and easiest of all DIY watering cans, this is one you can make quickly and with just a few household items. All you need to do is punch holes in the cap of a bottle (juice), and voila – you have yourself a water-spewing hole punch. You can then use this to water plants, mix fertilizer, or do anything that needs water.
11. DIY

Soda Bottle Easter Baskets
Easter is approaching, and these DIY soda bottle Easter Baskets will be a hit. Use your favorite color or mix things up with some fun colors. Simple holiday decorating ideas are as fun and easy to make as possible. You only need a few embellishments, like ribbon, foam stickers, permanent markers, and recycled soda bottles! It's as easy as 1-2-3!
12. DIY

Indoor Bottle Herb Garden
Growing your herbs indoors can be tricky and time-consuming, but our simple indoor herb garden will help you make the most of your windowsill space. Cut up some milk jugs and create flower pots for your herbs. Then, use the handles to hang them and watch your plants grow upward. The best part? Each planter is a hanging garden you can easily move around —lift them off their hanging hooks and relocate them elsewhere.
13. DIY Wind Spinner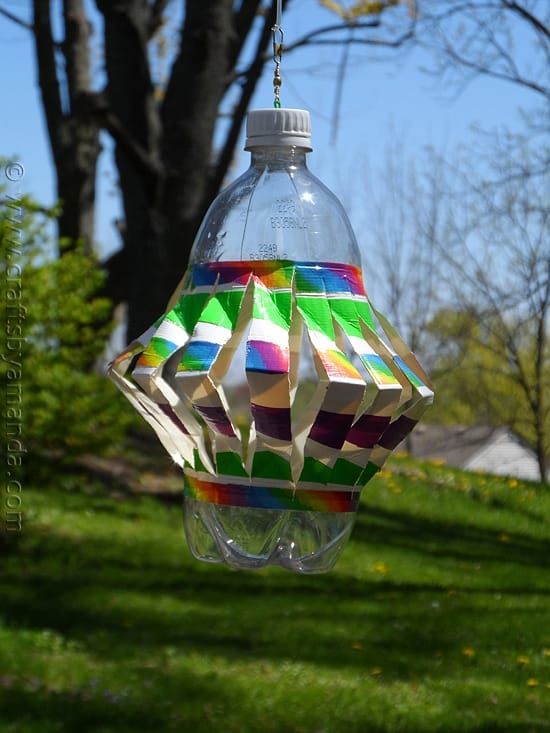 Transform your soda bottles into colorful wind spinners. Use a utility knife to cut out the shapes and pop them onto the sticks. Just make sure to use non-toxic paints and paints that are lead-free. Use a utility knife and make 3 sides of your bottle into the shape of an equilateral triangle, then glue it onto a sturdy string. For an extra artistic touch, embellish with colorful duct tape!
14. DIY A Fairy House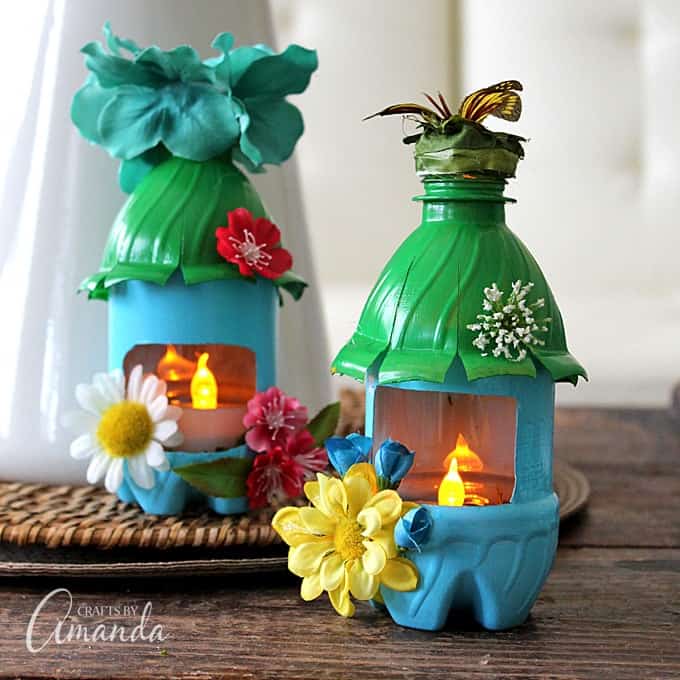 These bottles are perfect for fairy gardens, as they can be decorated with paint or stickers while preserving the original shape. The good idea is to use permanent markers to draw windows, doors, and any other elements on the bottle. Add painted moss or small fake flowers, then hide it somewhere in your garden or yard where people will wonder about its magic.
15. How to Make Plastic Bottle Flower Mobile
Are you looking for an eco-minded craft project? Do you want to create something that your kids can enjoy? Are you always looking for a new way to reuse and recycle? Make this mobile out of plastic bottles. Cut the tops off bottles, shape them into flowers, and string them together.
CONCLUSION
When plastic bottles are recycled, they can be melted down and turned into other plastic items. Recycling is great, but it's not always the best way to reuse your bottles. It's just one of several options you have! In this blog post, we explored 15 ways to reuse plastic bottles daily. Most of these ideas are easy to try at home. Some require more effort, while others require more time or money. But all of them are fun and interesting ways to try something new with your plastic bottles!