15 Free Crochet Dishcloth Patterns
Are you tired of using boring, plain dishcloths in your kitchen? Well, it's time to spice up your dishwashing routine with these 15 Free Crochet Dishcloth Patterns that are functional and stylish! From bold geometric designs to charming floral motifs, these patterns will surely add a touch of personality to your kitchen while also being a fun and satisfying project for any crochet enthusiast. So grab your hook, and let's start elevating your dishcloth game!
From classic stripes to modern patterns, these 15 free crochet dishcloth patterns will keep your kitchen clean and stylish!
Choosing Supplies For Crochet Dishcloth Patterns
Choose an absorbent and durable yarn specifically designed for dishcloths, such as cotton or yarn.
Consider the size of the hook, which will determine your dishcloth's overall size and texture.
Experiment with different hook sizes to achieve the look and feel you want
Choose a color, pattern, and stitch type that suit your personal preferences and the style of your kitchen
Get creative and have fun with your dishcloth project!
Tips For Crocheting Dishcloth Patterns
Crocheting dishcloth patterns can be fun and rewarding, but it can also be tricky if you're new to Crochet or unfamiliar with its techniques. Here are some tips to help you assemble beautiful and functional dishcloths:
Choose a simple pattern if you're new to crocheting or still developing your skills. Simple patterns will allow you to focus on your stitches and build confidence.

Take your time when reading the pattern. Make sure you understand each step before moving on to the next.

Use stitch markers to help keep track of your rows and stitches. This can be especially helpful when working on patterns that involve repeating sections.

Keep your tension consistent throughout your project. If your stitches are too loose or tight, they can affect the size and shape of your dishcloth.

Weave in your ends as you go. This will save you time and make it easier to finish your project.

Block your dishcloth when you're finished. Blocking will help even out your stitches and give your dishcloth a more polished look.

Experiment with different yarns, colors, and stitch types. Crocheting dishcloths can be a great way to practice new techniques and learn new materials.
Crocheting dishcloth patterns can be a fun and rewarding project with a few tips and tricks to remember. You can create beautiful and functional dishcloths for your home with practice and creativity.
See Also: 25 Small Crochet Projects for Summer
1. Crochet Orange Explosion Dishcloth

This bright and fun dishcloth is an explosion of color, perfect for adding brightness to your kitchen. The pattern uses only basic crochet stitches, making it great for beginning crocheters!
2.

Easy Crochet Dishcloth
An Easy Crochet Dishcloth for your kitchen; Crochet this dishcloth in any color combination! Easy and quick crochet project with no sewing, fasten off and weave in the loose ends with the help of a tapestry needle and get busy washing dishes. This crochet pattern is perfect for beginners.
3. Crochet Fabulous Fish Dishcloth

This simple crochet dishcloth pattern is perfect for beginners and makes a great gift! With a round shape and patches on the side, the project almost works itself – no complicated shaping to worry about! With this easy dishcloth pattern, you can make a whole school of fish for your kitchen!
4. Double Crochet Dishcloth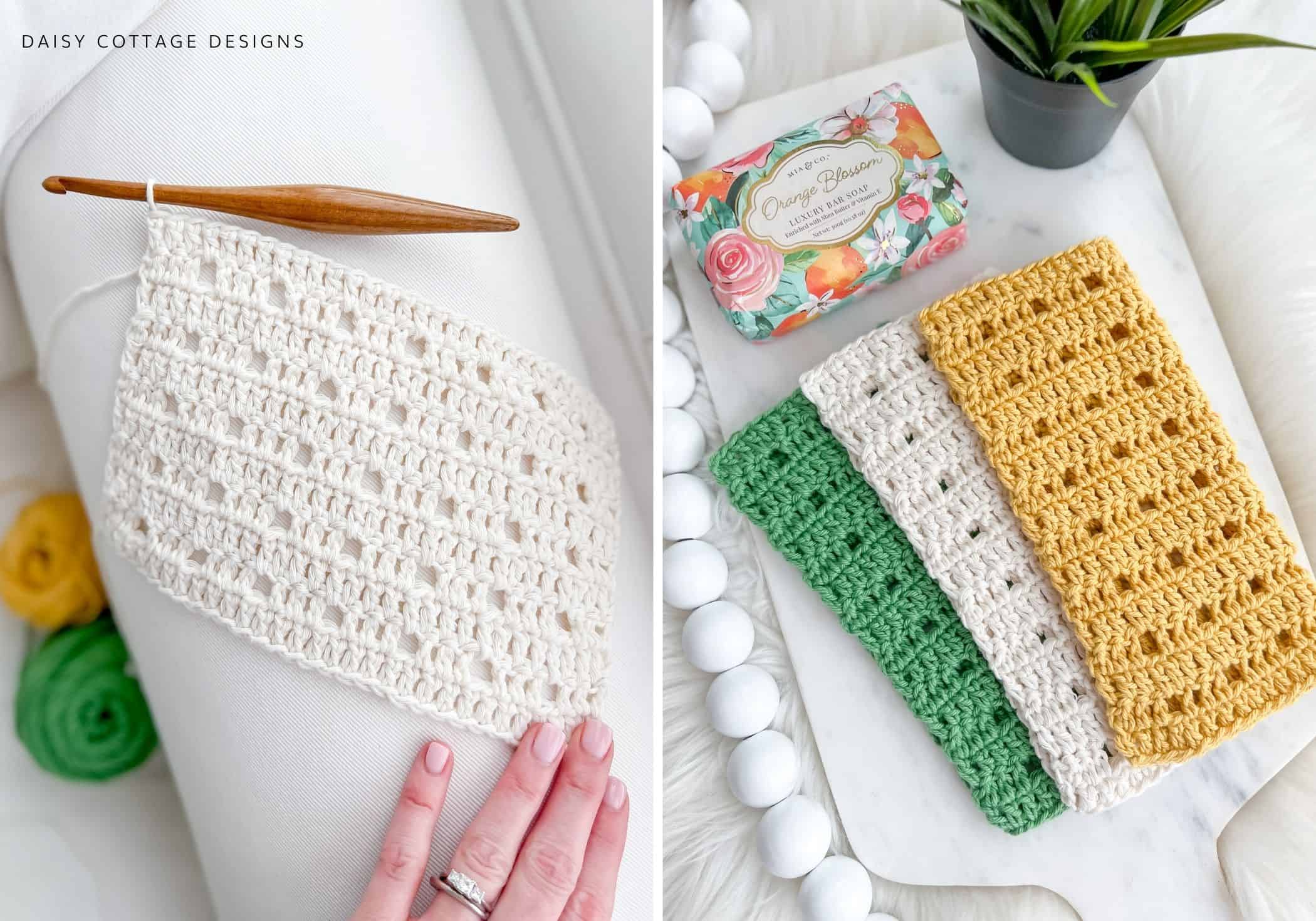 This design will surely perk you with its bright variegated look and solid border. Bright and cheerful, it makes the perfect dishcloth for a spring cleaning or summertime house gift. This pattern uses double crochet stitches and the chain stitch, so you can use any yarn and hook combo you want!
5. Forked Half Double Crochet Dishcloth

Crochet the forked half-double crochet dishcloth with this easy tutorial. It's a perfect introduction to hooked edgings and will showcase your crochet skills quickly. This dishcloth pattern is easy to follow and looks great in any color!
6. Crochet Spring Granny Dishcloth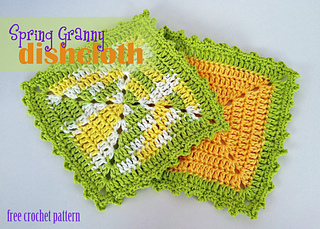 This lovely crocheted dishcloth is the perfect way to brighten your kitchen or bathroom. Scalloped edges and a fun springtime feel will add color to your day—no matter what time of year. The simple pattern allows you to use any yarn of your choice: choose an affordable cotton blend or something more luxurious such as merino wool.
7. Crochet Round Doily
This Crochet Round Doily pattern is designed as a decorative and functional way to dry your dishes. It's a fun and easy project, perfect for summer days. This dishcloth can also create a beautiful hanging decoration that will add color and charm to any room in the house. Your friends and family will love a handmade gift they can use daily.
8. Back-To-School Crochet Dishcloth and Scrubbie
Crocheting a dishcloth is the perfect way to get back into the swing of things after the long weekend. This is a wonderful project for beginners who want to crochet a dishcloth. It's easy to do and a great gift for family and friends. The result is a durable, soft, absorbent scrubby that lasts years.
9. Crochet Scrubby Set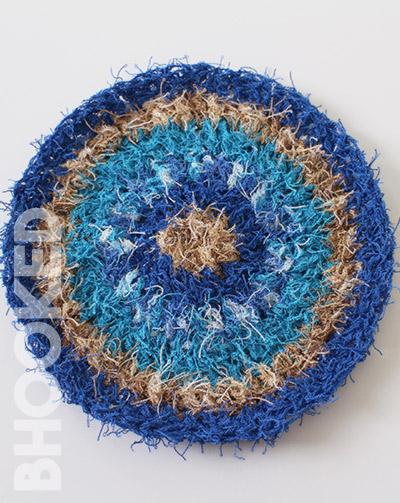 Crochet your own scrubby set with this dishcloth pattern. Perfect for handmade gifts, kitchen decor, or even yourself! This Crochet scrubby set includes a mini dishcloth, facecloth, and dish towel. They're easy to make and are perfect for everyday use! This pattern is perfect for beginners and those looking for something small or spare-time friendly!
10. Crinkle Stitch Crochet Dishcloth
Take your kitchen chores to the next level with this super soft and absorbent dishcloth from the popular Crinkle Stitch. With careful attention to detail, this well-written pattern will teach you to crochet a beautiful, functional, and stylish dishcloth in your kitchen or bathroom.
11. Crochet Bright Stripes Dishcloth
This striped dishcloth is perfect for your kitchen. Crochet in bright colors to add a pop of color to your kitchen, or use it as a stocking stuffer for the holidays. This bright and cheerful dishcloth will brighten up any kitchen. Perfect for little hands to grip, this dishcloth will surely please everyone in the family!
12. Crochet Free Wavy Dishcloth Pattern
Crochet this free wavy dishcloth pattern to add a touch of elegance to your kitchen. This crochet dishcloth pattern is just what you need to spruce up any sink, countertop, or food prep area! With its vintage look, you never have to worry about it getting stained!
13. Crochet Flower Dish Scrubber Pattern

Make this adorable dish scrubber and get your hands on a fun project! The soft texture of each scrubber is perfect for cleaning your dishes, and the bonus crochet flower makes it easy to tie onto a basket or hook for convenient storage. This is a great project for beginners who want to learn how to crochet!
14. Circle Point Crochet Washcloth
This Crochet Circle Point pattern creates a durable and absorbent washcloth for your kitchen. The green design features ridges throughout the dishcloth, giving this pattern a durable feel. Thousands have made this pattern of crocheters over the years, and it is a great way to learn how to crochet in the round. You can create or make these gifts as part of your kitchen set.
15. Crochet Little Nubby Scrubbie
Crochet Little Nubby Scrubbie is a fun way to keep your hands clean and dry while doing the dishes. This nubby little scrubby is great for washing dishes and cleaning up messes. This pattern will show you how to make a small pocket for your fingers to keep your grip on the crocheted scrubby when it gets wet or slippery.