15 Free Crochet Purse Patterns
Suppose you're looking for a fun and practical way to showcase your crochet skills; look no further than these 15 free crochet purse patterns. From cute and compact clutches to spacious and practical totes, these patterns offer something for every style and need. Each pattern is designed to be beginner-friendly, with easy-to-follow instructions and helpful tutorials. Whether you're a seasoned crocheter or starting, you'll find plenty of inspiration and ideas in this collection. So grab your crochet hook and some yarn and create a stylish and functional accessory you'll love to use daily. These 15 Crochet Purse Patterns feature shapes, sizes, and colors to suit any taste or occasion. You choose the yarn and put your imagination to work!
Supplies Needed For Crochet Purse Patterns:
The specific supplies you'll need for a crochet purse pattern will vary depending on your chosen pattern. Still, generally, you'll need a crochet hook, yarn, a tapestry needle, and possibly other embellishments like buttons or zippers. Read the pattern carefully before beginning to ensure you have all the necessary supplies.
Best Crochet Stitches for Purse:
Many different crochet stitches can be used to create a purse, but some popular options include single, half, double, and double crochet. These stitches create a sturdy and durable fabric that can hold up to the weight of everyday use. Additionally, a smaller hook size can help create a tighter fabric that won't stretch out over time.
Sizing a Crochet Purse:
The size of your crochet purse will depend on various factors, including the pattern you choose, the type of yarn you use, and the size of your crochet hook. Many patterns will include instructions for adjusting the purse size to suit your needs. Creating a gauge swatch before beginning your project can also be helpful to ensure that your finished purse will be the right size.
How Wide Should a Crochet Purse Be?
The width of a crochet purse can vary depending on the pattern you choose and your preferences. Some purses may be wider and shorter, while others may be narrower and taller. To determine the width of your purse, create a gauge swatch and calculate the number of stitches needed to achieve your desired width.
How Many Chains Do You Need to Crochet a Purse?
The number of chains needed to crochet a purse will depend on your chosen pattern and the purse size you want to make. Many patterns will include instructions for creating a foundation chain of the appropriate length to achieve the desired width of the purse. It can also be helpful to create a gauge swatch and measure the number of chains needed per inch to determine the appropriate number for your project.
How Do I Crochet an Infinity Purse?
An infinity purse is a popular style of crochet purse designed to be worn looped around the neck or shoulder. To crochet an infinity purse, you'll need to choose a pattern specifically designed for this purse style. These patterns typically include instructions for creating a long, cylindrical piece that can be twisted into a loop and joined together to create the infinity shape. Pay attention to the pattern instructions and take care when joining the ends to ensure the purse is seamless and secure.
See Also: 25 Small Crochet Projects for Summer
1. Raised Floral Crochet Purse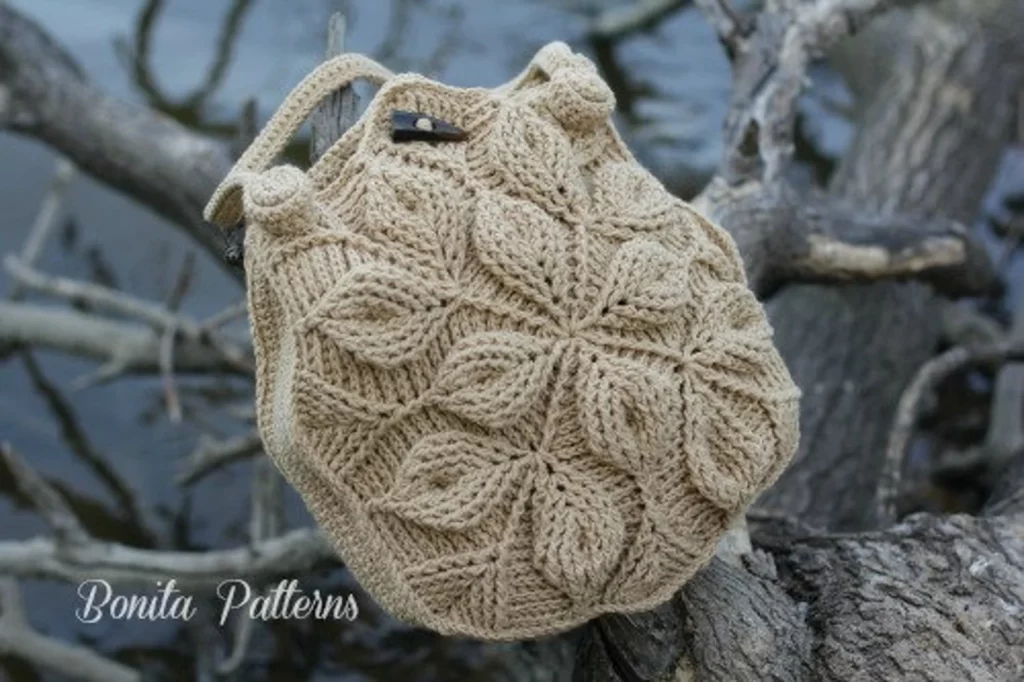 2. Crochet GRANNY SQUARE PURSE
This crochet GRANNY SQUARE PURSE is the perfect handbag option to add flair to your wardrobe! It's made from granny squares and features a large, closed pocket on the back. Looks great with gold or silver, depending on what color scheme you choose for your granny squares. If you're looking for an easy-to-make project everyone will love, here it is!
3. Sundance Crossbody Crochet Clutch Purse Pattern
Craft your own elegant crossbody purse with this crochet purse pattern. The Sundance Crossbody features a bold sunflower motif and a stunning red color combo, making it as functional as it is fashionable. It works great for any occasion, from shopping to travel.
4. SIMPLE CROCHET PURSE
If you need a small, fast, and easy-to-crochet project, you'll love this Simple Crochet Purse! It works up in a few hours, so it's perfect for last-minute gifts. This purse has an open design that is easy on the hands and looks cute over the shoulder. This is a great gift and a fun way to learn different stitch patterns.
5. Titan Tapestry Bag Crochet Pattern
Titan Tapestry Bag is a heavy-duty purse made using the tapestry crochet technique. You can add beautiful designs to this bag using different colors of yarn and tapestry stitches. It makes a nice wall hanging too! You may also use it as a gift box for your gifts or as storage without any design. Make it your own!
6. Crochet The Peppermint Purse
This crochet purse makes a great gift! Traditional Christmas candy canes inspire the Peppermint Purse, but with more cheery hues. It is super easy to crochet and has a sweet red pop that adds color. The Peppermint Purse has a fun and colorful yarn in two shades of mint green and white, with a feature crochet popcorn stitch. It's big enough for your essentials: phone, wallet, keys, lip gloss, and more!
7. Two-Tone Crochet Purse Crochet Free Pattern
This Two-Tone Crochet Purse crochet-free pattern is perfect for a beginner! This crochet purse pattern has no zipper, so it's super easy to maneuver your chances through crowds at concerts and festivals. The Two-Tone Crochet Purse pattern works quickly and is great for carrying things like makeup, a wallet, a phone, and keys.
8. Crochet Cross Body Bag Free Pattern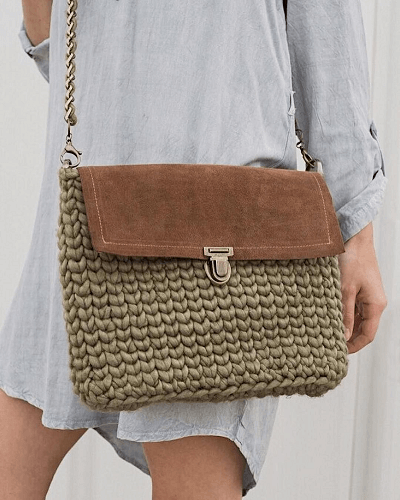 9. Roses Crochet Purse Pattern
The Roses Crochet Purse is a beautiful, stylish handmade purse perfect for any occasion. This purse has a pocket and interior compartments to store small items, such as keys or cash. Perfectly sized and large enough to hold your essentials yet not too big or bulky.
10. Backpack Purse Crochet Free Pattern
Grab this crochet backpack pattern to make yourself a versatile backpack purse that can easily be turned into a shoulder bag when needed. This crochet purse pattern is a great design for beginners. It is easy to make, but it also has beautiful details. Make this crocheted backpack purse and fill it with your favorite things!
11. Crochet Stash -N- Dash Clutch Pattern
Stash N Dash Clutch is fast, easy, and fun to make with your stash. The size is very handy for stashing your colorwork chart, notes, and other items needed on the go! This clutch makes for an excellent teacher gift, hostess gift, or just because you love someone!
12. Large backpack Crochet Bag Free Pattern
13. African Flower Purse Crochet Free Pattern
This fun and simple African Flower purse is a great beginner's project for anyone who loves to crochet. The flower design, similar to traditional African fabric patterns, will make your handmade bag look like something you bought from a boutique store. Once you've learned the pattern and mastered this purse's stitches, nothing stops you from making different sizes and colors.
14. Street Fair Crochet Boho Purse
The Street Fair Crochet Boho Purse is an easy, fun crochet project that works quickly. This stylish purse has a fantastic texture! You only need basic crochet skills and can have this bag style quickly. If you want to get into the street fair crochet craze, then take the time to learn this easy and free pattern today.
15. Lace Panel Crossbody Crochet Purse