15 Genius PVC Pipe DIYs For Home Organization
PVC pipes are a versatile and affordable material that can transform into various DIY projects. From storage solutions to home decor, these 15 genius PVC pipe DIYs For Home organization will inspire you to get creative and take your organization and storage game to the next level. With their sturdy construction, easy-to-cut design, and endless possibilities, PVC pipes can create everything from shoe racks and bookshelves to garden tool organizers and even a stylish wine rack.
Whether you're looking for practical storage solutions or unique decor pieces, these PVC pipe DIYs are perfect for anyone looking to add a touch of organization and style to their home. So, grab some PVC pipes and get ready to unleash your creativity! Check out these 15 Genius PVC Pipe DIYs that use PVC pipes to create effortless organization solutions for every room of your house!
Benefits Of Genius PVC Pipe DIYs for Effortless Organization and Storage"
PVC pipe DIYs for home organization and storage offer numerous benefits, including
Affordability: PVC pipes are affordable, making it easy to create DIY projects without breaking the bank.

Durability: PVC pipes are sturdy and durable, making them ideal for creating long-lasting storage and organization solutions.

Customizability: PVC pipes can be easily cut and shaped to fit specific spaces and needs, allowing for customizable solutions to organization and storage challenges.

Versatility: PVC pipes can be used for various DIY projects, from shoe racks to bookshelves, making them versatile for organization and storage solutions.

Easy to work with: PVC pipes are easy to cut, shape, and assemble, making them accessible for DIYers of all skill levels.

Space-saving: PVC pipe DIYs can be designed to maximize space, allowing you to store and organize items more efficiently and effectively.

Eco-friendliness: PVC pipes are a sustainable material that can recycle, making them eco-friendly for DIY projects.
By utilizing PVC pipes in your DIY projects, you can create efficient, affordable, customized storage solutions that will help you stay organized and decluttered.
What tools do I need for PVC pipe DIYs?
For most PVC pipe DIY projects, you will need a PVC pipe cutter, measuring tape, sandpaper, and glue. Additional tools may be required depending on the specific project.
How do I cut and shape PVC pipes for DIY projects?
PVC pipes can be cut and shaped using a PVC pipe cutter or a handsaw. Sandpaper can use to smooth out any rough edges or burrs.
Can PVC pipe DIYs be customized to fit specific spaces?
Yes, PVC pipe DIYs can be customized to fit specific spaces by adjusting the length and diameter of the pipes used. You can also paint or decorate PVC pipes to match your existing decor.
Are PVC pipe DIYs easy to assemble?
PVC pipe DIYs can easily assemble with basic tools and skills. However, some projects may require more advanced techniques and tools, so it's important to read instructions carefully and follow safety precautions.
1. Plastic Cactus Styling Tool Station

Beautiful and comical, we love this DIY Plastic Cactus Styling Tool Station. A fun addition to your vanity, it will surely inspire your creativity! This DIY Plastic Cactus Styling Tool Station is perfect for home styling tasks. This handy tool station organizes all your tools in one place. The included small plastic cactus allows you to pile up the rest of your styling tools and see them easily!
2. Cool PVC Pool Toy Rack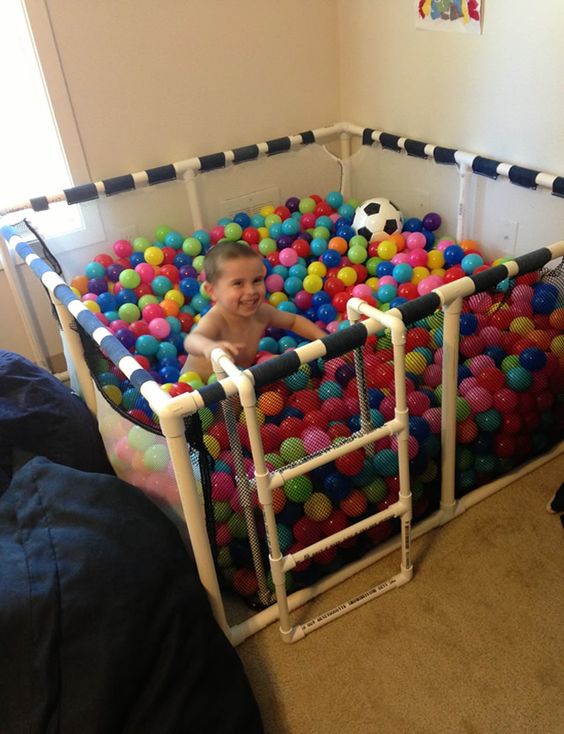 A cool PVC pool toy rack is an innovative and practical storage solution for keeping your pool toys organized and easily accessible. Made from PVC pipes, this rack is durable, lightweight, and weather-resistant, making it perfect for outdoor use. The rack design is simple, with multiple levels of hanging rods to accommodate various sizes and types of pool toys, such as inflatable floats, noodles, balls, and diving toys. The rack can be easily assembled and disassembled and doesn't take up too much space. A cool PVC pool toy rack is a great addition to any pool area, making it fun and easy to organize and tidy your pool toys.
3. Ribbon PVC Pipe Organizing Projects
Categorize, organize, and store your craft supplies in beautiful style. Ribbon PVC pipe is a great way to organize crafting supplies such as paints, beads, and buttons. This project will have you sorting and storing everything you need for creative crafting in no time!
4. Practical Art Supply Pyramid
This is the DIY project for your inner artist! Whether watercolors, pencils, or pens, this durable, easy-to-assemble art supply pyramid will keep your favorite supplies at hand. Store your artistic tools in one place and display them with pride.
5. Colorful Linen Drawer Dividers
Add a touch of personality to your linen closet with these easy DIY drawer dividers. What a fun way to organize your linens and make your closet feel like home! You can easily identify the contents of your drawers (i.e., socks, underwear, or towels) by color, pattern, and size. It helps keep things neatly organized.
6. Simple Sideways Wall-Hanging Bicycle Mount
7. Easy Rainbow Headband Stand
8. Cool Tape Dispenser Ideas
Tape Dispenser is a unique DIY project you can make for your home or office. You will only need to locate the appropriate items and then use them to create this exclusive piece of furniture. These dispensers are available in different colors and sizes, so it's up to you which suits your personality best!
9. Tidy Garden Tools Garage Organizer
10. Durable Home Gym Shoe Holder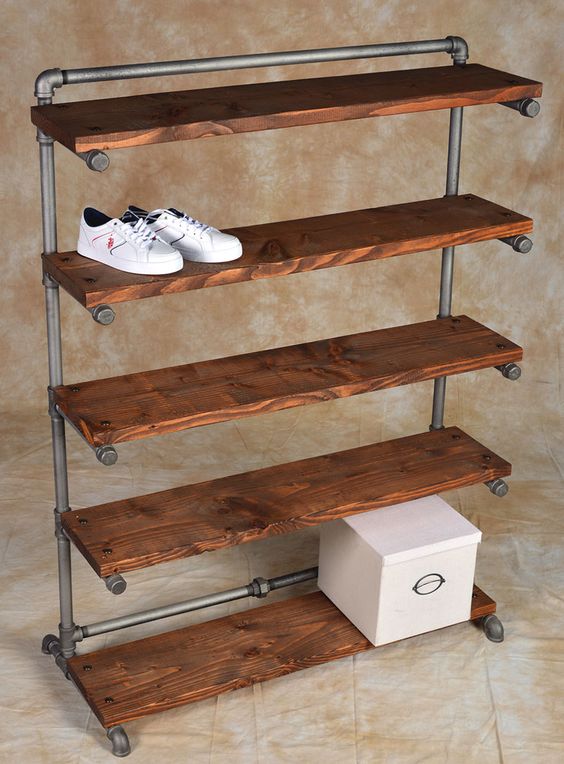 Are you looking for a quick and easy way to help organize your shoes? The effortless DIY Durable Home Gym Shoe Holder is perfect for just that. This cute, no-sew DIY project can be completed using simple materials and tools. Drill four holes in the bottom of each PVC pipe, creating a sturdy build that keeps your sneakers from tipping over.
11. PVC Rolling Garden Hose Caddy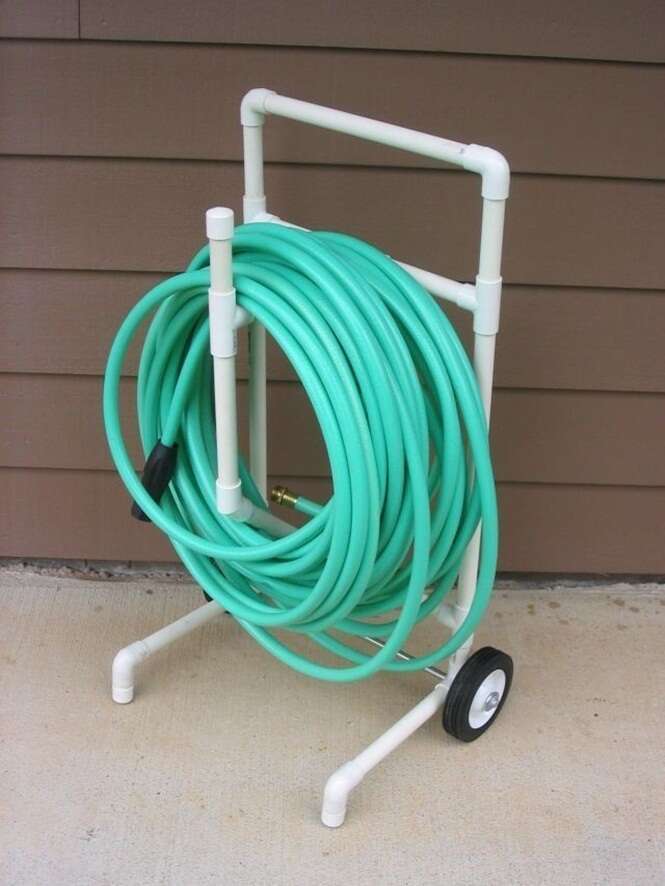 Create a rolling garden hose caddy to keep your outdoor space neat and organized. You can roll up the hose when it's not in use, making it easy to store the whole thing when you're done gardening for the day. It can use to create storage solutions for just about anything, including garden hoses. This DIY garden hose caddy is so easy to make you won't believe it.
12. INDUSTRIAL SHELF USING PVC PIPE
This floor-to-ceiling storage unit will give your room the rustic feel you have been looking for. It's the perfect balance between modern and rustic at a very affordable price. This free-standing unit works great as a side table or nightstand for storage. The bonus is you can also use it to hide away your office or kids' toys!
13. Shoe Racks for Manly Men
Transform your closet by building your shoe racks using PVC pipe. The pipe makes a great, affordable DIY rotating shoe rack base. It's also great for creating garment racks that free up closet space when you do not need to hang your clothes. Create shelving units to store boots and other footwear with this simple guide.
14. Kids' Customized Toothbrush Holders
Teach your kids about responsibility by giving them a customized toothbrush holder that fits their favorite color and height. You can create a personalized toothbrush holder with this easy DIY project. This project is perfect for kids and will help them keep track of their toothbrushes or families with shared bathrooms. Even the kiddos will love to help make this custom toothbrush holder.
15. Six Spot PVC Pipe Art Tote