15 Simple Crochet Octopus Patterns for Beginners.
Are you looking for a fun and unique crochet project perfect for beginners? Look no further than these 15 Simple Crochet Octopus Patterns for Beginners! These adorable sea creatures are a favorite among crochet enthusiasts, and with these beginner-friendly patterns, you can create your own Octopus in no time. From simple designs with just a few basic stitches to more advanced patterns with intricate details, there's something for everyone on this list. These crochet octopuses make perfect gifts for kids and adults or add a touch of whimsy to your own home decor.
So grab your hook and some yarn, and dive into these fun and easy crochet octopus patterns that inspire and delight! Crochet enthusiasts will love these 15 Simple Crochet Octopus Patterns for Beginners! These adorable squishy toys are perfect for kids and adults.
Tips And Tricks For Crochet Octopus Beginner-Friendly Patterns
Crochet octopuses are a fun and unique project that can be enjoyed by beginners and experienced crocheters alike. If you're just getting started with crochet or are new to making these cute creatures, here are some tips and tricks to help you create the perfect Octopus:
Choose the right yarn: Choose a lightweight yarn with a good drape for a soft and cuddly octopus. Cotton or acrylic yarns work well for this project.
Use stitch markers: To help keep track of your stitches, use stitch markers to mark the beginning of each round. This will help ensure that your Octopus has a consistent shape and size.
Stuff your Octopus firmly: Make sure to stuff your Octopus firmly, but not too tightly. This will help give your Octopus a nice shape and make it easier to attach the tentacles.
Play with color: Don't be afraid to get creative with your color choices! Experiment with different color combinations to create a unique and personalized octopus.
Practice your tension: Crochet octopuses require consistent tension, so practice your tension before starting your project. This will help ensure that your stitches are uniform and your Octopus looks great.
By following these tips and tricks, you'll be on your way to creating a beautiful and adorable crochet octopus that you can be proud of!
See Also: 20 free crochet amigurumi patterns
1. No-Sew Amigurumi Octopus Pattern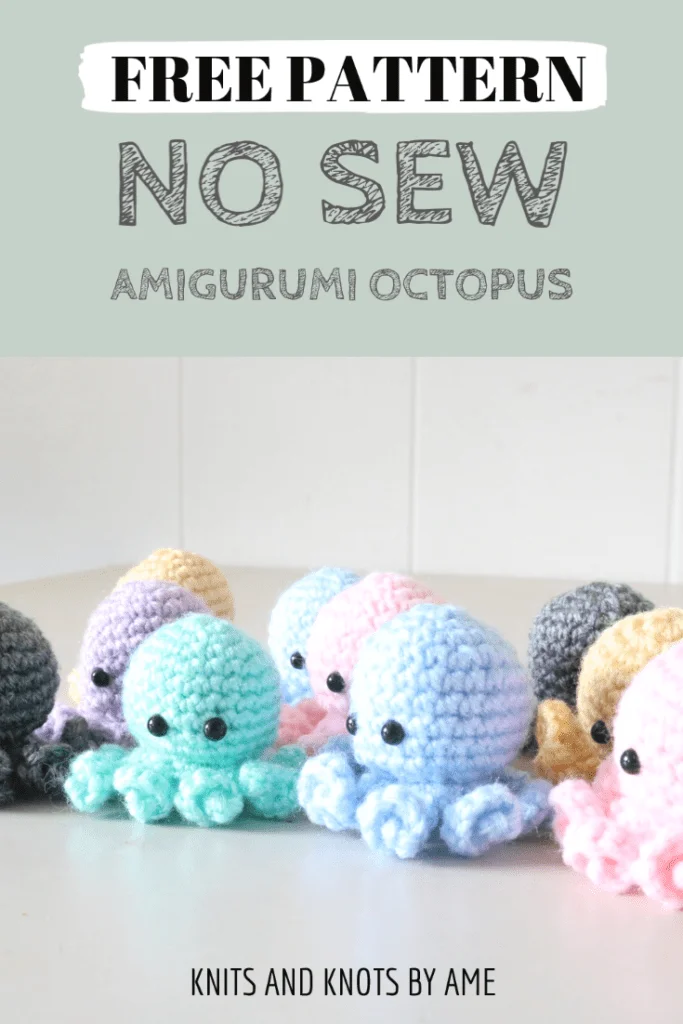 This is a crochet pattern to make a one-of-a-kind amigurumi octopus. You only need to know basic crochet stitches and techniques. This adorable amigurumi octopus is the perfect gift for children and adults that love these cephalopods! This tutorial uses only single crochet stitches and inc, dec, and join methods.
2. Mini Amigurumi Octopus
This mini crochet amigurumi octopus can be the perfect companion for your keys, backpack, or purse. Your kids will love this cute Octopus with a soft and huggable feel. This mini amigurumi octopus is easy to crochet and makes a great gift or decoration! It makes a great gift too! He has such a personality and is soft to the touch.
3. Crochet Reversible Octopus Pattern
This Octopus is so fun and easy to make; you'll want to make them in all sorts of colors! With this pattern, you can crochet as many as you like because the tentacles are fun to change around! This crochet octopus pattern is designed to be reversible, and you won't need to sew any of the pieces together. Perfect for beginners, it's also a great way for more experienced crocheters to learn new techniques and perfect their skills.
4. How to Crochet a Stuffed Octopus
Fancy a trip to the deep blue sea but still need to be ready to take the plunge and swim with real live octopuses? With this crochet pattern and some yarn, you can make any surface—on land or at sea—the home of your own adorable stuffed Octopus. This amigurumi is worked from top to bottom in one continuous spiral without turning or joining rounds. This technique makes for a very round and sturdy little guy!
5. Red Heart Preemie Crochet Octopus
This is a great pattern for beginners, who can easily make this little crochet octopus. You must be able to single, half-double, and double crochet stitches. The pattern will also show you how to join your rounds to make this adorable crochet octopus in one day! Perfect for the baby shower or for snuggling on the couch. This little creature can keep you company or be a perfect gift for that special little one.
6. Crochet Octopus Pattern – For Beginners
Crochet this adorable Crochet Octopus Pattern. This perfect crochet craft is for beginners and advanced crocheters to make a super soft, cuddly, and lovely gift for friends, family, children, and more. Amigurumi is the Japanese art of making handmade stuffed toys from crochet or knitting. These sweet creatures are often found in Sanrio stores all over Japan!
7. Tiny Octopus Crochet Patterns
These cute octopus crochet patterns are perfect for the aquarium lover in your life. They're also fun and easy to make, so you can make dozens of them at once if you'd like. This is a great starter project for anyone wanting to get into crafting or needs quick gifts for upcoming birthdays, showers, special occasions, etc.
8. The Color Octopus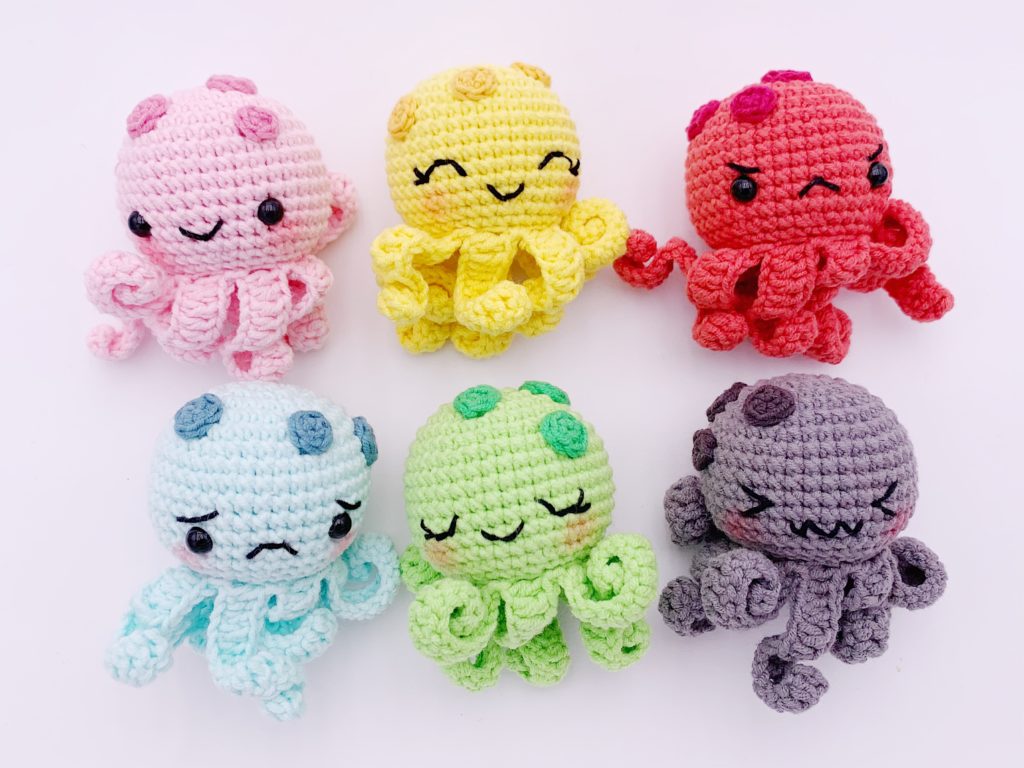 The Color Octopus is a simple beginner crochet pattern with super fun results. This is not an intarsia or color work project! Color placement is done by making wound sts loosely and using contrasting yarns. This will be the cutest addition to any room, playroom, or child's room.
9. Sailor Octopus – Amigurumi Pattern
This crochet sailor octopus pattern is fun and easy, so even beginners can make it. It's a great decoration for children's rooms, nurseries, or offices, but you can also use it on your desk or home barbeque party.
10. Realistic Octopus Pattern
This soft and cuddly crochet octopus is perfect for any sea fan as a fun toy or decor. Crochet this realistic Octopus and create an adorable gift for any occasion. This pattern is easy and quick to make, but it works up beautifully, making it a great choice for beginners.
11. Octopuses for Preemies Easy Pattern
Are you looking for a cuddly, crocheted octopus for your little one? This pattern is just the thing! Perfect for preemies (or any baby) who like to snuggle the ocean critter while staying cozy and warm. The best part? They are crocheted with a soft yarn that makes them oh-so-cuddly.
12. Kawaii Octopus Pattern
No sea creatures were harmed in the making of this crochet octopus. This little guy is perfect for your favorite kid or to add fun to your home decor. Perfect for kids and adults alike, you will love how sturdily constructed this Octopus is, making him perfect for hugs and snuggles by even the smallest children.
13. Amigurumi Octopus Baby Toy Pattern
Crochet a beautiful, colorful octopus baby toy with this free pattern! It's super fun and easy to make, and babies love them. This crochet octopus baby toy is a fun and gorgeous crochet project for any level of crocheter. It's quick to make, super soft, and adorable for those little fingers to hold onto. Adorable, easy to handle, and keep track of, this Octopus can be made in just a few hours!
14. Cutest Amigurumi Octopus Crochet Patterns
The cute Octopus Crochet Pattern is an adorable companion to keep at your desk, a friend to cuddle when it rains, and a great gift for someone special. This adorable toy is suitable as a display piece on the shelf, a great decoration for your house or room, and ideal as a gift for kids or anyone who loves sea creatures! This is a wonderful idea for making gifts for kids and adults.
15. Giant Amigurumi Octopus!

You will love making this Giant Amigurumi Octopus! The easy pattern includes a photo tutorial, step-by-step written instructions on how to make your own eyes, and helpful tips for crocheting an octopus. The cute tentacles are made with simple single crochet stitches, and the body is worked in the round in spirals.