Shower caps are practical for keeping hair dry during showers or baths, but who says they must be boring? In this blog post, we'll share 16 DIY shower cap ideas that are both functional and stylish. Whether you're looking for a cute floral print or a bold animal print, we've got you covered. We'll cover the needed materials and provide step-by-step instructions for each project. These shower cap ideas are eco-friendly and budget-friendly, from repurposing old shower curtains to using fabric scraps. With these fun and creative ideas, you can upgrade your shower routine and make a statement.
Looking for a fun and creative way to spice up your shower routine? Our 16 DIY shower cap ideas offer unique and stylish options for all your needs!
See Also: 11 Boho Bathroom Decor Ideas
1. Sew A Shower Cap In 10 Minutes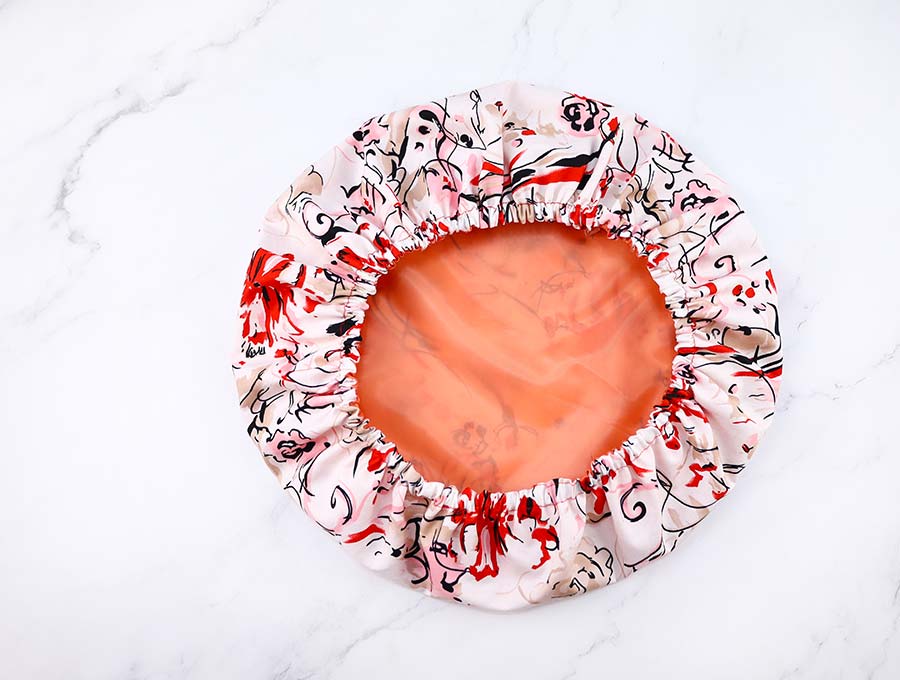 This shower cap is light, soft, and comfortable to dry your hair. This shower cap is so easy to make. Even a beginner sewer can make it. Determine the shape of the hat cap by measuring your head. Trace that size onto paper and cut out two identical shapes from the fabric. Sew a top and a bottom seam along each side of each piece of fabric to form an oval shape for sewing around the curves of your head. Sew two terry cloth towels to create the shower cap's liner.
2. How To Sew A Shower Cap
Sewing a shower cap is one of the most basic sewing projects. Using suitable fabric and thread makes it easy for your kids to learn how to do it. You can make two different styles of shower caps by following the instructions in this video. One is an inside-out cap, and the other is like a hat covering only your ears and part of your head. Both caps are cheap and easy to sew, so it's worth investing in them. When finished, this simple shower cap will keep your hair dry and looking good under any circumstance.
3. Make A Shower Cap With a Plastic Bag
If you're having a bad hair day, turn to a shower cap. A shower cap will protect your skin, prevent frizzing, and extend the life of your blowout. Follow along as our expert demonstrates how to make a DIY shower cap with a plastic bag, elastic band, and thread. Oh, and using a needle is optional! The plastic bag is one of the most common things in our home. We use it to carry products, store food, and much more. But did you know a plastic bag can transform into a shower cap? You don't need unique materials or tools to make this; all you need are basic materials from around your house!
4. Homemade Shower Cap
What do you do with your wet hair when you hurry to shower? Why not try this super-easy way of wrapping your hair with plastic bags? All you need is two pieces of plastic bag and elastic bands. You don't need a sewing machine to stitch the elastic bands on both sides! Before you jump in the shower, place this plastic bag shower cap over your hair and slip on some flip-flops. The elastic band inside the shower cap will ensure it stays put and doesn't fall off!
5. DIY Shower Cap Tutorial
A bright, cheerful shower cap is necessary, but how dull is one color? Make a colorful DIY Shower Cap that matches your mood! This easy tutorial shows how to sew two colors onto a single shower cap – the only limit is your imagination. Making a DIY shower cap is great if you love to sew. Sewing your shower cap will save you money and tons of time. This DIY shower cap is easy to make, requiring only one hour and basic sewing skills. All you need are some waterproof fabric and a plastic headband. Then, follow this step-by-step tutorial and make your stylish shower cap today!
6. Waterproof Fabric Shower Cap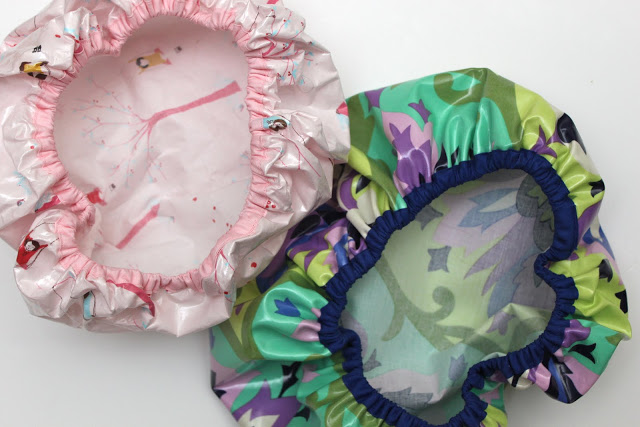 Don't let one bad hair day ruin your whole day. Protect your hair with a waterproof shower cap! Waterproof and resistant, this shower cap will keep your head dry even amid a storm. The waterproof fabric shower cap covers your head and removes moisture from your hair. The shower cap covers all of your hair and prevents it from getting wet in the shower. You can use it for bathing your hair or body in the bathtub or shower. Whether you like swimming or showering, this product has many uses.
7. Shower Cap From Shower Curtain
Do you want to save money and avoid the irritation of unfurling a shower cap whenever you want to wash your locks? Then, this is the best solution! These shower caps are made from waterproof curtains, allowing them to last longer than expected. All that is left is to make a few cuts and use them in your bathroom immediately. Get a quality shower cap made from a shower curtain. This shower cap will last longer than the others you've been buying.
8. DIY Shower Cap
Shower caps prevent water from getting into your hair or on your clothes, but why spend money when you could make your own!? This DIY shower cap is the perfect way to recycle old plastic bags. You only need a few supplies like scissors, needles, thread, and some basic sewing skills (or know someone who has them) to create this cute little cap! This super-simple shower cap from a plastic bag is an attractive alternative to store-bought ones. It'll protect your hair from damage while washing and keep water out of your eyes!
9. Shower Cap With Optional Ribbon Rosette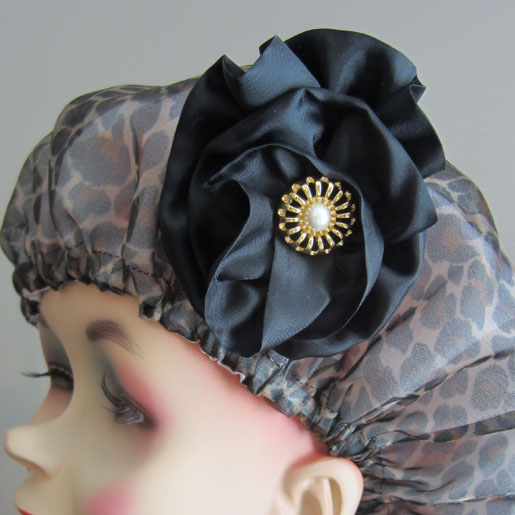 If you love having a shower cap, buy this one. It has a beautiful ribbon rosette on one side, so it looks great. You can easily make it yourself and enjoy the benefits. The shower cap is a great and stylish tool for protecting your hair from getting wet. It also prevents water and shampoo from getting in your eyes when washing your hair. This shower cap is made of beautiful fabric and has an optional ribbon rosette on one side. The ribbon rosette makes the cap look impressive, as it will draw attention to you while you're in the shower.
10. Homemade Shower Cap
A shower cap may not seem like a big deal, but if you're trying to keep your hair dry or just looking for something easy-care and comfortable, this DIY shower cap is a simple solution. This project is mostly sewing, which requires little knowledge of needlework and can be completed by anyone with some basic sewing supplies. Shower caps are ideal for keeping your hair dry when showering or bathing. These caps are designed to fit the contours of your head and stay on without messing with your hair. The best part is that they're easy to make at home using materials found around your house. Get ready to DIY one in no time!
11. How To Make A DIY Shower Cap
If you have short or thin hair and want to preserve your little hair while showering, then a shower cap is the best option. However, buying such caps can be expensive, so you should make your own. This article teaches how to make a DIY shower cap from scratch. A shower cap is a great way to keep your hair dry and clean in the open for long periods. It's also a practical gift for people who regularly shower outside.
12. Simple Shower Cap
This shower cap is made from old plastic bags and rubber bands. It's an elementary shower cap; it's easy to make, clean up, and store after use, dries fast, and is reusable for a long time. The shower cap is a great way to keep moisture and shampoo out of your hair. It creates a barrier around your head, limiting any escaping water or soap. This shower cap is simple to make; it only takes a few minutes. Use your favorite plastic bags, and it's ready for a waterproof shower cap!
13. 5 Minutes Shower Cap DIY
If you want a quick and easy DIY project, try this 5-minute shower cap idea. Grab a plastic bag, attach it to a hair band, and you're ready. This is perfect if you want to put your hair up during a shower but still keep it dry or want to avoid carrying around an extra hair brush or comb during a trip. This DIY shower cap and other tips are easy to make and wear. This is an easy solution if you're looking for something temporary or someone has trouble bending down.
14. Make A Shower Cap At Home
This simple shower cap can help when you are in a hurry and want to get ready quicker. It covers your hair, keeps it dry, and prevents the water from going everywhere. The best thing about this project is that it is easy to make at home! Save money by making one yourself instead of buying one at the store. The shower cap is made of fleece fabric and a plastic bag to be waterproof. You can store it quickly after use, as it lies flat and does not take up too much space.
15. DIY Satin Lined Shower Cap
The shower cap is an essential item that keeps your hair dry while you shower. Although it's perfect to have one, there are times when we need to remember to buy one. This tutorial comes here, letting you make your own satin-lined shower cap. This satin-lined shower cap makes your bathing experience more enjoyable. Not only that it keeps your hair dry and prevents tangles, but it also adds style to you and the bathroom. The tutorial on making your own shower cap is easy to use, and with this DIY project, you can add a personal touch to your home.
16. DIY Shower Caps For Natural Hair
Do you have a large afro, braid, or very long hair and find it hard to fit your hair into a standard shower cap? There is an easy solution for this. In this video, we shall show you how to make your DIY shower cap for natural hair. You can buy a shower cap for natural hair, but who wants to pay for something as silly as a shower cap? You can use a small shower cap for natural hair without endangering your hair as if you have had enough of the regular ones. These DIY shower caps are perfect for maintaining your hairstyle – no matter the size or shape!