18 Easy Crochet Scarf Patterns
Are you ready to stay cozy and stylish this season? Look no further than our collection of 18 free and easy crochet scarf patterns! From classic designs to trendy twists, these patterns offer something for every style and skill level. Whether you are a seasoned crocheter or just starting, these scarves are the perfect way to elevate your winter wardrobe. With detailed instructions and helpful tips, you can create unique and beautiful scarves that will turn heads. So grab your hook and favorite yarn, and dive into crochet! With these 18 free and easy scarf patterns, you can keep warm and fashionable all season long. Stay cozy and stylish with these 18 Free & Easy Crochet Scarf Patterns. From classic designs to trendy styles, there's a scarf for every taste and skill level.
Supplies Needed For Crochet Scarf Patterns
The supplies needed for crochet scarf patterns will vary depending on your pattern. However, in general, here are some of the most commonly used supplies for crochet scarves:
Yarn: Choose a yarn appropriate for your pattern. The yarn weight and fiber content will affect your scarf's final look and feel.
Crochet Hook: Your hook size will depend on your desired yarn weight. Be sure to check the pattern for the recommended hook size.
Scissors: A pair of sharp scissors will come in handy for cutting your yarn.
Yarn Needle: A yarn needle is useful for weaving loose ends and finishing your scarf.
Stitch Markers: Depending on the pattern, stitch markers can help you keep track of your progress and ensure your stitches are even.
Measuring Tape: A measuring tape will help you gauge the length of your scarf as you go along.
You'll be ready to create a beautiful crochet scarf with these basic supplies.
Best Crochet Stitches for Scarves
You can use various stitches to achieve different textures, patterns, and designs when crocheting scarves. Here are some of the best crochet stitches for scarves:
Single Crochet (SC): This basic stitch creates a dense, solid fabric. It's great for beginners and can be used to create a classic, simple scarf.
Half Double Crochet (HDC): This stitch is slightly taller than the single crochet stitch, creating a slightly looser fabric. It's a good option for scarves that need a little drape or texture.
Double Crochet (DC): This stitch creates a taller, more open fabric that is great for scarves that need to be light and airy. It's also a good option for creating lacy patterns.
V-Stitch: This simple stitch creates a v-shaped pattern. It's a great option for scarves that need a little texture but not too much.
Shell Stitch: This stitch creates a wavy, scalloped edge and is a great option for creating a feminine, delicate scarf.
Granny Stitch: This stitch comprises clusters of stitches, creating a textured, vintage look. It's a good option for scarves that need a lot of texture and warmth.
These are just a few examples of the many crochet stitches you can use to create scarves. Choosing the right stitch will depend on the look and feel you want to achieve for your scarf and your skill level as a crocheter.
Sizing a Crochet Scarf
Sizing a crochet scarf ensures that the finished product is comfortable and functional. Here are some steps to follow when sizing a crochet scarf:
Determine the desired length: Consider how you want the scarf worn and measure the length from end to end. A typical length for a scarf is around 60-70 inches (152-178 cm), but you can adjust the length to suit your preferences.
Determine the desired width: Scarf widths can vary, but a typical width is around 6-8 inches (15-20 cm). However, you can adjust the width based on your preference and the stitch pattern you choose.
Make a gauge swatch: A gauge swatch is a small sample of the stitch pattern you'll use for your scarf. Crochet a small swatch and measure it to ensure it matches the gauge specified in the pattern. If your gauge is different, adjust the hook size until you get the correct gauge.
Calculate the number of stitches: To calculate the number needed for your scarf, multiply the stitch gauge by the desired width. For example, if your gauge is 4 stitches per inch and you want a scarf that is 6 inches wide, you'll need to cast on 24 stitches (4 x 6 = 24).
Crochet the scarf: Follow the pattern instructions to crochet the scarf to the desired length. Remember that the scarf's final length may vary depending on the stitch pattern.
By following these steps, you can ensure that your crochet scarf is the right size. Always adjust your sizing based on your preferences and the stitch pattern used.
Common Questions about Crochet Scarves
What is the ideal width for a crochet scarf?
The width of a crochet scarf can vary depending on personal preference and the stitch pattern used. However, a typical width for a scarf is around 6-8 inches (15-20 cm). You can adjust the width based on your preferred stitch pattern.
How many chain stitches are required to crochet a scarf?
The number of chains required to start crocheting a scarf will depend on the stitch pattern you are using and the desired width of the scarf. To determine the number of chains needed, make a gauge swatch and calculate the number of stitches needed based on your gauge and desired width.
What is the process of crocheting an infinity scarf?
To crochet an infinity scarf, you will need to choose a pattern designed for circular or tubular construction. Start by crocheting a foundation chain that is the desired circumference of the scarf. Join the last chain to the first with a slip stitch to form a circle. Crochet in the round, following the pattern instructions, until the scarf is the desired length. Once complete, join the last round to the first with a slip stitch and weave in any loose ends.
See Also:
1. Griddle Stitch Scarf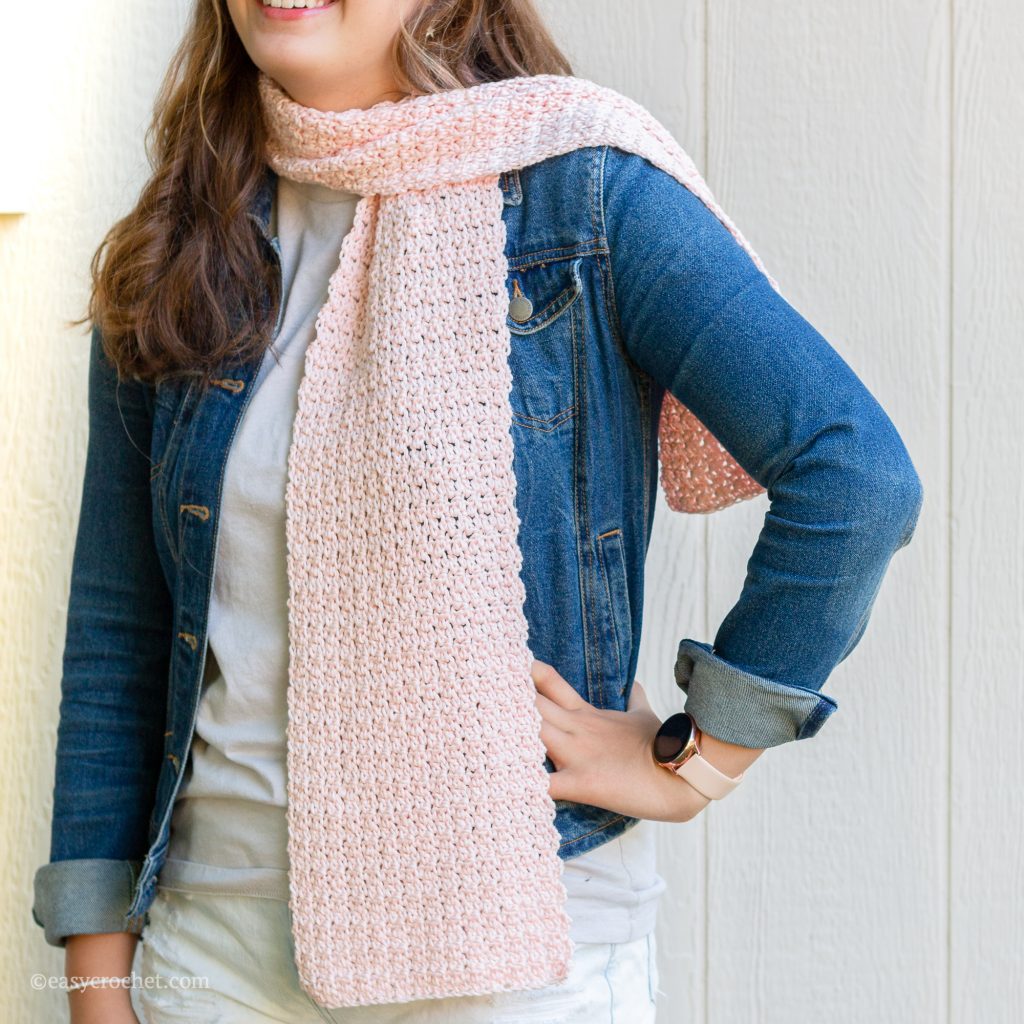 This Griddle Stitch Scarf is perfect for beginners and advanced crocheters alike. It's a great project for learning the griddle stitch, and it only uses two basic crochet stitches: single crochet and chain stitch. The unique design of this scarf will have everyone asking you where you got it!
2. Crochet Infinity Scarf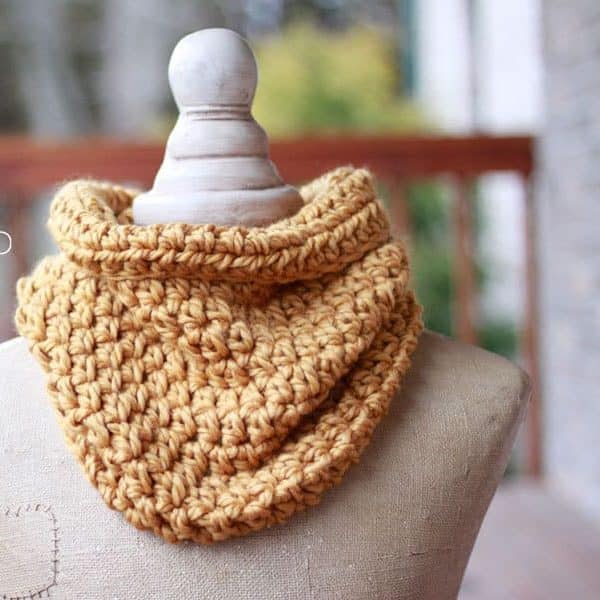 This crochet infinity scarf is a cozy, warm piece you can wear all winter. Make this quick, simple, and cozy crochet infinity scarf that can be worn in many ways. This perfect beginner project will make you look like an expert in no time. Easy to make and is such a fun project that you will want to make one for everyone in the family!
3. Easy Crochet Scarf for Beginners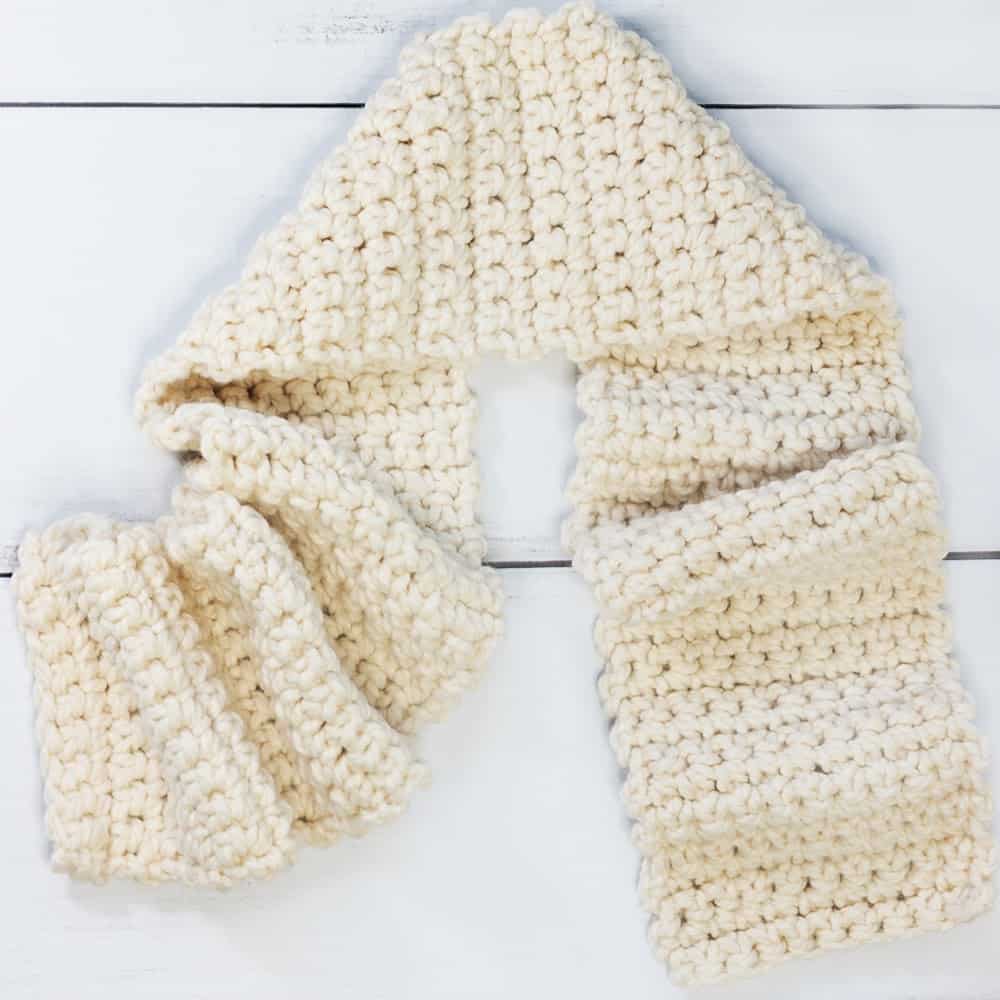 Make a scarf that's as long, short, wide, or skinny as you'd like with this simple crochet scarf pattern. The best part? It works fast and requires just one skein of yarn for many uses throughout the year. This makes a great gift to give away or keep for yourself.
4. Fringe Crochet Scarf Pattern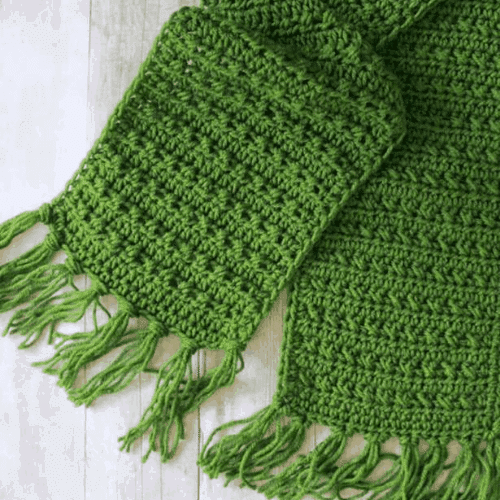 Get ready for fall with this lovely fringe crochet scarf pattern. It uses simple stitches worked back and forth with slip stitches to create a beautiful design. This wonderful scarf pattern has a beautifully textured look and is worked in one piece. It creates a finished product that is soft and warm. This free crochet scarf pattern uses basic stitches, so even beginners can make this amazing design!
5. Triangle Scarf Wrap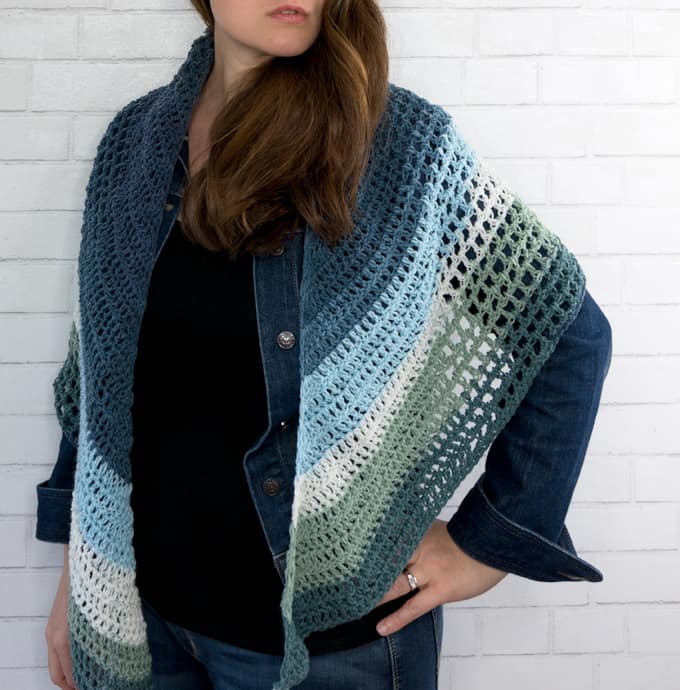 This triangle scarf is the perfect pattern for using up your leftover yarns. The scarf can be worn and doesn't need to be blocked to look great! This triangle scarf pattern is great for all crochet skill levels. Depending on your mood, wear it as a wrap or a scarf, and wear it into the fall season before swapping it out for a hat, gloves, and more. Easily customize the length for yourself or gifting!
6. Extra Long Scarf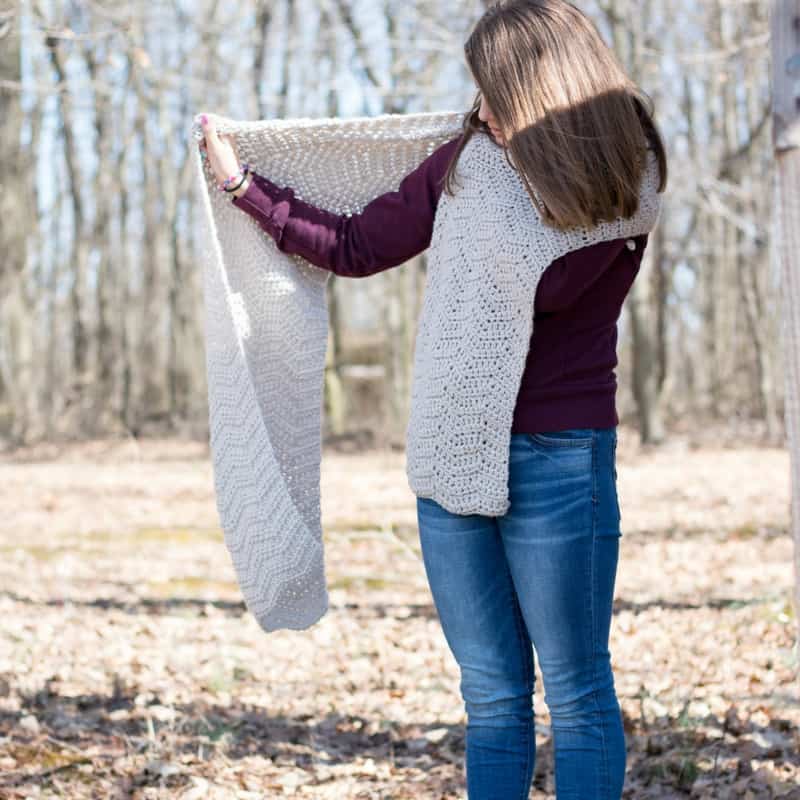 This Extra Long Crochet Scarf Pattern is perfect to wear all year round, but it shines in the fall with its perfect length, softness, and warmth. Use our favorite scarf pattern to transition into fall with a delicate and beautiful scarf. You'll love this scarf's softness; it won't be bulky around your neck but will keep you warm on these cooler days.
7. Striped Scarf Pattern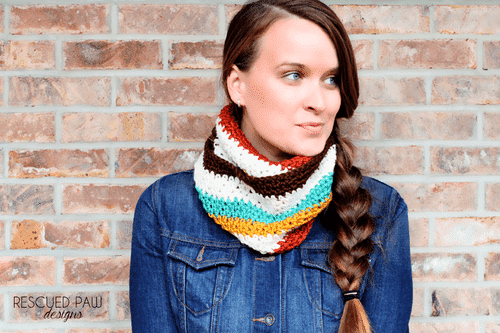 Stripes are the new neutral, so why not make a crochet striped scarf? This tutorial is for an infinity scarf with several color changes that make it easy to use up your scrap projects and turn them into something you love wearing. This crochet scarf pattern starts with one color, and each row is alternated with another color. It works quickly, so it's a perfect last-minute gift idea!
8. Bulky Yarn Scarf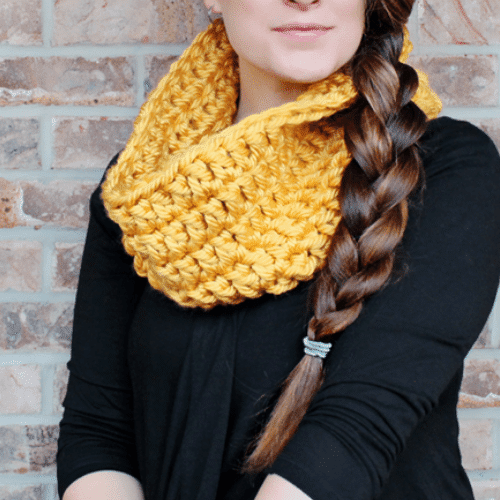 This Bulky Scarf Crochet Pattern is the perfect way to use scraps of your favorite bulky yarns. You can use two colors to make a two-toned scarf or a solid color to match any coat or jacket. This one skein project is great for beginners, too!
9. Textured Long Crochet Scarf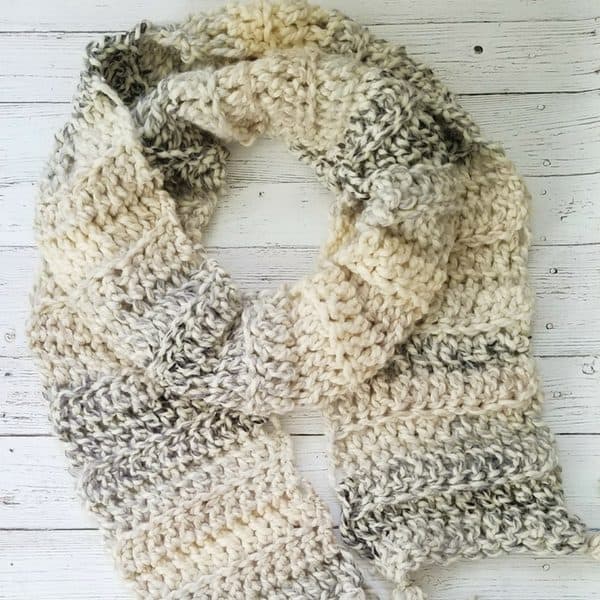 Fun, modern and trendy! This textured scarf is just what you need to stay warm this winter. The simple but super-chunky yarn makes it such an easy project you'll want to make multiple of these amazing scarves. This is a great scarf pattern to use up some of your stashes. The loop stitch creates a beautiful texture, and the long length is useful! This super scarf works surprisingly fast and is a great gift to make for yourself or someone else.
10. Surface Crochet Scarf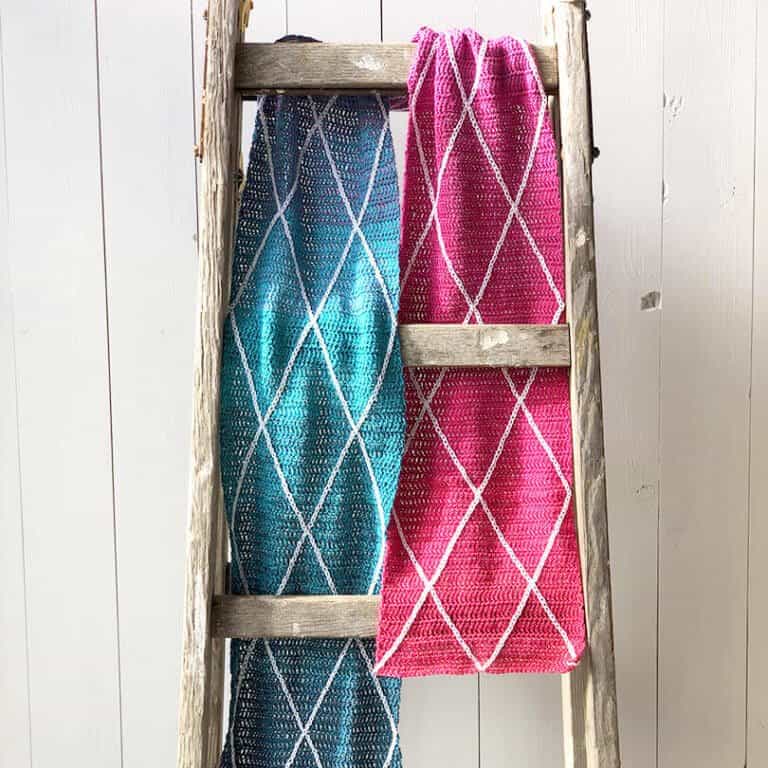 Take a basic scarf and add a special twist with slip stitches! This technique creates a beautiful scarf that is sure to wow. It's perfect for wearing alone or paired with another winter accessory. This scarf is a great way to start with slip stitches and surface crochet. You could even add in some fringe or tassels for added style!
11. Oversized Chunky Scarf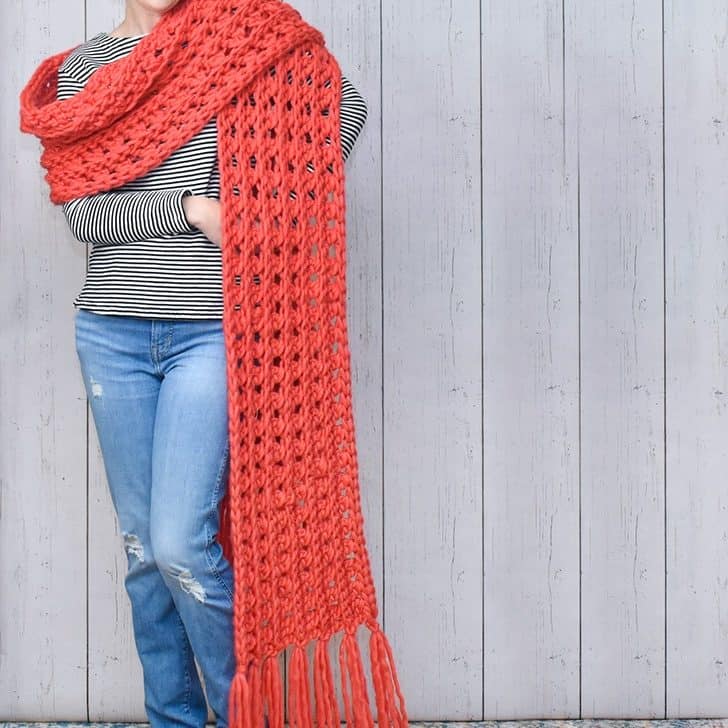 This super scarf is ideal for the colder months of the year, and the instructions are available to download instantly. It uses a crossed double crochet stitch that is easy to follow. You will love how this makes you feel as it hangs nicely around your neck with such a beautiful doilies pattern.
12. Chunky Tasseled Scarf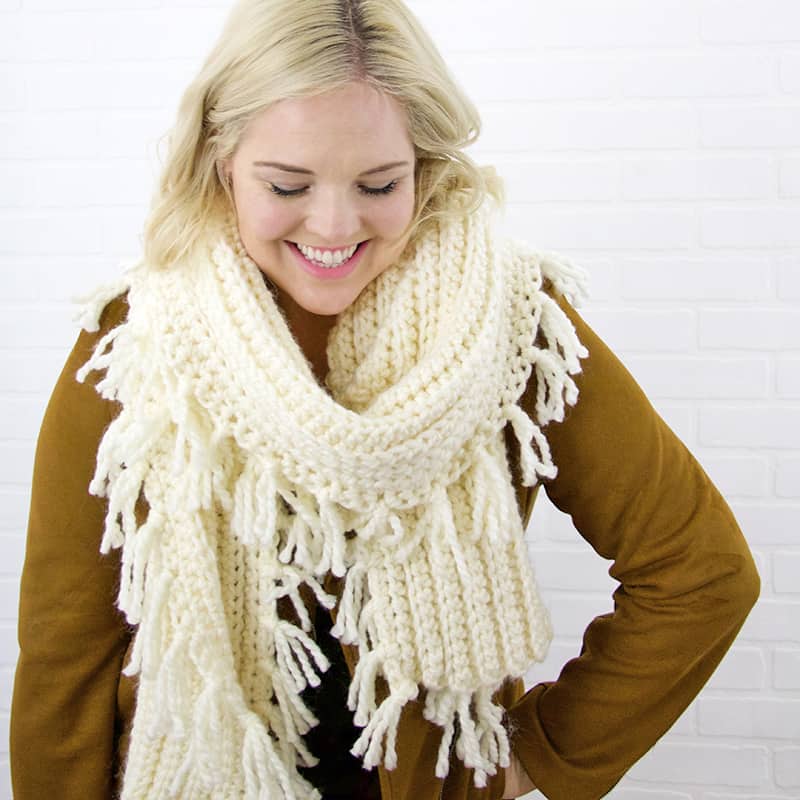 This is a simple scarf pattern with a hint of elegance. It's made in the back loops, so if you've never crocheted in this way, now would be a good time to try. The acrylic yarn we used is soft and uneven, adding to the rustic charm. The chunky tassels give it a little more flare than your basic scarf.
13. Lacy Crochet Scarf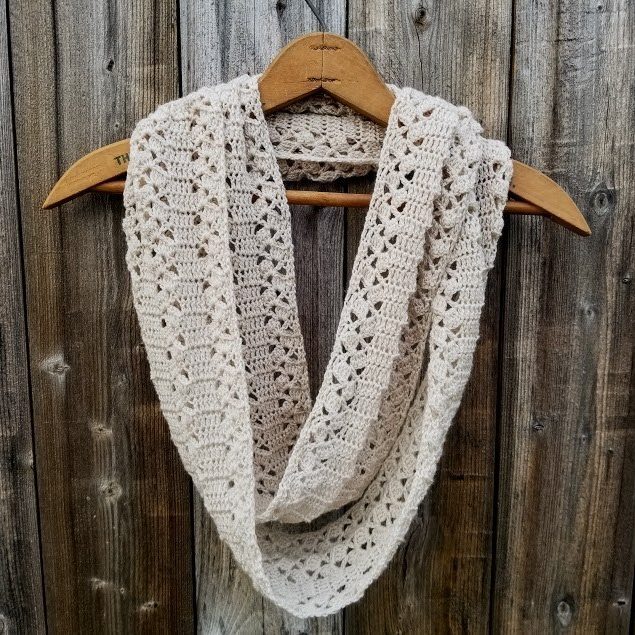 Crocheted Scarf Pattern is one of my favorite go-to scarves for fall and winter. It's a quick and easy project that looks great in any color scheme. The texture created by this scarf's stitches makes it perfect for dressing up or dressing down. This cozy crochet scarf is made with a pretty lace stitch. It works quickly and makes a great gift for yourself or someone else!
14. Mesh Crocheted Scarf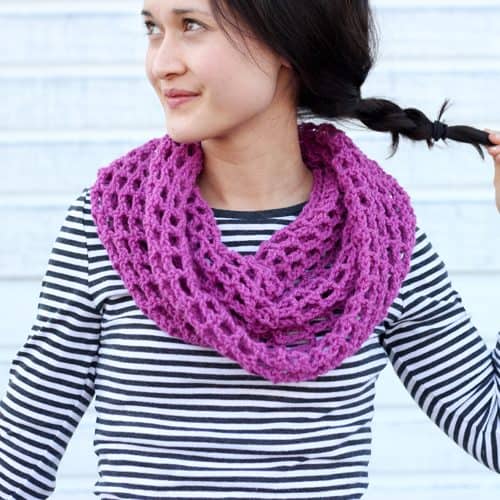 Get ready for summer with this easy and breezy mesh crochet scarf pattern. You can complete this project using only double crochet and chain stitches in no time. This easy scarf is great for both beginners and experienced crocheters alike! Great for a gift for yourself, you'll love this pattern!
15. Lightweight Crochet Scarf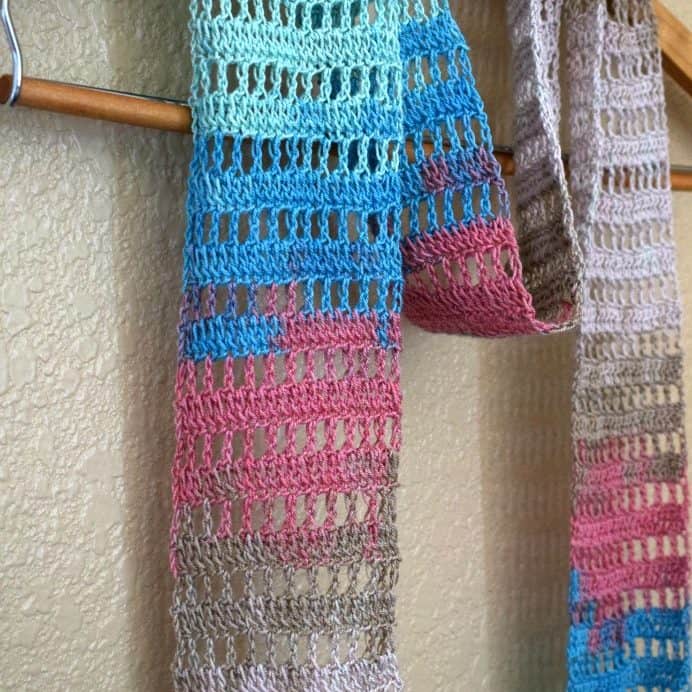 You only need to know how to double-crochet with basic increases and decreases. Instead of a single-color scarf, add a lacy look with a V-stitch pattern. A simple but elegant lace-looking yarn and an easy stitch pattern are perfect for summertime crochet scarves.
16. Men's Crochet Scarf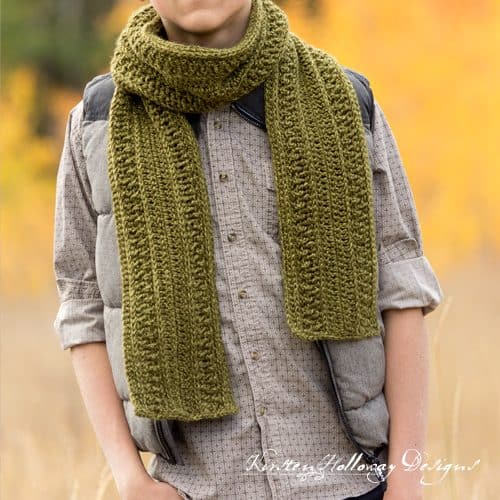 This scarf is perfect for beginners who want to knit with bulky yarn. It is a great unisex gift or even part of your winter wardrobe. This men's crochet scarf is easy to make and uses Lion Brand Heartland yarn in Kings Canyon's colorway. Since it's so easy and quick to make, you can whip up a bunch of these scarves in no time. This would be perfect for beginners who want to learn how to crochet!
17. Flower Crochet Scarf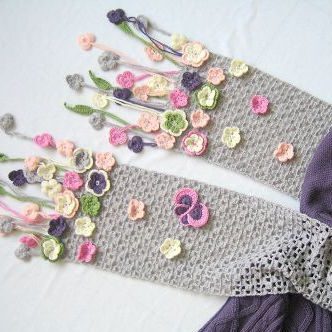 Enjoy a spring-filled look with this beautiful and bright scarf. Decorated with dainty crochet flowers, you'll love the carefree feeling this scarf brings. This versatile scarf pattern features a crochet flower embellishment and is an easy, quick project. Use it to dress up your favorite outfit, or put it in your bag or drawer at work to keep you warm & cozy!
18. Color Blocked Scarf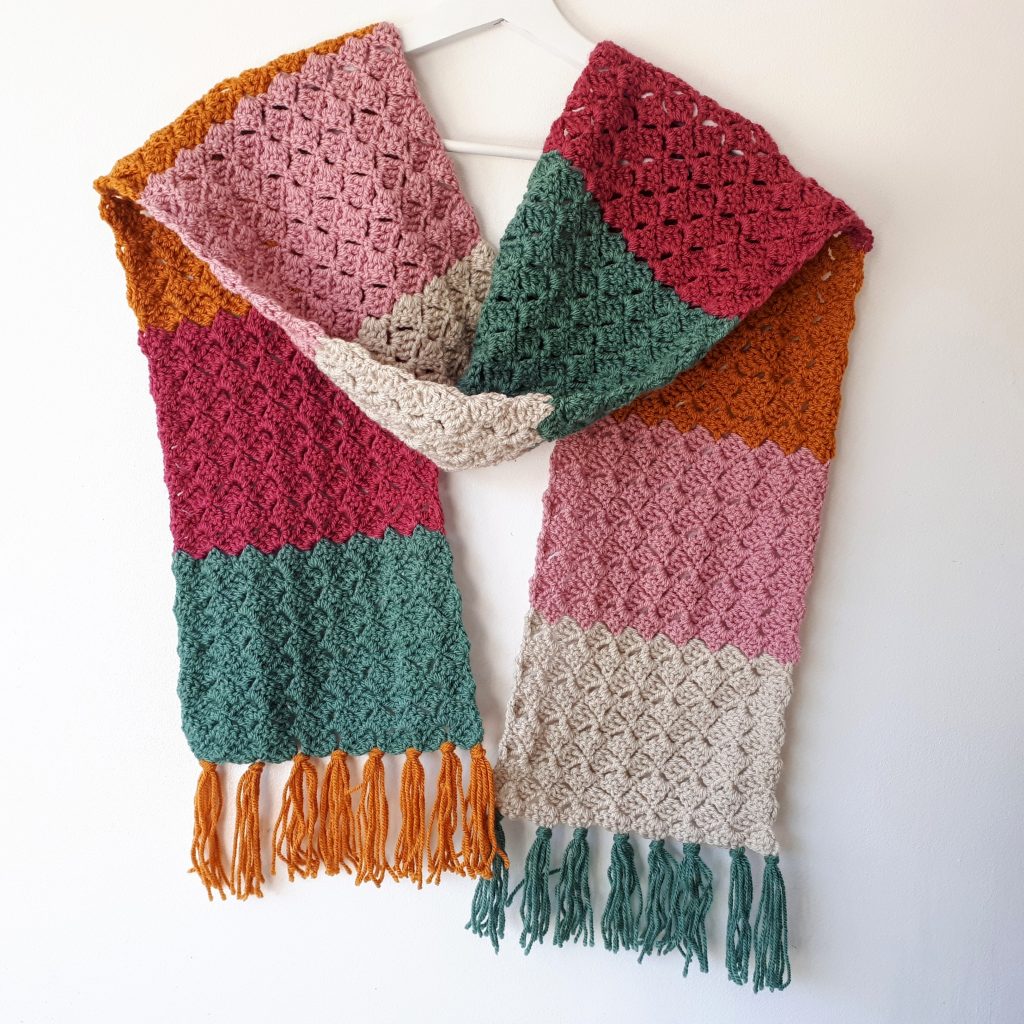 Whether you're looking for a gift or want to make something special for yourself, this crochet scarf pattern is timeless. The color-blocked design is modern, with an easy stitch repeat and a unique fringe detail. Work up this design in infinite color combinations and pair it with anything.