18 Easy DIY Home Decor Ideas with Pebbles and River Rocks
Decorating with pebbles and river rocks is fun and easy but can also be very frugal. You can make a beautiful entranceway or garden path from the materials or place them in your home to add a rustic touch to your decorating scheme. These DIY home decor ideas using pebbles and river rocks are easy to make but add a dynamic touch to your space. From making your kitchen island to adding earth-friendly color to the living room walls and floors, these earthy elements will bring nature into every room of your house!
Here are 18 simple ideas for using the pebbles and river rocks to create interesting and inexpensive decor and accessories.
Why use pebbles and river rocks in your home decor?
So why do we use these particular stones in our decorating? The answer is quite simple: they're gorgeous. We're all tired of the same old materials that seem to be everywhere. But pebbles and river rocks are a great way to bring a unique texture and color into your home. The varying textures and colors of the different stones can easily tie together any décor, from rustic western to Japanese zen.
Wrapped in simple burlap and presented in a shallow basket, these stones will give any room an earthy yet refined feel. And because they're natural materials, you don't have to worry about them matching perfectly with your existing furnishings—they'll bring the beauty of the outdoors into your home!
Where can you find pebbles and river rocks for these projects?
Pebbles and river rocks can be found in various places, depending on where you live. Here are a few ideas for where to source them:
Outdoor areas: You can often find pebbles and river rocks in your own backyard or nearby parks and natural areas.
Home improvement stores: Many home improvement stores sell bags of pebbles and river rocks for landscaping projects.
Garden centers: Garden centers often sell decorative stones and rocks for landscaping and gardening.
Online retailers: Online retailers such as Amazon and Etsy offer various pebbles and river rocks that can be shipped directly to your doorstep.
Tips and tricks for successful pebble and river rock DIY projects.
DIY projects are a great way to personalize your space but can be difficult. One of the most common DIY projects people try is adding river rocks or pebbles to their landscape.
Here are some tips and tricks for success:
1) Make sure you have the right tools for the job. A hammer and a chisel will help you remove any rock you don't want in your space.
2) Use different colors of pebbles or rocks to help make it look more natural. If you're using many dark colors, consider using lighter colors in between them so they don't blend too much.
3) If you're using real rocks, try placing them along the edge of your garden so it looks like they were naturally placed there by water runoff over time rather than by hand.

1. DIY Stone Tree
You can add a little nature to your home with this easy project.  Add a bit of color with a few flat river rocks, and you have the beginnings of a beautiful DIY stone tree. A simple, stylish, and creative home decor DIY idea is to add some river rocks to a branch and make your own stone tree. It can be used to decorate flower pots or as a vase. Or you can use them outside on your porch or patio because they are easy to clean.
2. TIC TAC TOE GAME
Make your own version of Tic Tac Toe and show off your artistic skills! This DIY project uses stones and paints to create a beautiful board for this classic game. It's easy to make and will bring out the fun in everyone. It's a fun way to let the child in you shine and be creative without spending too much time on it.
3. Home Decor With pebbles
With the help of a hot glue gun, you can make your own DIY home decor with pebbles. This quick project is great for adding texture to your walls, especially painted ones. You will need a finished wood panel, a piece of wood, or perhaps even shelf brackets from the hardware store. You can drill holes in the back of your stones and attach them with nails, screws, or other options. As for the hot glue, watch those fingers!
4. DIY Stone Birdhouse
If you have the materials and an afternoon to spare, you can easily build these stone birdhouses for your outdoor garden. The birds will love them for years to come. This DIY birdhouse requires some patience, but the results are worth it. Use these step-by-step instructions to make a stone birdhouse for your garden.
5.

DIY Chalk Painted Stones
bastelnmalenkuchenbacken.blogspot.com
Make the most of your yard space with these painted stones! This DIY project is a great way to bring the beauty of nature indoors. This project will transform plain rocks into chic décor. You'll be surprised at how easy it is to create your own chalk-painted stone slab. With only a few supplies and a little time, you can create a gorgeous piece that will add texture and individuality to your space.
6. River Stone Tabletop
A DIY living room table is the perfect way to add a unique style to your home. You could use this for any room in your house, but it will look especially beautiful on a dining or living room table. This DIY is simple and can be done in very little time. It's a great project for crafty people who want to bring nature into their homes.
7. Gold Rock Candle Centerpiece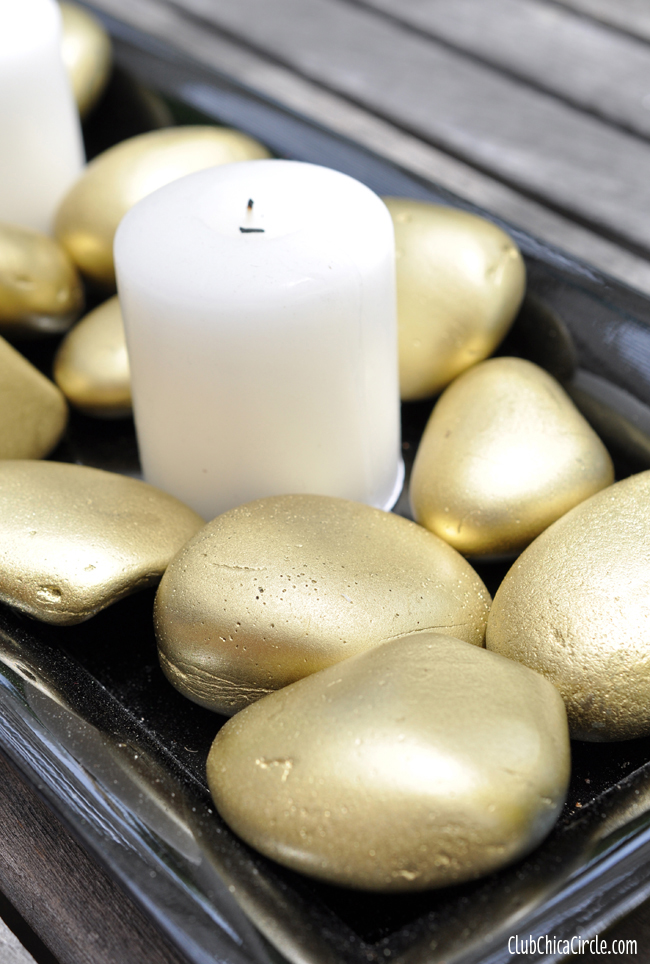 River rocks are beautiful on their own, but they work even better when painted. Gold spray paint gives them a glimmer of glam that makes any table or shelf look extra special. Paint the rocks on both sides and arrange them around candles in your favorite vase to create a gorgeous centerpiece.
8. Bring the Family Stone to Your Garden
Pebbles and river rocks are a natural way to add a touch of nature to any part of your home. Try this easy craft at home by spreading some glue on the stones, stacking them to make the item look like real wood, and letting it dry overnight. Find stones long and thin, which can be easily assembled with glue. Or play with different sizes to create the illusion of depth.
9. DIY Flameless Fire Pit
It doesn't get any cozier than a real fireplace, and this DIY Flameless Fire Pit is the perfect addition to your home's winter wonderland. You will love this DIY project that makes a beautiful centerpiece for your living room, family room, or anywhere you have a fire pit space. It is a super easy project and will give you endless hours of enjoyment.
10. Mandala Stones DIY
You can easily create a beautiful mosaic of stones on your pathway to the house just by painting them. Bring some elegance to your home with these Mandala Stones. These stones can be used in multiple ways, including as walkway stones or on the lawn. The beauty is that no two are alike so they will stand out in your garden or walkway.
11. DIY BLACK PEBBLE TRIVETS
Fashion your own unique decor with these simple DIY pebble trivets! Easy pebble trivets make up a beautiful, natural accent anywhere in your home. Use them by the grill, in the kitchen, or even on your coffee table to hold hot mugs and glasses. These DIY decor projects will be the highlight of any home, perfect for wedding and bridal parties.
12. Make a Succulent Terrarium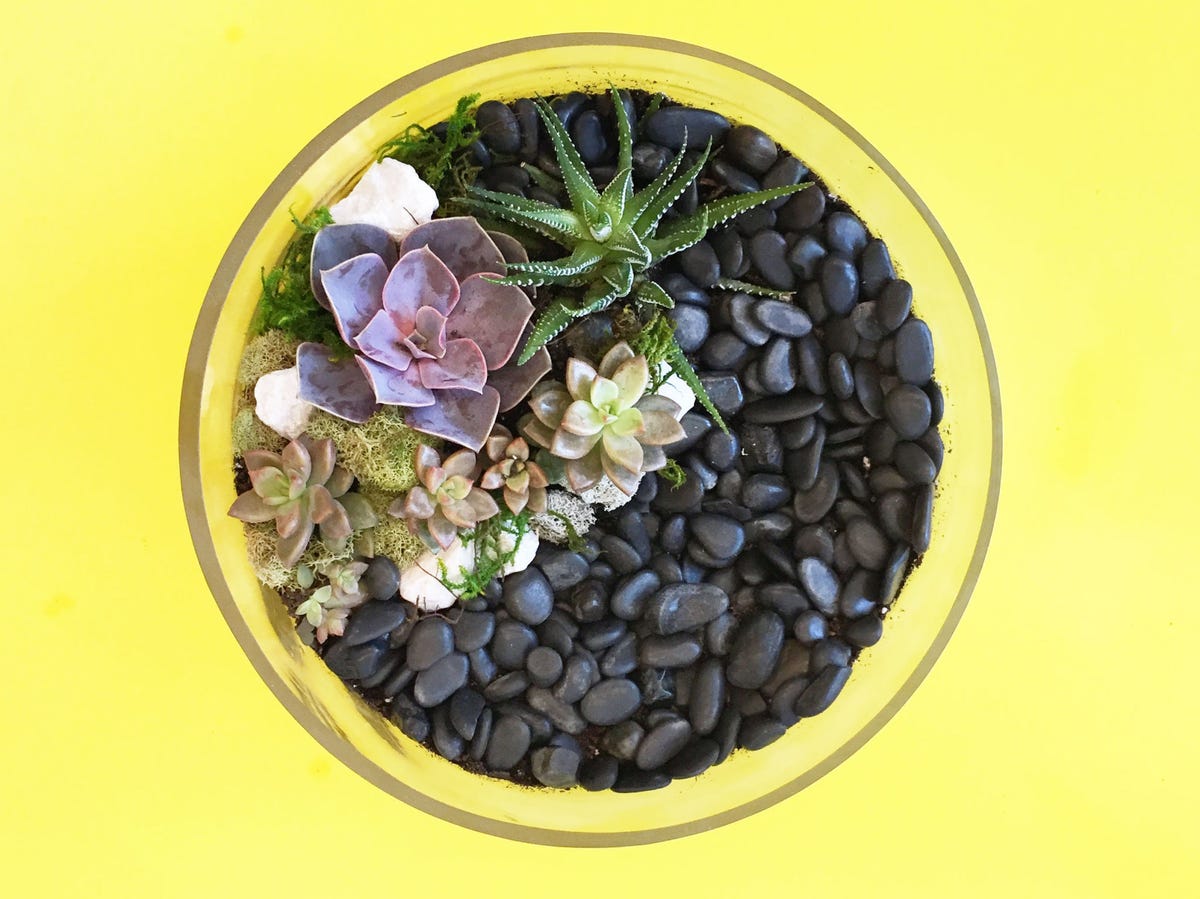 If you love succulents and want to create a low-maintenance, affordable terrarium, this project is for you. Bring the simple beauty of a succulent arrangement inside your home with this arrangement, which barely works at all. You can make your beautiful glass container and add some unique items to make it your own. Place a few stones in a glass or ceramic container, add some sprigs and river rocks, then fill with sand to create a natural look that's almost impossible to turn brown.
13. DIY Garden Stone Kitchen Backsplash
A kitchen backsplash may be the perfect place to use river rocks, pebbles, and other stones. Learn to create a beautiful DIY kitchen backsplash with large river rocks and pebbles. Add an earthy touch to your kitchen with this rustic, recycled kitchen backsplash that doesn't look expensive! This project is quick to do, inexpensive, and looks great!
14. DIY

Ocean Stone Bath Mat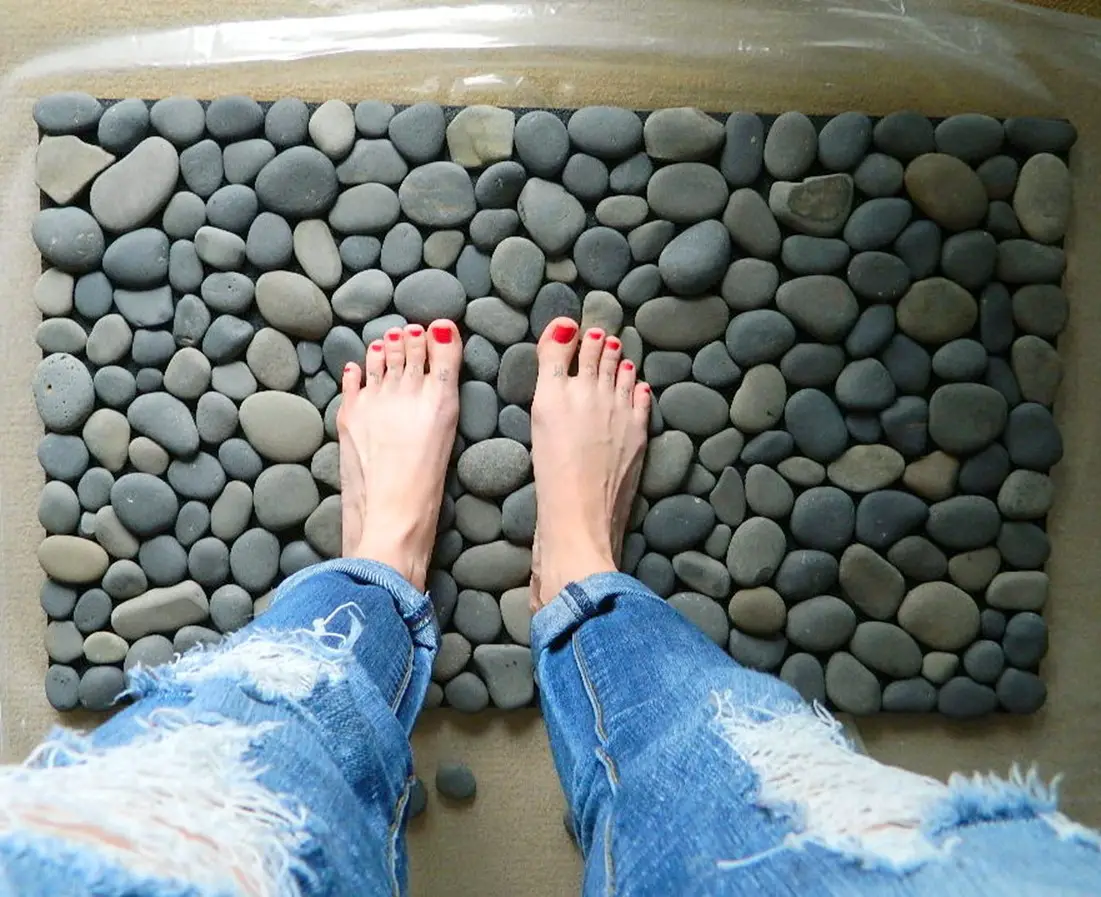 Looking for a diy project that can change the look of your bathroom? Here's one that is both inexpensive and easy to do. This quick and easy DIY project is perfect for your bathroom or as a gift. Ocean stones are fun to collect, and this project combines them with fabric paint so they can be displayed in any room of the house! Need a gift idea that's special, practical, and personal? It's easy with these beautiful DIY home decor made from ocean rocks.
15. Stone Table Runner & Placemats DIY
A quick and easy way to bring nature inside. Stone placemats and table runners are a great way to add natural elements to your home decor, especially for the upcoming fall months. These DIY projects are easy to make and perfect on your Thanksgiving table. These placemats look great on your table and perfectly display your artwork, books, or everyday dishes.
16. How to Make a Unique Stone Heart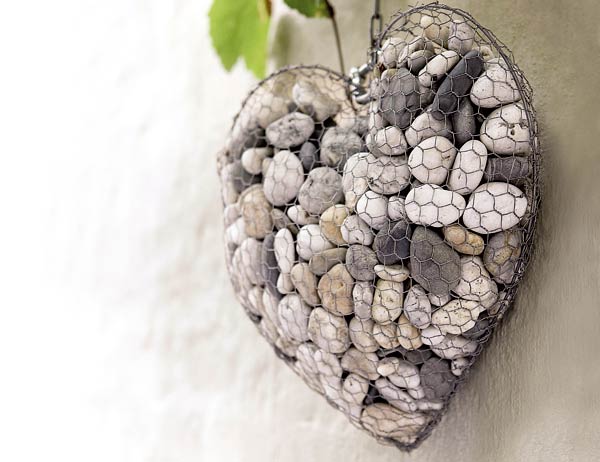 I am in love with a DIY Stone Heart. This DIY home decor project is great for using pebbles, river rocks, and other stones in your garden or landscape. The project uses heavy-gauge wire, garden wire, colorful pebbles, and a chain you can find everywhere. It is so easy to make, and you can personalize it how you like it. You can take one flower and make a personalized gift for your loved ones.
17. DIY Pebble Garden Balls
makethebestofthings.blogspot.com
For years, gardeners and landscapers have known that pebbles make beautiful additions to the garden, but if you don't live next door to a river or stream, it can be tough to find enough of them. If you'd like to keep your rock garden, but don't have an endless source of rocks, follow this super-easy step-by-step guide on turning river rocks into slate-like garden stones using polymer clay.
18. DIY River Stone Planter
This is a perfect DIY project for spring and summer, just in time for your planters to display. The best part is that making them is super easy! You will need a variety of river rocks or pebbles to do this project. You can get them at the beach or in many places. Also, you will need various plants and soil, which can be purchased at your local nursery or home improvement store.