19 Easy and Affordable DIY Pillow Ideas For Your Home Decor
A pillow can distinguish between a good night's sleep and a bad one. A great pillow can help you sleep better, but it is also an easy way to add color and texture to a room. From quick and easy projects to more involved ones, there's something here for every skill level. These downy pillows are simple and can be made in the afternoon. While some of these patterns are only one piece (which means they're fast!), other ones include cutting out strips of fabric and sewing them together before finally sewing the body of the pillow.
These cute and cozy creations are easy to whip up in a day or less, so stock up on the supplies before you start. Keeping a house well decorated will give you the mood to have good energy; if you have any creativity in your hands, then you are the right person to make your home even better with these 19 DIY Pillow Ideas To Brighten Any Room.
Benefits of DIY pillow ideas that will brighten any room:
Cost-effective

Personalization

Unlimited creativity

Improved home decor

Unique and original design

Increased comfort

Better sleep quality

Easy and fun activity

Sense of achievement

Increased value to the home
onsuttonplace.com
Can't find the perfect gift for your Valentine this year? Surprise them with Valentine's Day pillow cover. It works equally well as a gift or decorating your home and making it more personal. Here are some ideas for doing just that, from innovative designs to simple sewing projects. Start by choosing your favorite pattern and color, then add any special message between you two, sweet, funny, or corny!
2. Fast and Easy DIY Pillow Covers
creeklinehouse.com
Pillow covers are an easy and inexpensive way to revamp a room. With some cotton, thread, and a needle, you can quickly turn any pillow into one that perfectly matches your decor. These super fast and easy DIY pillow covers will brighten up any room. And the best part is that once you start, you will want to make them for every chair or sofa in your house!
3. Hand Painted Water Color Pillow
ellaclaireinspired.com
Transform any space with these artistic, hand-painted pillows. The colors are vibrant, and the vibes are warm and inviting. They'll add just the right personality to your living room or bedroom. Their size is correct, too — not too big or too small. It's an easy DIY and can be done in a few minutes with the right supplies. You'll love adding this to your decor!
4. DIY Felt Circles 3D Pillow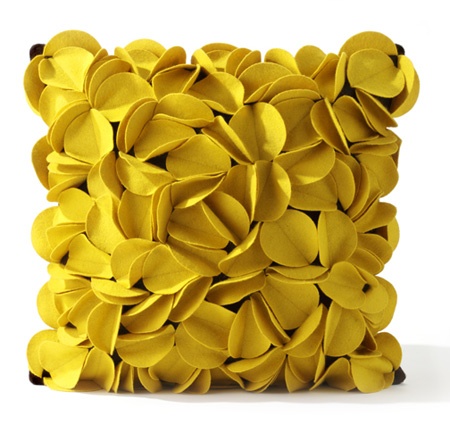 whatsurhomestory.com
Get your DIY on and make this terrific 3D Felt Circles Pillow that can be made from easy-to-find materials. You won't believe how simple creating a soft pillow that pops with color is, but it will make an introductory statement in a room. The best part? You can easily create these fun pillows in any pattern you like!
5. DIY Moroccan Wedding Blanket Pillow
casawatkinsliving
This DIY Moroccan Wedding Blanket Pillow is the easiest way to add color and life to your living room, bedroom, or any space you want! These instructions will walk you through making a pillow that is as beautiful as it is easy. The materials don't cost much, and any teen can do this project alone with help from mom or dad.
6. DIY Metallic Paint Patterned Pillow
abeautifulmess.com
This fun metallic paint-patterned pillow is a fun way to change out your decor and give it a fresh new look. This DIY pillow can brighten any room, whether you choose vivid colors or keep it neutral. This DIY accent pillow is the perfect addition to any bedroom or living room and makes a great statement piece!
7. Adorable DIY Unicorn Pillow Idea
bugaboocity.com
Regarding pillow decorating ideas, this DIY unicorn pillow idea is fun. It's an adorable decoration that can brighten any room and is easy to make too! The best part about this inspirational project is that it works well for kids and adults alike.
8. Fun Poptart DIY Pillow Ideas
awwsam.com
In the mood for a fun and funky pop-tart DIY pillow? This easy craft turns an everyday pillow into a retro treat. Make these pillowcases for your living room, bedroom, or anywhere to add fun! With these fun pop tart DIY pillow ideas, you can create the perfect pop art accent piece for any room.
9. Thrift Store Sweater Pillow Covers
livefromjulieshouse.com
These pillow covers are for you if you want a fun DIY project. They're the perfect addition to any room and are easy to make, using fabrics from your closet or even the thrift store. Whether you're decorating your bedroom, den, or home office, a pillow is a great way to make a statement. Trim sweaters with this sweater sewing tutorial and get more for your money than you could at the store.
10. Tufted DIY Pillow Ideas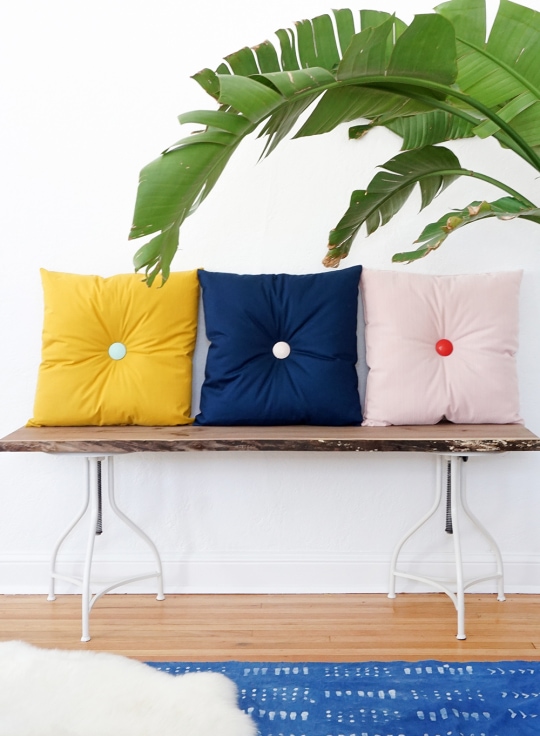 sugarandcloth.com
Are you looking for a DIY pillow idea but want to spend only a little time? Simple tufted DIY pillows are surprisingly easy to make and add color to any room. Here is a simple pillow idea that can brighten your living room, bedroom, or office! Grab a pillow, add some stuffing, and sew it with our free tutorial. Whether you're making dozens or just one for yourself, this pattern will surely be a hit!
11. DIY Leaf Print Pillow
ukkonooa.blogspot.com
This easy DIY leaf print pillow makes a great gift and a welcome addition to any home. Anyone can make their throw pillow, so long as they have the supplies and know how to sew! You can change the colors to match your color scheme or the season. Made from a colorful leaf print fabric in fall shades, this pillow pairs perfectly with a crisp white bed or a rustic lodge look. Follow the instructions for your own easy DIY Leaf Print Pillow!
12. Crown and Cloud Kids' Pillows
creativaatelier.com
A cute crown or cloud could be your best choice. They are small pillows with babies' safety designs. It is the kids' favorite because it has features for a toddler's bedtime fun. The cute shapes make them more comfortable to sleep on. This pillow can also be an excellent gift for any child who loves anything, Disney!
13. DIY Faux Fur Throw Pillows
liagriffith.com