20 Easy DIY Concrete Planter Projects
Concrete planters are a great way to spruce up your yard, patio, or balcony. They're inexpensive, attractive, and lightweight enough to move around quickly. But since they're not sold in many garden supply stores, you might have to get creative if you don't have any. The good news is that concrete planters can be made for practically any size or shape container with a few simple tools. Here are 20 Easy DIY Concrete Planter Projects to get you started. These fun and functional planters, from terrariums to succulent gardens, cement the idea that beauty and utility are not mutually exclusive.
Are you looking for an affordable and stylish way to spruce up your indoor or outdoor space? Look no further than these 20 easy DIY concrete planter projects!
Benefits Of DIY Concrete Planter Projects
Concrete planters are a great way to add a touch of sophistication and style to your home. They're durable, can be made in any shape or size, and are easy to make. Here are some benefits of making your concrete planters:
They're inexpensive. You can make them from your garage or buy new supplies for less than twenty dollars.
Customize them however you want! You don't have to follow any set pattern—use your imagination!
They'll last forever. Concrete planters are sturdy and durable, so they'll last even if you drop them from a balcony (don't try this at home).
See also: 14 Easy DIY Projects for Backyard Relaxation
1. DIY Concrete Planter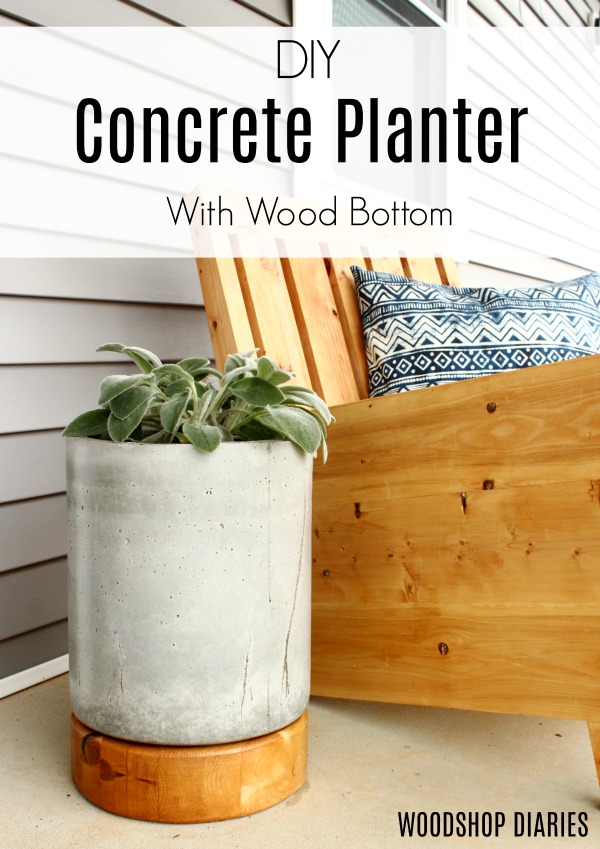 The concrete planter is a stylish container that you can make yourself. This DIY guide is complete with step-by-step photographs, where you will learn how to make this concrete pot and follow the steps carefully. Drying completely takes a few days, so making this pot requires patience. After the making process is complete, it will be ready and perfect for your plants.
2. How To Make Concrete Planters

If you love gardening but have limited space, there's no better option than growing your plants in concrete planters! Concrete planters are easy to DIY, the perfect size, and look beautiful. Concrete planters are a great way to add a touch of style to your garden beds. They're perfect for indoor pots, too! This tutorial will show you how to make these unique concrete planters using a shovel, broomstick, and masonry sand. All necessary tools, materials, and cement can be purchased at a local home center.
3. Making A Concrete Planter
Passionate about plants? Want a unique way to display your greenery? With some DIY magic, you can create your concrete planter and remove the worry of watering plants. Here's how to make your very own concrete planter. This concrete planter is perfect for indoor or outdoor use and can be painted, stained, and sealed. You'll need heavy gloves, a couple of bags of concrete mix, sand, water, and a few strips of rebar to construct this DIY planter.
4. DIY Cute Concrete Planter

So, you can start to make your concrete planter. Making a concrete planter is as simple as molding the concrete into any shape. It will give you satisfaction when you see your creation later and then put it to use in your garden.
5. How To Make A Large Concrete Planter
Consider making a concrete planter if you're looking for an easy DIY project with your kids that will double as a decorative piece in your backyard. The process is simple and involves only a few items that can easily be found at any local hardware store. And when you're done, you'll have a durable pot that can withstand all weather conditions, so your plants will be happy all year round.
6. How To Make Cement Planters
A concrete planter is a classy and beautiful display of your favorite plants. This DIY cement planter shows you how to make one with an old towel and various supplies. The concrete is easy to apply, and you can place your plant inside the flower pot or hang it on the edge of it.
7. DIY Simple Concrete Planter
This DIY Concrete Planter is so fun and easy to make! It should take less than an hour and is a great beginner project to start learning concrete basics. Make it in any size or shape you want! Get creative with your gardening! Learn how to make this concrete planter, complete with detailed instructions
8. Homemade Concrete Planter
Do you love plants? Then, this DIY Concrete Planter is perfect for you. All you need to do is follow the steps to make it yourself, and in no time, your concrete planter will be ready to house your favorite plants. The best thing about this project is that it doesn't require special skills; anyone can make this DIY concrete planter at home.
9. DIY Modern Concrete Planter
Concrete planters are perfect for any outdoor space, from the front porch to a patio or balcony. With this DIY concrete planter project, you can create a piece of modern architecture that will enhance the look of your home. This is a modern concrete planter that you can make yourself. It was designed with a simple, clean style, adding much character to your home or office.
10. DIY Concrete Planters
This DIY concrete planter is a unique and fun way to introduce greenery into your home or garden. It's simple to build and adheres to any outdoor surface for use as a vertical planter, tabletop planter, or hanging basket. You will need only a few dollars' worth of materials, but the results are surprisingly sophisticated. Add a few blooms or a little greenery to the top; they look fantastic!
11. Easy DIY Concrete Planters
This is the easiest way to make a concrete planter. All you need is a few plastic bottles. Just pour cold water, put them inside a mold, and fill them with cement until the bottle goes below the surface. Let it dry, take out the molds, and add your plants!
12. DIY Cement Planter
If you love gardening but lack space around your house, try making this DIY concrete planter. Made out of cement and five-gallon buckets, this DIY concrete planter is easy to make and will add a contemporary touch to your outdoor space!
13. How To Make A Concrete Planter
You don't have to spend a fortune on a concrete planter when you can make one yourself that's not just beautiful but functional too! These concrete planters are easy to transport and add style and function to your home decor. You can add wheels to make it moveable with as little effort.
14. DIY Small Concrete Planter
With the help of this DIY tutorial, you'll learn to make a small concrete planter for your home or garden. These planters are easily transported from one area to another, and you can use them as storage containers. With just a few materials and a little effort, you can have a beautiful concrete planter to brighten your decor.
15. DIY Concrete Planters
A beautiful concrete planter with a unique shape. Get the step-by-step on how to make it here! It's super easy, cheap, and looks fantastic in your home. Make your concrete planter with Quikrete. This easy-to-use concrete mix comes in two bag styles and does the perfect DIY project for any weekend. You can also create beautiful white, grey, or taupe rocks using our color variations of concrete.
16. How To Make Concrete Planters
Learn how to make a great concrete planter using a PVC pipe mold. This is an excellent way to add some greenery to your concrete patio, especially if you need good soil. The tutorial is straightforward to follow, and you can use any concrete mix in the mold and make multiple designs depending on the size of your planters.
17. DIY Concrete Planter With An Ombre Finish
This DIY concrete planter is a fun project that will give you a decorative and functional garden centerpiece. Made from PVC pipe and Quikrete countertop concrete mix, this planter is easy to assemble with only three main parts. And you can use an assortment of paint colors inside your planter for a fun ombre finish!
18. How To Make A Very Large Concrete Planter
If you love to garden, why not do it in style? In this DIY Concrete Planter tutorial, we'll walk you through how to make a large concrete planter using aluminum and all-purpose sand. This sizeable concrete planter can be used for flowers, herbs, and succulents. This DIY project is easy to make and will look great on your patio or garden.
19. Geometric Concrete Planters DIY
These concrete planters are a great way to display your favorite plants. Depending on the type of plant you choose, it can be used in an outdoor or indoor setting. If you want to add some color and mix different colors with the concrete, it will give it more of a natural look. You can use old newspapers instead of cardstock if they're in good condition.
20. DIY Cupcake Concrete Planters
Do you have extra space in your garden and want to get some plants? If yes, then this is the perfect DIY project for you. You can create concrete planters that look as if they are made of cake, just like a cupcake. Nothing is too tricky about it; all you will do is mix cement and water with some color and pour it into the cupcake tray. Create a concrete planter that looks just like cupcakes. This easy DIY project will make any house garden look fantastic.