20 DIY PVC Pipe Garden Ideas
The versatile PVC pipe has been used in plumbing and construction projects for decades, but it's recently become a hot topic in DIY gardening. Using PVC pipes to create garden structures and decorations, you can grow plants to adorn your yard and home, no matter what craftsmanship you bring. If you want an alternative to your standard gardening methods, check out these 20 DIY PVC Pipe Garden Ideas.
PVC pipe can be used for colorful, customized planters or as a trellis for climbing plants; check out this collection of 20 DIY PVC pipe garden ideas to see which will work best for you!
DIY PVC Pipe Gardens
PVC pipe is an excellent material to use to make your garden. Here are the benefits of using PVC pipe:
It is Cheap. The material is cheap and can be found in any hardware store.
It's Easy To Use. It would help if you had a drill and some elbow joints to create different shapes for your garden.
It's Durable And Weatherproof. PVC pipes are resistant to weather, so they won't crack or break when exposed to the elements over time like wood might do if you don't protect them adequately during construction (which can be done quickly with sheet metal).
It Can Be Used For So Many Other Things As Well! Everyone knows that PVC pipes can be used for plumbing, but did you know they can also be used as an alternative to lumber when building structures like sheds or fences? The possibilities are endless!
Supplies Needed
 PVC pipe, cut to desired lengths (roughly 2″ diameter)

A saw of some sort (you can use a hack saw or hand saw if you don't have access to a power tool)
Sharpie marker
Hand trowel or shovel
Garden soil (enough to fill the pipe)
See Also: 15 Genius PVC Pipe DIYs
1. DIY Vertical PVC Garden
You don't need a green thumb to enjoy the benefits of a vertical garden. You can have one ready to assemble in no time at all with help from this DIY PVC Pipe Garden. It's made by adding PVC pipe and coverings, allowing you to build your vertical garden. All you need is a drill and screwdriver. No more worrying about pests invading your nursery plants
2. Portable Vertical PVC Garden
DIY PVC Garden is easy to make and can be moved from one spot to another. The vertical design saves room and looks lovely in any surroundings. A vertical garden is a beautiful and practical way to maximize growing space. This vertical PVC garden is easy and inexpensive to build, simple to maintain and can be used in many environments. It saves space, looks good anywhere, and can keep it indoors or outside.
3. DIY PVC Planter
4. PVC Hydroponics Unit DIY
DIY PVC pipe garden projects are among the best ways to turn an unused space into a beautiful garden. This is it if you want a DIY gardening idea with PVC pipes! DIY gardening is a fun, affordable, easy way to add color and life to your home. This simple yet lovely PVC pipe garden turns a dull corner into an oasis. This project will not only improve the aesthetics of your home, but it will also make your yard look beautiful.
PVC pipe is easy to work with and breaks down more slowly than wood. This PVC pipe garden project is perfect for anyone who wants to make a unique flower bed or any garden with vertical space. You can easily install this type of PVC pipe garden on the balcony, patio, or even near the windows inside your home. This DIY PVC Pipe Garden project can be done in minutes!
7. DIY Hydroponics System Using PVC Pipes
Here is a straightforward and cheap solution using PVC pipe if you want a DIY hydroponics system. This is the best option for setting up a small garden on the go, on your balcony, or inside the house. And it only takes a few minutes to complete the entire project. This DIY hydroponics system is a perfect design for those who want to learn about hydroponics but have little investment. It features an aquaponics filter and produces veggies, herbs, and flowers.
8. DIY PVC Pipe Herb Garden
Are you tired of your plants dying? Try these vertical garden ideas! This PVC pipe vertical garden with screws, shelves, and hooks makes it easy to grow herbs on any wall. It's the perfect way to bring a little green into the home, and the DIY project is fun for all ages. It is straightforward to make and can be made out of PVC pipes, which are cheap and readily available. This is an excellent use if you have unused wall space.
9. DIY Vertical Tube Planter
Are you looking for an easy DIY garden project? This vertical PVC tube planter is a fun, unique way to add greenery to your indoor or outdoor space. You can repurpose your old and unwanted PVC containers, such as pipes and tubes, and make the most of this versatile material by turning them into vertical tube planters. The idea is to make holes in the side of the PVC container for plants to grow out of and hold your dream garden in a place with a heavy base.
10. Vertical Garden From PVC Pipe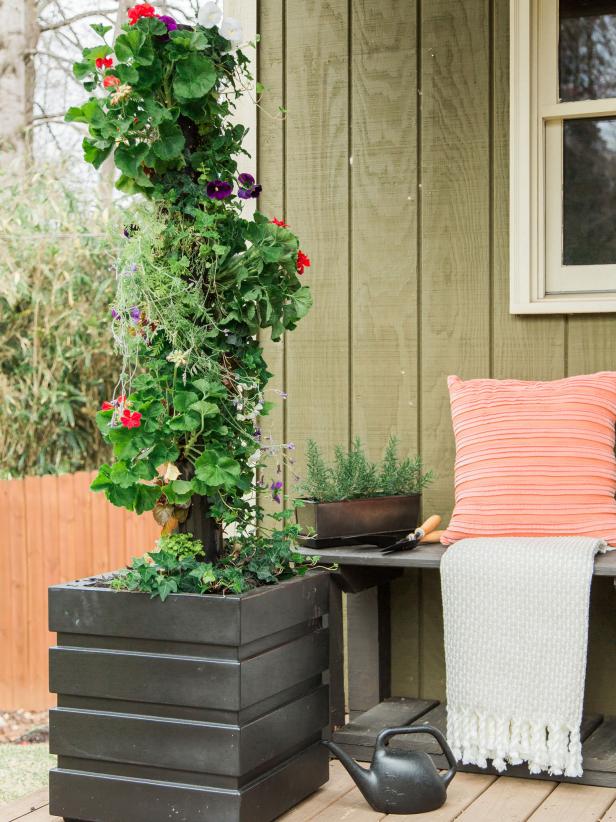 DIY PVC pipe garden can be an economical solution to your gardening needs. Using ordinary PVC pipe and some creativity, you can make it as large or small as you want. This DIY garden will add color to any space and is very inviting. DIY PVC pipe garden is a great way to make a nice-looking vertical garden without expensive materials or tools if you don't have a yard or want to keep your plant looking beautiful even when the season is over.
11. DIY PVC Pipe Planter
DIY PVC Pipe Planter is a simple, no-cost solution for your gardening needs. This DIY project can last through several seasons and allows you to create a beautiful garden in your backyard or home. Adding plants to your space is easy with our PVC pipe planter. You only need PVC pipe, drainage and weed block, soil, and zip ties. With small drain holes all over the tube, your plants will have a home from which they can grow as tall as you allow!
12. DIY PVC Pipe Garden
This unique garden makes an attractive addition to your home. Use it indoors or out, as a vertical or hanging garden. It comes with step-by-step instructions and can be constructed in several hours. It's easy to assemble, and you don't need tools. The PVC pipe fits together without glue (push into pre-cut connector pieces), so you can easily change the design for something new whenever you want.
Did you know a simple idea could make your garden look beautiful and give you the best result? PVC Pipe Garden DIY is an excellent choice for an environment where you can place it at your home or office. This is just another example of how small things can create something unique. This is a fun DIY project that takes only minutes to complete. The finished product is a cute, eco-friendly garden for plants, flowers, or decorative items.
14. Make A Vertical Garden Using PVC Pipes
Do you have an empty wall in your house that needs something? Need help figuring out what to do with it or don't have time to devise a plan? Try making this accessible PVC pipe vertical garden. It's as simple as cutting PVC pipes, putting them together, and hanging them up. With this DIY project, you can make your PVC pipe garden. Adding a vertical garden to any space is cheap, simple, and effective.
15. How To Make PVC Pipe Gardening Planter
This easy-to-make PVC pipe garden planter can help you solve all your gardening problems. If you have always wanted a garden but have yet to have the time or are looking for an unusual way to decorate your home, this project is for you. It's simple design, and straightforward instructions will bring a minor nature into your world without fuss. This DIY PVC pipe garden is excellent for indoor and outdoor gardening, as it runs vertically and takes up very little space.
16. How To Make A Garden From PVC Pipe
A PVC pipe vertical garden is a great project and even easier to install. All you need is some funky-looking recycled PVC pipe, some gardening soil, and some bits of your favorite flowers to add a touch of color and fragrance to your home. Get instant gratification – no waiting period required! This DIY PVC pipe garden will take you only 20 minutes to make. The results are so pretty; you can use them all year round. You can use this pipe as a vertical garden in many ways; the best part is it is eco-friendly.
17. DIY Tomato Cage With PVC Pipe
When making a PVC tomato cage, it is easy to get stuck using electric saws. Use a hand saw to cut out the PVC pieces and liners to prevent this. A hole will be cut into the plastic pipe along with the most appropriate size for taking in rainwater. Vegetables are fed through the grid holes, which allows roots to grow freely in all directions.
18. DIY Hanging PVC Garden
If you want to improve your home decor and add some fantastic elements, then this DIY PVC Pipe Garden would be perfect. You only need a few PVC pipes, hanging hooks, and accessories like a drill machine, sandpaper, paintbrush, and hammer. All the other things you need can easily be found in the market or at home. You can create a sizeable hanging PVC garden or even small baskets depending on your needs.
19. DIY Hanging Garden System With PVC Pipe
For innovative gardeners, here is a PVC pipe hanging garden. It is easy to assemble and disassemble to carry it from place to place. These pipes are cut into the desired length, and holes are drilled into them for plant support. You can use this highly customizable design for lawn art, potted plants, or a vertical herb garden.
20. DIY PVC Pipe Planter