20 DIY Wedding Ideas To Add a Unique Touch to Your Big Day
Are you seeking creative and unique ways to make your wedding day stand out? DIY wedding projects can be a great way to add a personal touch and save money. From handmade decorations to customized favors, endless opportunities exist to get creative and make your big day unique. In this post, we've rounded up 20 DIY wedding ideas to inspire you. Whether you're looking for rustic, vintage, or modern decor, there's something here for every style and theme. With step-by-step instructions and helpful tips, even novice crafters can create stunning wedding details that will impress your guests and make your day special. So let's get started and add some DIY magic to your wedding day!
Creative and fun, these 20 DIY wedding ideas focus on adding a unique touch to your wedding day and inviting your guests to share the magic of it all!
See Also: 18 DIY Trash Can Ideas
1. DIY Wedding Chandelier Centerpiece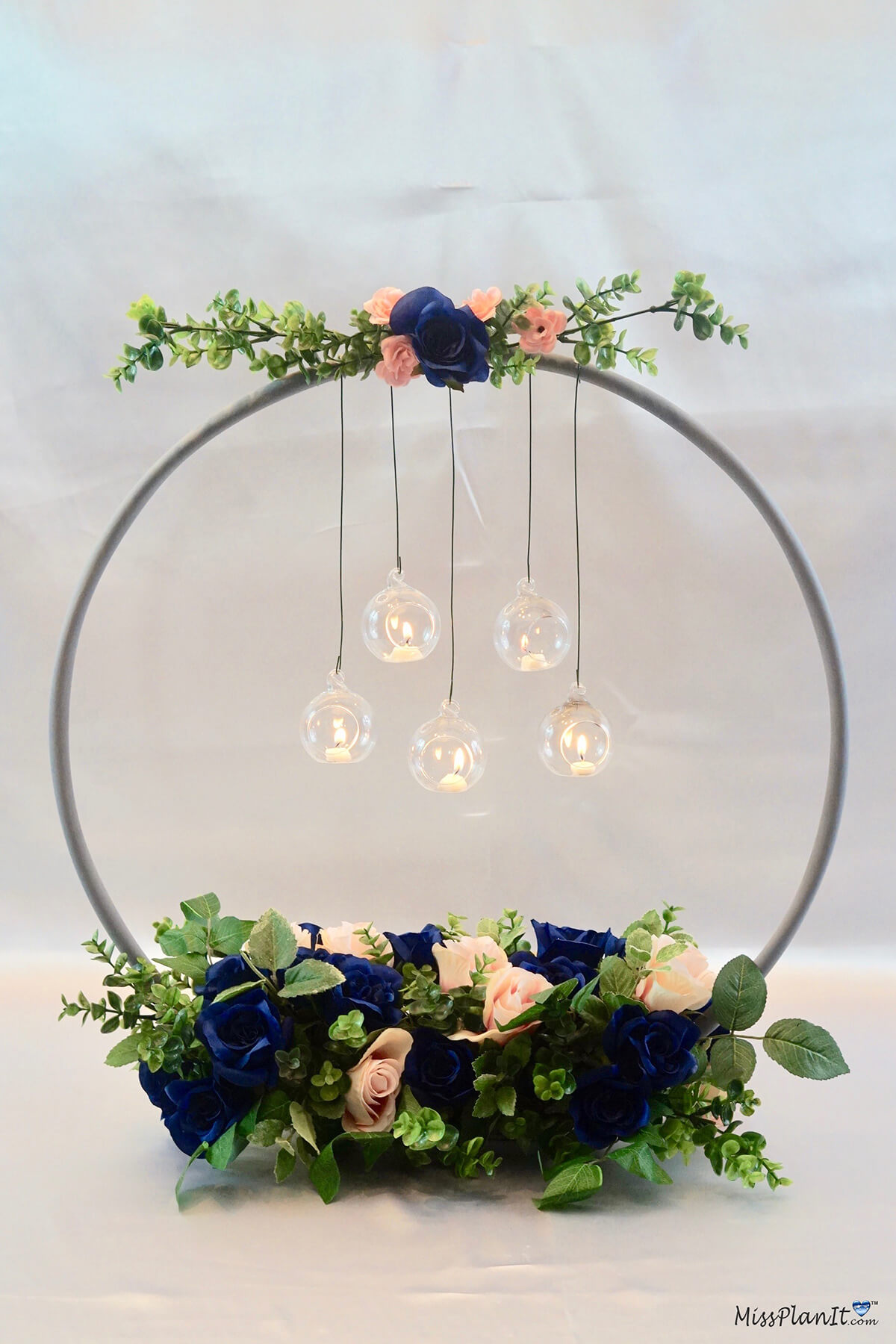 2. HOW TO HAVE A DIY WEDDING
Have you ever vowed to take your wedding into your own hands and make it a DIY affair? We have and can tell you from experience that it does not have to be complicated. With creativity and imagination, the bride-to-be can create uniquely personal decorations, menus, and favors for her big day.
3. DIY Flower Arrangement Design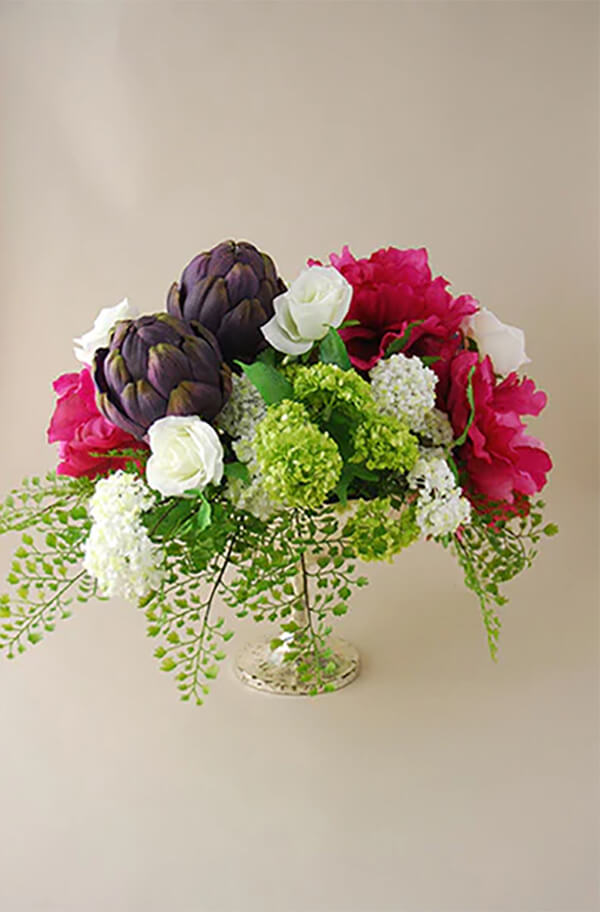 Flowers are one of the most important aspects of weddings. They help provide a unique touch to your big day, and with the DIY guide on arranging flowers, you can save money simultaneously. Decorating your wedding venue with flowers and decor can add a touch of beauty to the event. These DIY flower arrangements will give you all the inspiration you need!
4. Chic DIY Pink Dip Dyed Vases
Have you ever seen pink dip-dyed vases? This DIY project is simple and easy to do, and it will add a pop of color to your big day. Painted in bright pink paint, these elegant glass vases look gorgeous when filled with flowers. Display them in your ceremony space or use them as a floral centerpiece.
5. DIY Table Mason Jar Lanterns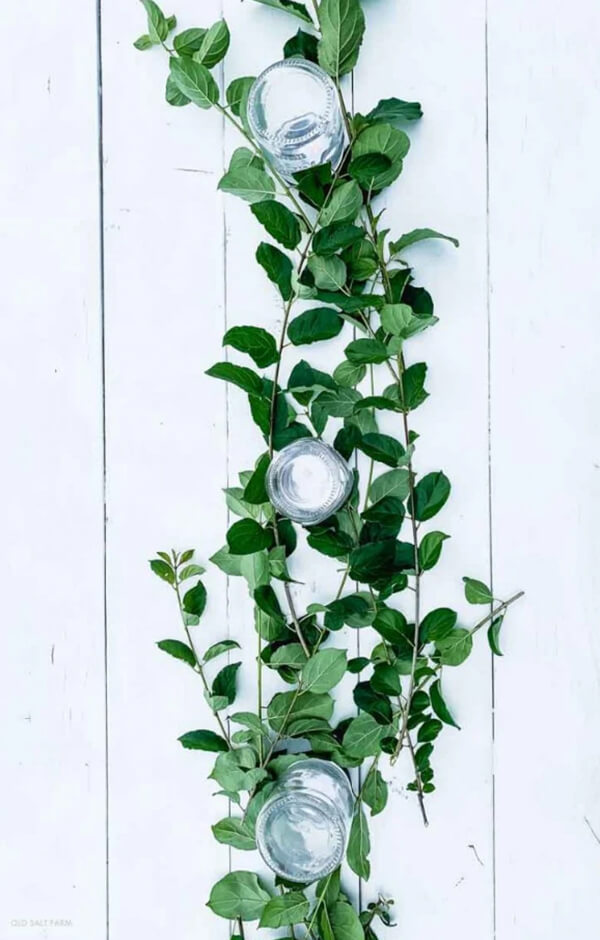 Create a stunning setting for your wedding and reception by adding these DIY Mason Jar Lanterns. With this tutorial, you can make beautiful lanterns to hang in any room, from the living room to the bathroom. They're simple, affordable, and easy to create! During the wedding season, there are many ways to incorporate these into your decorations too! So grab your glue gun, and let's get started!
6. DIY Wedding Centerpiece Frame Design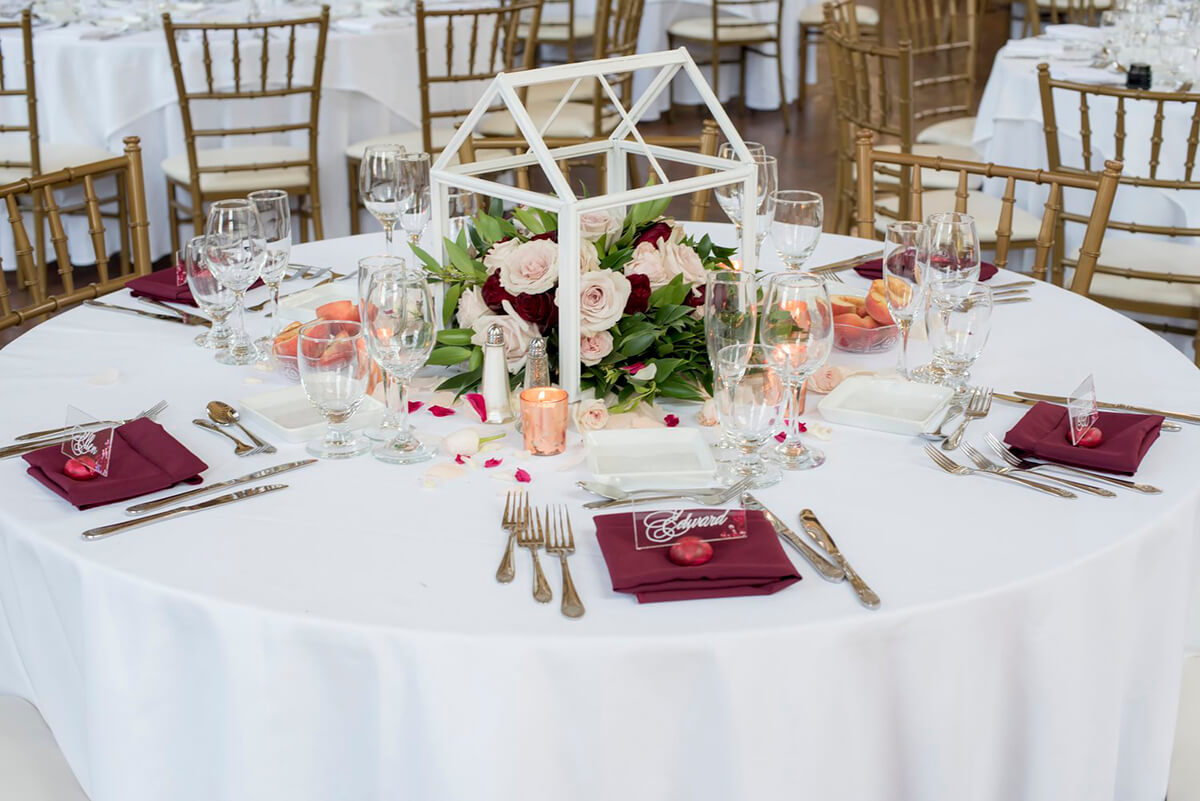 Your wedding day is your most special, so let your creativity run wild with these easy DIY Wedding Centerpiece Frames. Your guests will be blown away by this vintage design, and you can customize it even further by adding your photos or saying. These frames will provide endless customizability as every centerpiece uses its design, making it a smart investment into several options for your big day.
7. LED Mason Jar Lighting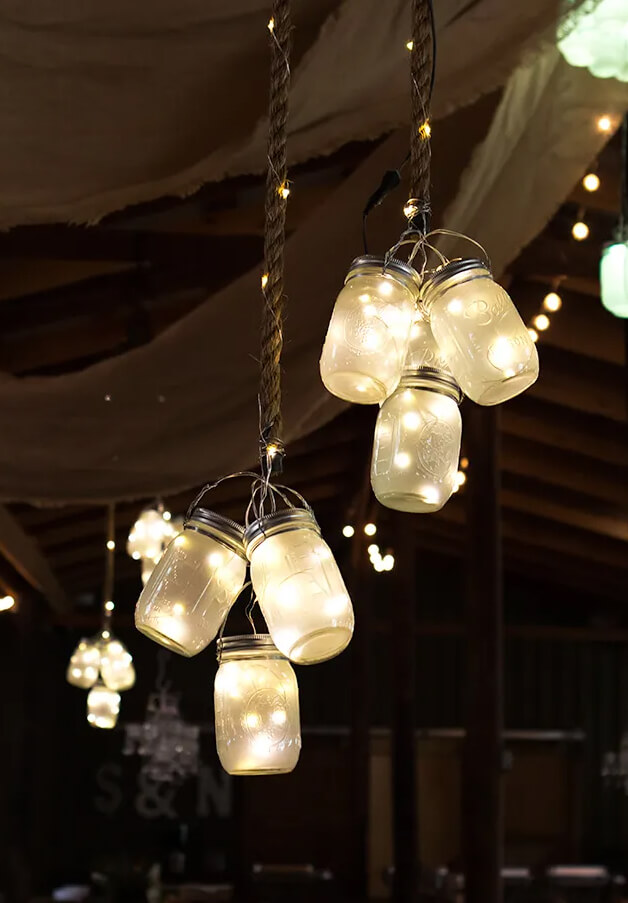 Add a unique touch of vintage style to your wedding day with these DIY Mason Jar Lighting. The process is simple—attach wire and lights to jar lids, then secure the wiring inside the lid using a hot glue gun. (You may want to secure the wiring with duct tape first so it won't become tangled.) You can use recycled jars from leftovers from dinner parties or buy new mason jars at craft stores.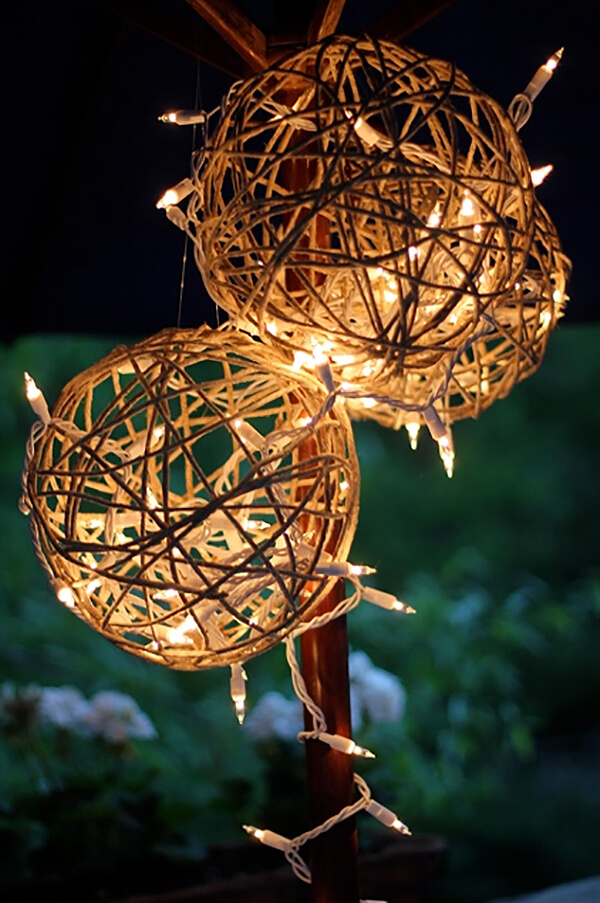 Add a personal touch to your wedding day with this DIY lantern. From a tree that grew too large to one that was taken up by firewood, this special handmade lantern is made from reclaimed wood in ten minutes or less. This recycled wood and soy candle lantern make a great addition to any patio or garden area.
9. White Rose and Pine Water Centerpiece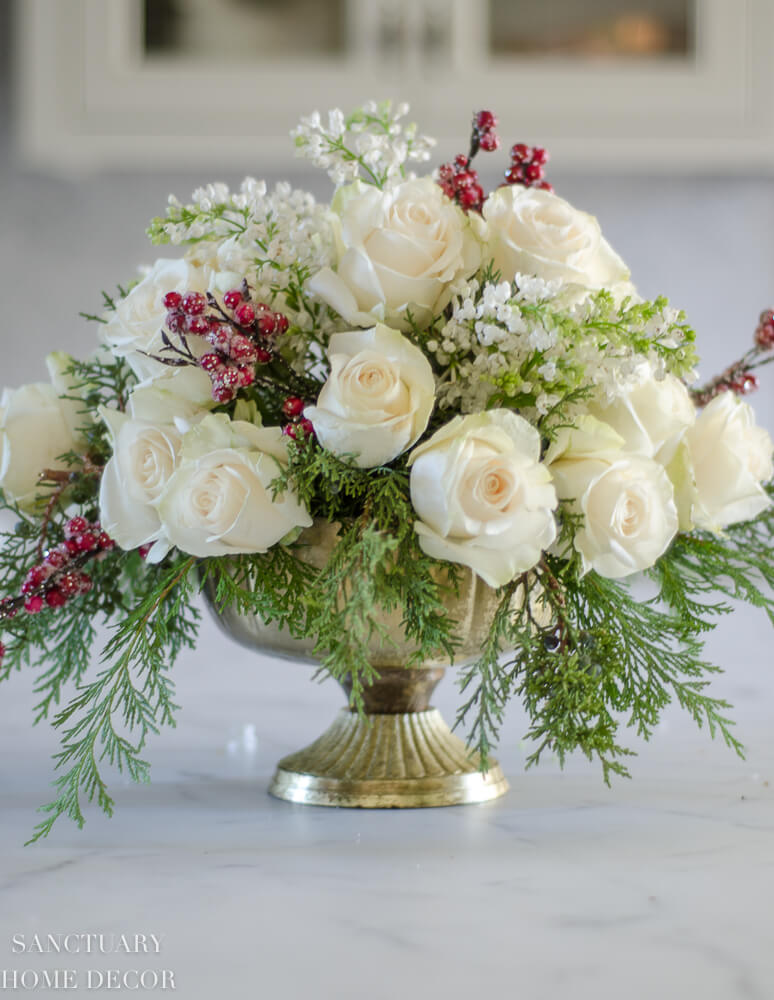 Give your tables a natural touch with this elegant centerpiece. It features a simulated white rose in a resin block with pine water, making it a great alternative to traditional floral arrangements. This centerpiece may be used as a holiday decor item or brought indoors during the wedding. The pine water will not wilt and will make your guests feel like they are celebrating in the outdoors.
10. Fashionable DIY Wedding Card Box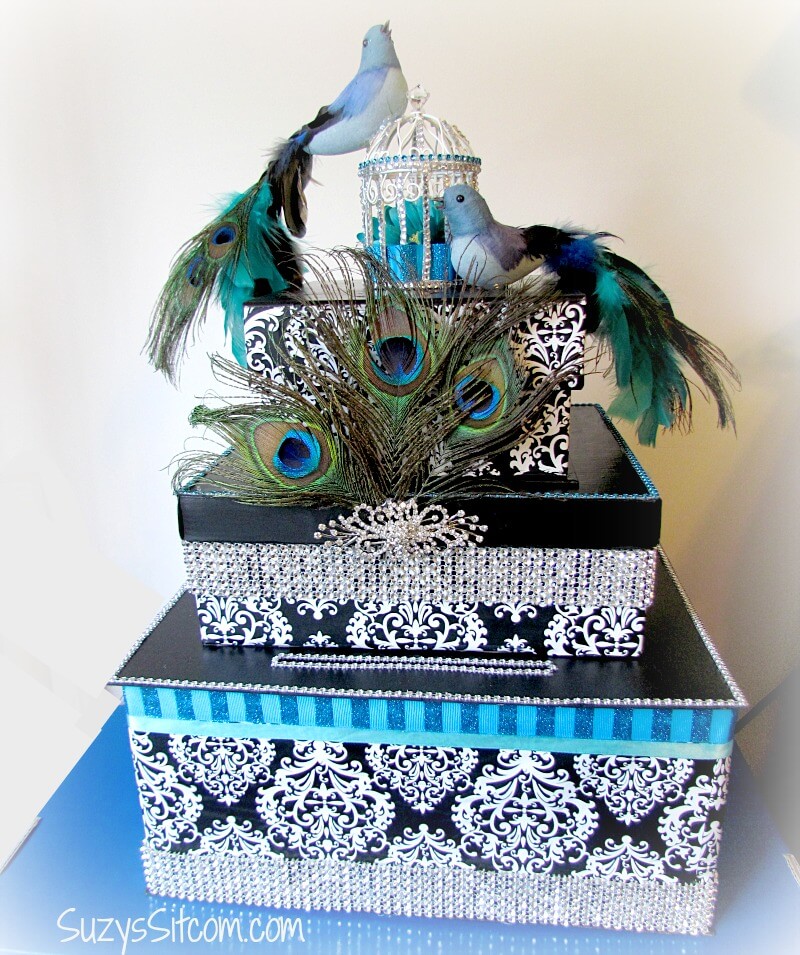 Planning your dream wedding can be stressful enough without having to worry about where you are going to put all the cards that your guests give you. This card box makes a great gift for your bridesmaids and has spaces on the front to write their names. It's easy to assemble and customize so that you can choose your color combination!
11. Stylish DIY Cork Heart Wedding Décor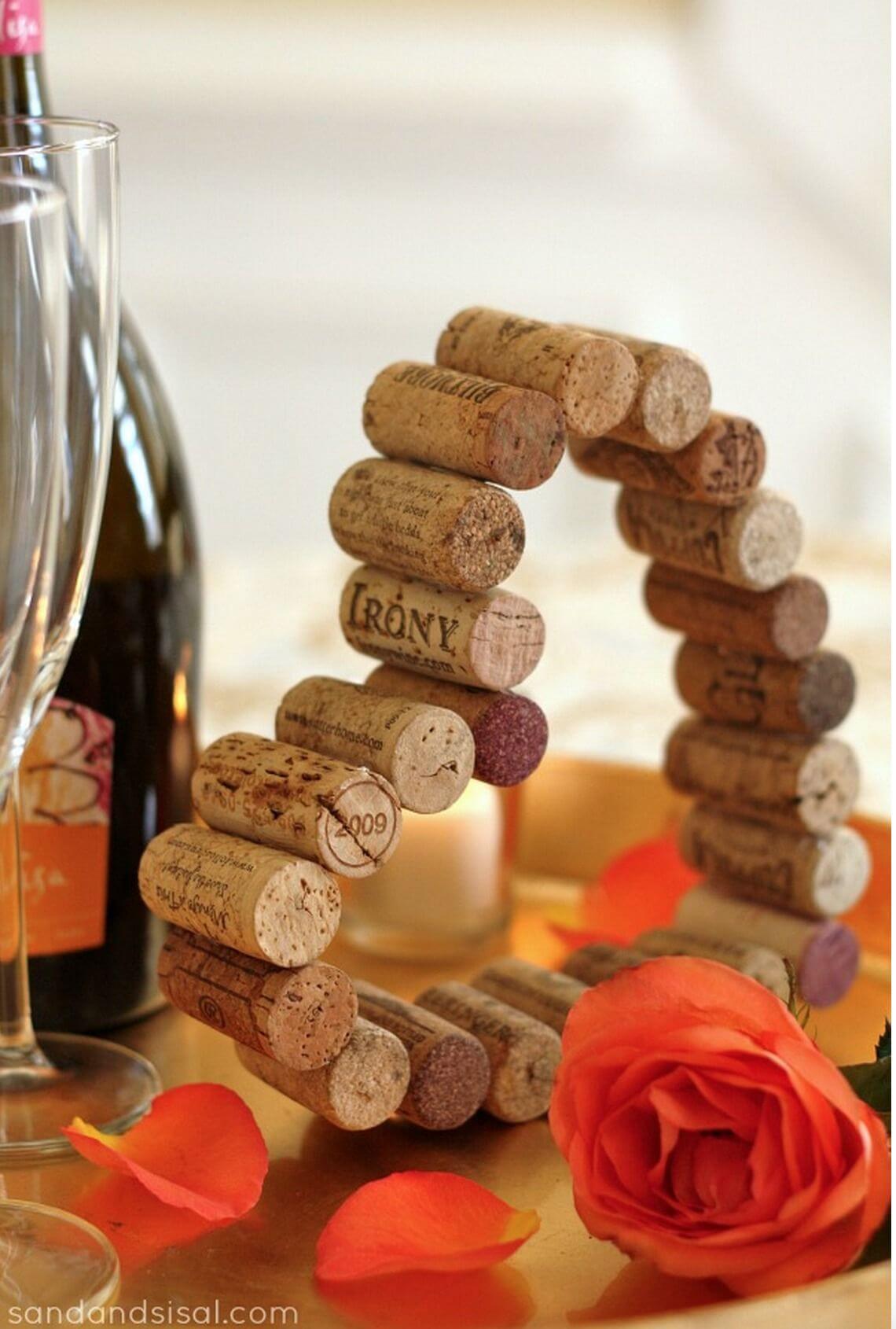 Stylish DIY Cork Heart Wedding Décor is an easy way to get creative with your wedding décor and heighten the romance factor, whether you use them as table centerpieces or hang them on your wall. Add a unique touch to your big day with these Stylish DIY Cork Hearts as table centerpieces or hanging on walls. They're easy to install and guaranteed sturdy enough to last through the celebration.
Are you looking for the perfect rustic décor? Look no further. This makes the ultimate addition to any wedding and is also a great choice for farmhouse weddings. This Rustic Hanging Aisle Décor will add a unique look to your wedding venue. It is handmade from burlap and twine, ensuring a rustic motif and the perfect touch of country. Elevate the natural beauty of your event by hanging this décor along the isle to create a warm and rustic feel.
13. Amazing Rose Heart DIY Sign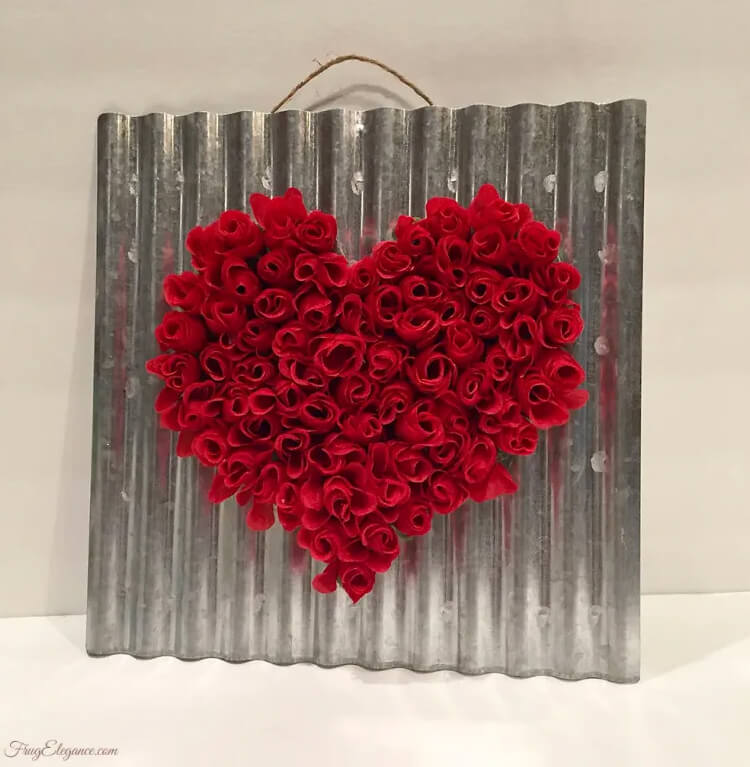 Create the perfect personalized sign for your special day with this DIY Rose Heart Sign. A wedding is a sign that you've found The One. This beautiful personalized sign proves it, with vibrant roses surrounded by heartfelt messages. Perfect for decorating a wedding reception, bridal shower, or anniversary party. This DIY sign will be sure to make you feel like the star of the party!
If you're looking for a creative and beautiful way to add a floral, DIY touch to your wedding, look no further than these elegant baby's breath boutonnieres! They're simple to make, so you can easily DIY them yourself, and they will help the guys stand out in photos. These DIY baby's breath wedding boutonnieres add a unique touch to your big day. The flowers are beautiful and can be arranged as you please, and the whole process is simple and easy.
15. Gorgeous Homemade Scented Candle Decorations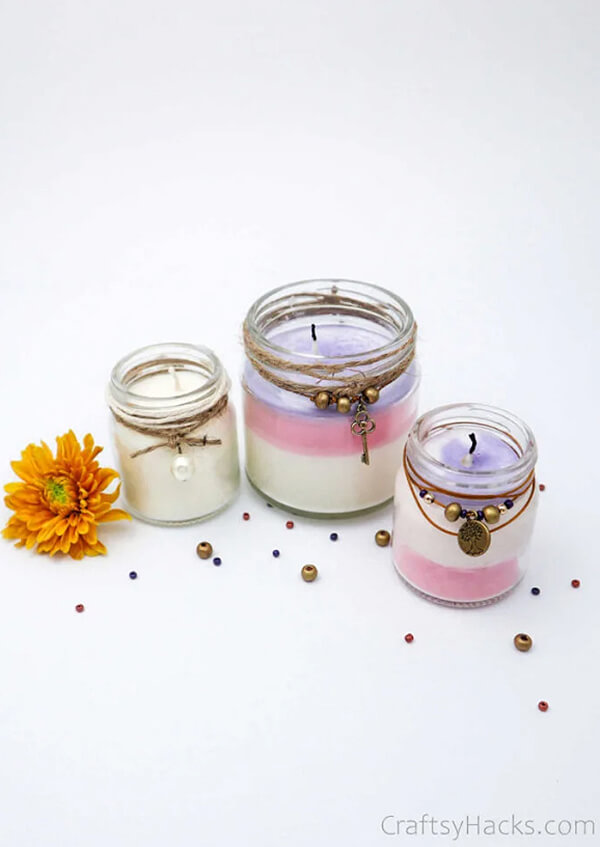 Candles are the most traditional way to add ambiance to any space. At your wedding, you can use candles as wedding favors, add them to your centerpieces, or even use them on your reception tables. Here's how to create simple and easy homemade scented candle decorations that will add that special touch to your big day! These DIY Scented Candle Decorations will be the talk of your reception and leave you with amazing memories that will last a lifetime.
16. Stunning DIY Driftwood Candelabra Design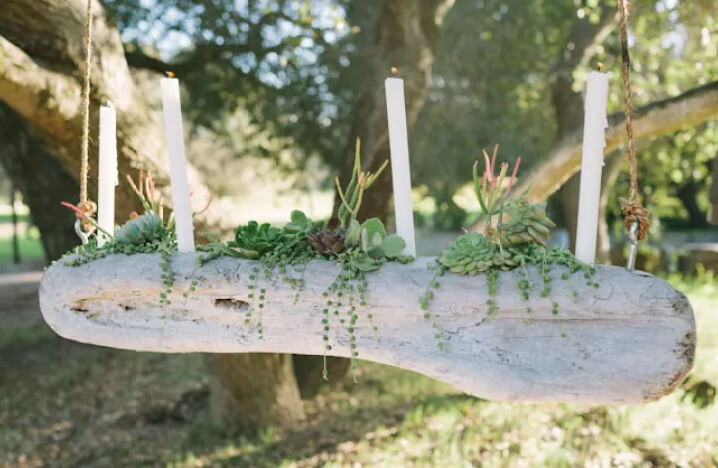 Add a unique touch to your wedding with this DIY driftwood candelabra. It's the perfect centerpiece to add rustic charm to your big day. Decorate your wedding reception with grace and style with a DIY Driftwood Candelabra. This stunning, simple design will make any table a statement point at your wedding.
17. Charming Inclusive Wedding Couple Cards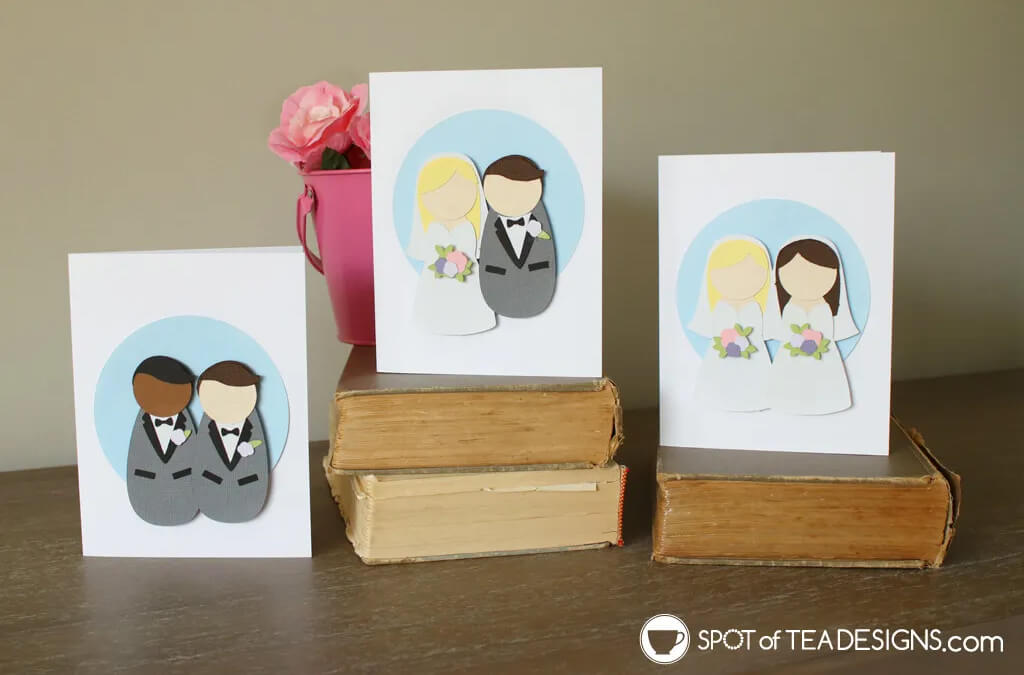 Add a unique touch to your big day by creating magnetic couple cards. Make your wedding special by adding a unique touch to the card, invitations, and décor with these inclusive wedding couple cards. The idea is to create cute cards with cutout figures of yourself and your partner regardless of gender, shape, size, or color that would work perfectly for invitations or even thank-you notes!
18. Elegant Candle Holder Craft Project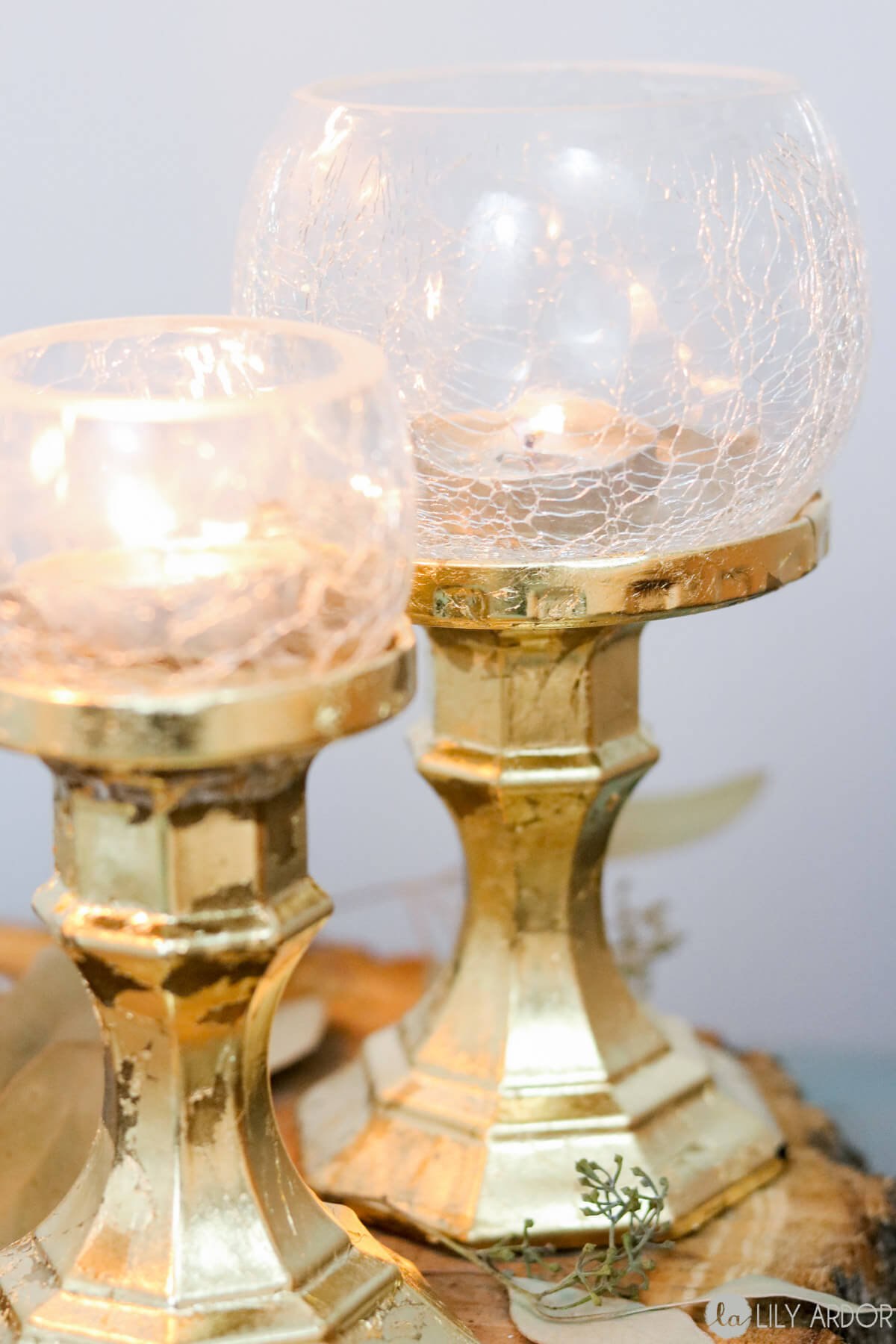 A romantic candleholder is a great way to add a unique touch of elegance to your wedding ceremony. You can make these durable, thick glass candle holders for the reception tables or order them from a professional glassware store. This is how a DIY project gets more fun. Decorate your wedding with our elegant candle holder craft project. This project can be used in both indoor and outdoor settings.
19. Unique Hanging Floral Chandelier Design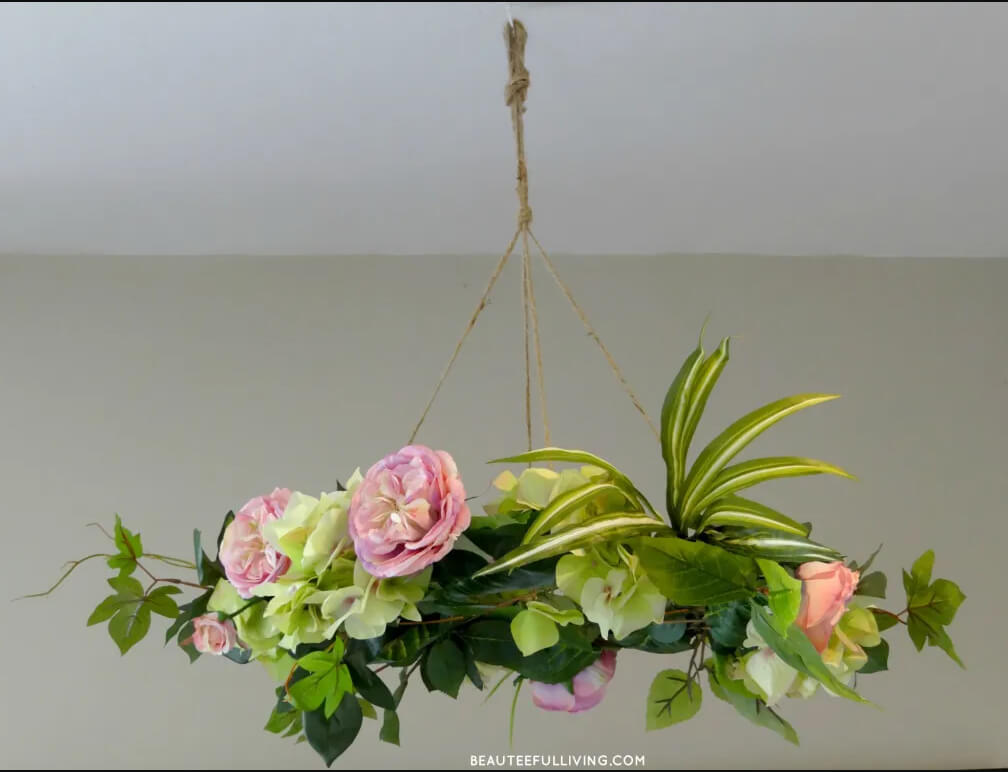 Unique Hanging Floral Chandelier Design. If you place this at the entrance to your wedding, it will be a beautiful welcome for the guests. This DIY Unique Hanging Floral Chandelier Design is the perfect centerpiece for your wedding or special occasion! Hang this easy-to-make and very affordable chandelier from any ceiling from a hardware store, and it will add elegance to any venue.
20. DIY Hanging Wedding Wreath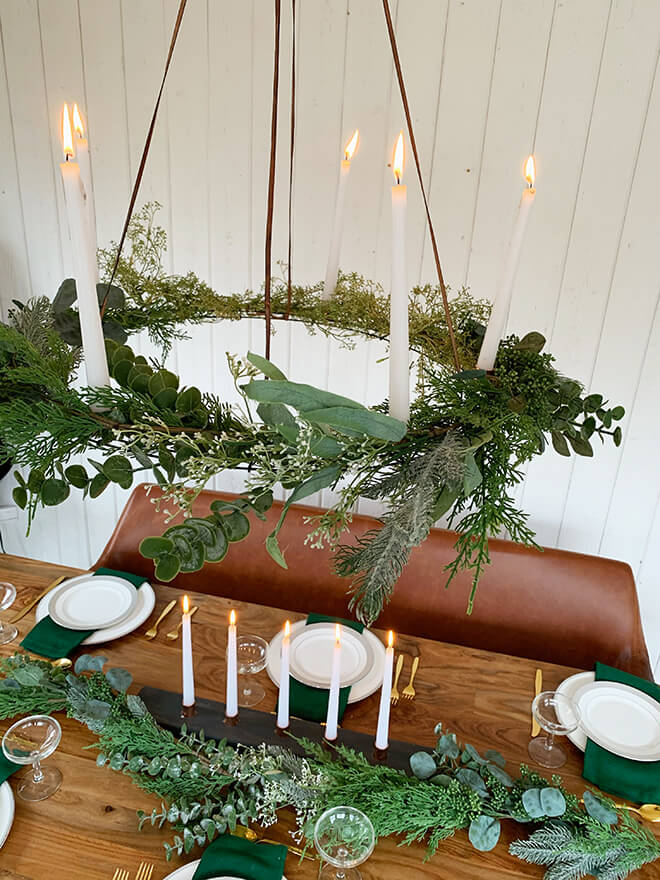 Add a pop of color with a hanging wedding wreath. Hanging a wedding wreath is a fantastic idea to add a unique touch to your big day. The wreath is easy to make and costs little to nothing if you have your supplies at home and you can use it repeatedly. Including this project in your wedding budget ensures that the DIY element of your day won't be compromised on account of an investment.