20 Easy Crochet Halter Tops Patterns
Are you looking for a trendy summer top or a stylish addition to your wardrobe? Here are 20 Easy Crochet Halter Tops patterns that are perfect for adding a handmade charm to your warm-weather outfits. Whether you're a seasoned crocheter or just starting, there's a pattern here. From simple, beginner-friendly designs to more intricate lacework and texture, these tops offer a range of styles and skill levels. And with so many color and yarn options available, you can customize each top to match your taste and style.
These crochet halter tops are versatile enough to be worn to the beach, a music festival, or a casual day out. So why not add a bohemian flair to your wardrobe with one of these beautiful crochet halter tops? Upgrade your summer wardrobe with these 20 Easy Crochet Halter Tops Patterns, from simple designs to intricate lacework. Add bohemian flair to your style!
Tips And Tricks For Easy Crochet Halter Tops Patterns
Read the pattern carefully before beginning

: Ensure you understand all the instructions and have the necessary materials before starting your project.

Take accurate measurements

: To ensure a good fit, take accurate measurements of your bust, waist, and hips before starting your project.

Use stitch markers

: Stitch markers can help you keep track of your stitches and ensure your pattern is coming out correctly.

Block your finished project

: Blocking your crochet halter top will help it hold its shape and give it a polished look.

Experiment with different yarns

: Be bold and experiment with different types of yarn to achieve the look and feel you want for your halter top.

Practice different stitch techniques

: Crochet halter tops can be made with various stitches and techniques, so it's a good idea to practice different stitches to build your skills and achieve different looks.

Add embellishments

: Embellishments like tassels, fringe, or buttons can add a unique touch to your halter top and make it stand out.

Take your time:

 Crochet halter tops can be a bit more complicated than other crochet projects, so take your time and don't rush. Enjoy the process and take breaks when you need to.
See Also:
1. Crochet Kismet Halter Top
A halter top made as soft as your favorite summer shirt. Perfect for showing off a little skin and celebrating the warm weather, this crochet kismet halter top has a classic, casual design. The Crochet Kismet Halter Top is perfect when you want to look effortlessly cute. It features a halter neckline and crochet details on the shoulders.
2. Simple Crochet Halter Top:
This Halter Top Crochet pattern is easy and fun. Anyone can learn to crochet. Its simple yet beautiful and unique style will be the topic of conversation on any occasion. This pattern will show you how to: start with worsted weight yarn, add rows and rounds, create a larger or smaller size, or make this top in any color.
3. Little Grace Top
The crochet Little Grace Top perfectly combines comfort, simplicity, and elegance. With long sleeves and a round neckline, this top is easy to pair with other items. You can rock it with jeans or a skirt on the weekend.
4. Teardrop Halter Top:
This crochet halter top is so stylish you'll want to wear it daily. The high-low hem adds an elegant touch to the classic silhouette, while the open-back design is flattering and flirty. It features a crochet pattern that makes it incredibly flattering and fun.
5. Leila Tie Strap Crop Top
We love this crochet crop top tied at the waist with a bow on the side. This unique garment is sure to turn heads and compliment any outfit! The Crochet Leila Tie Strap Crop Top is the perfect tank for wearing shorts or yoga pants. The front-tied lacy straps add a touch of femininity and style, while the cropped fit evokes a laid-back look that can go from lazy weekend brunch to comfortable errand running.
6. Pucker Up Halter Top:
Pucker Up has a flattering neckline, an easy-to-adjust tie, and crochet details. Pull it on and go. This crochet halter top features a scoop neck and pucker-up detailing. Pair it with a high-rise skirt and wedges for an effortless summer style. Pucker up with this crochet halter top! Dress it up or wear it with jeans – you will look hot either way!
7. Vneck RibbedTop
Get comfortable and stylish in this Crochet Vneck Ribbed Top. It features a relaxed fit, crew neck, long sleeves, and ribbed hem with frayed edges for a fun look. This top will keep you warm on cool days or nights. It's made from a comfortable fabric (it stretches) and has stretch ribbing around the neck so you can tie your hair up in a bun during a workout or just out of bed.
8. Sunflower Halter Top Crochet Pattern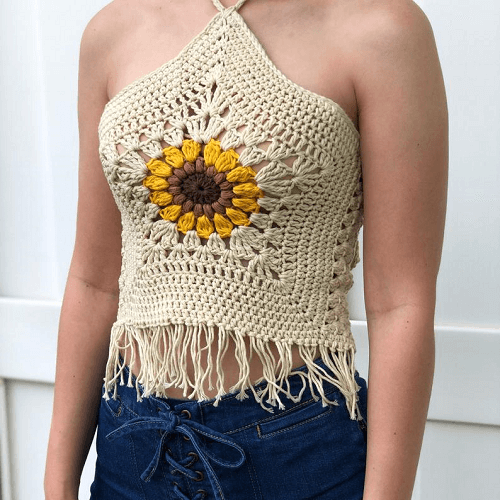 Add a bright and colorful touch to your wardrobe with this Sunflower Halter Top Crochet Pattern. This halter top crochet pattern is the perfect summertime crochet accessory! It can be worn as a top or a sundress and features a halter neckline and a gorgeous sunflower motif. This easy crochet halter top is knit in the round, making it extremely fast to work up.
9. Baby Pompom Halter Top Crochet Pattern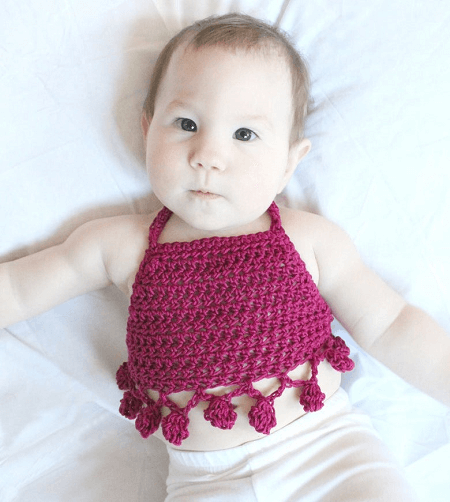 This baby pompom halter top crochet pattern is also the perfect project for new crocheters! With just a little experience, you can make this super cute top to wear over summer dresses or t-shirts. With no sewing required (just a few seams) and one size that fits most makes, this is the perfect summer clothing pattern for your baby girl.
10. GIRLS' RAINBOW HALTER CROCHET PATTERN
The half-circle pattern in rainbow shades is suitable for any child. It can be used as a bed cover, beach cover-up, or simple poncho and scarf. Kids and teens will love this rainbow halter crochet top, made with multiple strands of yarn. The pattern is easy for beginners but fun enough to engage more advanced crafters.
11. America Flag Crochet Halter Top Pattern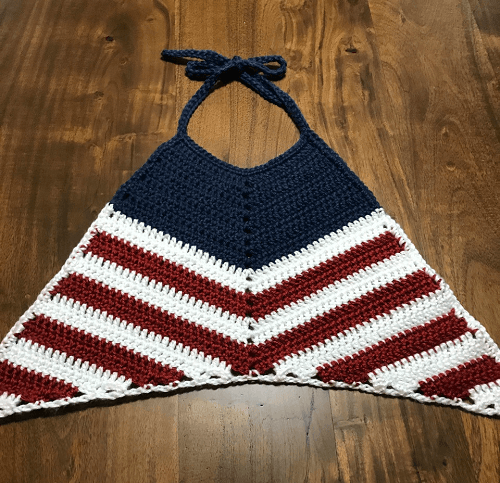 The American flag crochet halter top is made with a patriotic theme. This project features a traditional crochet halter top with an American flag scrunch back! The front side of the halter shows off the classic red and white stripes look, while the reverse side showcases an amazing USA-themed look.
12. HALTER TOP KNITTING PATTERN
This halter-top knitting pattern is great for showing off your amazingly toned upper body. It's comfortable, stylish, and perfect for any occasion. This pattern is designed to be knitted in aran or worsted weight yarn and is suitable for advanced beginners familiar with knitting in the round and basic increases and decreases.
13. Sassy Halter Top Crochet Pattern by Jenny And Teddy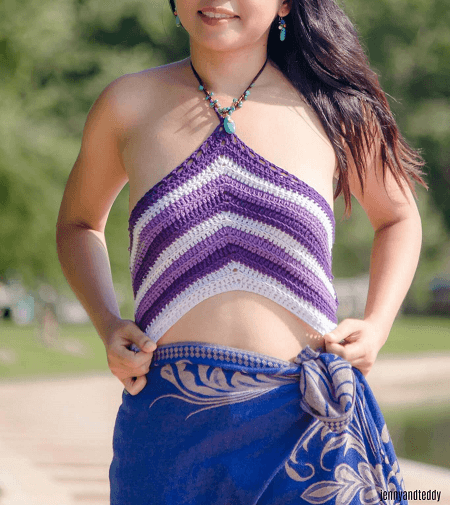 The Sassy Halter Top Crochet Pattern is a great way for new and experienced crocheters to create a bikini-ready outfit in just one easy project. This simple halter top look is perfect for those who prefer a more modest or less revealing style while still getting maximum sun protection.
Get the Pattern here
14. Crochet Halter Top Tutorial
This halter top crochet pattern is the perfect summer staple. It looks great with a bralette or bandeau underneath and can be styled with jeans or shorts for a casual look. The crochet halter top is versatile and quickly becomes your new wardrobe favorite. This simple beginner-level project uses only single crochet and chain stitches. You can even use your scrap yarn to make more of these tops!
15. Crochet Casual Tank Top
Stylish and sexy, this crochet tank top is a must-have item in your wardrobe. Made of soft 100% cotton, this tank top is comfortable to wear all day. The keyhole neck design gives it a classic look, while the crochet detailing adds a modern touch. And the best part is that it comes in multiple colors you can mix and match to create your style!
16. Boho Crochet Halter Top Pattern For Little Girls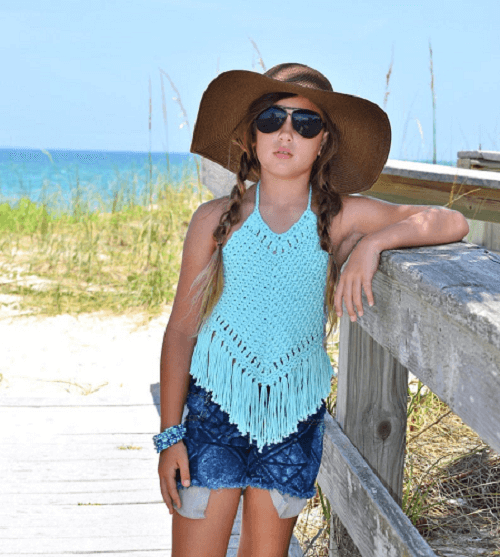 This gorgeous crochet halter top will be the perfect addition to your little girl's summer wardrobe. It makes a wonderful beach or pool cover-up, but it also looks great paired with shorts or jeans. The top works up fast and with minimal effort, especially with all of my extra tips and tricks included in the pattern. You will want to make one of these fun crochet halter tops for your little girl!
17. The Best Crocheted Top Patterns
The Best Crocheted Top Pattern is a chic and fashionable crochet top pattern. It's just the right weight to wear on those cool days and remain warm. The styling is perfect for any time of year and can be worn with anything! This pattern is easy to follow with step-by-step instructions and colored photos. You'll be able to crochet this cute top in no time!
18. Crochet Halter Top Pattern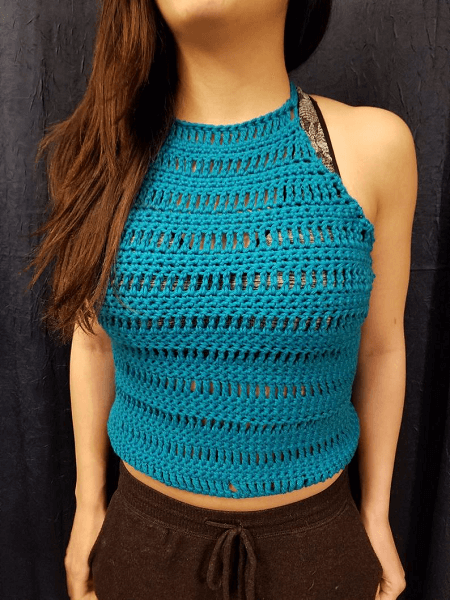 This crochet halter top pattern is so easy to make! It is perfect for a hot summer day and can be made in any color. This simple design can be worn at the beach or around town. You will love this crochet halter top pattern. This project is easy to make and looks great as a cover-up. It's also a great choice to wear over your bathing suit when you are out by the pool!
19. Diana Halter Top