20 Easy DIY Birdhouse Plans to Bring Life to Your Backyard
Are you looking to bring some life and activity to your backyard? Why not try building a birdhouse? It will add a charming touch to your outdoor space and provide a cozy home for your feathered friends. With these 20 easy DIY birdhouse plans, you'll have a wide variety of designs, whether you prefer a rustic, classic, or modern style. These user-friendly plans make them accessible to beginners and experienced DIY enthusiasts alike.
You can use recycled materials or scrap wood to create a unique and environmentally-friendly birdhouse or paint it in vibrant colors to add a pop of personality to your yard. So, roll up your sleeves, gather your materials, and start building your birdhouse and attracting chirping and fluttering to your backyard!
Decorate your yard with these beautiful DIY birdhouse designs. Check out these 20 Easy DIY Birdhouse Plans to Bring Life to Your Backyard.
Benefits Of DIY Birdhouse Plans
DIY birdhouse plans have become increasingly popular as more people seek ways to create a sustainable and eco-friendly environment in their backyards. Here are some of the key benefits of using DIY birdhouse plans:
Cost-effective: DIY birdhouse plans are a great way to save money, as you can use recycled materials or scrap wood to build your birdhouse. By building your birdhouse, you can avoid the high cost of purchasing one from a store.
Customizable: With DIY birdhouse plans, you can customize your birdhouse to fit your style and needs. You can choose from various designs and sizes or create your unique design.
Environmentally friendly: By using recycled materials and building your birdhouse, you are helping to reduce waste and promote sustainability. Additionally, by providing a safe and comfortable home for birds in your backyard, you are helping to promote biodiversity and protect the environment.
Educational: DIY birdhouse plans can be a great educational tool for children and adults. Building a birdhouse can teach valuable skills such as measuring, cutting, and assembly while promoting an appreciation for nature and the environment.
Provides a home for birds: The most important benefit of DIY birdhouse plans is that they provide a safe and comfortable home for birds in your backyard. You can enjoy their beautiful songs and colorful plumage by attracting birds to your yard while promoting a healthy ecosystem.
See Also: 15 Creative DIY Cat Scratching Post Ideas
1. How To Build A Log Cabin Bird House
Want to build a birdhouse? This project is made from leftover wood and uses no nails or screws, making it an environmentally friendly gift for the birds. This birdhouse is easy to build and only takes a few hours. This project will make the cutest backyard or garden feature for your home and will provide a cozy home for birds in your backyard.
2. Cute DIY Birdhouse Design
Create a cute and fun birdhouse that will delight your family and friends. This DIY Birdhouse is made from recycled materials, so you can make it in any size to fit your need or leave them as decoration for your home. In addition to the step-by-step instructions on making this beautiful birdhouse, we have included a great resource page with more detailed information about birds and many other fun activities children can do at home or outdoors.
3. How to Build a Birdhouse
Making a birdhouse is easy and fun! And it's a great way to recycle old scrap lumber. You will need some basic tools, like a jigsaw and drill, but no special equipment is required for this project. Use your creativity in shaping the birdhouse design. Birdhouses make great gifts for friends and family when completed with care. This project is easy enough for beginners and will teach you a couple of very useful skills.
4. How to Make a Living-Roof Birdhouse
Welcome birds to your home with a cute, natural DIY birdhouse. Watching the birds move in is fun, and it makes a great decorative accent in your outdoor space. Enclosed on all sides, it is protected from predators and provides a secure nesting space for a pair of birds looking to raise their young. Here's how you can make one yourself!
5. Build a Bluebird House
Looking for a fun DIY project? How about this pretty little birdhouse that you can make yourself? The Bluebirds are fairly small, so this will be their perfect size. You can hang this anywhere you need a little bit of nature or where you want to attract beautiful little birds. This would be a great initiative as the number of bluebirds is decreasing.
6. Cedar Double Bird House Planter
A functional and beautiful addition to your yard, this DIY Cedar Double Birdhouse Planter will enable you to attract birds to your home. The planter is made from cedar, naturally resistant to rot and decay, and insects and pests. Plus, it's easy to assemble! Make yourself a beautiful homemade gift, or enjoy it around the house.
7. Natural Driftwood Birdhouse
This DIY Natural Driftwood Birdhouse is an easy, one-day project that you can use to create a welcoming home for birds in your yard. This project is easy and fun, with just a few supplies you probably already have in your home. It is made from natural materials and comes with a personalized engraved nameplate. It looks great on its own or hung, birdhouse style, on your fence or tree.
8. Log Cabin Birdhouse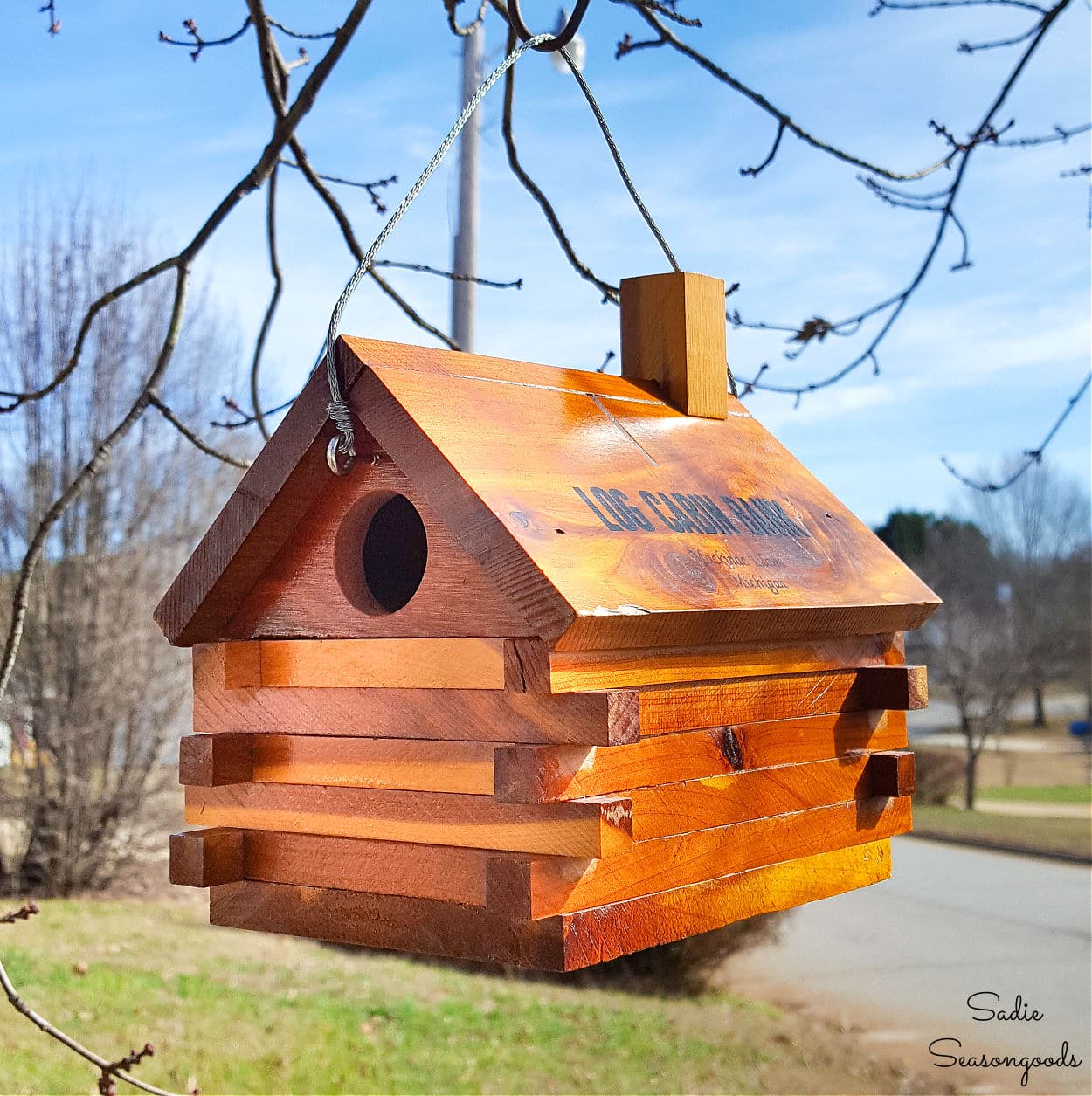 Love to make things? Try your hand at building a birdhouse and practice your carpentry skills. These are easy to make, even for a beginner. This project doubles as an attractive addition to your yard or garden. This DIY birdhouse is a simple project you can make with your kids. It will provide a great habitat and a unique decoration for your home.
9. DIY Coconut Birdhouse
Love birds but hate the mess they make? DIY this easy birdhouse from our tropical decor collection. This Coconut Birdhouse is a perfect addition to your home or garden. It is a great DIY project for the outdoorsy types who like to craft with natural materials. It's an organic, warm, inviting space for your feathered friends to call home.
10. Beach-Inspired Birdhouse With A Coastal Vibe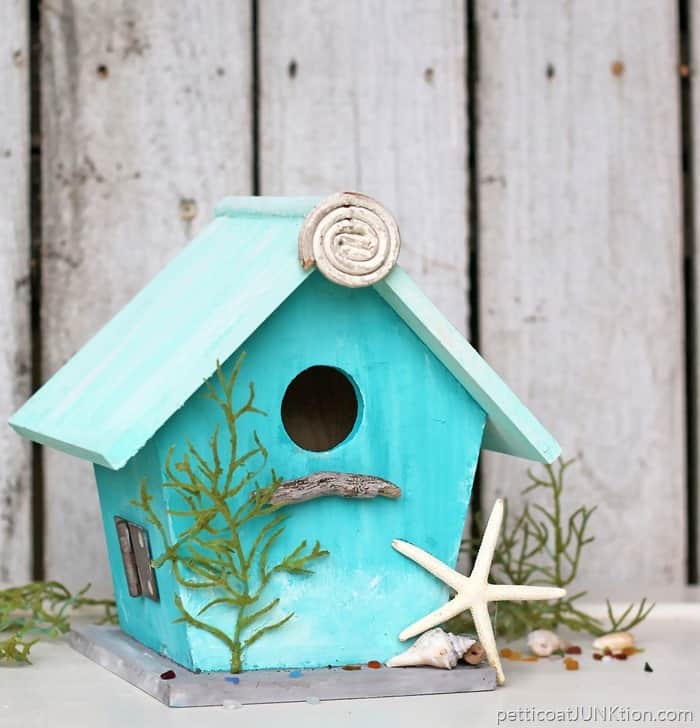 A fun and easy DIY project with a beachy, coastal vibe that's great for any beginner! This birdhouse is a simple and inexpensive way to decorate your porch, deck, or garden with whimsy. Perfect for beach homes, cabins, and more. It's an easy and fun DIY project that only takes a few hours to complete! Make one or several; they are a great gift idea too.
11. DIY Edible Birdhouse
This is a really fun idea for the kids to make and enjoy. Even better, you can use it yourself; it's even edible! Includes all the necessary tools, materials, and instructions to create your edible birdhouse. The easy step-by-step tutorial will guide you through building a functional and beautiful birdhouse. All it takes is a little time and creativity!
12. DIY Birdhouse with Penny Roof
This DIY birdhouse is easy to make and can be left outside regardless of the weather. It features a penny "roof," and the birds have a place to get out of bad weather. Made from scrap wood you may have in your garage, this DIY birdhouse is quick and easy to make for free! This simple DIY birdhouse is a great way to bring the outside in! It's a perfect addition to any garden or patio space.
13. DIY See Rock City Barn Birdhouse
Add a touch of rustic charm to your yard with the See Rock City Barn Birdhouse. This charming house is built from natural pine, featuring a real barnwood finish and authentic slats for a distressed look. Get in touch with nature and make this See Rock City Birdhouse. This fun project can be completed on the weekend with all supplies provided.
14. Modern Cedar Fence Picket Birdhouse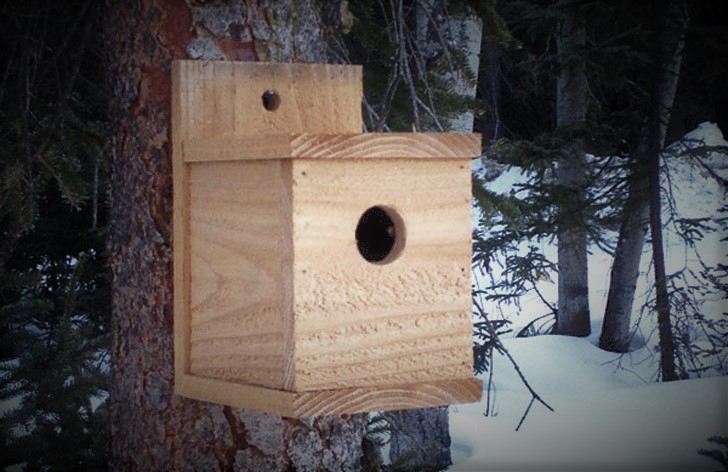 The Fence Picket Birdhouse is a great addition to your garden. Combining the wooden fence pickets and the cedar slats create a perfect, rustic birdhouse for your yard or garden. Generously sized and designed with a slanted roof and attractive horizontal cutouts, it's perfect for protecting small birds like finches and sparrows all year round.
15. Diy Bird House With Night Lights
Create a beautiful DIY birdhouse that is functional and safe for your feathered friends. This easy-to-build house features a design that makes it easy to place feeders, room for nesting, and a built-in light! This DIY birdhouse with night lights is a fun and easy project for kids. It's made from wood to last for many years, but you can also put one together from cardboard if you want to make one as a fun family project.
16. DIY Birdhouse From Recycled Wine Corks
This birdhouse is both decorative and functional. It will help to attract the birds while providing a safe place to lay eggs. Quick and easy, this birdhouse can be made in the afternoon. Easy to clean and maintain, place this recycled cork birdhouse outside as an addition to your yard or garden decor.
17. DIY Nesting Shelves with old buckets
We love this DIY project that uses old buckets to create a bird nesting shelf. Transform your garden into a one-of-a-kind sanctuary with this adorable and inexpensive birdhouse. Give old buckets a new purpose with this DIY nesting shelves project. You can create an affordable and functional home for your feathered friends with a little paint and a trip to the hardware store.
18. How to Make a Bird House From a Pallet
Using pallets to make a birdhouse is a great project for all ages! This DIY birdhouse is simple, easy, and fun. It makes a great gift or decoration for your home, yard, or garden. This birdhouse is made out of a pallet, and it's really easy to make. It's also very durable and will last as long as needed!
19. DIY Mid-Century Birdhouse
Nothing's more satisfying than creating something from nothing. And if you're all about DIY and giving a unique housewarming gift, this birdhouse is for you. Give this Mid-Century Birdhouse as a gift, or add it to your collection for that special touch. It's a pro-level build, but with detailed instructions, we take the complication out of the DIY birdhouse building.
20. How to Build PVC Birdhouse
This PVC Birdhouse is a simple and easy project to build. You can build this birdhouse in 30 minutes or less using a common PVC pipe, a jig saw, and paint supplies with just a few simple hand tools. This birdhouse has a lift-off roof, so you can easily clean out the seed tray whenever you like. It will only last for a while, but it's inexpensive, easy to make, and durable enough for several years.