20 Easy DIY Ottoman Projects for Budget-Friendly Home Decor
What is an ottoman, and how can it enhance your home decor?
An ottoman is a piece of furniture usually low to the ground, upholstered, and used as a footrest or extra seating in a living space. It typically doesn't have a back or arms and can come in various shapes and sizes. Ottomans can enhance your home decor in several ways:
Versatility: Ottomans can serve multiple purposes, such as a coffee table, extra seating, or storage.
Comfort: An ottoman can provide a comfortable place to prop up your feet or sit and relax.
Style: Ottomans come in various colors, patterns, and materials, allowing you to choose one that complements your home decor and adds a touch of style to your living space.
Functionality: Ottomans can help fill empty spaces in a room and make it feel more complete while also providing a practical use.
What are some basic tools and skills you need to make an ottoman?
to make an ottoman, you'll need some basic tools and skills, including:
Tools:
Saw
Drill
Screwdriver
Staple gun
Sewing machine (if upholstering)
Measuring tape
Scissors
Hammer
Pliers
Sandpaper
Skills:
Measuring and cutting wood or other materials
Drilling holes for screws and other hardware
Assembling and attaching pieces together
Upholstering (if desired)
Using a staple gun to attach fabric or other materials
Sanding and finishing the wood (if desired)
Adding any additional decorative elements.
Tips for DIY Ottoman Projects
Here are some tips for DIY ottoman projects that will help you get started:
1. Choose Your Materials Carefully
2. Measure Twice, Cut Once
3. Use Craft Glue Instead of Fasteners (If You Can)
4. Consider Using Casters and Wheels if You Want Your Ottoman To Be Mobile
1. Diamond Tuft Ottoman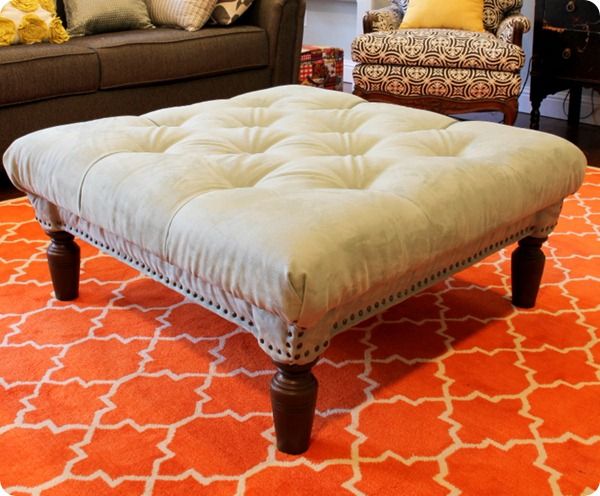 Add extra style and comfort to your living room with this fabric ottoman that can be easily customized to fit any design style. The diamond tuft Upholstery technique is durable and easy to care for. The DIY Ottoman is great for many home areas, including the bedroom, kitchen, or bathroom!
2. Cube Style DIY Ottoman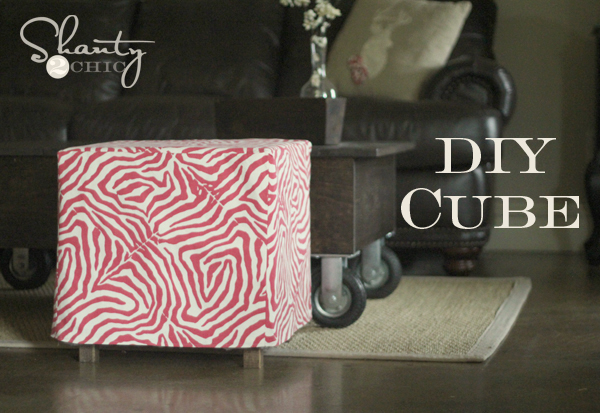 Learn to build your own cube-style DIY Ottoman! These are a great way to add a little seating when you lack space. Make yourself an ottoman that looks like a million bucks but costs only $20. They're perfect for the living room, bedside table, or entryway. Great for extra seating when you have guests over and can be used as bench seating at holiday gatherings.
3. DIY Ottoman Footstool
4. DIY Ottoman Pallet
Are you a fan of pallet woodcraft? Here's one you would like. This sweet little Ottoman is made from a pallet, a mattress topper, and some fabric to cover it. With these easy-to-follow instructions, the pallet woodcraft will be a breeze. Using any fabric or paint that fits your house decor is the best part. So in a few hours, you have a new seat for relaxing on your home or patio.
This simple and affordable DIY Ottoman Project will only take you an hour or two. This project is ideal for the beginning woodworker; using common tools, you can make your own DIY Ottoman from a reclaimed spool. The most time-consuming part will be measuring and cutting boards to size, sanding them, and painting if desired. This is a great project for your children, and they'll love it!
6. Recycled Pallet Ottoman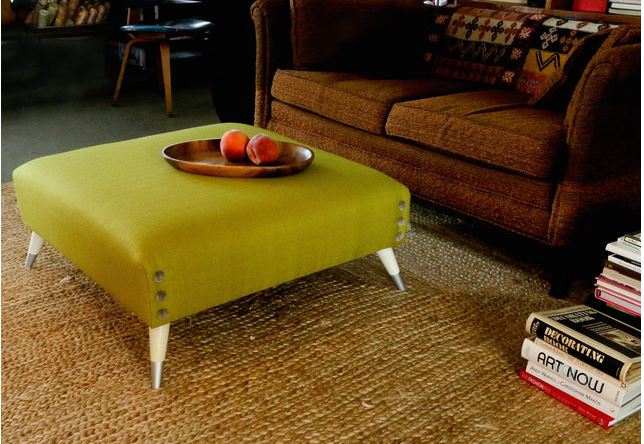 7. Upholstered Storage Ottoman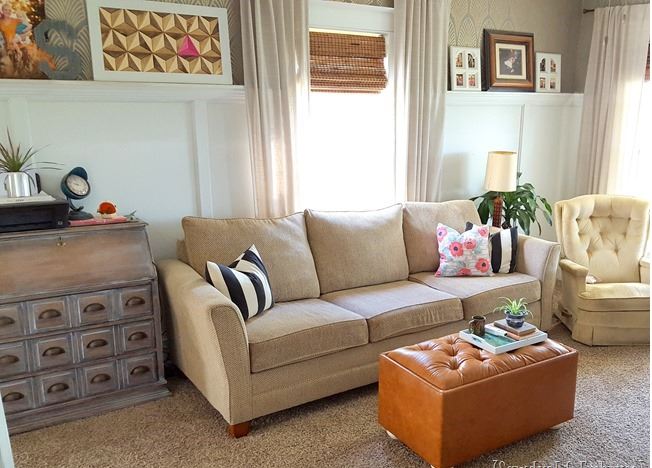 A storage ottoman is a great addition to your living room, providing a place to prop your feet, store blankets and pillows, or have a conversation. This piece is easy to make and customize with the fabric of your choice, making it an ideal DIY project for beginning sewers. You can create this piece in less than two hours using simple tools such as a drill and saw.
8. DIY Tire Ottoman
Seize the moment and get unique ottomans perfect for storing your things and keeping them off the floor. This tire ottoman looks great and is both easy to build and inexpensive. You cut the lid of a spare tire, sew around the edges and place it on top of the base. With a removable cover or not, this project is one you'll be proud to show off!
9. DIY Drum Shell Ottoman
This project is easy to make thanks to precise instructions. You will not need any power tools, and you can easily make this amazing Ottoman in less than one day. You will need a drum shell, some wood for the legs and rims and feet, foam for the cushions, nails, and screws to assemble. The process is very simple and straightforward, with a template for each section.
10. How To Build A Padded Ottoman
Your home reflects your personality and taste, so why not add a little DIY Ottoman Project to your living room or bedroom? This elegant footstool or storage solution is easy to build and can be completed in just a few hours. You will need one sheet of high-quality plywood, four fabric Ottoman tops, glue and staple gun with staples, upholstery nails, and a stapler with staples.
This DIY Ottoman Coffee Table Project is designed to be simple, clean, and stylish. It's the perfect project for any beginner crafter because the steps are easy, and the materials are inexpensive. This tutorial allows you to create a custom piece for your living room or bedroom.
12. X Style DIY Ottoman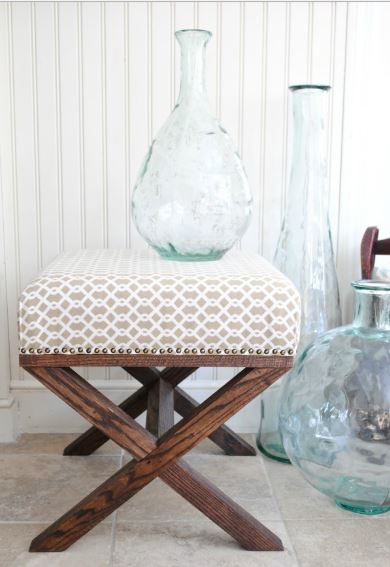 This easy-to-assemble DIY Ottoman features stylized X-shaped legs, giving it a contemporary look. Use it as an accent piece by your sofa, or place it in the center of your living room to add some extra seating. The neutral design allows for easy decorating, so you can easily add a bold accent color to the cushion for a fun pop of color.
13. Tire and Rope DIY Ottoman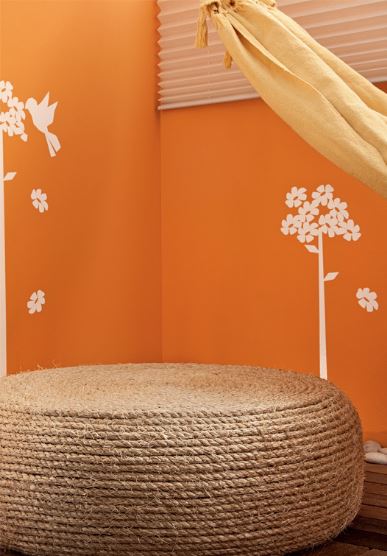 14. Cow Hide DIY Ottoman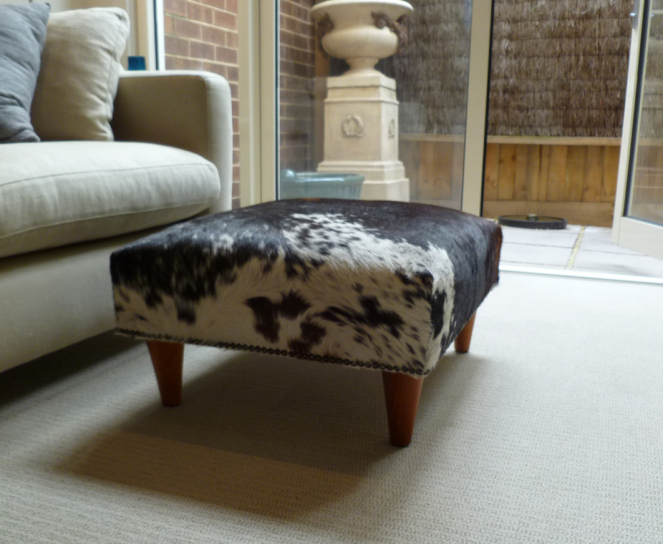 This project is the perfect way to revitalize an old ottoman. Transform it into one of your favorite hides, whether leopard print, black & white, or another striking hue. With step-by-step instructions and illustrations, this tutorial gives you all the tips you need to get started.
15. How To Build A Storage Ottoman
This is the perfect project to help you get started on your DIY skills. Imagine a comfortable place to sit and relax with a good book or your favorite TV show. Now imagine that spot having plenty of storage space, too. This Ottoman is as cozy as it is functional, and with these DIY steps, you can easily turn out something similar at home!
16. DIY Ottoman From Plastic Bottles
Make your own DIY repurposed Ottoman for less than $10! This durable, easy-to-make project is perfect for a child's room or den. Make two circle pieces from cardboard for the top and bottom. Fit plastic bottles, secure them with tape, and cover them with fabric and fur.
This DIY tufted ottoman project is super easy, and you can use the same fabric for the cushion as you did to cover the base. This tutorial shows how to make a tufted Ottoman using foam board and plastic canvas. However, you could also use this technique to sew a foam-filled cushion quilted on the backside or by sewing directly onto fabric.
18. DIY Bench Ottoman
If you want to do a DIY furniture project at home, take the chance to make an Ottoman Bench. It's simple yet classy and will keep you occupied for hours. The beauty is that you can make it for indoor and outdoor use. With upcycled-style legs, this Ottoman bench is sturdy and easy to build.
Love your living room? DIY Ottoman projects create the perfect space to curl up with a good book or watch TV. Whether you're looking for an ottoman that matches your existing décor, or something unique, these ottoman projects will have you sitting pretty in no time.