20 Simple DIY Decorations for a Colorful Birthday Party
Looking to add a splash of color to your next birthday party? Look no further than these 20 Simple DIY Decorations for a Colorful Birthday Party! From colorful balloons to vibrant streamers, these decorations are perfect for creating a festive and fun atmosphere for your celebration. Whether you're hosting a party for kids or adults, these decorations will surely delight and impress your guests. With just a few simple materials and creativity, you can create unique and personalized decorations that will make your party unforgettable. So let's explore these

20 DIY rainbow birthday party decoration ideas

that are easy, affordable, and sure to make your celebration successful! 
Why Make These DIY Rainbow Birthday Party Decorations?
Making DIY rainbow birthday party decorations is a great way to add a personal touch to your celebration while saving money. Here are a few reasons why you should consider making your own decorations:
Affordability: Buying pre-made decorations can be expensive, but creating your own can be much more budget-friendly. You can use affordable materials like construction paper, tissue paper, and streamers to make beautiful and unique decorations.
Personalization: Creating your own decorations lets you personalize the party to your taste and style. You can customize the colors, textures, and materials to create a unique and memorable celebration.
Fun and Creative: Making DIY decorations can be a fun and creative project involving the whole family. It's a great way to bond and spend time together while creating something special for the party.
Environmentally friendly: By making your own decorations, you can reduce waste and help the environment. You can use recycled materials and create decorations that can be reused for future parties.
Tips And Tricks For DIY Rainbow Birthday Party Decorations
Creating DIY rainbow birthday party decorations can be a fun and creative project but can also be a bit overwhelming. Here are some tips and tricks to help make your decorating process a success:
Plan your color scheme: When creating a rainbow theme, it's important to plan out your color scheme in advance. Consider the shades of each color and how they will work together in your decorations.
Use different textures: Mix and match different textures in your decorations to add depth and interest to your party space. Think crepe paper, balloons, ribbons, and more!
Get creative with your DIY projects: Use materials like tissue paper, construction paper, and felt to create unique and affordable decorations, like pom-poms, banners, and centerpieces.
Consider lighting: Lighting can greatly impact the overall look of your party space. Use string lights or colored bulbs to enhance the rainbow theme.
Don't forget the details: Small details can make a big impact. Add a pop of color to your party with rainbow paper straws, confetti, and balloons.
By following these tips and tricks, you'll be on your way to creating a bright and colorful rainbow-themed party that will be a hit with guests of all ages!
1. How to Make a Rainbow Balloon Wreath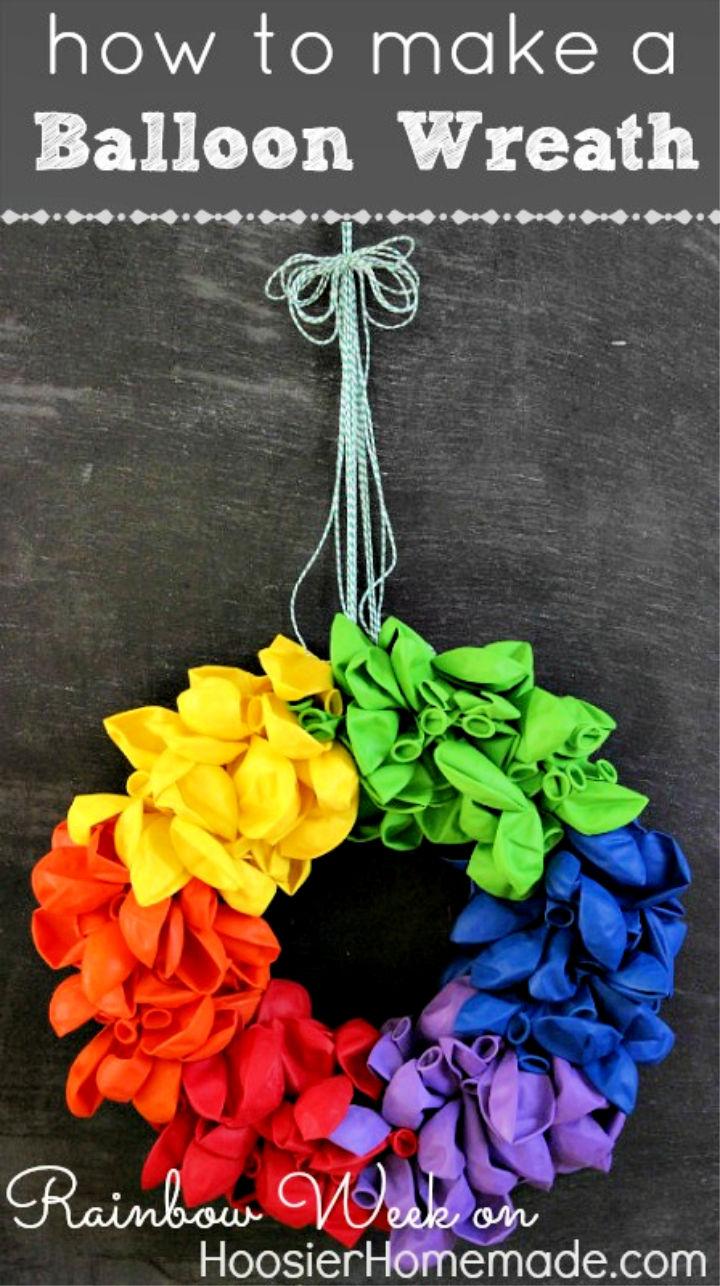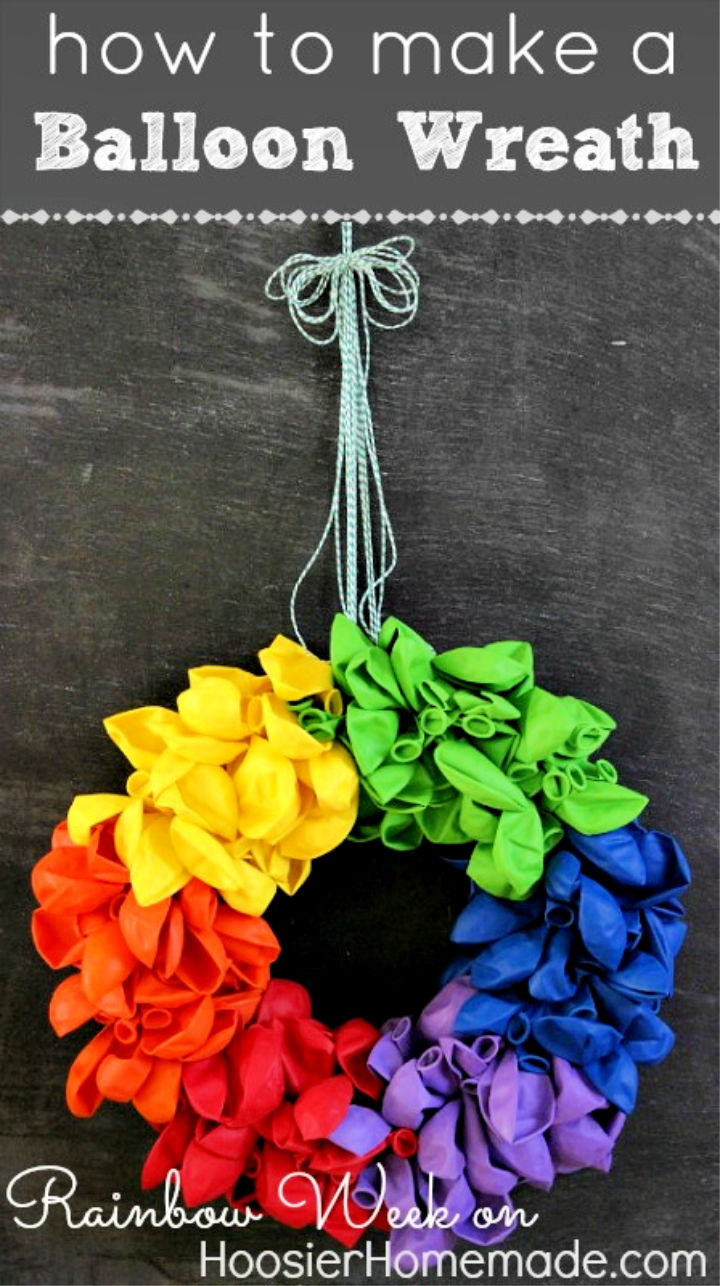 This colorful garland is made from rainbow-colored party balloons on a straw wreath. Hang it on the front door, above a table, or in your child's bedroom. The kids will love creating it with you and watching it grow to an impressive size. You will love how easy creating is, and your kids will be so excited that they can help you make it!
2. DIY Rainbow Paper Garland Carm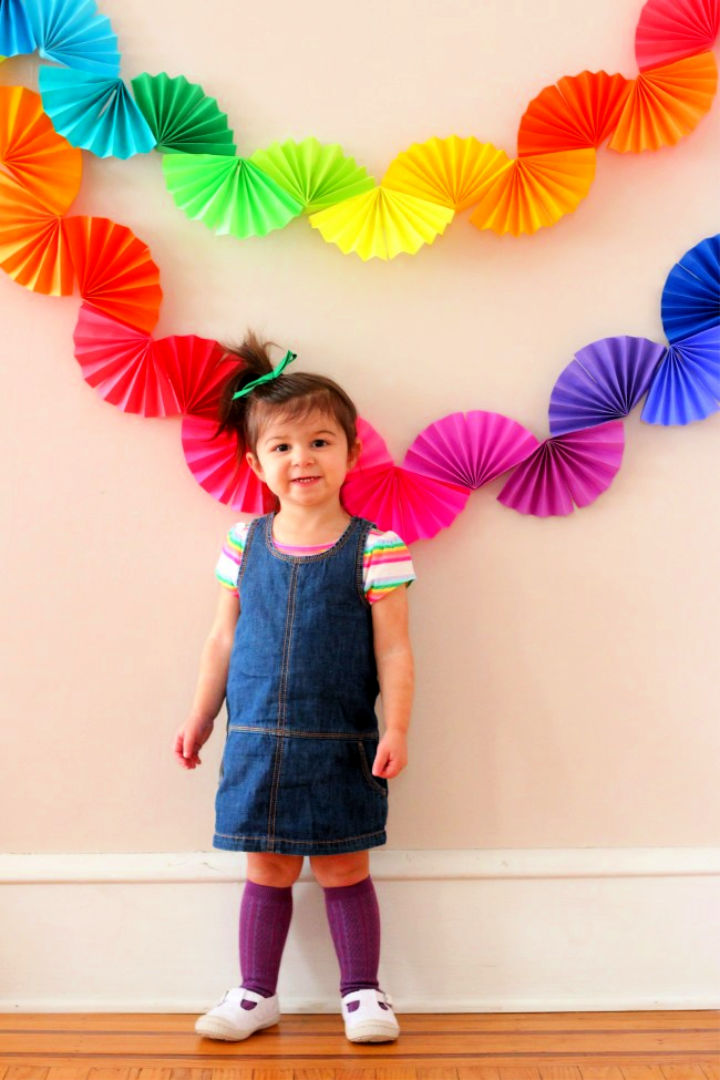 This easy project will add color and festive spirit to your party. It is a fun activity for adults and kids alike, as you can customize it however you want! You don't even need any special tools for this one – grab some rainbow-colored paper and ribbon, or draw your own designs and get to work!
3. DIY Rainbow Wreath for Birthday Party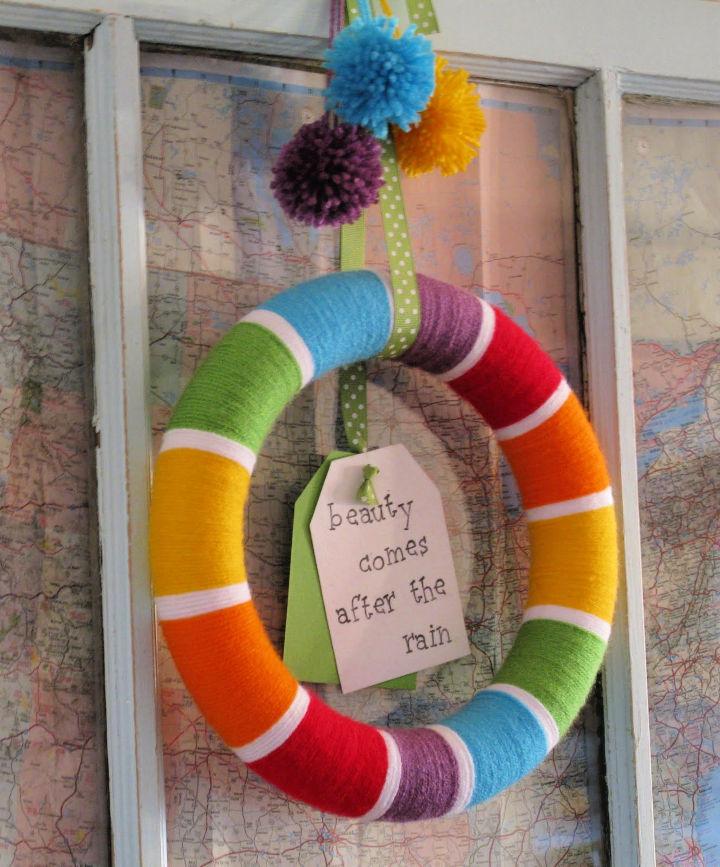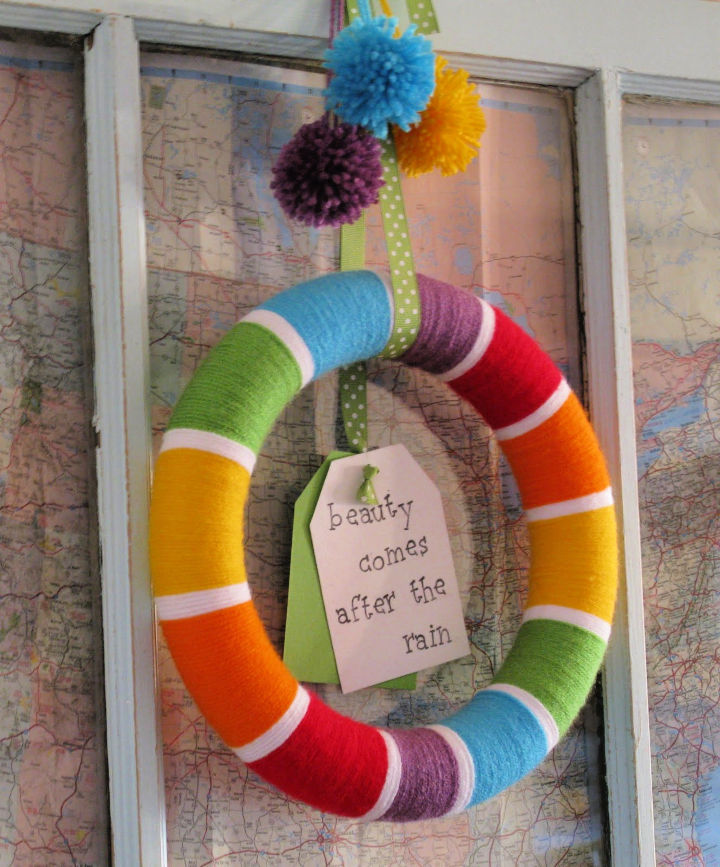 This Rainbow wreath is a great decoration for your next rainbow-themed birthday party. This is a simple and fun DIY; it only takes a little time to complete the project. It is perfect for a Rainbow Birthday Party. It's easy to make and can be repurposed as a house decoration, wall hanging, or wreath.
4. Easy DIY 6-layer Rainbow Cake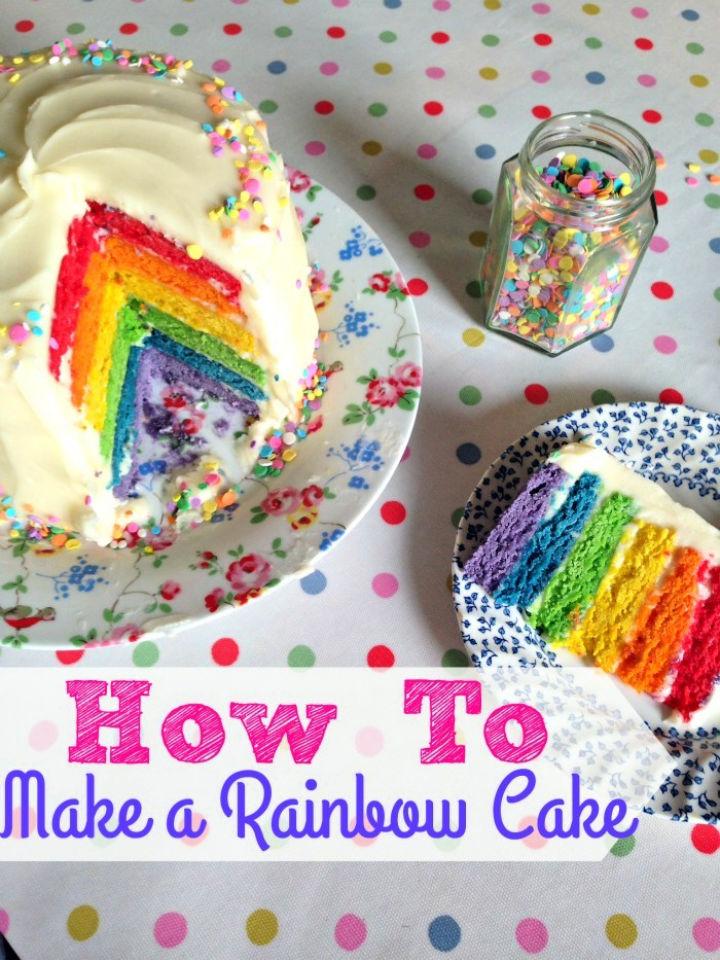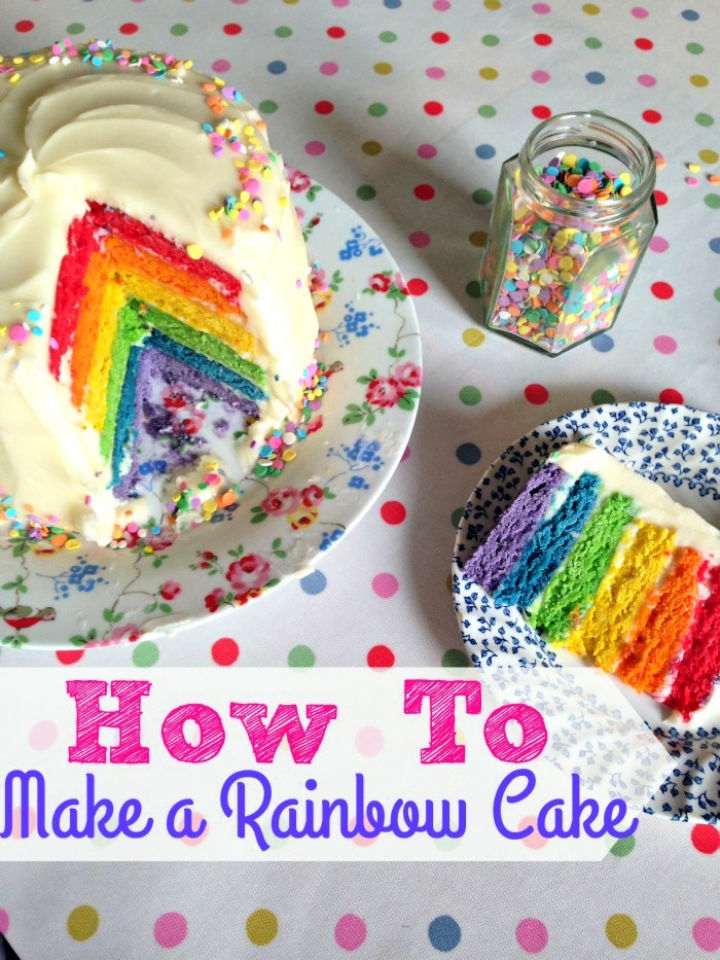 Decorating this pretty rainbow cake will be a really fun activity. This rainbow 6-layered cake can be easily made with a simple 6-layered cake and some buttercream frosting. It will take less than an hour to finish the whole thing, but when you serve it, you will be amazed by how much your kids will love this colorful cake.
5. Rainbow Salad in a Jar with Avocado Hummus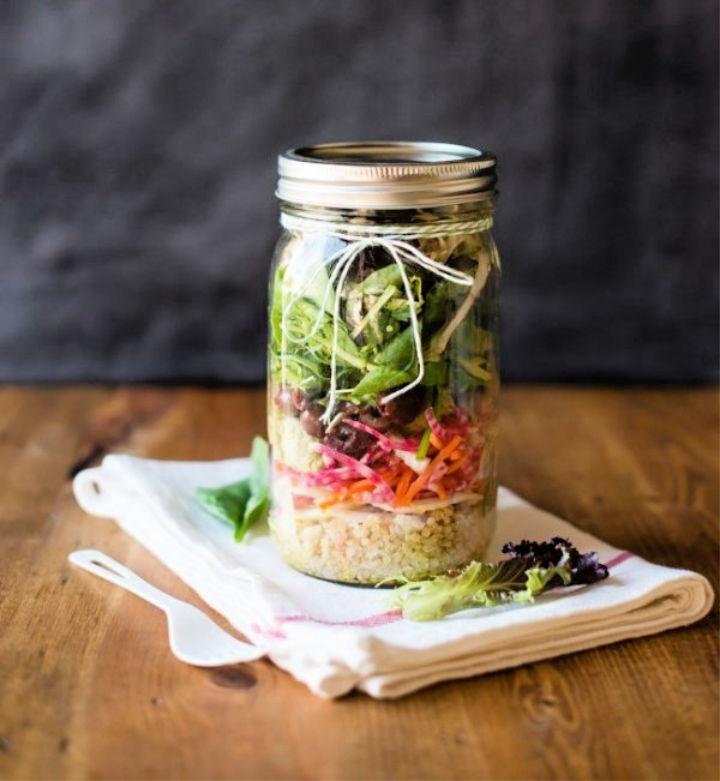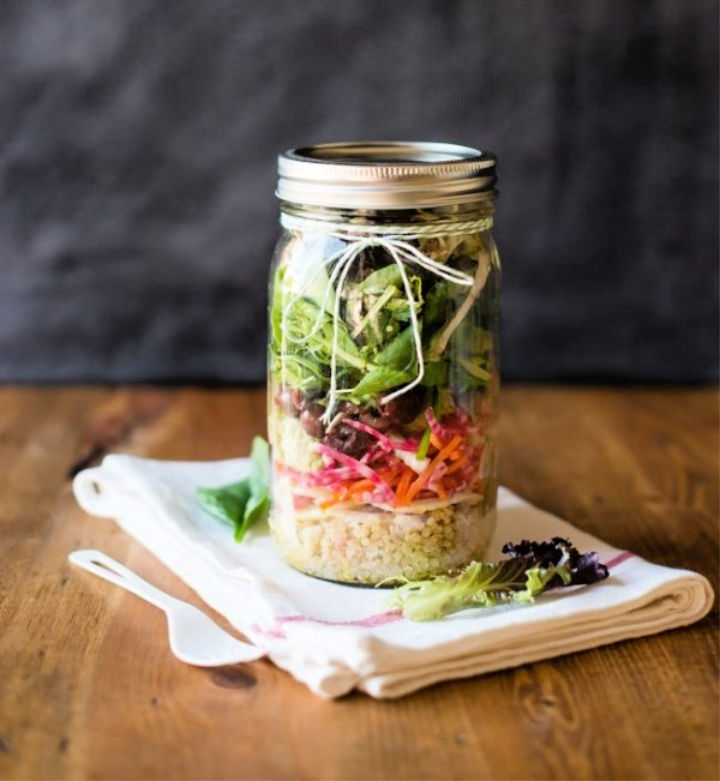 Bring the rainbows to your party with a rainbow salad. You can make this rainbow salad with various greens, fruits, and nuts. This Rainbow Salad in a Jar will look beautiful when placed on the table with colorful ribbons wrapped around the jar. The recipe is easy to try at home and will take only 15 minutes to prepare and make.
6. DIY Cake Bar for Kids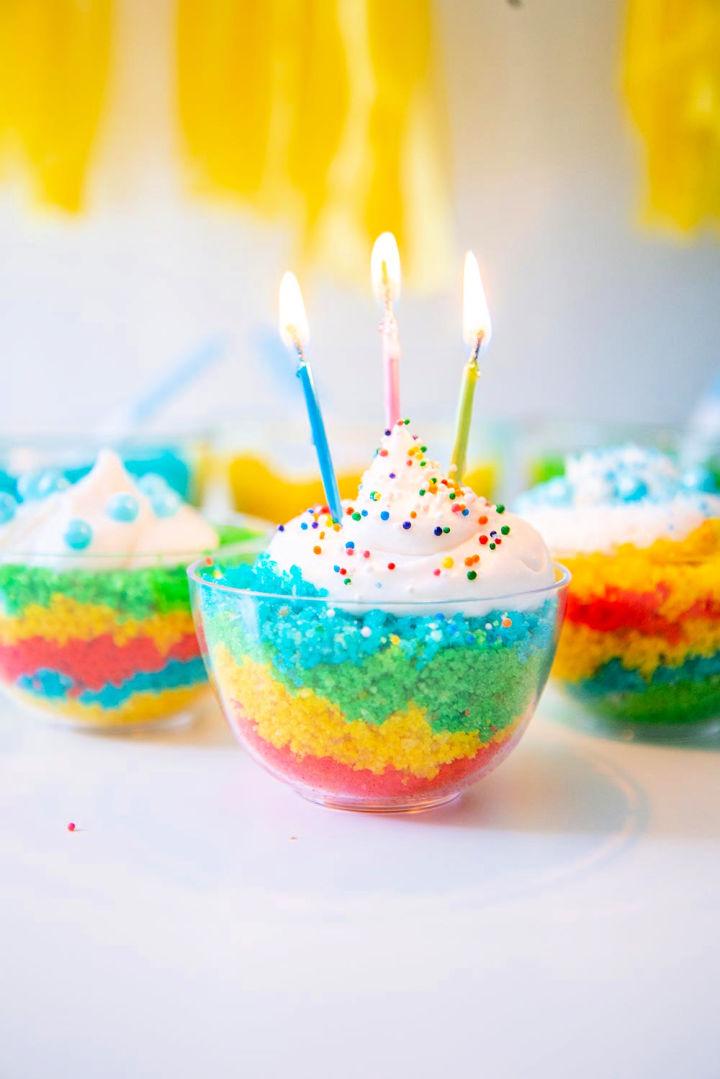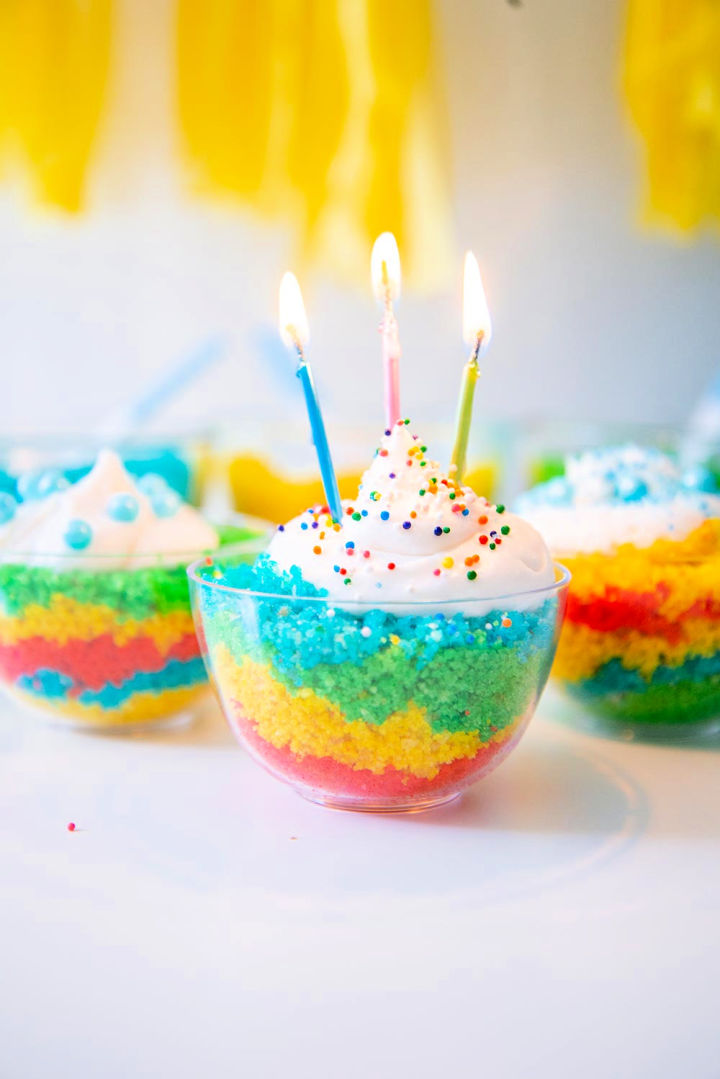 Every kid wants to have a rainbow cake for their birthday party. But making one can be time-consuming and a lot of effort! So, why not make these simple DIY cake bars instead? They are super easy and quick to prepare. Moreover, you can use the same dough to make different flavors. For example, you can have one layer of chocolate chip while another batter is lemon flavored.
7. DIY Vertical Rainbow Fringe Garland Decorations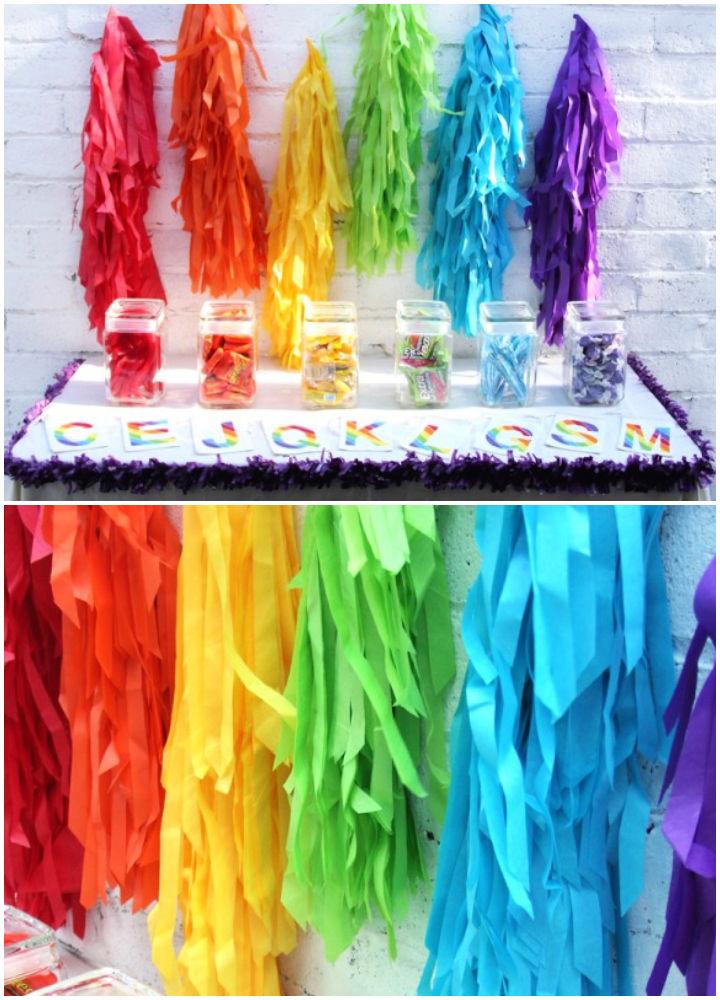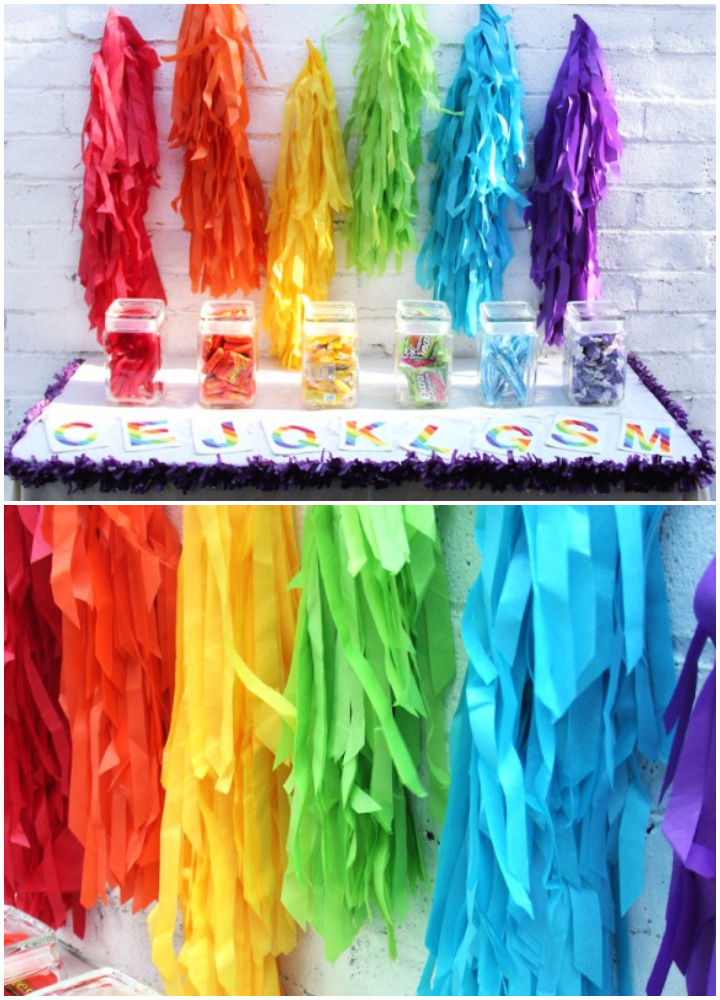 This rainbow fringe garland is a real showstopper. Perfect for any rainbow-themed party, this garland features fringes crafted from tissue paper or crepe paper in rainbow colors. Each fringe starts as a long strip of colorful paper; you'll cut your fringe apart and arrange the strips to make a beautiful wall-to-wall decoration!
8. DIY Graham Cracker Rainbow Weather Snack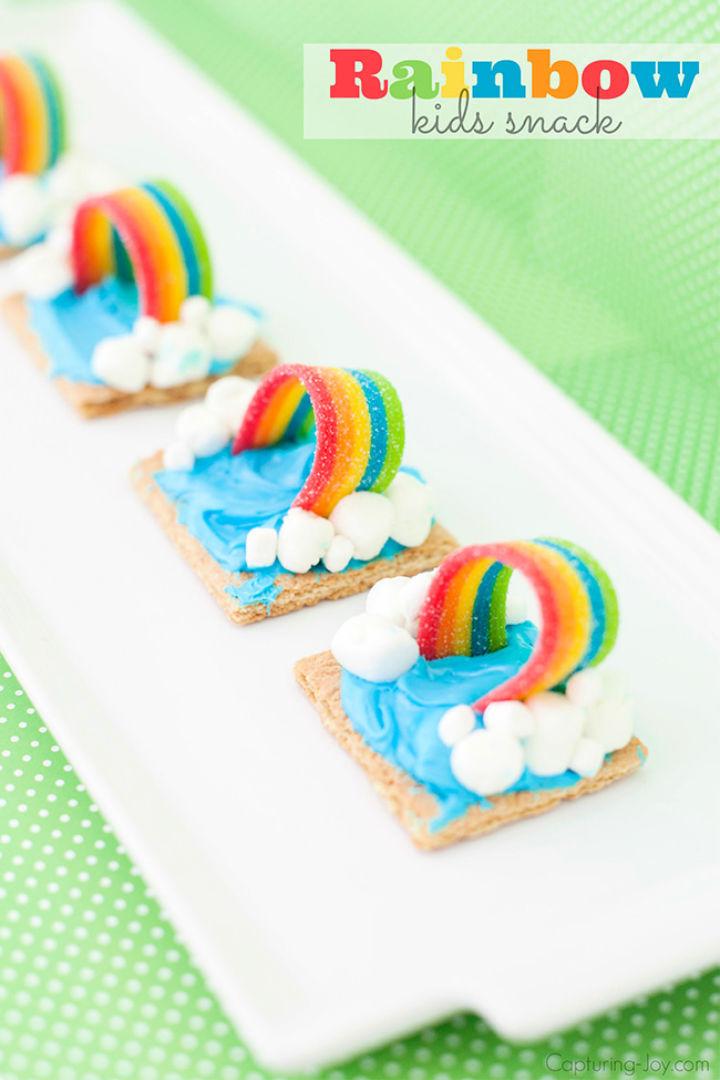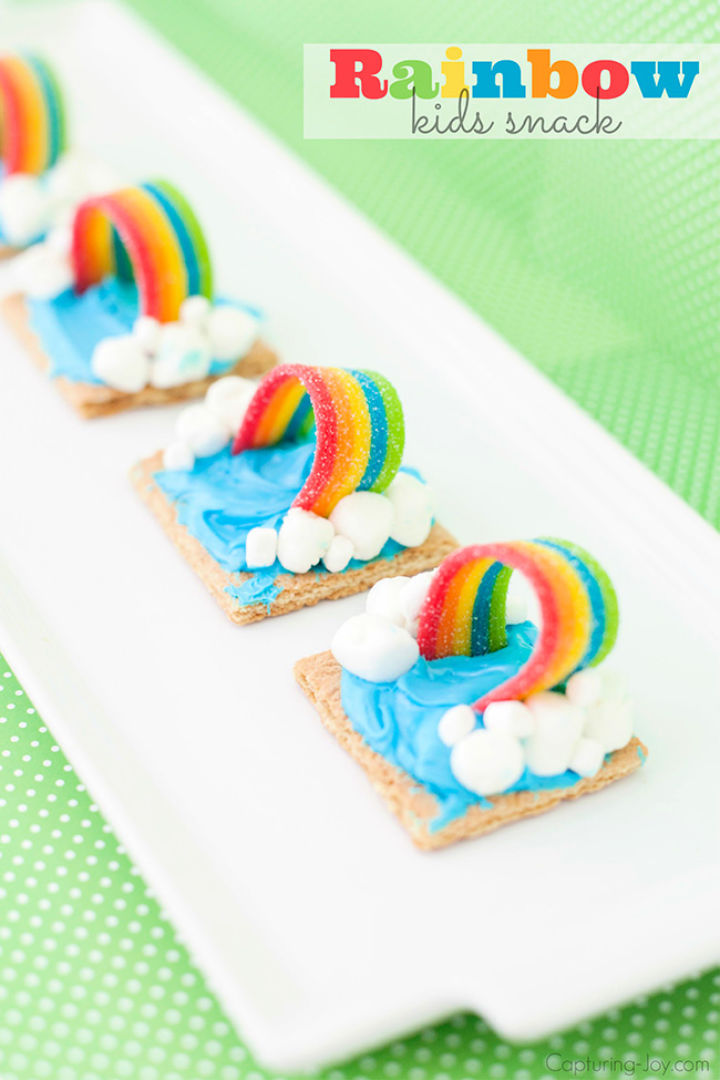 You need graham crackers, blue frosting, marshmallows, and rainbow airheads to make these snacks. Rainbow Everything! The original rainbow crinkle cookies have been a smash hit! Try this chewy twist on the classic design by using graham crackers instead of snickerdoodles. Kids will love helping to mix the colors and serve them with ice cream or chocolate syrup.
9. DIY Rainbow Birthday Party Decorations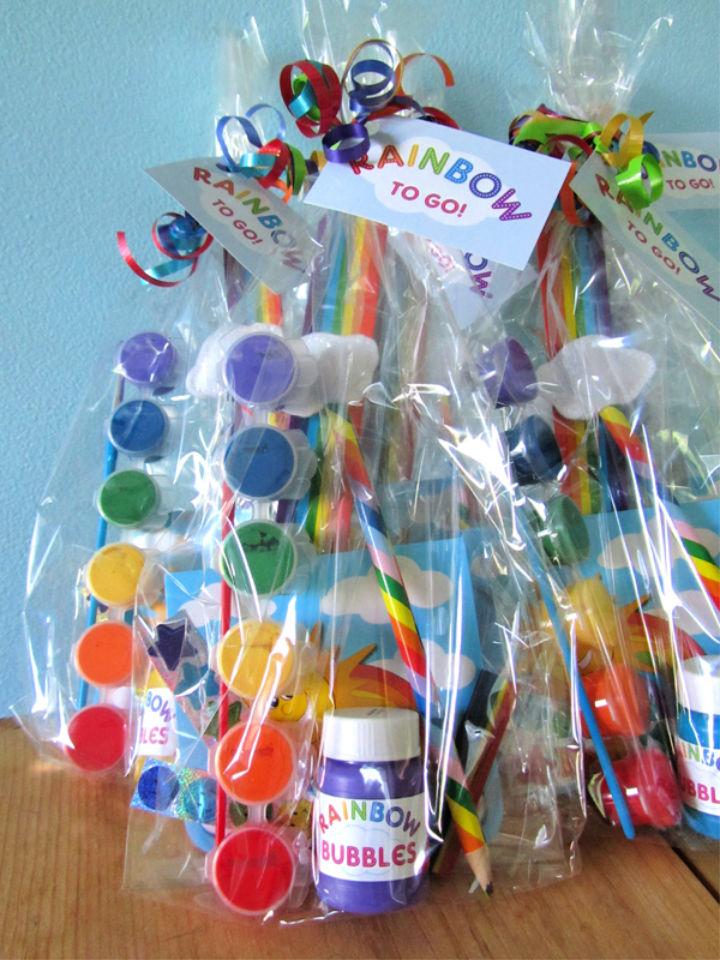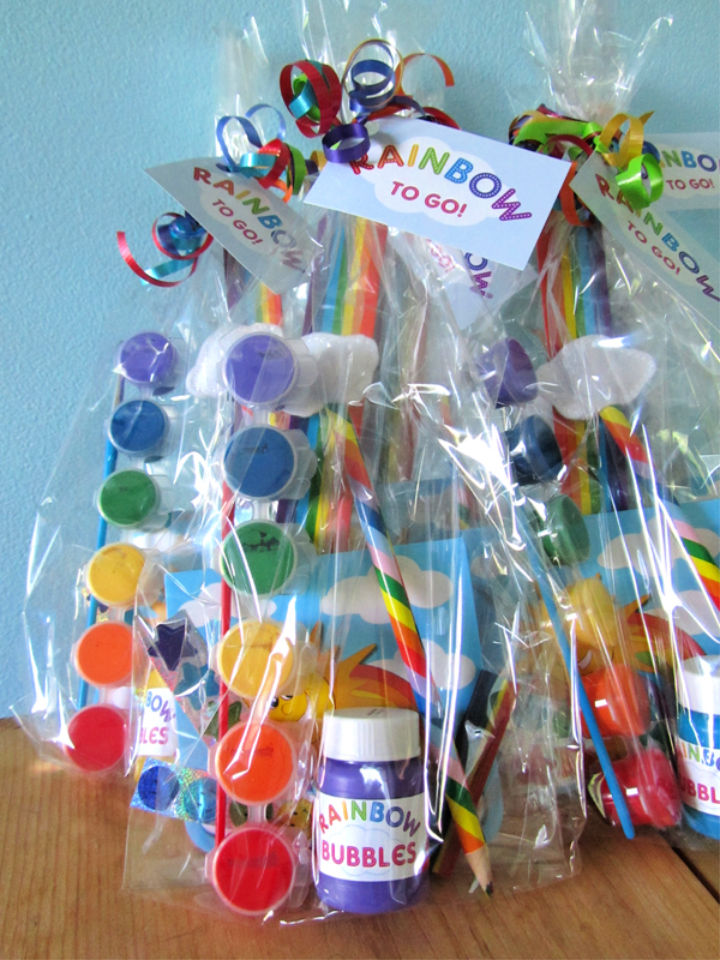 If you love giving your children fun and easy-to-make snack recipes, this graham cracker rainbow weather will surely be a hit. The sky is the limit when it comes to these weather snacks. You can color them however you want or add sprinkles on top if they are not enough rainbow colors.
10. Easy DIY Rainbow Ribbon Gift Wrap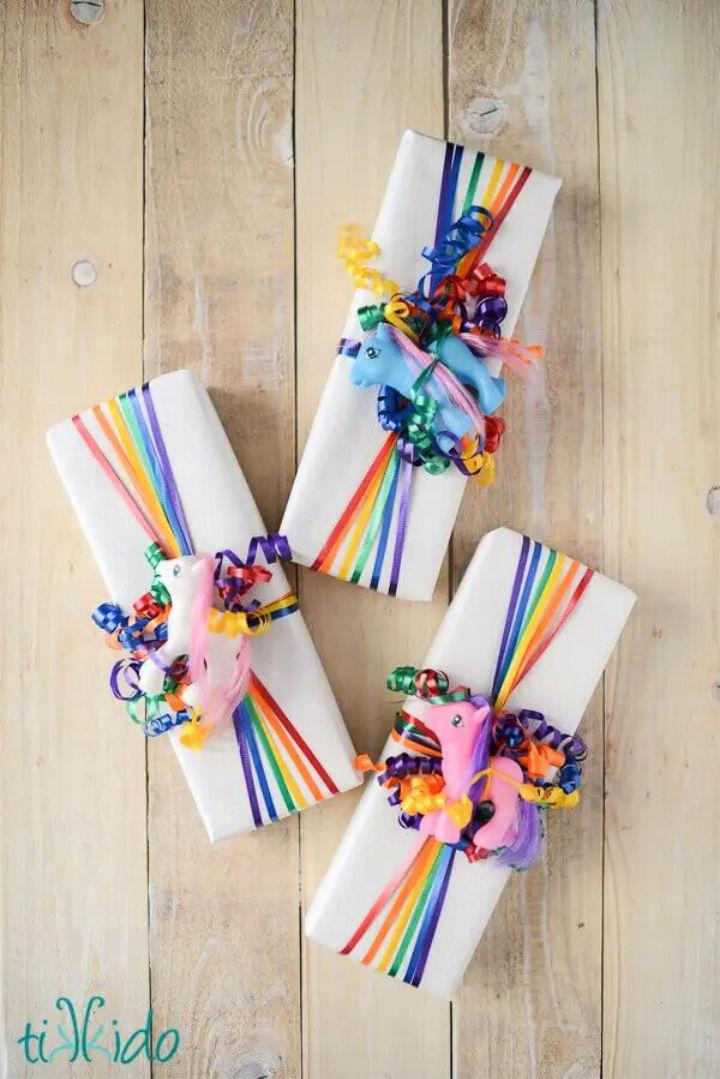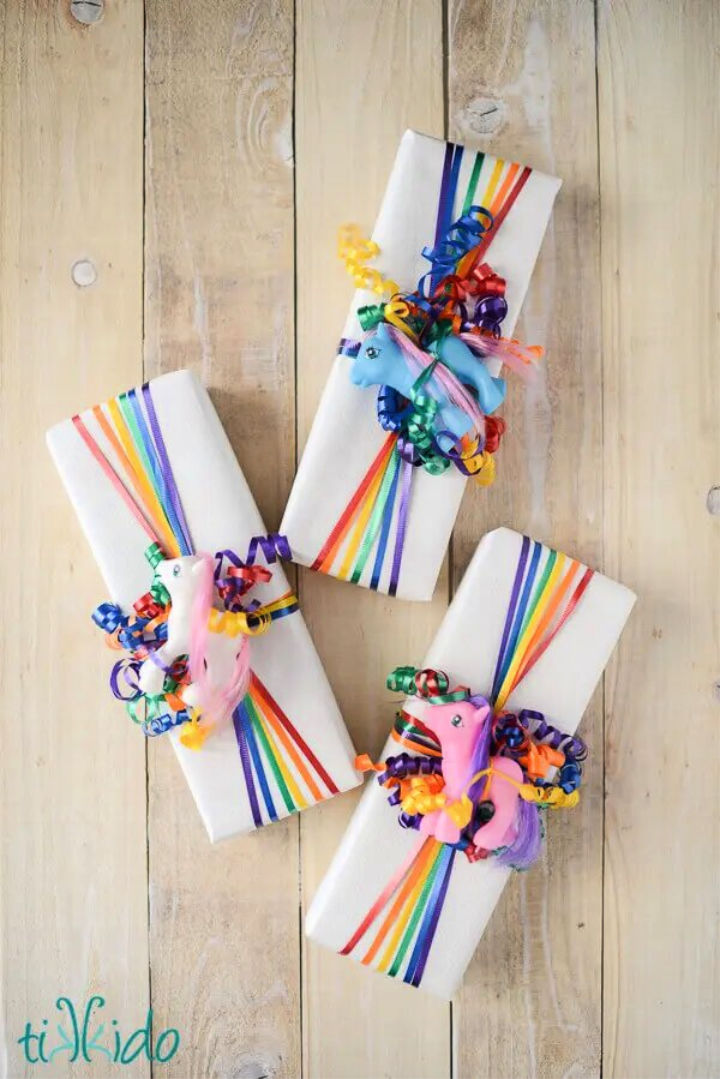 At the end of a party is always a time to give gifts to friends. You can make your own DIY rainbow ribbon gift wrap. Create this bright and fun DIY rainbow ribbon gift wrap for your upcoming birthday parties. The best part about this project is that it can be customized to match the theme of your party, making it a fun way to add some character to your presents!
11. Colorful Birthday Party Backdrop DIY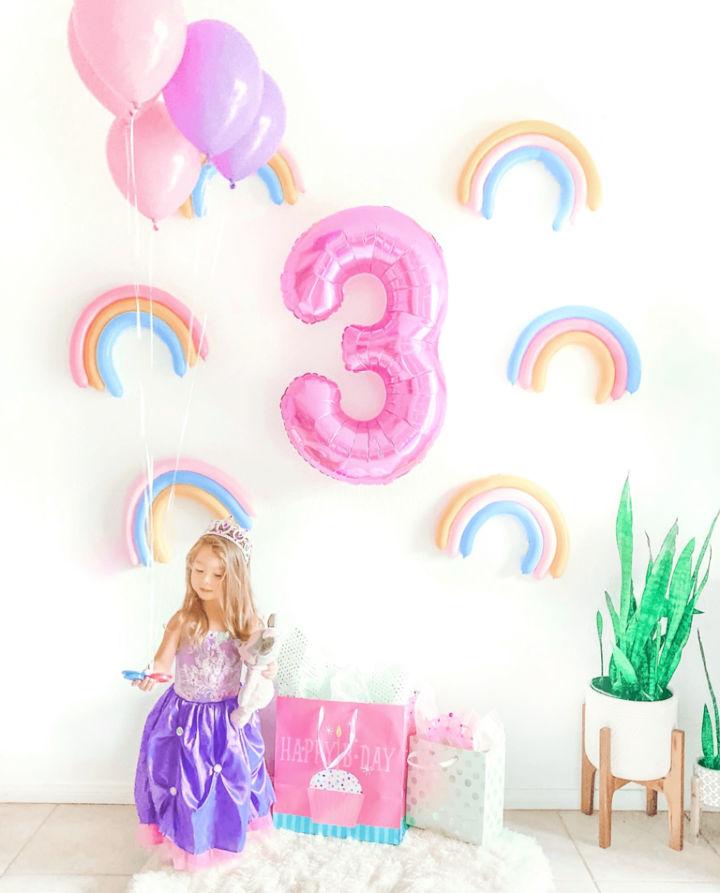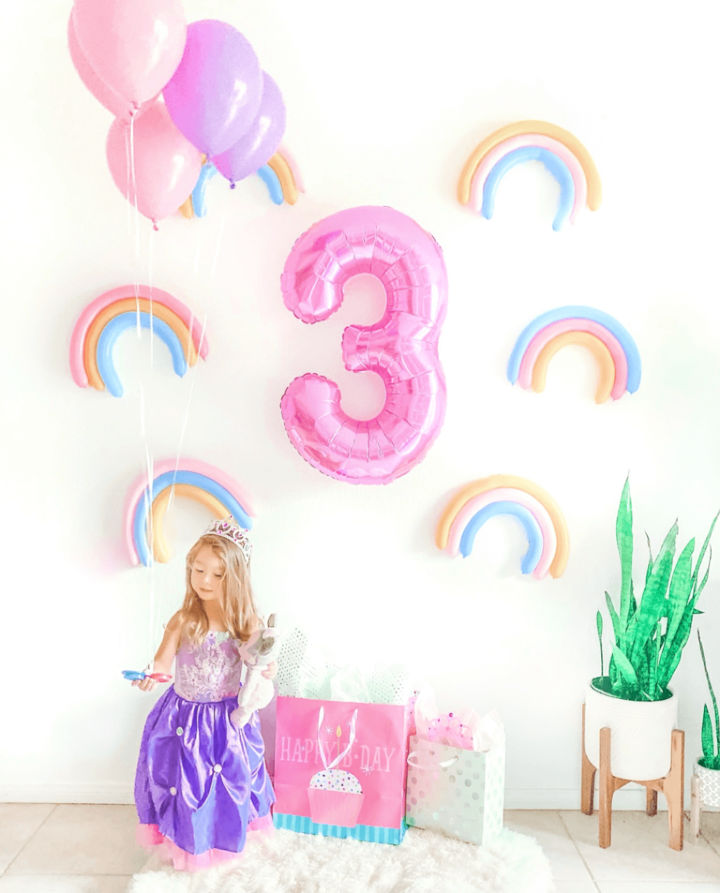 This colorful backdrop is the best thing to add color, light, and life to your party space. It's a fun art project for a backdrop for high-contrast photos or an attractive decorative element in the party room. If you're having a child's birthday party, it will make everyone smile!
12. Rainbow Punch Pinata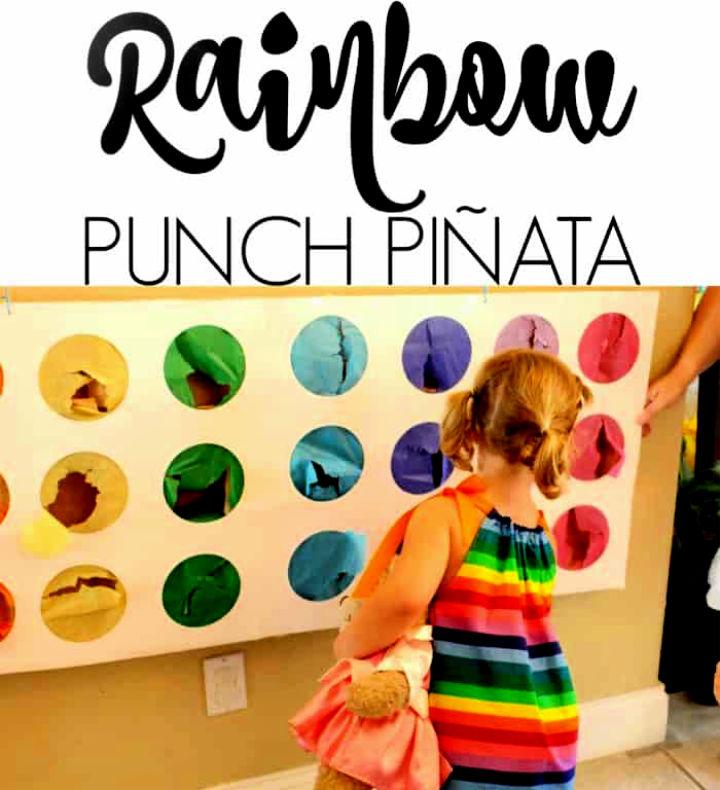 Make this gorgeous-looking punch pinata using a handful of supplies. It will create never-ending fun. To make this rainbow punch pinata, you need two poster boards, tissue paper, brown paper bags, pinata filler, rope or string, and tape. 
13. DIY Ultimate Rainbow Birthday Party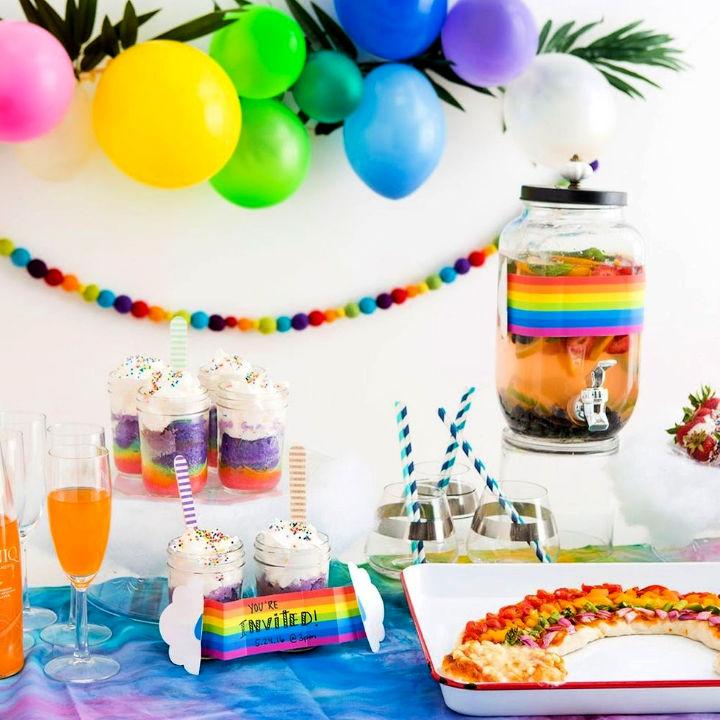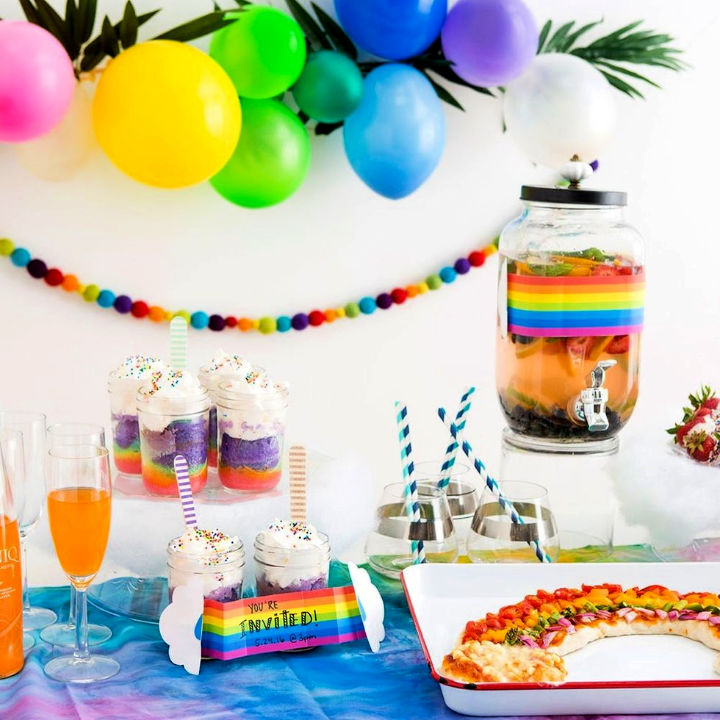 Get here all instructions to throw an ultimate rainbow birthday party. If you want to get impressive arrangements of the kid's birthday themes, you must love these hacks that involve everything from making rainbow arches to
rainbow decorations
to rainbow centerpieces. 
14. Rainbow Unicorn Birthday Cake Decorations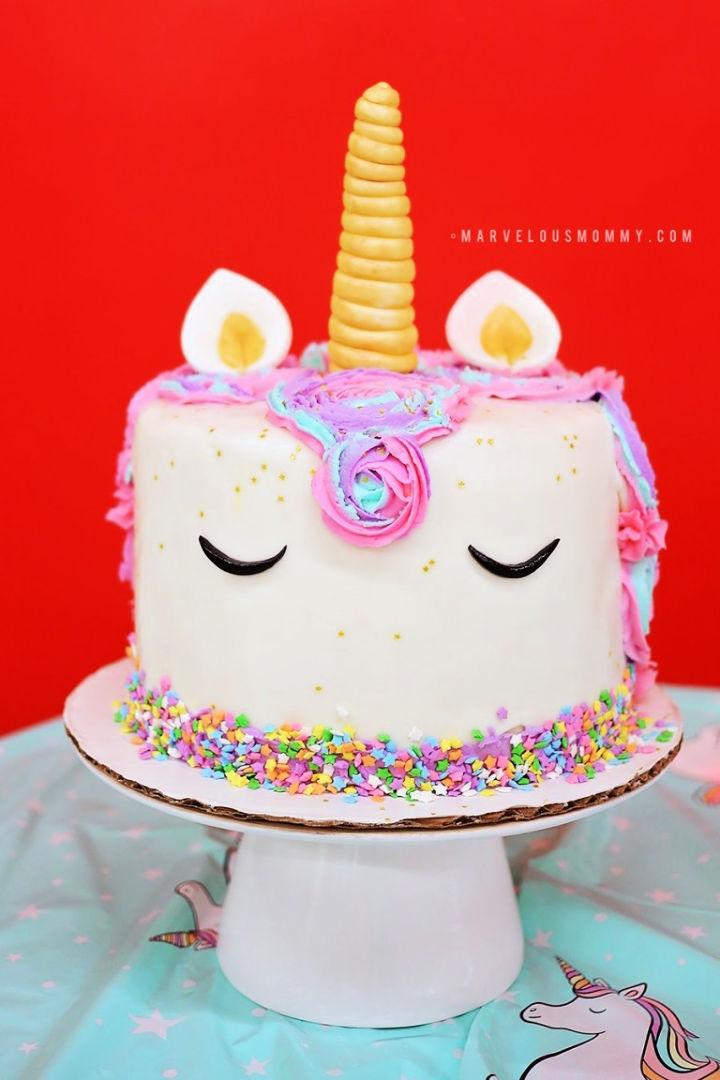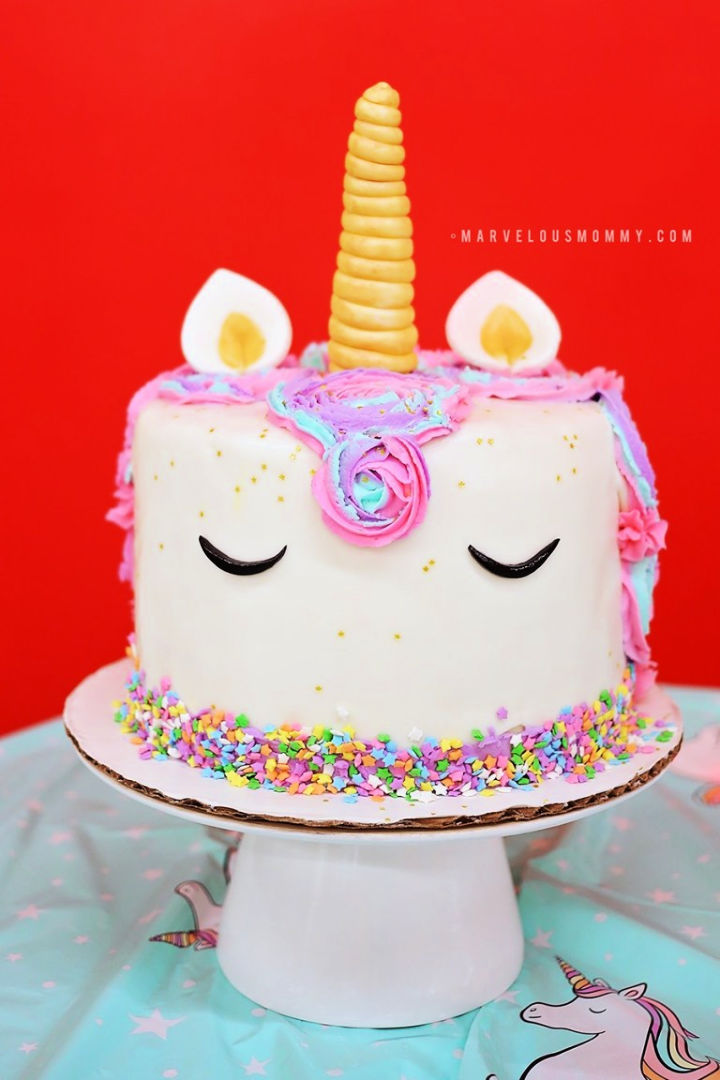 Make the rainbow cake layers and then stack them with buttercream frosting. Cover the top with the white fondant and start adding the unicorn details. Make the horn with marshmallow fondant. Use the edible gold dust mixed with the lemon extract for gold ear painting.
15. Rainbow Waffle With Whipped Cream Clouds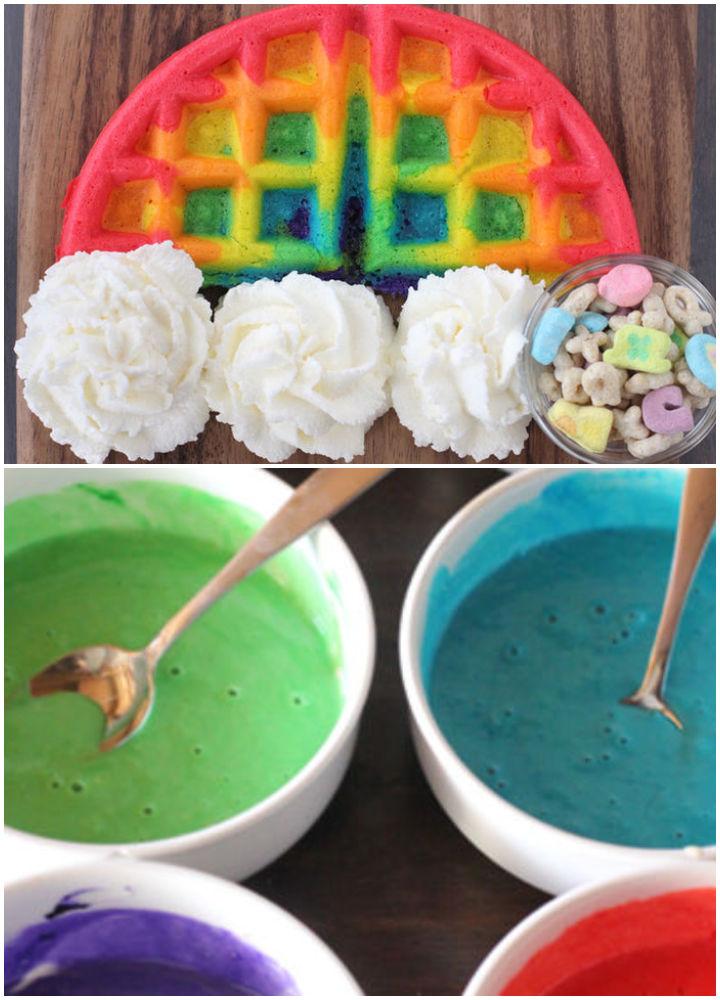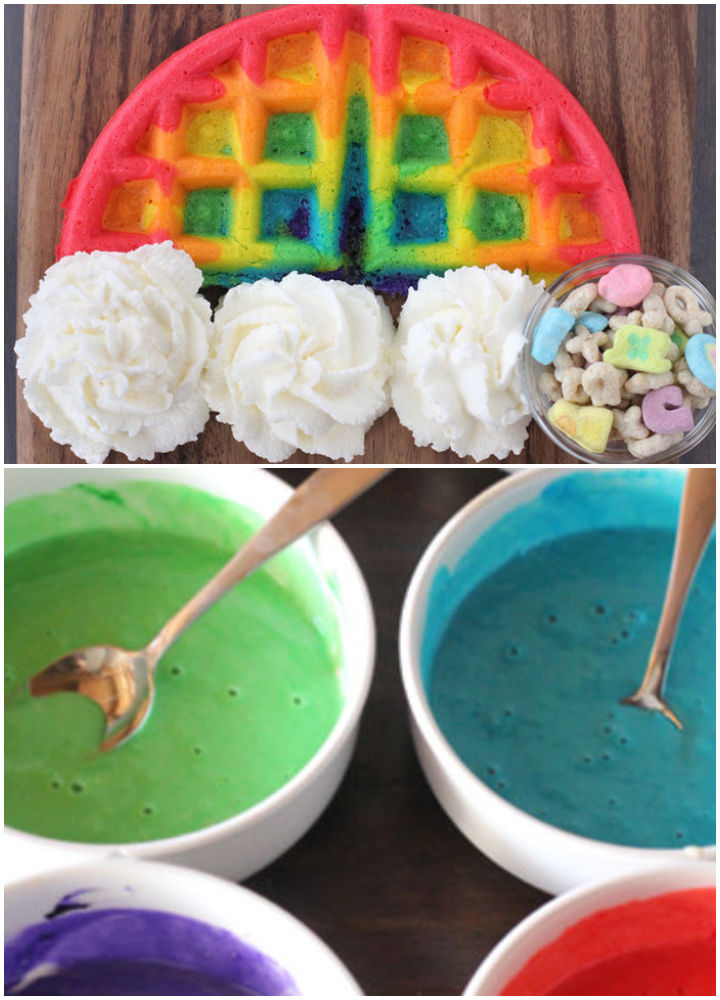 Make a baked rainbow unicorn cake by following this easy recipe. These DIY birthday party decorations are made with a sponge cake and then decorated with colored frostings, such as blue and pink icing. Add some whipped cream and sprinkles to make these delicious treats look more like unicorns. All you need to make a rainbow waffle is a baking mix, eggs, milk, gel food colors, and whipped cream. And don't forget the lucky charms to top it off!
16. Rainbow Tablescape & Balloon Garland Decorations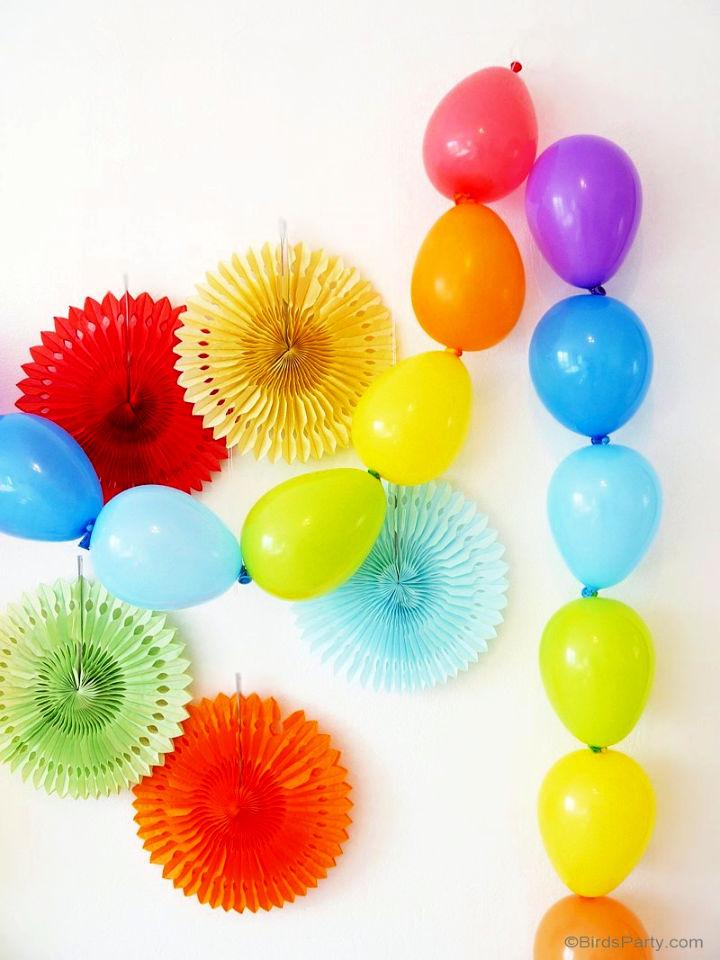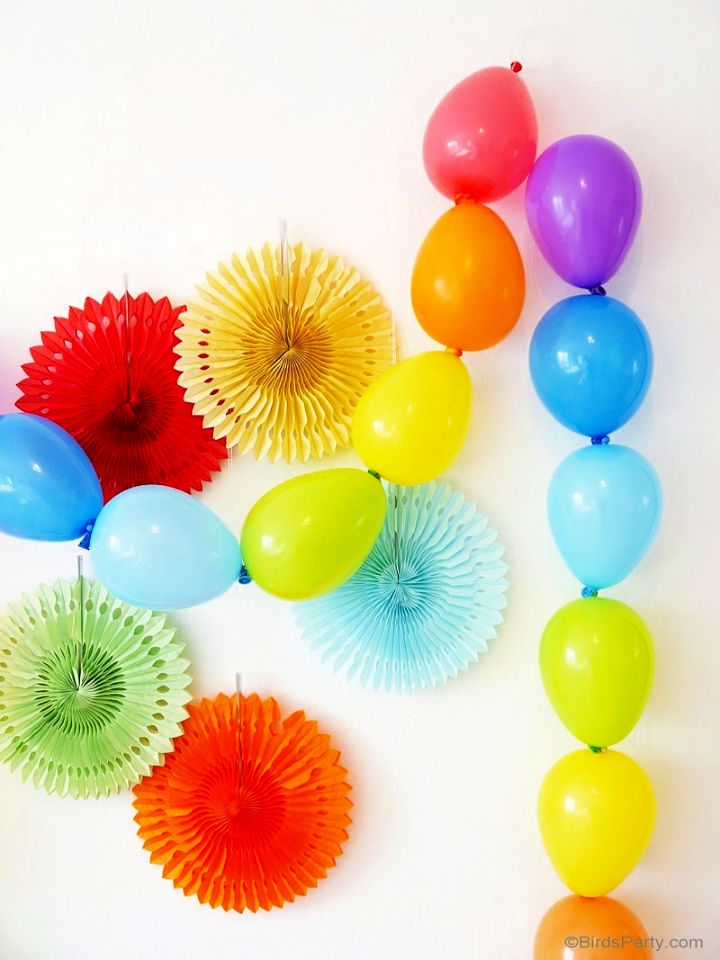 What a great way to create colorful decor arrangements for a birthday party. It would be best to have rainbow-colored beans or latex balloons to make this balloon garland. Creating a colorful rainbow party tablescape and hanging wall garland is so easy. Everybody will be inspired by the cheerful festive atmosphere of your home.
17. Rainbow Art Party Centerpiece Decorations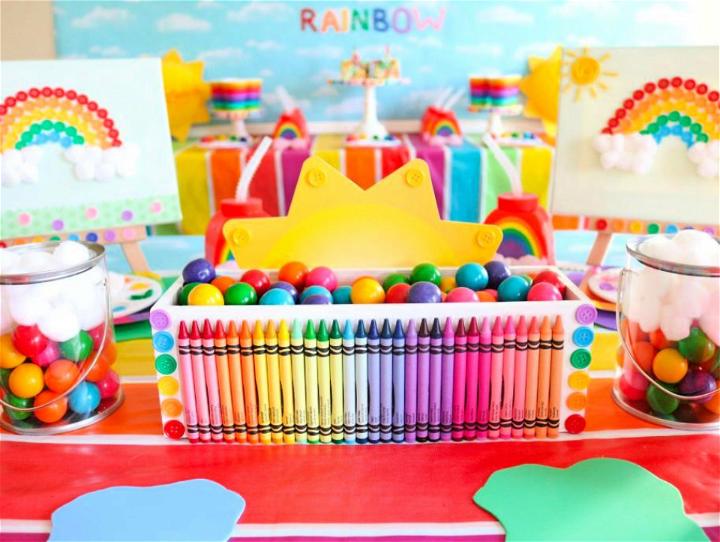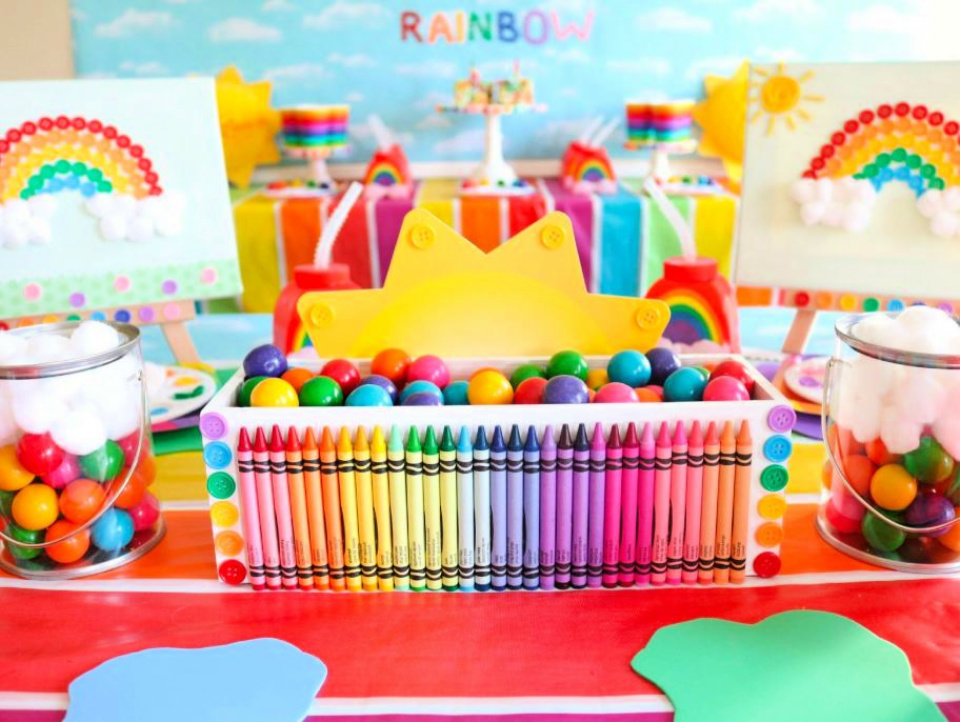 This rainbow art centerpiece is a colorful way to celebrate birthdays and get-togethers. These colorful crayons will make a wonderful addition to your kitchen decor. You can use them to make fun crafts for kids, as party favors for parties and other gatherings, or as birthday cake decorations. Great for school projects too!
18. Rainbow Photo Booth Backdrop Decorations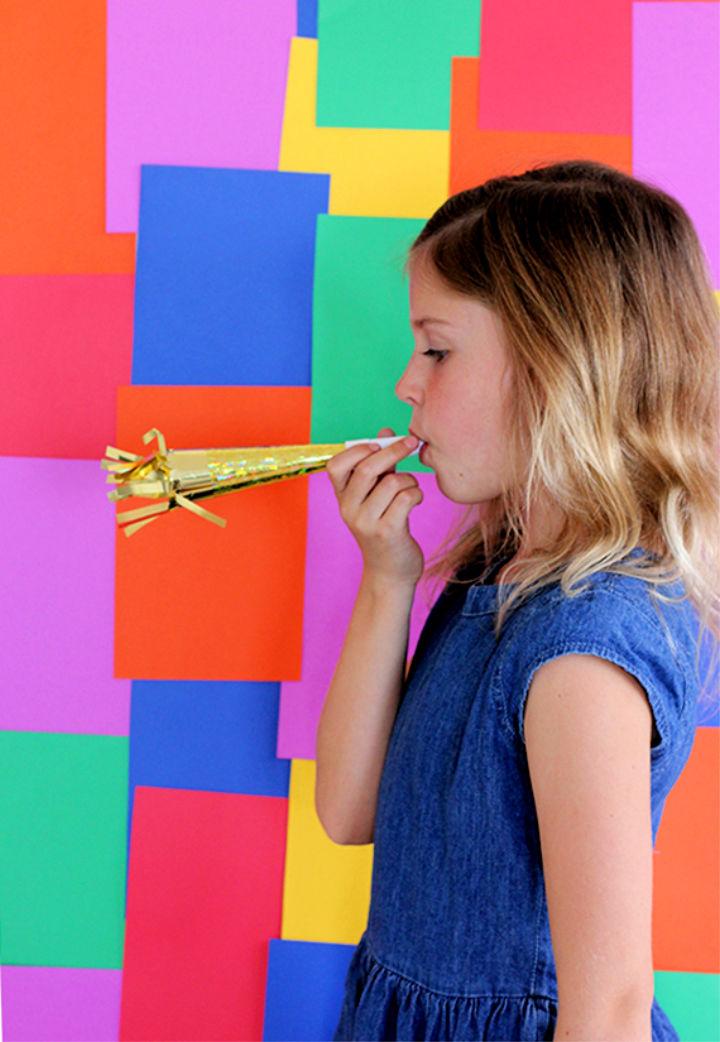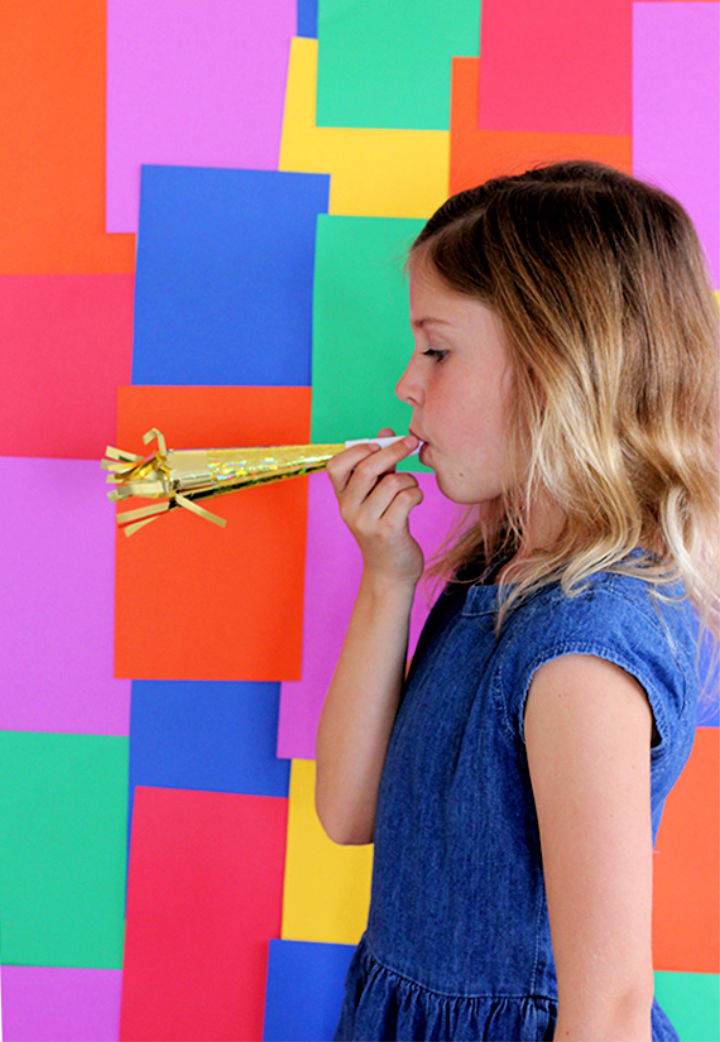 Get ready to snap photos at the end of a rainbow-themed party using this easy DIY photo booth backdrop. Your rainbow party won't be complete without some awesome photo booth decorations. Make this colorful backdrop using a foam board and rainbow-colored papers, glue it on, hang it up, and take amazing photos at the end of your fun party!
19. Rainbow Birthday Party Decorations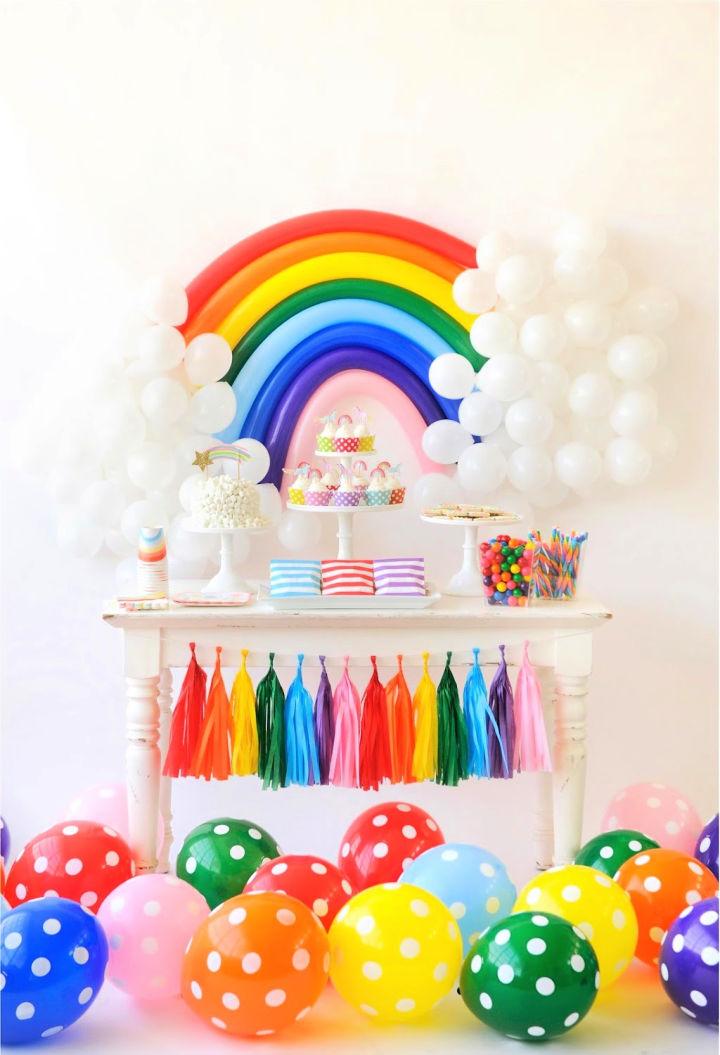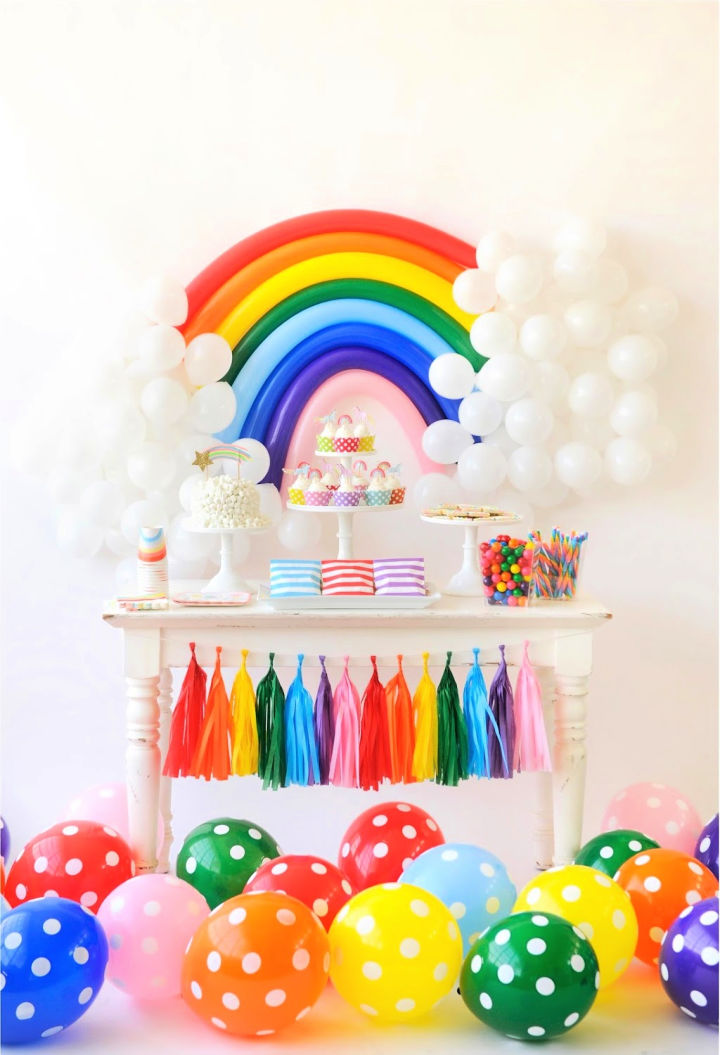 The colorful and vibrant rainbow birthday party theme is a unique idea. To make the place look more beautiful, you must also use the white inflated balloons in rainbow colors. The blooming packages of jelly beans, gumballs, and Calpol bags in different colors will look amazing when hung from the ceiling of your home. So host this amazing DIY rainbow birthday party at your home.
20. DIY Birthday Lawn Sign Decorations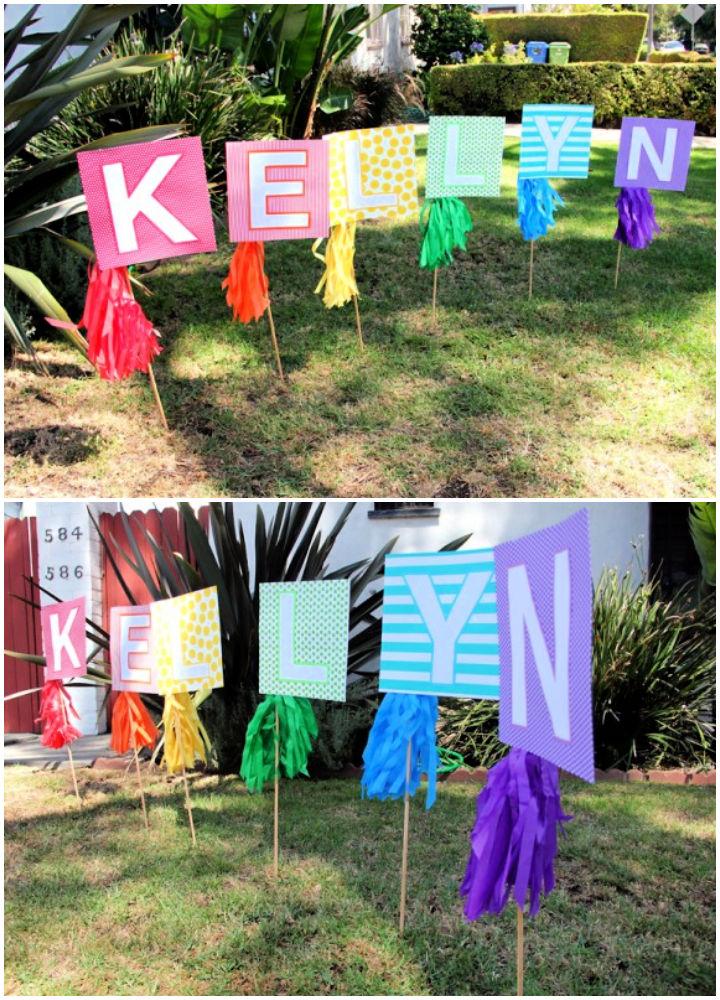 Set the scene for a fun-filled birthday get-together with this DIY lawn sign decoration. Print out your letters, cut them out, glue them on the colored or patterned cardstock, tape them off on the dowels, and then finish with fancy rainbow paper fringes. This will add 4 moons to your birthday party, the best birthday lawn sign ever.