21 Creative DIY Murphy Bed Ideas To Maximize Your Space
Are you looking for ways to make your bedroom more spacious and functional? Murphy beds, also known as wall beds, hide away when not in use to free up floor space. With some simple tools and a little time, you can create a custom solution built around your needs and preferences. From simple designs that work with existing frames and furniture to complicated ones that require lots of woodworking skills, here are 21 DIY Murphy Bed ideas to try!
Check out these 21 creative DIY Murphy bed ideas that make it a functional, convenient, and attractive feature.
What is a Murphy bed, and why is it a good space-saving solution?
A Murphy bed, known as a wall bed, is a space-saving solution that allows you to fold up your bed vertically against a wall when not in use. The bed is hinged at one end and typically has support legs that fold out when the bed is lowered for use. Murphy beds are particularly useful in small living spaces, where maximizing square footage is essential. By tucking your bed away when not in use, you free up valuable floor space that can be used for other purposes, such as a home office or play area. Additionally, a Murphy bed can be a stylish and practical addition to any room, allowing you to transform a bedroom into a multifunctional space easily.
Tips And Tricks DIY Murphy Bed
Building a Murphy bed is a great way to provide extra sleeping space in a small space. Here are some tips and tricks for building your own DIY Murphy bed:
– Use the right materials: Avoid using materials that warp, sag, or bend over time. Plywood is a good choice for its stability and strength.
– Plan ahead: Make sure you know exactly how high you want your bed to be when it's open, and make sure it will fit under whatever doorways need to be navigated by the bed when closed.
– Measure twice, cut once: It's always better to cut off more than you need than not enough!
– Check for levelness regularly throughout construction: Nothing ruins a project faster than having an uneven surface!
DIY Murphy bed kits vs. building from scratch: Pros and cons:
If you're interested in building a Murphy bed, you'll have two options: using a DIY Murphy bed kit or building from scratch. Here are some pros and cons of each approach:
DIY Murphy bed kits:
Pros:

Usually, it comes with all the necessary hardware, so you don't have to source it yourself.
Often include instructions and pre-cut wood pieces, making the project easier and quicker.
It can be a good option if you don't have access to many tools or woodworking experience.

Cons:

It may be more expensive than buying materials yourself.
Kits may be limited in size and design options.
Instructions may not be as detailed as you'd like.
Building from scratch:
Pros:

Allows greater flexibility in size and design options.
It can be more cost-effective than using a kit.
You have more control over the materials and quality.

Cons:

Requires more tools and woodworking experience.
It can be more time-consuming than using a kit.
Requires more planning and attention to detail.
See Also: 27 Creative DIY Storage Bed Ideas to Maximize Your Space
1. DIY Murphy Bed with Cheaper Hardware
The DIY Murphy Bed is a project you can complete on weekends or even on Saturdays. The best part is that it saves room, especially in small apartments. If you have been searching for furniture options for your bedroom and need help figuring out where to start, this tutorial provides everything you need to know to create a stylish, functional, and convenient space!
Transform your living space with this Murphy bed that looks like wall art, perfect for the main bedroom or apartment. When not used, the bed folds into the wall to reveal access to power outlets and a spacious storage area. This bed can be used to make more space in your home or as a guest bed when needed. Creating the bed out of wood and metal will give you the rustic look you envision for your room.
19. Rustic Style DIY Murphy Bed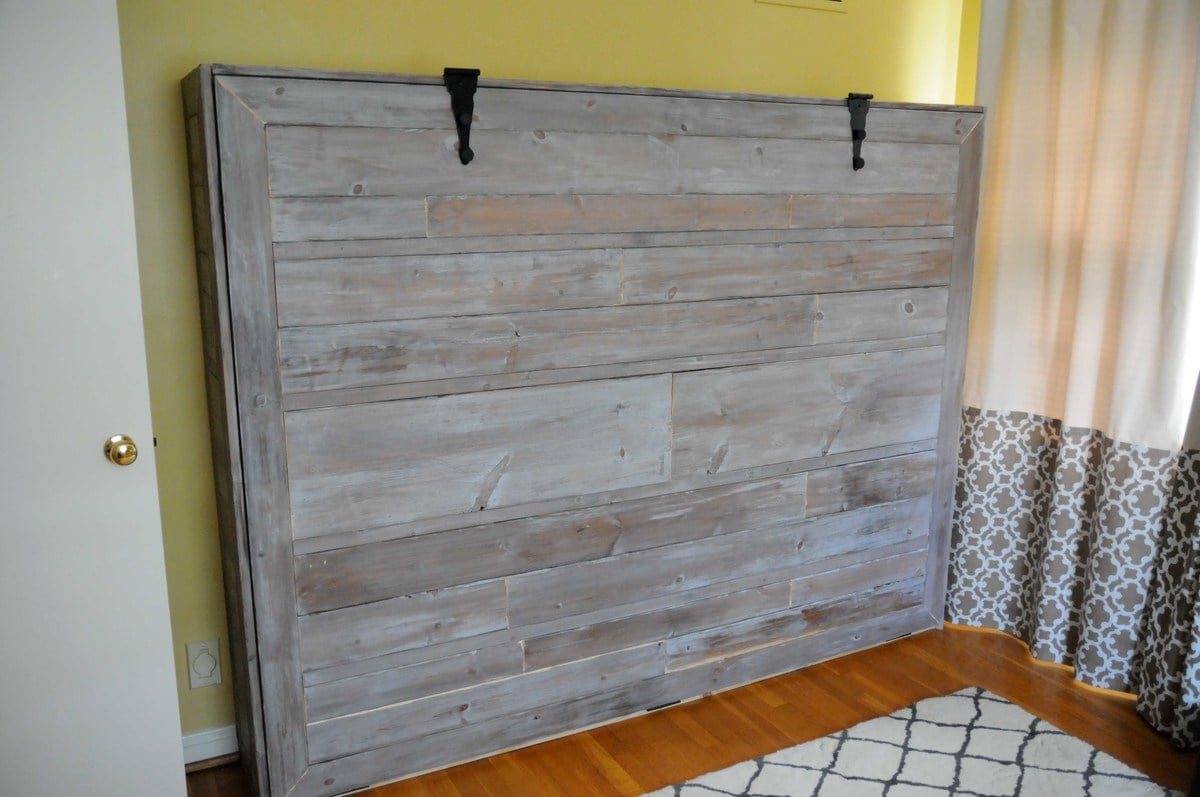 This DIY queen-size Murphy bed is perfect for any room in your home. The attractive, rustic design will add warmth and appeal to your space, and it can be built by anyone who has the confidence to use tools. This plans pack includes all the details to get the job done right: materials list, cutting list, step-by-step instructions, and drawings of every element needed to create a beautifully functional bed that looks great.
20. DIY Wall Mounted Murphy bed
Wall beds are awesome, especially when they're built into the wall. This DIY Murphy bed is a great place to relax with a good book or nap before you start your day. The simple design of this bed allows it to fold away and disappear into the wall when not in use. It's fun for kids' rooms and pared-down guest rooms and will even help you maximize every inch of your living space.
21. DIY Murphy Bed with IKEA Cabinets
Turn a bunch of cabinets and plywood into a beautiful, sturdy Murphy bed. This easy project will make your home look great and bring you extra storage space in your bedroom. Learn how to build a Murphy Bed out of IKEA cabinets and make a great-looking accessory for your house. This good weekend project gives you extra storage space and functionality and saves money on your utility bill too!