21 Easy DIY File Cabinets Projects to Revamp Your Workspace
How about a file cabinet to match your personality or décor? This guide is packed with 21 Easy DIY File Cabinets Projects to Revamp Your Workspace that are practical, eye-catching, and unique. The best part? You can customize any of these projects to fit your storage needs. No reason your file cabinets can't be functional, pretty, and fun. Whether you have a vintage cabinet or a piece of furniture, you're ready to take on one of these DIY file cabinet projects that can keep your office organized and up to date.
With 21 Easy DIY File Cabinets Projects to Revamp Your Workspace, you can use and customize your file cabinets in countless ways, such as bedside tables, end tables, and more.
See Also: 22 DIY Butcher Block Countertops Ideas for Kitchen Makeovers
Why DIY File Cabinet?
1. It is cheap!
2. You don't have to wait for it to be made and shipped to your house.
3. You can customize it however you want and make it exactly what you need for your home or office space.
1. DIY File Cabinet Transformation
This DIY file cabinet transformation is a great way to revitalize an otherwise drab storage piece. If you have an old, unwanted filing cabinet that is taking up space or covered in dust, this DIY file cabinet transformation is a great way to turn your boring cabinets into something stunning. The instructions are easy to follow, and most of the tools needed are ones most people already have. This can be done in any style you like, so go!
2. DIY File Cabinet Plans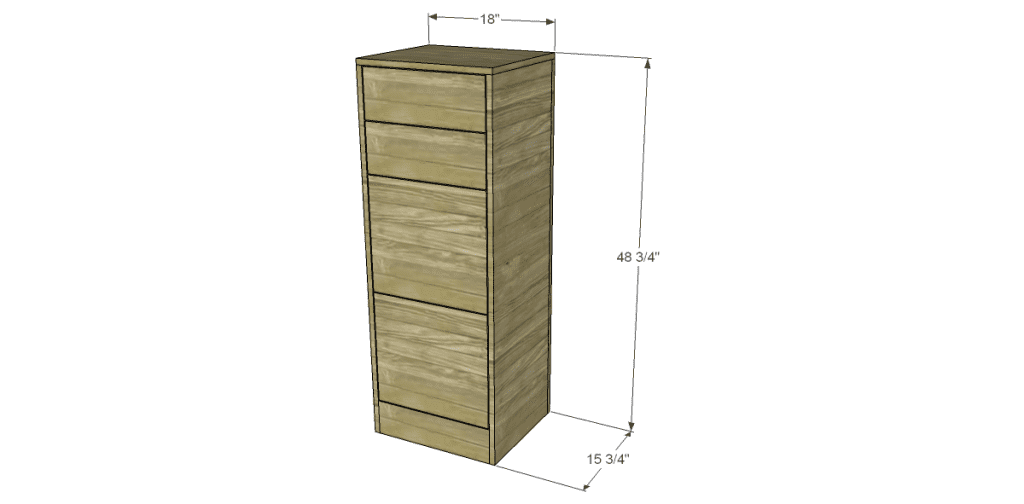 This is a step-by-step guide for building a beautiful file cabinet for your office or home. With the help of this detailed tutorial and professional plans, you can make this beautiful piece of furniture yourself. You will need simple tools and materials to complete this project, like plywood, a saw, and a hammer. Plus, no prior woodworking knowledge is required to follow this plan successfully. It would make a great addition to a home office or be built as a gift for someone who has everything.
3. Revamped File Cabinet
Are you tired of your ugly, old file cabinet? Whether you need to declutter or want to spruce up the place, here is a simple hack that will make your file cabinet beautiful. The material is easy to work with and requires an inexpensive investment. You will also need a drill, saw, and sandpaper. Before starting this project, you must also know how to use the tools above.
4. How To Make A File Cabinet Desk
Are you tired of your office desk that stores only a few files? How about making this DIY file cabinet instead? Its simple design can hold more than just a few files. If you love rustic-looking furniture, this is perfect for you. Get organized and keep your files in one place with this file cabinet desk. It is an excellent idea for you if you have a lot of files to store and need more room in your office. It also adds value to your house.
5. DIY File Cabinet For Office
Are you seeking a classy, inexpensive way to transform your study, office, or bedroom? Then check out this DIY file cabinet project. The practical and stylish addition has multiple storage compartments and can be built from scratch with scrap materials or purchased at a hardware store. If you have an old cabinet that you could use as a file cabinet but you want to spend less on one, then this project is just what you need. The best part is that it doesn't involve cutting, so it's easy and can be done with little skill.
6. DIY Filing Chest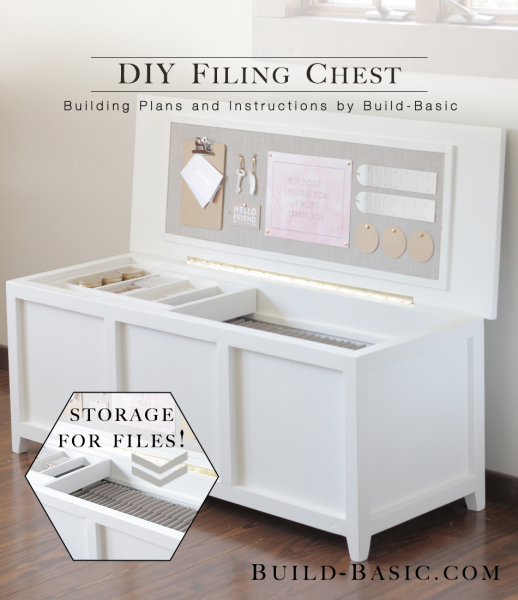 The DIY Filing Chest is an excellent choice for anyone looking to save space in their home. This piece can hold everything you need it to and still look good doing it. This chest is super easy to assemble, and you won't have to break the bank to get it due to the price. The durability of this chest makes it able to last through many years of use while maintaining the same great design that made you fall in love with it in the first place.
7. Milk Crate File Cabinet DIY
This milk crate file cabinet is one of the easiest and funniest DIY projects. It's easy to make; you can use any old milk crate for this project. Generally, any exterior wood is fine if it does not contain chemicals such as finishes or paints. You do not have to spend much money buying new company-branded file cabinets. You only need it sometimes; it looks great in any room.
8. Huge Desk With Two File Cabinets
Making yourself a friendly big desk can be tricky, especially with limited space. If that sounds like you, this is the project for you! This fantastic DIY file cabinet project will show you how to make a fancy-looking and huge functional desk using just two file cabinets. Just take it one step at a time and ensure you have plenty of time before starting this one – because finishing it may take a while!
9. DIY Built-in Cabinet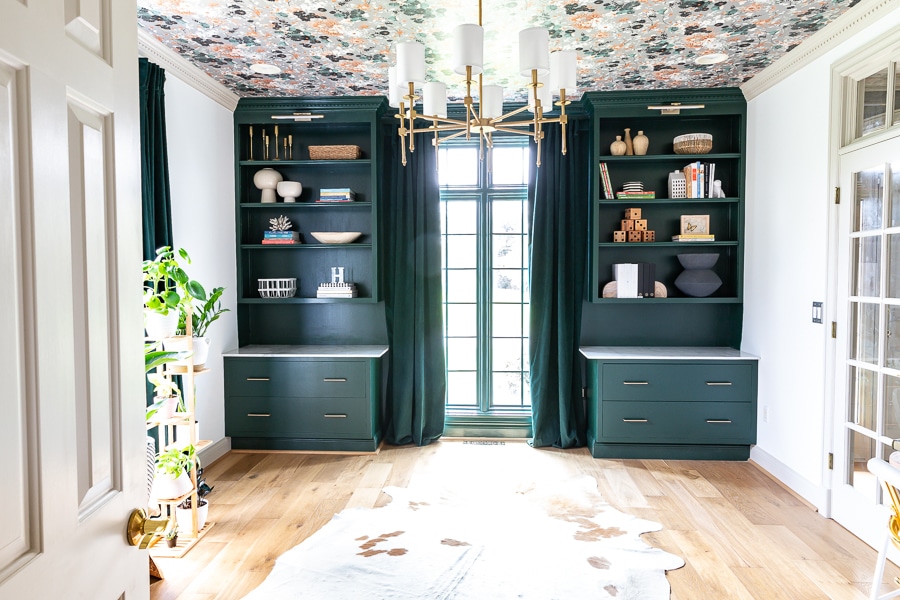 This tutorial is for you if you are a DIY enthusiast and love building stuff. It will show you how to make this awesome built-in cabinet with sliding doors. To do this project, you would need some woodworking skills and equipment, such as a table saw, miter saw, and drill press. The nice thing about this project is that it doesn't require much woodworking knowledge, so if you have these tools, you can start making it now. Follow the detailed tutorial and use any color of paint that matches your interior decor.
10. How To Makeover An Old File Cabinet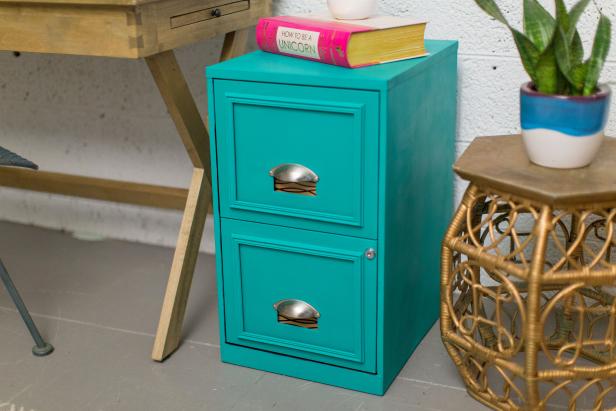 Have you sought a way to repurpose that old office file cabinet? This guide will show you how to give your boring metal filing cabinet a revamped makeover. Give your old file cabinet a sweet makeover by adding a few touches. All you will need is imagination and passion to get started. This guide will show you how to complete the transformation process easily, so don't hesitate and begin collecting your materials.
11. DIY Filing Cabinet Build
This DIY filing cabinet is easy to build and customize with wood, color, and stain. This rustic cabinet features drawers that pull out easily to access files quickly. Use it in your office, home, or any space that needs extra storage – perfect for keeping your office organized or keeping files contained at school. For a complete how-to guide on building this charming project, check out the detailed step-by-step tutorial with photos and illustrations on how to make this DIY cabinet.
12. DIY Filing Cabinet Out Of Wood
A filing cabinet looks great and is essential in any office setup. But, it can be better if you add a modern feel. You should check out this guide if your filing cabinets have a more modern look. You will need woodworking tools and skills to build this stylish piece. But once finished, you're left with a filing cabinet with all your files organized and neatly displayed.
13. How To Make A Filing Cabinet
Are you looking to organize your home office or business? If so, this file cabinet is a great solution. Making a filing cabinet is a practical tool and an excellent addition to your room. It will help you avoid clutter and keep everything organized in one place. This is a project that anyone can do with some woodworking skills. As you follow this guide, you'll be amazed at how easy it is to create your filing cabinet.
14. Turn Wood Crate To Into Filing Cabinet
Are you a DIYer whose love for creating valuable things can't be maintained? If that sounds like you, then keep reading. This tutorial will show you to turn an ordinary wooden crate into a working filing cabinet. This is an inexpensive, easy, and lovely way to get organized; plus, they make great showpieces in any room of your home. The good news is that only minimal tools are required, and the entire process looks great.
15. DIY File Cabinet Build
This cabinet is simple to build, and you can use any wood. In this guide, we will help you know how to construct this project. Creating this file cabinet is easy and inexpensive to add much storage space. The best part is that you can make it any size, style, or color! Just be patient, follow instructions carefully, and get a professional result at the end of the day.
16. Spray Painted DIY File Cabinet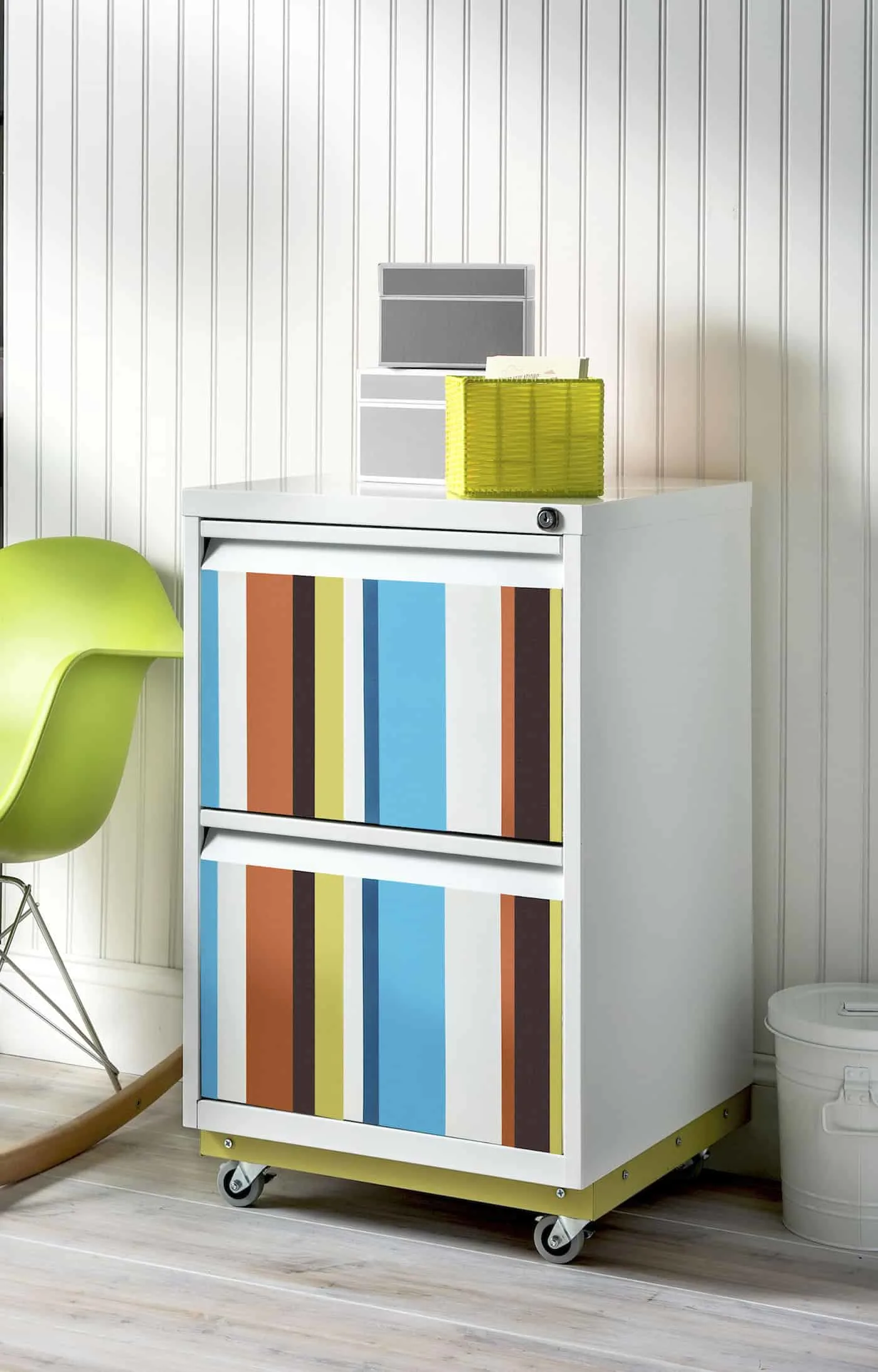 You may not know it, but you can use your old, boring file cabinet and turn it into something that looks great for a meager cost. It just takes time and the right materials to make this happen. This makeover project is straightforward, fun, and affordable. With just a little spray paint, you can completely transform the look of your old cabinet without spending much money. This guide will show you to properly do all the steps to achieve the best results possible.
17. Make Over Your Old File Cabinet
Turn your boring old beige file cabinet into an eye-catching display piece. This tutorial will show you how to turn your boring, beige filing cabinet into gorgeous furniture that looks straight from Restoration Hardware. The transformation requires a lot of supplies — including a hammer and lots of nails — but is relatively easy to follow. This guide is suitable for almost any home, and as long as you have the time, patience, and supplies, it can be done in just a couple of hours.
18. DIY File Cabinet Makeover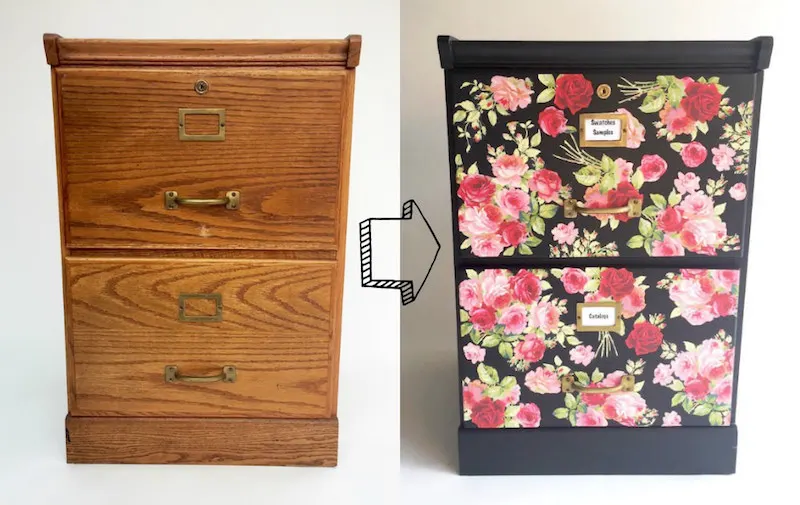 If you have an old file cabinet to spruce up and want to save money, this project is yours. It provides all you need to create this adorable and functional desk organizer. This simple and cheap DIY project can give your file cabinet a new makeover. You will need a piece of fabric and a few items from the hardware store to complete this project, so get started!
19. How To Make A Walnut Cabinet
Walnut cabinets are popular among homeowners and office owners. This is because walnut cabinets can go with most types of home decor. They are classy and stylish, adding value to your home or office and increasing attractiveness. If you love woodworking and want to add a unique piece of furniture to your home or office, this walnut cabinet might be right for you. This project involves a lot of woodworking tools and techniques, but with the proper guidance, you can make it easier.
20. Cover A Filing Cabinet With Contact Paper
Filing cabinets aren't often seen as stylish home décor elements, but with a bit of contact paper, you can make your old cabinet look new. Whether you're trying to make your office tidier or add fun colors to your entryway, it will get you all covered! The good news is that covering your ugly filing cabinet can be simple and cost little to nothing. Here's how to cover your filing cabinet with contact paper.
21. Transform Shelf To File Cabinet
Is there any better feeling than having a place to keep all your files, papers, notes, and other essential documents organized? This flat-file cabinet hack is the perfect option for you. This DIY task is easy enough to tackle, even for a beginner. It's a great way to transform your Kallax shelf into an impressive file cabinet. This method not only makes you save money but also allows you to personalize your file cabinet. This simple project is perfect for any home office, craft room, or home school room and will make you feel like an expert craftsman in no time!