21 DIY Hanging Shelves Ideas for Stylish Storage & Display
Everyone knows that the right storage and display options can affect how we feel about our living space. No matter how much you love your stuff, it can feel overwhelming when scattered around your home, especially if you're not using it regularly. But sometimes, you only have a little space to spare, and hanging shelves are a great solution for those cramped quarters. Incorporate these hanging shelf ideas into your decor to help declutter your home and create functional storage solutions. This post brings 21 DIY hanging shelf ideas to help you organize your space and add style.
Why Hanging Shelves Are a Great DIY Project?
Hanging shelves are great for many reasons: they're simple, straightforward, and don't require a lot of heavy lifting. They're also extremely versatile, with many different shapes and sizes available to accommodate all spaces. Hanging shelves can organize books and photos or display decorative items or knickknacks.
What Are Hanging Shelves and Why Should You Make Them?
Hanging shelves are suspended from the ceiling or mounted on the wall using brackets or ropes. They can be made from various materials, including wood, metal, glass, and rope, and can design in a range of styles, from simple and rustic to modern and minimalist.
You should consider making hanging shelves for your home for several reasons. First and foremost, hanging shelves provide a unique and stylish way to display and store items in your living space. Whether you use them to showcase your favorite books, plants, or decorative objects, hanging shelves can add a touch of personality and charm to any room in your home.
Materials needed for DIY Hanging Shelves Ideas
Many materials can be used to create DIY hanging shelves, depending on the design and style of the shelves. Here are some common materials you might need:
Wood boards or planks for the shelves
Rope, twine, or wire for suspending the shelves
Brackets or metal strips for mounting the shelves to the wall
Screws, nails, or anchors for attaching the brackets or strips to the wall
Drill, saw, and other basic woodworking tools for cutting and shaping the shelves and supports
Sandpaper for smoothing out rough edges and surfaces
Stain or paint for finishing the shelves and supports
Decorative items such as hooks, knobs, or other embellishments to add personality and style to the shelves
Level and measuring tape for ensuring the shelves are even and properly aligned
Safety equipment such as gloves, goggles, and a mask to protect yourself while working with tools and materials.
See Also: 20 Easy DIY Ottoman Projects for Budget-Friendly Home Decor
1. DIY Round Hanging Shelf
2. DIY Hanging Shelves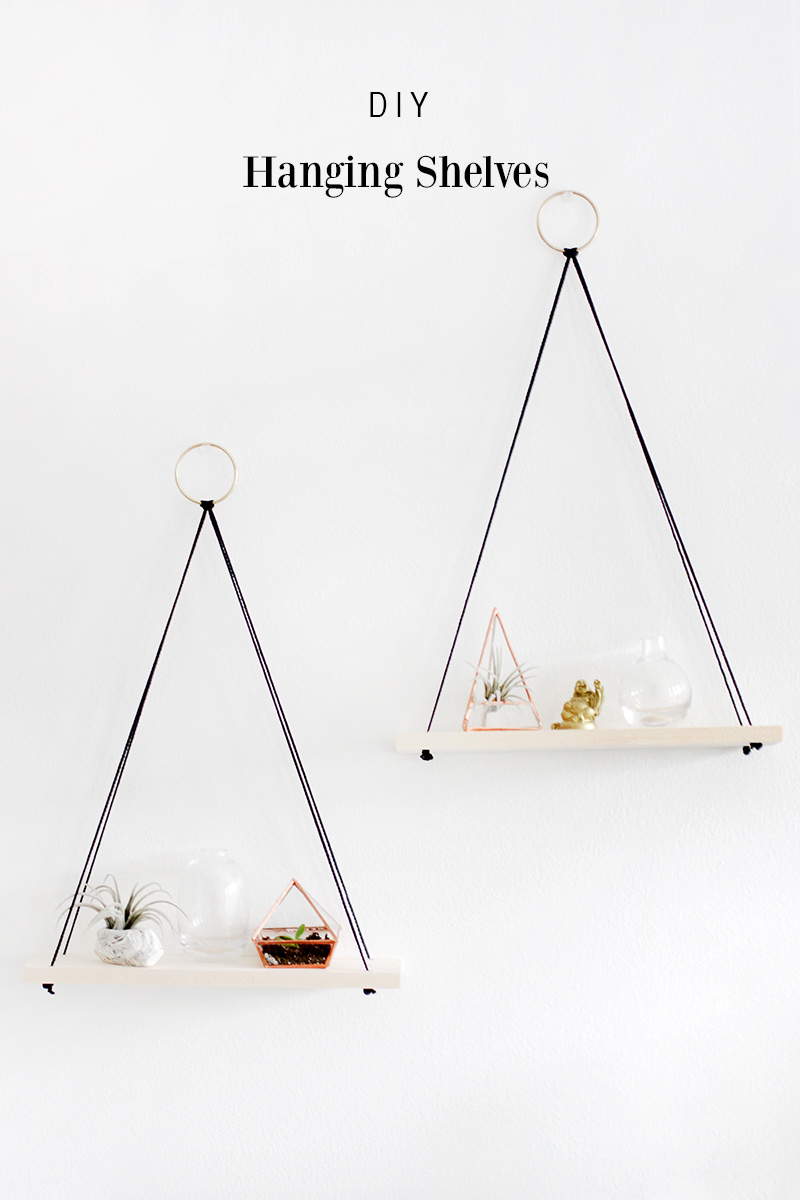 The DIY triangle hanging shelf is a great way to add an artistic piece and functionality to your home. This is a great way to make use of space in your living room or home, that otherwise would be wasted. You can make this unique hanging shelf using various materials and colors, and it will look beautiful in any room.
3. DIY Easy Hanging Shelf
If you love creating beautiful home furnishings, this hanging shelf is perfect for you. It's easy to make with simple materials and can be customized to fit in any house room. With plenty of storage space, you can place decor items and knickknacks on top and inside each box-like compartment and it looks great no matter where you hang it.
4. How To Make A Decorative Hanging Shelf
Create a unique hanging shelf with this simple tutorial. It's easy to paint and can be hung in any room of your home. This hanging shelf is a great addition to any kitchen or room needing extra storage space. The wood is easy to paint, so you can customize the look or even paint it with your initials. If you're looking for a quick DIY project, look no further!
5. Easy DIY Hanging Shelves
This an easy project to make your room more organized and a lot more fun! These hanging shelves are super inexpensive, simple to build and so much more interesting than a boring set of picture ledges. They look great in any room of the house, but especially in the kitchen or office, where you can be creative with colors and materials!
6. DIY Affordable Hanging Shelves
This DIY hanging shelf is great for displaying your favorite trinkets and pictures. This project will take you less than 30 minutes to make, plus there's not much in the way of tools required for this project. It's also inexpensive to make if you have materials lying around the house (or can get them for just a few dollars).
10. Small DIY Hanging Bathroom Shelf
Use the instructions below to build a simple and stylish hanging bathroom shelf with just a few supplies. You can mount it directly over your toilet or sink to add display or storage space. Use it in your closet or bathroom as an organizer for toiletries, makeup, or even paper towels and napkins!
11. DIY easy leather strap shelf
Here is a super simple hanging shelf project for you to make. Add a little rustic charm to your space with this DIY hanging shelf. You can make it with a leather strap and nails in no time. This can be made from any materials you want and will depend on how strong your shelf is. These are great for showing off all your favorite knickknacks or even using them in the nursery as a diaper caddy.
12. DIY Acrylic Shelf Hanging Planter
Get your green thumb on with this easy-to-assemble DIY Acrylic Shelves Hanging Planter! The plant is secured to the shelf and hangs on any wall, making it perfect for bathrooms, kitchens, and even your bedroom. Use them indoors or outdoors, but keep them in a place with many suns to help keep your plants happy and healthy.
13. DIY Lightweight Easy Hanging Rope Shelf
This DIY Hanging Rope Shelf is perfect for keeping your things organized. It's lightweight and easy to hang in any homeroom to organize and declutter. These are light and easy to hang up, perfect for lanterns and other home decor items like wind chimes, potted plants, or even a few books.
14. DIY Hanging Kitchen Shelf
DIY Hanging Kitchen Shelf ideas help you build a perfect kitchen shelf. It is easy, simple, and straightforward to build, looks stylish, and can be utilized for many purposes. You need basic tools, a rope or wire, and the hooks you choose to create this hanging shelf.
15. DIY Rope Shelf
The DIY Rope Shelf is so easy to make, and you'll find yourself making more and more of these rope shelves to hang all the little things around your home. You can use this tutorial as a guide or add your own twist to give it a different look. This shelf makes it easier to organize items you need access to often, like magazines and books.
16. DIY Hanging Cardboard Shelf
This hanging shelf is easy to make and looks great in any room. This simple DIY project is designed for homes needing more storage space. Using cardboard, tape, and a drill, you can create this hanging shelf without nails or holes. The best thing about this idea is that you can use it to store books, toys, clothes and more so you have more room in your apartment.
17. DIY Macrame Hanging Shelf
Are you looking for an easy solution that helps organize and display your living room? Macrame hanging shelf is a great addition to any room. This DIY Hanging Shelf offers a low-cost solution and is easy to complete. The simple design of the shelf is sure to brighten up any wall or space in your home.
19. How To Make A Hanging Shelf
This is a project that you can do in a few hours. It's really easy, and this hanging shelf idea has so many variations. All you need is wood, embroidery hoops, picture hanging hardware, and paint or stain. Add some plants to the planter and hang it on the wall for your plants to enjoy.
20. DIY Hanging Microwave Shelf
21. DIY Hanging Rope Shelf