If you're looking for organization ideas, this list will help you utilize the space on your wall or closet. The pegboard is a simple and versatile tool that can help you get even more use from the items you already have. A pegboard can hold all sorts of things in your garage, on the wall, or even in your kitchen. While they're best known for holding tools, pegboards can organize and display anything from art and children's toys to sewing supplies and collectibles. Here are 21 creative DIY pegboard ideas that inspire you to create your unique organizing system.
Follow these easy 21 DIY projects to create a pegboard perfect for your space to store cleaning supplies, gardening tools, or arts and crafts supplies.
Start with a clean slate.
Use a screwdriver to drill holes into the pegboard.
Use a hammer to pound the nails into place.
Attach hooks and tools to the pegs by sliding them over the nails and pulling them tight against the wall or ceiling.
See Also 18 DIY Trash Can Ideas
1. Creating an Organized Wall with Pegboard and Shelving
If you're tired of the disorganized clutter surrounding you, it's time to get organized! The solution is simple – pegboard and shelving. This easy-to-install, affordable DIY project can be done in any size area and fits perfectly into any home or office decor. Use your imagination and let this versatile equipment fulfill your practical and aesthetic needs.
2. Wall Desk Organizer for Dorm Rooms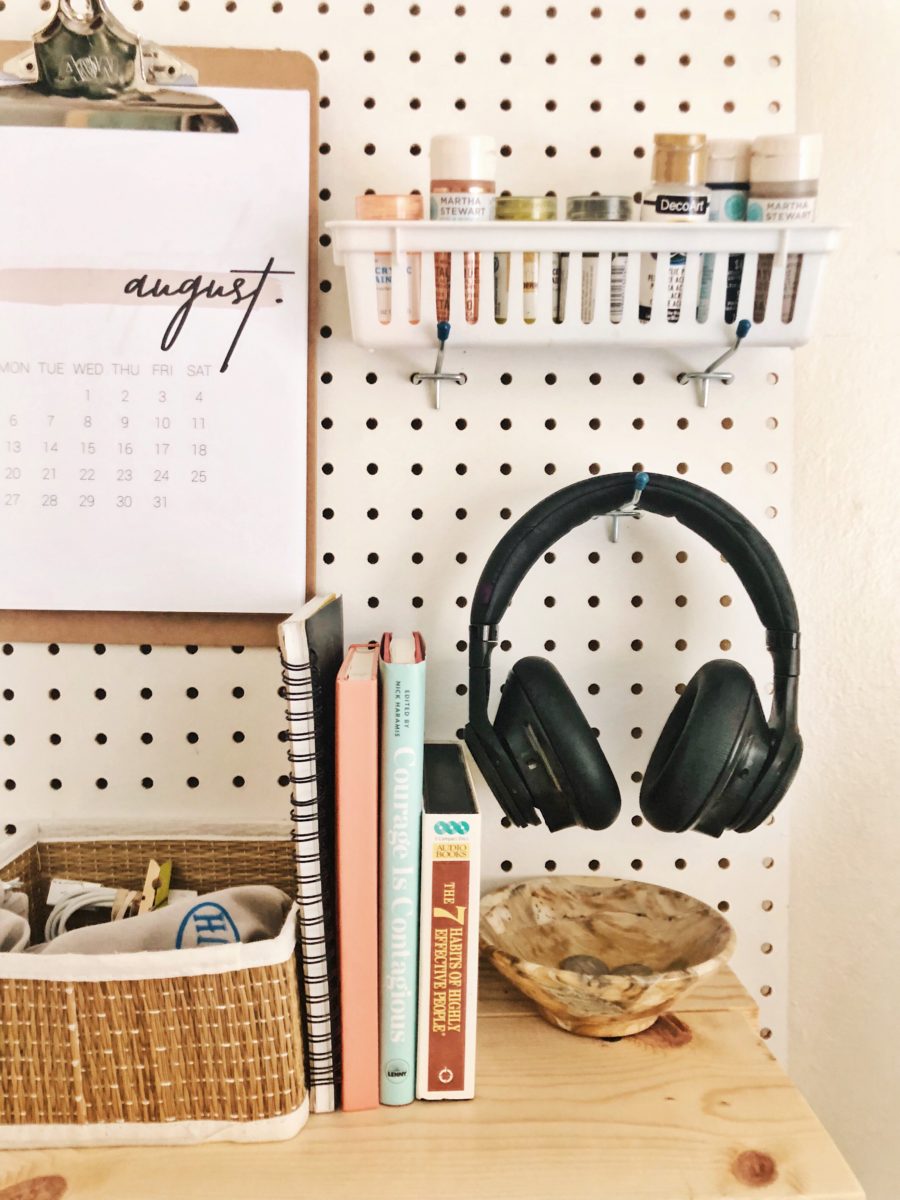 Make your dorm room neat with a cute DIY wall desk organizer. This DIY dorm room decor idea is excellent for keeping surfaces organized and adding style to your space. Make these excellent college supplies home in 10 minutes with simple tools and materials. Hang them up on your wall, bookcase, or desk!
3. Organizer with Cross Stitch Design and Unique Holder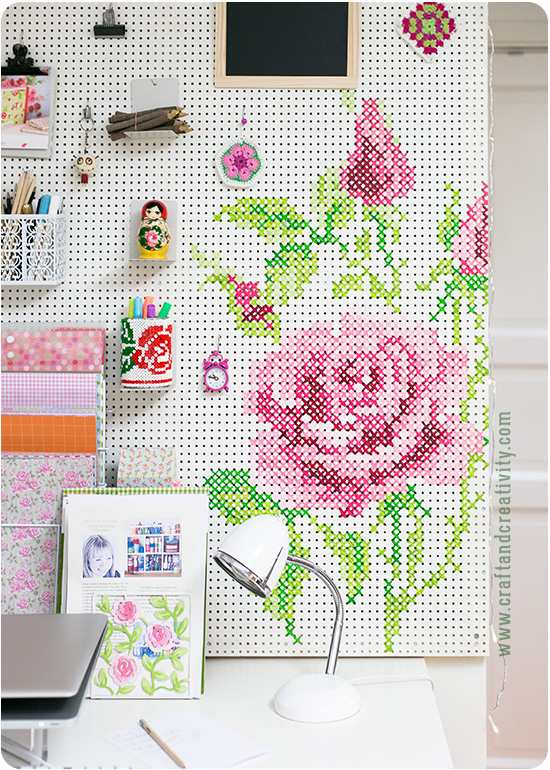 Cross Stitch Holder adds a touch of personal style to your pegboard organizer. This creative design shows how to build a pegboard organizer for your home. This easy-to-use design fits perfectly in those messy areas that need some organizing. How does it work? Add the included dowels and small items to the cross-stitch design using the pre-drilled holes at each end.
4. Full-length Pegboard Wall Desk Organizer
5. Wall-to-Ceiling Pegboard Organizer for Craft Room
If you are a crafter or want to organize your garage stylishly, this DIY wall-to-ceiling pegboard organizer is perfect. It is a great way to completely organize your messiest areas with style so that it can be easy to find items when needed. This pegboard organizer has different sections that you can use to organize the items that you need to store the most often. It will be the best project if you're obsessed with crafting or organizing!
6. Creating Decor with Pegboard Letters
Pegboards are so inexpensive, easy to install, and versatile. These letters are ideal if you love creating custom decor for your space. You can hang them on a wall or board, or if you want to take them up a notch and maximize your space, hang them with wire from the ceiling. You can add them anywhere you need storage or a little organization. If your home or workplace looks cluttered and needs some updating, these DIY pegboard ideas for closets and kitchens will help you quickly create order out of chaos!
7. Color Blocked Pegboard Organizer
Organizing your messiest rooms doesn't have to be a pain, especially with this simple DIY pegboard idea. This pegboard organizer features painter's tape to create "paintings" on the pegboard, which you can change up as needed. It makes an easy and inexpensive way to add color, style, and organization to any wall in your home.
8. Pegboard Spinning Organizing Jewelry Rack
A spinning Organizing Jewelry Rack is a great way to add style to your messy area. It's made of durable materials, and you can easily customize it as a jewelry organizer or make it into a pegboard spice rack. This DIY spinning pegboard jewelry holder also makes an attractive display piece in any house room!
9. Decorative Pegboard Ideas for the Less Artistic
You've seen Pegboard at Home Depot. They're great for hanging tools and household items but boring. You can make them prettier by adding decorative items to the pegs. This type of pegboard is effortless to make. What's more fun than hanging up your tools on display? This simple project will be a beautiful addition to your kitchen or craft room.
10. Cross Stitch or Cutout Christmas Tree
This Christmas decorating idea is straightforward and quick to do, and the results are striking, with a real wow factor. This Christmas decoration is sure to put a smile on your face because it is such a simple, creative, and customizable design — you can adapt it to your home interior in so many ways by dyeing the thread any color you like, cross stitching different flowers or animals onto your tree shape. It's up to you!
11. Using Pegboard to Create Changeable Wall Decor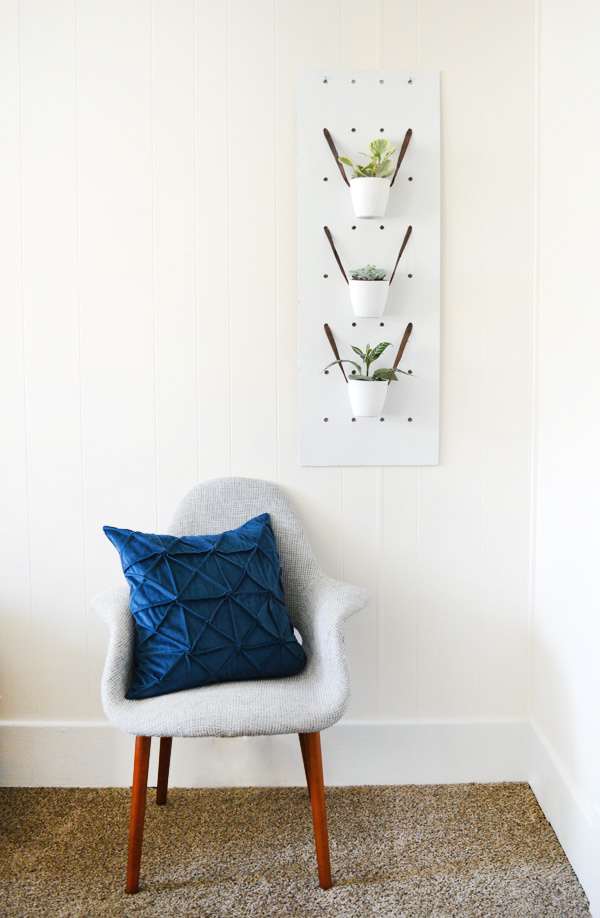 Pegboards are not just limited to being wall organizers. They can be used creatively to create wall art and improve your home decor. This project shows you how to build using pegboard to make changeable wall decor without fancy tools or machinery. It lets you quickly change the look of a wall without having to buy expensive hooks and shelves. And it makes it easy to remove the hooks whenever you want.
12. Pegboard Jewelry Organizer Wall Hanging
Isn't this an attractive way to organize your jewelry? This wall hanging is easy to make, and you can design it to fit any space. Learn how to build a pegboard jewelry organizer wall hanging using an unfinished wooden board, pegboard hooks, and various other tools and materials. With this creative DIY project, you will have somewhere unique to display your treasured necklaces, earrings, bracelets, and rings and add style to your home décor.
13. Make Your Wooden Pegboard
Pegboard is handy for organizing your tools, but you've seen these everywhere, and it's time to step up your DIY game. Build unique pegboards for your home that are perfect for storage, organization, and display with this DIY project. This DIY wooden pegboard is a simple but effective way to customize and decorate storage areas.
14. Create Cross-Stitch Pegboard Signs
Pegboards are a fantastic way to organize tools and display craft supplies, but if you're tired of the same old look on your pegboard walls and want something a little more colorful and creative, we have the answer: cross-stitch pegboard signs! Please see how easy it is to create one of these hanging gems. Any crafting enthusiast will appreciate this pegboard, as it can be customized with many different designs or whatever else you want!
15. Pegboard Jewelry Organizer for Closet Door
Learn how to create DIY Pegboard Jewelry Organizer with Stylish Designs on the Back of Closet Doors. This tutorial is the perfect solution for organizing your jewelry without cluttering your closet and is simple enough to build in one afternoon. This pegboard jewelry organizer is great for hanging necklaces and bracelets and displaying your most prized watches and rings. It can be installed on the back of your closet door or front door if you need more floor space.
16. DIY Pegboard Organizer for Large Size Items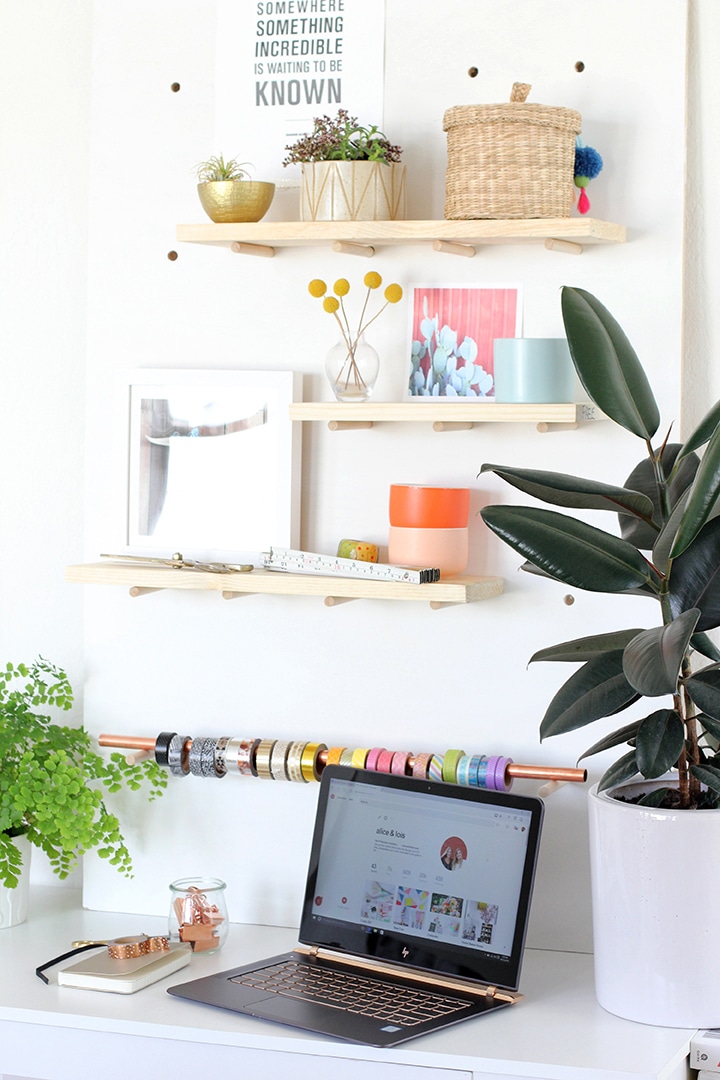 Pegboard is one of the most versatile and time-saving organizing tools for the home and the garage. You can hang everything from hand tools to kitchen utensils & even baskets to store your clothes or jewelry. Much better than a dull, plain wall, this DIY pegboard is the perfect solution to bringing more style into your home while adding generous storage space. This adds an artistic twist to your kitchen or office space while making it clutter-free!
17. All-weather Pegboard Organizer for the Mudroom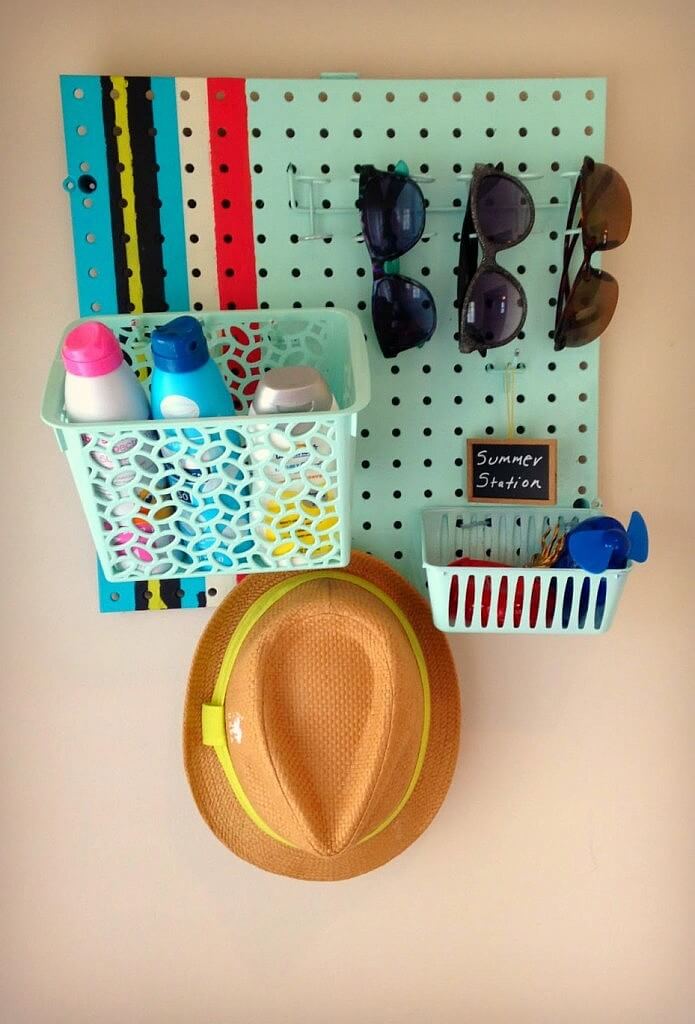 A mudroom is perfect for keeping all your gear in one place and ready to go, but finding an ample, well-organized space can be challenging. Create an all-weather pegboard organizer for the mudroom. It's easy to install, and you can add hooks of any size. With a few supplies and creativity, you can customize this pegboard to your style and create an easy-to-clean, functional, and affordable solution for storing your favorite items.
18. Pegboard Votive Candle Holder or Luminary
Love the look of beautiful votive candles but not the mess or hassle of dealing with glass holders? You can make your own with this easy DIY tutorial. Create a customized pegboard votive candle holder or luminary using simple supplies. This project is the perfect way to spruce up all those little candles you have lying around and get creative with your home decor! It's also a great gift idea if you are trying to organize your favorite accessories or create unique wedding or housewarming favors.
19. Pegboard Window Box Table Centerpiece
Pegboard is such a versatile material. Taking something you already have and displaying it in a way that makes your space feel more organized and practical, with just a little extra effort. This project shows you how to create your window box-style centerpiece. These pegboards are ready to be customized with your favorite paint and hardware. Let's get started!
20. Pegboard Christmas Tree for Cards, Artwork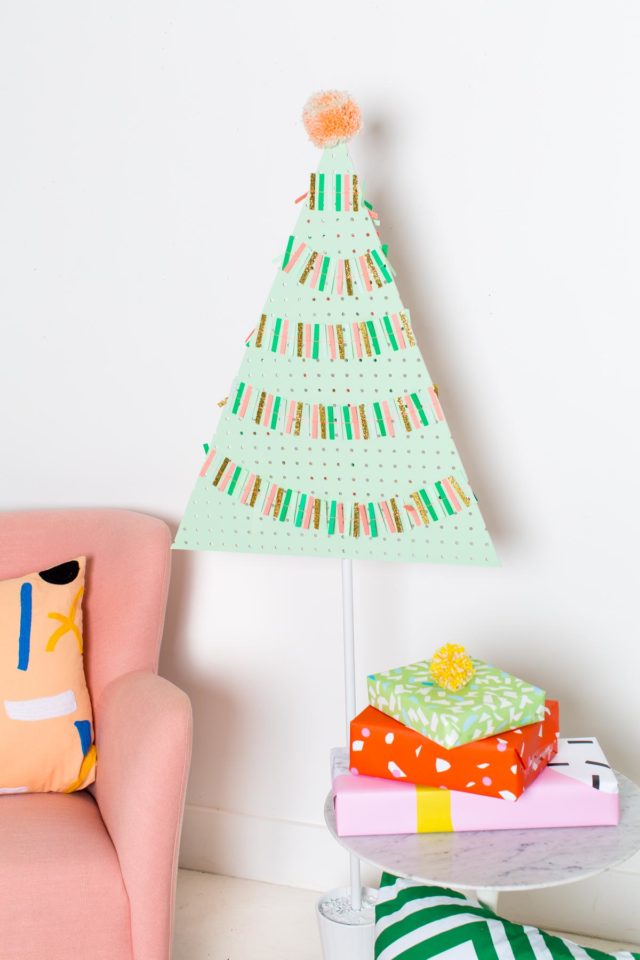 Create your custom pegboard display to promote your craft, art, or organizational skills! A well-designed pegboard is a great way to create an eye-catching focal point for any room. This DIY idea includes instructions for installing a pegboard on the wall and cutting and designing your unique pegboard layout.
21. Pegboard Spice Rack Framed Organizer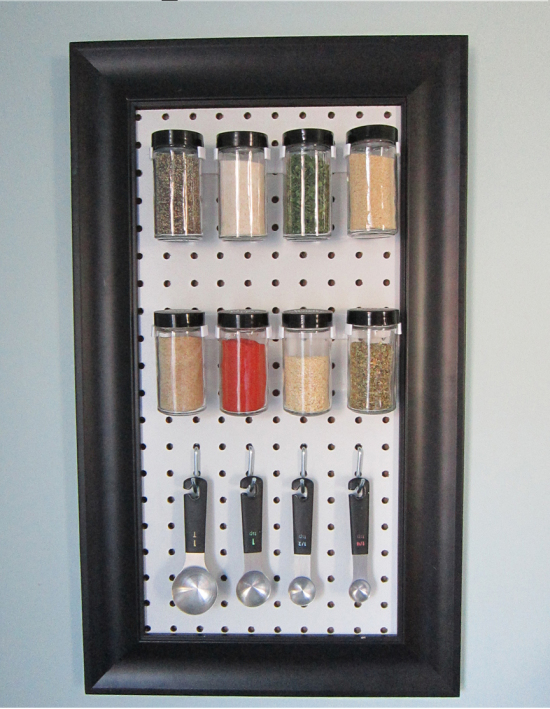 Organizing your spices can be challenging, but this DIY pegboard spice rack solves that problem in style. You can use it in the kitchen or pantry to store your spices or create a stylish spice holder on a wall in the dining room! This easy-to-make frame will help you keep all those spices in one place, saving you time and money!