22 Amazing DIY Crossbody Bag Sewing Patterns
Are you looking for a new stylish accessory that's practical and easy to wear? A crossbody bag might be the perfect solution! And what's even better? You can make it yourself with these 22 Amazing DIY Crossbody Bag Sewing Patterns. From sleek and simple designs to more intricate and eye-catching styles, there's something here for everyone. With step-by-step instructions and helpful tips, even beginners can create a professional-looking bag unique to their style.
Making your crossbody bag allows you to customize the size, shape, and color to fit your needs and preferences. Whether you're looking for a chic and modern bag for a night out or a practical and roomy option for everyday use, these 22 DIY crossbody bag sewing patterns will inspire you to get creative and start sewing! Looking to make your crossbody bag? Check out these 22 Amazing DIY Crossbody Bag Sewing Patterns for inspiration! From boho to modern styles, there's something for everyone.
Basic Tips And Tricks For DIY Crossbody Bag Sewing Patterns
If you're new to sewing, tackling a DIY crossbody bag project may seem intimidating. But with the right tips and tricks, anyone can create a beautiful and functional bag. Here are some basic tips to keep in mind:
Choose the right fabric: Make sure to choose a sturdy and durable fabric that can handle the weight of your belongings. Canvas, denim, and leather are great options.
Take accurate measurements: Before cutting your fabric, measure everything carefully, including the straps, pockets, and main body of the bag.
Use the right needle and thread: Use a heavy-duty and strong thread that can handle the bag's weight and won't break easily.
Practice your stitches: It's important to practice your stitches on scrap fabric before starting your final project. This will help you get comfortable with the sewing machine and ensure a professional-looking finish.
Pay attention to the details: Small details like zippers, buttons, and lining can make a big difference in the final product. Take your time and pay attention to these details for a polished look.
With these tips and tricks in mind, you'll be able to create a beautiful and functional DIY crossbody bag that you'll be proud to show off.
See Also: 15 Easy DIY baby sling Carrier ideas.
1. The Elementary Crossbody bag
Do you have branded bags that cost hundreds of dollars? Are they beautiful but overpriced? If so, this sewing pattern is for you. The Elementary Crossbody bag has no fussiness and all of the casual charm. And it's easy on the environment – it can use fabrics from your stash or clothes you no longer want to wear – and the only notion you need is a one-inch button.
2. Store & Go Crossbody Bag Sewing Pattern
This crossbody bag is the ultimate multi-functional bag pattern. It allows you to conveniently store and carry various items, like yoga mats, gift wrap tubes, sewing patterns, tripods, and more! Pattern includes step-by-step instructions with illustrations to help you along the way. All pieces are fully adjustable so that any size person can comfortably wear them over their shoulders without any discomfort!
3. Leather Crossbody Bag DIY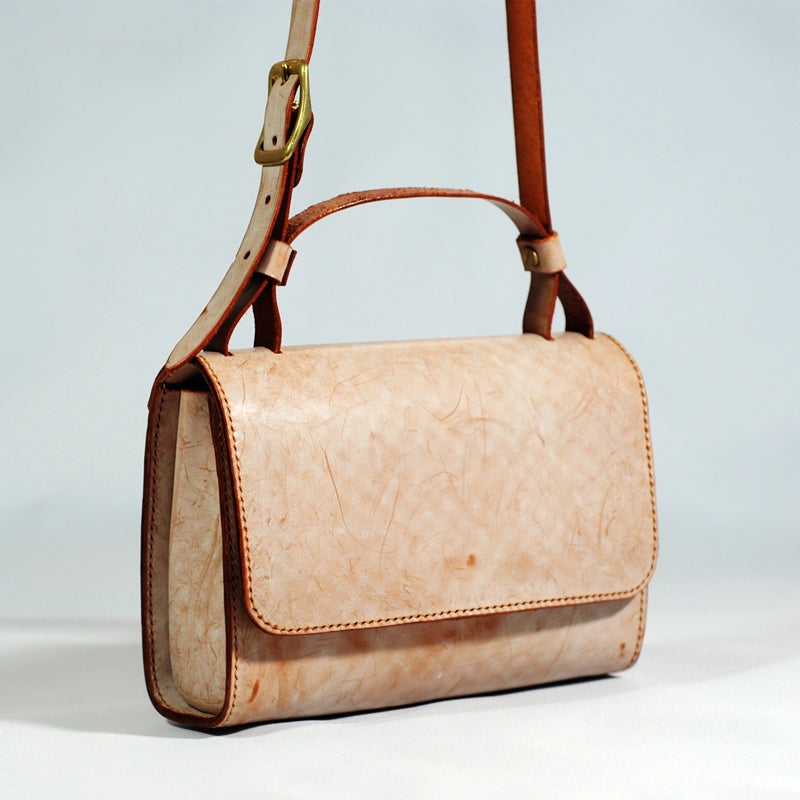 This easy-to-sew crossbody bag is perfect for carrying your everyday stuff. Its shape is made to fit over your shoulder, with a wide sturdy belt and an inside zipper pocket for keys and other small items. The leather strap is long enough to fit comfortably over your shoulder or clipped in front. See this tutorial on how to sew a leather strap from scrap leather.
4. DIY 15 Minutes Crossbody Bag
If you are a beginner sewer or would like to make yourself a crossbody bag that is stylish and easy to use, this pattern is for you. The DIY Crossbody Bag pattern includes step-by-step instructions to help anyone create this useful and stylish bag in just a few hours.
5. Simple Fabric Crossbody Bag Sewing Pattern
Crafting a crossbody bag is the perfect weekend project to keep you busy and happy. This bag will allow you to carry everything you need, from small items like your phone and wallet to your keys and sunglasses. It has one main compartment, a zipper closure, and a removable shoulder strap with an adjustable length, making it perfect for holding smaller items or when traveling light.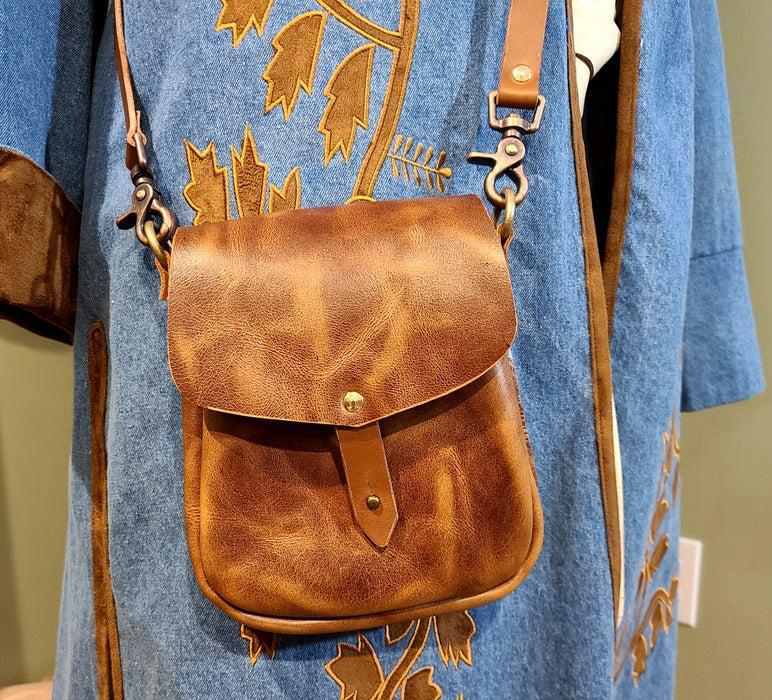 Turn your DIY skills into a beautiful leather crossbody bag that you can use for years. This is a very easy and cute DIY leather crossbody bag sewing pattern. This purse has many compartments, making it convenient to carry all your things. Follow the step-by-step instructions, or modify the pattern to make your masterpiece!
7. Sew A Faux Fur Crossbody Bag
This DIY bag sewing pattern is the ideal size for carrying your wallet, phone, makeup bag, and other personal items. The soft faux fur is the perfect accent to keep you warm when temperatures drop, while the black exterior keeps you looking stylish. This versatile little crossbody bag can be made of various fabrics or materials with endless customization options to suit your taste!
8. DIY Canvas Crossbody Bag
Are you ready to make the bag of your dreams? If so, let this pattern be the start of your sewing adventures! This crossbody is just the right size for those days when you're out and about but doesn't want to carry around a full purse. No matter how much you fill it up, it will still look great on your shoulder because it is fully lined with pockets inside. The straps are adjustable using a buckle, so you can change how high or low they sit on your shoulder.
9. DIY Crossbody Sling Bag
If you love making accessories, this is a very good option. This sling bag will let you carry all your essentials in one hand, making it a perfect choice when traveling by public transportation. It's also easy to sort things out because one compartment includes a zipper pocket, and the other has a small pouch attached with magnetic button closure to hold coins and a wallet.
10. DIY Elizabetha Crossbody Bag
Love in a bag! The Elizabetha crossbody bag has pockets and is the perfect size for everyday needs. With a zipper top and straps long enough to be worn as a crossbody bag, use the handles when you have both hands free. t has a zipper and an inside pocket to store more than just your phone!
11. DIY Cute Crossbody Bag
This is one of the easiest bags you'll ever sew. It's perfect for weekend getaways, and it can easily fit all your essentials and more. This easy-to-sew crossbody bag is just perfect for your everyday. It has just enough room for all your essentials, featuring a magnetic button closure and a zipped pocket outside. With simple construction in mind, this project takes just a few hours to complete.
12. DIY Weekend Crossbody Bag
Suppose you love to do DIY projects. You'll never lose your phone again with this DIY crossbody bag! This great beginner sewing pattern; includes step-by-step instructions that are easy to follow and makes for a nice small purse for running errands or carrying around. This bag can be a perfect way to make them. The pattern is easy to follow and looks adorable and stylish.
13. How To Make A Crossbody Mini Bag
This crossbody bag is so versatile and fun to wear. With pockets, long shoulder straps, and a crossbody strap, it's perfect for shopping, traveling, or running around town. This project is a quick, fun way to make a crossbody mini bag. The bag is made from denim and features many pockets and a removable strap to easily switch from shoulder to waist when needed. Great for carrying all the "necessaries" for running errands or shopping!
14. DIY Simple Crossbody Bag
This will guide you in making a quick and easy mini crossbody bag at home. This crossbody bag pattern will have an open top and a zipper closure. The shoulder strap length is adjustable. It's perfect for holding essentials like a wallet, phone, keys, earphones, and other small items.
15. Crossbody Bag DIY
This simple and stylish crossbody bag is the perfect project for a beginner seamstress. Make your crossbody bag! This pattern is simple and fun to assemble, with a flattering modern shape on any body type. Whether you're making one bag or twenty, our sewing pattern is designed to make sewing this style as easy as possible.
16. DIY Crossbody Bag
You can make your crossbody bag by following the instructions in this DIY tutorial. This project is very easy and can be done by beginners. You need some basic sewing skills, and you will be able to complete it in no time. This DIY cross-body bag is beautiful, practical, and customizable to your chosen material. Design your crossbody bag to match your style!
17. DIY Kids Crossbody Bag
Create this DIY Kids Crossbody Bag in just a few easy steps, with simple directions that any beginner to intermediate sewer can follow. The bag uses minimal fabric and can be made from any fabric you choose. It's the perfect size for preschoolers or even adults. The bag is strong and sturdy, with two interior pockets for organization. Make one for everyone in your family!
18. DIY Crocheted Crossbody Bag
19. DIY Crossbody Bag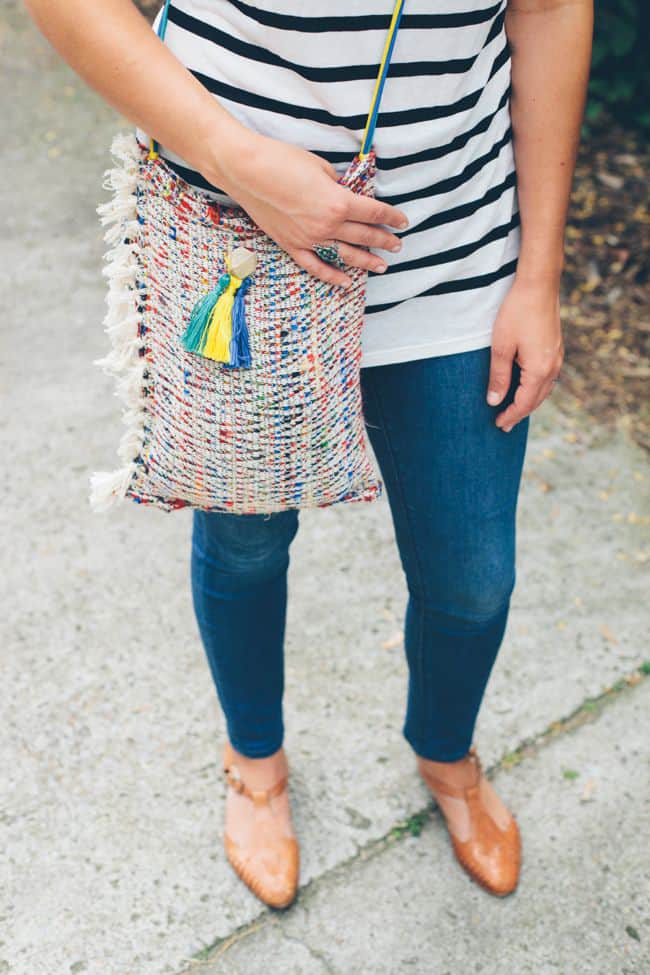 Create your unique bag with this Do It Yourself Crossbody Bag Sewing Pattern. Perfect for carrying all of your essentials, this bag is comfortable and stylish in any situation! Create your crossbody bag with this sewing pattern! With lots of room for essentials, like a phone and keys, this is the perfect weekend bag for the spring weather ahead.
20. DIY Bucket Pattern Crossbody Bag
Is it a crossbody or bucket bag with an adjustable strap? It can be versatile. This pattern is the perfect crossbody bag for a weekend getaway. It's not too small, but it's not so big that you can't carry everything you need. The shape of this bag takes on the shape of your body, so it feels like an extension of yourself when you're wearing it. The pattern works up super fast and is easy to follow. You can use it to make gifts for Mother's Day, Christmas, and more!
21. DIY Star Wars Chewbacca Crossbody Bag
This Star Wars DIY crossbody bag is warm and fuzzy, with a pouch for your phone and ID. The pattern includes all the instructions you need to make your own Chewbacca bag. Perfect for practical sewing projects, this design makes the perfect gift for any Star Wars fan.
22. DIY Celine-Inspired Trio Bag
Perfect for the Spring or Summer, this DIY Celine-Inspired Three Bag Set has a little something for everyone. The Trio Bag set includes the option of either a cute little coin purse or an iPad case, so there are two different patterns to choose from. The Trio Bag is simple and stylish, with a designer twist. Simple enough for beginners but fashionable enough to impress any fashionista who sees it!