22 Creative DIY Bathroom Vanity Ideas
If you're planning on renovating your bathroom, or if your bathroom is just a little outdated and needs some sprucing up, consider taking on the project yourself and saving some money. Whether you're looking for a full makeover or just a quick refresh, we've got you covered with a roundup of 22 creative DIY bathroom vanity ideas that will upgrade your bathroom, whether a full remodel or just refreshing existing fixtures. We'll start with a few easy concepts to get you started and then get into more complicated projects.
If you're looking for a DIY project that offers value and style, this collection of 22 bathroom vanity designs will inspire adding a custom look to any bathroom.
Tips On Choosing The Right Vanity For Your Bathroom.
Several factors must be considered when choosing the right bathroom vanity for your space. Here are some tips to help you make the right decision:
Measure your space: Measure where you want to install your vanity. Ensure you accurately measure the space's width, depth, and height to ensure your new vanity fits properly.
Determine your storage needs: Consider how much storage space you need. If you have a lot of toiletries and other items to store, you may want a larger vanity with multiple drawers and cabinets. A wall-mounted vanity or pedestal sink may be a better option if you have a small space.
Decide on your style: Consider the overall style of your bathroom and choose a vanity that complements it. If your bathroom has a modern aesthetic, look for vanities with clean lines and sleek finishes. Choose a vanity with decorative details and a classic finish for a more traditional look.
Consider your budget: Bathroom vanities can range in price from a few to several thousand dollars. Determine how much you will spend before shopping to ensure you find a vanity that fits your budget.
Think about the material: Bathroom vanities can be made from various materials, including wood, metal, and glass. Choose a material that is durable and easy to clean and that fits your overall style.
Remember the sink: The sink is an important part of your bathroom vanity, so choose a style and material that complements your vanity and meets your needs.
Benefits of DIY Bathroom Vanities
Well, maybe that's a little dramatic. But the fact is, you can save yourself a lot of money and hassle by building your own bathroom vanities—and there are plenty of ways to customize them so they're uniquely yours.
Let's take a look at some of the benefits of doing it yourself:
Cost Savings: Building your own vanity will cost less than buying one pre-made. The savings will vary depending on the materials used and how much labor is required, but generally, doing it yourself means spending less than half as much as buying an off-the-shelf vanity.
Customization: Using DIY techniques, you can make custom features like drawers and storage compartments into your vanity. You can also choose any colors or styles to suit your decorating scheme.
Ease: If you have the right tools and knowledge, building a vanity can be easy—even if you've never done it before!
See Also: 10 DIY Desk Shelf Ideas To Maximize Desk space
1. How To Make A Wall-Mounted Bathroom Vanity
This step-by-step video shows you how to build a wall-mounted vanity. Once completed, you can use it as a freeform surface for storing toiletries or add more storage space by adding cabinets on the ends of the vanity. This design allows for installation over any bathroom sink and is easy to set up. This project is great for renters since it won't require any demolition or renovations to the home.
2. DIY Bathroom Vanity (48")
This plan is perfect if you're looking for a large bathroom vanity. With just a few materials and an easy build process, you'll have your beautiful new vanity in no time! This project is a fun way to build a beautiful bathroom vanity. The concrete surface, exposed plywood, and metal legs all create a modern look that is perfect for the bathroom.
3. DIY Reclaimed Lumber Bath Vanity
Do-it-yourself reclaimed wood bathroom vanity projects can make the perfect choice for a rustic look emphasizing natural elegance. For those who want the rustic feel but don't necessarily want exposed pipes and electrical cords in their new home's layout, this beautiful reclaimed wood bathroom vanity is a perfect option. The old-fashioned charm of reclaimed lumber makes it easy to use imagination and design with style.
4. DIY Traditional Vanity Cabinet Build
Inspired by the timeless beauty of antique cabinets, this DIY Traditional Vanity Cabinet is a high-style project that captures the sleek lines and regal imagery of Victorian designs. This piece's water-resistant finish affords added durability against spills and splashes. This traditional bath vanity is built to last, with the ultimate cabinet quality. The design and style will complement many different styles of bathrooms.
5. Make A Dresser Into A Vanity
If you love DIY, consider transforming an old dresser into a bathroom vanity as we did. This DIY Bathroom Vanity project is the perfect way to add storage and style to your bathroom. Follow these simple steps and tips to transform your dresser into an attractive and useful piece with this step-by-step tutorial.
6. Build A Small DIY Bathroom Vanity
7. DIY Bathroom Vanity From Shanyt2Chic
This bathroom vanity project is a fun way to use up some old wood, grind down the edges smoothly, and match your decor. The cabinet is a basic box shape with a couple of doors, but the neat part is what they did with the countertop. They used leftover vinyl flooring, cut it down, and glued it to the top for an easy, inexpensive wood grain look.
8. DIY Bathroom Vanity For $65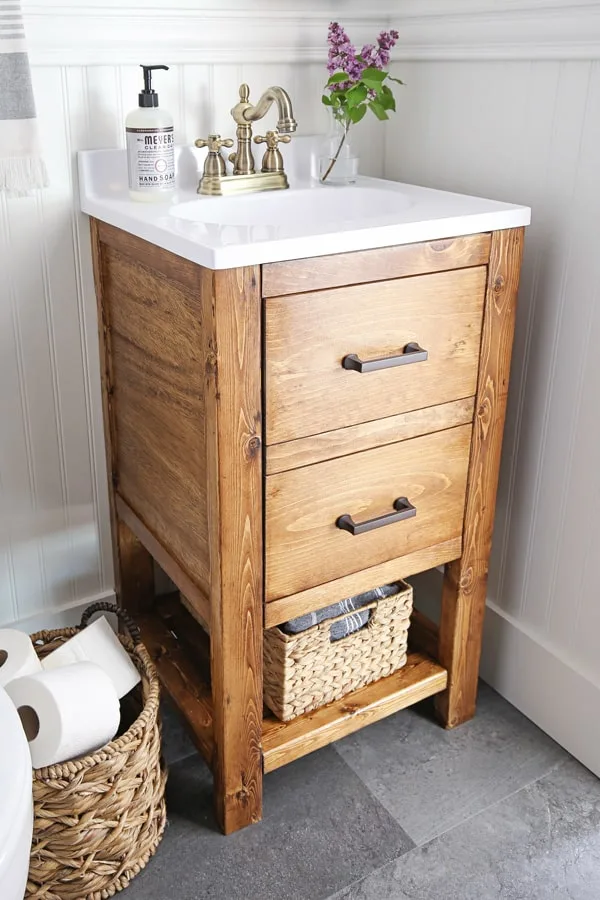 You can easily build your bath vanity with little time and basic carpentry skills. Even if you're not so handy with a hammer and saw, it's still a simple enough project you can complete over the weekend. You'll have an attractive, solid wood piece to impress your guests when done.
9. DIY Bathroom Vanity
This is an excellent tutorial from a builder with a pedigree. This video shows you how to build a custom bathroom vanity and what questions should be asked when hiring someone for you. The video goes over the entire process step by step – even explaining why you have to have your contractor install granite countertops first before installing your new sink and faucet.
10. Rimu Veneered Floating Vanity
This DIY Rimu Floating Vanity project will create an elegant focal point in your bathroom. The beauty of this design is that it has a floating top, meaning it does not require any plumbing or countertop. This versatile vanity is perfect for a smaller bathroom, as it stores everything you need for a daily routine.
11. How To Build A Bathroom Vanity
Are you looking for a DIY project that will result in a beautiful new vanity for your bathroom? Plenty of designs on the market could give your bathroom a complete makeover, but if we're honest, creating one yourself is much more meaningful. You can always do it cheaper, and it's much easier than you think, even if it's your first time!
12. A Small Bathroom Vanity DIY
This fun video shows you how to build a bathroom vanity from rustic hickory, an especially attractive wood to work with. As the video explains, it's perfect for cabinets, furniture, and projects like this one. When building your own bathroom vanity from scratch, you can use many different techniques. But if you want a quick and easy project that shows off your skills as a craftsman, this simple hickory vanity might be for you
13. Small Size, Big Style DIY Bathroom Vanity
Create a small bathroom vanity with a big style. This easy DIY project will allow you to bring an elegant and contemporary look to your tiny bathroom while providing ample storage space for toiletries and cosmetic products. This furniture kit includes everything you need to create a custom vanity that fits your space, style, and bathroom decor.
14. DIY Make A Wood Bathroom Vanity
Looking for a new bathroom vanity can be expensive. Save yourself some money and build your own instead! Make your own easy DIY rustic wood vanity with a step-by-step tutorial! This project is great for beginners; you can customize it to fit any space. The rustic industrial style allows it to be blended into any home decorating style.
15. Make A Floating Bathroom Vanity
This DIY floating bathroom vanity is a simple project to make your bathroom look clean and stylish. This is an easy woodworking project that you can build using basic tools! Spruce up your bathroom with a new vanity to go above your sink. You'll learn the basics behind the design and how to make one yourself.
16. DIY Modern Floating Vanity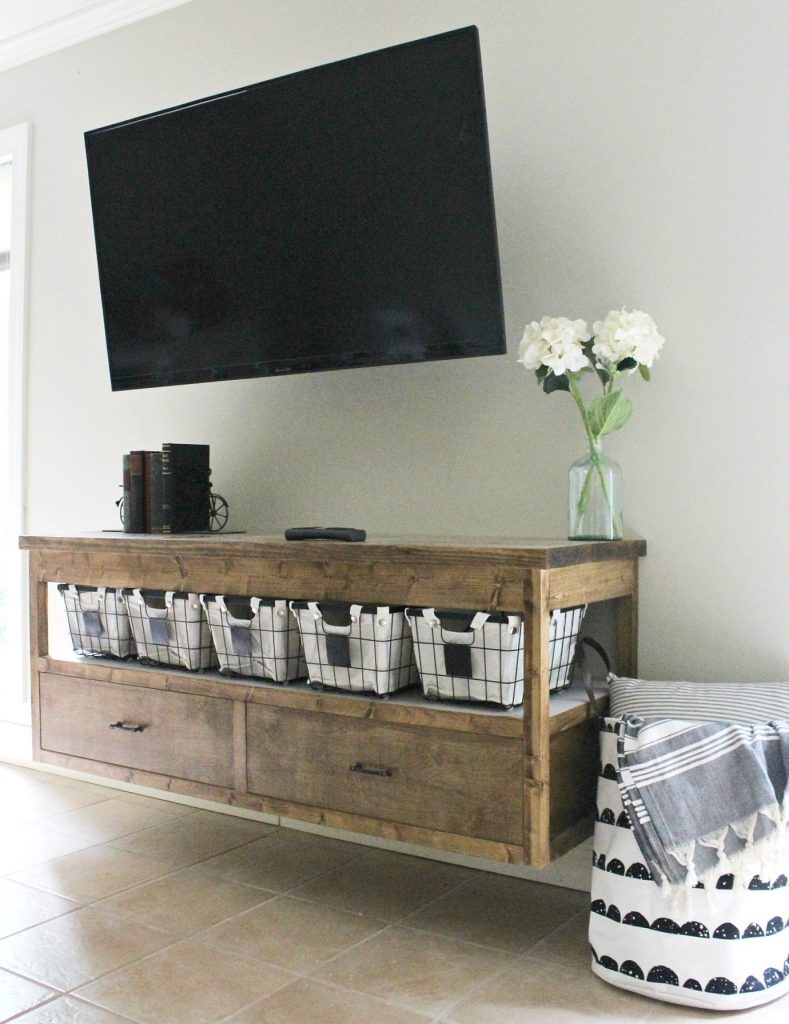 Easy to build floating vanity for your bathroom or modern TV console with floating shelves. You can make this easy-to-build DIY project in a few hours. It's versatile to make a floating bathroom vanity or a place to put your TV. This DIY project is inexpensive, easy, and fun to build as a weekend project. See how to make a home improvement you'll be proud of for years!
17. DIY Small Bathroom Vanity
This easy and affordable project will help you maximize your space if you work with a small bathroom. This DIY diy bathroom vanity is a perfect addition to your small bathroom. It is easy to install, has no special requirements, and comes with all the materials needed. It gives your spa a modern-industrial feel that is sure to impress any guest who visits.
18. DIY Double Bathroom Vanity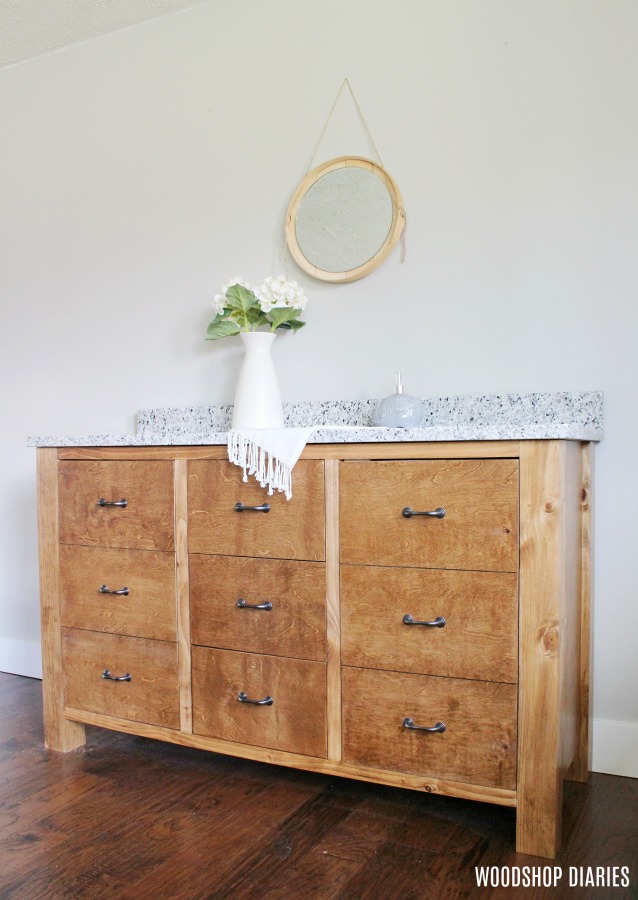 This bathroom vanity project is a perfect way to update your bathroom. This DIY project is simple, inexpensive, and can be done in a few hours. You will find the materials at your local home improvement store, or you may have all of them on hand already to do this project! To start, you will need to gather the tools you will need along with some construction skills. These two things will help create your new beautiful Bathroom Vanity in no time!
19. DIY Floating Bathroom Vanity
This is a simple project for a vanity that's easy to do and shouldn't cost you too much. This bathroom vanity features pull-out drawers, open trays, and metal legs that are perfect for any home or cottage. You can finish it differently–just be sure to give it your personal touch!
20. Vintage Dresser To Bathroom Vanity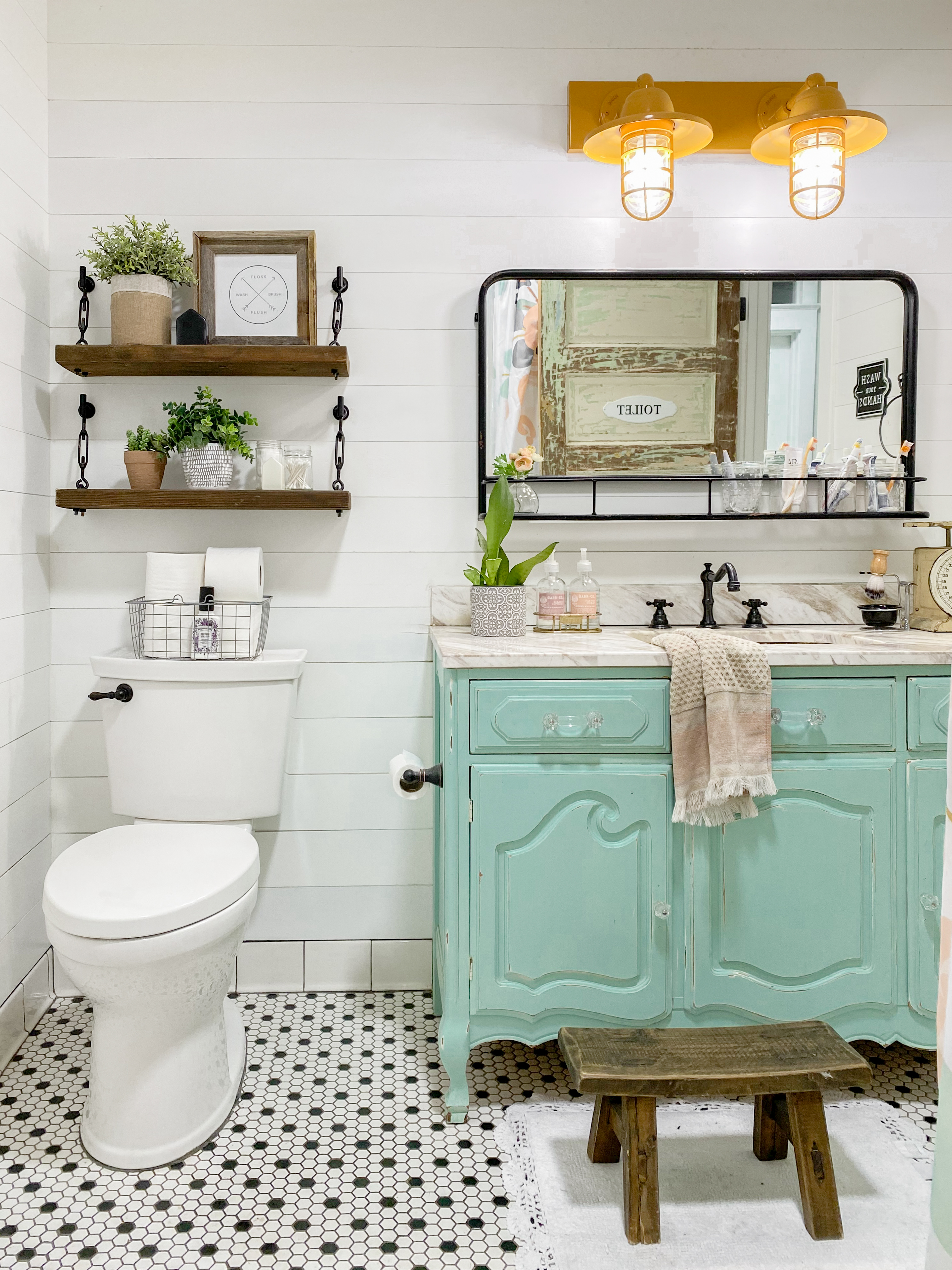 If you love vintage furniture, there is no better "desk" than this. This is a great way to get that vintage look you like. This plan shows you how to transform a vintage dresser into a bathroom vanity easily. The muted, romantic neutral colors in the bathroom above it complement this vanity's elegant and timeless feel.
21. Build A DIY Vanity For Less
If you enjoy the process and want a budget-friendly DIY project, this bathroom vanity could be up your street. The best part about building your vanity is that it's a DIY project, so that you can save money. All you need to do is take the time to plan out the process and gather all of the materials you may need. This step-by-step guide to building a bathroom vanity will help you at every stage.
22. DIY Bathroom Vanity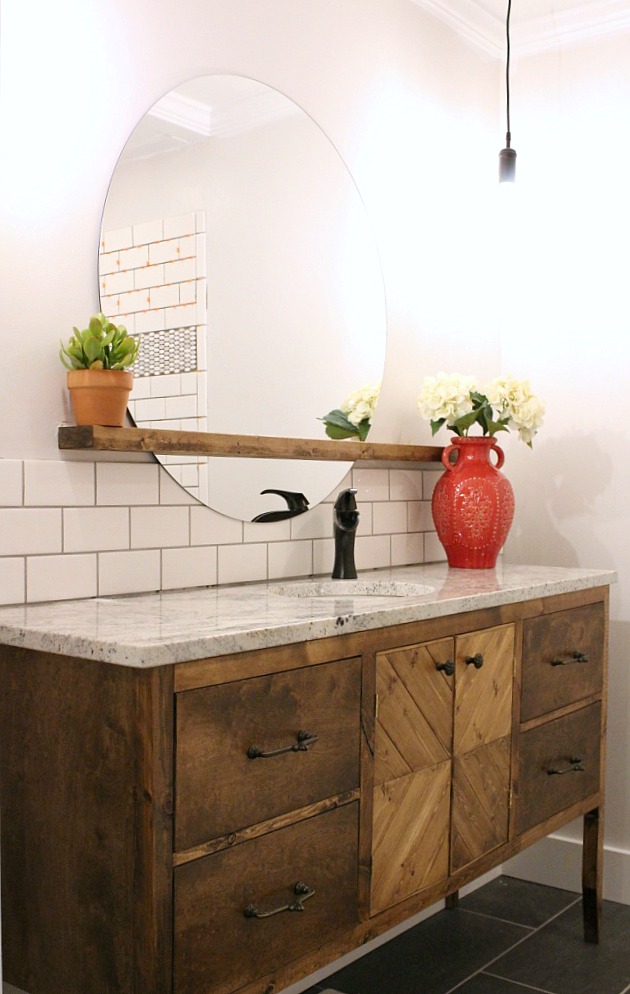 A DIY bathroom vanity is a simple and affordable way to add style and functionality to your space. Save money by crafting your own vanity, or choose an already-made bedside table to add a functional piece that can easily be moved around the room. With this guide, you will learn how to design, build and install the cabinet that will perfectly fit your needs.