22 DIY Butcher Block Countertops Ideas for Kitchen Makeovers
DIY butcher block countertops are an excellent way to add warmth, charm, and functionality to your kitchen without breaking the bank. Not only do they provide a durable and stylish surface for preparing and serving food, but they also lend an air of authenticity to any home. This article will explore 22 Butcher block countertops ideas for kitchen makeovers. Transform your kitchen with a classic and timeless butcher block countertop by following these 22 DIY Butcher Block Countertops Ideas for Kitchen Makeovers.
What are butcher block countertops, and why are they popular for kitchen makeovers?
Butcher block countertops are made from strips of wood that are glued together to form a sturdy surface for kitchen counters. They are popular for kitchen makeovers for several reasons: durability, versatility, and natural beauty. Butcher block countertops provide a warm and inviting feel to a kitchen, and they are an affordable alternative to more expensive materials like granite or quartz. They are also easy to clean and maintain, and they can last for many years with proper care. Additionally, butcher block countertops can be customized to fit any kitchen design, as they are available in various wood species and finishes.
Materials and tools needed for DIY butcher block countertops.
Here is a list of materials and tools needed for DIY butcher block countertops:
Materials:
Hardwood lumber (maple, oak, cherry, etc.)
Mineral oil or food-grade finish
Wood glue
Sandpaper
Dowels or biscuits
Screws
Wood filler
Tools:
Table saw or circular saw
Router
Clamps
Planer
Belt sander or orbital sander
Drill
Jigsaw
Chisels
Measuring tape
Pencil
Safety goggles
Dust mask
Earplugs
Work gloves.
Tips and tricks for designing and measuring your DIY butcher block countertops
Here are some tips and tricks for designing and measuring your DIY butcher block countertops:
Measure your existing countertops carefully to ensure accuracy in your design.
Consider the thickness of the butcher block you want to use and the overall height of your countertops.
Decide on the size and shape of your countertops and how many pieces you will need to create them.
Consider any special features you want to incorporate, such as sink cutouts or top stove areas.
Consider the grain pattern and color of the wood you will use and how it will fit into your kitchen design.
Create a detailed plan or sketch to ensure that your design will work and to make sure you have all the necessary materials and tools.
Take your time and be patient in your measurements and design, as mistakes can be costly and time-consuming to fix.
1. How To Make A Butcher Block Countertop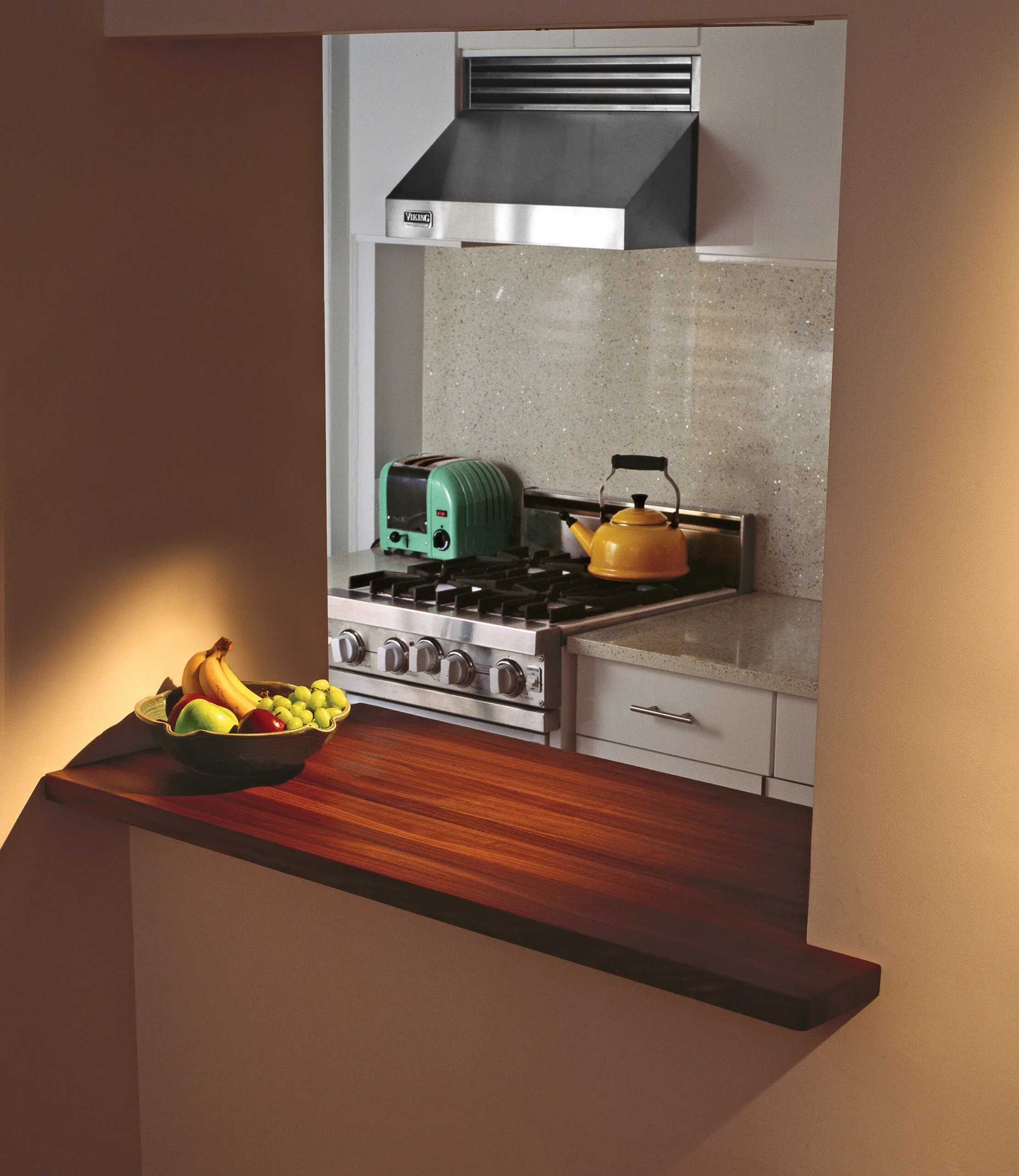 This wooden counter can be considered an alternative to granite, with the beauty and durability of wood. Although it requires meticulous measurements and more materials than other countertops, you can learn how to build yours. The benefits of this butcher block include sturdiness and moisture resistance.
2. DIY Butcher Block Island
Whether you're renting or don't want to add permanent fixtures to your kitchen, this DIY butcher block countertop can easily be removed and re-installed when you move or redecorate. If you have an old workbench or other woodworking equipment, this project can be completed on the weekend with minimal tools.
3. Butcher Block Counters with an Undermount Sink
This tutorial will show you how to cut a piece of maple hardwood and create beautiful and functional butcher block countertops. Great for any home or cabin, perfect for a rustic reclaimed look. You'll be able to transform the look of your kitchen with this tutorial, and you can pick the type of stain, color, and finish to make it your own
4. How To Build DIY Butcher Block Countertop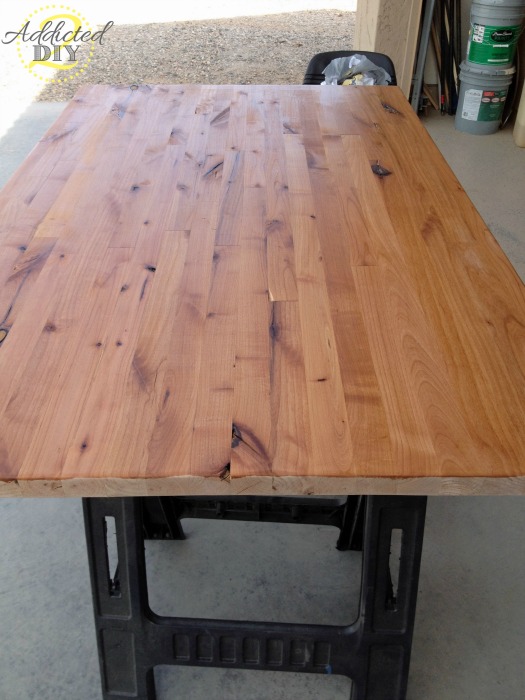 Add warmth and elegance to your kitchen with a butcher block countertop. This project is designed for DIYers with basic carpentry skills who have access to simple tools and limited space. The finished product is stunning and functional, adding 4 feet of usable workspace to your kitchen on the weekend. This simple DIY project will have you creating the look of old-world charm in no time at all.
5. DIY Wood Countertop | Butcher Block Style
DIY Butcher Block Countertop is an easy way to get that amazing butcher block look without spending too much money. This video shows you how to build your own butcher block countertop. It is easy and cost-efficient, with a simple design that looks like a solid wood butcher block. Once completed, the butcher block countertop is stainable, so when you're done with this project, it will be yours to personalize and use!
6. How To Make A Butcher Block Counter
This DIY butcher block countertop brings the warmth and beauty of wood to your kitchen. This project is relatively easy, but it requires some skill with woodworking tools such as a table saw, drill press, and jigsaw. The result will be stunning, and you'll feel proud of your work.
7. How To Install Butcher Block Countertops
Installing butcher block countertops is a simple project for those willing to get dirty. It's a great addition to any outdoor kitchen or kitchen with limited space. This project requires carpentry skills and a few tools, but it can be done in your garage or basement without special tools or skills.
8. DIY Butcher Block Countertop
This DIY butcher block countertop tutorial adds a vintage, rustic touch to your kitchen. With this DIY butcher block countertop, you can create a beautiful workstation in your kitchen, office, or anywhere else you want it. This project is a good choice if you like working with wood and want to save money. All it takes is patience and practice so the process goes smoothly.
9. DIY Butcher Block Countertop Table
10. Butcher Block Countertop Build
This DIY butcher block countertop will add a unique touch to your kitchen and make it more enjoyable. It is sturdy and durable, making it the perfect choice for the hard-working cook who loves to spend time in the kitchen. Building this butcher block countertop gives you an heirloom piece that will last a lifetime.
11. DIY Butcher Block Table Scrap Hardwood
If you love cooking and want a unique way to add a focal point to your kitchen, a DIY butcher block countertop is the perfect project. This simple design uses scrap hardwood as its base and is finished with food-safe mineral oil for durability. This is a simple and inexpensive tutorial for making a table that looks like it was bought from an expensive boutique store. This idea is also perfect for a kitchen or butcher block countertop.
12.DIY Build And Install Butcher Block Counters
This DIY butcher block countertop is a classic kitchen upgrade. It's a great weekend project, and you can do it yourself with a little help from the experts! To create the butcher block countertop, cut the board into strips sized for your specific application and then join them together. The countertop should be finished with mineral oil or beeswax to protect the wood from moisture and stains.
13. How To Build Butcher Block Counters
Butcher blocks are great for kitchens as they allow you to achieve a unique look or accent the original one. They are durable, easy to clean, and very long-lasting. So, if you want to change your countertops or get a new kitchen layout, maybe it's time to try some butcher block counters. Making a butcher block countertop is simple and can easily be done at home with simple tools.
14. How To Make Wooden Butcher Block Countertop
This DIY project is a great way to add a unique touch to your kitchen and provide plenty of grip for your knives and tools. It's also simple and affordable enough for a beginner woodworker. Butcher block counters are a classic and have been used in kitchens for decades. It is extremely durable, easy to maintain, and can be customized to your style or the look of your kitchen. This project will take 1-2 days, depending on how much you want to do at once.
15. DIY Faux Butchers Block Table
This idea is a rather easy one. It requires some carpentry and woodworking skills, but anyone can do it with a little effort into the project. As a result, you will also have a beautiful-looking butcher block that comes with a table build. This is because the guide will help you make a table that fits into your countertop.
16. Custom DIY Butcher Block Island Top
Whether building a new kitchen or adding an island, these DIY butcher block island tops are easy to make, food safe, and handsomely minimal. You can use oak or the wood you choose– whatever you prefer. Build it with your kids, and then add it to your space!
17. Butcher Block Countertop DIY
A butcher block countertop might be a great solution for your project. It's durable, functional, and beautiful. The key is ensuring you understand how to build a butcher block countertop to achieve everything you want. The more knowledge you have about this DIY project, the better results you'll get at the end of the day.
18. DIY Butcher Block Desktop
19. DIY Butcher Block Countertop
Ever wanted to enhance the look of your kitchen? This guide will show you to build a butcher block countertop without doing any complicated cuts. This DIY butcher block countertop will last forever and looks great in any room. All you need is plywood, some wood stain, and a few other tools and supplies to get started now
20. DIY Butcher Block Countertop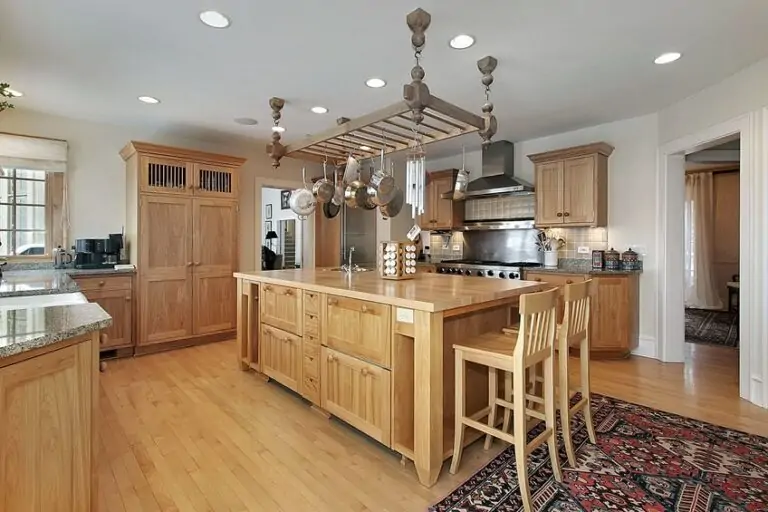 21. Low Budget Butcher Block Countertop DIY
Are you on a budget and want to save money on your next DIY project? Then, this is the perfect project for you. The plan is simple, durable, and saves time and money. Choose your favorite wood type and begin the building process with this guide. Make a beautiful butcher block countertop for your kitchen with the perfect dimensions! It's strong, durable, and super easy to build.
22. DIY Butcher Block Countertop
This simple DIY butcher block countertop will make you the envy of your friends and family! Butcher block counters are generally expensive, but with a little elbow grease and creativity, you can make one yourself at a fraction of the cost. The best part? It's completely customizable!