22 DIY Crochet Decor Ideas
Crocheting is one of the most popular hobbies. It's a great way to take a break from everyday life, and you can make all sorts of things like blankets and throws, clothing, ornaments, and decorations. One of the best things about crocheting? It comes in different forms that can be used for many projects. It's also very personal to you because it's something you made with your own hands, meaning that every piece of crochet decor will speak to your unique personality. These 22 DIY Crochet Decor Ideas are great for adding color and volume to any room in your house and are better than any store-bought option.
When the sun goes down, and it's time to wind down, it is essential to create an environment that puts you at ease and makes things feel warm and inviting; 22 DIY crochet decor ideas can help you achieve that.
WHY These DIY Crochet Decor Ideas?
Cost-effective

Personalization

Unlimited creativity

Improved home decor

Unique and original design

Improved hand-eye coordination

Relaxation and stress relief

Easy and fun activity

Sense of achievement
See Also: 25 DIY Yarn Wall Hanging Ideas
1. Crocheted Storage Basket Design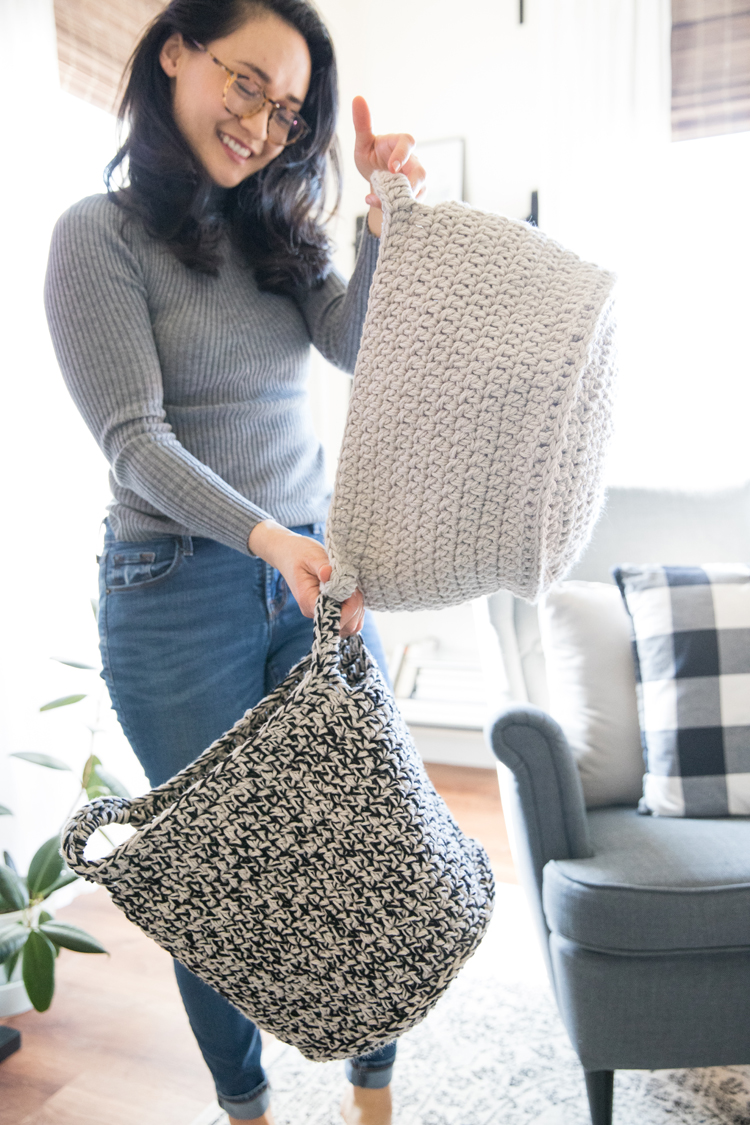 deliacreates.com
This DIY crochet storage basket design is perfect for adding more storage space to your home or as a place to keep school supplies in kids' rooms. The pattern includes instructions for making three sizes of baskets and lets you choose from different textures: smooth or ribbed. This version is created using worsted-weight cotton, but this could easily be adapted for other weights by adjusting the gauge and hook size for your yarn choice.
2. Adorable DIY Makeup Crochet Pouches
anabeliahandmade.blogspot.com
Beautiful Crochet Pouches & Purses, handmade crochet and fabric pouches and purses. These are perfect for makeup artists or anyone who loves to travel with their essentials. They are easily carried as a purse or handbag, a great gift idea! This is a super easy DIY makeup pouch you can make for yourself or as a gift. The pattern would be perfect for a beginner who wants to learn crochet basics.
3. Crochet Cabled Patterned Throw Pillow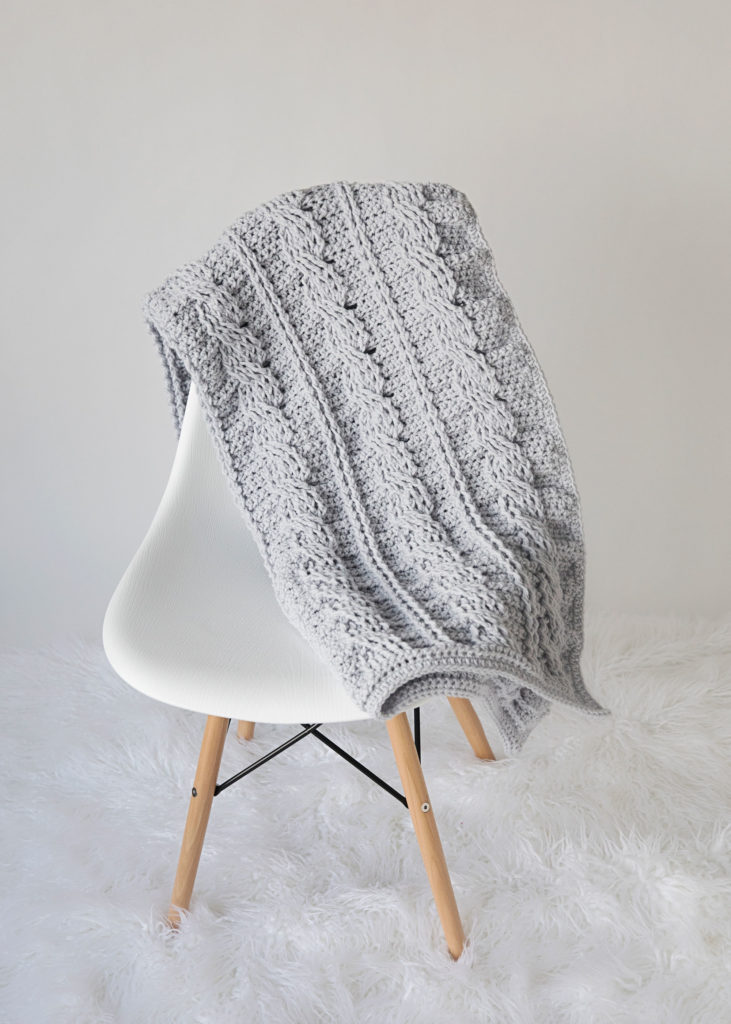 leeleeknits.com
Fill your home with cozy comfort with this easy DIY crochet cabled patterned throw pillow. The perfect accent for any home, this pillow will look great in any space, from the living room to the bedroom. This easy crochet pattern is made from chunky yarn that makes it super-fast to make — in other words, the perfect project for any beginner crocheter who wants to try her hand at cables!
4. Crocheted Pattern Plant Pot Cover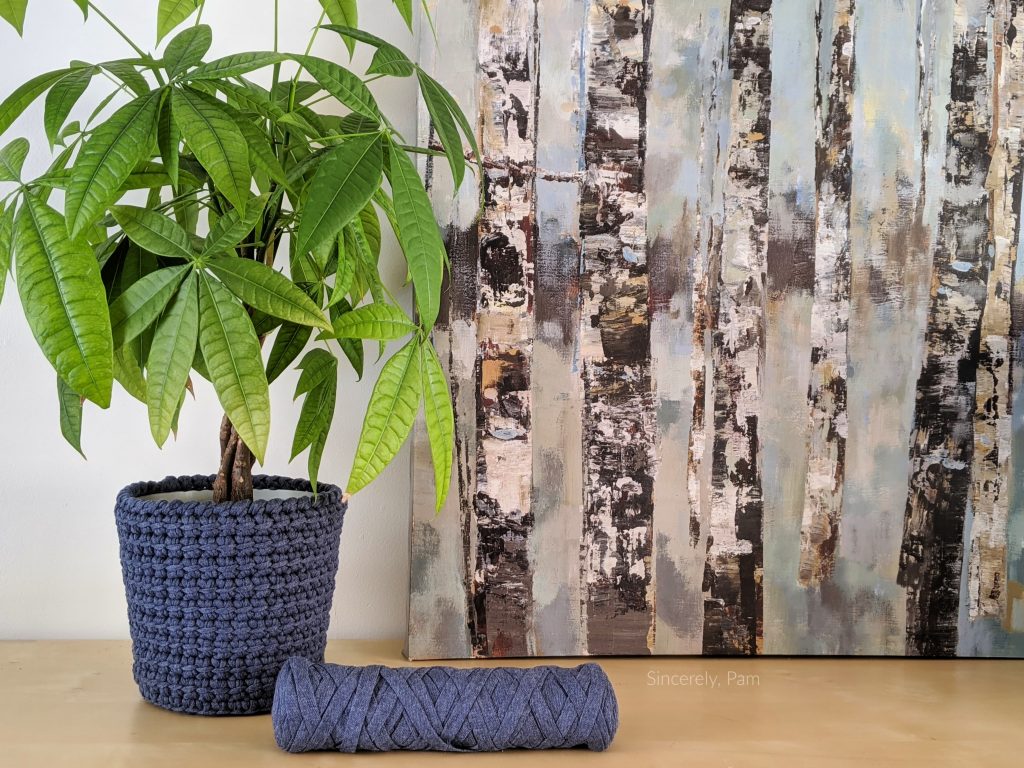 sincerelypam.com
Add a new twist to your plant pots by covering them with crochet! These covers keep your soil warm, make your plants extra cozy, and can help improve the moisture levels in your home. This DIY Beginner's Crochet project uses a simple single crochet stitch and an I-cord to create the plant pot cover. It will warm any living space and add an organic touch that complements other decors.
5. Handmade Crocheted Kitchen Towel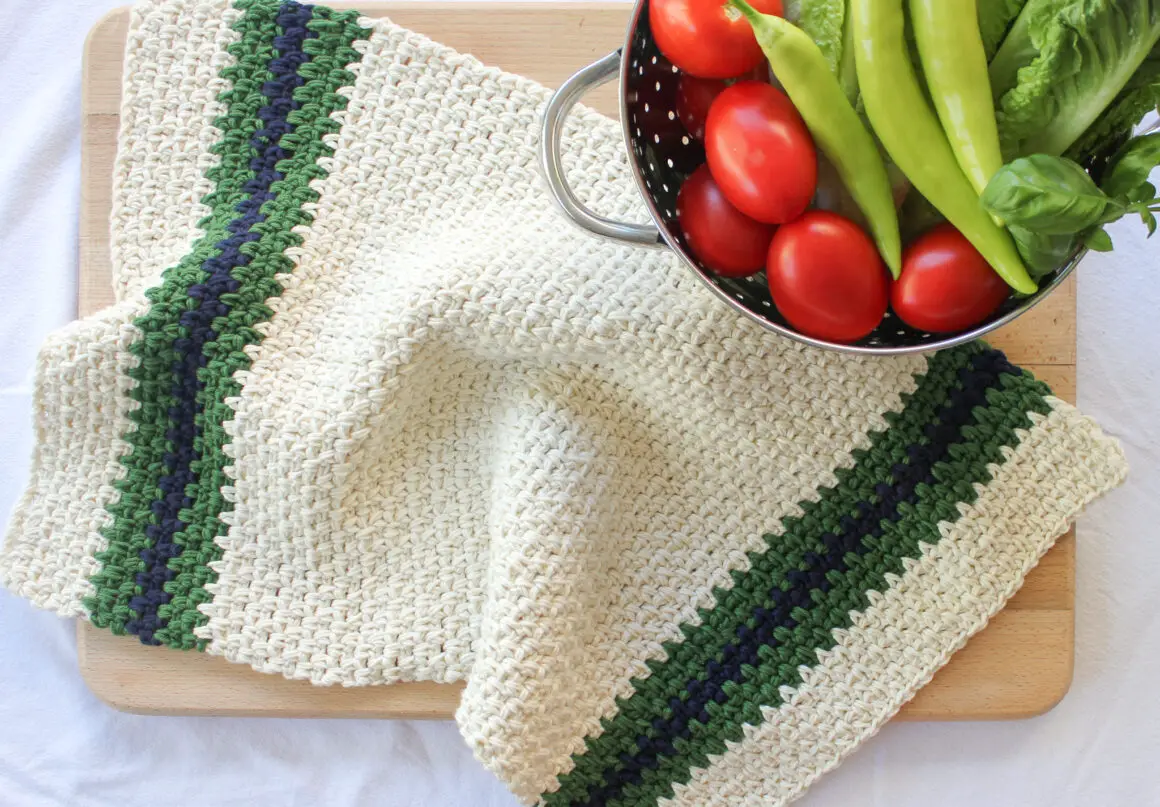 knottednest.com
If you're looking for a fun yet easy project that is also a one-of-a-kind gift, then this DIY crocheted kitchen towel is perfect! This is a DIY tutorial on how to make a crochet kitchen towel. It's easy, and you can customize its design to make it look like you have an interior designer behind you. The result is a unique handmade kitchen towel that will make your kitchen more cozy, natural, and handmade!
6. Crocheted Wall Hanging Pattern
mallooknits.com
This crocheted wall hanging is a great DIY craft idea for any home. These cute crochet wall hangings are easy to make and brighten up any space in your home. It's easy to whip up this crochet wall-hanging art piece when you have a spare moment. This is it if you're looking for an easy DIY project to use as decor in your house or apartment.
7. Crocheted Farmhouse Pillow Pattern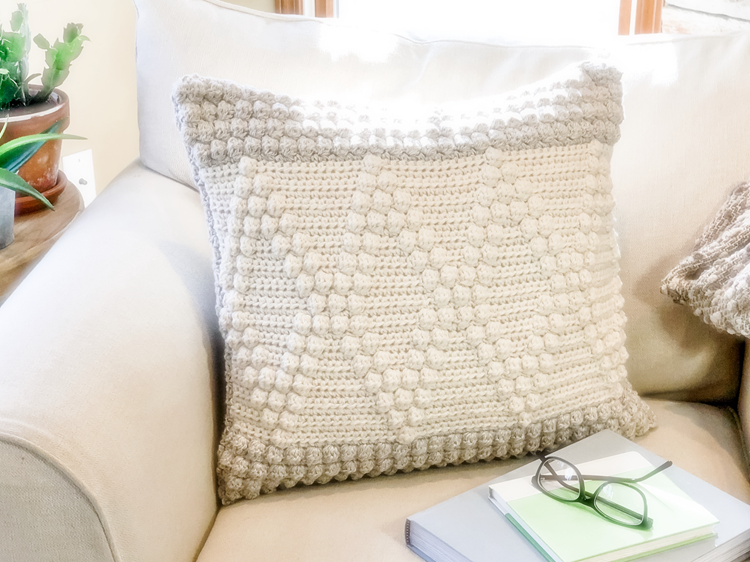 brooklynhandcrafted.com
Are you looking to add a unique touch to your home? Then this DIY pillow will be perfect for you! Crochet it yourself using the pattern provided. The gorgeous patterned fabric represents an array of different colors and textures. Once finished, you can hang this art piece on your sofa or bed or hang it on the wall. This pillow is a perfect first project for beginners and makes a gorgeous home decor addition for anyone!
8. Crocheted Pattern Moses Basket
yarnth3ory.com
If you need beautiful nursery decor, this DIY Crochet Moses Basket will be the perfect addition. Use it as a pillow to accentuate the look of your space, or add stuffed animals. The size is small enough to fit on a table near your bed, providing comfort from any anxiety you might have when leaving your little one at home while away.
9. Crochet Picture Frame Design
jakigu.com
Add a charming touch to your wall with a crocheted picture frame. Creating a large-scale design is more challenging than minor projects, but seeing the finished piece hanging on your wall will be well worth your effort. Follow this tutorial and use a simple slip-stitch pattern to crochet this versatile design.
10. Crochet Mini Heart Design
jewelsandjones.com
If you love the idea of crocheting, here's an easy DIY project that can be quickly done at home. A Crochet Heart gift is a great DIY decoration idea to make your space more cozy and attractive. It may be perfect for Valentine's Day, Christmas, or even birthdays! You can make these "Resting in Silence" crochet mini heart decorations with materials you already have; add a few things to mix up the design!
11. Ocean's Breath Wall Hanging Crochet
craftingforweeks.com
If you love how ocean waves feel, then you'll love this Ocean Breath Wall Hanging! This crochet pattern is perfect for beginners seeking a relaxing project. The blanket features a ripple design and can be made using one or multiple colors. The Ocean's Breath Wall Hanging Crochet is perfect for decorating your home with a relaxing vibe. It has been created using colorful yarns tied together and joined using an easy crochet stitch.
bluestarcrochet.com
This fun crochet doorstop design makes your space cozy and perfect for spring. The pyramid-shaped doormat will protect your house from dirt and unwanted insects entering your living space. This crochet pattern shows you how to create a pyramid shape that's soft on the floor but strong enough to hold any door open.
13. Crochet Round Rug Pattern
handylittleme.com
Are you looking for the best DIY crochet decor ideas that are beautiful, easy to make, and affordable? This pattern will make your space cozier by adding this beautiful round rug to your area. It is the perfect size for your entryway or bedroom. Crochet this in simple steps, and use a thicker yarn to hold its shape
14. Crochet Cat Paw Chair Socks
repeatcrafterme.com
Crochet cats are just as cute and cozy as the real thing! If you're looking for something adorable to add to your living room while adding something extra, these cat paw chair socks are sure to do the trick. So if you need a lovely decoration that is useful and looks great, this is the perfect product for you. It will warm your living room, making it more cozy and inviting!
15. Bramble Hanging Basket
1dogwoof.com
Here's a stylish alternative to traditional floral arrangements. With a modern twist, these crochet hanging baskets look beautiful and can dress up any room. All the materials are inexpensive, and many can be found around your home. Use the free pattern and photos from this tutorial and make it yourself.
16. Hot Water Bottle Crocheted Covering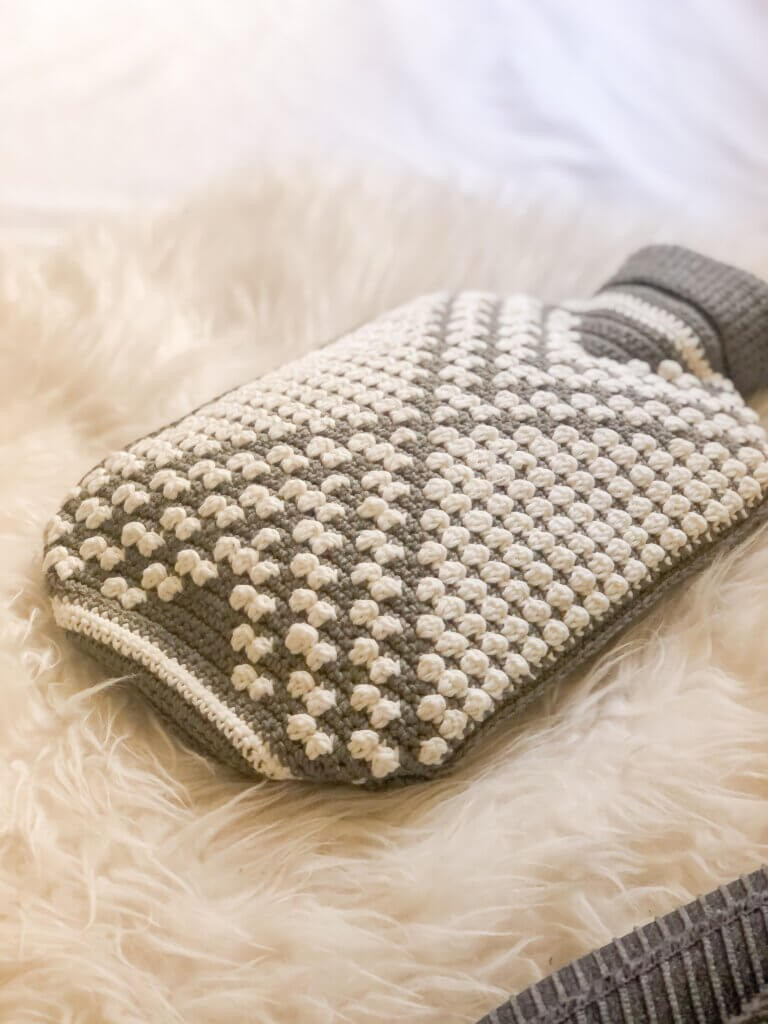 top-notch crochet.website
This is a new way to cover your hot water bottle. This chic and modern design will add a touch of elegance to your space. It is perfect for warming up or relaxing after a long day at work or an intense workout. The unique covering from this DIY crochet will give you an easy time using the hot water bottle and a different, more beautiful look that you can show off!
17. Farmhouse Crochet Throw Pillow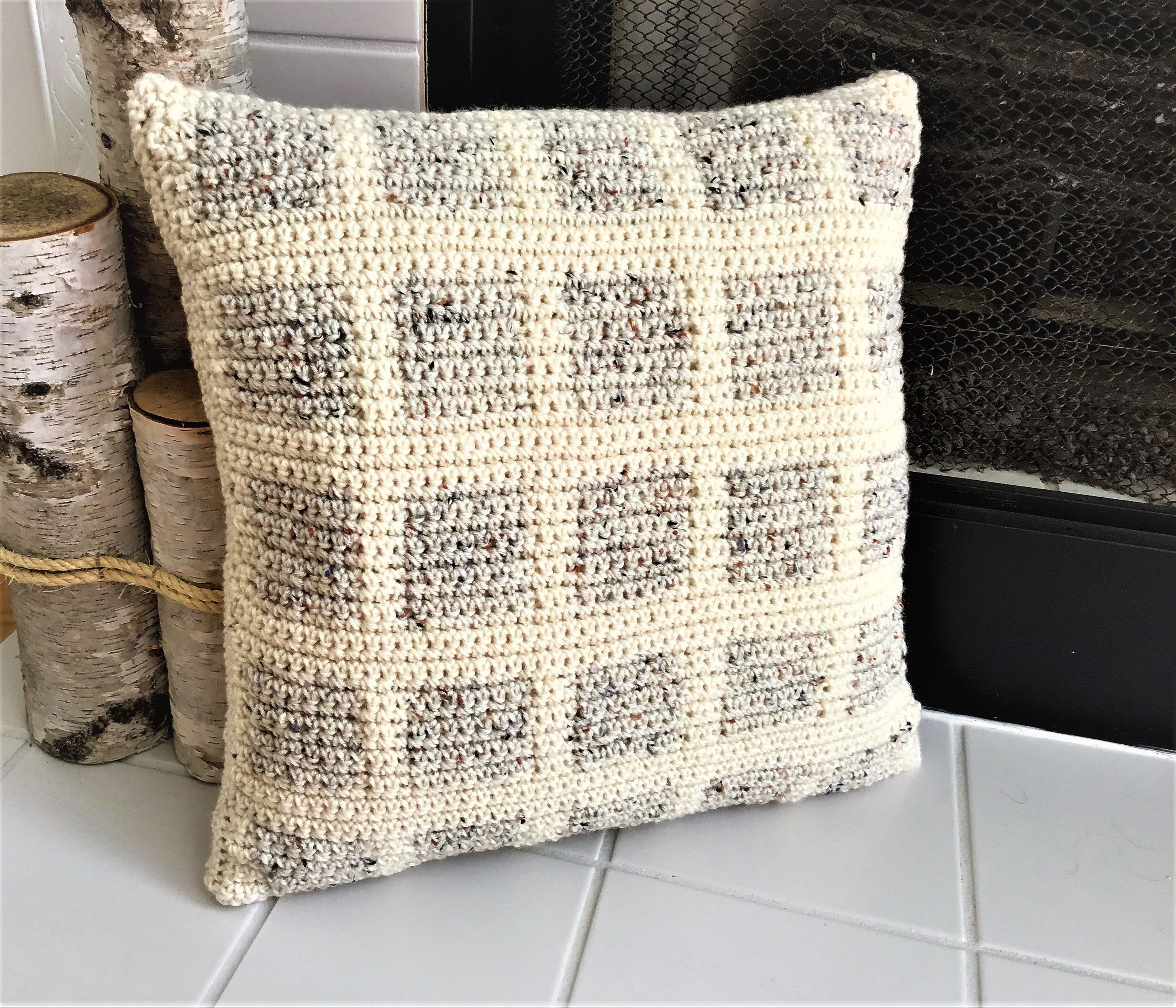 crazycoolcrochet.com
You have your bed now, and you need some pillows to go with it. Make them all different because you won't be able to pick just one! This crocheted pillow is the perfect home decor piece that only requires a few rounds of single crochet to create. It's not just beautiful but also functional! It makes a wonderful accent on a couch, ottoman, or bench.
18. Crochet Floor Pouf Design
mjsoffthehookdesigns.com
Decorating your home with new ideas will make your life more enjoyable, increase the value of your home, and make you feel like a part of that community. You can make them from different yarns and fillers to match your decor and style. From a simple round shape or embellished with buttons, beads, and ribbons!
19. Cell Phone Timeout Crocheted Hand Towel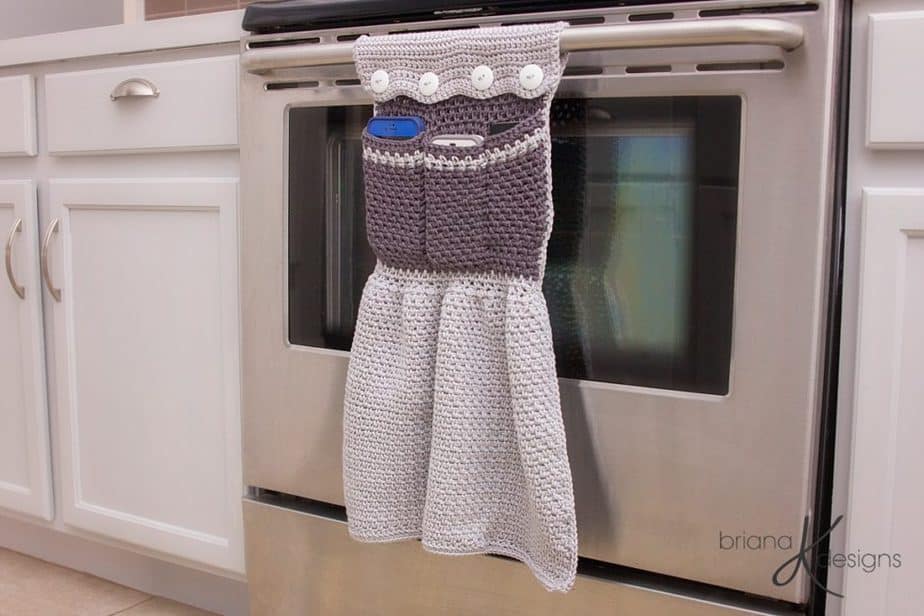 brianakdesigns.com
A simple DIY crochet project transforms hand towels into stylish accessories—instant style and comfort in one. Keep your cell phone in a basket near the door while you grab it, or hold towels while you shower. The possibilities are endless. This DIY tutorial is a straightforward and inexpensive way to add a touch of crochet goodness to your kitchen or bathroom.
20. Crocheted Cube Storage Bin
mooglyblog.com
This unique storage bin adds a touch of texture to any room. DIY crochet cube storage bins can easily add texture and color to your space and can be used for books, toys, or photos. You can make this pattern from just one skein of yarn, making it an affordable accent for your home! This DIY tutorial is a straightforward and inexpensive way to add a touch of crochet goodness to your kitchen or bathroom.
21. Rainy Day Crochet Wall Art
goldenlucycrafts.com
Crocheting is a fun and easy pastime to enjoy. Create this easy rainy day wall art for your home with a bright, colorful motif that'll brighten your space—and remind you that spring will come again soon! This crochet wall hanging is perfect for brightening a rainy day or adding life to your mantel. The pattern has all the necessary instructions and materials, so don't worry about missing any steps!
22. Granny Square Garland Crochet Pattern
whistleandivy.com
If you're looking for comfy crochet ideas that will make your space cozier, this DIY Granny Square Garland Crochet Pattern is just the thing. It's a perfect way to breathe new life into yarns and turn them into something beautiful. This granny square garland can be made as long or short as you want, with any colors you like. This is the perfect decoration for your front door and entryway. Great for fall, winter, and holiday seasons.