22 DIY Home Sign Ideas to Elevate Your Living Space
After a long day of work and errands, it's lovely to return home — but your house can feel as impersonal as a hotel room without any small touches that give it some personality. That's why we love these DIY home signs! You only need a few materials, creativity, and an afternoon to create signs that fit perfectly with your décor. Crafting your home signs is a great way to add personality to your space. After all, you're surrounded by this stuff every day; why not have fun with these 22 DIY Home Sign Ideas to Personalize Your Living Space with Style and create something that makes you smile?
Decorate your walls with fun home signs that will make your space unique; these 22 DIY Home Sign Ideas to Personalize Your Living Space with Style will add personality to any space.
WHY DIY Home Signs?
We all want to express ourselves at home, but sometimes it can be hard to find the right art or decoration, especially if you want something that will last. If you want to make your house look more attractive and add more character, why not try making your home sign? It's easy to create something unique and personal for your space.
DIY Home Sign Ideas is a great way to express your personality and style and a fantastic way to save money.
Express Yourself: There's no better way to get your personality across than with a creative, one-of-a-kind sign.
Save Money: Creating your sign gives you control over how much you spend on it, meaning you'll spend less than buying something similar off the shelf.
Learn Something New: Learning how to make a sign will teach you new skills and give you an even greater appreciation for what goes into making these things!
1. Stunning Wreath on Wooden Board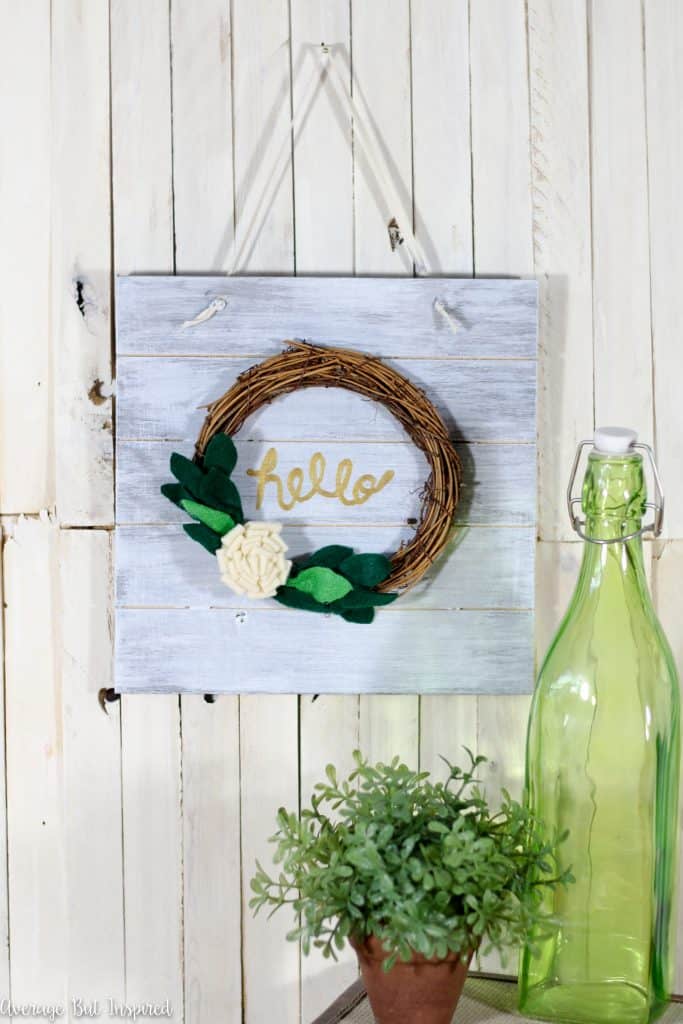 averageinspired
This gorgeous, shabby chic wall sign is an ideal home decor addition. Made from a wooden board, this Wreath Sign can hang on your front porch or inside your home with its lovely floral wreath design that shows off the beauty of nature in all its glory.
2. Wooden Arched Window with Lovely Message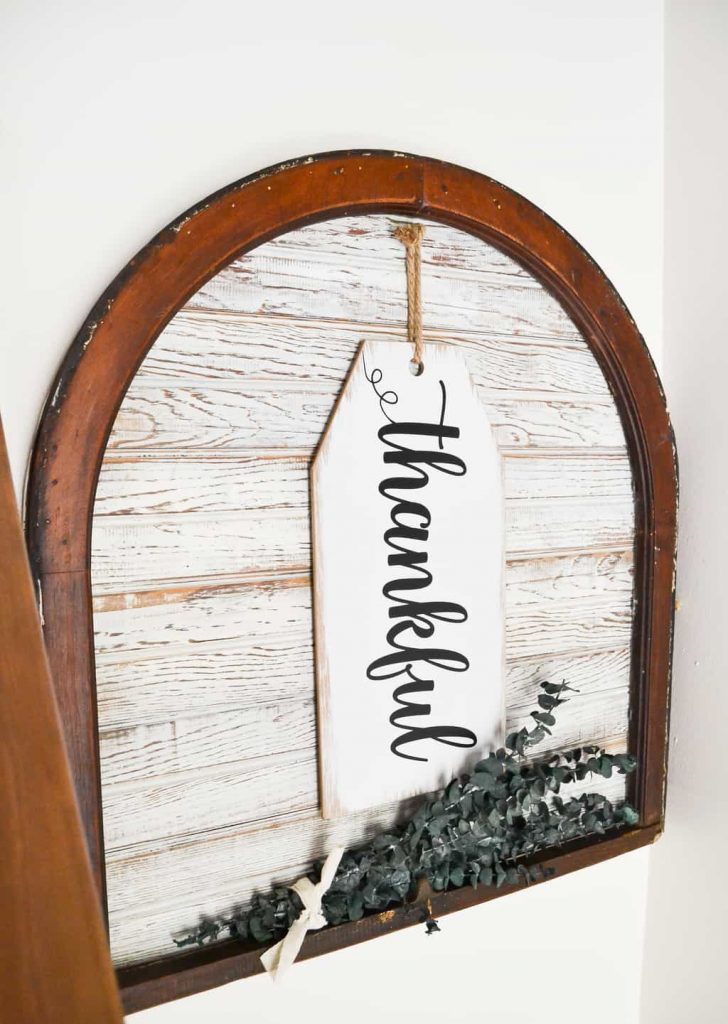 mycreativedays
This versatile home sign can be used anywhere indoors or outdoors. It features a distressed, light-colored wooden background and arched window design, with a beautiful message that will bring a smile to anyone who sees it.
3. Inspiring Quote on BlackBoard
aimeeweaverdesigns
Add some inspiration to your home with this DIY home sign. Use the erasable chalkboard surface to write a quote, a fun message, and more! Use it as an art piece, or hang it in your kitchen to tell everyone that dinner won't be ready for hours!
4. Rustic Round Home Sign with strips
rusticorchardhome
This round home sign is perfect for letting your friends and family know you are home. The rustic design adds charm to any entry, living room, or kitchen wall. It shows off your home's personality with its distressed edges and easy-to-hang hardware. The perfect addition to a mudroom or entryway, this sign is made from birch wood with strips of reclaimed wood.
5. Picturesque Farm Style Meaningful Quote Sign
afreshsqueezedlife
Create your own personal sign with this customizable design. Enjoy an excellent gift for yourself or someone special. The frame is ready for hanging, and the personalized quote makes it perfect for many occasions like holidays and birthdays.
6. Vintage Wooden Sign with Wreath
thelittlefrugalhouse
This DIY Home Sign would be a great addition to any home, making it look like you've been there longer than you have! It is made from vintage wood and has a beautiful design that will fit any style. Create the perfect space for your favorite quote with this vintage-inspired home sign. Made of wood and distressed by hand, it's a charming option in any room.
7. Superb Fabric Front Door Home Decor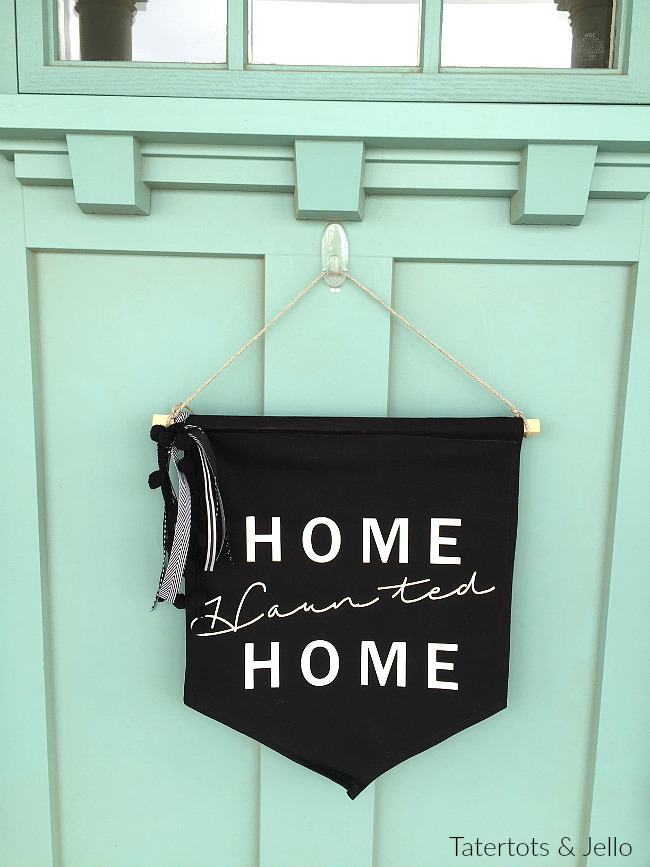 eighteen25
Love your home? Why not show it off with this stylish and affordable DIY Home Sign? Made from a luscious piece of fabric with an attached sawtooth hanger, it's easy to flip over when looking for a new look.
8. Charming Coffee Quote Wood Pallet
simplymadefun
Create a one-of-a-kind coffee sign with this fun, easy-to-follow DIY wood pallet project! It is perfect for the kitchen or coffee shop. This Charming Coffee quote is a perfect wall sign for your home decor. This is an easy and inexpensive way to add charm to your home. It's a thoughtful gift for anyone who enjoys the ritual of a good cup of joe.
9. DIY Wood Slat Home Sign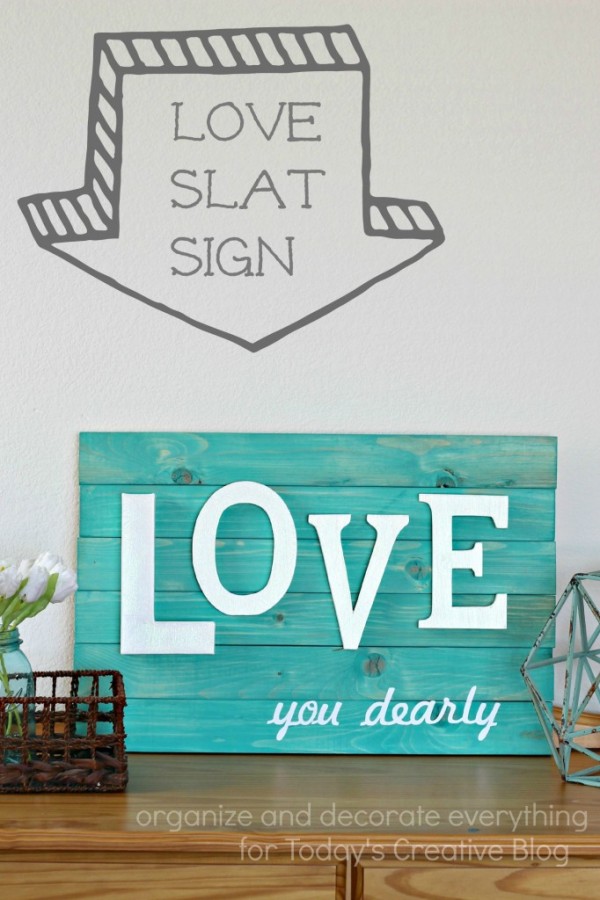 todayscreativelife
If you love home decor and DIY projects, you'll love this DIY Colorful Love Slat Home Sign. It's the perfect sign for any room in your home or office. This DIY is made of wood and can be painted any color. It also comes with instructions on how to build this item in a few easy steps.
10. Exquisite Thankful Quote DIY Sign
awonderfulthought
This unique, DIY home sign will make an excellent addition to your home. With room for your own personal sentiments, it is perfect for the crafty family who wants to make something unique by hand. The design is easy to follow, and you can personalize it to fit your style or decor.
11. Wash Dry Fold, Repeat Wood Pallet
robynjohanna
The DIY Home Sign is an excellent addition to any home; it's fun and easy to make with wood pallet and acrylic paint. Create a moment of tranquility with this DIY Home Sign. With the help of a few pallets, this wooden piece is easily assembled, making it a great addition to any home or office.
12. Favorite Verse Immortalized on Vintage Wood
aimee-weaver.blogspot
This DIY Home Sign with your favorite verse is a perfect addition to any home. This sign features beautiful vintage wood and can be personalized with your favorite scripture. Personalize your home decor, office decor, or a gift for someone who loves minimalistic décor
13. Simple Gather Here Pieces Strung Together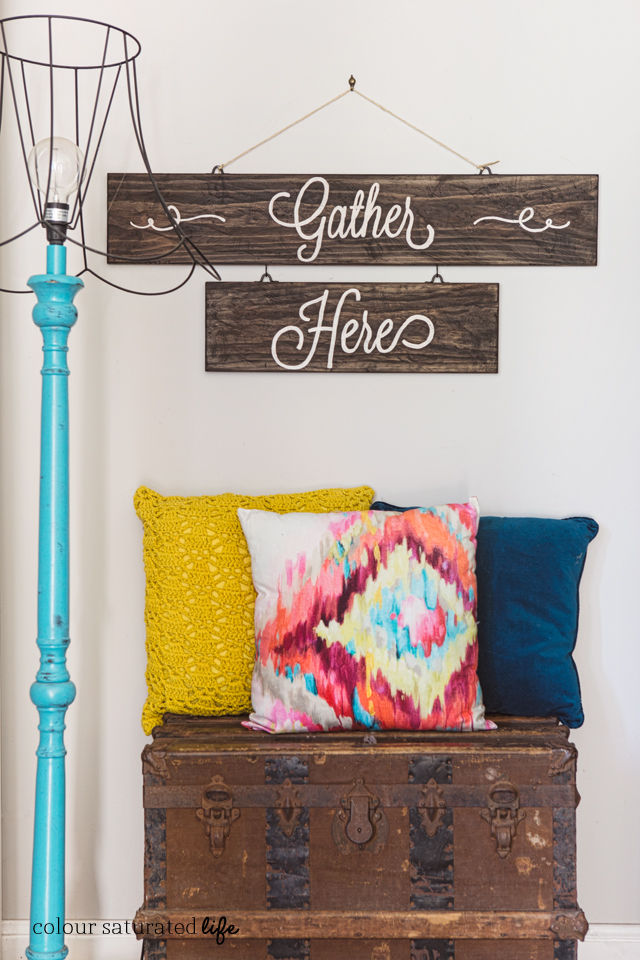 homemadebycarmona
Your personalized home sign is a beautiful way to add a touch of beauty and style to your home. The DIY Simple Gather Here Pieces Strung Together can create in any color or pattern you desire – so it will fit perfectly with your decor. With this delightful handmade sign, family, friends, and guests will know exactly where they can find you!
14. Twin Home Décor Signs with Wreath
streamspouredout
Create a charming addition to your home with this DIY home décor sign. This easy-to-assemble sign features a twin home design and comes with three small pine cones that can be glued onto the top of the houses and garlands around the bottom of each house. Hang it on your wall or door by the included hanger.
15. Amazing Home Sweet Home Farm Style Sign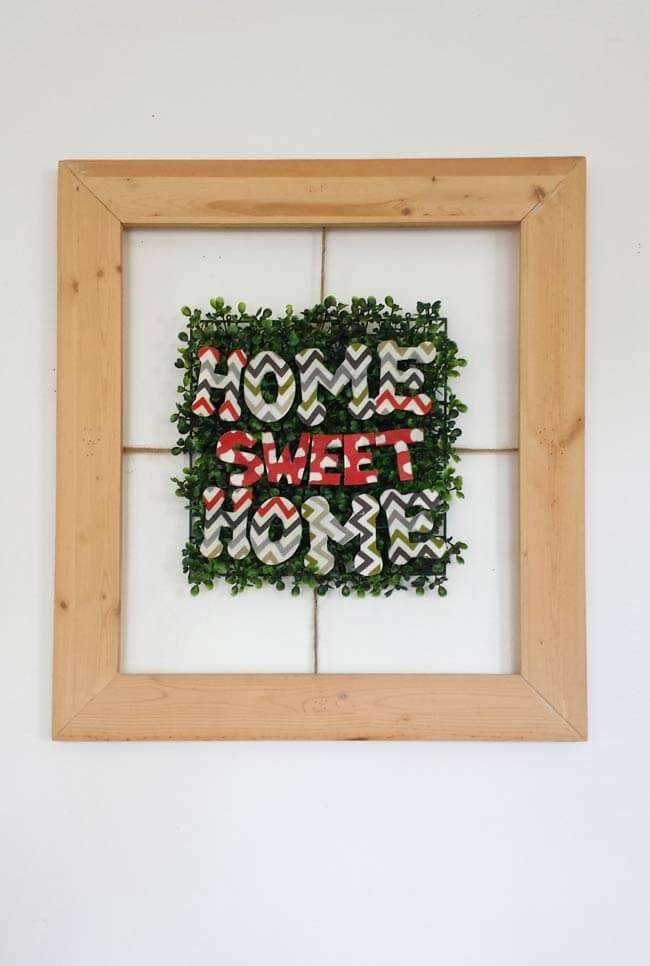 fancymomma
A perfect gift for the farm or country house! This sign will make you smile with its excellent design, rustic look and feel, and fantastic scent. This DIY sign can be customized to reflect your style. It's a great way to add character to any room; you will have fun putting it together!
16. Brilliant Heart-shaped Wood Scrap Sign
lakegirlpaints
Do it yourself, heart-shaped wood scrap sign—a great decorative idea for weddings, home decor, and gift-giving. Keep your message short, sweet, and concise with a DIY Brilliant Heart-shaped Wood Scrap Sign. Get your creative juices flowing with this brilliant DIY heart-shaped Wood Scrap Sign. It's perfect for adding whimsy to any room and makes a thoughtful housewarming gift or wedding anniversary present.
17. Striking Embroidered Wood Art Pallet
mysocalledcraftylife
Why not have a unique and beautiful home sign? You can do it yourself! Get a midcentury look with our DIY Home Sign, a simple, striking way to add personality and style to your walls. The project uses a pre-painted wooden pallet stitched together with embroidery floss to create a modern take on the iconic board sign aesthetic.
18. Pineapple Wood Art Pallet Welcome Sign
architectureofamom
This DIY Pineapple Art Sign is an excellent addition to your home or office or as a great wedding or housewarming gift. The uniqueness of this sign will make it stand out where you decide to place it. This sign would look great on most walls and can be hung in hallways, over the garage door, or anywhere else you want to put it!
19. Beautiful Farm House Love Home Sign
craftsbycourtney
This DIY wood letter home sign with a beautiful farmhouse, love, and heart-carved design is an excellent decor piece for your country home. The wooden sign will add a rustic look to your living room or entryway. This rustic feeling place card holder can be personalized with your name, initials, or wedding date.
20. Playful Spring Quote on Wood Pallet
infarrantlycreative
Get ready for spring with a DIY sign to welcome the season. Inspiration is everything, so we have plenty if you need an idea! Choose from a range of playful designs and then add your personal touch. It's also easy to make – all you need is wood, paint, and drill. Then pick up some pinecones from your favorite craft store and get creative!
21. Junky Love Letters Home Décor Sign
beyondthepicket-fence
Create your unique Junky Love Letters home décor with this DIY sign that can be personalized to your heart's content. This Junky Love Letters Home Décor Sign is the perfect addition to any room in your home. The neutral colors allow the sign to fit seamlessly with modern and classic decorating styles. This adorable wooden heart is perfect for any home décor. Personalize this piece by placing initials or family information on the sign.
22. Welcoming Horizontal Home Sign with Wreath
504main
Now you can create a beautiful and elegant home with these handmade wooden signs. Various beautiful designs make these signs the perfect addition to any home. Easy to hang and durable, you will love hanging these in your nook or mantel. This is the perfect DIY sign for welcoming family, friends, and guests to your home! The wooden letters are easy to assemble and look great in any style room – from old-world French to modern farmhouse.