22 Easy DIY Headboard Ideas to Elevate Your Bedroom Decor
Get inspired with these DIY headboard ideas. Instead of the traditional Headboard, you can create a custom look by making one yourself. Giving your bedroom a complete makeover with just paint and hardware is easy. Whether you want a simple project with basic materials or one that requires advanced carpentry skills, there's a DIY headboard design for everyone. These 22 Easy DIY Headboard ideas will inspire you to create the perfect Headboard for your space. These lovely decor pieces make great accents in any bedroom and can be made to fit the size of your bed frame.
Transform your bedroom into a stylish haven with these 22 Easy DIY headboard ideas. From rustic to modern, elevate your decor with these unique designs.
Supplies Needed for Building DIY Headboard Ideas
Wood: Depending on the size of your Headboard, you may need one or more pieces of wood to serve as the main structure of the Headboard.
Foam: For a padded headboard, you will need foam padding to place over the wood.
Fabric: Choose a fabric matching your decor or style. This will cover the foam and give your Headboard a finished look.
Batting: This will help create a smooth surface over the foam padding.
Upholstery stapler: You will need an upholstery stapler to secure the fabric and batting to the wood and foam.
Screws and drills: These will be needed to attach the Headboard to the bed frame or wall.
Saw and sandpaper: If you make a wooden headboard, you will need a saw to cut the wood to size and sandpaper to smooth any rough edges.
Paint or stain: If you want to add color to your Headboard, paint or stain can be applied after sanding the wood.
See Also: 21 Creative DIY Murphy Bed Ideas To Maximize Your Space
1. DIY Wood Round Headboard
thewhitebuffalostylingco
This wood headboard is a piece of art with its carved design and antique look. Just grab a power drill and follow along with this tutorial on how to build an awesome custom headboard for your bed. Use these easy steps to create a DIY wood round headboard that's just the right size and shape for you!
2. Tufted Green With Envy Headboard Idea
remodelaholic
Love the look of tufted headboards but want to keep your budget low? Follow these easy steps to learn how to make your own DIY tufted green Headboard for your bedroom. This is a perfect way to add some tufting to your favorite fabric and make a headboard for your bed. Have a quick snack before starting, or you can use upholstery tacks!
3. DIY Patchwork Heaven Headboard
takingtimetocreate
The DIY Patchwork Heaven Headboard provides a striking contrast to your bedding. This unique and original Headboard would look equally at home in a modern or rustic setting, complementing contrasting décor. Handmade from various fabrics, this stunning Headboard is hand quilted and bound with a tweed cord to create a beautifully finished piece.
4. DIY Updated Headboard Tutorial
robin-happyathome
Having a unique headboard is always a great way to decorate any bedroom. They can bring character and charm to a room, especially if you like to buy pre-made ones with intricate designs on them. Upcycled furniture gives you the same options as buying new ones but at a fraction of the cost. And repurposing allows you to create something that's personalized just for you!
5. A Clean Room and Mustard Finish Headboard
bohodecochic
A beautiful headboard is one of them; it's the first thing your guests see when they enter your room. This three-piece DIY Headboard is the perfect place to sleep away a lazy afternoon (or night). The mustard finish and worn paint job lend it an unapologetic chic. Your bedroom can easily become a cozy, charming place with just a few changes. So whether you're looking to add some personality or update the style of your space, here are some cool DIY ways to do it.
6. Vintage Shutter Head Board DIY
samanthaelizabeth
This will impress your guests for a DIY project, and you might even be able to sell the Headboard later in life. This is a really fun project anyone can do. You don't have to settle for a boring IKEA headboard when you can make your own super stylish one. Bring your room from boring to bold with the DIY shutter headboard! These vintage accents make the perfect Headboard for your bed.
8. DIY Headboard With LEDs
shelterness
Create a cheap and cheerful headboard using a set of translucent panel frames to hold your lights. Transform your bedroom into a tropical paradise with this DIY Headboard. Simple to make, it's a fun project that you can get creative with by using different lighting color options and patterns. This DIY project is a great way to add a focal point to any room of your house.
9. DIY Pink Upholstered Headboard
theraggedwren
A pink upholstered headboard is a great way to enhance the look of your room. It can be as simple and easy as painting it pink, adding glue, and making flowers out of buttons. The best part is that you can use what you already have at home or go shopping and find something you like even better! Get into the DIY spirit with this easy-to-follow tutorial.
10. Pretty in Pink And Panels
evolutionofstyleblog
Part of the appeal of this Headboard is that it's not the classic wooden Headboard but a more unusual design for a bedroom. The wall is painted pink, and the wood was nailed to the wall, then spackled to create an interesting texture. This kind of Headboard would look great if smaller windows need filling!
11. HOW TO MAKE A TUFTED HEADBOARD
placeofmytaste
Adding a tufted headboard in your main bedroom is like putting the exclamation point on an old classic. Instead of just being a place to lean your head against, this DIY upholstery project will make your room feel like it's worth millions. It only takes a few steps and patience to create something that stands out as a major design element.
12. DIY Headboard For Under $40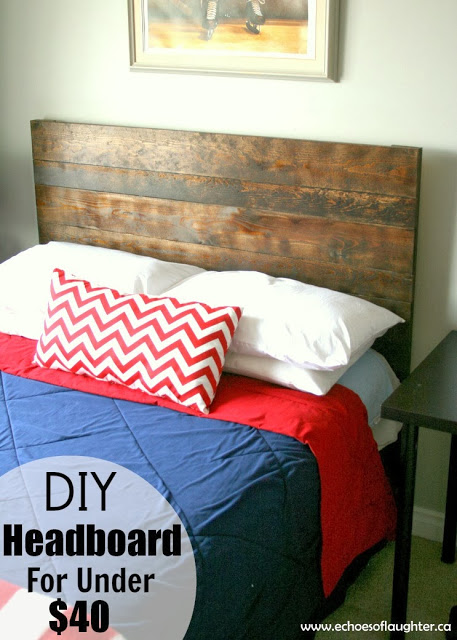 echoesoflaughter
Turn an ordinary nightstand into a rustic headboard by painting it with a distressed nutty color. Add extra storage space to your bed by installing hooks on the front or backboard. This rustic modern Headboard is an easy way to add cozy charm to any room. It's crafted from pine, stained with sanded distressing for a distressed look, and then covered with a bright color. Easy and budget-friendly!
13. DIY WEST ELM MOROCCO HEADBOARD
karapaslaydesigns
This is a brilliant and simple idea for anyone who loves Moroccan-style decor. With a simple doormat, you can turn something common into something amazing. Add some style and intrigue to your bedroom with this Moroccan-inspired doormat. Mounting it like a headboard is the perfect way to get the look of a pre-made headboard without the cost. Mount on nails to fit your frame, and you have a unique piece of art.
14. DIY Barn Door Headboard
thekurtzcorner
Do you have an outdated headboard? No worries…this rustic barn door style will be the perfect solution! This design screams quality and looks straight from a high-end furniture store. It's even better because it's DIY to customize any way that fits your space. This guide features an inexpensive construction that can be completed in just one weekend.
15. Beautifully Simple Tufted Headboard
kindleyourcreativity
Are you ready to make your bedroom feel more luxurious and stylish? You're in luck because this DIY Headboard is super simple! You can choose any fabric or paper you like. Hang it up on the wall or build a sturdy frame to use as a bedframe. This upholstered Headboard features a beautifully tufted finish, which will look great in any bedroom—classic or contemporary!
16. DIY Woven Headboard
madincrafts
This woven Headboard is the perfect piece of furniture for any room. It can be painted and finished to match your decor, or left unfinished, so it's a versatile option for room designs of all types. Upgrade your bedroom by making a DIY headboard and bring sophistication to your room. This project is easy and inexpensive, yet the result is very sophisticated.
17. DIY Light-Up Headboard
abeautifulmess
This DIY light-up Headboard is perfect for adding a little bit of sparkle to your bedroom. The lighted Headboard will ensure you feel refreshed and ready to face your day while providing the perfect ambiance for pre-sleep reading or movie watching. It's also a great option if you don't have much space, as it can be placed practically anywhere!
18. Say No to Sew Headboard
heytherehome
Add a handmade touch to your bedroom and make a statement with this DIY tufted Headboard. With just a few supplies from the hardware store, you can create your own tufted Headboard for your home. This tutorial will show you how to make a simple DIY headboard. It's the perfect solution for those looking to add interest and color to their bedroom while keeping it simple and budget-friendly.
19. The Intricate Headboards We Weave
littlebitfunky
Add a rustic look to your master suite with this DIY Headboard. This is a unique headboard that you can easily make yourself. It has a distressed look and is easy to paint. The Headboard is made from thin plywood pieces woven together, creating an intricate pattern and giving it an old-fashioned country feel.
20. DIY Vintage Sheet Headboard
happinessishomemade
This DIY project is the perfect summer weekend project. You can create your version of this vintage sheet headboard with just a few supplies and some know-how. The most interesting thing about this design is the accessibility of the fabric: You can change the sheets to match your room.
21. Awesome Headboard from Wood Blocks
bhg.com
Do you need a cheap but awesome DIY Headboard? Here's one from these Reddit users. They took some old wooden blocks and made a lovely headboard for under $20. You will love this unique DIY headboard. It's easy to make and can be used with any decor theme. It's perfect for the guest room or your master bedroom and is a stylish addition to a loft or basement apartment.
22. A Floor To Ceiling Headboard
Want to give your bedroom a chic makeover? Upgrade to a floor-to-ceiling headboard for an elegant and luxurious look. This stunning feature adds a beautiful accent to your wall and creates a sophisticated atmosphere. Pair it with matching colors, and your bedroom will look like a page out of a magazine. Feast your eyes on the image of this eye-catching headboard design that will make a statement in any space. Take advantage of this stylish addition to your bedroom!