22 Easy DIY Tapestry Ideas
Tapestries are a great way to add color, pattern, and texture to any room in your home. Whether you want to revamp your living room, bedroom, or bathroom, tapestries are an easy and affordable way to make a big impact.

In this blog, we'll be sharing 22 Easy DIY Tapestry Ideas that are easy to make and will add a touch of charm to any space.

The best part is that you don't need to be an artist or a sewing expert to create your own tapestry – many of these DIY tapestry ideas can be done with just a few basic supplies and a little creativity.

From macrame wall hangings to woven designs, we've covered you with various styles and techniques. Whether you're a beginner or an experienced crafter, there's something for everyone. So grab your supplies and get ready to create your own one-of-a-kind tapestry!
Bring life to your walls with these 22 Easy DIY Tapestry Ideas! Easy to make, choose from macrame, weaving & more to add color, texture & personality to your space. Start crafting!
Tips For Easy DIY Tapestry Ideas
This tapestry idea combines two things we love: felt and fabric. It's a hands-on project that doesn't require any special skills. You'll cut out shapes of your choice and add them onto the fabric base by gluing on other shapes to create colorful and interesting artwork. There are many more things that you can do with this idea as well, such as a large wall hanging for any room in the house.
2. DIY Wall Tapestry
This DIY tapestry is a quick and easy project that can add style to your home. Use this article as a guide to making a tapestry out of any size, color, or design you choose! Creating a DIY tapestry allows you to create something that can adorn the walls of any space with beauty. In this particular skill, you will use fabric strips, yarn, and nails to create a tapestry that you can hang on your wall.
3. DIY Wall Tapestry – Easy Methods
DIY tapestry idea for you to make your personalized wall tapestry. You can choose your favorite quote, image, or design and make it a DIY wall hanging. This video shows three methods of DIY wall tapestry, which are very easy to make. You need three things to create a wall tapestry canvas: A large fabric, scissors, and sewing skills!
4. Tie Dye Tapestry

DIY
Quick, easy, and economical. This DIY tapestry will be the focal point of your room. Using tie-dye techniques, you can use any fabric to create a unique piece that is all your own. Make one with leftover material from other projects, or purchase inexpensive fabric from your local craft store.
5. DIY Framed Tapestry
If you are fond of arts and crafts but don't want to spend too much on them, this is the perfect DIY. Hang your tapestry in a frame and display it on the wall to make a statement. This DIY framed tapestry is easy and stylish! This may be great for Mother's Day, Christmas, or other gift-giving occasions.
6. DIY Woven Tapestry
Do you want to make your tapestry? Consider bringing a piece of natural beauty into your home or giving it as a gift. You will find the instructions listed below easy and simple to follow. This tutorial tells you what materials you need and how to complete the weaving process step-by-step.
7. How To Hang Wall Tapestry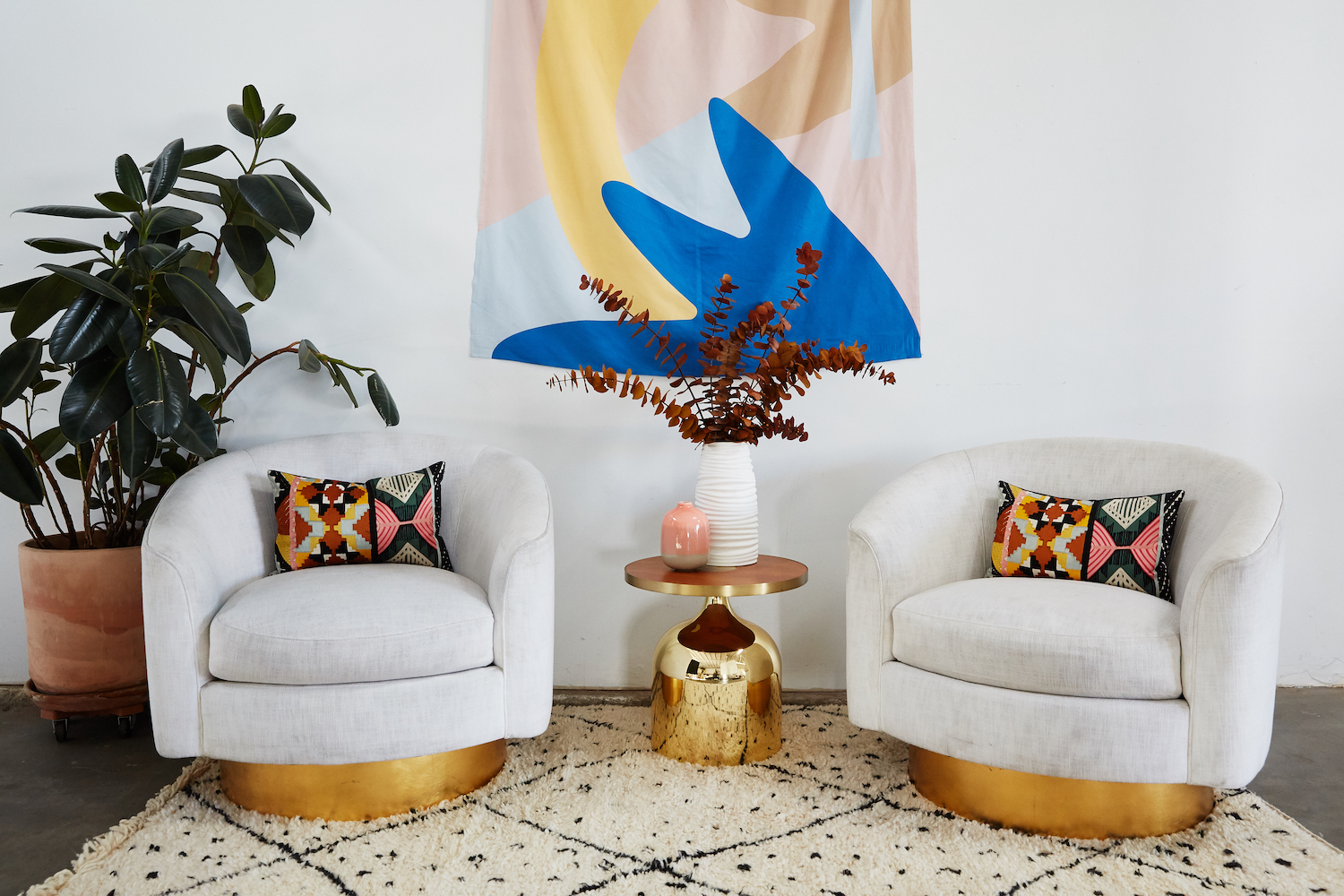 Walls are a great place to decorate and hang your tapestry. But a regular hole in the wall only sometimes looks good. It can damage your wall, and if you live in an apartment or condominium, it's not allowed by the owners. You can creatively hang a wall tapestry on your wall to make it look more gorgeous. This article has DIY ideas, such as using wooden laths or command strips. So, let's take a look!
8. DIY Mini Tapestry
Crafting a tapestry is something that many people like to do. Whether you are looking for an easy way to spruce up a fence or a great DIY craft idea, this mini tapestry is something you can create at home. A mini tapestry can fit your decor, and it looks great on a shelf or wall. Learn how to make one yourself with a few simple supplies.
9. How To Make DIY Tapestry
Tapestry Canvas Yarn is easy, fun, and creative to make. Learn to make your tapestry with this DIY tutorial. You'll need yarn, a spool of thread, and a wooden stick with rope for hanging. Create a personalized wall hanging for your bedroom or living room by choosing your textiles to personalize. Whether you want something simple or need help with color mixing and matching, this tutorial will help you make the perfect statement piece for your home.
12. DIY Large Wall Art
Need a different way to display your favorite vintage pattern or antique? You can create your wall art with this tutorial. This article will tell you how to make a large wall art using a tapestry. You can use the instructions to make a tapestry wall hanging that can be used in your living room, bedroom, or office spaces. These DIY large wall art have high quality and eye-catching details, so they look just like expensive ones in stores.
13. DIY Scrap Fabric Tapestry
Do you love to decorate your house? Here is a cool DIY weekend craft to make Scrap Fabric Tapestry. Using colorful fabrics, you can create simple, modern, and gorgeous wall hangings. Tapestry DIY using fabric and yarn scraps is a great way to upcycle your old clothes, sheets, or hand-me-down drapes into something beautiful you can hang in your modern home. You can make your tapestry with simple sewing skills and this easy tutorial!
14. DIY Tapestry Shirt
If you're looking for beautiful tapestries with a limited budget, this DIY TAPESTRY SHIRT is one of the best ideas to help you get it. With a little time, effort, and creativity, you can make tapestries accentuating your home decor. This video will show you how to make a tapestry from miscellaneous fabric scraps and create a stylish personalized shirt. Then, add your tapestry designs or photos for a finish that's all your own.
15. How To Make Tapestry Blanket Pants
The classic blanket pants you love to snuggle in have a fun alter-ego with a DIY tapestry twist. This easy DIY braided tapestry patchwork will help you craft all-new looks while keeping those comfy old favorites in the rotation. Learn How To Make Blanket Pants With This DIY Walkthrough Video. This is a great idea if you're looking to add an accent piece to your clothing collection or if you want to save money!
16. How To Hang A Tapestry – 3 Ways
Hanging a tapestry is easy and fun if you love to do a project at home. You can create your style by hanging a tapestry in your bedroom, hallway, or anywhere. The best way to hang a tapestry depends on what type of wall you want it to go on. Here's how to choose the best solution for your needs.
17. DIY Stenciled World Map Tapestry
If you love maps and beautiful wall art, this DIY Stenciled World Map Tapestry is the perfect project! It's so easy to make and costs very little money. Learn how to make a beautiful tapestry easily by following these steps. You can even use an old map to create a new one.
18. DIY Wall Tapestry For $10
DIY wall tapestry is your craft if you love adding texture to your living room. You can choose from a massive catalog of patterned fabrics from several design categories and styles. This means that your room can be decorated easily with a minimal investment in time and money.
19. Dip Dye Wall Hanging DIY
A brightly colored wall hanging with a bright, fun design is a great way to add color to any room. Since the dyes can be removed, you can reuse the fabric and do it again with a different design next time. This video tutorial will show you how to dip dye wall hanging DIY. The finishing look will make your room more beautiful.
20. DIY Tapestry
DIY tapestry is a great idea to decorate your interior. Moreover, using some fabrics and threads can make it yourself very easily. These tapestries are exclusive, colorful, and decorative and can be used as wall hanging, bed sheets, curtains, and many more. It would help if you had some framework to help you easily draw on cloth and sew them together.
21. DIY Woven Wall Hanging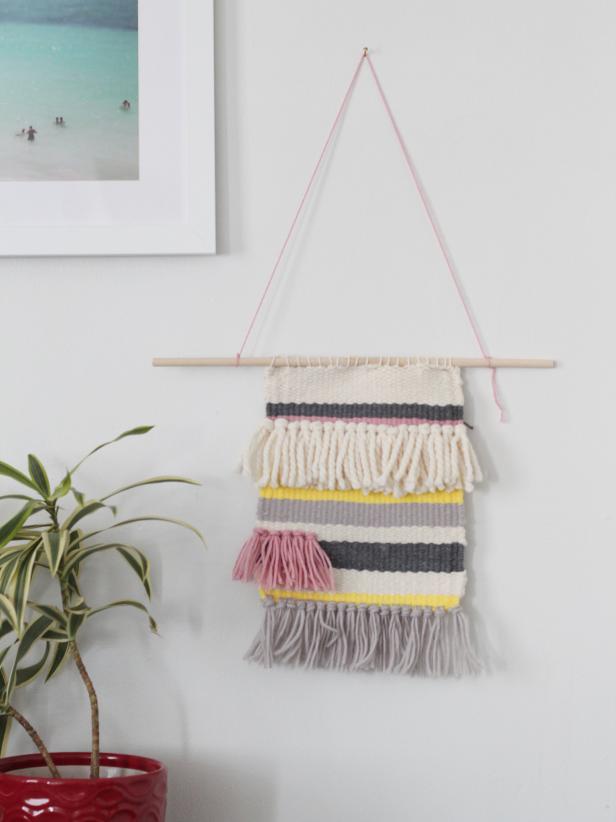 Do you want to make your home a little something special? You can DIY tapestry ideas by weaving wall hanging. Yes, It looks easy to make this. You need to know some basic things about weaving, and we will share some proven steps to do it with you. It's an easy, fun, and relaxing project that allows everyone to participate in the creation of their hand-woven wall hanging.
22. DIY Wall Hanging Tapestry
Love the look of tapestries? Rather than buying a pre-made one, why don't you make one yourself? Here's a simple DIY tutorial that shows you how to create your tapestry. Let your imagination run wild with the beauty of tapestries. You can create your DIY wall tapestry based on the theme of your house or office.