22 Easy DIY Wood Home Decor Projects to Spruce Up Your Home
Sprucing up your home can be as simple as adding a few new, carefully selected pieces. There are all sorts of ways to do this—from making a frame for a photo collage with scrap wood to building a rustic bookshelf out of old pallets. We've collected 22 fantastic ideas for projects you can make yourself in no time at all and that you can customize to your unique style, so you can get everything you want without spending a fortune.
So whether you're trying to spruce up your living room, bedroom or kitchen, here are 22 DIY wood projects that'll help you do just that!
What Tools Do You Need for Woodworking Projects?
Here are some tools that are commonly used in woodworking projects:
Saw
Drill
Hammer
Measuring tools (tape measure, ruler, combination square)
Sandpaper
Clamps
Safety gear (safety goggles, gloves, dust mask)
Workbench
Wood glue
These tools are essential for beginners to get started with woodworking projects, and as you gain experience, you can add more advanced tools to your collection.
Where to Find Affordable Wood for Your Projects?
Wood is a great material to use for DIY home decor projects. It's durable, warm and adds character to any space. But sometimes the cost of wood can be prohibitive, especially if you are just starting out in your DIY journey.
Here are some tips on where to find affordable wood for your projects:
Craigslist: Craigslist is a good resource if you know what type of wood you want, but it can be hit or miss. Make sure that the wood is from sustainable sources and ask questions about how it was sourced.
Hobby stores: Hobby stores often have a variety of different types of wood. Some may be more expensive than others so it's always best to ask how much something costs before buying it.
Paint stores: Paint stores often sell scraps from larger pieces at discounted prices which makes them perfect for small projects like picture frames or signs!
What Are Some Simple Woodworking Techniques for Beginners?
Here are some simple woodworking techniques that are perfect for beginners:
Sanding: Sanding is an important technique that helps smooth out rough edges and surfaces of wood. You can use sandpaper or a sanding block to achieve a smooth finish.
Cutting: Cutting is another basic woodworking technique. A saw or a jigsaw can be used for cutting straight or curved lines respectively.
Drilling: Drilling is used for making holes in wood. A cordless drill is a great tool for beginners.
Joinery: Joinery is a technique that involves joining two pieces of wood together. Basic joinery techniques for beginners include butt joints, miter joints, and lap joints.
Finishing: Finishing is the final step in a woodworking project. It involves applying a finish such as paint, stain, or varnish to the wood to protect it and enhance its appearance.
See Also: 15 Free DIY Coastal Wall Art Ideas: To Spruce up Every Room
1. DIY Wooden Plate Rack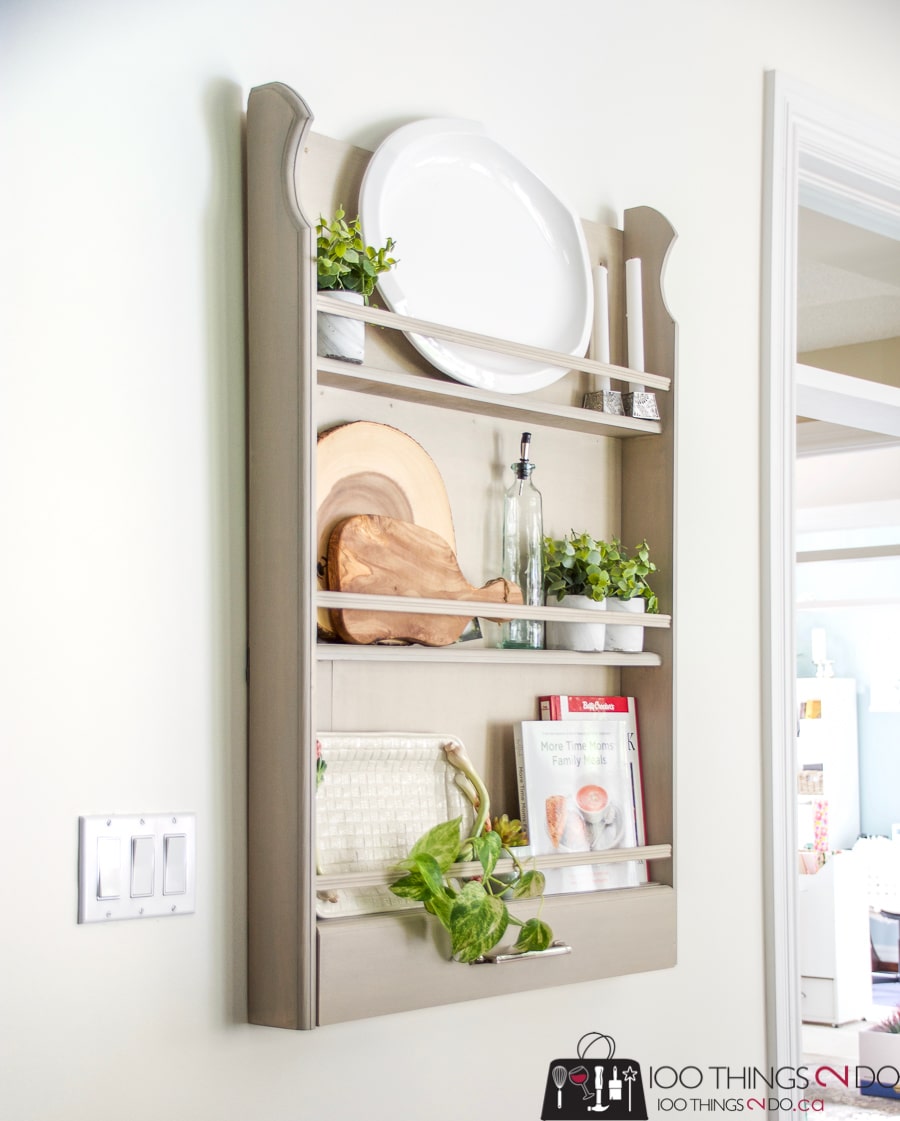 Are you looking to create some decor? Are you firm believer in DIY home decor? Then this wooden plate rack is perfect for you! You can easily create this piece yourself and make your dining room table look elegant. It is the perfect addition to any kitchen wall. Hang on your wall and store any plates, cups or glasses you need!
2.

How To Make A Wooden Vertical Succulent Garden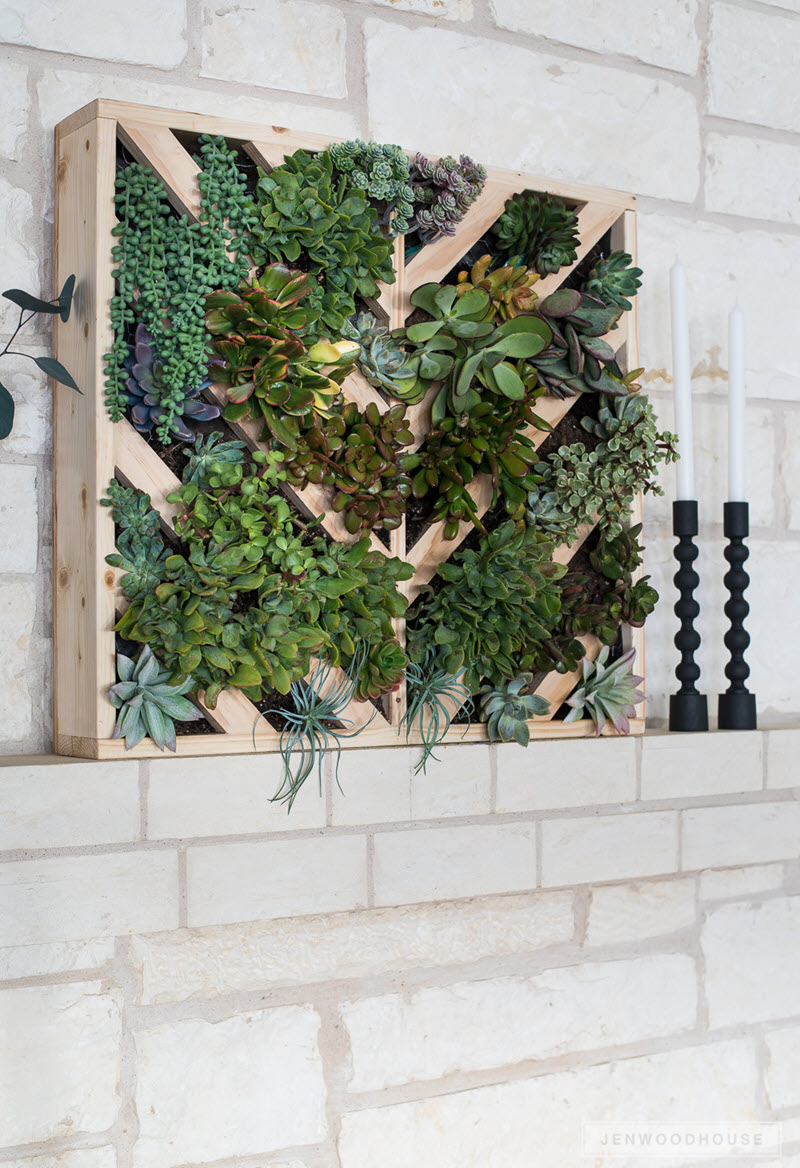 Want to create a vertical garden but don't have the space for a whole planter? Try this vertical succulent garden. It uses little space and looks beautiful in any living area. A unique DIY vertical succulent garden is the perfect solution! Once this project is done, you get a beautiful display that will look fantastic wherever you need it.
3. Submerged Color DIY Wooden Wall Art!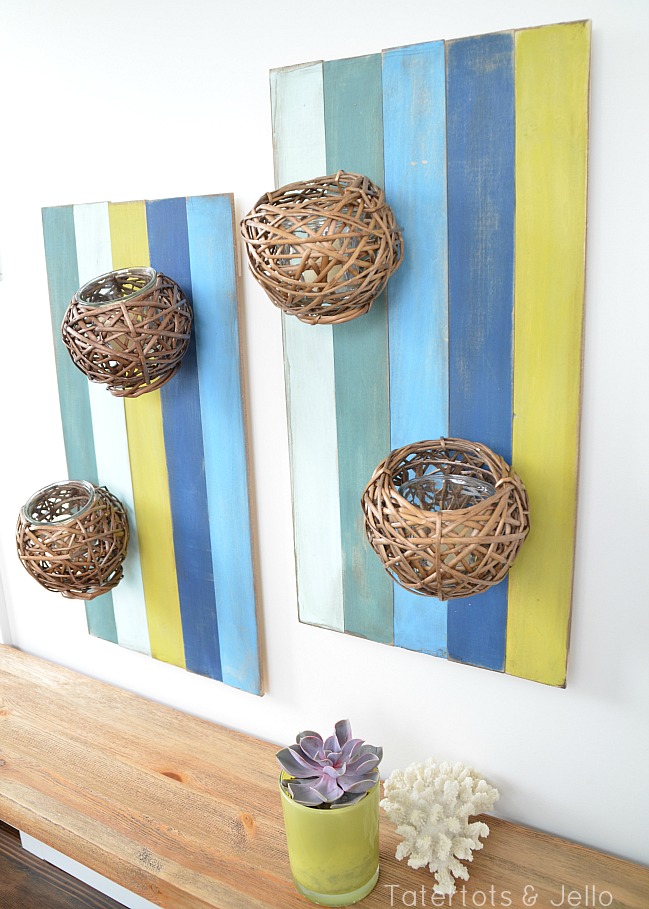 With this easy to follow step-by-step guide, you can make your very own stunning wall art. You'll create a lasting piece of art that looks professionally made and will be sure to impress your guests at parties and gatherings. This submerged color DIY wooden wall art is made using just some paint, paintbrush, and your favorite colors.
4. Nature Inspired Christmas Wooden Wreath
The DIY Nature Inspired Christmas Wooden Wreath brings the outdoors in! This rustic, wood wreath with a nature-inspired design is a great way to bring some greenery into your home. Hang it on the front door or place it inside any room to make it feel more comfortable and cozy. Hang the wooden wreath on your front door or outside the bathroom window to give you a fresh start every day while adding interest to your home decor!
5. Wooden And Epoxy Resin Inlay Serving Tray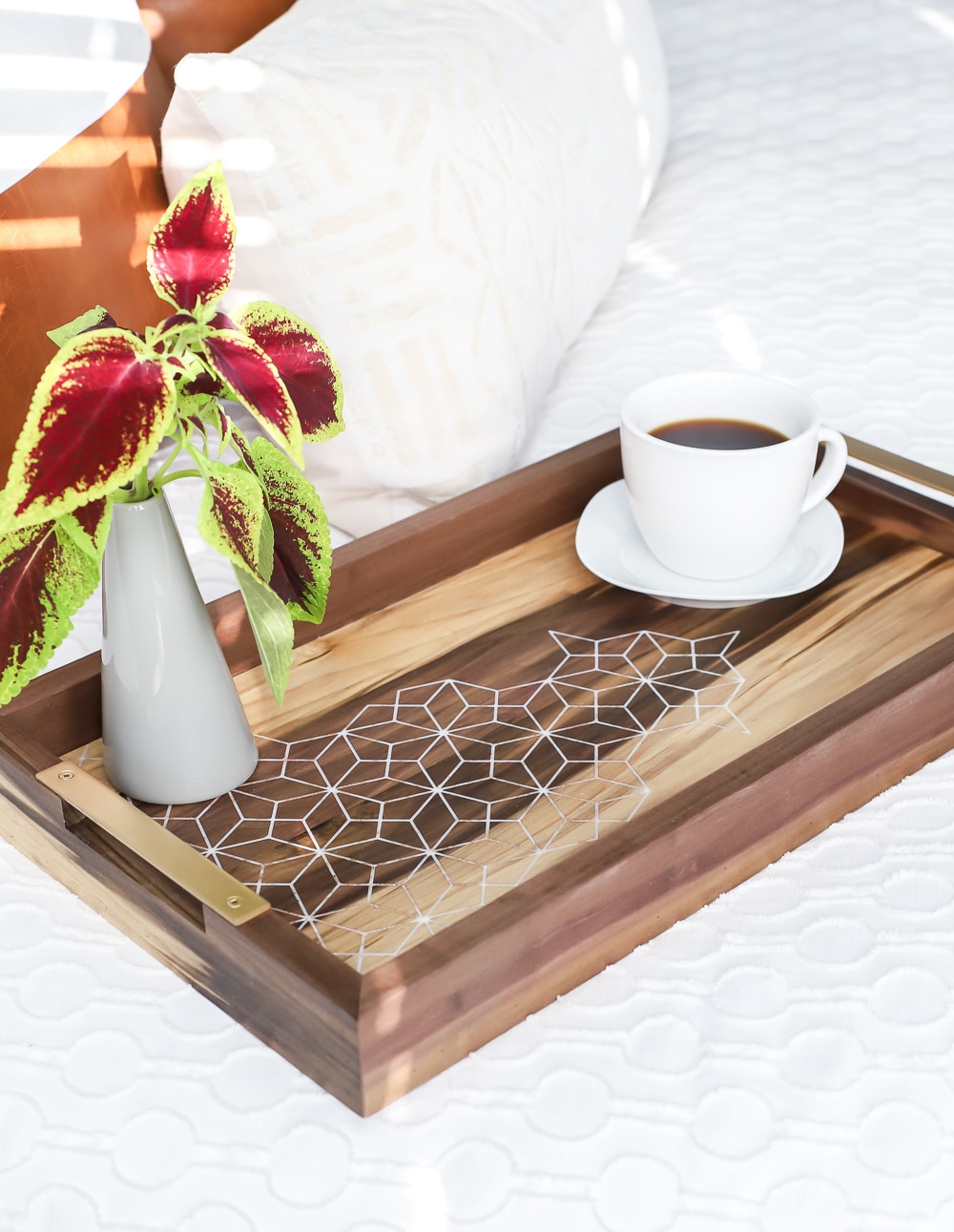 This stylish DIY wood and epoxy resin inlay serving tray will give a classy touch to any setting. It is both functional, as a great place to put food or drinks on the table, and decorative! This tray only took an hour to make, but it will last for years! The final product is gorgeous and unique, and will look great anywhere in your home.
6. DIY Rustic Chandelier
Rustic chandeliers make an unforgettable addition to any room. It add a distinct charm and warmth that is hard to achieve with other lighting fixtures. This rustic chandelier DIY project is simple, affordable and a great way to decorate the place you call home. It requires very few materials and can be completed in just a few hours by following these step-by-step instructions.
7. DIY Halloween Black Cat Wooden Cutout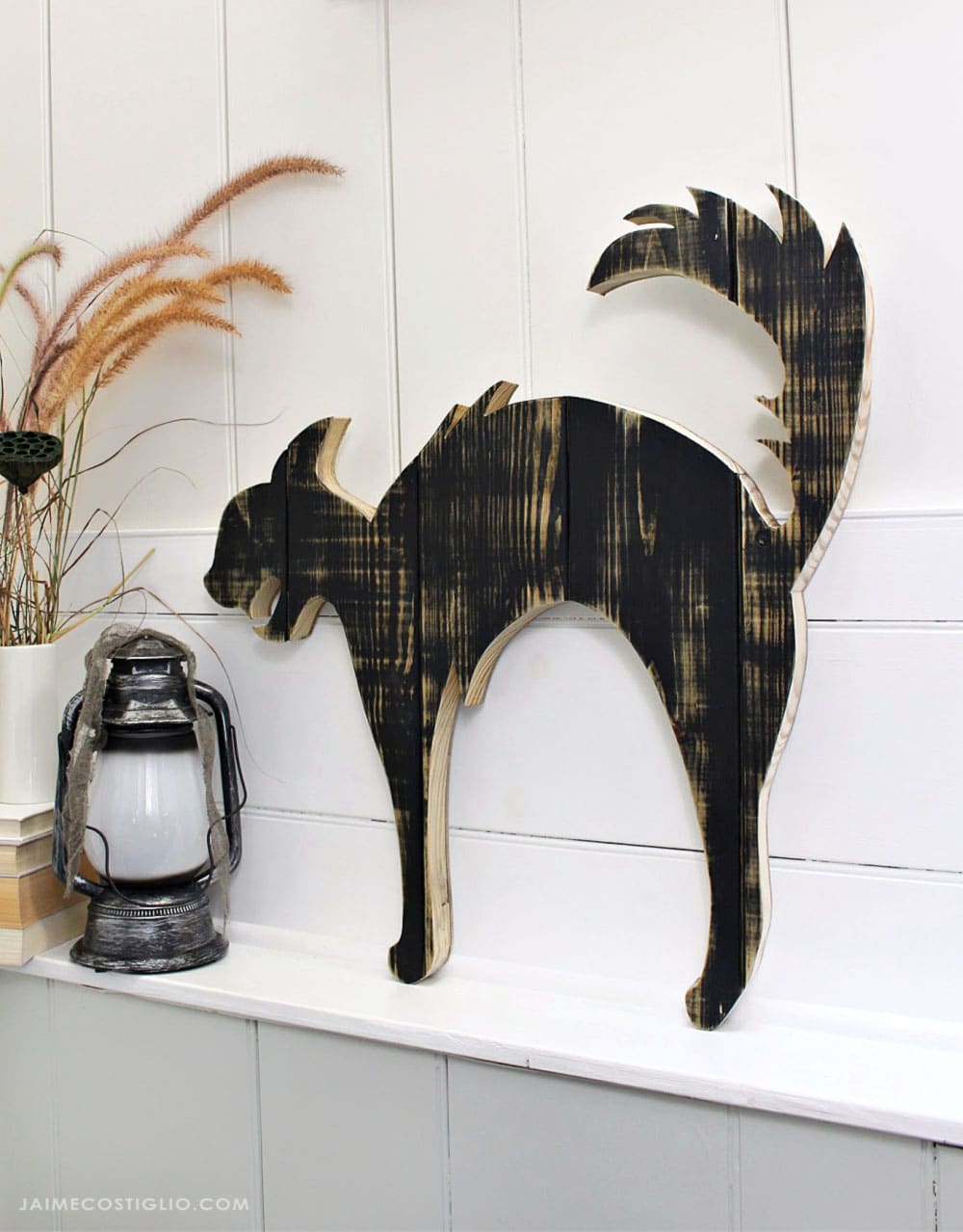 This is a super easy DIY wood project that you can do in less than 10 minutes. This would be a fun addition to any Halloween party and makes such a unique gift. Or you could use it all year long in your home to give your house the spooky look that you love so much. It's just as easy to make a wood cutout of any scary or funny character, so have fun with it!
8. DIY Branch Side Table
Add interest and function to your space with this super-easy side table project. It's perfect for a nightstand, desk or entryway and can be built from your choice of wood species. It's a great way to put something interesting on display in any room of the house. This easy-to-make table will be the perfect piece for showcasing your favorite books, vases and photos.
9. DIY Coffee Shop Sign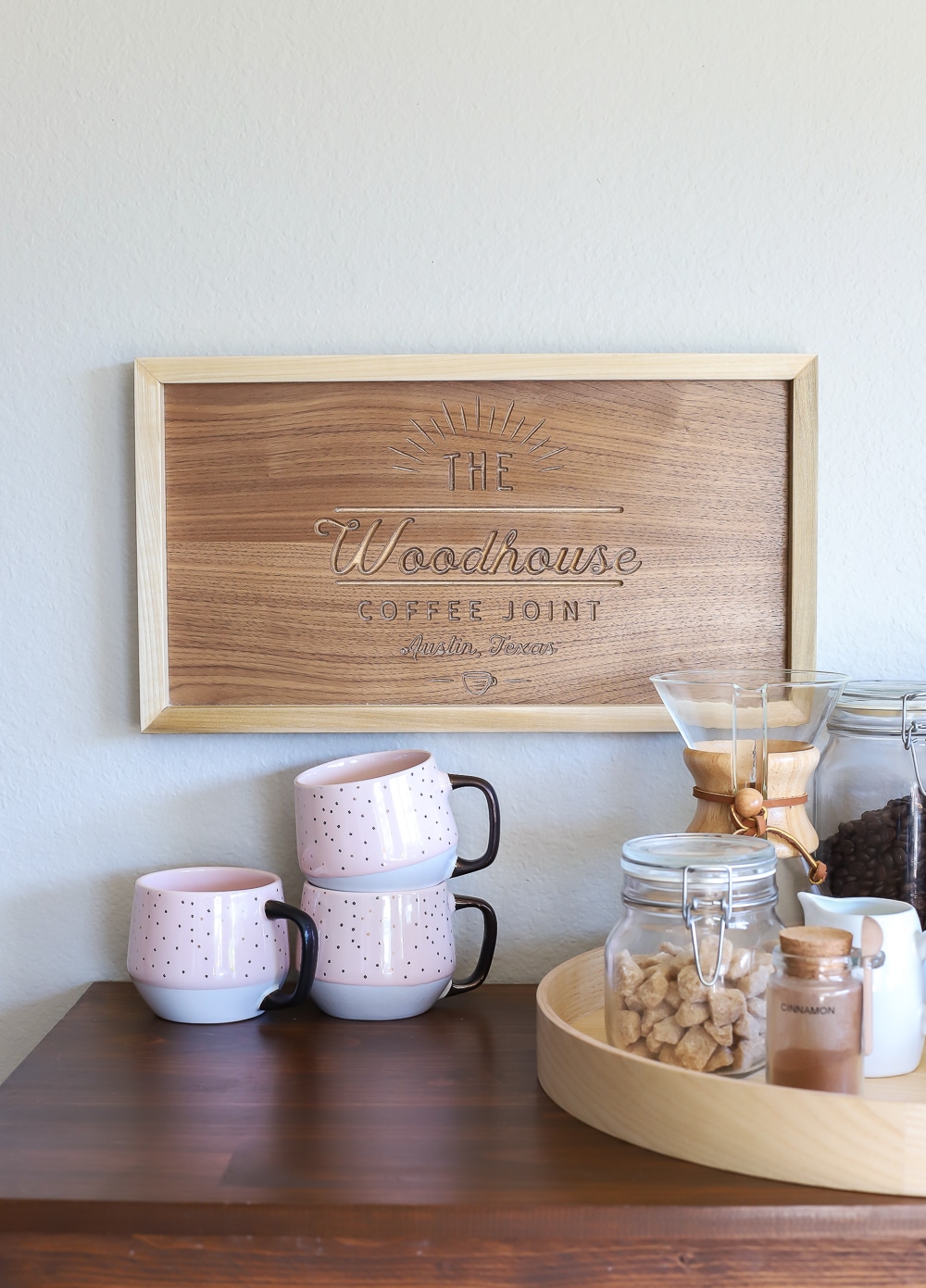 This simple DIY wood sign instantly adds character to your space. Hang it on a blank wall, or above a coffee bar table – no time for such things? Add it to your kitchen as a fun reminder of waking up and getting ready for the day ahead. This DIY coffee sign is perfect for nature lovers, art lovers and anyone who loves a warm cup of coffee!
Find a wall and add this DIY wood slice mirror to your home. A simple frame can add a striking accent, whether you're just adding a touch of personality to your living room or making over a whole wall. This DIY mirror is made with wood slices instead of traditional framing materials, and gives it an extra rustic feel.
11. DIY Decorative Wooden Bookends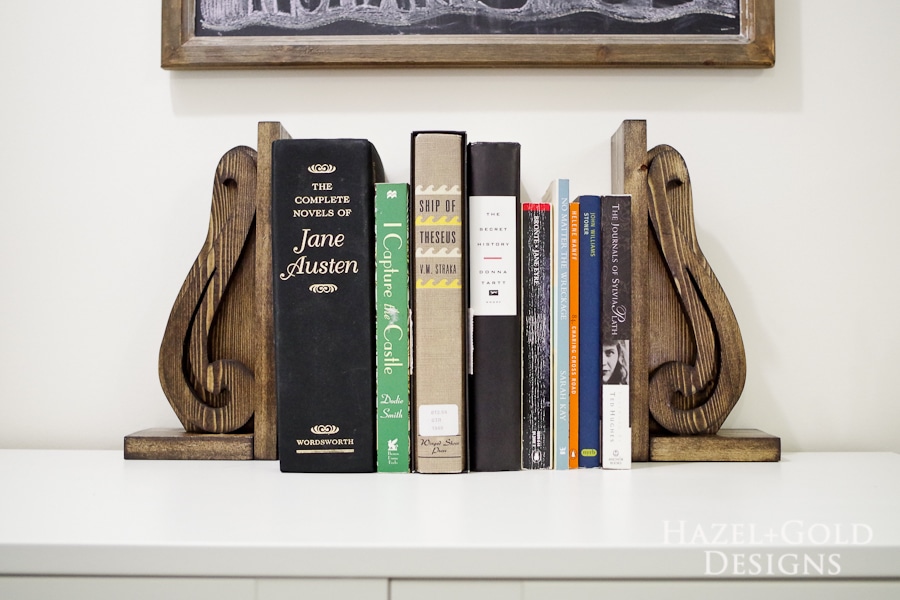 This unique and stylish set of bookends is just what you need to organize your books, store cards and more in style. Made from wood and finished with a natural stain, it has a rustic feel that would suit any personal library or office space. Create this wooden bookend in less than 30 minutes, with no tools required!
12. Handrail Made From Tree Branches
Transform your home decor with these DIY Handrail Made From Tree! If you are looking for a unique way to add some beautiful and eclectic style to your home, this is it. Create a beautiful and modern new look for your interior stairs with our DIY Wood Home Decor. Create a custom stair railing design in any shape or size you want. The ideas are endless, and it's easy to do!
13. DIY Guitar Display Case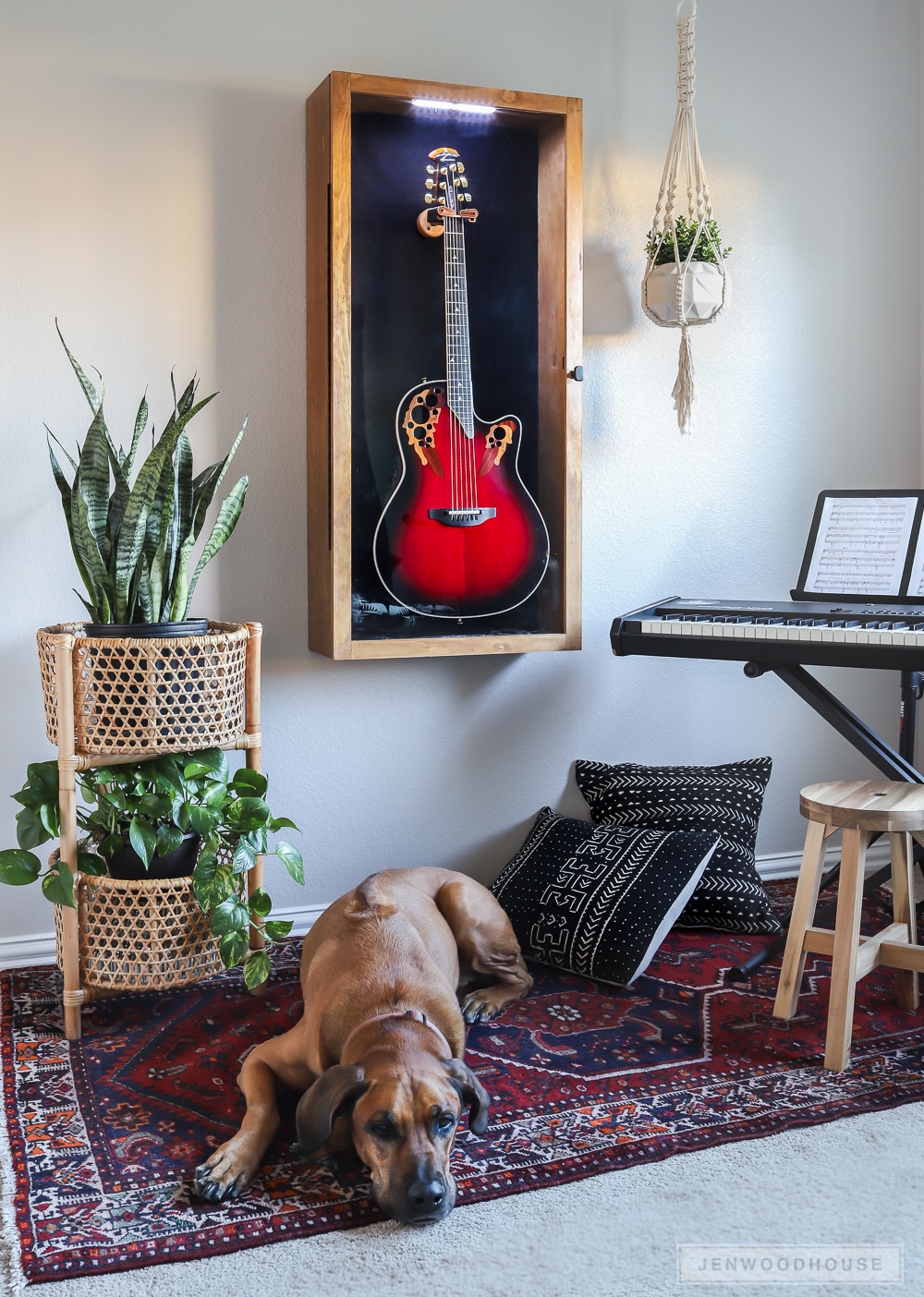 If you love guitars, you will love this DIY project that requires minimal tools and supplies. Gather up a few items from the hardware store and make your own guitar display case to show off your favorite instrument. This is a fun project for beginners and advanced woodworkers alike! The wood frame is accented with a frosted glass panel on the front, and it holds your instrument securely in place.
14. DIY Wood Frame Clock
Add some rustic style to your home decor with the DIY Wood Frame Clock. This easy to assemble kit is made of solid wood, so it's durable enough to last a lifetime. The clock face is un-framed allowing you to have freedom in hanging and displaying on walls, cabinets, doors (or even upside down). This unique design offers individual customization because you can easily change the color of the frame by adding paint or stain! Entirely up to you!
15. DIY Tree Branches Wood Frame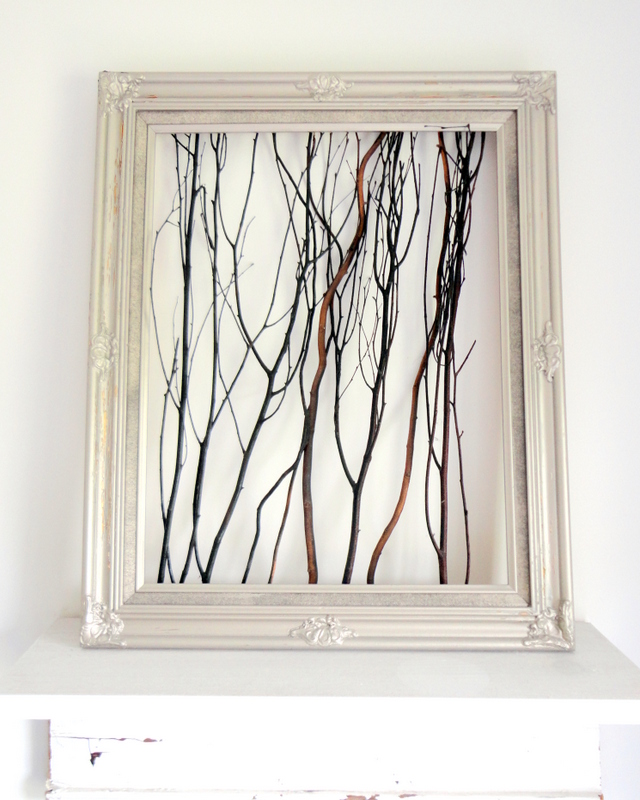 Add a touch of nature to your walls with this DIY wooden wall art. Mount a variety of branches onto this solid wooden frame to create a beautiful 3D affect that will bring nature into your home. It's easy to put together and will look great over any mantle or fireplace. Its rustic charm and natural details transform this piece into a welcoming and one-of-a-kind accent to any room.
16. DIY Wood Stars
DIY wooden stars are a beautiful and simple way to decorate your home's walls. They can be used as wall hangings, ornaments or home décor elements in any room. These DIY Wood Stars are super easy to make with just some wood, paint and a star stencil to guide you. They're perfect for the holidays, but you can use them all year round by hanging them on your front porch or in your bedroom window.
17. DIY Rustic Wooden Lanterns
These Wooden Lanterns are a DIY wood craft project that you can make in your very own home. Perfect for the country decor, rustic home decor and DIY candle holder to spruce up your backyard patio. These wood lanterns are a unique and rustic way to add light, character and warmth to your home. They are also very easy to make – following our simple step-by-step instructions below you can create your own unique wooden lanterns in just half an hour!
18. DIY Wreath with Wood Slices
This DIY wreath will add a playful touch to your front door or a charming accent to any wall in your home. Add a rustic touch to your home décor with this DIY wood wreath. The slices of wood are easy to paint or stain and the twine adds warmth and texture throughout the season. It's easy to make, and because it uses scraps of wood, it's budget-friendly too! Follow along with this tutorial to make your own unique wood slice wreath today.
19. DIY Wooden Mandala Wall Art
This wooden mandala wall art is a great way to add color and pattern to a room. Customize your own DIY project with different colors, patterns and shapes of wood. You can paint or stain your design or leave in its natural state. You will have this special piece of artwork displayed in your home in no time!
20. DIY Distressed Wooden Shelves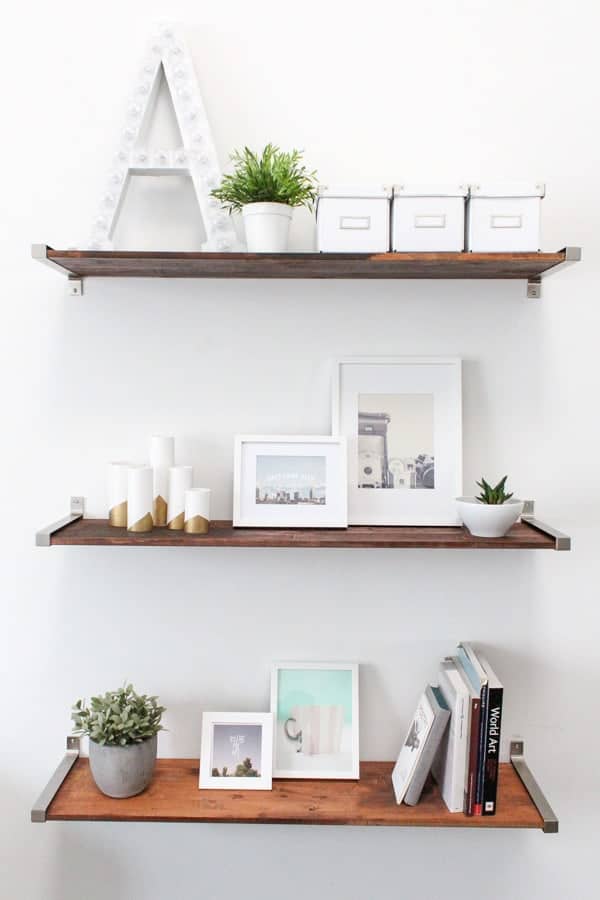 Add rustic warmth to your space with these DIY wooden shelves. This distressed shelving unit is easy to assemble and can be used as extra storage in your living room, bathroom or bedroom. These DIY wooden shelves look great with rustic furniture and add the perfect touch of charm to your home. Using store-bought brackets or even just a few nails, you can strap these shelves to any wall or fence post in your backyard.
21. DIY Wood Plant Hanger
Add some life and color to your space with this easy DIY plant hanger. This piece can be placed in any room of your house, and it's a great project for beginning DIYers. Make this easy plant hanger that's great for displaying virtually any plant and instantly add some character to your home. This is an inexpensive way to DIY a one-of-a-kind decorative plant hanger for your home, apartment or office.
22. How To Make A Wooden Bead Garland With Tassels
This beautiful, easy craft adds a chic farmhouse touch to your home decor. Create your own wooden bead garland by stamping down the beads with a clothespin. This project is great for beginner crafters and is a fun way to practice some freehand drawing! This garland will look beautiful on your mantel for Christmas or for your Fall decor. It is so easy to make too!
Conclusion
If you love wood, you will love these 22 Easy DIY Wood Home Decor Projects to Spruce Up Your Space. They are easy and inexpensive, and they can be finished in any color that suits your style. These ideas are perfect if you like warm, rustic interiors or want a cozy, welcoming look in your home. We hope you enjoyed our series of DIY wood home decor projects.