23 DIY Grill Cart Projects
DIY grill carts are the perfect outdoor potluck companion or party addition! These 23 DIY grill cart projects will surely get you grilling up a storm quickly while providing some much-needed organization. Whether you're hosting a party or grilling for the family, these grill carts make it easy to keep track of your cooking essentials without moving your grill around. They're also great for keeping everything at arm's reach when you spend time outside, so you can quickly place on your favorite sauce or fill up various eating utensils.
You can try 23 DIY grill cart projects, including a simple side table grill cart and a creative design consisting of a kegerator and a barbecue pit.
See Also: 14 Easy DIY Projects for Backyard Relaxation
1. DIY Grill Station
We love grilling, but examining all your equipment and ingredients spread around the kitchen can be challenging. This DIY grill station is a stylish and functional addition to your backyard. It will make it easier to grill food and make a great place to set your beer! It has an extra shelf and an optional integrated cutting board to prep your food while the grill preheats. The handles make it easy to move around; the wheels also allow for easy storage when not in use.
2. Patio Cooler & Grill Cart Combo
The Patio Cooler & Grill Cart Combo is the best value on our site. This cooler and grill cart can help you to be a BBQ master! It includes extra storage space with a cutting board, knife, and large spice rack. Store all your grilling items in one place, so you don't have to make trips back inside for tongs, charcoal, or more beer. This grill cart is double-duty and makes grilling fun and convenient. The grill cart has a counter height, so you can put plates on top as you cook. And it's on wheels, so you can quickly move it around your deck or patio as you work or relax.
3. How To Build An Outdoor Grill Cart
Have you got an outdoor grill? This is the perfect companion for cooking outdoors. It increases your space and makes it easier to move around your grill. The sturdy design will keep your grill in place while you go to fetch other ingredients or tend to the fire. The cart is easy to build and can be painted any color. It will easily hold 200 pounds, more than enough for a gas grill or charcoal smoker. With this fantastic grill cart, you can get the desired results and enjoy grilling outdoors! It is easy to assemble and includes sturdy legs and casters for easy mobility.
4. Easy DIY Grill Cart
With four casters, this multipurpose grill cart is the perfect way to bring your grill to the next level. Use it as a grill, prep table, or serving station for one or many. Each of the three casters features brakes that allow you to stabilize it when needed. Whether you want to prep food or grill outside, this DIY Grill Cart is an excellent cart for almost anything. Made from wood and casters; the coach is large enough to hold the Weber grill on top when fully assembled. It also features front storage for utensils or other items near your food preparation area.
5. DIY Outdoor Grill Cart
It's relatively easy to build your grill cart. Watch this video to learn how to do it and have a ready-made grill the next time you have a summer get-together. Build your grill cart with this straightforward, step-by-step tutorial. You'll need tools and materials that are easy to find, allowing you to complete the project on the weekend. This video will lead you to how to build an excellent outdoor grill cart that can use for cookouts in your backyard. This is a great project to do with the family and a fun way to spend time with friends.
6. DIY Grill Cart
Do you love to grill but dislike the smoke and odor that result from it? Then, the cart may be the right solution for you. This DIY grilling cart has a stainless steel body that matches most grills, making them look like they were meant to be together in the first place! The built-in shelves allow you to keep all your tools and accessories within arm's reach to spend more time preparing delicious meals instead of searching for them. Whether you're new to DIY projects or want a project for the weekend, the DIY Grill Cart is perfect for getting started.
7. How To Make A DIY Grill Cart
Grilling is fun, and anyone who owns a home knows it. While cooking outside is great, sometimes you need a suitable space. The accessories on this grill cart allow you to move your grilling experience to the backyard or open field where everyone can watch! Flexible shelves make it easy to store your grilling tools and food in one place, so you can focus on having fun. Make outdoor grilling enjoyable by having your outdoor grill cart. No need to come back and forth collecting empty plates and carrying the plate full of food from the kitchen.
8. How To Make A Rolling Grill Cart

Do you have a grill and need to roll it away from your house when not in use? Here's how to make a rolling cart that will make all your grilling much more efficient. This rolling grill cart can quickly bring everything you need to your grill so you can get cooking. It has an ample work surface, sturdy shelves, drawers, and a spot to store and grill tools. With this all-in-one tool cart with four caster wheels for easy movement in your house, you'll be ready for any grilling job. It is straightforward to make, and you can customize it to your needs.
9. Making A Rolling Grill Cart

A rolling grill cart is a convenient and effective way to transport food while grilling. This rolling grill cart is easy to assemble and great for grilling food out in the open. It's made from cedar wood, thick aluminum angles, and galvanized or stainless decking screws. You'll need a circular saw, cordless drill, driver, Panhead screws, and more. Building your rolling grill is easy with just a few essential tools. Once created, you can wheel your grill from place to place, allowing you to grill in multiple locations while retaining the ambiance.
10. Grill Cart DIY
A perfect space for all your grilling needs. This grill cart provides storage for cooking utensils, seasonings, and other accessories, so everything is at your fingertips when you're firing up the grill. The coach can also double as a serving table, perfect for large gatherings or catering events. You will have everything you require to make an ideal summer grill station with the help of our DIY Grill Cart! It is durable and can easily fit your grilling equipment and cooking utensils. It also doubles as a serving table, so guests can watch you cook away in style.
11. How To Build A BBQ Cart
If you love to have a barbecue evening with family and friends, build your own barbecue cart. A DIY barbecue cart will make cooking more enjoyable and avoid awkward situations where everyone has to get up to refill their plates. Use this guide to build a BBQ cart that doubles as a serving table. The basic idea is simple, using wooden boards and pieces to create the structure; glue, screws, and paint hold it all together. This is an easy project for the average DIYer who wants to make a design statement in their backyard or kitchen.
12. DIY Weber Grill Cart BBQ Station
This DIY Weber grill cart will make life in the backyard much easier. It has side tables and lots of space to store your grilling tools, spices, and sauces. This grand plan shows you how to build a solid, stable, attractive cart for your grill. The DIY Weber grill cart has been designed with form and function in mind. You no longer have to sit around the table or countertop when barbecuing with your friends. This DIY Weber grill cart lets you get comfortable and enjoy company while cooking a fantastic meal in your backyard.
13. DIY Barbecue Grill Cart
This DIY Barbecue Grill Cart is ideal for any party. It can store two propane tanks simultaneously, keeping your grill fully functional while entertaining friends and family. The cart folds, so it will be easy to transport to and from parties or your backyard. The grill cart is easy to assemble and has a side shelf, wheels, and two propane tank holders. It also features a dual-mounting design that lets you install two tanks in your grill pit. This DIY barbecue grill cart is a stylish addition to any backyard and ensures that your food will be ready for serving at just the right time.
14. DIY Weber Grill Cart Station

Grill the perfect burger on your Weber Grill with the help of this grill cart. This beautiful, portable design has a sturdy base and a spot for a Weber grill on top. This grill cart is reinforced steel to ensure durability, strength, and stability. Its compact size makes it ideal for use indoors as well as outdoors. The most fantastic thing about this grill cart is that it's mobile. It has handles that help protect it while moving. This is a perfect grill cart for your backyard. It has a sturdy base and a spot for the Weber grill on the tabletop.
15. Easy Grill Cart Build

Start your grilling season with this easy and affordable Grill Cart. It features a tabletop, three shelves, and an adjustable shelf. The shelves provide plenty of space to keep all your grilling materials and equipment. The grill cart is easy to build, simple, and robust. The most significant advantage of this product is that you can use it as a mobile furniture unit for your grill. The cart features three shelves plus a tabletop for a cutting board when preparing food!
16. How To Build A BBQ Cart
Would your grill be a little higher off the ground so you could stand while using it? How about storing a few things while you are cooking? Well, there is an easy way to build your custom cart for your grill. This barbecue cart makes serving food from a Weber grill indoors and out easy. The cart features a built-in storage box for utensils and other items. And because it's portable, you can easily take the grill anywhere. You can build a bbq cart for your Weber BBQ grill to get it out of the way and enjoy outdoor cooking.
17. BBQ Grilling Station Plans
The BBQ Grilling Station Plans will teach you how to build a mobile cart to provide additional counter space and store other equipment. This grill cart is perfect for BBQ enthusiasts and professionals alike. Nowadays, it is necessary to have a grill cart as it will help you in saving space as well as time. This grill cart includes everything you need to store your charcoal and all the grilling equipment and tools. The grill cart is like a little kitchen area where you can keep everything you need. These plans provide you with everything you need to know about what needs to be included in your grilling station and how to keep things neat and organized.
18. DIY Outdoor Grill Cart
Now you can have an outdoor barbecue area that is both practical and stylish. Upgrade to this DIY outdoor grill cart and watch your barbecue experience transform. You can turn any backyard or patio into an epic cookout location with a cedar wood frame, solid steel axles, and caster wheels. This DIY Grill Cart Plan will show you how to build your grill cart from cedar and wood screws, using caster wheels for mobility. This easy-to-assemble grill cart is the perfect outdoor solution for barbecues and parties. Made from premium quality cedar, it's assured to last a long time. Two casters are provided on the bottom of the cart so that you can move the grill around quickly.
19. Simple DIY BBQ Cart
If you're looking for a simple DIY project this summer, try this BBQ cart that's both practical and attractive! You'll be able to take your grilled meals on the road with ease. Party season is here, and you're ready to cook up some grub on the grill. This DIY barbeque cart that doubles as a serving station is all you need to start the party or make your backyard grill more functional. Make your summer grilling season even more fun with the perfect cart for all your tools and accessories. This step-by-step tutorial will make your DIY BBQ Cart in just a few hours. It's a great way to add space, organization, and style to backyard festivities.
20. How To Make A Grill Station
Do you have a deck or porch just begging for a grill station? If so, this one is for you. It's sturdy enough to withstand the elements outside but can be dismantled and stored at any time. Building this DIY project takes a little power, a half-hand saw, and a combination square. A drill is also helpful but necessary if you have one. The power drill will accommodate the screws and bolts needed for assembly, while the saw and square help cut the materials. Once you have these tools, this project is easy enough for beginners to build. This project is excellent for someone who wants to have their kitchen backyard grill area organized and clutter-free!
21. How To Build A DIY Grilling Cart
Grilling is always fun, and it can be a great conversation starter. But experience has shown that you will mostly spend your time on preparation and clean-up, leaving you little time for rest. That's why this DIY Grill Cart is a must-have. Its many features, like a grilling tabletop and a cooler space to keep drinks cool, will give you more time to chat with friends and offer a great BBQ experience. This multipurpose grill cart is perfect for your backyard barbecue. Once you understand its concept, assembling will be easy, and you'll grill quickly!
creatingreallyawesomefunthings
22. Rolling Cart DIY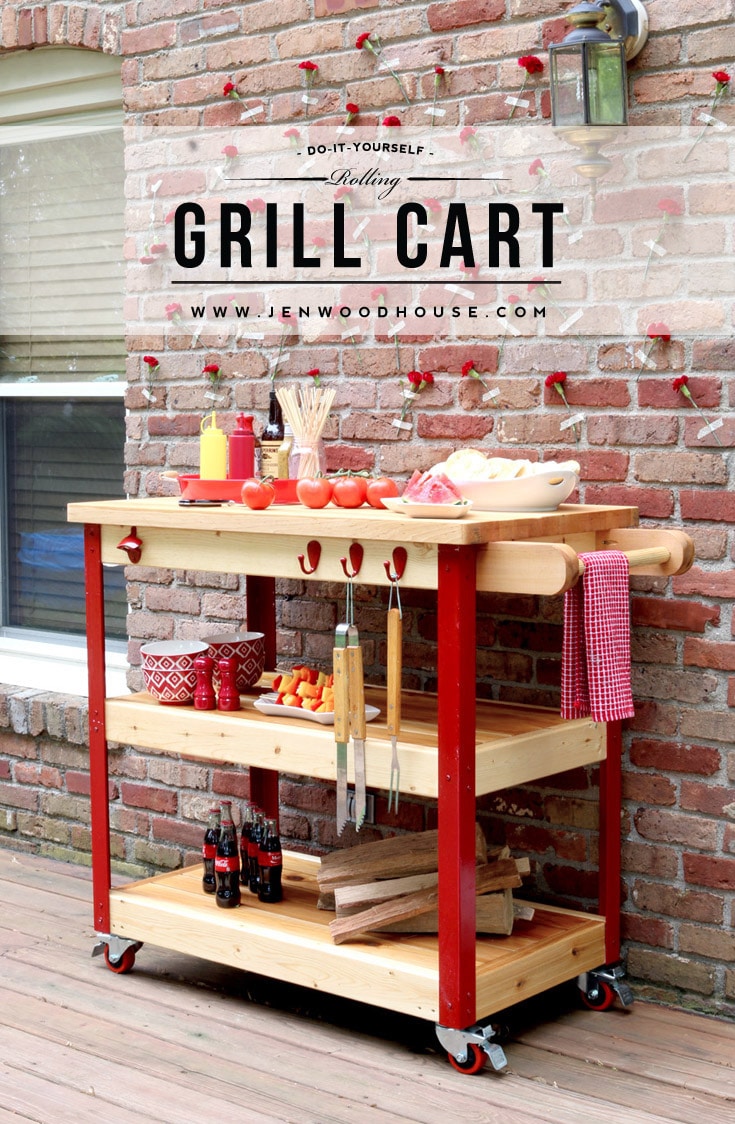 A small grill cart is perfect for cooking and saving room on your patio or deck. This grill cart is an update to our original design. This DIY cart is easy to assemble, with six parts and two frames. Just mount your tabletop, caster wheels, metal bars, and rack frames with the included hardware – then finish it off with a wooden handle. Use any grill, roasting basket, or drip pan for added storage space inside the carts. For extra storage, hang a towel on one of the small metal hangers attached to the front of the cart.
23. Grill Cart With Concrete Top
Grilling the perfect steak doesn't require a lot of space, just a stone-faced countertop. This DIY grill cart with a concrete tabletop will help you achieve the perfect char every time. This tutorial will show you how to build a wooden cart with a concrete tabletop. These instructions were tested and made use of scrap lumber. The legs use 4×4 boards, while the rest of the cart is created with 2×6 panels. This DIY building project is an excellent way to repurpose and make old grills durable. The concrete tabletop looks excellent, and a few pieces of wood seal up the gaps between each plank to keep you from making hot dogs on the side of your grill.