23 Easy DIY Homemade Bookshelf Ideas
If you love books and have many of them, you know how hard it is to find a good storage solution. No matter how many nice bookcases come out, most people still prefer something homemade and unique. For those who want to make a statement in their homes, we've gathered 23 Easy DIY Homemade Bookshelf Ideas that are easy to do and look great! You don't have to spend hundreds of dollars on a bookcase. With creativity and DIY skills, you can decorate your home with these no-frills storage units that look like they came from an expensive store.
Here are 23 free and easy-to-do DIY homemade bookshelf ideas. They look simple, elegant, and modern at the same time. Why not give them a try?
Tips For DIY Bookshelf:
Choose the right materials for your bookshelf.

 Consider the weight of your books, the style you want, and the durability you need.

Make sure you measure everything correctly. 

A small mistake can throw off the entire project.

Plan out the design of your bookshelf ahead of time. 

This will help you avoid mistakes and ensure you have a product you love.

Use the right tools for the job.

Don't try to cut corners with defective equipment.

Sand and finish your bookshelf properly.

 This will help protect it from wear and tear and give it a more professional look.

Take the time to anchor your bookshelf to the wall properly.

 This will ensure it stays upright and safe.

Consider adding lighting to your bookshelf.

 This can highlight your books and create a cozy atmosphere.

Don't be afraid to get creative with the design.

 Try different colors, patterns, and textures to make your bookshelf unique.

Use recycled materials whenever possible. 

This is a great way to save money and be eco-friendly.

Always prioritize safety.

 Follow safety protocols and procedures, and never take unnecessary risks. Remember that safety should always come first; taking shortcuts or risks can lead to serious injury or harm. Stay vigilant and proactive in maintaining a safe environment for yourself and those around you.
See also: 10 DIY Desk Shelf Ideas To Maximize Desk Space
1. Industrial Pipe Shelves

Industrial pipe shelves are an inexpensive, easy way to organize your home! Create this industrial pipe shelf yourself in just minutes. The best part is that no special tools are needed to create these expertly crafted DIY Industrial Pipe Shelves. See how easy it is to combine these space-saving designs that can be personalized and customized to your needs!
2. DIY Free Standing Bookshelf

Customize and personalize your home bookshelf by building this unique DIY design. With basic woodworking tools, you can make this bookshelf that fits perfectly in any homeroom. You will need a few plumbing pipes and wood squares to create this perfect bookshelf. Even if you are new to carpentry, this project is simple enough to build without prior experience.
3. DIY Wood and Brick Stackable Shelf

This DIY wood and brick shelf is a simple and modern DIY project that will add style to your living room. It's easy to build, takes one day or less, and can be created with basic tools. You don't need professional skills or carpentry knowledge – just common sense, patience, and some reading skills!
4. How to Build an Ironbound Bookcase:
An ironbound bookshelf is a stylish way to add interest and storage to your living, family, or bedroom. This fun weekend project is easy to build and brings elegance and eye appeal to any room you put it in. It's easy to build with minimal tools and materials and can be customized however you like.
5. DIY Midcentury Modern Bookshelf:
This DIY Midcentury Modern Bookshelf is a simple project that gives you a modern accent to any room. It's quite sturdy and will last you for years and years, but also easy to build if you have some basic carpentry skills. Both the plan and materials are very affordable, so for little time investment, you get a great-looking piece of furniture that will elevate your living space.
6. DIY Mounted Book Shelving:
Transform your home with a stunning homemade bookcase that you can build yourself! Follow these simple step-by-step instructions to make this book shelving unit with ease. This shelving unit is the perfect addition to any home with a small wall space and lots of books, or even for displaying framed artwork. It's easy to assemble.
7. How to Build Tree Bookshelf:
This DIY tree bookshelf is made from big plywood or MDF board and a few wooden shipping crates. Building this project takes an afternoon (maybe half a day)! It's a great way to add character and fun to your living room, bedroom, or dining area. A quick tree bookshelf tutorial with step-by-step instructions; no building experience is required!
8. DIY Leather Belt Wall Shelves
Hanging your belts isn't just for style; it can double as a wall shelf. Keep your books tidy with this clever idea that uses leather belts, screws, and small metal ledges. This DIY leather belt bookshelf is perfect for displaying your favorite books, cards, or even your most treasured pictures. Follow the instructions to create this unique and personalized wall art for your home.
knockoffdecor.com/leather-belt-wall-shelves
9. DIY Ombre Book Shelf Using Pegboard:
Blending with your style, this DIY Ombre Bookshelf made from pegboard is a wonderful way to own a unique shelf that reflects your interests. There are so many ways you can add personal touches and make it your own; white paint for the edges, or even for that extra touch, add mosaic tiles to create an ombre effect on the pegboard!
10. DIY Book Shelf That Spells "HOME"

Your home is your sanctuary. And if you are feeling down and out, a DIY shelf project like this one will make you feel like a million bucks again. With just a few supplies and patience, you can create a creative DIY distressed bookshelf that spells "HOME" with your personality on it!
11. DIY Build Bookshelf: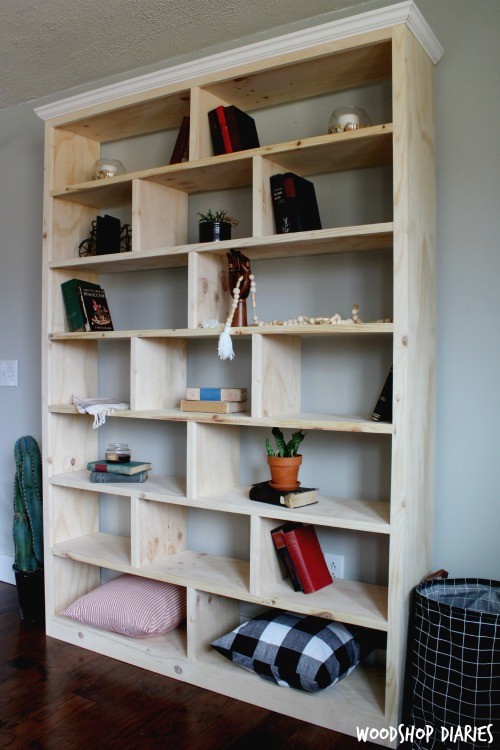 If you want your bookshelf to look like it came from a design store, installing a decorative molding detail is a good way to do that. The molding adds depth and dimension while highlighting the shelves. If you have experience with woodworking, you already have the tools necessary to make this project happen. This tutorial will show three techniques for creating an eye-catching bookshelf to add personality to your home.
12. How-to-Build Crate Shelves

DIY bookshelves are a great way to store your favorite books. They are also useful for organizing your home, garage, or office. In this tutorial, you can see how to make a simple crate bookshelf. The crates' measurements may differ, but this method works for all sizes. These crate shelves are a great DIY project for any room in the house.
creatingreallyawesomefunthings.com
13. DIY Repurposed Metal Basket Bookshelves
Here is a simple DIY project you can make yourself with a few repurposed metal baskets, which lets you add more storage space to the home library. It's pretty easy to build, and you can customize it. So if you love reading books and want attractive storage, this metal basket bookshelf would be your solution!
14. DIY Mandala Bookshelf: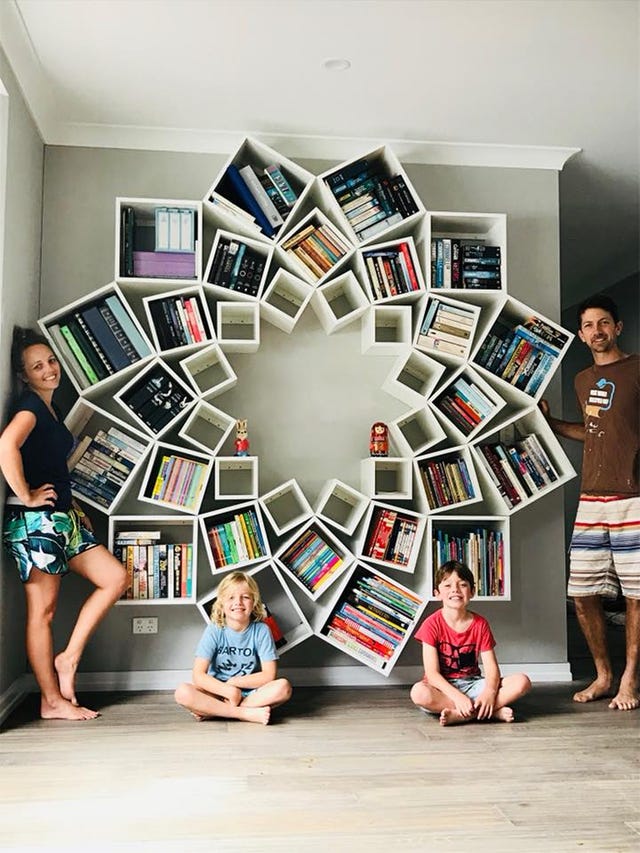 For those who love to create their art pieces and enjoy reading, this DIY Mandala Bookshelf is the perfect project for you. This attractive bookcase will fit into your décor in your bedroom or living room, adding charm, color, and uniqueness to your home.
15. DIY Bookcase with Angled Shelves:

Simple and stylish DIY bookcase with angled shelves, complete with step-by-step instructions. Build a unique bookshelf with a modern appeal by combining panels of different sizes and shapes to form a distinctive design. All you need is a few tools and some wood for the shelves. Use pegboard as a backing board for the bookcase to make it more sturdy. This project will work well for books, photos, displays, and collectibles.
16. How to Make a Hexagon Bookshelf:

As you probably know, hexagon bookshelves are hard to find, and even when you find one, it will cost you a pretty penny. So we decided to do something about it and came up with this DIY bookshelf idea you can make yourself in no time! It looks just as chic as similar shelves, especially if your home has a bold and boho look.
17. DIY Scrap Wood House Bookshelf:

Do you want to make your home interior more beautiful and furnish? Here is the DIY project of a scrap wood house bookshelf, which will help you build a beautiful and useful bookshelf that can be used as a decorative thing. This scarp wood house bookshelf is easy to assemble, inexpensive, and looks great. You can use the same techniques to build an office bookshelf or even spread it in different shapes and sizes throughout your home.
18. DIY Crates and Reclaimed Pallet Bookshelf: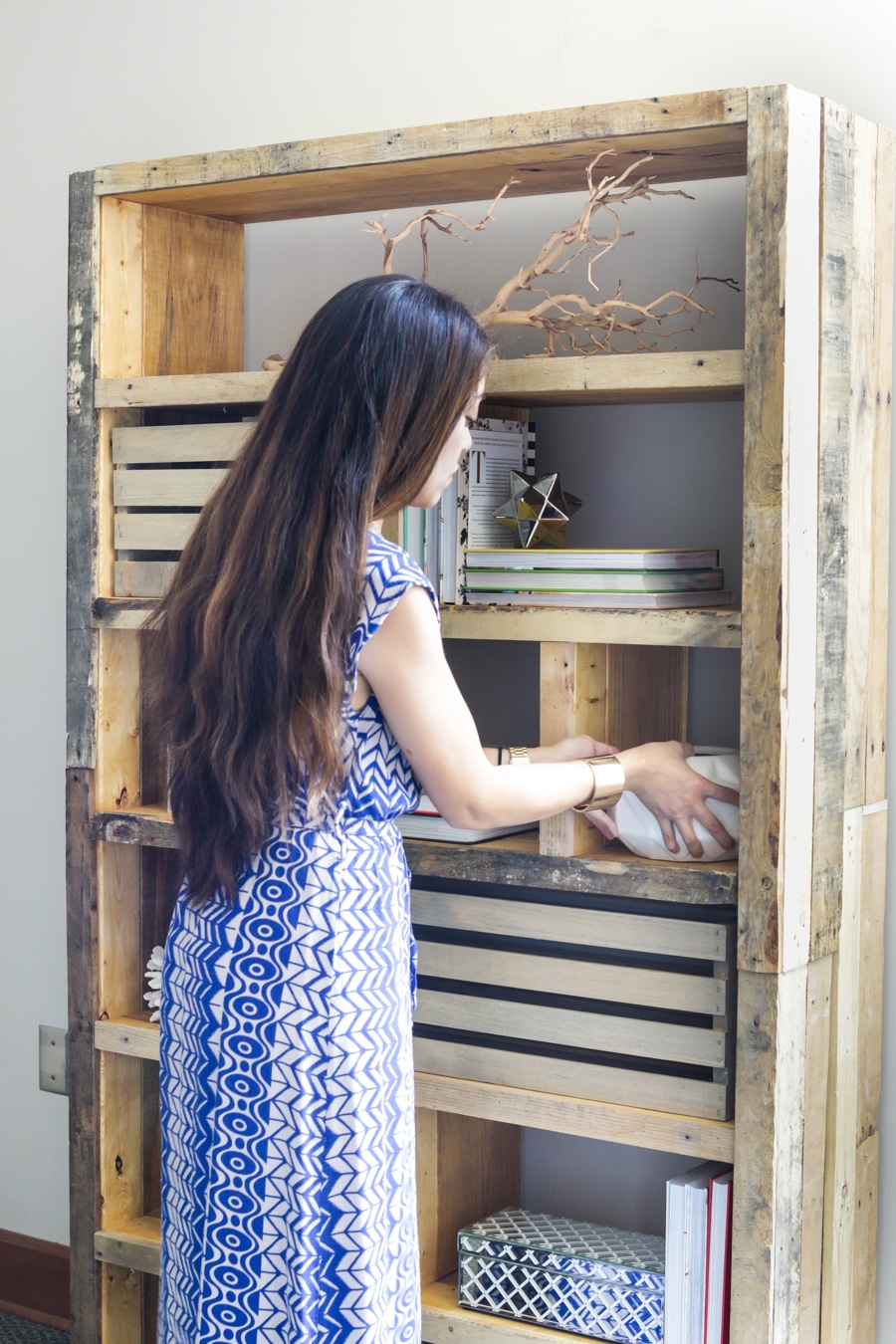 Are you looking for a creative way to add storage space to your room? Building and decorating DIY pallet shelves is an interesting and simple project that will make any room pop with character and personality. You only need power tools, wooden crates, and reclaimed pallets. Follow this easy tutorial to build your own DIY Crate & Pallet Shelf! It's so rustic and clean that it's perfect for your home or office.
19. DIY Inverted Bookshelf:

Are you looking for a modern-looking bookshelf that only requires a little work? Well, this DIY idea is perfect for you! This inverted bookshelf design looks cool and can be built in just a few steps using only basic tools and supplies. Built around an existing wall, this idea gives you a custom shelf without taking up any floor space!
20. DIY Corner Bookshelf:

Would you like to upgrade your room by adding a cool corner shelf? Building a shelf is an easy task that anyone can complete. You'll need a few basic tools and about an hour or two of your time. This simple DIY bookshelf can be made in any shape and size to fit almost any corner.
21. DIY Tree Bookshelf:

Implementing the idea of creating something to store books in your living room or bedroom, we present you with a simple and effective DIY project that any individual can make. Make your tree bookshelf with this step-by-step guide! With an old desk, some wood, and a few tools you likely already have around the house, you can create your rustic bookshelf to add a cozy, country feel to any room.
22. DIY Skateboard Book Shelf

Having bookshelves in the home is an easy way to personalize your space, display treasured items, and add style to your surroundings. When you have a lot of books, you may need more than regular shelves, so it's time to make a unique one. If you already have a skateboard, then this will be a good idea for you to make an easy DIY bookshelf. It works great because it is functional and can excite your room's decor.
23. DIY Tree Trunk Book Shelf

Tree trunks are nature's way of making bookshelves look stunning. And this DIY tree trunk bookcase is the perfect example of that. You don't have to go out and spend hundreds on a new bookshelf. It only requires a few materials, and with just a few simple tools, you will have this beautiful piece in your home in no time!