24 Creative DIY Mason Jar Halloween Crafts
Mason jars are great for storing food or drinks but are also perfect for displaying little bits of spooky Halloween decor. The most common way to use mason jars for Halloween is to fill them with treats and line them up along your front steps, but it's easy to get more creative than that. Mason jars can be used to make many kinds of crafts—they can be stacked and hung from the ceiling, filled with vegetables and fake spider webs, or turned into a lighted jack-o-lantern with a single candle inside if you want to incorporate mason jars into your Halloween decoration but aren't sure how to, check out below for ideas on how to do just that.
Prepare for the spooky season with 24 Creative DIY Mason Jar Halloween Crafts! From creepy lanterns to candy jars, these crafts will be the talk of the town.
Benefits of DIY Jar Crafts
You don't have to be a DIY expert to enjoy the benefits of making your own Halloween decorations.
DIY Mason Jar Halloween Crafts are a fun way to get creative and give your home a spooky flair. Here are some of the benefits of making your own Halloween decorations:
You can customize them however you like, so they'll look exactly how you want them.
You can make them as simple or complex as you want; there's no limit on how much time and effort you can put into them!
No matter what kind of project you're making, it's guaranteed to be fun!
See Also: 18 DIY Trash Can Ideas
1. Ghostly Red Eye Soap Dispenser Mason Jar

Like a bit of mischief in your home? This red, mummified hand soap dispenser is so easy to make you feel comfortable putting it out on Halloween night. No matter what time of year it is, the look of surprise and delight on people's faces will make all that hard work worth the effort.
2. Black Lace Chic Candle Holder

Providing you with endless decorating options, this DIY Mason Jar Halloween Craft. A perfect way to make your space feel spooky yet sophisticated. Get creative with this easy DIY project and make your blooming chic candle holder. You may be surprised at how easy it is to transform a plain jar into a chic decor piece that can use all year round. 
3. Unique Ghost Trap Halloween Mason Jar

Looking for a unique and easy Halloween decoration? This mason jar ghost trap is easy to make, fun to set up, and looks great in your home. Few things are cuter than little ghosts trapped inside a glass jar – especially if they're made from colorful supplies you already have!
4. Perfect Mason Jar for Toxic Treats

This mason jar craft is perfect for those planning to throw a party and spook their guests. While constructing the jars, pick out the dark colors you want. Because when it's done, you will want to fill it with something!
5. Halloween Horror Glow-in-the-Dark Jar

Nothing screams Halloween like our DIY Halloween Horror Glow-in-the-Dark Jar! If you're looking for a creative way to impress your friends and family with a fun, spooky Halloween decoration that looks super cool, then this DIY Halloween Horror Glow-in-the-Dark Jar is for you. This craft is perfect for kids and adults and will add some life to your home this coming October.
6. Mummy Wrapped Mason Jar Candle Holders

This adorable mummy jar is perfect for holding a homemade candle or as a gift. The jars are wrapped with some linen and gauze wrap, and the "ribs" on the jar are made from cheesecloth. This DIY mason jar is a fun and easy Halloween project that can do with the whole family. Add a spooky candle in the middle to create an eerie effect on your table!
These mason jar candles are the perfect addition to your Halloween table decor. They'll look great on the mantle or hanging from a tree, and you can customize the labels for each party guest. If you're hosting a big party, consider making several.
8. Frightening Frankenstein DIY Mason Jar Drink Cups
9. DIY Flying Bat Mason Jar Halloween Scene
10. Halloween Mason Jar Desk Utensil Holder
11. Crafty Halloween Light Up Pumpkin Mason Jar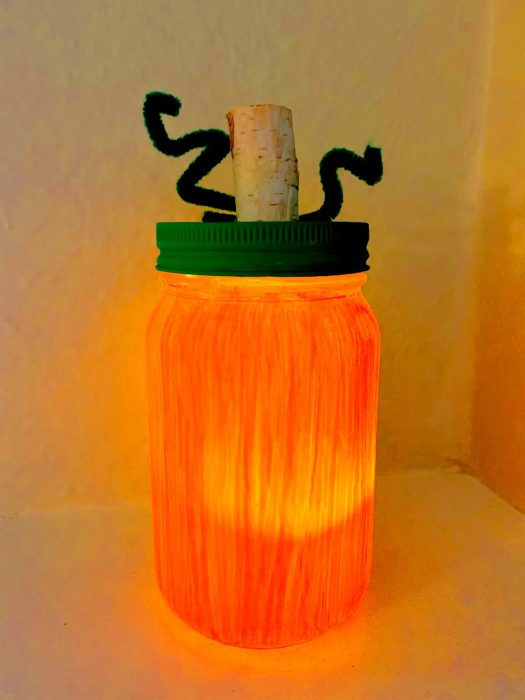 12. Pure White Mason Jar Ghost Lantern
13. Pumpkin Themed Sweet Candy Delight Mason Jar
14. Paper Mache Light Up Halloween Mason Jar
15. Halloween Mason Jars Knitted Décor
16. Head in a Jar Eerie Mason Jar
 Halloween can be a fun family holiday, but you may not want to tell the kids about this one! This workshop teaches you how to make your head in a jar eerie Mason Jar. If you're looking for DIY Halloween decor to make your house look like it came from the Upside Down, this is it.
These mason jar mummies are a fun and easy Halloween craft that would make incredible party decorations, classroom crafts, or gifts. The first thing you will need to do is find the right-sized mason jar for your guests. The lid needs to be bigger than the opening of your jar but smaller than the Mason Jar body. You want it big enough to fit on but small enough so your guest can grab hold of it and move around easily.
18. Illuminated Halloween Pumpkin Mason Jar
19. Eyes Everywhere Halloween Party Table Decor
20. Mason Jar Halloween Card and Trinket Holder
21. Bootiful Painted Ghost Mason Jar Decor
Are you looking for the best Halloween decor idea? If so, this DIY Ghost Mason Jar Decor will help you. This easy and simple project can be done using inexpensive materials like Mason jars, paint, and pliers. You can add any other ingredient to make it more awe-inspiring and beautiful.
This easy DIY chalkboard mini mason jar one-eyed monster craft is perfect for kids of all ages. This simple Halloween project will be a festive decoration in any room and delight trick-or-treaters! This fun fall craft is easy and perfect for boys and girls. Make these One-Eyed Monsters and celebrate the season with a project to add spooky fun to your home.
23. Spider-Topped Halloween Candy Mason Jar
This craft can go on a mason jar filled with candy! It is fun to use and easy to make! Have fun making them in different colors to match your favorite personality. Consider making these jar crafts when carving out a little Halloween decorating time. You can customize them with your favorite design and use over-the-hill candy or decorations from last year (or any prior Halloween) instead of new ones.
24. Mason Jar Vases with Halloween Spirit
These easy DIY mason jar vases bring a spooky spirit to your home. They're perfect for parties and get-togethers, or keep them around as beautiful decorations year-round! Decorate them with these easy DIY Mason Jar Halloween Crafts Ideas to add a festive touch to your home decor.