24 Easy DIY Picnic Table Plans
Picnic tables are a great addition to any backyard. They're an excellent place to gather with family and friends and enjoy food, drinks, and fun. Picnic tables are also great space savers that make your outdoor area more functional. The best part about picnic tables is that they're relatively simple projects you can build without much experience. Plus, the materials used in most picnic table plans are inexpensive and easy to find at your local hardware store or lumberyard.
So whether you're looking for a simple project to build with your kids or a large table for your family get-togethers, we've got you covered with these 24 Easy DIY Picnic Table Plans to help you make your own. Have you ever needed a picnic table but could not afford anything from the store? Do not worry anymore because here are 24 Easy DIY Picnic Table Plans you can make inexpensively.
From classic designs to more modern styles, these 24 Easy DIY Picnic Table Plans are perfect and offer step-by-step instructions to make your task successful.
Benefits of Easy DIY Picnic tables Plans:
Cost-effective:

 Building your picnic table can save money compared to buying a pre-made one.

Customization:

 You can tailor the design and dimensions to fit your needs and tastes.

Personal satisfaction:

 The sense of accomplishment from building your picnic table can be rewarding.

Durability:

 A well-built picnic table can withstand outdoor elements for many years.

Eco-friendly:

 Reusing and repurposing materials for your picnic table can be an environmentally conscious decision.

Flexibility:

 You can build a picnic table that is portable, foldable, or even convertible into other outdoor furniture.

Family bonding:

Building a picnic table with family or friends can be fun and memorable.
See Also: 10 DIY Desk Shelf Ideas To Maximize Desk Space
1. How To Build A Picnic Table
If you're looking to build a picnic table of your own, add seating to your patio or backyard, or want to increase the amount of space in your garden without spending much money, then these simple DIY picnic table plans are what you need! The tutor will show you how to build a picnic table in this step-by-step video tutorial, along with numerous tips and tricks for making the perfect picnic table.
2. DIY Picnic Table
Everyone loves a good picnic, so bring the family together with these fantastic DIY picnic table plans. This project is ideal for beginner and advanced woodworkers alike. It's fun to build, and the finished product is worth it! So watch this video and learn how to make a picnic table that will be stored in your home, yard, or garden!
3. DIY Hexagonal Picnic Table

Woodworkers will love this video because they can watch the construction process and learn how to build their picnic tables. Watch this video to learn how to make a simple DIY hexagonal picnic table. The plan is challenging, but by following them step by step, you'll find it's not too difficult to build. This can be made using standard tools and materials, so creating your outdoor seating area is inexpensive.
4. DIY Picnic Table Plan
If you love to go on picnics and cookouts, here is a great project to plan your picnic table. This will help you save money when eating outdoors and provide a place for your family and friends to enjoy an afternoon together. Follow these straightforward instructions to build this picnic table plan in just a weekend!
5. DIY Picnic Table Plans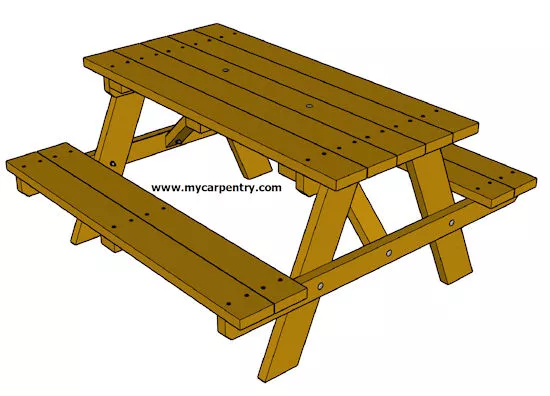 This guide will provide step-by-step plans to build your DIY picnic table. This rustic picnic table can be created just like any other, but it has a unique feature that makes it perfect outdoors or indoors. This picnic table plan is easy to follow, even as a newbie! The instructions are simple and easy to understand. In no time, you'll be enjoying your newly built table!
6. DIY 8-Foot Picnic Table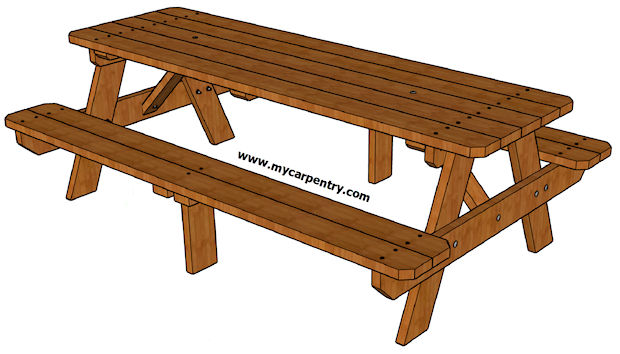 This excellent DIY picnic table plan shows you how to build a very friendly and sturdy 8-foot picnic table. Its classic design will fit in any patio or backyard area. Made from construction lumber and galvanized fence boards, it's strong enough to seat six people. The materials used for this project are inexpensive, but the result is an exceptional quality picnic table that any family would be proud to own!
Picnic tables are a great area to gather, play games and eat. They also provide lovely shade when you want to sit outside. This DIY picnic table plan is for an easy build that allows you to customize it however you like. This video will show you how to build a wooden picnic table. This picnic table will be solid and long-lasting.
8. Easy Picnic Table Build
A picnic table is an excellent addition to the backyard or the deck area. It provides a place for the family to gather and enjoy meals outdoors. Proper planning makes a DIY picnic table easy to build and will increase your enjoyment of being outdoors. This DIY picnic table plan is simple to follow and will give you a great-looking table without too much effort.
9. DIY Octagon Picnic Table
Now you can build your picnic table from home. This table is sturdy and easy to use. This video will guide you on how to make a DIY octagon picnic table. It is not only easy to follow but also very affordable. The essential part of building a garden bench is using suitable materials for your picnic table design. Don't be afraid of doing it yourself. Start building now!
10. How To Build A 10' Picnic Table
Want to build a picnic table? This video will show you how to make a backyard picnic table for your backyard efficiently. To begin, determine the top's size and the tabletop's length. Next, cut four legs that are longer than the width of your tabletop and shorten them so they're an inch shorter than the length of your tabletop minus its thickness. This great indoor/outdoor project can be done in a day and will be enjoyed for years by the entire family.
11. DIY Picnic Table With Benches
Are you a DIY type of person who has been looking for that perfect and affordable picnic table for your backyard? Look no further; this picnic table plan will be exactly what you want! This picnic table plan is simple to make and can be customized easily, whether it is the size, color, or shape. This guide will enable you to build your picnic table with benches in less than 10 hours. With this simple step-by-step guide, you can start building the picnic table of your dreams.
12. DIY Building Plans For A Picnic Table
Are you looking for easy picnic table plans? Here's how to build an outdoor table that looks and feels like a real piece of furniture yet is constructed economically from inexpensive materials. This includes all the techniques needed to raise the tabletop surfaces and layout reinforcement for a practical design. A picnic table like this can be completed in half a day with the help of a circular saw, clamps, and tape measure.
13. How To Build A 6-Foot Picnic Table
Inspired by the design of the more traditional and colorful finger-jointed picnic tables, this 6 Foot Picnic Table is made with a multi-layered construction that is rugged, long-lasting, and beautiful. This plan will walk you through how to build your own in less than a day! This picnic table is easy to build, with detailed instructions and photos. Make your kids' sandbox a place to sit and eat with this DIY picnic table.
14. DIY Suitcase Picnic Table
Learn how to build a DIY suitcase picnic table. This folding picnic table makes the perfect accessory for any outdoor gathering. This portable folding picnic table is made from a vintage luggage suitcase that has been upcycled and transformed into a charming dining table, just the right size for outdoor gatherings. This DIY suitcase picnic table tutorial is inexpensive and easy to follow, requiring only standard household tools and materials you may already have lying around your home!
15. DIY Picnic Table
Take a break from your busy day and enjoy a Summer Picnic Desk with this easy-to-build video guide. Learn how to build this ideal table for hosting family gatherings or relaxing on a nice day in the backyard. The type of wood used will make all the difference, so keep it simple and select pressure-treated lumber readily available at most home improvement stores. A perfect yard art piece that also functions as a dinner table and workspace!
16. DIY Detachable Bench Picnic Table
Enjoy outdoor entertaining with family and friends with this simple DIY Detachable Bench Picnic Table Plan! Create this beautiful DIY detachable bench picnic table in your backyard with some essential tools. This excellent weekend project is easy to build and can be completed by a handyperson or woodworking beginner. It is easier to complete on a small budget with this video guide! All materials are affordable and readily available at any home improvement store — no need for custom-cut lumber or specialty hardware.
17. DIY Luxury Picnic Table
The DIY Picnic Table is a beautiful sight to behold. It has a rustic, farmhouse look that immediately makes you love it. You can build the table with simple tools and basic materials. It's an ideal project for beginners or first-timers in carpentry. You are good if you can operate a drill press, saw, and jigsaw! It's perfect for hosting a party or just a friendly family gathering.
18. Free Picnic Table Plans
Create your picnic table with this DIY plan. Enjoy this video's step-by-step instructions that are easy to follow and understand. The thrill of building and planning for your backyard picnic table is exhilarating. You will enjoy the satisfaction of a job well done and have peace of mind knowing that you have provided a safe and fun place for your family gatherings.
19. DIY Convertible Picnic Table
Get your summer started with this fun DIY picnic table plan. This wooden convertible table is easy to build, and it's so sturdy your kids will love to play on it. It easily converts into a bench or chair, making it perfect for entertaining friends or enjoying a family meal outdoors. This book will guide you step by step until you are finished, with pictures and comprehensive instructions on how to build a Convertible Picnic Table with great detail.
20. DIY Kids Picnic Table
A backyard picnic table is essential for almost any family. It provides a place for kids and adults to enjoy meals during warm summer days, but with the DIY picnic table plan in this book, you can build one for your kids. The guide shows you how to make your own from scratch with simple tools and standard materials. The raised height of this DIY picnic table for kids is perfect for little feet and legs. The children's picnic table design with built-in seats makes mealtime a breeze—no messes to clean up afterward! Then paint it any color you like to add flair and personal style!
21. DIY Children's Picnic Table
Are you interested in building a children's picnic table with your own two hands? This tutorial will show you how to create a beautiful, functional, and safe DIY wooden picnic table for your child. You'll be equipped with the knowledge of building a tabletop, the specific tools needed, and the cut list required to create your picnic table!
22. DIY Picnic Table Plans
Picnic tables are one of the essential outdoor furniture items. You can use them to complement your backyard or garden. These picnic tables are a place to sit, relax, eat, drink, and have fun with family and friends. This easy-to-follow, step-by-step guide will teach you how to make your picnic table quickly and easily.
23. DIY Modern Picnic Table
This DIY Modern Picnic Table plan is a great way to transform an interest in building your furniture into a reality. The wooden picnic table provides ample space for up to four people, which makes it perfect for everyday use. With minimal skills, you can create this beautiful picnic table that would look incredible in any outdoor space. Make it for your enjoyment or as a gift for family and friends. Stop by your local hardware store before starting, then follow along with the step-by-step instructions in this video.
24. DIY Strong Picnic Table Plans
It's natural to want to entertain friends and family – so why not look into creating your own outdoor dining area? This is a step-by-step DIY video that shows you how to build a picnic table for your backyard. This is one of the most incredible and valuable things you can do in your backyard. This DIY Strong picnic table plan will ensure you the perfect outdoor lunch or dinner destination no matter where you are. This a great project for dads, grandpas, and anyone looking to do something fun with their kids!