25 Creative DIY Folding Tables: Make the Most of Your Space!
Do you need help finding the perfect table that fits your space? Look no further than these 25 Creative DIY Folding Tables to help you maximize your limited space! These versatile tables are perfect for small apartments, cramped workspaces, or outdoor activities. From simple designs to more complex projects, these folding tables will allow you to customize your furniture to your needs and preferences. Get ready to save space and add creativity to your home with these amazing DIY folding tables!
Discover 25 creative DIY folding table ideas to maximize your space! From wall-mounted designs to compact options, these projects are perfect for small homes.
Why Folding Tables are a Great Space-Saving Solution
The Benefits of Folding Tables: Maximizing Your Space and Convenience
Small Space Living: How Folding Tables Can Help You Make the Most of Your Home
Why Folding Tables Are a Smart Investment for Any Homeowner
From Entertaining to Workspaces: The Versatility of DIY Folding Tables
Space-Saving Solutions: How Folding Tables Can Save You Time, Money, and Space
Benefits of DIY Folding Tables
1. Saving Money
2. Customization
3. Easy to Build
Tips and Tricks for Building a Sturdy and Functional Folding Table
Selecting the right materials for your folding Table is important to ensure durability and stability. Use high-quality plywood or hardwood for the tabletop and strong metal or wooden legs.
Accurate measurements are essential to ensure your folding Table is functional and fits your space. Take precise measurements of the space where you plan to use the Table, as well as the height and width you want it to be.
Using proper hardware such as strong hinges and braces is essential to ensure your folding Table is sturdy and secure when in use.
Sand and finish: Sand the edges and surfaces of your Table to make them smooth, then apply a protective finish to protect it from damage and wear over time.
Before finalizing your Table, test it to ensure it is stable and functional. Make any necessary adjustments to the hardware or dimensions to make it as sturdy and functional as possible.
See Also: DIY Long Floating Shelves Ideas to Maximize Space
1. DIY Foldable Table from Scrap wood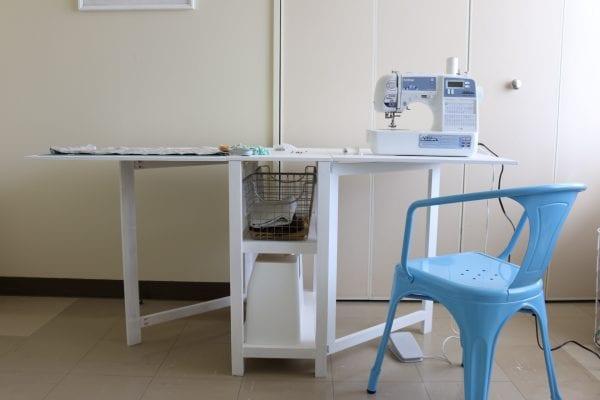 2. Repurposed Card Table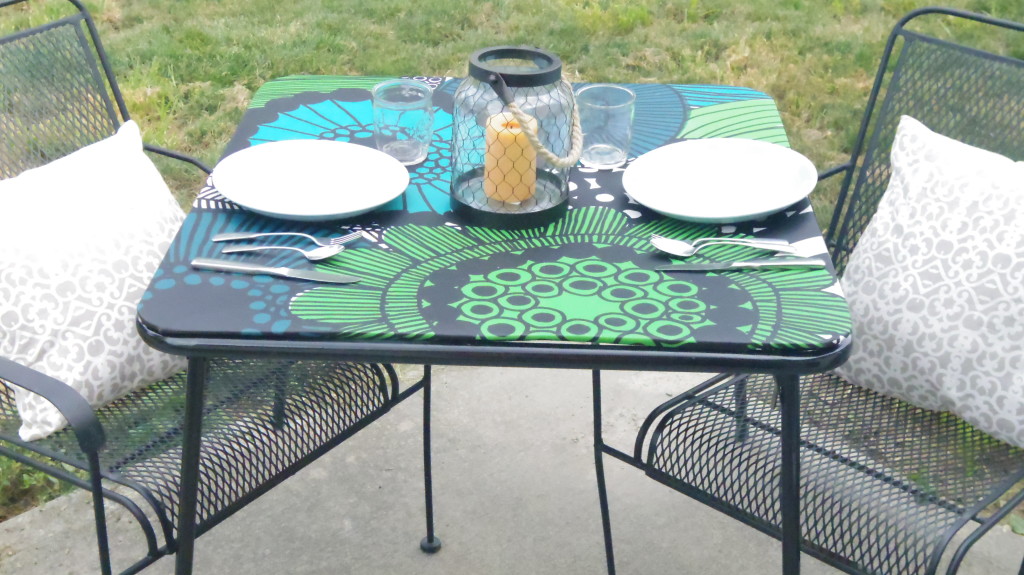 When folding tables, you don't have to spend a fortune. Repurposed card tables are a great and inexpensive way to create a new outdoor deck. There are plenty of ways to repurpose a card table like this: flip the leg parts for a DIY folding table you can use in your home or office. This project takes about an hour or two and only requires a few tools that most homeowners already have.
3. Mirror Folding Table
5. DIY Folding Table for Kids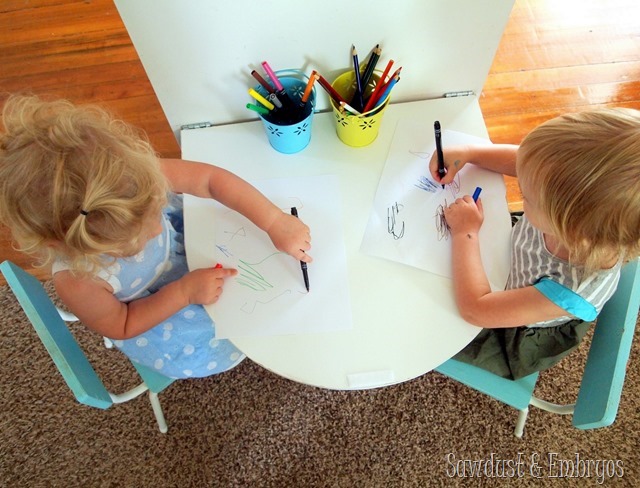 Do you have a little one who loves to draw and paint? If so, this DIY Folding Table is perfect for them. This simple project requires basic skills to assemble and will save you more space in your home than a traditional table. It's easy enough that even smaller children can follow the instructions and make their own Table entirely from scratch!
Folding tables are a great addition to any home. They can be used in small spaces, as extra seating, or as a garden table. Many stores sell folding tables, and they can be quite expensive. Instead of buying one, why not build your own? With some basic tools, you can make this great folding Table in your garage, entryway, or anywhere else that needs extra seating or workspace.
7. Light Folding Table
Make this light folding Table from our building plans. It's a great project for beginners and makes a useful addition to your studio or home. The legs fold for easy storage, which could also be useful for painting in a small room. The Table can be folded up as soon as you are done using it or left unfolded for a longer project.
8. DIY Small Folding Table
9. DIY Simple Wooden Table
10. How to Make a Folding Table
11. How to Build a Compact Folding Table

This DIY Folding Table is easy to make, elegant and functional. We have seen a lot of folding table plans but this one definitely has a unique look and it sure will catch the attention of anyone that sees it. It's also sturdy and solid enough to hold everything you need it to, you can use this table for various events and occasions such as home parties, festivities, picnics or just as a regular kitchen table. The best part is that you can tuck it away when you don't need it due to its compact design!
12. Portable Picnic Table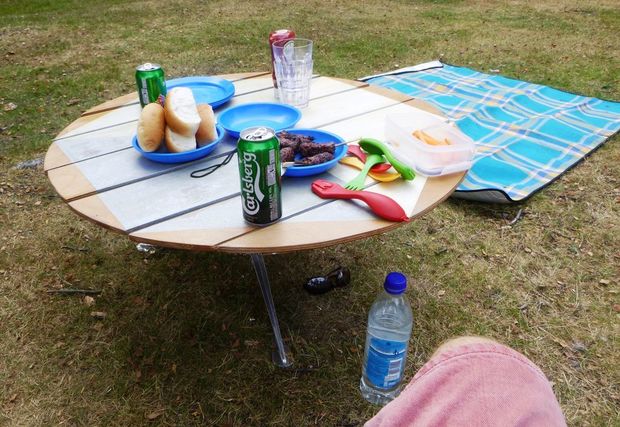 The folding picnic table is portable, so you can take the picnic to the mountains, beach, park, or backyard. The legs fold up for easy storage, and the top has a handy carry handle to take it along on the road. The tabletop is made from high-density polyethylene to withstand harsh treatment in all weather conditions.
13. How to Make an Outdoor Folding Table
If you've ever wished for a customizable table that could be used as a giant outdoor workstation, this DIY outdoor folding Table is perfect for you. It's also perfect for taking it to tailgates or other events like picnics and camping. The PVC structure makes this Table very sturdy, and the design allows it to fold down into an easy-to-carry package.
14. How to Make a Folding Camping Table
Anyone who has ever built a piece of furniture knows that the cutting of the lumber is where the real work gets done. This DIY folding table design is no different, so leave yourself some extra time to cut your lumber straight. Do so, and you'll be rewarded with a beautiful handmade piece that you can use on camping trips or at home.
15. How to Build a Skinny Folding Table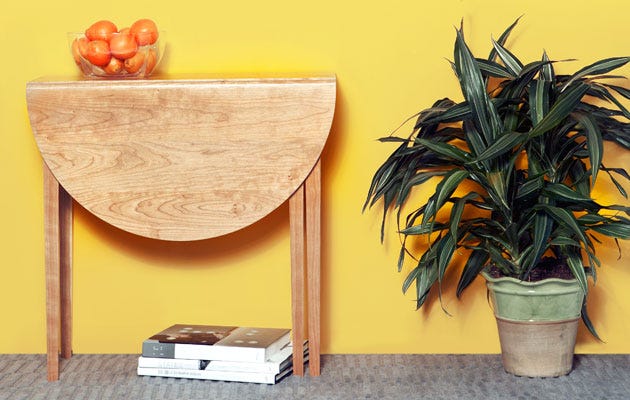 16. Grill Master Folding Table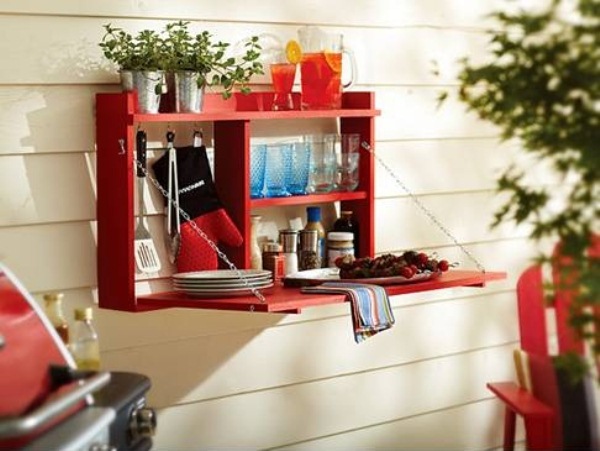 The Grill Master Folding Table is a convenient way to elevate your grill from an ordinary barbecue to a portable kitchen. This folding Table not only adds extra space while grilling, but it also stores easily in any garage or shed. The durable aluminum construction means it's as sturdy as it is eco-friendly. It can even fold into multiple configurations for more versatility and convenience.
17. Umbrella Style DIY Folding Table
This DIY folding Table is ideal for any occasion, whether holding a casual dinner party or a big holiday feast. It's easy to build and sturdy enough to last years of use. This DIY Folding Table is the perfect size for couples and is easy to carry away or store. The design is lightweight, portable, and very easy to set up. The kit also has all the necessary hardware to attach the legs and assemble your DIY folding Table and umbrella set.
18. DIY Hexagon Folding Table
19. Mini DIY Folding Table
Build a folding table on the cheap! This plan is perfect for those who need a small desk or Table that can be easily folded and stored in the corner of a room. It is so versatile it can be set up indoors or outdoors. This easy project requires a few tools, as we use simple wooden hinges to keep your tabletop attached to its frame.
20. FOLDING LEGO TABLE FOR KIDS
The DIY Folding LEGO Table is a fun, multipurpose table that stores away neatly when unused. This is a great table for creating with LEGOs and other activities, but it can also be used as an art table and even as a homework desk. Plus, the legs fold up to store it away when not used!
21. Folding Photography Table
The DIY Folding Table makes a perfect portable photography table. Utilizing the space around you, you can create a semi-permanent photography station at home or in your business. If you have ever used those portable folding tables for job sites or convention centers and wondered how to make them work for your business, this is the thing for you!
22. Folding Toy Storage Table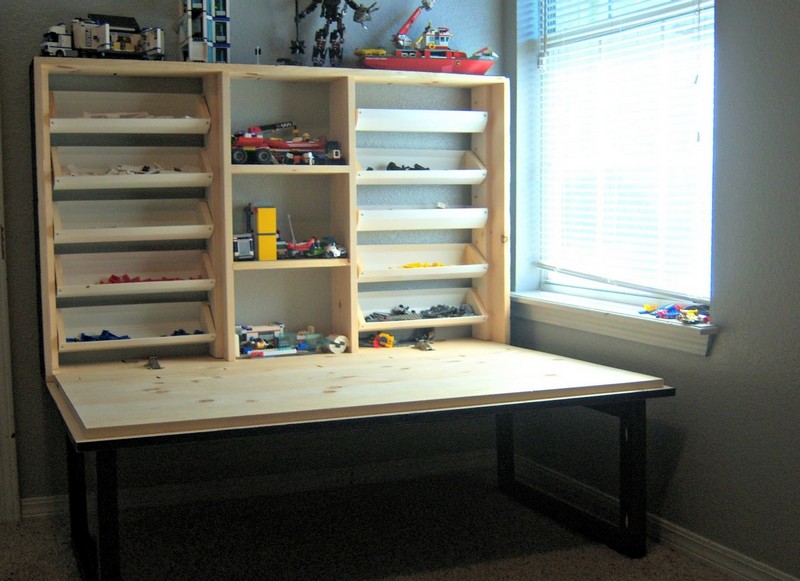 This DIY folding toy storage table is a great project to keep kids occupied while putting their toys away. Build a folding toy storage table to keep toys and books off the floor and out of the way when not in use. This lightweight, simple design is easy to make and folds up for easy storage, and it is also great for helping you clean up after yourself.
23. Folding Picnic Table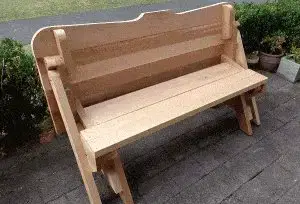 When you're picnicking in the park, this DIY picnic table planter will hold everything you need for a day in the sun. It includes a small drawer for storing utensils and napkins and a tabletop that folds over the legs to create a wide shelf. Get ready for an afternoon of fun!
24. DIY Folding Table for Travelling