25 DIY Yarn Wall Hanging Ideas
If you've got a blank wall, some spare yarn, and a hook, you're only a few steps away from making your yarn wall hanging. You'll want to choose the suitable material for the right job, so in this blog post, we'll explore 25 different ideas using yarn to create different effects and finishes. Some of these ideas use materials the project requires (like wire or ribbon), but you can easily substitute items you have on hand for others that are optional to completing it. So gather up your tools, and let's get started!
These 25 DIY yarn wall hanging ideas are the perfect way to use up extra yarn, make something beautiful and functional, and cover those unsightly holes in your walls.
DIY tips!
Use a large frame to display your yarn hanging. This will ensure that it looks more like a piece of art and less like a project.
You can use various types of yarn for your yarn wall hanging, but make sure you use the same type throughout to look cohesive.
Try using multiple strands of different colors for your yarn wall hanging to create a more colorful display. This will give it an interesting texture and depth!
If you want something simple, try using one color throughout the project instead of mixing things up too much! This will still create an exciting effect without being too distracting or busy looking!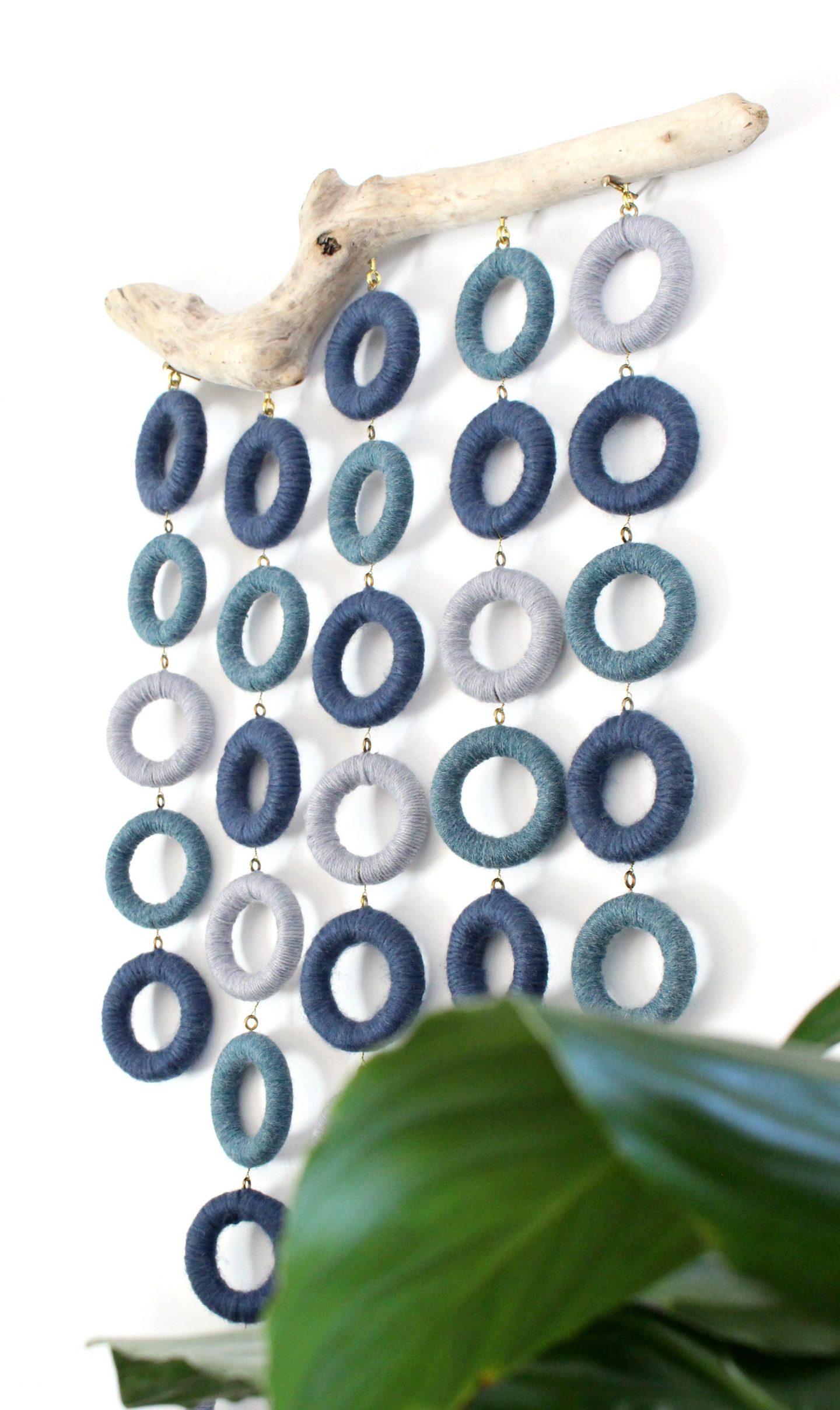 danslelakehouse.com
This driftwood yarn wall hanging is a fun project for beach decor enthusiasts. It's also great for anyone who loves yarn, driftwood, and handmade things. This DIY driftwood yarn wall hanging will look beautiful in any guest bedroom or bathroom.
2. Darling Details Bobble Stitch Mini Yarn Hanging
 loveandstitchdesign.com
The Bobble Stitch Mini is the perfect little yarn family! This adorable hanging has all the cuteness of a bobble stitch but can be quickly worked up in any color you choose. These little bears are perfect as a quick-knit gift or decoration for any child's room.
3. Elegant and Simple Modern Yarn Hoop Dreamcatcher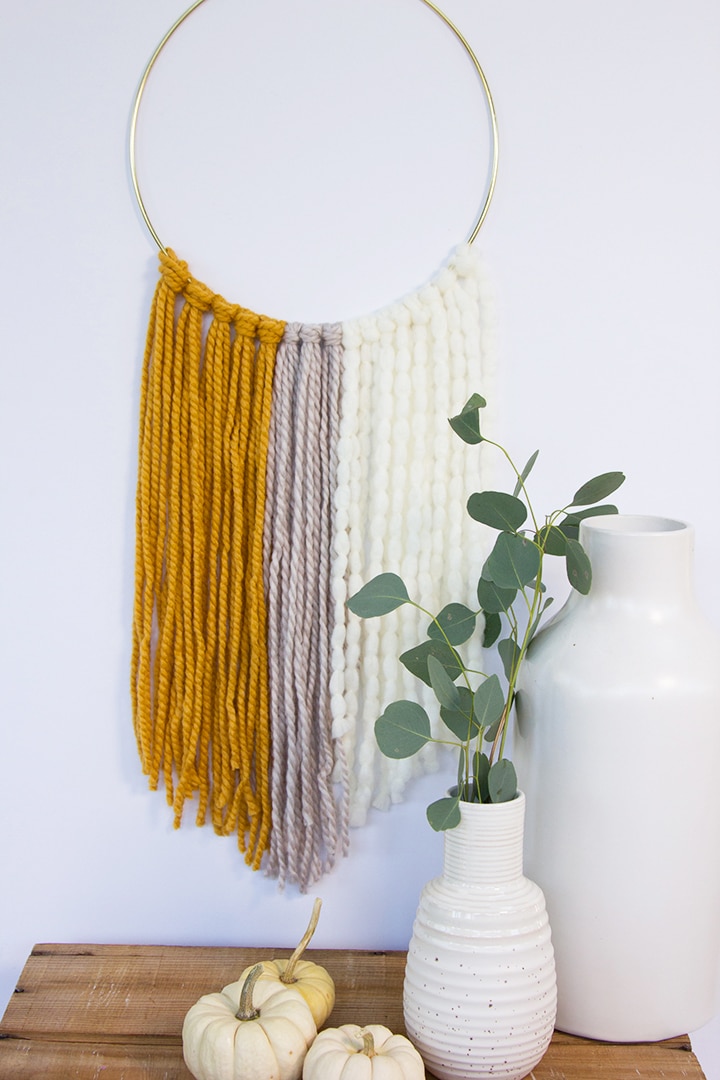 aliceandlois.com
This DIY project is easy to make and looks great in any room. The combination of modern and classy will have your friends wanting one too! Your wall is the perfect blank canvas for a modern yarn wall hanging. Whether you want to add a touch of color and texture or frame your favorite piece of art, this versatile and fashionable yarn hoop dream catcher is guaranteed to bring happy thoughts.
4. Boho-Chic Neutral and Natural Yarn Wall Hanging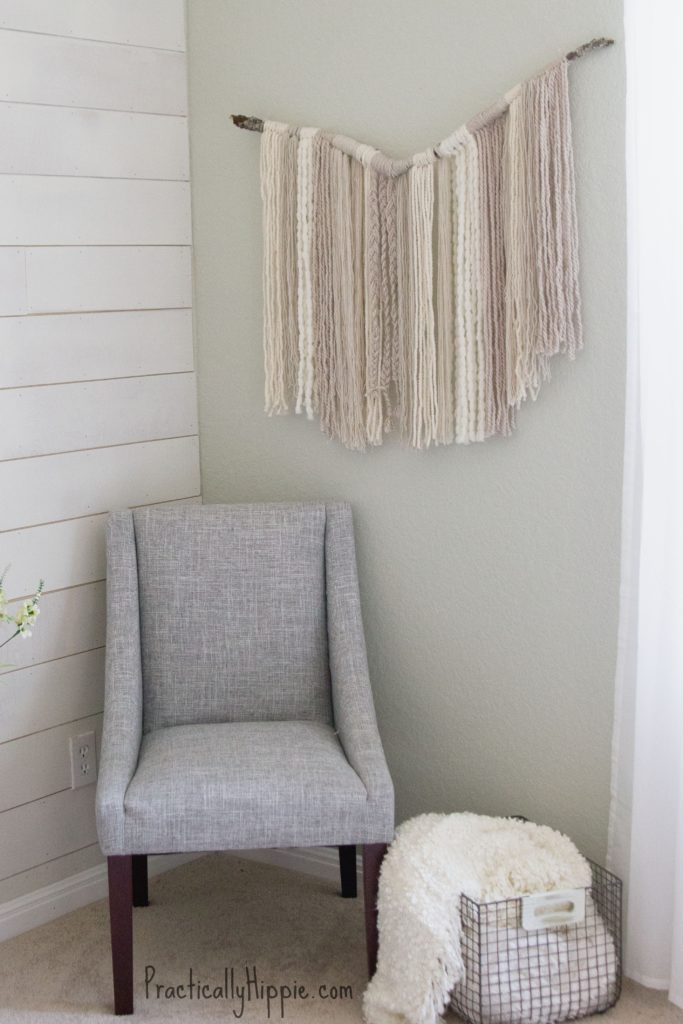 rootedchildhood.com
Create a beautiful boho-chic wall hanging with this neutral and natural yarn wall hanging. Complete with instructions and yarn to quickly create a one-of-a-kind piece of art in your home while giving yourself a relaxing activity. Bring color and texture to your wall with this boho-chic yarn wall hanging. Soft neutral tones are an excellent backdrop for colorful yarn, making these easy-to-create DIYs perfect for any room in your home.
5. 5-Strand Dip-Dyed Beautiful Yarn Wall Art
thehowtohome.com
This beautiful wall hanging is the perfect addition to your home or office. With a modern and fun dip-dye yarn-dyed look, this hanging is handmade with love and care. Create a beautiful wall hanging with five strands of fiber. This DIY Yarn Wall Hanging is so easy to make–you will have fun as you wind your yarn into balls and then dip dye it. Please choose your favorite color combinations and hang them on the wall in your living room, bedroom, or den.
6. Lovely Lap Loom and Stick Wall Art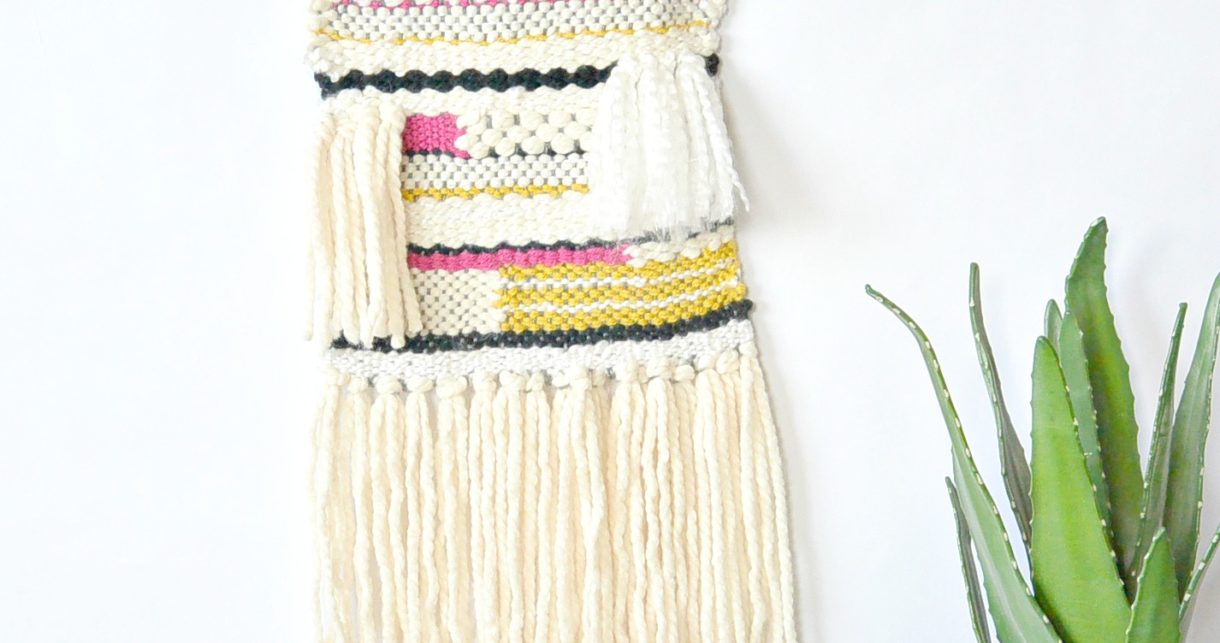 mamainastitch.com
Add a touch of color and an inspirational message to your walls with this DIY yarn wall hanging. Made using a lap loom, it's simple and a great way to repurpose old yarn. Once complete, please hang it directly on the wall or make a spring-mounted frame to swap out different messages!
7. Black, Beige, and White Bohemian Yarn Art
her-happy-home.com
Create a beautiful yarn wall hanging that will be a conversation starter in your home. This wall hanging looks great in the entryway, kitchen, or bedroom. It features white, black, and beige yarns with gold accents, making it stylish and versatile.
8. Handmade Yarn Wall Hanging Ideas with Tassels
jessicabsimmons.com
Discover how to make a sweet yarn wall hanging with colorful tassels! Learn to crochet and pick out suitable yarn from our vast selection of yarns. Transform your room with this easy DIY Yarn Wall Hanging. Create something unique by picking your favorite yarn colors and adding a few tassels for a fun touch. Hang it on the wall, or use it as a curtain for extra color!
9. String Heart Wall Art DIY Valentine Decor
thesweetescape.ca
String Heart Wall Art DIY Valentine Decor! This super quick and easy DIY project would be amazing for decorating for Valentine's Day, Mother's Day, or other occasions. This easy-to-make string art is the perfect Valentine's Day craft for kids of all ages. Hang it up for Valentine's Day, or use it as decor throughout the year.
10. Beachy Boho DIY Macrame Feather Wall Art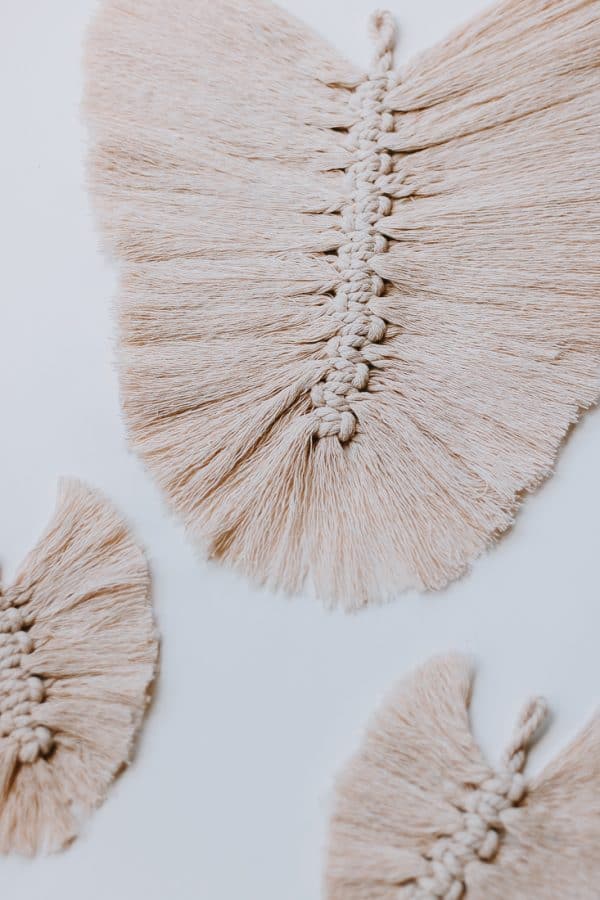 decorhint.com
This boho wall art is the perfect addition to your home! The beaded macrame pattern and bright colors add the perfect beachy vibe, while the feather fringe adds an extra touch of boho chic. DIY craft supplies are all you'll need to start, and this project is beginner friendly!
11. Big Impact, Small Budget DIY Wall Hanging
oleanderandpalm.com
Do you have a blank wall that looks like it needs a personality? This DIY Yarn Wall Hanging will fill the void with ease. This easy-to-make hanging makes a massive statement for far less than what you'd spend on a piece of art in a gallery or store! This DIY yarn wall hanging is an excellent project for beginners. It's easy and fun and can add vibrant color to your room or office. The materials are inexpensive, and the final product is so cute!
12. DIY Rainbow Pom Pom Tassel Wreath
craftmyworld.com
This DIY Rainbow Pom Pom Tassel Wreath is sure to inspire your creativity. It can be made in many ways, depending on your materials and how much time you want to spend! This project is a beautiful reminder of the wonder and beauty of rainbows while also bringing a pop of color to your home.
13. Braids and Beads Yarn Tassel Wall Hanging
happydealhappyday.com
Braids and Beads Yarn Tassel Wall Hanging is the most straightforward DIY wall art project. Yarn braids and beads make a beautiful design for a baby shower, birthday party, wedding centerpiece, or home decor. What cute handmade crafts for any occasion!
14. Felt Leaves on a String Wall Art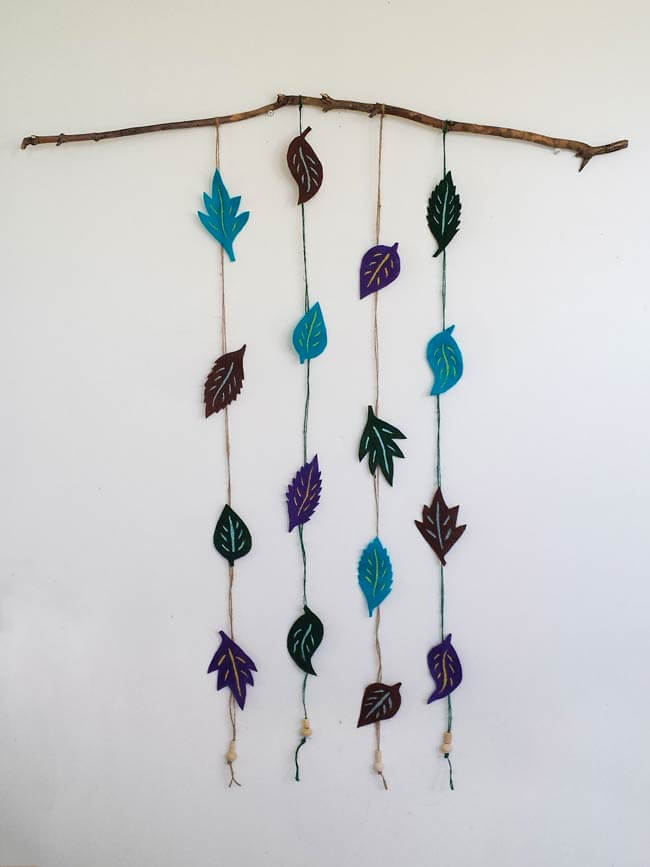 fancymomma.com
Take a break from monotone wall art and try this felt green yarn hanging. It's easy to make and can use in any color you like. Just get yourself some green yarn, scissors, or a craft knife and get cutting! Carry your yarn in this bright, cheery knit-yourself-felt wall hanging. Felt leaves on a string offer a fun way to keep your project close at hand while adding a pop of color to any room in the house.
15. Summer Fun Kid DIY T-Shirt Wall Hanging
handmadecharlotte.com
Do you love doing crafts with your children? Here's an excellent opportunity to glue, iron, and sew together a DIY T-shirt wall hanging that will brighten and showcase your child's favorite shirt. This project is perfect for summer fun! Make your room more fun and bright with this easy DIY wall hanging. It's a great project for young kids who love arts and crafts too! This is a summer project that you can do in advance and be ready when the heat of summer gets to you.
16. Three Strand Accent Scrap Yarn Wall Art
thispixiecreates.com
Decorate your walls with this Yarn Wall Hanging. Knit in a three-strand accent yarn, it is light and airy, adding a whimsical touch to any wall. Use the scrap yarn hanging around by taking off their labels, sorting them into colors and sizes, and knitting them together into one piece. Hang this on the wall, or add some embroidered trim for added color and dimension.
17. Pull-Through and Woven Tassel Yarn Hanging
butfirstcoffeeblog.com
This DIY project is a great way to add interest to an empty wall or room. Pull-through and woven tassel yarn hanging crafts are easy, fun, and relaxing! Add a whimsy to your walls with this easy DIY Yarn Wall Hanging. With a cool pull-through and woven tassel design, this hanging is perfect for showcasing your favorite hanks of yarn or stash.
18. Double the Fun Holiday Yarn Hanging
greenweddingshoes.com
Double the Fun Holiday Yarn Hanging takes less than an hour to make and is perfect for a gift. This double-sided yarn artwork is a beautiful decor piece, sure to be loved and displayed year after year! Make a festive holiday statement with our double-the-fun yarn wall hanging. This easy-to-make project features double stripes of colorful wool, creating a bright, bold design that adds color to any room!
19. Half Wood, Half Yarn Oval Wall Hanging
craftedbythehunts.com
This is the perfect DIY project for anyone that loves yarn. Add this half-wood, half-yarn oval wall hanging to your home decor and enjoy the unique design. The half-wood, half-yarn design is unique and will help you add some personality to your room. This beautifully crafted oval-shaped wall hanging is an excellent addition to any home. It combines natural wood with brown, black, and white yarn to create an interesting focal point.
20. Inverted Chevron Yarn and Dowel Wall Hanging
thathomebirdlife.com
This DIY is full of reminders that you can make the world a better place. The Inverted Chevron Yarn and Dowel Wall Hanging is a fun project for teens and adults to learn about different types of yarns and how to create a pattern with a crochet hook. It's one hanging wall that will stand out in any room.
21. Double Hoop Wooden Bead and Macrame Hanging
lovefordiy.com
This fiber art wall hanging is the perfect project for beginners in the craft of macrame. If you're a beginner macrame maker, this is a great way to get introduced to your first macrame project. This tutorial includes links to all the necessary materials and easy-to-follow instructions on making it yourself!
22. Metal Hoop, Beads, and Yarn Wall Art
thecraftingchicks.com
This yarn wall hanging is the perfect addition to any room! Hang it in the bedroom, office, or living room. Add a splash of color, texture, and style to your house with this handmade painted metal hoop kit with beads and yarn. This easy project is a way to create something beautiful that will take a little time to complete. It makes an excellent gift for friends and family who love home decor!
23. Double Hoop Hemp Dreamcatcher Wall Art
frugelegance.com
This beautiful, hand-crafted hoop art is made from hemp and has a rustic appeal. Use this piece as a wall hanging in any space you want to feel close to nature. Add a rustic and boho touch to your room with the Double Hoop Hemp Dreamcatcher Wall Art. This wall hanging is made from a sturdy hemp rope, giving it a natural and earthy look. Hang this dreamcatcher alone or in a group for an eclectic focal point that keeps your space warm and inviting.
24. Olive, Black, and Ivory Mini Yarn Hanging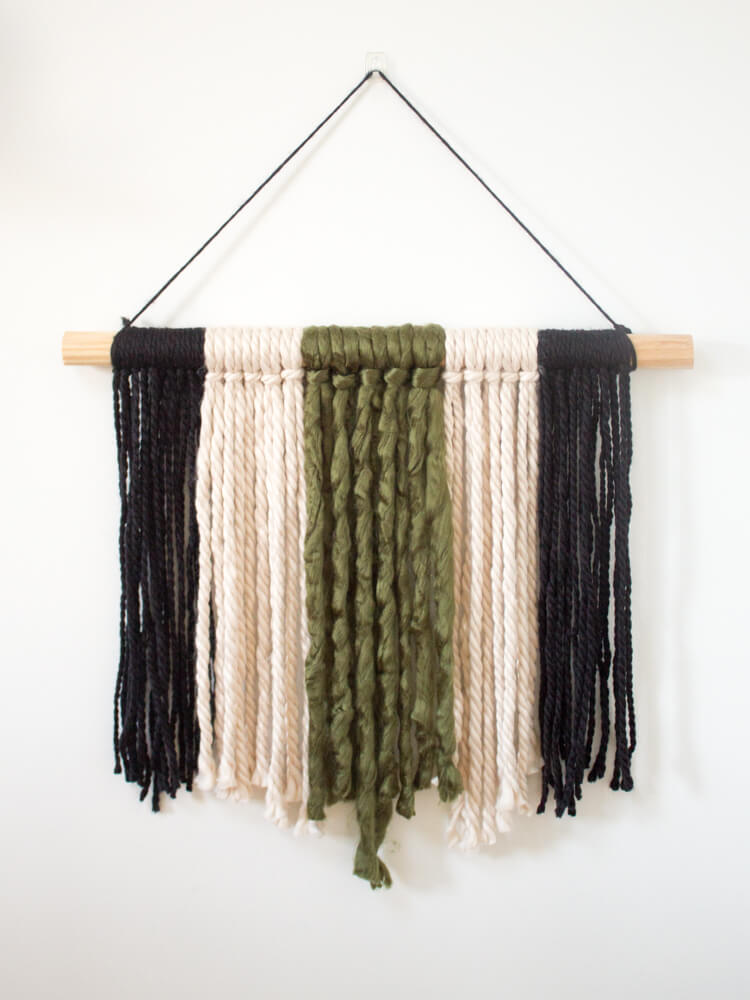 mybreezyroom.com
This is a great craft project for the spring and summer months. The yarn balls will add color, texture, and warmth to any room. It's perfect on a wall, in a bedroom, or by an entryway to warm up the space. Hang it alone or group them. Create a one-of-a-kind DIY yarn wall hanging using this step-by-step tutorial. Always in fashion and bound to become an heirloom, you can use any color scheme for the yarn. If you add more stripes, it makes a beautiful curtain as well.
25. Artistic Giant Pom Pom Yarn Wall Hanging
lobsterandswan.com
Bring a splash of color and texture to your living space with this stunning DIY yarn Pom Pom wall hanging. The easy-to-follow instructions are suitable for any novice level and result in a beautiful, one-of-a-kind piece sure to please your friends and family!