26 Stylish and Cheap Home Upgrade Projects
This book is for you if you're looking for a low-cost way to add style to your home. It includes 26 DIY projects that are quick and easy to do, and all require basic carpentry skills. Within these pages, you'll find everything from renaming a bedroom to adding extra storage space for clothing or office supplies. A few rooms, cabinets, and even a wall can be updated to look new again with new paint or a fresh coat of stain. From floors to bathrooms to kitchens and more, these DIY projects are easy to start and only take a day or two (or less) to complete.
If a complete renovation is your top priority, check out these 26 Stylish and Cheap Home Upgrade Projects that add value to any home–no matter the size.
Benefits of Home Upgrade Projects
Increased Property Value: Home upgrade projects can significantly increase the value of your property, especially if you focus on improving key areas such as the kitchen, bathroom, or outdoor living spaces.
Improved Energy Efficiency: Upgrading your home with energy-efficient features such as insulation, windows, and appliances can lower energy bills and reduce your carbon footprint.
Enhanced Comfort and Functionality: Upgrades such as a new HVAC system or updated lighting can make your home more comfortable and functional, making it a more enjoyable place to live.
Personalization: Home upgrades allow you to customize your living space to your tastes and preferences. You can choose everything from the colors on the walls to the materials used in your kitchen countertops.
Increased Satisfaction: Finally, home upgrade projects can make you happier with your living space. Seeing your home transform into a more beautiful, efficient, and comfortable space can create pride and satisfaction.
zameen.com
Converting an old dresser into a fancy bathroom vanity is a great way to add character and personality to your bathroom while also repurposing an old piece of furniture. With a little creativity and effort, you can transform an old dresser into a stylish and functional bathroom vanity that you'll enjoy for years. This article gives you an idea for a small but mighty home improvement project that will make a big difference in your bathroom for far less than it would cost to buy a new one.
2. Remodelling Cabinets
aloandbeholdlife.com
Remodeling cabinets can greatly enhance the look and functionality of a space. It can add value to a home and make it more appealing to the eyes. With careful planning and execution, remodeling cabinets can be a rewarding home improvement project.
3. Chalkboard Front Fridge Refacing
thekurtzcorner.com
Who says you need a new kitchen top to remodel the look of your cabinetry? This article will give you simple and inexpensive ideas for improving your kitchen cabinets using paint, hardware, and new knobs, handles, or pulls to bring new life into them. With these affordable ideas, you can improve everything from your lighting to a countertop.
4. Concrete Countertop Hack
abeautifulmess.com
Unleash your inner DIY designer and create a chic countertop at a fraction of the price. This simple technique is the perfect way to add a touch of style to your kitchen or bathroom at a low cost, with minimal effort. You won't believe how much of a transformation this easy Remodelling Project and Idea for a Stylish and Cheap Home Upgrade will make in your home!
5. Dated Brass to Modern Black Faucets
sincerelysarad.com
If your bathroom needs an update, but you're on a budget and don't want to spend too much money (or time), consider changing the faucets. This is a quick and easy project. With some elbow grease and patience, you can transform your dated brass faucets into a modern set of black ones in the afternoon. Replacing outdated brass faucets with new ones can quickly and easily give your bathroom a complete facelift.
6. Fill Cabinet Gaps with Faux Molding
remodelandolacasa.com
Fill the gaps between your cabinets by adding faux molding for a quick and inexpensive update. It will add visual interest to your kitchen and make the most of any space. You don't need to spend hours sanding or painting when you can create realistic-looking moldings fast. This easy solution does an excellent project for beginners who are just learning how to build things, and if you mess up, starting over is easy because there are no custom cuts necessary.
7. Double Up Your Baseboard Trim
thehouseofsmiths.com
If you're renovating your home and are stuck for ideas, it's time to look at this easy project. It's a great way to easily double up the baseboard in your house and make a massive difference in how your rooms look. You can use dog nails and a hammer to create a sturdy headboard support that won't require you to drill anything. This low-cost upgrade will give your bedroom a new look and save money!
8. Build Your Rustic Pendant Fixture
twofeetfirst.net
Rustic charm is all the rage these days, and it's a simple way to update your home. This DIY project is super simple, and you can do it yourself! You don't need to spend much on rustic fixtures because you can quickly build your own. This rustic pendant lamp will give your space an extra touch of style without adding too much cost.
9. Get the Barn Door Look for Less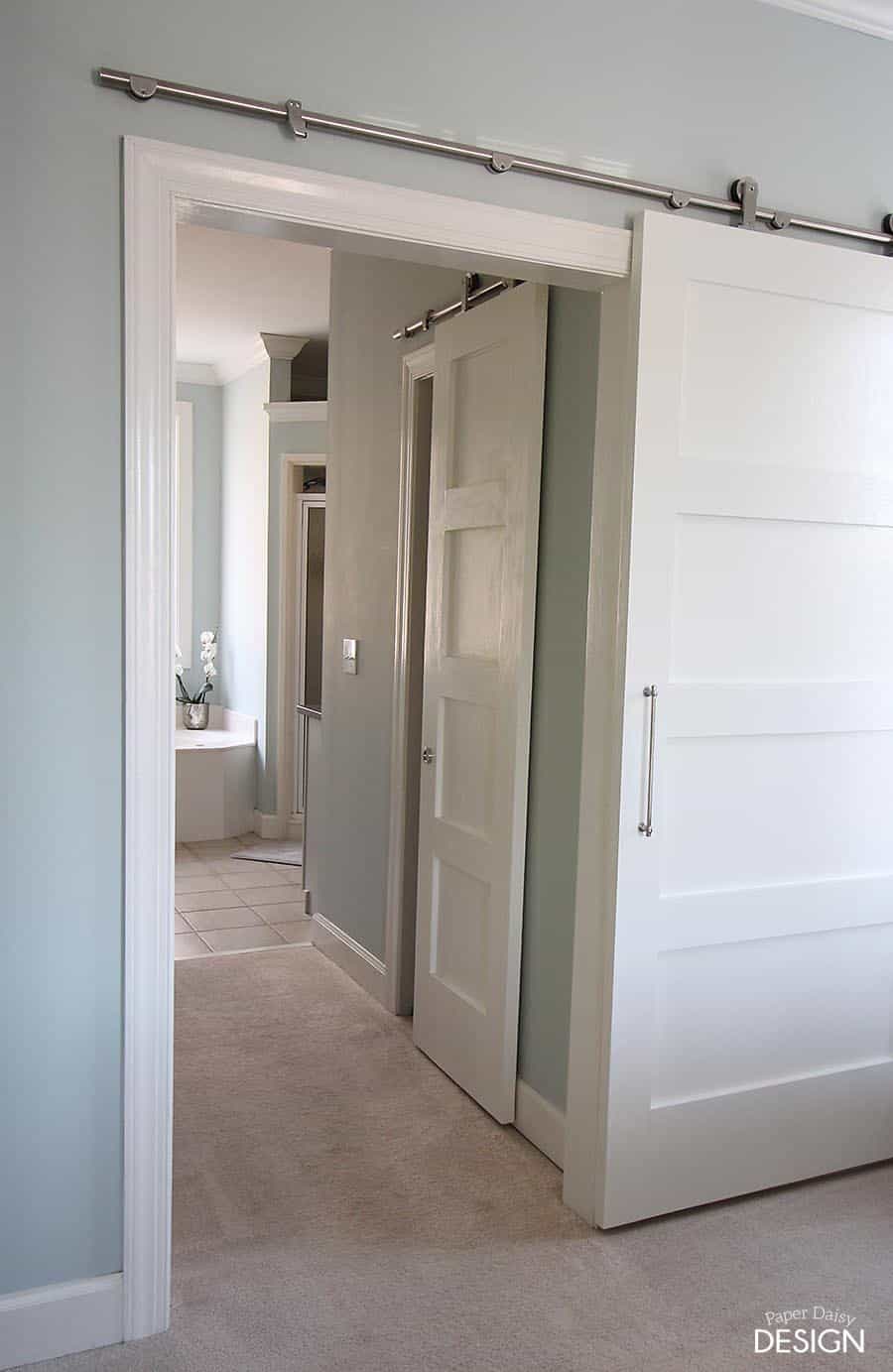 deeplysouthernhome.com
The barn door trend has been going strong for ages, and it's still climbing today. A traditional barn door would be great in your home, but it can often be expensive to buy and custom-made in many sizes and styles. Here's a cheaper, easier way to get that rustic look – take advantage of a piece of furniture in your home: the closet doors! This project will cost you less, making it a cheap but high-impact upgrade.
10. Farmhouse Laundry Room Project
cherishedbliss.com
If you're a homeowner who loves to DIY and makeover your home, this weekend's project is perfect! We show you how to transform your laundry room or mudroom into a beautiful, farmhouse-inspired space that makes getting everyone's clean clothes put away a bit of fun.
11. Mixed Stone Workspace Accent Wall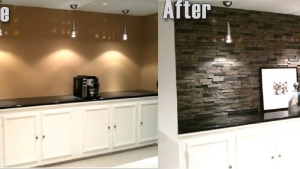 espacebuzz.com
Want to spruce up your home without taking on a major renovation? From accent walls to floors and counters, you can create a living space that's unique and beautiful while keeping costs low. Installing a new accent wall is the most affordable way to give your home a new look. This stunning mixed-stone workspace accent wall adds character, texture, and visual interest to any room in your home. It's easy to do yourself and has an extraordinary impact on any style of room or décor.
12. Big Column Staircase Concept
remodelaholic.com
If you have a small home and are looking for an idea to give it more space, this staircase could be your answer. Wide and elegant, this staircase design in a stylish home has a large column as the central support of the stairs. It looks stylish and expensive but also gives you a sense of security.
13. Turn the Dividing Wall into Dinette
remodelaholic.com
< iv>If you want a new dinette in your kitchen but want to avoid adding another door or wall, there's an easy remodeling project you can do yourself. It will cost much less than building an entirely new cabinet or other structure and still give you all the benefits of a dining area. This project is sure to impress with its modern design and stately finish.
14. Genius Molded Tub Technique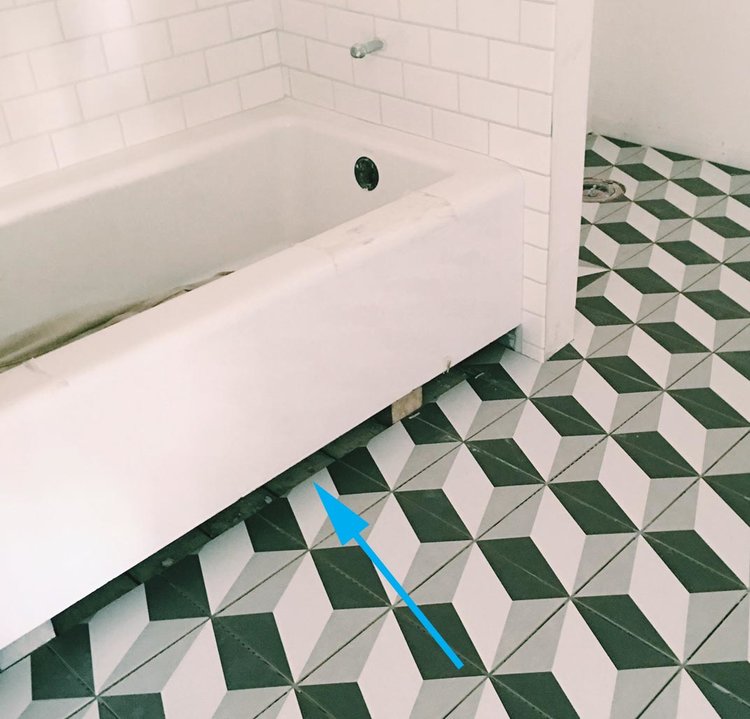 spruceandpine.com
This Genius, Inexpensive Molded Tub Technique is perfect for any bathroom remodeling project. This inexpensive yet stylish update will make your home look like a million bucks. You can do this with just a few simple tools and materials; if you need help finding someone to help you or install it with a professional.
15. Transform Kitchen Interior to Cottage Dream
providenthomedesign.com
Adding bright appliances to your kitchen can brighten up a dark interior. White appliances can add personality and warmth, but don't go overboard. You want them to be the highlight of your kitchen rather than the focal point. If you have laminate floors, consider updating them with a colorful or patterned rug or area rug to bring some character and texture.
16. Graphic Art Deco Wall Stencil Design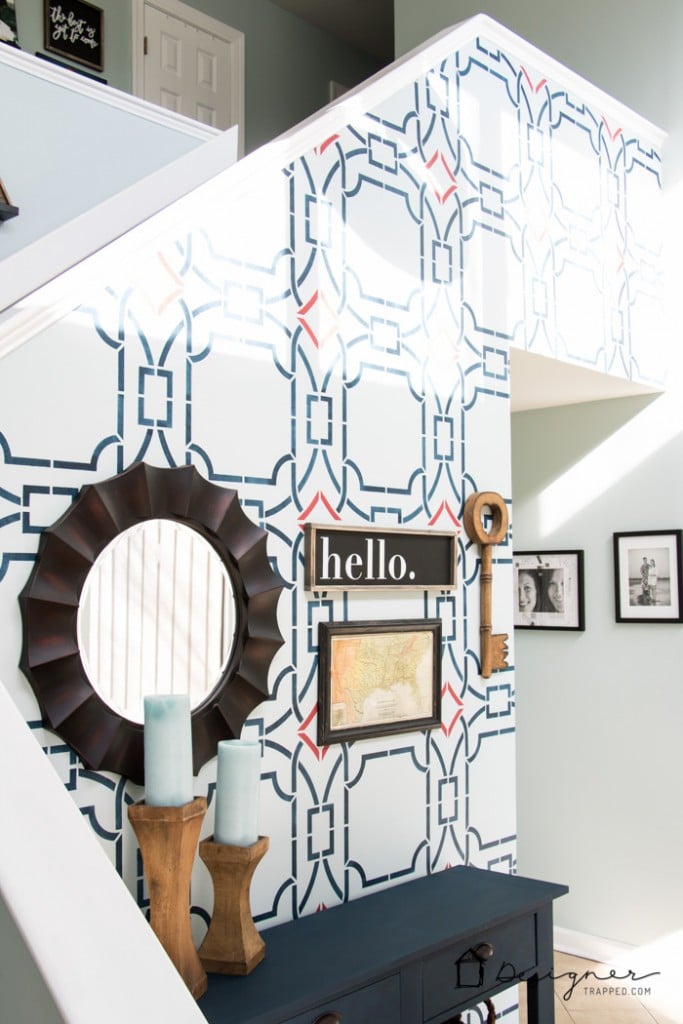 designertrapped.com
This wall design is a beautiful highbrow and graphic interpretation of the iconic Art Deco style. It features a photo and painting showcasing this style's most beautiful elements. This stylish and cheap home upgrade is budget-friendly, easy to install, and will take less than a day to complete! You will get a lot of compliments from your friends and neighbors when you finish one of these projects!
17. Ceiling Fan Facelift
therealtitsmcgee.blogspot.com
Decorating a living room? A slight budget ceiling fan facelift comes to the rescue!! Only some people want to spend a fortune on decorating because of their budget, but with some simple and easy changes, you can achieve a more personalized space that reflects your style and taste. It is fashionable and cheap; you can get creative and DIY this project by painting it, adding new accessories like a light kit, or decorating with bright-colored rope to hang from the fan.
18. Rustic Curtain Guest Room Divider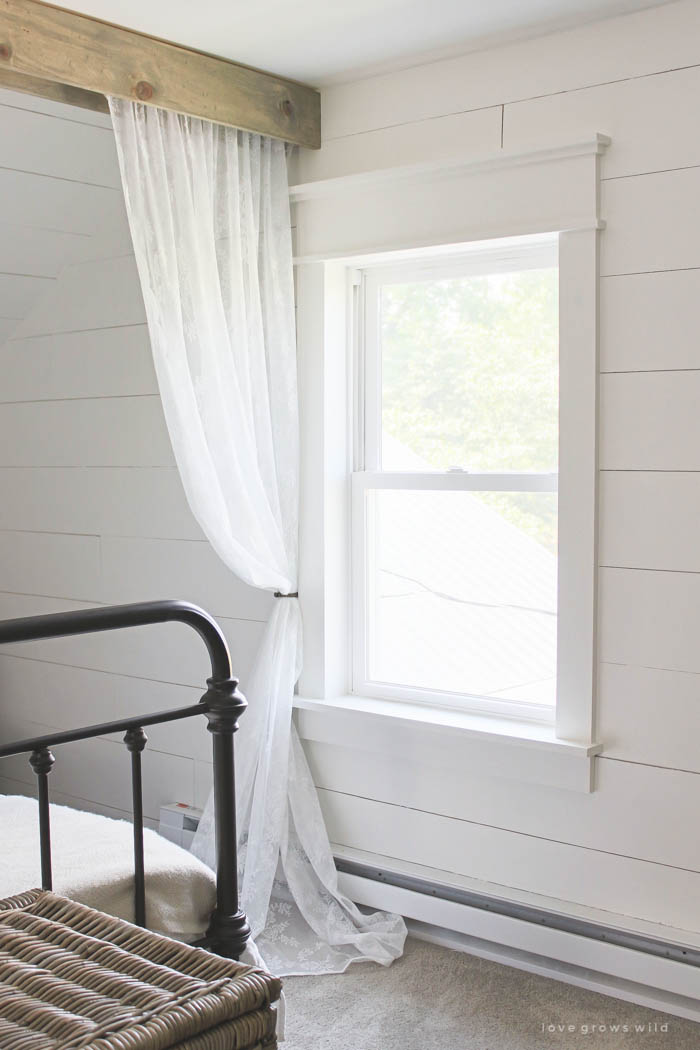 lovegrowswild.com
This beautiful, rustic curtain divider makes your guest room feel like home. The gorgeous and stylish design will help you create the perfect ambiance for your guests without making their stay feel less like a hotel. It's also perfect for relaxing and unwinding by yourself! What could be better than having your mini-room in your home?
19. How To Paint Light Fixtures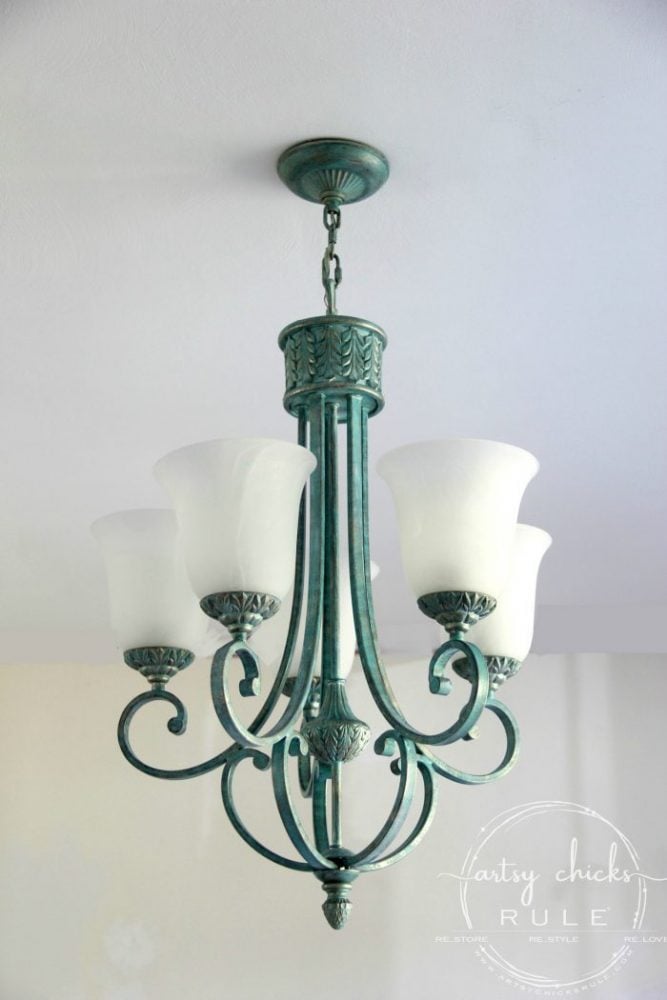 artsychicksrule.com
Painting light fixtures can be a simple and cost-effective way to update and refresh the look of a room. Here are some steps in this tutorial to follow for painting light fixtures. Following these steps, you can easily paint light fixtures to give them a new, updated look that complements your home's decor.
20. Cabinet to Kitchen Island Upcycle
thistlewoodfarms.com
A kitchen island is a great way to add extra counter space and storage to your kitchen. But the cost of most kitchen islands can be prohibitive for some people. Don't worry; this project is a cinch and can be done for less than one hundred dollars! This article with DIY instructions shows you how to convert a china cabinet into a sleek and stylish kitchen island!
21. Paint Doors and Drawers like a Pro
evolutionofstyleblog.com
Paint is an easy and relatively cheap way to update the look of your home. It's also an effective way to make the interior of your house appear more significant, modern, and beautiful. A good paint job can take any room from drab to fab quickly! You can paint your doors and drawers a new color within a few simple steps. This easy paint job won't break the bank but will instantly spruce up your space.
22. Aspiring Designers a Chic Playroom
blesserhouse.com
Remodeling a spacious family room offers a range of possibilities and opportunities. It can simplify the living space by doubling its capacity and provide bedrooms with a more stylish, sophisticated look. The project focuses on giving aspiring designers a chic playroom while at the same time improving the overall ambiance in the environment, adding color and light to this room.
23. Fill a Wall with Shelving
lifethrualinds.blogspot.com
Have you ever been in a situation where you can't decide what to do with all that space in your room? We've presented some easy DIY shelving ideas that are stylish and cheap. And these are just perfect for those who love home upgrades but don't want to spend an arm and a leg on them!
24. Add Molding to Windows
angelosattic.com
Add an upscale, custom look to your home with window trim matching your room's existing molding. You can also use it on large or curved windows that are difficult to find or purchase ready-made replacement molding. DIY trim is quick and affordable. You won't be able to use a saw when cutting molding because it'll leave marks. Use a sharp utility knife with medium-sized blades.
25. Create World Mosaic Floor with Stencils
cuttingedgestencils.com
Coordinate your living or dining room with a beautiful, unique tile flooring design. With this quick project and idea, you can quickly turn your bare floors into a stylish mosaic design. Use stencils to decorate the floor with antique-look floral patterns, geometric designs, and more! Work in a single color or create a multi-colored look! The possibilities are endless – get creative!
26. Molding Squares
reddoorhome.blogspot.com
Molding squares bring instant architectural interest to your home. With our molding squares, you can make any room look more luxurious. These moldings are easy to install and even easier to maintain. Add it to doors, cabinets, or just about anywhere you want a polished look! Whether you live in a rental or you're looking for an inexpensive remodeling project and idea for a stylish and cheap home upgrade, these affordable moldings are the perfect solution.