27 Creative DIY Storage Bed Ideas to Maximize Your Space
Looking for storage furniture ideas? This collection of 27 DIY storage beds will inspire you to create a perfect solution for your needs. Make every inch of space count in your bedroom by utilizing wall space and under-bed storage options. Add extra seating and a stylish highlight to your bedroom with built-in benches, or build drawers into the bed to store linens. Discover all sorts of creative ideas that will help you maximize your space in this useful DIY piece. These 27 DIY storage bed ideas offer alternatives that will help you maximize your space.
Do you feel like you're running out of space in your bedroom?
If you want to maximize the space in your bedroom, these 27 DIY storage bed ideas can help. With these ideas, you can have a comfortable place to sleep and cleverly use the space underneath your bed for storage. Whether you're looking to store clothing, bedding, books, or other items, these storage solutions will help you make the most out of your bedroom space while adding a stylish touch to your decor.
Introducing 27 creative DIY storage bed ideas to help you reclaim your space
Have you ever looked at your bedroom and thought: "I need more storage space"? You'll find the solution here, whether it's for clothes, books, or anything else. We've compiled 27 DIY storage bed ideas to help you reclaim your space. Follow these DIY storage bed ideas and learn to turn your bed into the ultimate space saver.
Say goodbye to clutter with these 27 brilliant storage bed solutions.
Storage beds are a great way to add extra storage space to your bedroom without sacrificing floor space. Storage beds can be built-in, or they can be freestanding. Because of their design, storage beds are great for storing bulky items such as blankets and pillows. If you have a large bed frame, you can use the storage area underneath to store items such as board games and stuffed animals. Check out these DIY storage bed ideas below!
5. DIY Platform Bed With Storage
6. DIY Bed With Storage
This storage bed is a great piece of furniture in your home and the perfect solution for someone who likes to entertain. It has plenty of space for linens and other essentials, and it's made from inexpensive materials that you can find at most home improvement stores. You might even have all the necessary parts in your garage or shed. The step-by-step instructions make it easy to put together and build, regardless of your skill level as a do-it-yourselfer.
The tutorial on this DIY storage bed will give you an idea of how to make a bed with lots of storage space. The steps are quite simple and easy to follow. You can choose any color for the wood and the paint if you want it painted. Also, you can use this method for any shape and size of bed if you have enough space under it.
8. DIY Shelf Bed Storage
9. Twin Corner DIY Storage Beds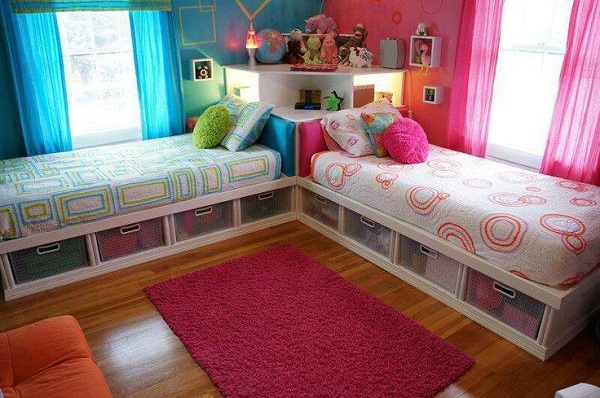 Spend more time in your room and less time cleaning it up with this amazing DIY storage bed. It's the perfect solution for having more children than bedrooms or being short on space. A double-duty queen-size bed will give your kids ample space to sleep, play and store their belongings under the bed instead of cluttering your closets.
10. Build A Queen Size Storage Bed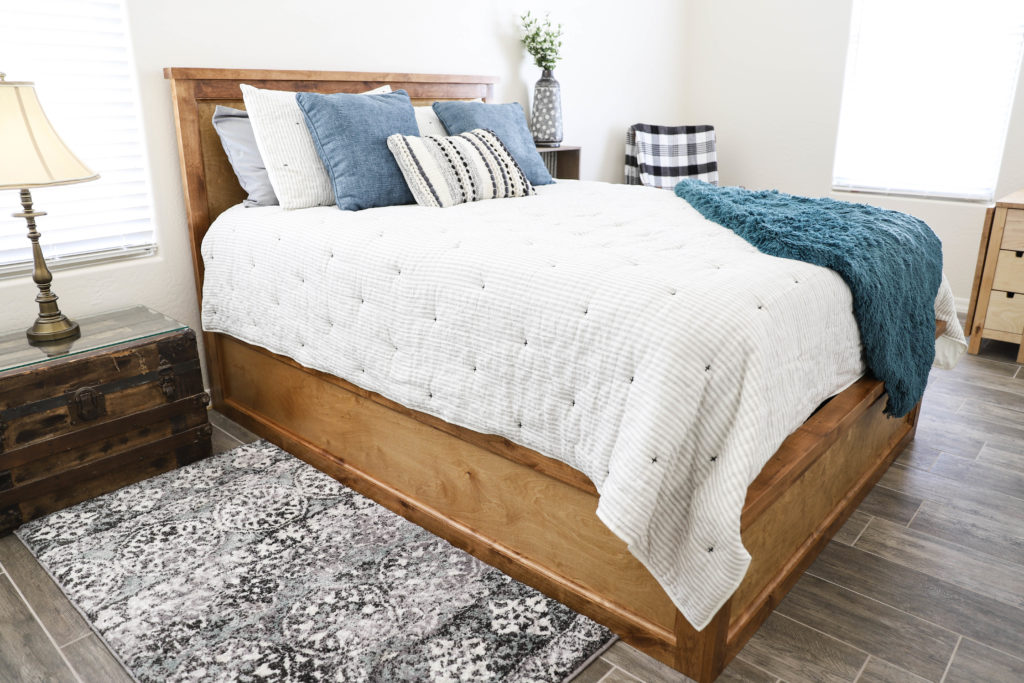 If you're always looking for a place to stow your belongings, forget the traditional bedside table. Give this practical DIY storage bed a try. A bookcase will help you save on space; it's great for expanding your bedroom and adding some extra style fixings without spending wads of cash! Create this whole new look for your home with minimal effort and cost.
12. Make A Bed With Storage Drawers
This is a great idea if you don't have too much space in your bedroom, you can make a small storage bed with drawers, and it will look good at the same time. This could be a good option if you have spare space in your attic or garage, especially if you want to save money on a storage bed.
13. DIY Modern Platform With Storage
14. DIY Storage Bed
The DIY Storage Bed is made of pine wood and has a natural, rustic feel. The bed looks beautiful and is easy to assemble with screws. It includes all the pieces and hardware needed for assembly to create your unique storage bed that fits your needs. The tutorial walks you through the building process while featuring easy-to-follow illustrations and step-by-step instructions.
15. DIY Queen Storage Bed
This easy DIY queen storage bed is a great addition to any home. This DIY bed is sure to save you space and money. Use a filing cabinet to create a drawer with a simple notch, then mount the drawer between two pieces of plywood with heavy-duty screws. Place your mattress on the plywood and have a super-sleek storage bed! It's also great for adding extra storage space to your bedroom, closet, or guest room.
16. DIY Under Bed Storage
17. How To Build A DIY Storage Bed
A DIY storage bed is a perfect way to organize and keep your bedroom clutter-free. You can customize this bed with color/material or pattern to match your style. This video shows how to build a DIY storage bed with step-by-step instructions, helpful tips and tricks, required tools, and materials for each process step.
18. DIY Modern Storage Bed
Ready to upgrade your bedroom with a DIY storage bed? It's easy to do, and you can use it as a headboard. This bed is made of sand-colored fabric and solid wood, presenting a gorgeous modern design. Plus, you can customize the look by placing individual pieces in any room of your home. This idea is great if you love the look of modern furniture but don't want to fork out a small fortune for it.
19. DIY Sofa Bed With Storage
This DIY Sofa Bed With Storage is very easy to make at home. You can use it as a fold-out bed or sofa anywhere in your home. It has storage space underneath that you can use to store essential things. It is lightweight, durable, and easy to assemble. This bed can be easily disassembled for reassembling later on. Great for camping or overnight guests!
20. DIY Captain's Bed With Storage
The DIY Captain's Bed With Storage is a stylish solution to your home storage woes. You can choose to use this bed as a desk or hide it away with the help of a chair for an occasional seat. It has a clean style and is easy to build using closet hardware. Once it is up and running, you can easily move everything into this clever design without adding more clutter to your bedroom.
21. DIY Storage Bed For Kids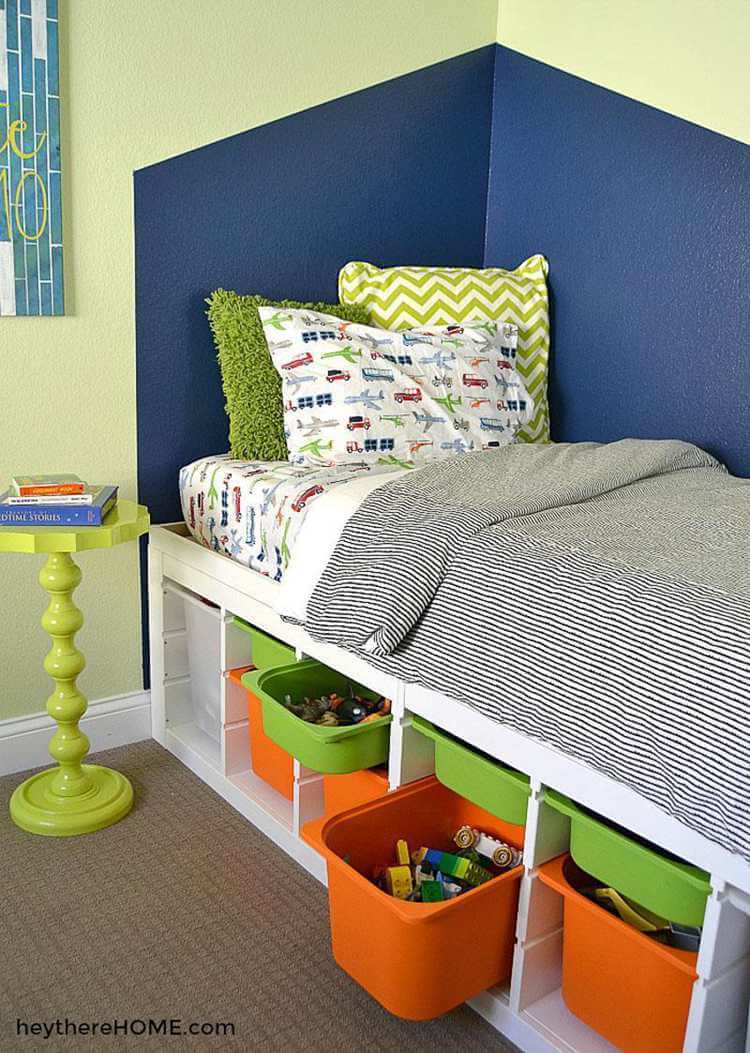 22. Lighted DIY Platform Bed With Storage.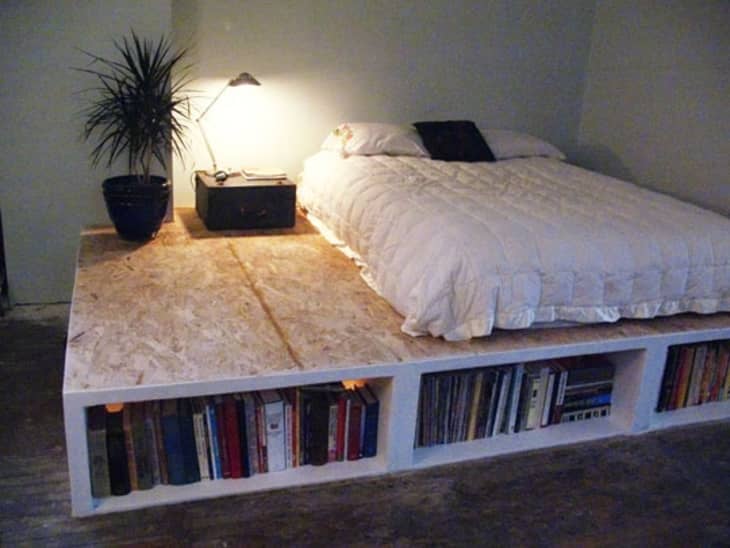 This DIY platform bed with storage will take your bedroom to the next level. The main feature here is the hidden storage under the mattress, giving you easy access to clothes or other items you want to keep out of sight. Adding lights and a metal frame make your bedroom stand out dramatically.
23. DIY Queen Bed With Storage
You will love how this storage bed looks. White crates are the biggest part, but you can make your crates or use wooden boxes. In addition, the bed frame above it has a light wood finish and gives the whole room an industrial look. This is great for kids' rooms!
24. DIY Storage Bed
Gain extra space with this DIY storage bed that adds a functional, convenient feature to your bedroom. It features three separate compartments for you to store your things. The platform is available in various sizes and colors, so you can choose one that fits your room perfectly. The instructions and materials are simple, making it a great DIY project for adults and children!
25. DIY Bed With Storage
26. Queen DIY Storage Bed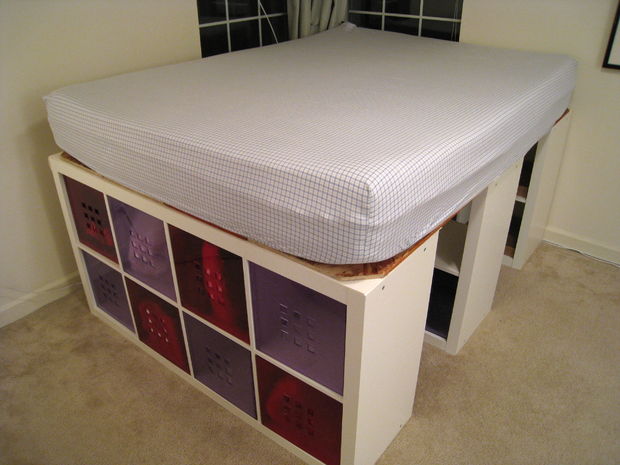 This queen-size DIY storage bed will provide ample under-bed storage for your bedroom. All that is required is minimal carpentry and some planning skills. You can complete this project in just a few hours with simple tools. Easily customize this queen-size wood storage bed with an available headboard option, or paint any color you like. The results will look good even if you aren't a carpentry expert!
27. DIY Loft Bed With Under Storage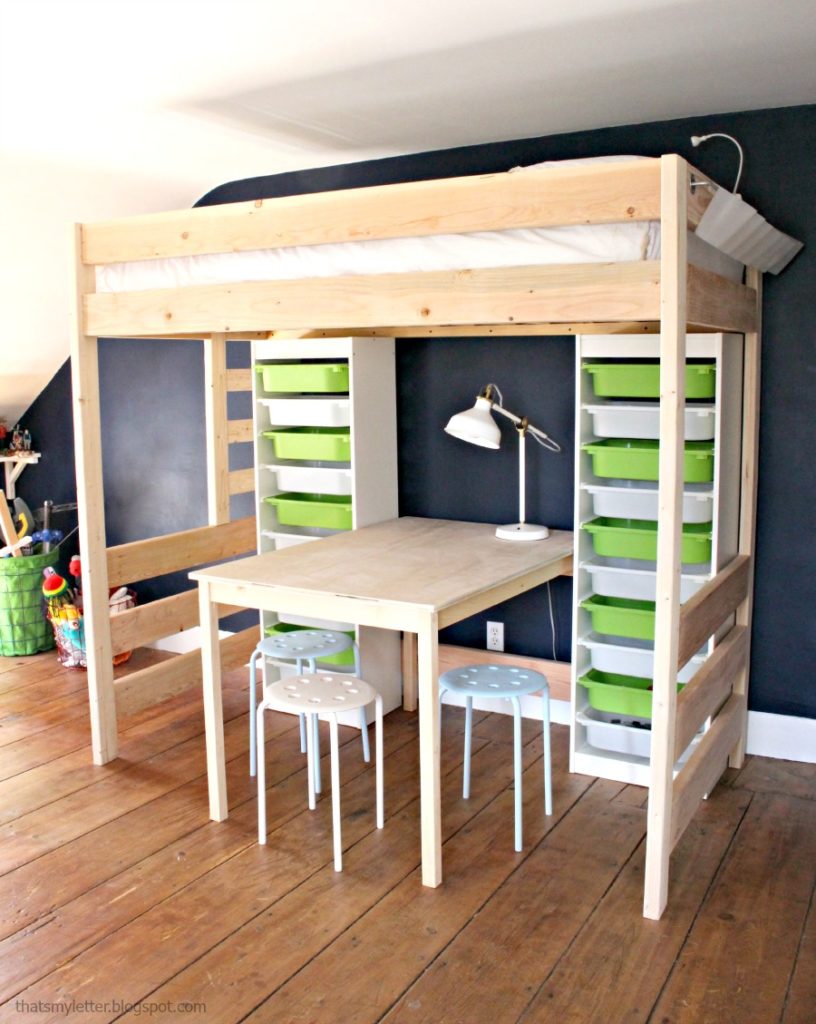 This is an easy way to create an under-storage loft bed. It is a great space for teens to hang out and do homework. This loft bed with under-storage will give you the extra space you need in your bedroom. You can use this space to store items, normally taking up floor space, or as a study table.