27 DIY Shoe Rack Ideas: Organize Your Footwear in Style!
An organized shoe rack is a must-have for every home. It not only keeps all your shoes in one place, but it also helps you find the pair you want easily. Whether you're a woman looking for shoe storage ideas or a man looking for shoe-organizing hacks, you'll have no problem finding helpful DIY projects. From built-in wood shelves to wall mount racks and other hanging solutions, we've selected 27 of the most stylish shoe rack designs and several shoe storage ideas to help keep your closet looking great!
If you are thinking about organizing your shoes, these DIY ideas will inspire you enough to start working on them right away.
Benefits Of DIY Shoe Rack Ideas
Here are some of the benefits of DIY shoe rack ideas:
You can customize the design to fit your needs
You can make it from inexpensive materials
It is easy to build
See Also: 24 Easy DIY Picnic Table Plans
1. DIY Industrial Shoe Rack
2. DIY Floating Bench With Shoe Shelf
This DIY floating bench is made of wood and is easy to assemble. It looks stylish and can be used as a shoe rack in your entryway or hallway. You can also use it as a bench in your living room since it's big enough for two people to sit and relax. It's not easy to make, but if you follow the steps carefully, you might get the hang of it and start building the shoe rack effortlessly.
3. DIY Children's Shoe Rack
Sometimes you need a way to keep your kids' shoes organized and on display so they can be smooth. This Children's Shoe Rack does the trick and requires very little effort to assemble. It's also a great spot for storing jackets, backpacks, and other accessories, making it ideal for entryways or bedrooms. This DIY shoe rack is fun and easy to make, and best of all, it doubles as a storage unit in your kids' room or playroom.
4. DIY Shoe Rack for a Tight Space
5. DIY Shoe Rack From Cardboard
This is it if you are looking for an alternative way to organize your shoes. It's cheap, easy, and saves you a lot of space on the floor. This DIY shoe rack will do just that! In the spirit of simplicity and creativity, this DIY show rack made from cardboard will help you achieve a simple, neat, and classy look for your shoe collection. It's easy to make and will hold up to 20 pairs of shoes. With so many ideas for different shapes and designs, you might want to make more than one.
9. Triangular DIY Shoe Storage
Get practical and easy to use; this three-sided shoe rack is ideal for storing shoes. Cut the triangles from your cardboard, use a hot glue gun or stapler to attach them, and start storing! The triangular shape makes it perfect for narrow spaces between chairs, under your bed, or in the closet, allowing you to find what you need easily.
10. DIY Mudroom Bench With Shoe Storage
11. DIY Shoe Rack (Space Saving)
12. DIY Shoe Rack
Whether you use the shoe rack for your shoes or for guests to use, it will be a great addition to any home. A simple project that anyone can do! This DIY shoe rack is a great way to use your scrap wood scraps or free up space in your tiny home. It would look great hung on the wall in an entryway or under your bed.
13. DIY Adjustable Shoe Rack
This DIY Shoe Rack is an amazing addition to your home, designed to be multi-functional and easy to assemble. Store all your favorite shoes in this well-made display rack, and enjoy knowing that you can easily move them from room to room. It's also portable and super easy to make. You can adjust it in any way, shape, or form!
15. DIY Lazy Susan Shoe Storage
If you love lazy susans and need more money for a new one, these DIY shoe racks are the perfect solution. They allow you to store your shoes in a fun way without spending a ton of money on something that will collect dust. This simple tutorial shows you how to make them yourself! Your friends will love them as much as yours did!
16. DIY Shoe Rack With PVC
17. DIY Vertical Shoe Rack
This is a shoe rack idea that most people have yet to think of. It's pretty cool, and it works. It's like building a shot tower with vertical support. The making process is quite easy to perform, and anyone can make it even without any prior woodwork knowledge. It's also a cost-effective way to store all your shoes, and looks pretty cool!
18. DIY Shoe Cabinet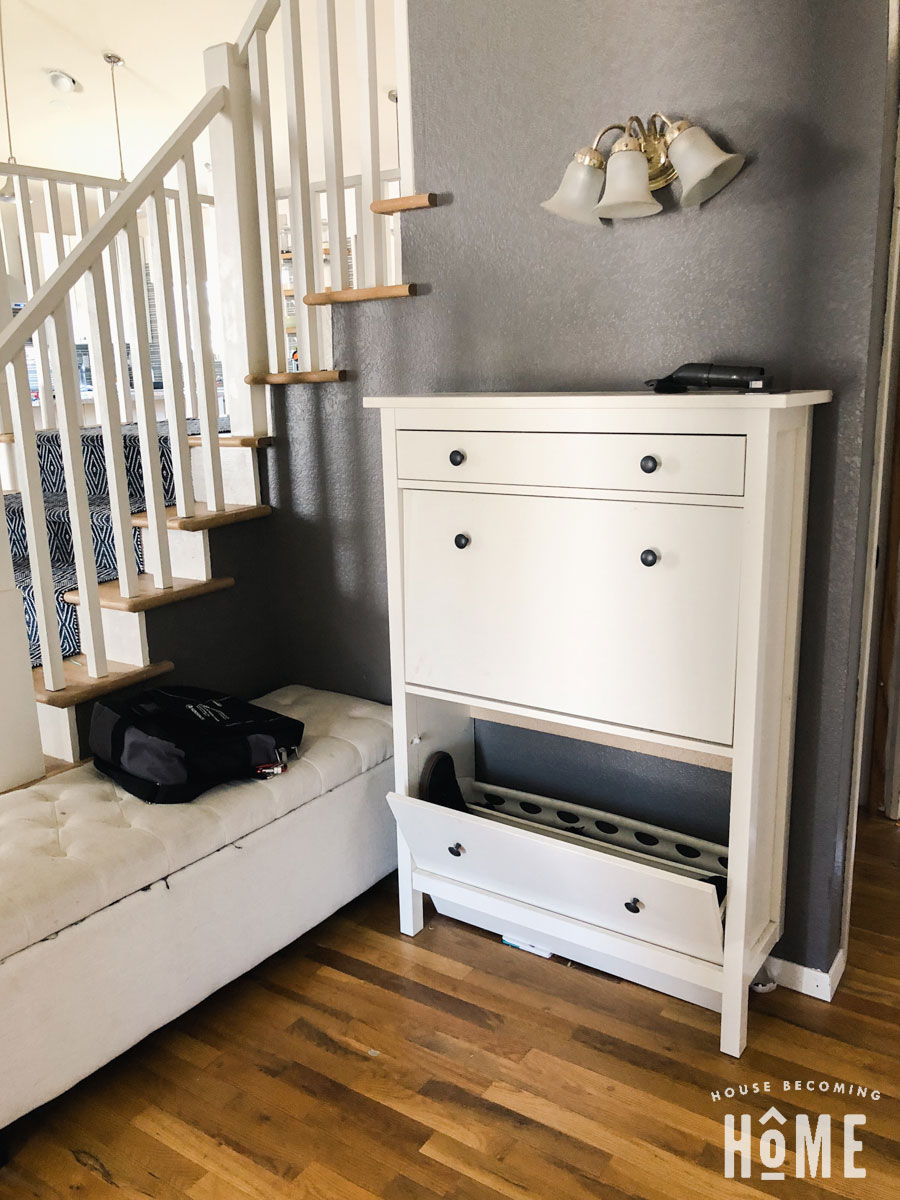 A shoe rack can be the perfect way to keep your shoes organized in a small space. But not all shoe racks have to be bulky, unattractive units that live in a closet. This DIY floating shoe rack is easy to make and uses empty wall space. So go on and make this one right away! This easy-to-make project is perfect for any home and can be customized according to space.
20. How To Make A DIY Shoe Rack
Any shoe lover will want a place to display their beloved boots, heels, and flats! This DIY Shoe Rack is the perfect way to create an organized way to store your favorite shoes. Save money over buying a pricey piece from the store by building it yourself using this easy step-by-step tutorial.
22. DIY Cardboard Shoe Rack
This fairly easy DIY shoe rack is completely customizable based on home decor. You can make it longer, shorter, wider, or thinner by adjusting the size of the cutouts and tape or masking tape strips. This DIY shoe rack is easy to make and perfect for your entryway or bedroom. With the help of a few simple items, you can have a stylish and functional organizer in no time.
23. Hang Them Up
This is a super easy DIY shoe rack. You can use any size and shape of wire hanger to make it work better for your closet space, but the simpler the design, the easier this is to make. The beauty of this idea is that it puts all the unused space in your closet to good use by hanging items like shoes, handbags, belts, and hats on hooks!
24. DIY Shoe Rack
25. DIY Simple Shoe Rack
Do you have too many pairs of shoes scattered all over your room? Get some organization with this simple DIY Shoe Rack. This DIY shoe rack is affordable, easy to make, and simple. It will keep all your shoes organized in one place, saving floor space in your home. It can hold up to 15 pairs of shoes. It's a great way to clear up some space and keep the clutter under control.
26. DIY Shoe Organizer
27. DIY Scrap Wood Shoe Cabinet
Conclusion
Shoe storage is a problem everyone has—not everyone can afford big, fancy closets with designated space for shoes, and even those who do have to deal with the issue of outgrowing a shoe storage system. If you're looking for ways to store and display your shoes without spending much money, these 27 DIY shoe storage ideas are perfect!