30 Free Trendy Crochet Bag Patterns
The article "30 Free Trendy Crochet Bag Patterns" features a collection of crochet bag patterns that are stylish and easy to make. The patterns range from simple to intricate designs and include different shapes and sizes, such as tote bags, shoulder bags, and backpacks. The article also links each pattern and images of the finished products. Each pattern has clear instructions; some even include step-by-step photo tutorials, making them suitable for beginners and experienced crocheters.
The patterns feature a variety of colors and textures, from bright and bold to subtle and neutral, so there is something for every taste and occasion. Whether you want to make a new bag for yourself or as a gift, this collection of modern crochet bag patterns will inspire you.
Crochet bags are a great way to combine fashion and function, and these 30 Free Trendy Crochet Bag Patterns will inspire your next project.
WHY These Patterns?
One of the benefits of crochet bags is that they're eco-friendly and reusable. With the growing worry about the impact of disposable bags on the environment, crochet bags offer a sustainable alternative. They're also durable and can withstand wear and tear, making them a long-lasting accessory. Another benefit is customizing crochet bags to fit your style and needs. You can make a unique and one-of-a-kind bag with various colors and textures.
Free Patterns:
If you're interested in making your crochet bag, I've curated a collection of 25 free modern crochet bag patterns I'll share in this post. These patterns suit beginners and experienced crocheters and come with clear instructions and step-by-step tutorials. Whether you're looking for a small clutch or a large beach bag, this collection has a pattern. So, hold your hook and some yarn, and let's get started!
You'll need a few supplies if you make one of the modern crochet bag patterns. Here's a list of supplies you'll need to get started:
Crochet hook: You'll need a crochet hook in the appropriate size for your chosen pattern. Most modern crochet bag patterns will specify the hook size needed.
Yarn: You'll need the appropriate size and color for your chosen pattern. Most modern crochet bag patterns will specify the type of yarn needed.
Stitch markers mark each round's beginning and end or indicate where specific stitches should be made.
Tape measure: This is used to measure the size of your project as you work to ensure that it matches the dimensions of the pattern.
Scissors: You'll need a good pair of scissors to cut the yarn.
Yarn needle: This is used to weave in the ends of your yarn when you've finished crocheting your project.
Interfacing (optional): If you're making a bag that requires a sturdy bottom or sides, you may use interfacing to give it some structure.
Bag hardware (optional): Some modern crochet bag patterns may require straps, clasps, or zippers. Check the pattern before you start to ensure you have all the necessary hardware.
With these supplies on hand, you'll be ready to get started on your modern crochet bag pattern. Happy crocheting!
See also: 22 DIY Crochet Decor Ideas
1. Crochet Seashell Bag Free Pattern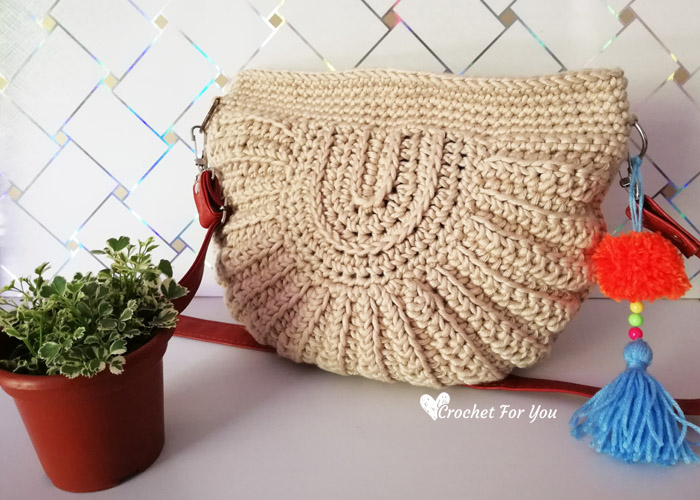 The Crochet Seashell Bag is a free crochet pattern that features a beautiful and unique seashell stitch. The bag is worked in the round from the bottom up, using a soft and flexible yarn to create a relaxed and comfortable feel. The pattern typically includes instructions for adding a lining and a leather strap to carry it easily. This beachy bag is perfect for carrying all your essentials to the shore and can be customized with different color choices to suit your style.
2.

Crochet Capri Circle Bag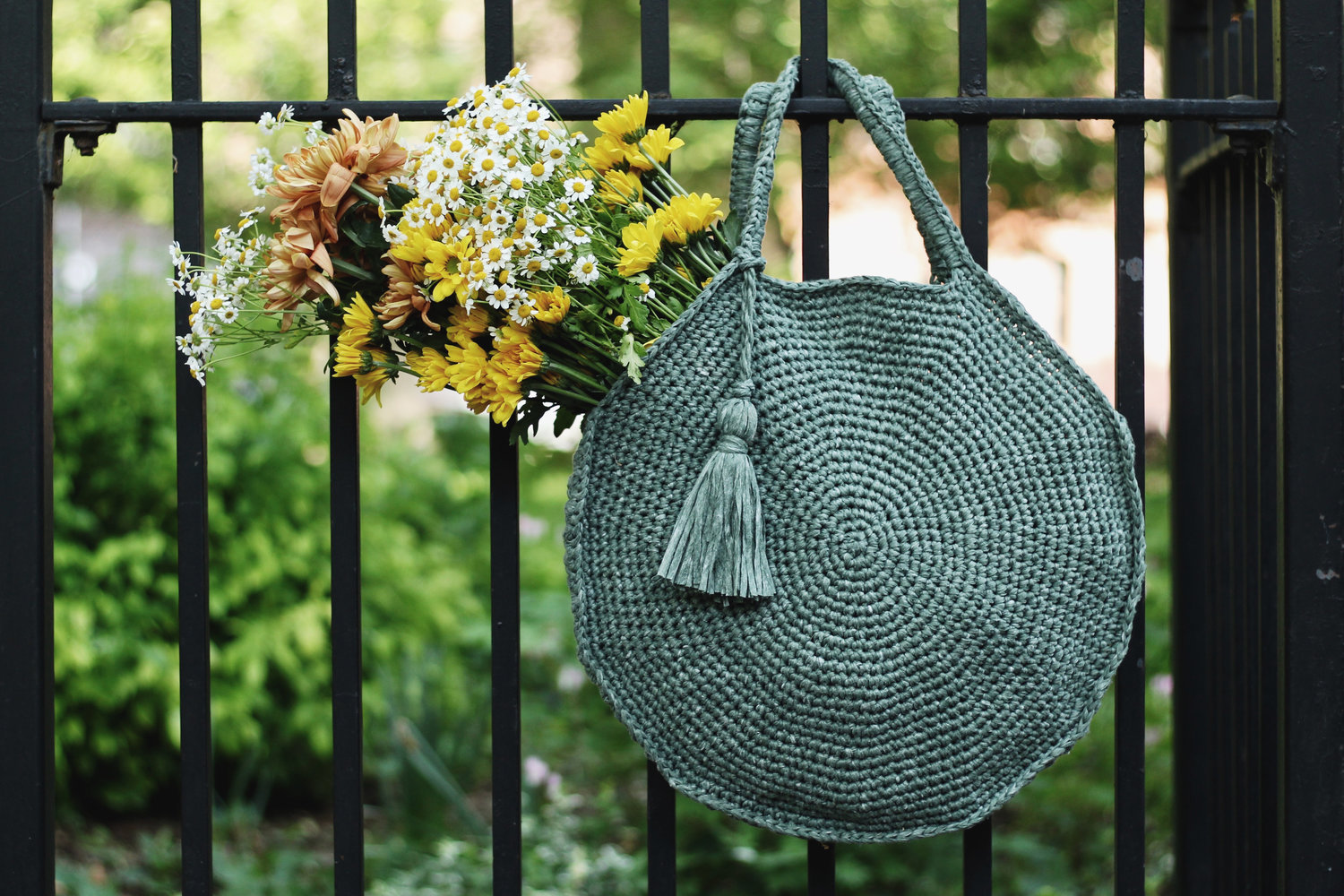 This fun and stylish bag is the perfect accessory to add a pop of color to your closet. This pattern is fast and easy, and it comes in three sizes. At the end of every round, you will be instructed to slip-stitch together all remaining stitches until the end. This keeps your work neatly together, so you don't have to worry about finishing off at the end of each round.
3. Florence Backpack Crochet Pattern
This versatile backpack is perfect for both men and women. The gathered design on the back makes it easy to adjust the size as needed. This project is perfect for a beginner crocheter who wants to learn something new, great for travel and college.
4. Crochet Diamond Tote – Free Crochet Pattern
The Crochet Diamond Tote is a free crochet pattern that features a unique diamond pattern on the front and back of the bag. The tote is worked in the round from the bottom up, using sturdy cotton yarn to ensure the bag is durable and can hold its shape. Overall, the Crochet Diamond Tote is a fun and functional project that can customize to suit your style and needs. Whether you make it for yourself or as a gift for a friend, this tote will surely be a favorite for years to come.
5. Crochet Water Bottle Holder
Is it hot? Is it cold? You'll be good to go if you have your water bottle nearby. This easy crochet pattern creates a practical bag that keeps your bottle in and out of the way. This simple water bottle holder makes it easy to stay hydrated when you're on the go. The super-efficient design uses less yarn than other patterns, so you can use scrap yarn or make one for each family member.
6. Crochet

Mosaic Bucket Bag
This beautiful crochet bag is perfect for any occasion. It has a clean, contemporary look and makes a great accessory for your outfit. The pattern is simple enough to make in one afternoon, yielding an elegant and stylish result.
7. Crochet

Wildrose Backpack
The softest, most comfortable backpack that you'll want to wear everywhere. This easy-to-crochet backpack pattern is worked in two yarns at once using simple post stitches to create distinctive crochet textures and beautiful details in a super-fast project!
8. Fair Crochet Boho Purse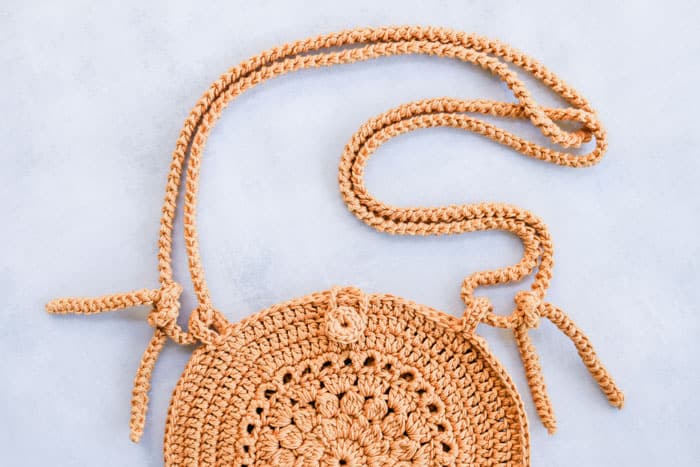 This guide will teach you how to crochet this boho purse, a trendy and versatile accessory. You can create the bag of your dreams with the right knowledge and materials. This crochet bag pattern will turn heads as you stroll down the street. It's also a great way to use yarn scraps, so keep some plastic bags around when working.
9. Crochet

Bobble Clutch Bag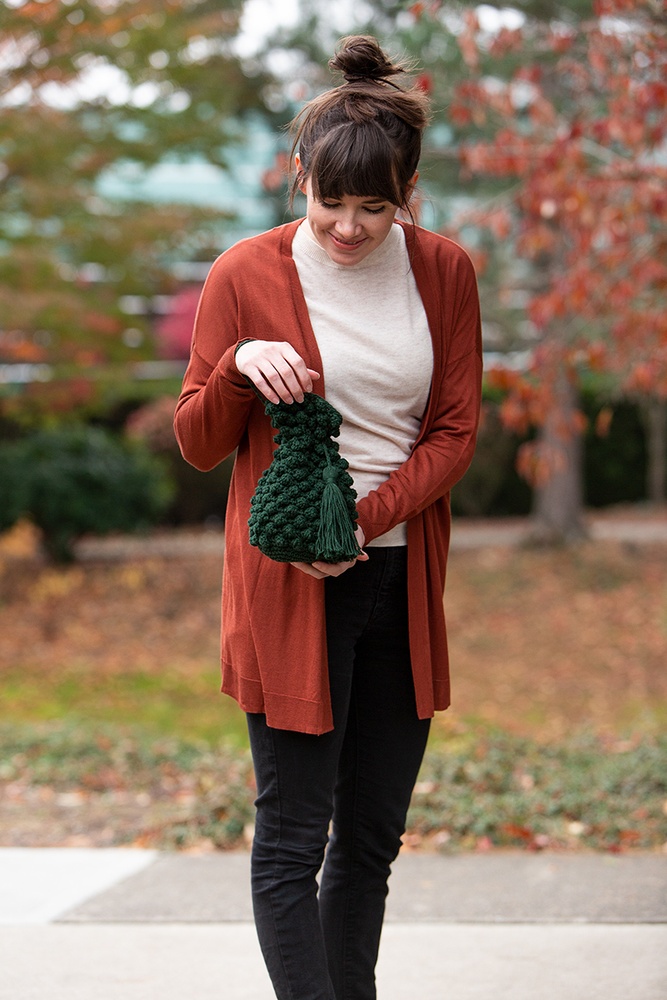 Whether you're looking for an evening bag to match your favorite dress or a clutch that's as fun and stylish as you are, this Bobble Clutch Bag pattern has what you need! It features a wide garter stitch border and bobble sides with a simple yet effective closure.
10. Crochet Sun City Bag
This crochet Sun City Bag is the perfect spring and summer bag. Its lightweight crochet construction gives it a modern look, and its main feature is its sun-inspired shape. You can carry this beautiful bag with you or use it as a beach bag.
11. Cochet Farmer's Market Bag Pattern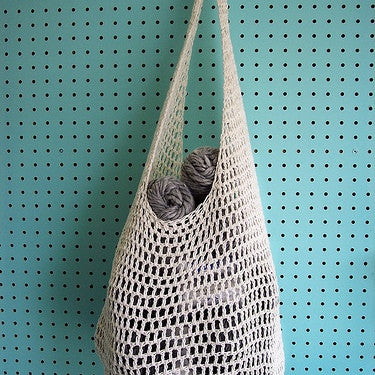 Whether a beginner or an experienced crocheter, you can create a beautiful bag easily thanks to this comprehensive guide. It's perfect for beginners with everything from materials, stitch abbreviations, and care instructions to more complicated techniques introduced as your work progresses.
12. Honeycomb Trellis Modern

Crochet

Tote Bag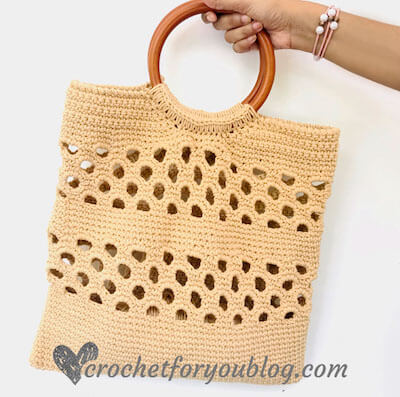 The Crochet Honeycomb Trellis Modern Tote Bag is a stylish crochet pattern that features a unique honeycomb trellis stitch pattern. The bag is worked from the bottom up in the round using sturdy yarn, with the honeycomb trellis pattern emerging through a combination of single crochet, double crochet, and chain stitches. The tote bag typically includes a solid or striped bottom; the handles are added at the top for convenience. This modern tote is perfect for carrying everyday essentials.
13. Crochet Harper Bucket Bag
This bucket bag is versatile, great, and easy to carry. It can fit so much, which is perfect for day and night outings. Here you'll learn how to make your customized version by combining the colors of your choice. With this step-by-step guide, you'll learn how to make the perfect size for your needs and how to customize it to be unique.
14. Easy

Crochet

Project Bag Pattern
The bag is the perfect size for keeping your projects with you when you go to and fro or storing them in your home when away on holiday. Crochet Easy Project Bag Pattern is a fun and addicting project, perfect for beginners! Once you learn the basics, you can use this pattern to make different sizes – from a small clutch bag to a big school bag or beach bag.
15. Crochet

Dune Bag Pattern
This pattern gives you everything you need to create this stylish and sturdy bag, which features a flat bottom, handles, and a pull-up top. You can make it in whatever size you want, using any yarn or fiber suitable for the project. There are lots of different varieties of yarns available, so you're bound to find one that works for your project.
16. Crochet Modern Boho Handbag Pattern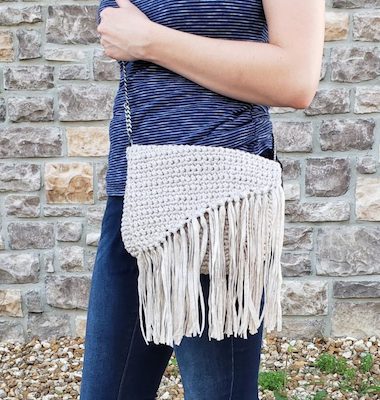 The Modern Boho Handbag is a trendy and stylish bohemian crochet pattern. This versatile handbag is perfect for everyday use or special occasions, and the pattern can be customized with different color choices to match your style.
17. Crochet

Squares Bag Pattern
Whether making this crochet bag as a gift or adding a personal touch to your accessory collection, it's soft and simple enough to take on the go. With many options in this easy-to-follow tutorial guide, you will have lots of fun creating this project!
18. Crochet

Tapestry Zipper Pouch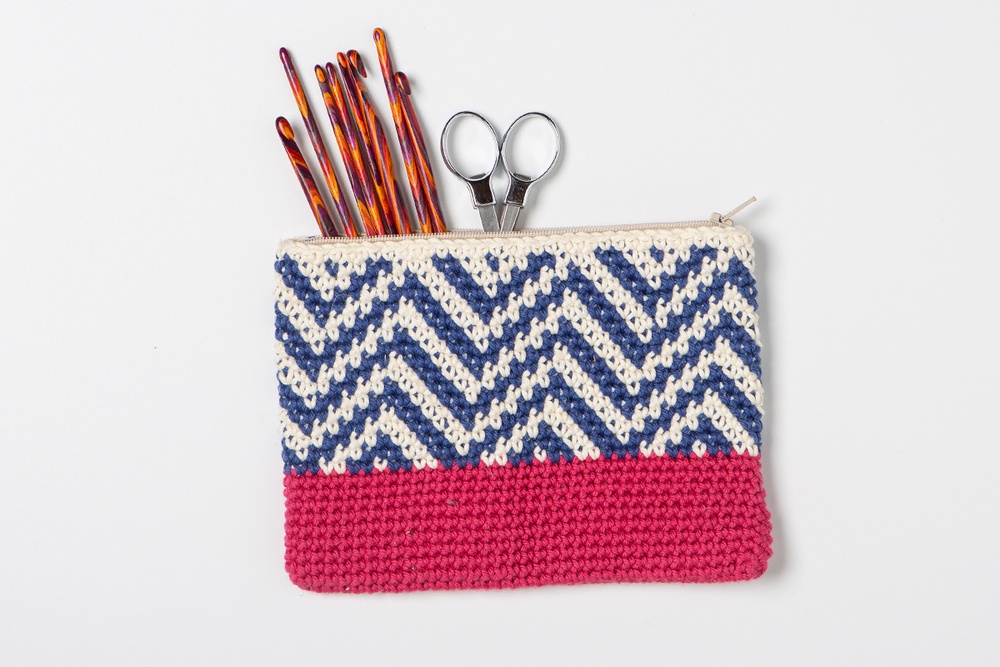 Add this handy little bag to your crochet collection. This tapestry zipper pouch is a great project for a beginner crocheter. It is mostly single crochet with a simple picot edge and a beautiful cross-stitch pattern to make this a quick project if you need to finish some Christmas gifts quickly!
19.

Crochet

Bobble Notions Bag Pattern
This crochet bag pattern is perfect for keeping your hooks and other notions safe and sound! It zips up, so you can be confident that your hooks won't accidentally fall out while on the go. This is a great bag to use up extra yarn scraps or a skein that's too pretty to cut into without putting it to good use!
20. Crochet

Rhythm Tote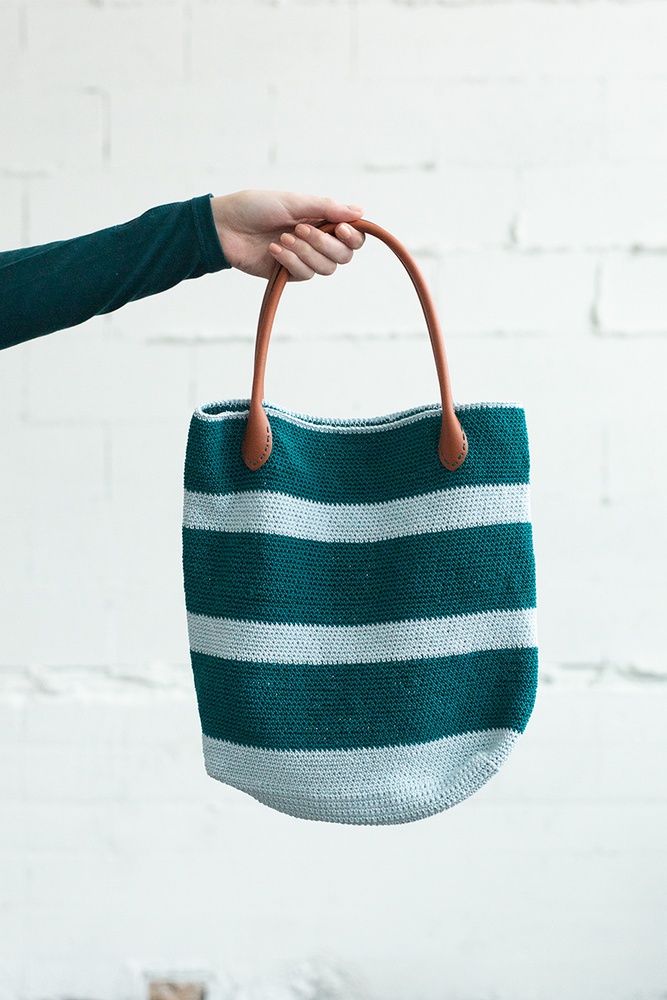 Ease into your day with this simple yet elegant crochet bag. The Rhythm Tote by Janlynn is handmade of lightweight acrylic yarn in a lovely rust. This crochet tote bag is made from a pattern of simple, easy-to-crochet stitches that create a beautiful texture. It can be done in any yarn and is a great project for removing your yarn stash!
21. Crochet

Star Stitch Pouches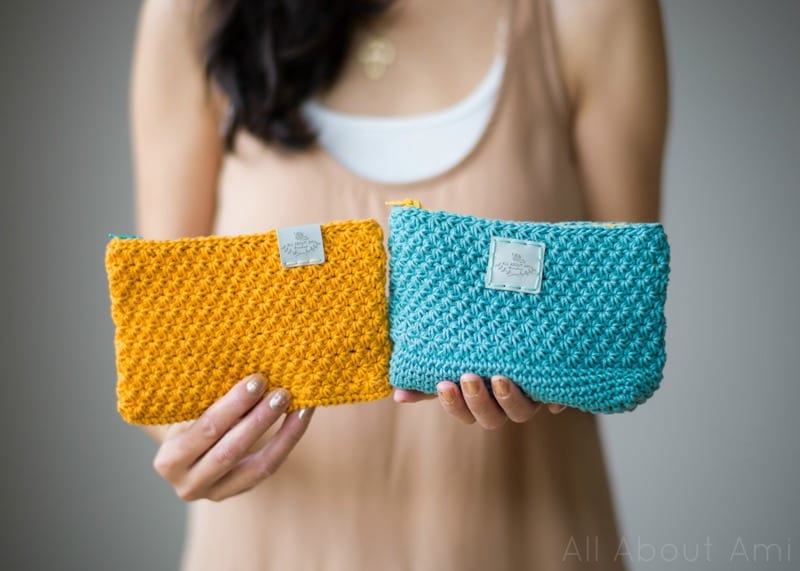 This compact, rectangular pouch will take you less than an hour to crochet! Don't worry if you haven't used the star stitch before – a video tutorial is included so you can get started immediately. This pattern is perfect for entry-level crocheters and would make a lovely gift or a cute new addition to your wardrobe.
22. Granny Square Bag Crochet Pattern
Love granny squares? Use up your scrap yarn with this free crochet bag pattern. It has a large, roomy interior to hold everything you need on those long days at the beach. Perfect for shopping or as a beach bag for your summer vacation. The thick and sturdy handles make it comfortable to tote around all day.
23. The Whimsy Satchel Crochet Pattern
The Whimsy Satchel is stylish and versatile, featuring a roomy interior, super soft lining, and durable handles. This bag can be made in various colors and yarn weights – anything goes! Simple shapes, stitches, and special touches like crocheted handles make this an easy crochet project that you'll be excited to use repeatedly.
24. Crochet

Moroccan Tote Bag Pattern
This pattern is for the novice and advanced crocheter who want a fun new project. This bag uses simple stitches to create a beautiful yet practical crochet bag! You can make it any size and use it as an overnight bag, carry-around pencils, or pens!
25. Crochet

Wildrose Market Bag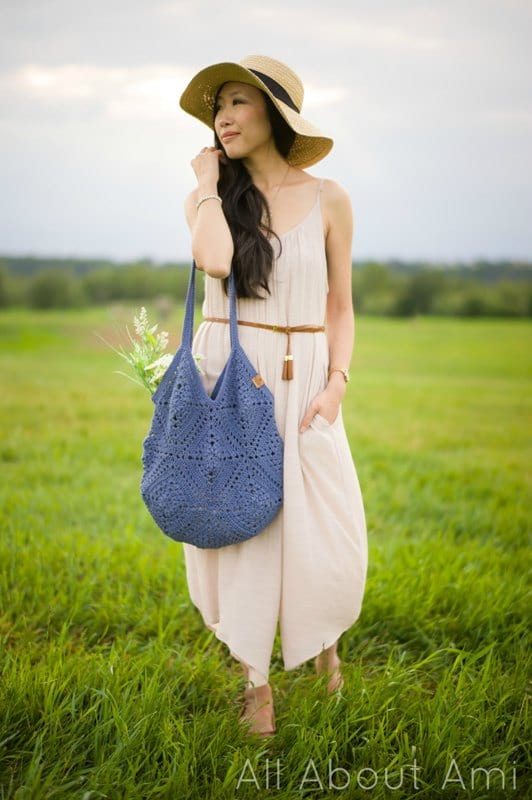 This wild rose market bag has everything you need to carry your groceries with style! Its roomy size, and thick strap make it comfortable for carrying around groceries, beach supplies, or anything else! The handles are big enough to be comfortable for heavy groceries, but if you prefer a different look, add striped handles and make it into a shoulder bag.
26. Summer Crochet Shoulder Bag

You're sure to turn heads with this versatile, functional bag! This easy-to-make tote bag is perfect for carrying books, groceries, and more. It features a professional look that can be customized in any color combination. Make it for yourself or a loved one — once you try this pattern, you'll want one for everyone on your gift list!
27. Crochet

French Market Bag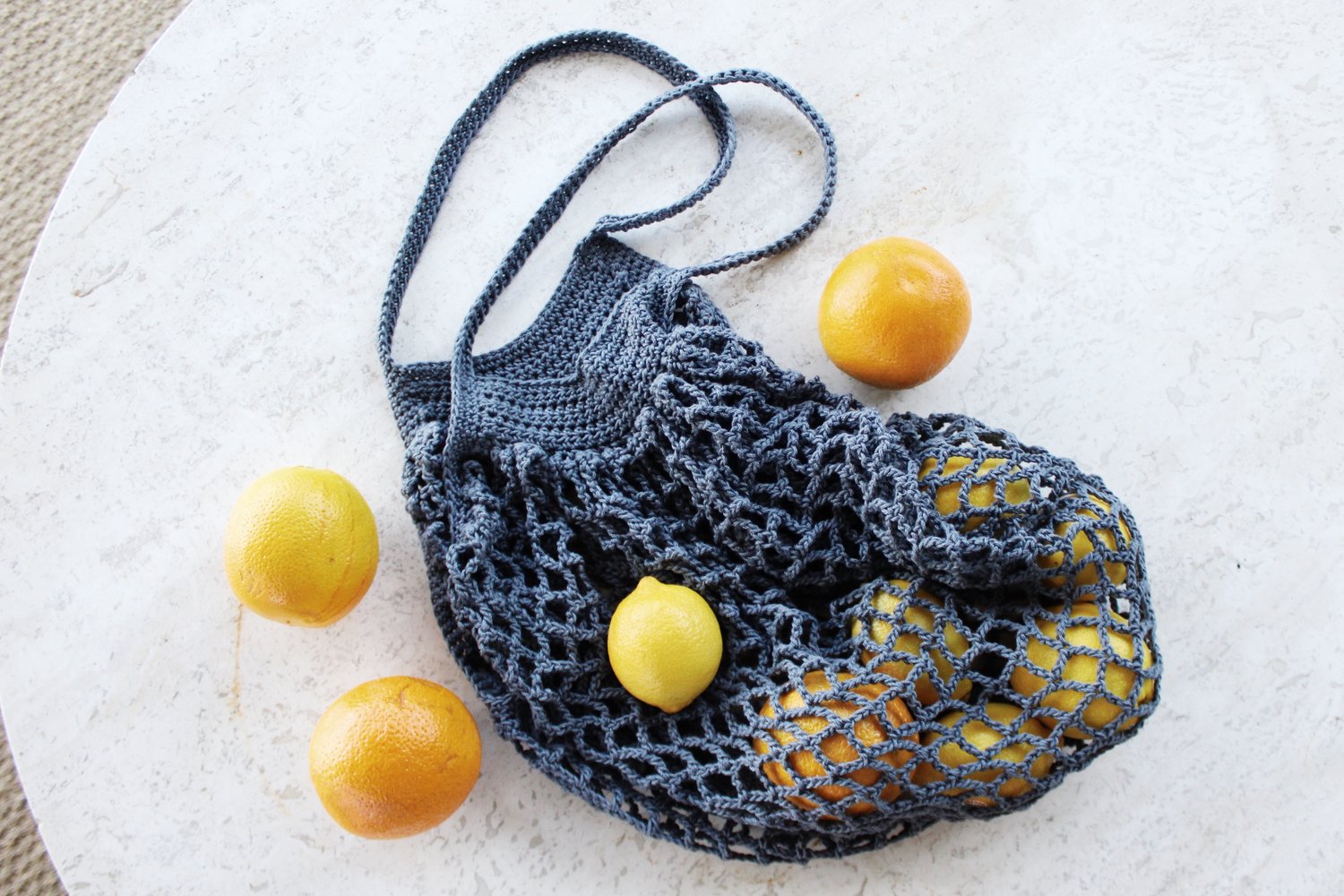 Why spend over $100 for an imported French Market Bag? This detailed pattern includes the materials needed, color recommendations, and photos to help you make your own. You will be astonished at how easy it is to make!
This versatile bag is perfect for any time you need to be hands-free. It can hook onto your belt for convenience, or use a belt of your choice! This bag uses the versatile camel stitch to create durability to go on adventures with you.
29. Crochet

Stash buster Project Bag
You never know what original idea might strike you at the local yarn shop, so start collecting your favorite remnants now. Don't worry about running out of yarn because it's all included in this easy project bag. Work two rows of slip stitches and crochet a button loop on the same row as the buttonhole. Have fun with color choices and stash bust to your heart's delight!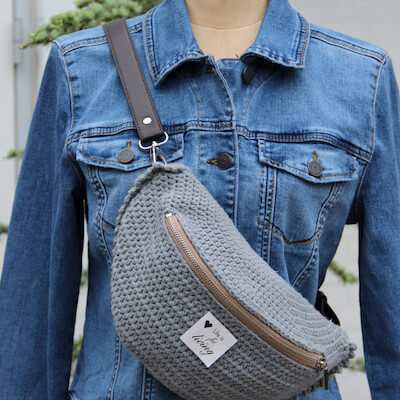 The Crochet Crossbody Belt Bag is a unique and fashionable crochet pattern that creates a trendy and versatile bag. This pattern is worked in the round from the bottom up, using a soft and supple yarn paired with a genuine leather belt to create a stylish crossbody bag. This hands-free bag is perfect for a night out or everyday use and can be customized to fit your style.