31 Italian Kitchen Ideas to Make Your Kitchen a Happy Place
Whether you want to try Italian cooking or add style to your Kitchen, this list of 31 Italian Kitchen Ideas to Make Your Kitchen a Happy Place is perfect. The Kitchen serves as the beating heart of any home—not only is it where most of the cooking happens, but it's also where friends and family will gather to enjoy their meals. A kitchen should be a space that makes you feel happy and comfortable, so if you're looking for some inspiration to change things up, check out these Italian Kitchen Ideas and see how they can help you make your Kitchen into a place that suits your personality.
Look at these favorite 31 Italian Kitchen Ideas to Make Your Kitchen a Happy Place and to help recreate this unique look in your home.
Best of Italian Kitchen Ideas
Italian kitchen ideas are the perfect way to transform your home into an authentic Italian villa. Here are some of the benefits that come with incorporating this style into your kitchen design.
1. It's timeless
Italian kitchens have been around for centuries and are still popular today. The reason? They have a classic appeal that always stays in style. Italian kitchens feature colorful tiles, woodwork, and marble details that look just as good in modern homes as in traditional ones.
2. It's comfortable
The relaxed atmosphere of an Italian kitchen is one of its best features. You can spend hours cooking in an Italian kitchen without feeling trapped inside a small space. The large windows and high ceilings allow natural light to flow into the room, making it feel open and airy despite its size.
3. It offers plenty of storage space
Italian kitchens are known for their large pantries, perfect for storing all food items, from pasta to spices and oils to canned goods. They also have ample countertops so you can prepare meals on multiple burners without feeling cramped or overcrowded by too much equipment occupying valuable real estate on your work surface space.
Why DIY Italian Kitchens?
When remodeling the Kitchen, following the flow and trends can be tempting. But if you want something more unique, then DIY Italian kitchen ideas might be just what you need!
So why make DIY Italian kitchen ideas? Here are a few reasons why:
You can design it exactly how you want it
It will be cheaper than hiring an interior designer or architect
You can build the Kitchen yourself (and get some exercise in the process)
See Also: 15 Trending Bedroom Design and Decor Ideas for a Modern Look
1. The Italian Renaissance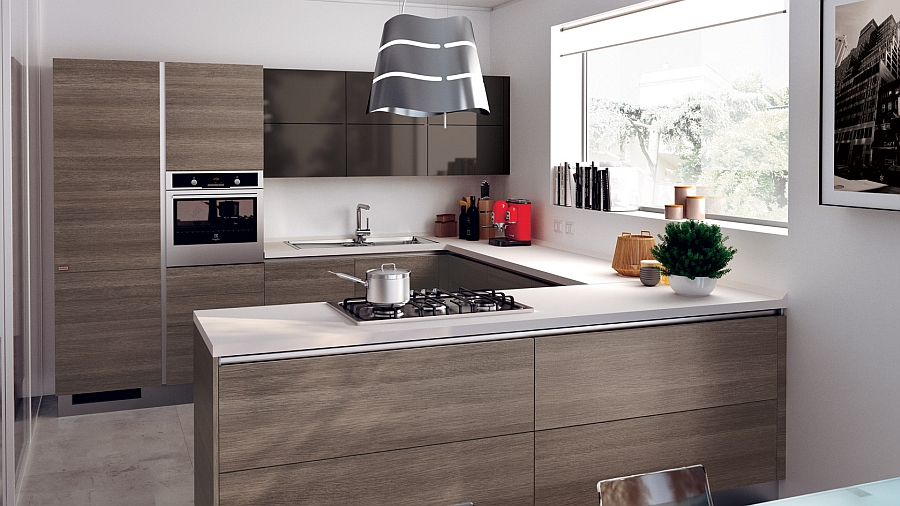 In a world where most of us deal with the constraints of small spaces and not-so-warm atmospheres, the Italian Renaissance kitchen is an ideal place to unwind and relax. With its delicate colors, fine furniture, and elegant hanging lights, it's easy to imagine yourself sitting by the fireplace! Add even more elegance to your Kitchen with our handcrafted lamps.
2. Battle Of The Monochromes
Battle Of The Monochromes
This interior designer brought home a modern concept that blends seamlessly with the room's rest! The Battle of the Monochromes is an intricate display of contrasts. Themes like this are aesthetically pleasing and soothing to the eyes. This subtlety makes it stand out from the rest of the crowd in a league of its own!
3. A Splash Of Boho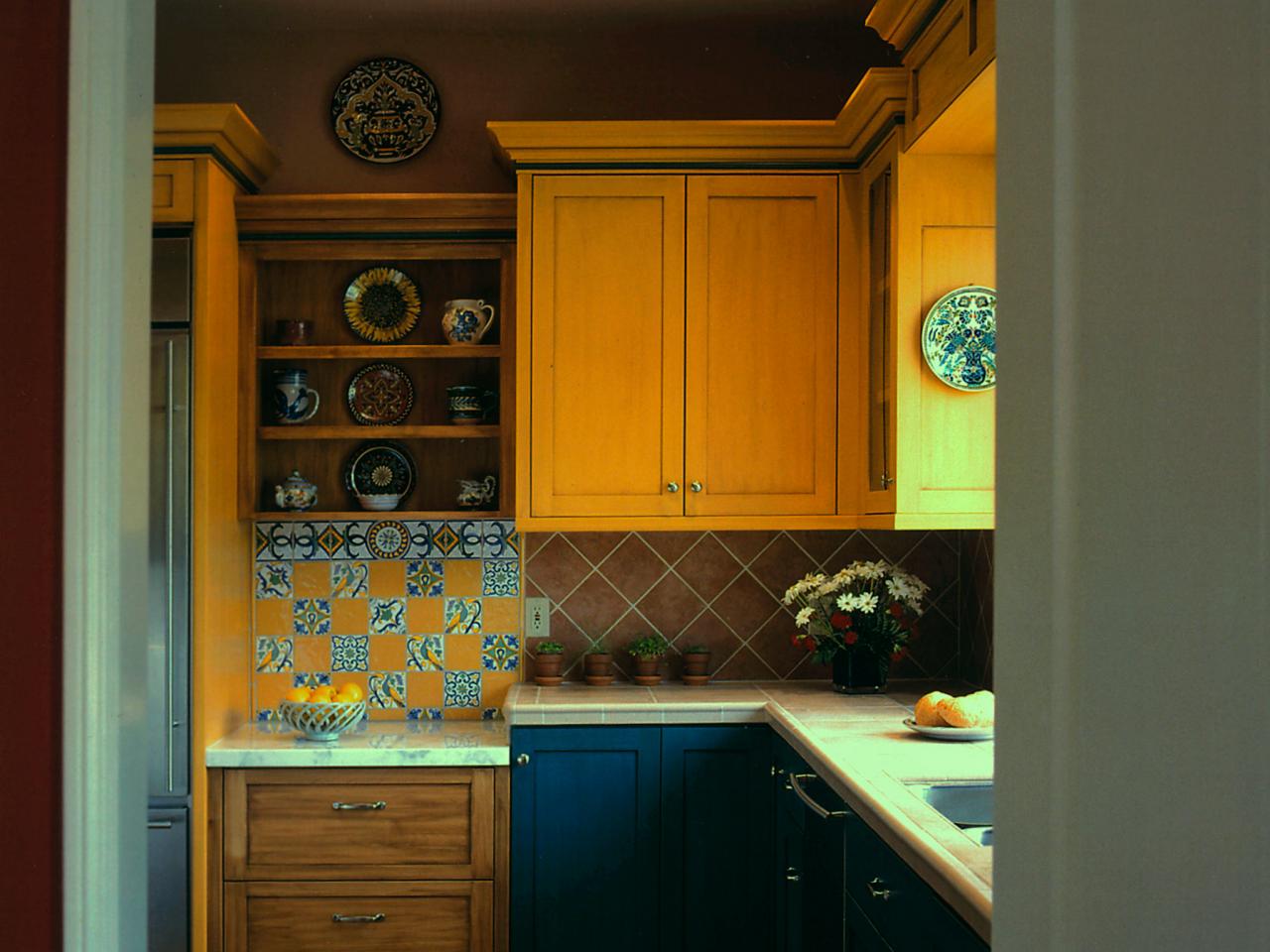 A Splash Of Boho
Take a walk on the wild side with this stunningly bright, beautifully contemporary Italian Kitchen. It's perfectly crafted in every detail, from its stunning yet understated décor to the stunning black tiles lining its walls and the glorious purple-striped comforter on its farmhouse table, which contrasts beautifully with the light-blue wall color. The color palette used in this Kitchen is something to talk about! From deep blues to bright greens and purples, this boho-style Kitchen is a fresh take on the Italian style.
4. Creamy Marbles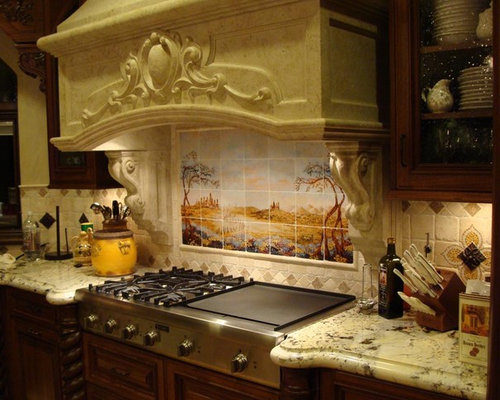 Creamy Marbles
If your Kitchen needs a little glamour, look no further than cream-colored marble. This material will add ambiance to your home, and when paired with modern hardware and appliances, you'll have the ultimate chic Kitchen. This countertop will remind you of all your favorite Italian treats, from fresh fruit to a creamy vanilla cake!
5. Tea For Two, Please!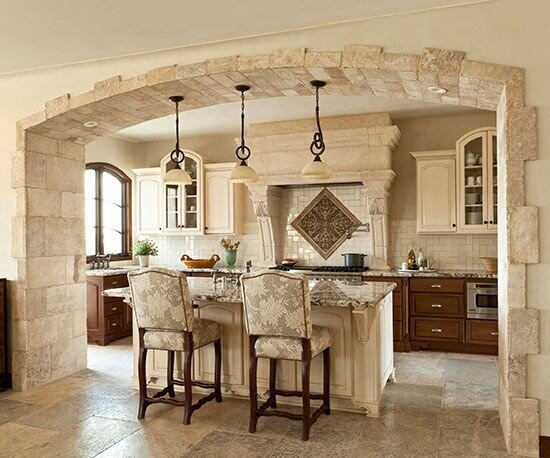 Tea For Two, Please!
If there's one thing we like better than staying in, it's spending time with family and close friends. Tea for two is a great way to enjoy time with others, as both parties eat and drink simultaneously. Use simple building materials such as plywood, 2×4s, and clamps to make this charming DIY island table perfect for tea parties!
6. Medieval Royalties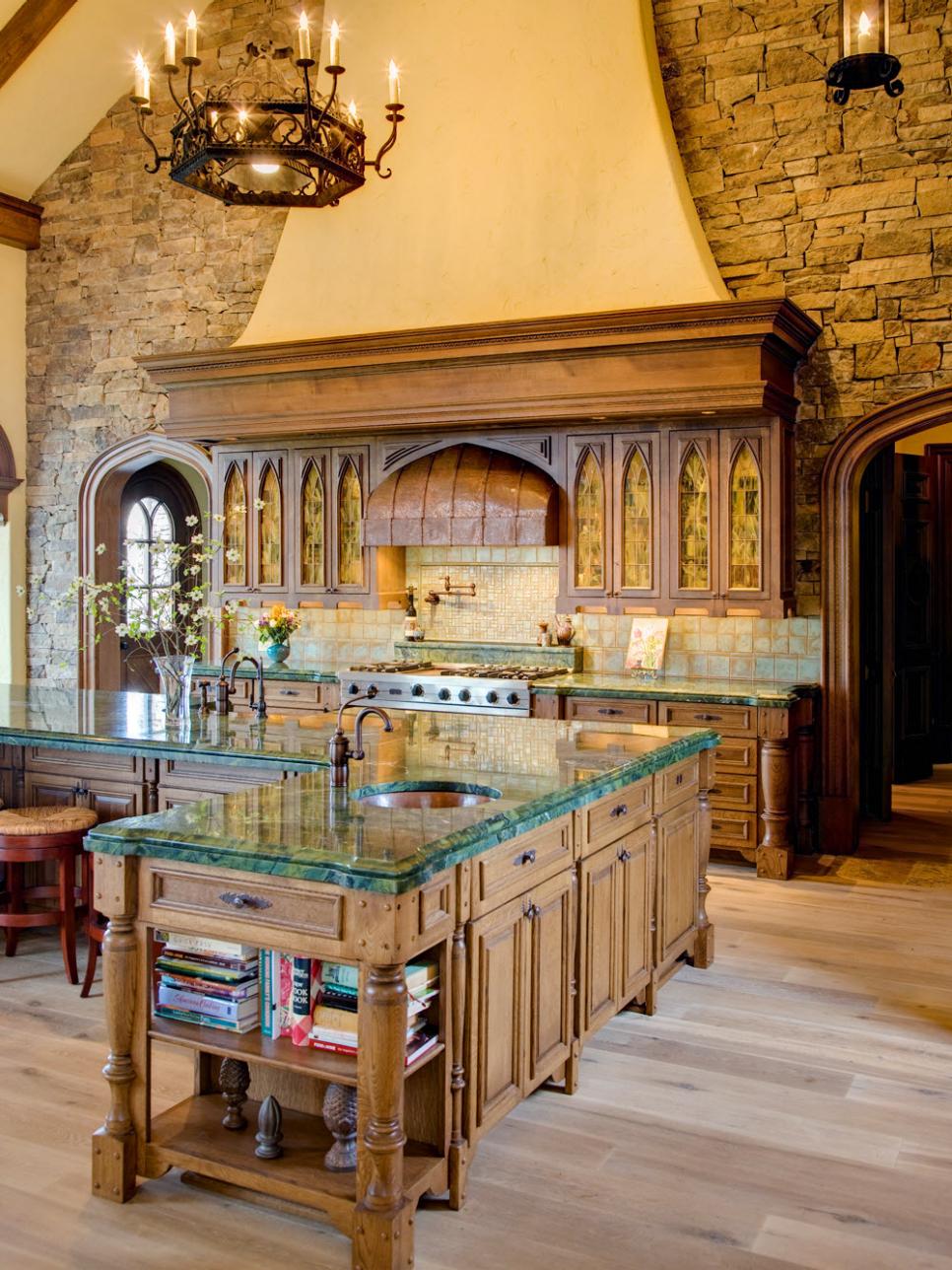 Medieval Royalties
This best kitchen decor is all about royalty. The entire Kitchen is enchanted with endless splendor and has a chandelier to top it off! This elegant chandelier is studded with candle texts, adding that extra touch of luxury. Your friends and family will be in awe as they see this lovely masterpiece above you.
7. Breakfast With Tiffany
Breakfast With Tiffany
A dining table inside the Kitchen makes it cozier and inviting. Breakfast with friends in such a place will remind you of those Sunday mornings spent together. This dining table will remind you of all those special Sunday morning breakfasts with your loved ones.
8. Shine Bright Like A Diamond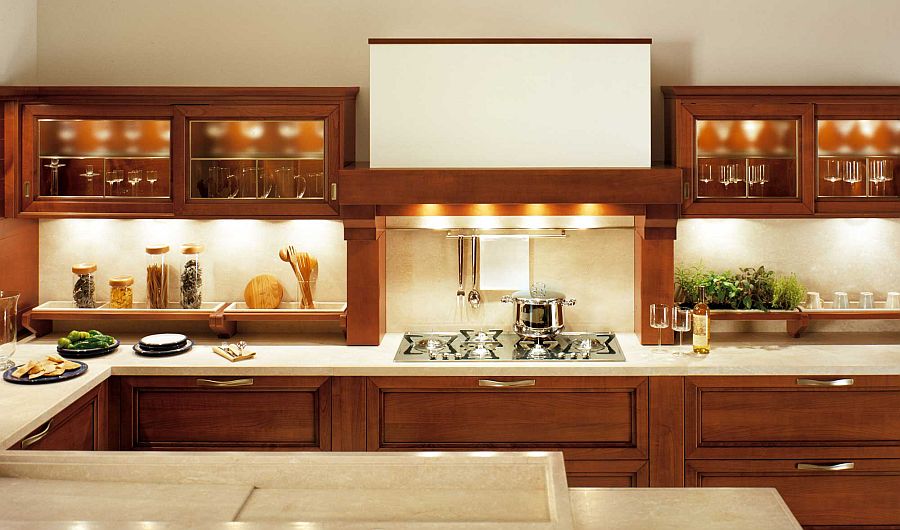 Shine Bright Like A Diamond
They are easy to install and make it easy to turn on or off the lights with just a simple flip! This light fixture will give the classic look of your Italian Kitchen a new refreshing vibe. This piece complements any Kitchen and will appear as though it's always been there! Shine bright like a diamond with these Italian-inspired stovetop lights. The simple yet elegant design illuminates your cooking area for a flawless finish.
9. The Odd One Out!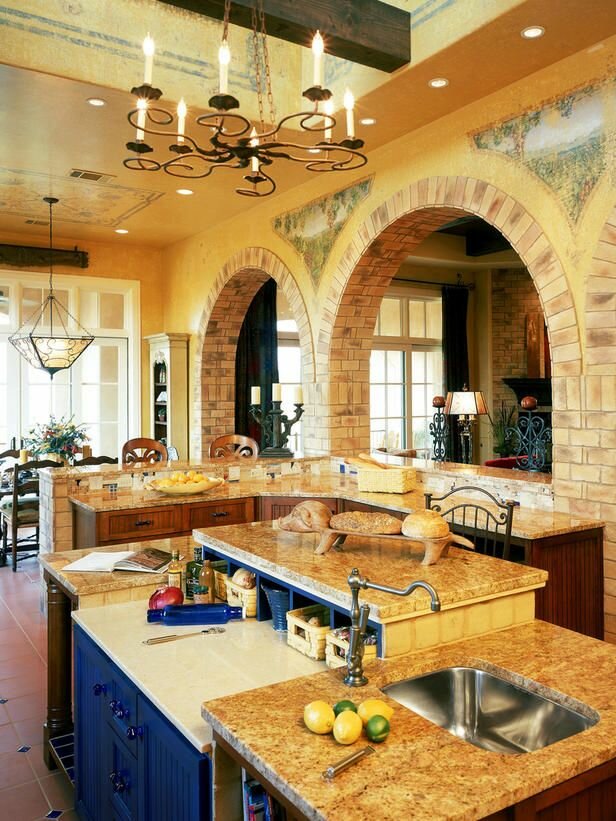 The Odd One out!
So you have a modern Italian kitchen with beige cabinets or a traditional one with white cabinets? We all need that odd one out! Give your Kitchen a stylish vibe with a soft hue blue cabinet. This bathroom cabinet in classic porcelain is ideal for any modern Italian kitchen. Why not add a splash of color to your Kitchen? This blue cabinet will give your modern Italian Kitchen a unique charm! Add some green accents and fresh white tones to complete this look.
10. A Class Apart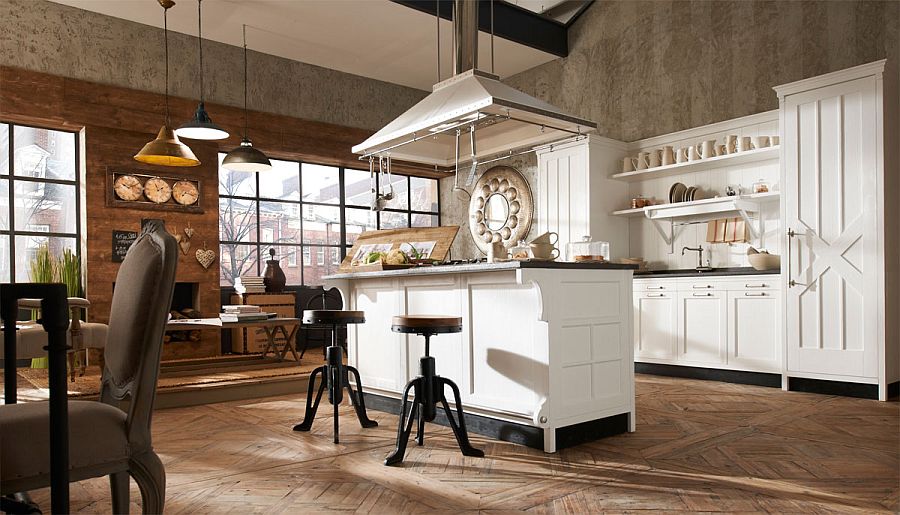 A Class Apart
This gorgeous Italian-inspired Kitchen features an eclectic mix of materials and finishes. Create an unforgettable kitchen with our Italian Kitchen Ideas. We have the ultimate collection of bar stools that can turn any kitchen into a classy hangout spot. Enjoy the best of both worlds with these clever designs and quality furnishings.
11. Artisan Glory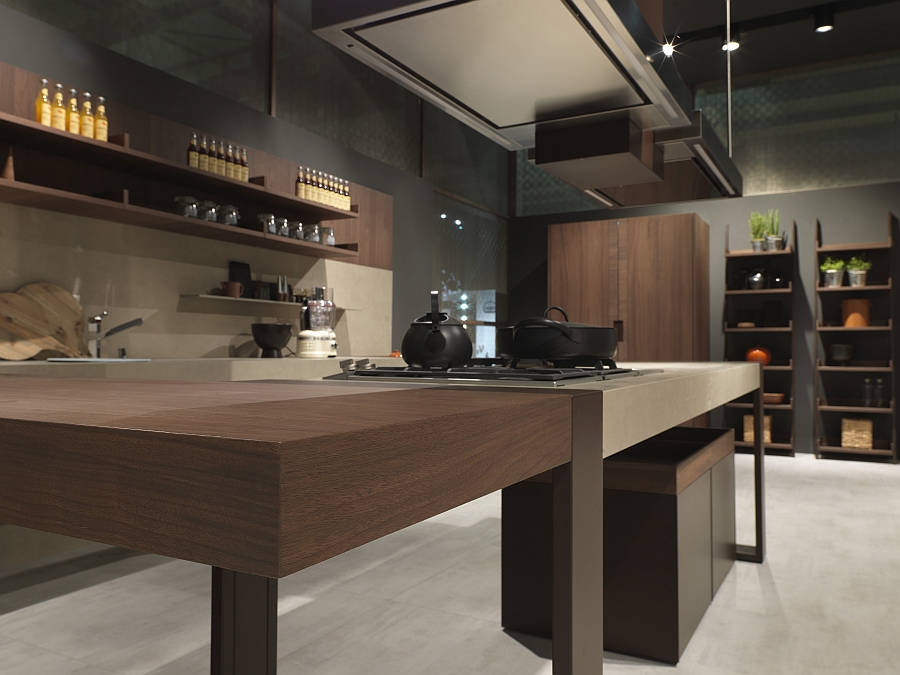 Artisan Glory
If you love modern Italian kitchen design, then this is something that you'll want to see. This Kitchen has been handcrafted with artisanal precision and attention to detail. The sleek finishes and minimalist aesthetics make this the perfect choice for your home. This Italian Kitchen brings in the perfect amount of visual and tactile experience. The Kitchen boasts artisanal glory and an unreal futuristic edge.
12. Bare Minimum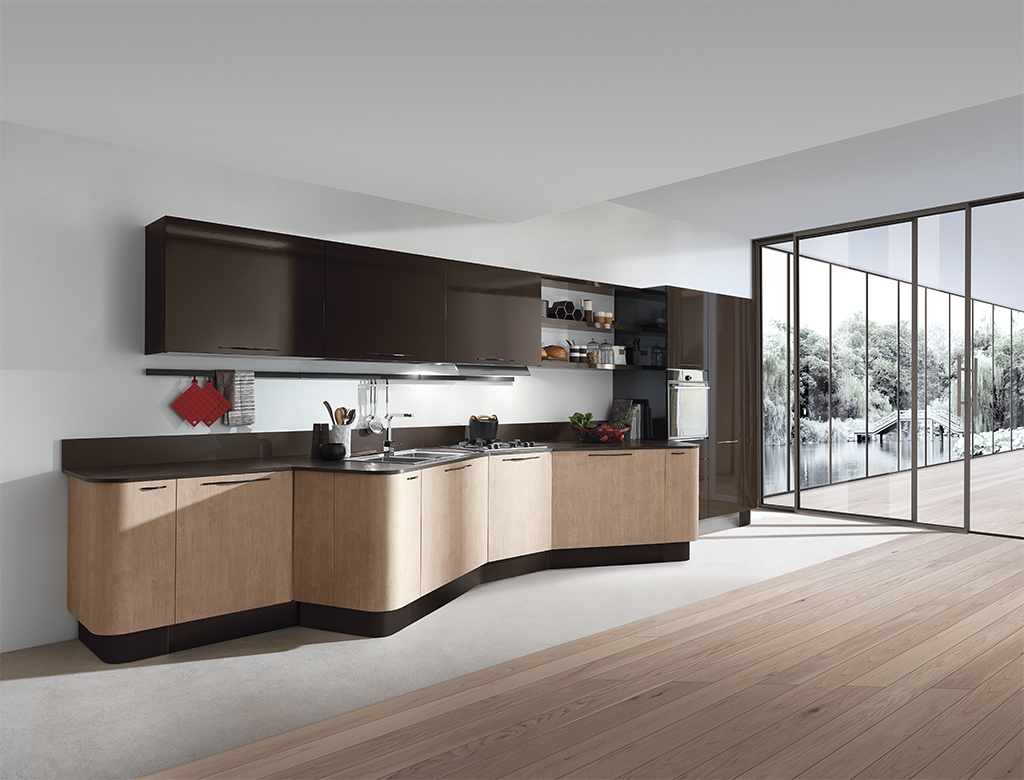 Bare Minimum
Being an artist, there are beauty, elegance, and contemporary touch in this stylish Kitchen. A minimalist kitchen design is always going to look sleek and chic. This is the perfect approach for a modern space that requires ample workspace and architectural appeal. The glossy upper cabinets save much space and give the Kitchen a groovy personality!
13. Voluptuous Curves
Voluptuous Curves
Curves are everywhere you look. How do you like your curves? For this Kitchen, a curved lamp is just the trick to help set off the other curvilinear elements in the space. You'll want one for your dining table, too! The base of this lamp is as straight-lined as they come, while its body gently curves away in a 180-degree arc. This design infuses a touch of romance into your Kitchen and brings out the best of all its contents! Pick one today – you'll be glad you did!
14. Barnhouse Or Farmhouse?
Barnhouse Or Farmhouse?
Are you looking for some kitchen ideas? Then look no further, as we will help you to create the perfect kitchen space. Reminiscent of farmhouses and barns, a Barnhouse-style kitchen is a rustic wonderland. You can bring that charm to your Kitchen using artisan-made Barnhouse furniture pieces like old wooden table tops or cast iron stoves.
15. Elegant Grunge
Elegant Grunge
Are you tired of the same old traditional kitchen designs? Try something elegant yet grungy. Add some groovy disco lights and a few unique items that complement you. This Kitchen is elegant, but the additions make it remarkable. If you have the patience and grit to grind down cement, this is what your Kitchen should look like. This is because the whole room is carved out of concrete. It has a bar top and other additions that make it super cool.
16. Flintstones!
Flintstones!
Love the Flintstones? We do too! This DIY Italian Kitchen is perfect for returning your childhood with a vintage touch. The bright red color will give it a homey feel, and if you add a rug underneath the table to contrast with the wood flooring, you'll create an even better contrast. This Flintstones-style Kitchen is ideal for a toddler who loves cartoons and loves to play! Add some colorful details and accessories to give your Kitchen a warm feeling.
17. Aesthetic Geometries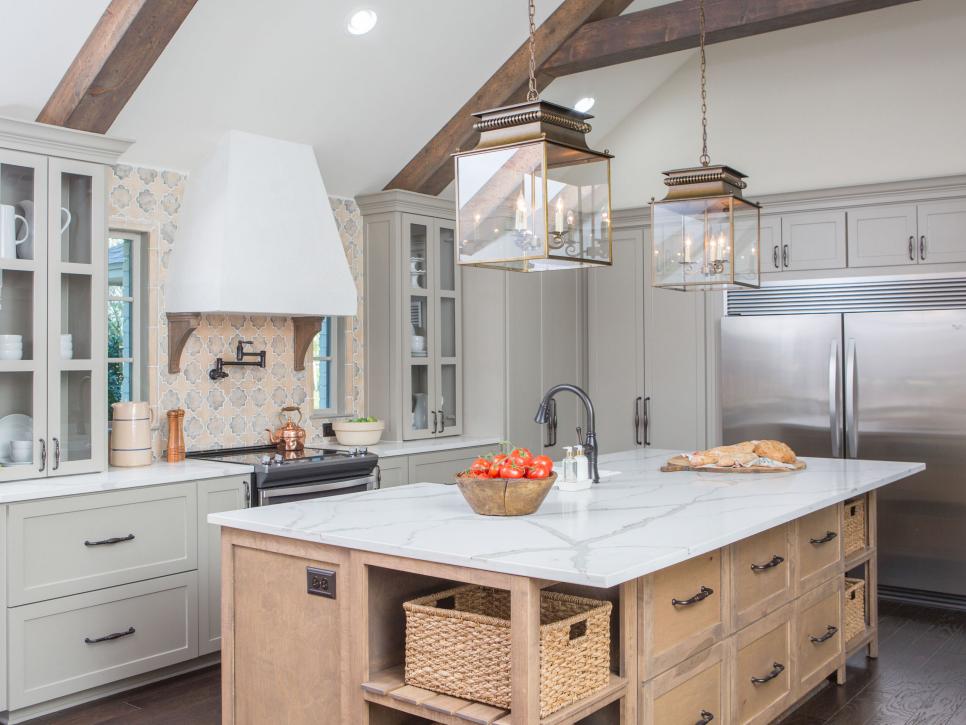 Aesthetic Geometries
This artistic masterpiece of a chandelier will make your Kitchen feel more sophisticated and stylish. The intricate cubical pattern is genuinely eye-catching, evoking the same air of elegance and luxury as the rest of your home. This light will give warmth and brightness to your Kitchen, transforming it into a focal point. The brass panels bring a charming rustic feel, while the intricate cubical details give it a modern touch.
18. Fruity Delights
Fruity Delights
If your Kitchen looks a little too stark, decorate it with fun. These fruity-inspired hangers are perfect for keeping your kitchen essentials within reach. Fruits like pears and apples have been associated with health and longevity. Hence, it makes sense to bring them into the Kitchen like this! Bring some bling to your fruit bowl by adding some gold-rimmed plates. Add these to your colorful Italian hobo-style kitchen bench.
19. The Frosted Glass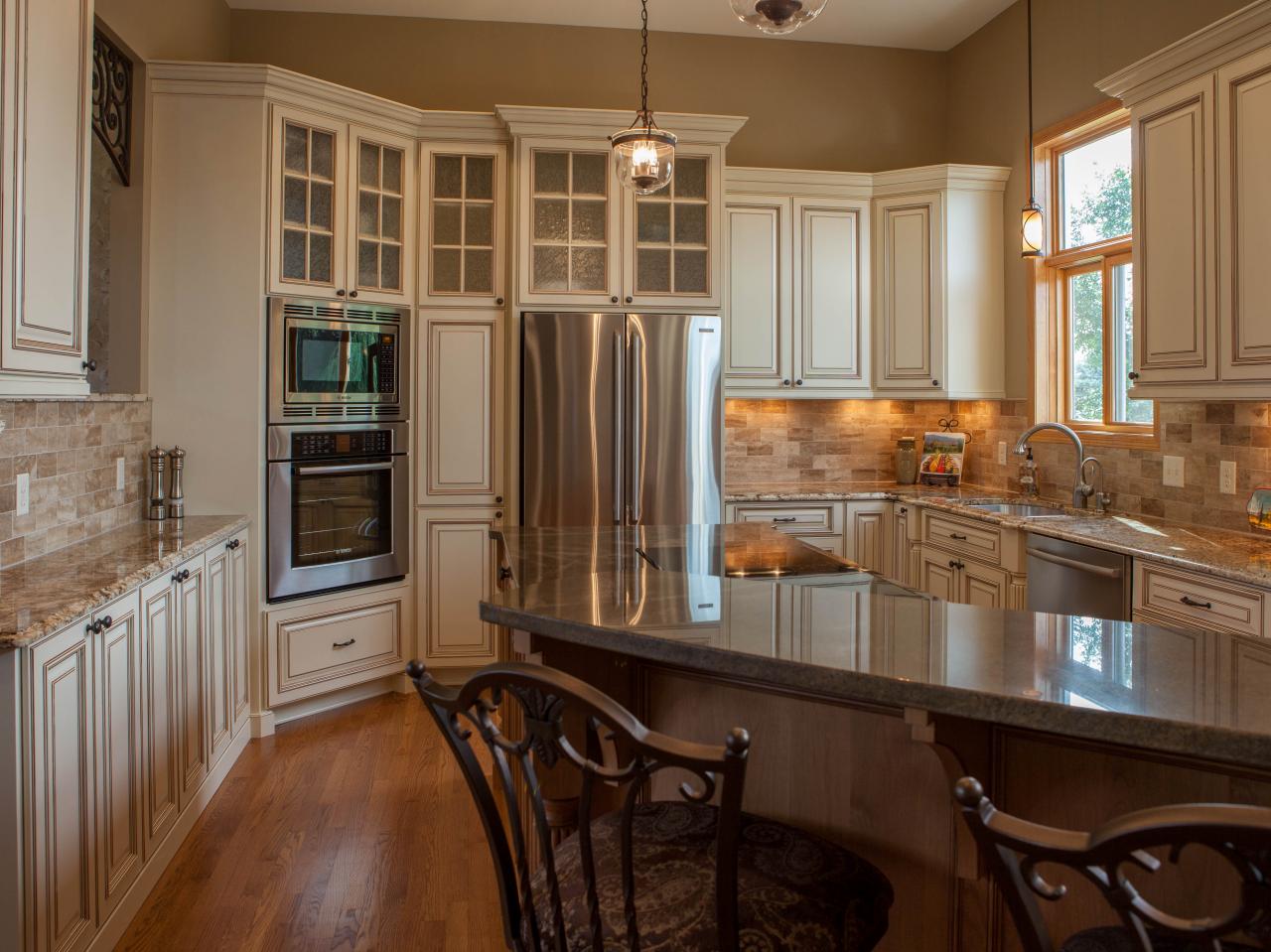 The Frosted Glass
A kitchen is incomplete without cabinets. To make your Kitchen beautiful, you need to have frosted glass cabinets. These cabinets will give your Kitchen an evergreen glow. If you are looking for cabinets that speak French, look no further! Look fabulous in the Kitchen, and with these frosted glass cabinets, you will feel like you are on top of the world. Add sophistication and unique style to your Kitchen with these beautiful cabinet doors.
20. Time To Get Artsy!
Time To Get Artsy!
Art and creativity can be brought into the Kitchen in many ways, and I've got two wonderful DIYs to share with you today! The first project involves creating artistic flourishes on an ordinary jar, and the second is painting your favorite fruits to add color and flair to your kitchen area. Italian kitchens are not just about the food but also the art pieces and accessories that adorn the Kitchen. Adding a touch of creativity instantly elevates any space and is a great way to make your Kitchen the best part of your home.
21. More Color, Less Worry!
More Color, Less Worry!
Whether you are just starting or have been in a home for a while, using color to change the feel of a room is a quick and cost-effective way to move things around. Plenty of colors can make an average space enjoyable, but one of my favorites is red. Red is eye-catching and warm, which makes it great for a space like the Kitchen. In this kitchen project, we used existing cabinets and added some new hardware and paint to make them pop.
22. Shiny Frenzies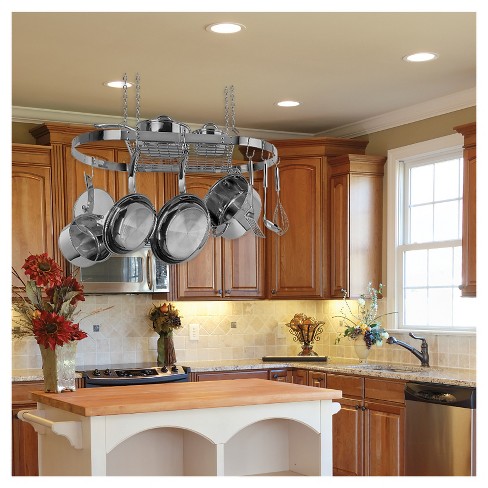 Shiny Frenzies
This Kitchen makes the most of its limited space with a hanging pot rack. You can also use it to display your favorite mugs or anything else you like! Shiny Frenzies is one of the classic Italian kitchen ideas. It is simple enough to build; therefore, it can be made quickly. All you need is a pot rack and some tools. You can add more fun with the colors if you would like.
23. Vintage Glamour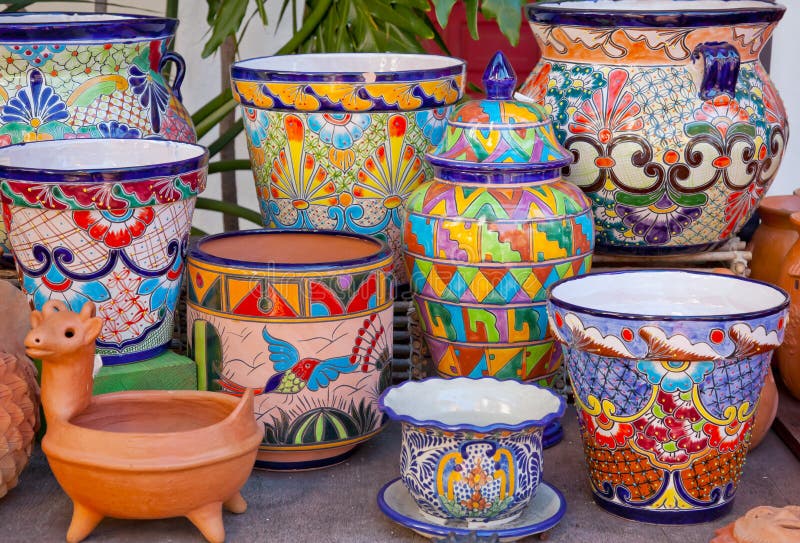 Vintage Glamour
Your Kitchen needs a vintage touch, and this DIY will give you a vintage look. Besides being uber-cute, it is also super practical and cost-effective. Use the jars to store your pickle, breadcrumbs, or almond biscotti. And if you have kids around, they can also use them as toy organizers! Storage jars and storage items can help you with all the small things that need to be stored in your Kitchen. It's also great to add charm and character to your space.
24. Floral Enchanteur
Floral Enchanteur
These vintage-style curtains will give your Kitchen a romantic touch. Vintage floral-inspired curtains can make your Kitchen look whole and fulfilling. Spice up your Kitchen and add a bit of romance with our stunning new floral kitchen curtains. These vintage-style curtains will work in any room in your house and suit any style, from vintage to contemporary; we guarantee you will love them!
25. White Kitchen Design with Green Island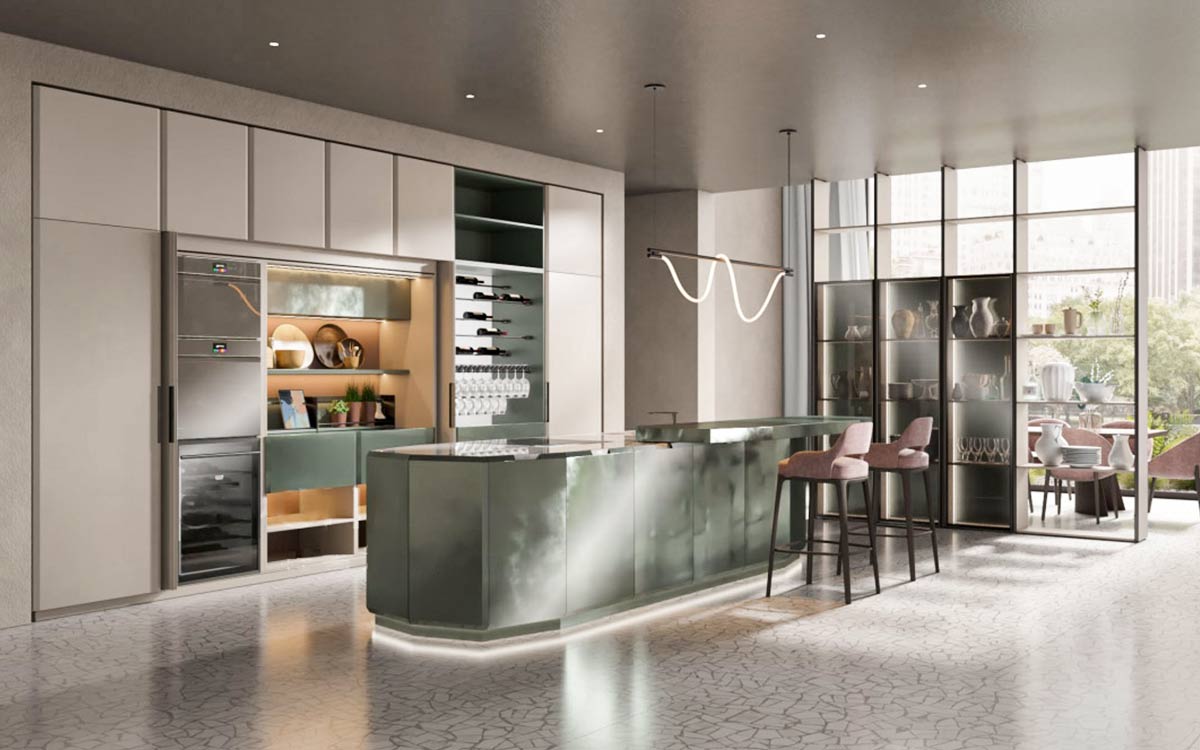 White Kitchen Design with Green Island
Are you looking for an Italian design with a modern and contemporary feel? Then look no further because we have just what you need! This Kitchen has beautiful towers and a range hood that will make anybody leave this Kitchen with a smile on their face. It's sure to impress even the most skeptical of guests.
26. Meaningful Hangings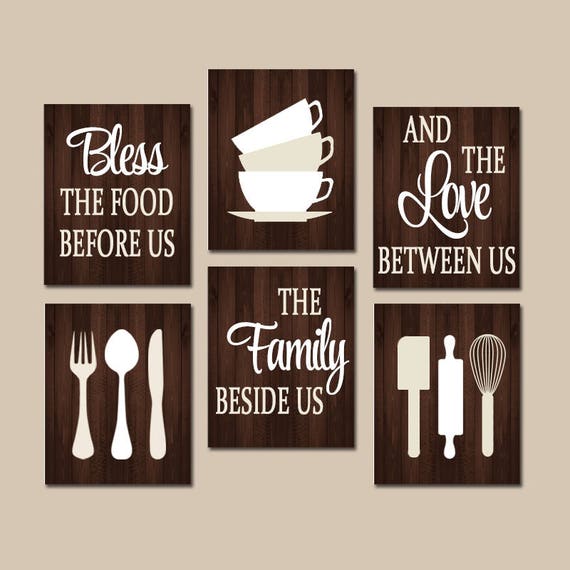 Meaningful Hangings
No matter what kind of personality and design your Kitchen has, be it traditional, industrial, or contemporary, statement hanging frames are the perfect way to add color and style to your surroundings. Being a great way of displaying anything from family photos to favorite artwork and recipes, you can make your kitchen rules.
27. Bespoke Metallics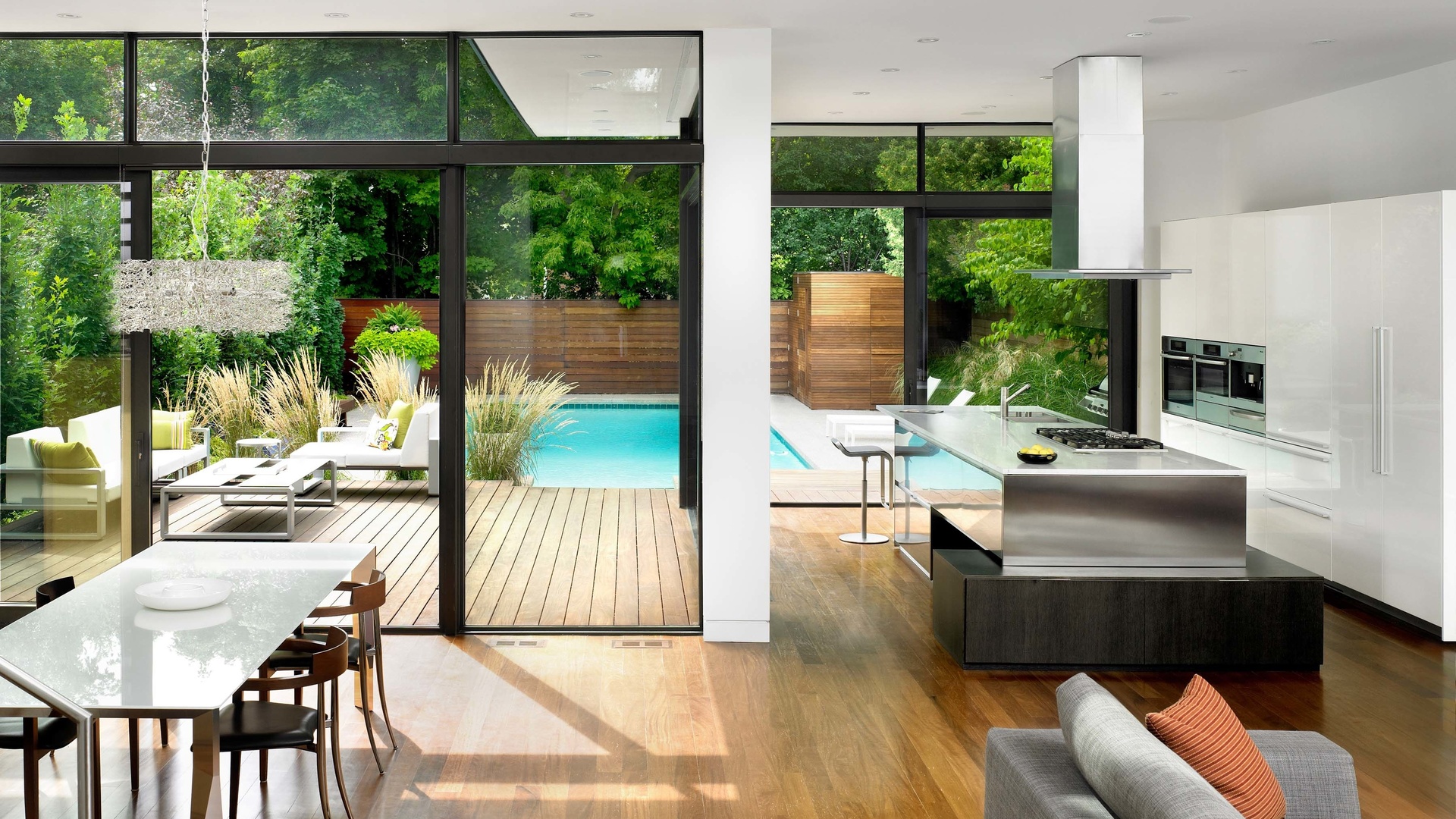 Bespoke Metallics
Make your Kitchen look modern, clean, and exotic with natural, neutral tones. This Italian Kitchen is an excellent example of combining complementary colors to create a stylish, modern look. This modern Italian Kitchen features a wide variety of metallic elements. Notice the striking contrast between the ceiling and countertops–both are painted in a deep, lustrous color to give this Kitchen an elegant appearance.
28. The Walls Can Talk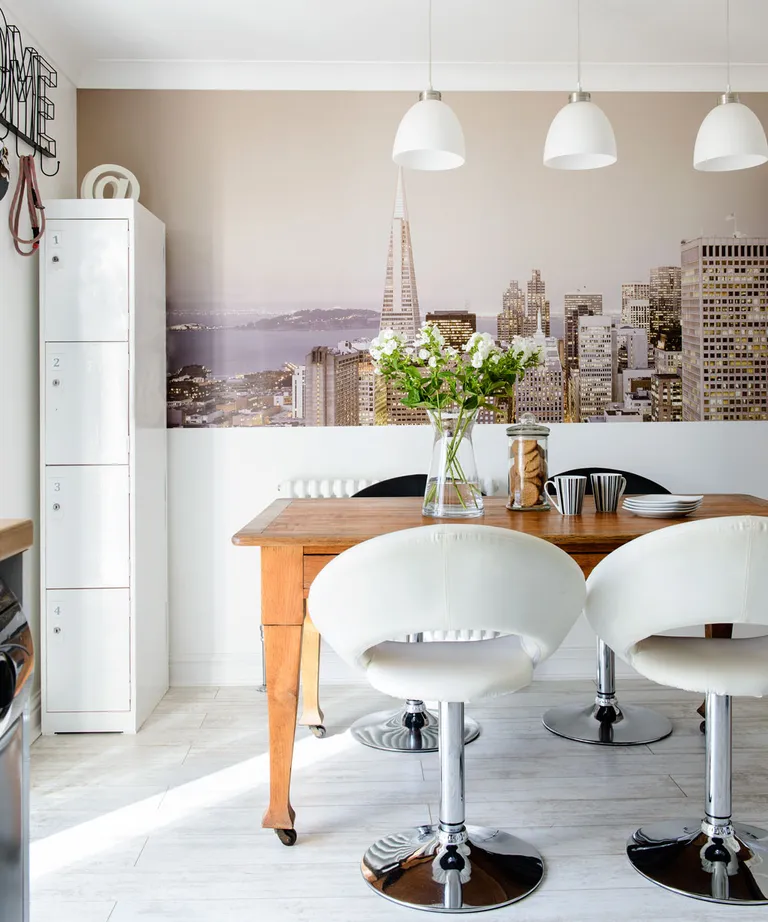 The Walls Can Talk
A beautiful modern kitchen, this Kitchen boasts a fresh look with the latest trends. The walls are adorned with golden textured wallpaper, and for an extra effect, the new range cooker has been paired with wooden cabinets. The Kitchen is one of the essential rooms in your home. A simple kitchen can be transformed into a luxurious and comfortable space with the right accents. Aesthetic elements like wallpaper, furniture, and lighting can create a natural flow that is both practical and pleasing to the eye.
29. Wipe It Down!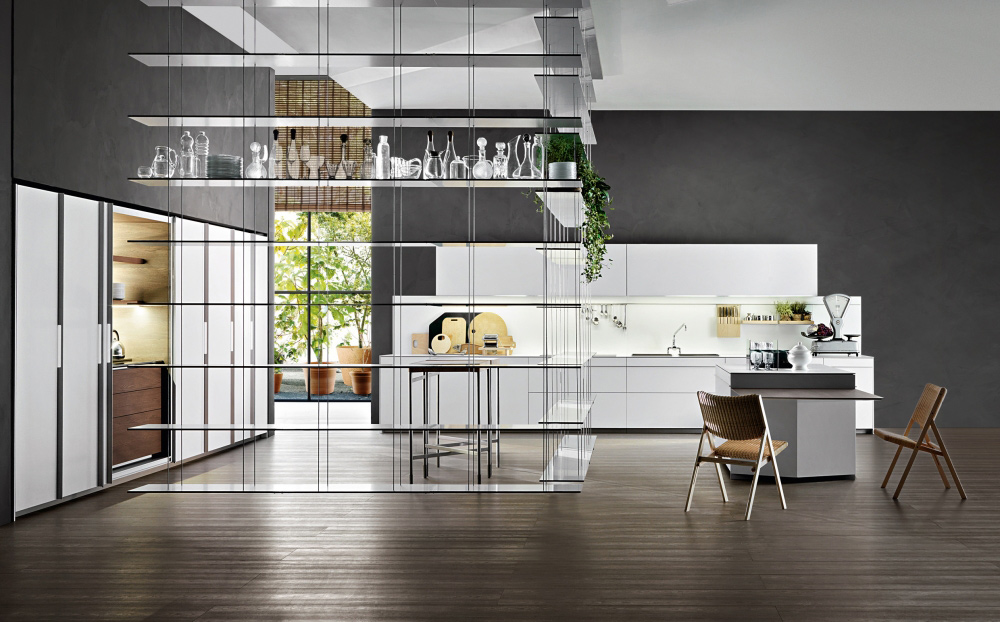 Wipe It Down!
Keep your Kitchen clean with our range of quality paper towels. You can choose from various styles and patterns, from textured to soft. Stock up on all your essential household items here! It's incredible how a kitchen can get so messy. So, to wipe all your worries away, clean up those spills and splatter and ensure that it looks nice and tidy, you should always have a couple of high-absorbent kitchen towels in your Kitchen.
30. Glitz & Glamour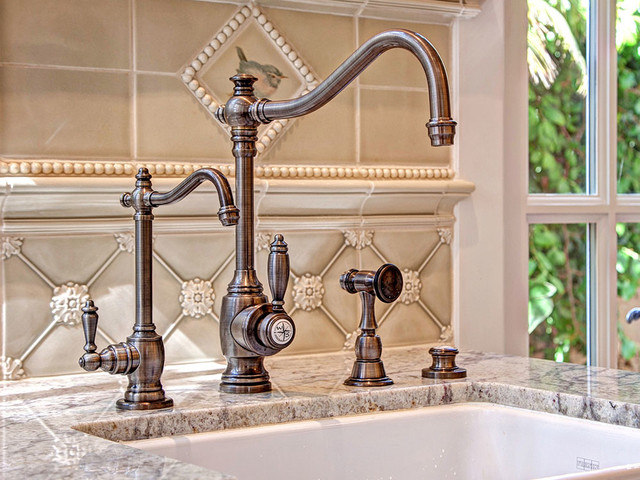 Glitz & Glamour
Staying true to Italian Kitchen style, this faucet is a must-have! The intricate design and brass finish brings all the glamour you want in your Kitchen. The faucet is one of the cornerstones of a kitchen, but it doesn't have to be boring. With this antique-style faucet, you can bring up the glamour and glitz of a vintage Italian faucet that will give your Kitchen a new look!
31. The Pub Style!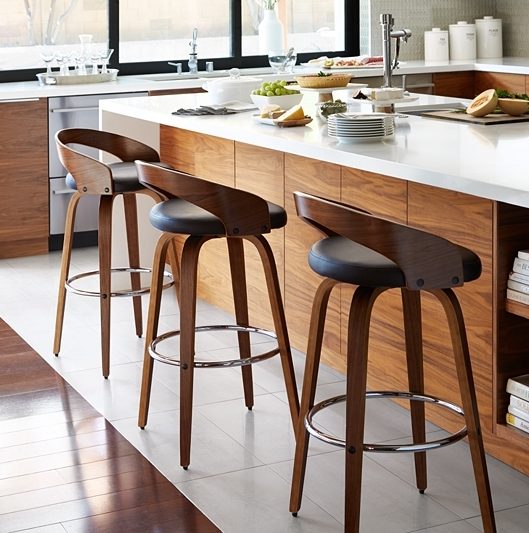 The Pub Style!
If you love modern Italian kitchen design, then this is something that you'll want to see. This Kitchen has been handcrafted with artisanal precision and attention to detail. The sleek finishes and minimalist aesthetics make this the perfect choice for your home. This Italian Kitchen brings in the perfect amount of visual and tactile experience. The Kitchen boasts artisanal glory and an unreal futuristic edge.