9 Easy Farmhouse Decor Ideas
Country farmhouse decor ideas run the gamut from cozy to rustic, but all are warm and inviting. You'll need help finding a design style that's more ideal for living rooms, kitchens, and bedrooms than country-style decor, with its emphasis on wood furnishings, natural textures and colors, and charming patterns. If you're looking to make your home feel more like an old farm—or if you already live in a house with a farmhouse aesthetic—you can find plenty of inspiration for refreshing your space with things like that. 
Whether looking for farmhouse decor ideas or a country cottage decorating style, these nine fabulous ideas will inspire you!
DIY Decor Ideas
Country farmhouse decor ideas are trendy. You can find them on home design blogs, magazines, Pinterest, and the local store. If you want to add some country farmhouse decor ideas to your home, you might wonder what the benefits are. Here are a few of them:
Country farmhouse decor is comfortable and welcoming

It's neutral

It has a warm, homey feeling
 

1. Perfect Farmhouse Entry Table
This DIY farmhouse entry table project is so easy to make, and the outcome is gorgeous! It's perfect for any home, from rustic to industrial. This entry table can be used in the entryway or living room, as a nightstand in a bedroom, or just about anywhere! Such an excellent piece for anyone who loves the farmhouse decor style.
2. Upcycled Wood with Decorative White Arrows
Are you planning to repurpose old unwanted wood pieces into beautiful upcycled rustic decor? If yes, then this project is perfect for you. This DIY Upcycled Wood with Decorative White Arrows for Living Rooms will help you accomplish just that and add a great touch to your living room. Keep reading to learn more about the DIY wood arrows that will give a fine touch to your home décor.
3. Gently Faded Vintage Floor Rug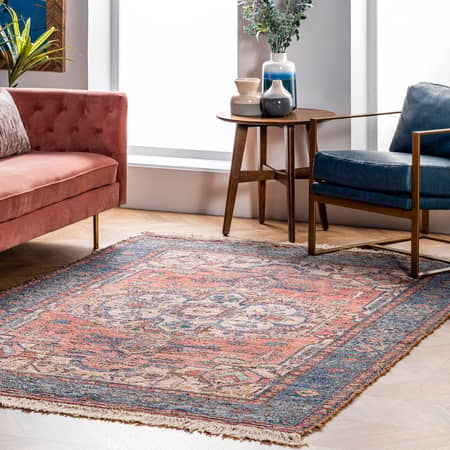 This Gently Faded Vintage Floor Rug makes a statement in any room! Your favorite design is printed on high-quality fabric, hand-tufted, and professionally finished in your choice of color. Please place it in your living room or bedroom to add rich texture and a touch of vintage charm to your space. This vintage floor rug could be a great addition to your family room or look fabulous at the foot of your bed.
4. Watering Can Flower Arrangement
Have you ever seen a watering can that could be used as a vase? Have you ever wondered how to keep the water in when your flower arrangement isn't finished? Well then, this is the post for you! There is a clever and easy DIY project for making an at-home DIY Watering Can Flower Arrangement. This artistic and fresh arrangement uses flowers grown in your garden; the results are excellent!
5. Cotton Stem Upcycled Shutter
Natural Cotton Stems are Upcycled Into a Handmade Shutter for Rustic Country Style Home Decor. The cotton bunches and the cord gives this shutter an elegant look and comfortable feeling that can be used to decorate a room or window. This beautiful DIY cotton Stem Upcycled Shutter is easy and inexpensive to make. Turn your shutters into one-of-a-kind decor pieces by adding a little country charm with this DIY project. This simple way to personalize your shutters will create a focal point in any room. This is an easy upcycle that will last for years!
6. DIY Board Project to Mark Home
Your home is your sanctuary, where you can unwind and relax. It is also the place where you live your life day by day. Put some love into your home by creating DIY projects that reflect who you are and the time you live! Create a custom signboard for your home to showcase your family's talents and interests. You can use an old window, shed door, or barn board to create this project. It's so easy for anyone to do. Get started today and make your board that says "Welcome Home" to guests.
7. Stool Stand for the Living Room
Cheer up your living room with this DIY project! Decorating with a shabby chic or rustic feel is very popular. Simple to create and affordable. Country Rustic DIY Furniture Project for Living Room. This Shabby Chic Worn Stool Stand is perfect for your living room decor. With its distressed look and neutral color, this stand can fit any décor.
8. Rustic Farmhouse Artistic Inspiration
This beautiful and rustic farmhouse decor idea you can't miss! This beautiful artistic inspiration will help you transform your plain walls and make them look more stylish and comfortable. A farmhouse décor project is an exciting way to bring the rustic feel and look so popular right now into your home. This easy, beautiful DIY Rustic Farmhouse Artistic Inspiration is perfect for a beginner without painting skills yet with lots of creativity.
A country-style home with modern decorations is always more exciting and inspiring. It's not just about the beautiful rooms in your house, but also how they look. Combining simple, inexpensive accessories and more extensive, expensive furniture can achieve a sophisticated look. It will provide your living room with a rustic accent as well as give it a cozy touch.