Easy and Fun: 15 Beginner-Friendly Kitchen Sewing Patterns
An ideal collection for a beginner cook and sewist, this book is full of easy-to-sew patterns that make cooking and baking more fun. Readers will learn how to use their sewing skills to upgrade their kitchen in useful ways: turning a plain pot holder into a decorative work of art; making their own utensil organizers for their drawers and cabinets; making a placemat that doubles as a trivet; and many more projects like these. The instructions are clear and accompanied by step-by-step photos so the reader can follow along easily.
Inspired by the growing trend of sewing and crafting, these 15 beginner-friendly patterns will always have you wanting to sew for your kitchen use.
Tips For Kitchen Sewing Patterns
Sewing patterns can be tricky, but they don't have to be! Here are a few tips to help you get the most out of your sewing experience:
– Read the instructions carefully.
– Do all the steps before cutting out any fabric to have everything ready when it matters most.
– Double-check that all measurements are accurate before cutting anything out—you don't want any mistakes later!
– It's best to use high-quality, lightweight fabrics for this project because they're easier to work with and will give you a higher quality product overall.

See Also: Man Made Crafts: 15 DIY Sewing Projects for Men to Show Off
1. Easy Pot Holder Pattern
These potholders are great for beginners wanting to practice simple topstitching. The pattern allows you to use fusible fleece or a woven fabric. These quick and easy potholders can be stitched up in a few hours. Made from muslin or cotton interlock, these pot holders make wonderful gifts. Perfect project for anyone that needs something to do while watching their favorite shows!
Don't waste time searching for plastic or paper bags when making lunch for your family. Make this reusable sandwich bag pattern, choose from various fabrics, and enjoy feeling good knowing your choices are better for the environment! This reusable sandwich wrap is perfect for your portable lunch, picnic blanket, or beach day in the park.
3. Seam Allowance Practice Tutorial
Need to practice your seam allowances? These felt coasters are a great way to get comfortable with the process. You can even use them as cupcake toppers! Make all four versions or just one of your favorite colors and designs. And don't worry about sewing up! These coasters are so easy to create that any beginner can join the fun making.
4. How to Sew a Simple Potholder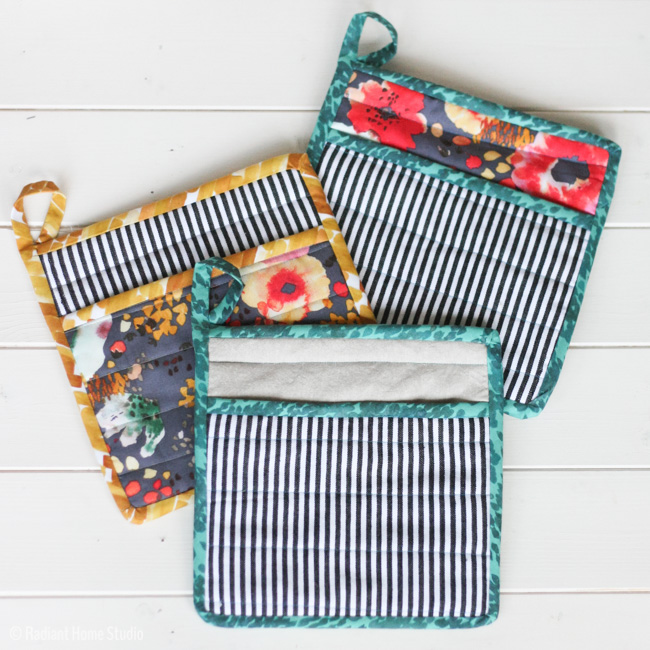 This basic potholder pattern is a good beginner sewing project for anyone looking into sewing. This is a great beginner sewing pattern. If you have ever wanted to try making your own potholders, here is a simple pattern that only takes a few hours to piece together. This pattern is easy to sew and can be made using durable fabrics perfect for kitchen use.
5. REVERSIBLE COFFEE CUP COZY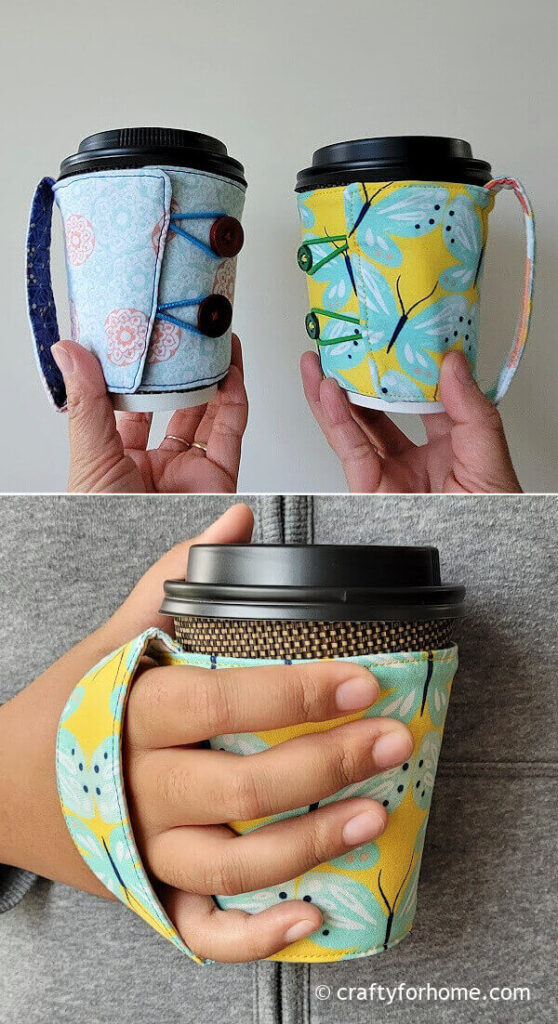 Banish boring coffee cup lids! These cozy cups are quick to make and look adorable on your favorite cup. The cozies come in three popular varieties: polka dots, stripes, or chevron—so choose the one you like best! Make the most of your morning jolt by enjoying a fun and easy sewing project. Enjoy the perfect cup of coffee any time of day in these cozy cups that will surely be your new favorite thing!
6.

DIY Pattern Weights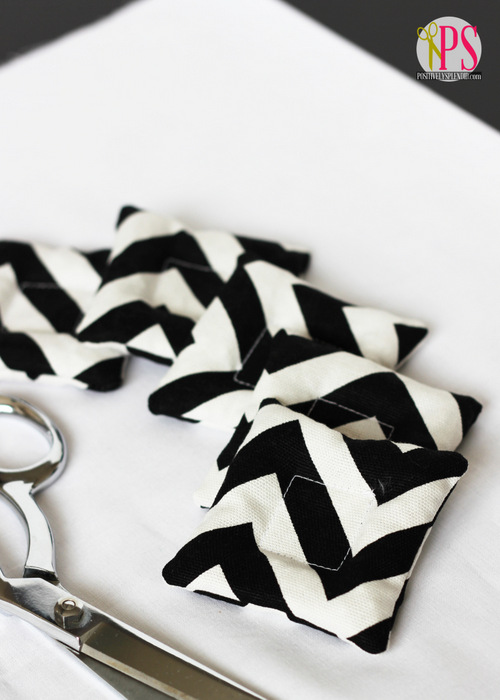 7. DIY Portable First Aid Kit!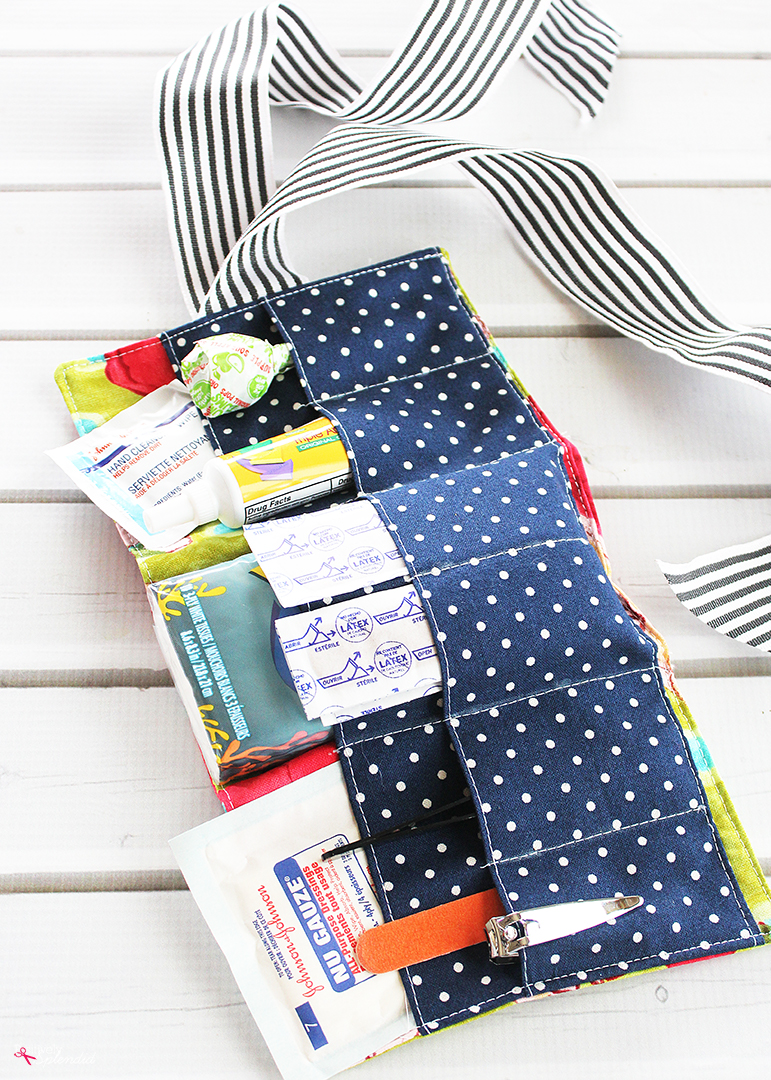 Are you always prepared for whatever life throws your way? Well, now you can officially say YES! This portable first-aid kit is a must-have for your purse, glove compartment, or anywhere that might need medicine and bandaging. And, this project is so easy to make and takes up very little fabric." Please keep it in your car, purse, gym bag, or home first aid kit. It's an easy way to be prepared for almost anything.
8. Oilcloth Table Runner
handmade oilcloth table runner
Add unfinished oilcloth to any table runner pattern. Great for beginners, this easy-to-clean fabric is an eco-friendly way to update your home. This handmade oilcloth table runner adds an eco-friendly, practical, and beautiful touch to your table. This project can be customized in any way you like to fit your space. It's also ready to use in three steps: cut it out, sew it along the edges, and attach bias tape.
10. Thread Catcher Basket Free Pattern
A classic apron is a perfect project to get your feet wet in sewing. If you know to use a sewing machine or have someone who can show you the basics, this simple tutorial walks you through sewing your cute and practical kitchen apron. You can make it in any size if you have a place to hang it once you're done!
13. Free Quilted Potholder Pattern
Are you looking for a new project to sew? Grab some fabric and get to it! This simple potholder can be quilted for extra texture and design or left plain and cozy. Using an easy rectangle shape with a beginner-friendly binding method to make a perfect gift for Christmas or just because! Easy rectangle shape with simple binding, quilted for extra texture and design.
Grocery duty is a valuable part of the day, but lugging heavy bags of snack foods can slow down your momentum or even make them spill. This handy tutorial will teach you how to make reusable snack bags that are super simple to make and use and, most importantly, are perfect for scraps! Make your own reusable snack bag in the afternoon, using scraps from previous projects. These are perfect for lunches, snacks on the go, or even picnics!
15. Fast and Easy Fabric Napkins
Add a touch of festive holiday decorations! These Fabric Napkins are quick, easy, and fun to make! The Kitchen Sewing Pattern is perfect for your kitchen or dining table. These fabric napkins are so easy to make and fun to decorate! Each set of four napkins takes only 10 minutes to make, and you'll have plenty of time to enjoy family and friends!
CONCLUSION
In conclusion, kitchen sewing projects are a great way for beginners to start sewing. The 16 beginner-friendly patterns presented in this blog post are easy to follow and produce functional and fun items for the kitchen. From potholders to aprons to dish towels, these projects are a great way to simultaneously add a personal touch to your home and hone your sewing skills. So grab your sewing machine and start stitching up some kitchen goodies today!