20 Simple DIY Feather Crafts to Elevate Your Home Decor
Feathers have a unique charm that can instantly add a touch of elegance and whimsy to any space. With their softness, colors, and textures, feathers can be used in many ways to create beautiful DIY crafts that elevate your home decor. Whether you want to add a bohemian flair to your living room or a dreamy touch to your bedroom, these 20 simple DIY feather crafts will inspire you to get creative and add a personal touch to your space. From dreamcatchers to wall hangings, wreaths to centerpieces, and even jewelry, these feather crafts are easy to make and require only basic supplies. So, grab your scissors, glue, and feathers, and let's get crafting!
Decorate your home with pretty feathers; these

20 simple DIY feather crafts

collections will decorate your space in style and add a pop of color.
Tips And Tricks For Simple DIY Feather Crafts to Elevate Your Home Decor
Feathers are versatile and inexpensive crafting materials that can add a unique personality to your home decor. Here are some tips and tricks to help you create beautiful DIY feather crafts that will elevate your space:
Choose the right feathers: Feathers come in different shapes, colors, and sizes. Consider the type of craft you want to make and choose feathers that complement the theme and style of your decor.
Prepare your workspace: Ensure a clean and well-lit workspace before crafting. Lay out all your supplies and tools, and protect your work surface with a mat or cloth.
Experiment with different techniques: Feathers can be used differently, from simple accents to elaborate designs. Don't be afraid to experiment with techniques like gluing, painting, or sewing to create unique and personalized feather crafts.
Use high-quality tools and materials: Invest in good-quality tools and materials to ensure your feather crafts look professional and last longer. Sharp scissors, strong glue, and sturdy wire are essential for creating durable and beautiful feather crafts.
Display your creations: Once you've created your feather crafts, display them proudly in your home. Hang them on walls, use them as centerpieces, or incorporate them into other decor pieces to create a cohesive and stylish look. With these tips and tricks, you'll be on your way to creating stunning DIY feather crafts that will elevate your home decor in no time.
What types of feathers are best for DIY Feather Crafts?
Many feathers, including ostrich, peacock, turkey, and goose feathers, can be used for crafting. The type of feather you choose will depend on the style and theme of your decor.
What supplies do I need to make DIY Feather Crafts?
Basic supplies for feather crafts include feathers, scissors, glue, wire, and decorative elements such as beads or ribbon. Additional materials may be required depending on the type of craft you are making.
Are Feather Crafts Difficult to Make?
Feather crafts can range in difficulty from easy to more complex. However, beginners with basic crafting skills and tools can complete many feather crafts.
How can I display my DIY Feather Crafts in my Home?
There are many ways to display feather crafts, such as hanging them on walls, using them as centerpieces, or incorporating them into decor pieces like wreaths or garlands.
Can DIY Feather Crafts be customized to match my Home Decor?
DIY feather crafts can be customized to match your home decor. You can use feathers in specific colors, shapes, and sizes to complement your decor or create a unique accent piece.
 See Also: 15 Free DIY Coastal Wall Art Ideas: To Spruce up Every Room
1. Leather Feather Earrings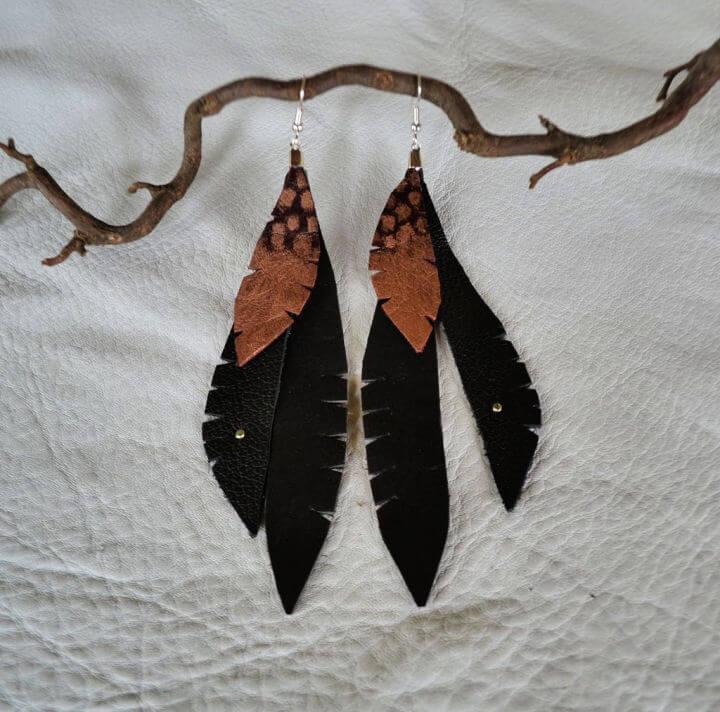 Add a colorful splash of style to your coffee table with this DIY Resin Peacock Feather Coaster. It's perfect for entertaining guests and will add a pop of color to any decor. This coaster is an excellent gift for any occasion and a great way to get crafty with friends!
Make your own feather fascinator hair clips! DIY Feather Fascinator Hairclips are the perfect accessory for any occasion. These adorable little clips are easy and quick to make, perfect for pairing with your favorite hats and fascinators. They're easy to make and add the perfect fun touch to your outfit. Get creative and have fun learning how to make one yourself!
Feather lampshades can be expensive, but if you're handy with a glue gun, you can make your own for a fraction of the cost. This easy-to-follow tutorial will have your feather lampshade up and running quickly. You can customize any colors and sizes of feathers for your space or event. This feather lampshade is easy to make and looks great in a bedroom or dorm.
Are you looking for a simple but elegant touch to your wedding, baby shower, or birthday party decorations? This DIY Rustic Handmade Feather Wreath Design is the perfect craft and decoration to create. Beginners will love it! The feathers are easy to manipulate, so you can create any shape and design you want. Not only will this be a beautiful addition to your event, but it is also so unique that it makes for a memorable keepsake!
This DIY denim feather wall hanging is the easiest way to update your living space without breaking the bank. This DIY wall hanging makes the perfect statement piece for any room. The denim accentuates any color scheme but will especially fit in with a more neutral wall color. The feathers are unique yet timeless and can be used indoors or outdoors.
The DIY Feather Dreamcatcher Hanging is the perfect way to add a touch of style and southwestern chic to your home. Hang it on your wall or door, turn it into a lampshade, hang it at your wedding, and enjoy the sweet scent of natural feathers. This large dreamcatcher is made of real feathers and decorated with colorful yarns.
Add charm to your home with these bright feather arrows! Feathers are a great way to bring in a sense of casual elegance, but you can also find them in nature. Have fun with these bright feather arrows! They do a fun project that can be hung on your wall or assembled in an elegant vase for table decor. The design uses only a few materials, so it's budget-friendly too. Ultimately, you'll have a little gift for yourself or someone else!
You'll look like the star of your wedding when you create these charming place cards. Easy to make and even easier to hold on to, these DIY cork and feather place cards add an elegant touch of personalization to your reception tables. The best part? You can make them in advance and let guests take one home as a favor!